We test and review fitness products based on an independent, multi-point methodology. If you use our links to purchase something, we may earn a commission. Read our disclosures.
The two types of rowing machines have more differences than similarities. Here's how you can decide which one is right for you.
If you're looking for a high-quality cardio machine for your home gym, indoor rowing machines are versatile pieces of fitness equipment that work well for all fitness levels. There are four main types—air, water, magnetic, and hydraulic rowing machines.
In this guide, we'll put two of the most popular types head to head, highlighting the key similarities and differences, to help you determine the best rowing machine for you. Here's everything you need to know about a water rower vs magnetic rower.
Water Rower vs Magnetic Rower: Quick Comparison
There are many different models of water rowers and magnetic rowing machines. For the sake of this quick comparison, we took spec ranges from our best water rowing machine and best magnetic rowing machine guides.
Water Rower
Magnetic Rower
Resistance type/flywheel
Water
Magnetic
Dimensions
80 to 86" long
22 to 24" wide
20 to 40" high
77 to 98" long
21 to 23" wide
22.5 to 54" high
Product weight
92 to 117 lbs (with water)
50 to 145 lbs
Max weight capacity
300 to 700 lbs
250 to 500 lbs
Monitor/display
Basic performance monitors or integrated smart screens (dependent on model)
Basic performance monitors or integrated smart screens (dependent on model)
Price
$500 to $2,199
$220 to $2,499
Storage
Most don't fold or come apart for storage, but some can stand up vertically
Depends on the machine, but many have a folding monorail that makes the entire machine foldable for easier storage
Maintenance
Wipe down after each row; Chlorine tablet added every six months to two years; if water becomes discolored, empty tank, flush it out, and refill
Wipe down after each row; use a damp cloth to remove dust when needed; check screws and bolts every once in a while and tighten as needed
Who Should Buy A Water Rower
Anyone who wants the feel of real, on-water rowing
Those who care more about the aesthetics/need to place it in a living area
People looking for unlimited resistance
Best Water Rower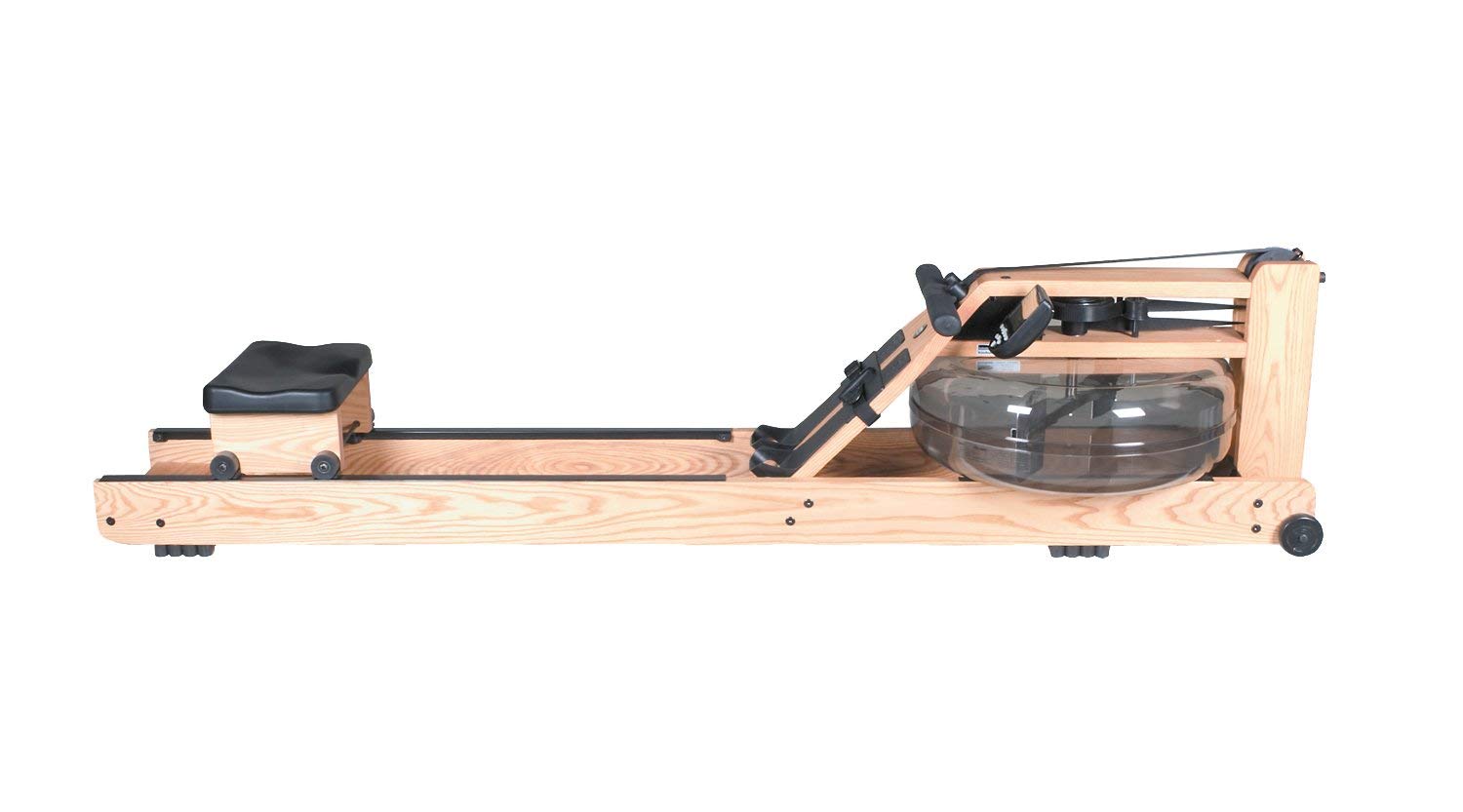 WaterRower
Rowing has long been recognized as the perfect aerobic pursuit, with naturally smooth and flowing movements that don't tax the joints but do boost the heart rate. Now you can take your rowing experience to the next level with the WaterRower Natural rowing machine. Using the same principles that govern the dynamics of a boat in water, the WaterRower Natural is outfitted with a "water flywheel" that consists of two paddles in an enclosed tank of water that provide smooth, quiet resistance, just like the paddles in an actual body of water. As a result, the machine has no moving parts that can wear out over time (even the recoil belt and pulleys don't require lubricating or maintaining). More significantly, the water tank and flywheel create a self-regulating resistance system that eliminates the need for a motor. As with real rowing, when you paddle faster, the increased drag provides more resistance. When you paddle slower, the resistance is less intense. The only limit to how fast you can row is your strength and your ability to overcome drag. And unlike conventional rowing machines, which tend to be jerky and jarring, the WaterRower Natural is remarkably smooth and fluid.From a fitness perspective, the WaterRower Natural works 84 percent of your muscle mass, helping tone and strengthen your muscles while burning far more calories than most other aerobic machines. The exercise is also low impact, as it removes all the body weight from the ankles, knees, and hips, but still moves the limbs and joints through a full range of motion--from completely extended to completely contracted.The WaterRower Natural is outfitted with a Series 4 performance monitor that's designed to balance technical sophistication with user-friendliness. The monitor--which includes six information and programming windows, six QuickSelection buttons, and three navigation buttons--displays your workout intensity, stroke rate, heart rate, zone bar, duration, and distance. Plus, the monitor is compatible with an optional heart rate chest strap and receiver, which helps you optimize your workout and achieve your exercise objectives.The WaterRower Natural is handcrafted in solid ash and stained honey oak for consistency of color. The wood was chosen due to its marvelous engineering properties, especially its ability to absorb sound and vibration, which enhances the WaterRower's quiet performance and smooth operation. Ash, like all woods used in the construction of the WaterRower, is a premium hardwood with incredible longevity and dimensional stability. In addition, the wood is harvested from replenishable forests and is hand finished with Danish oil to provide a deep luster.Other details include dual rails with four corner wheels that increase seat stability and reduce the amount of sweat buildup; a frame that flips upright for handy storage; and a weight capacity of up to 1,000 pounds. The WaterRower Natural measures 84 by 21 by 22 inches (W x H x D), weighs 117 pounds (with water), and carries a one-year warranty on the frame and components (WaterRower will upgrade the warranty to five years on the frame and three years on the components with the completion of a registration form).
Who Should Buy A Magnetic Rower
Anyone looking for a quiet rowing machine
Those who want to manually control resistance
People who have space constraints
Best Magnetic Rower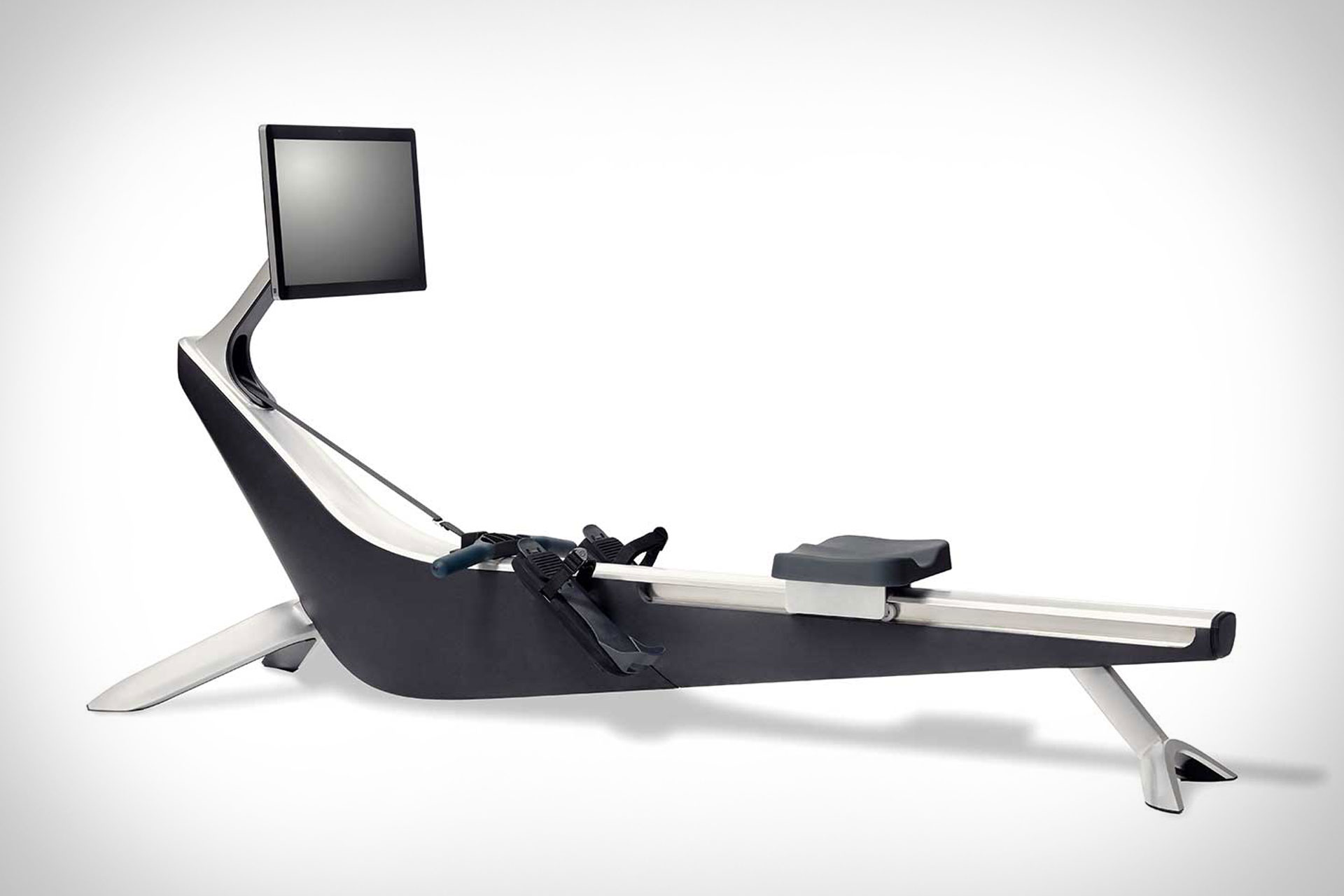 Hydrow Connected Rower
We completely re-engineered the rowing machine with patented technology, making each stroke feel like you're out on the water. Then, we built an immersive experience around it. The Hydrow was designed from the ground up. While the design team wanted to create a unique machine that was elegant and sophisticated for the home, it was just as important to engineer a machine that was unmatched in performance and built to last. Hydrow's brilliant 22" touchscreen display and impressive front-facing speakers bring the river to your living room, captivating you from the moment you sit in its seat. The Hydrow's patented drag mechanism is electromagnetic and computer-controlled. The distinctive components make it the closest thing to being on the water.Garage Gym Reviews Exclusive: Use code ROWGGR to receive $150 off any purchase that includes a rower
Water Rower vs Magnetic Rower: Key Similarities
On a foundational level, both types of rowers are very similar.
"Water rowing machines and magnetic rowing machines ultimately do the same thing: provide a rowing machine workout and track workout data," says Amanda Capritto, Garage Gym Reviews writer and certified personal trainer. "On either type of machine, you exercise by repeating rowing strokes over a period of time."
Both types of rowing machines provide a low-impact, full-body workout, improve cardiovascular health, and can help you reach your fitness goals, whether that's increasing your cardiorespiratory endurance or weight loss. They're excellent for all fitness levels, including beginners.
Related: Rowing Machine vs. Elliptical
Water Rower vs Magnetic Rower: Key Differences
On a more granular level, there are more differences than similarities between water rowing machines and magnetic rowing machines.
Mechanisms
One major difference is the actual mechanism by which they work.
"Water rowers have a large water tank with a hydrofan inside; you fill this tank with water, and when you tug on the pull mechanism on the rower, the fan creates resistance within the tank," says Amanda.
On the other hand, magnetic rowing machines create resistance via magnets, or what's called Eddy currents—magnetic currents created by opposing magnetic fields.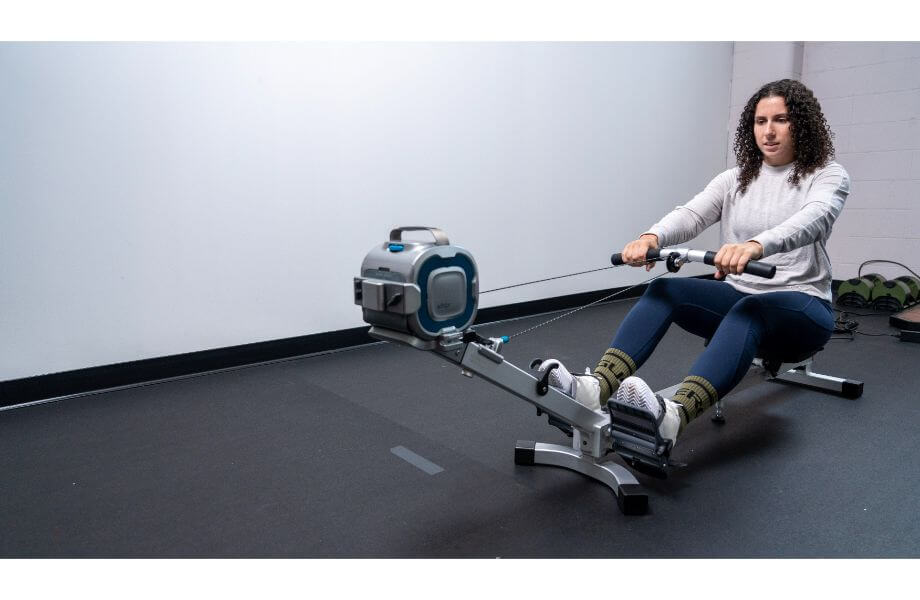 "When you adjust the resistance setting on a magnetic rower, the magnet moves farther away from, or closer to, the flywheel. The currents interact with the flywheel and the closer the magnet is to the flywheel, the more it slows down, which means the resistance increases," Amanda explains.
Related: How to Use a Rowing Machine
Resistance
The type of resistance varies across the two types of rowers as well. Water rowing machines use water resistance and essentially have unlimited resistance, because it's entirely user-dependent, according to Amanda.
"The faster you row, the more resistance you create in the water tank," she explains. "There's no damper or dial to manually change the resistance."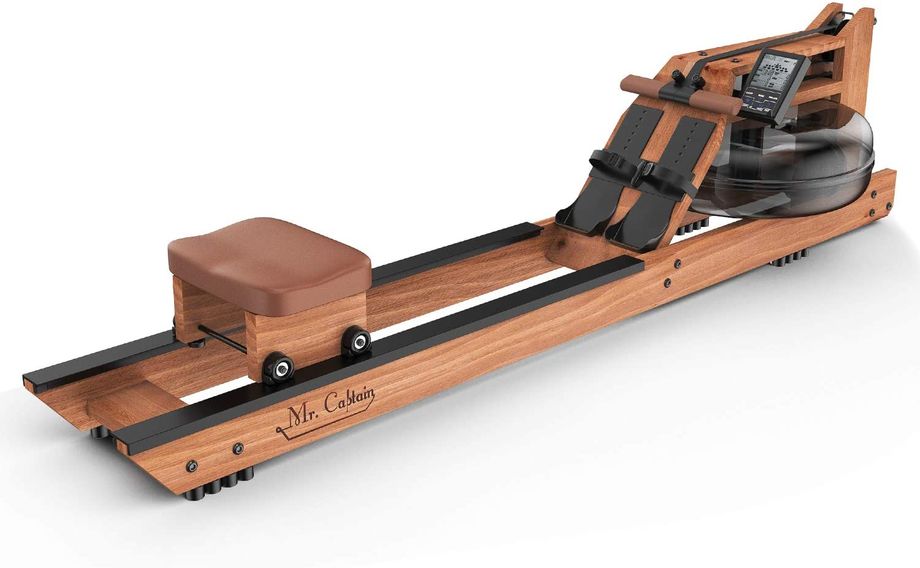 On the other hand, magnetic rowers, which rely on magnetic resistance, give you more manual control over resistance with adjustable resistance levels. This provides a consistent resistance, regardless of your stroke rate.
The actual number of resistance levels varies from machine to machine. Lower-cost machines usually have five to eight levels of resistance, while expensive machines can have 15 to 20 levels, says Amanda.
Rowing Feel
A big draw of a water rower is the rowing feel. Water rowers more closely mimic the natural feel you'd get if you were actually rowing on the open water. Since the tank is full of water, you'll also hear a whooshing or sloshing sound, which can add to the overall rowing experience for some users.
Related: Rowing Machine Workouts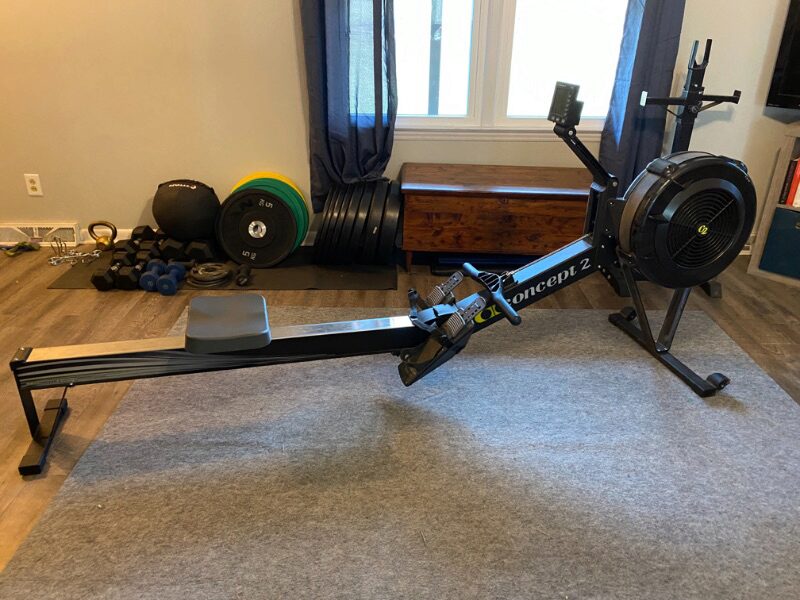 Noise Level
Noise is another consideration. "While both types of machines are pretty quiet [especially when compared to air rowing machines], water rowers are a bit noisier than magnetic rowers due to the sloshing of water in the tank," says Amanda. Magnetic rowers are considered the quietest type of rowing machines, and some of them are near-silent.
Footprint
There's also the space factor. There are many different models of each type of machine so the actual footprint will vary, but magnetic rowers are usually a better option if you have limited space.
"Water rowing machines are typically very big and heavy, and do not fold or store vertically," says Amanda, "although some higher-end models do one or both."
And while some magnetic rowers are also big and bulky, especially the more expensive options, most of them are foldable or can be stored vertically, she adds. Budget-friendly models of magnetic rowers tend to be smaller, but you might have to sacrifice some advanced features.
Built-in Programming
As for built-in programming, what you'll get largely depends on the machine. For example, the WaterRower doesn't have any built-in programming, but the Ergatta Rower (a different water rowing machine) does, thanks to the integrated screen that can stream workouts.
However, as a general rule, magnetic rowing machines (especially those on the more expensive side) tend to be a little more equipped. For example, the Hydrow, our pick for best magnetic rowing machine, has a large HD touchscreen monitor that gives you access to a library of ever-changing live and on-demand workouts.
RELATED: Hydrow Review
Weight Capacity
Water rowers tend to have higher weight capacities thanks to their sturdy, solid wood construction. Even those made of engineered wood have higher weight capacities than some lower-cost magnetic rowing machines. For reference, the WaterRower Natural has a maximum user weight of 700 pounds, while the Hydrow has a max user weight of 375 pounds.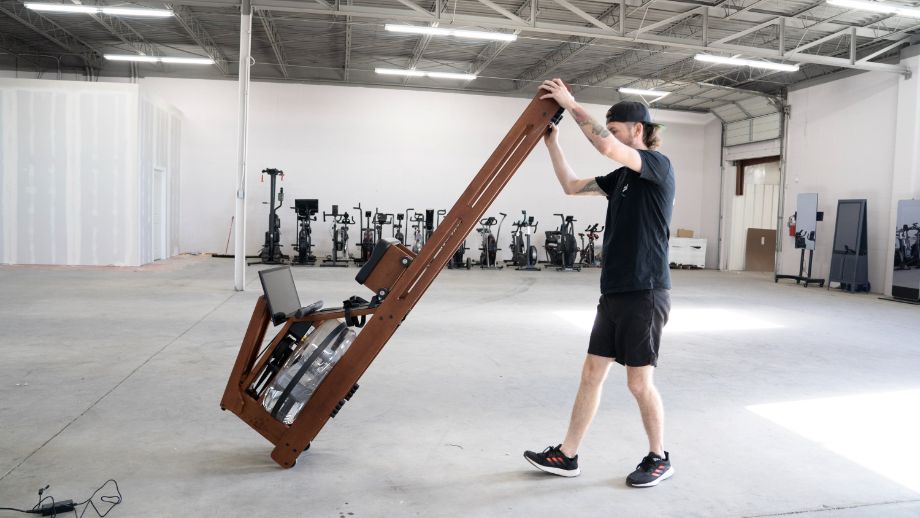 Maintenance
Long-term care is another important consideration. Water rowers require more maintenance than magnetic rowing machines, which pretty much take care of themselves. Amanda points out that it's possible for mold to grow in the tank of a water rowing machine if you don't empty and clean it periodically. You'll also need to add chlorine tablets every six months to two years.
On the other hand, magnetic rowers only require wipe downs and infrequent checking of the bolts and screws. If anything is loose, you can tighten it as needed.
Price
Price largely depends on the specific model you choose, but the range for the two rowers is different, too. The price range of water rowers typically ranges from $500 to $2,199, while magnetic rowers fall between $220 and $2,499. Low-price models come with fewer features than upgraded models. If you want access to streaming workouts, you might also have to pay a monthly or yearly subscription fee.
Final Verdict: Water Rower vs Magnetic Rower
Each type of rower has its own advantages, but one isn't necessarily better than the other. When deciding which one is right for you, Amanda recommends taking the primary differences—resistance type, footprint/storage, workout programming, and noise—into account to figure out what works for you. Then, once you narrow down the type of rower, weigh many options in each category within your price range before making a decision.
Q&A
Is a water rower or magnetic rower better?
One type of machine isn't better than the other—it largely depends on what you want. Water rowers offer a smooth stroke that mimics the feel of real rowing and have unlimited resistance, but they tend to be bulkier and less feature-rich. 
Magnetic rowing machines are often foldable—so you can stash them away when you're not using them—and they have adjustable resistance levels. Depending on which one you pick, it might also have more advanced features. The downside is that magnetic rowing machines are louder and the stroke doesn't feel as authentic.
Are magnetic rowing machines quiet?
Magnetic rowing machines are the quietest of the main types (water, air, magnetic, and hydraulic rowers). Water rowers are pretty quiet, too, but you will hear some sloshing of the water in the tank during each stroke. Air resistance rowers are the loudest.
Is the Concept2 rower magnetic?
The Concept2 rower isn't magnetic; it's an air rowing machine that produces resistance by moving air over an internal flywheel. Air resistance rowing machines, like the Concept2 RowErg (previously called the Concept2 Model D), have unlimited resistance levels—the faster you row, the more resistance that's created. They also have a damper, which is an adjustable tab that manipulates how much air gets into the machine. The damper setting doesn't change the resistance directly, but it does affect the stroke feel.