We test and review fitness products based on an independent, multi-point methodology. If you use our links to purchase something, we may earn a commission. Read our disclosures.
Let's be real for a minute. We all like to look at pretty things: art, cars, sunsets, the beach. Heck, even sleek-looking smart home gym equipment can be appealing. In the past couple of years, I've seen an emphasis placed on companies making exercise equipment that is aesthetically pleasing and functional. The Ergatta Rower is definitely one of those creations.
In this Ergatta Rower review, I'll tell you what I love about this beautiful-looking rowing machine, and what I wish they would have done differently. Although I do like this rower, I think I would generally recommend others over the current version of the Ergatta. Keep reading to find out why.
I've tested pretty much every rowing machine under the sun because it's important to give Garage Gym Reviews readers an accurate and realistic picture of what each piece of equipment looks like. I go through the same process as you: order, assemble, and test every feature available. I compare the price, warranty, materials, and programming to similar options to completely look at the machine. 
A Quick Look at the Ergatta Rower
The Ergatta Rower is made of high-quality cherry wood and crafted in the USA. If you're someone who places a high priority on purchasing things made in the United States, you'll appreciate that the company's founders kept the manufacturing process in the country and leaned on WaterRower for the manufacturing of the hardware. Ergatta is still a somewhat new company, having been founded in 2019, and already has a product worth talking about.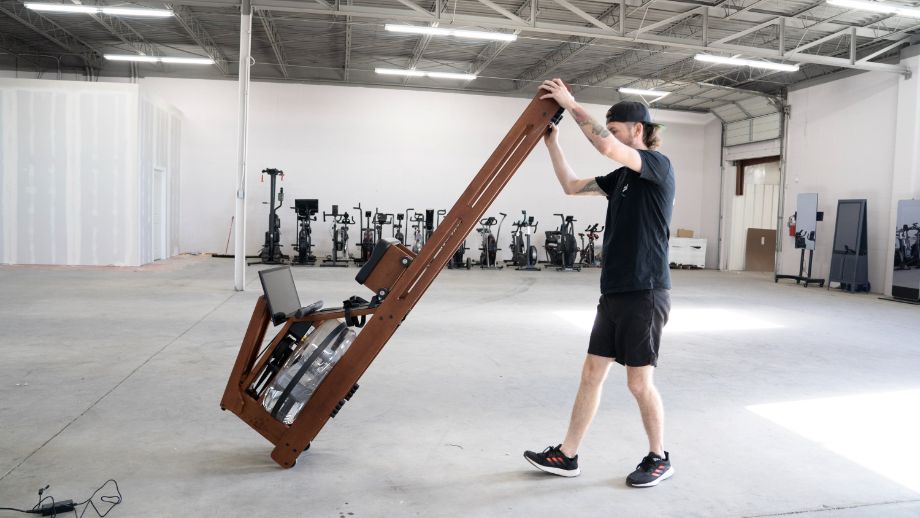 My Tips:
Don't stress about having to put together this rowing machine; professional assembly can be tacked on for a fee.
Be sure to change the water on this machine every so often to avoid leakage.
If you prefer gamification in a rower over live studio classes, you will love the programming on Ergatta.
Ergatta Rower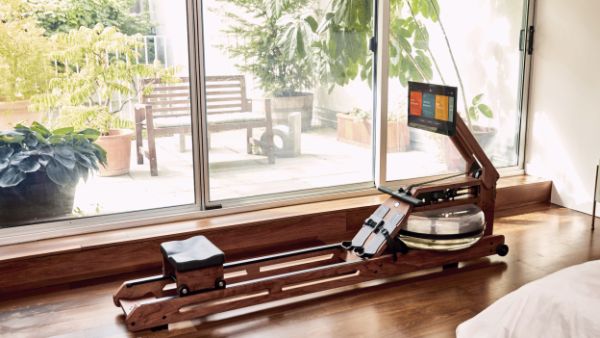 Product Highlights
Water resistance rower
Aesthetically pleasing
Crafted from cherry wood
Unique programming
Can be stored vertically
Pros & Cons
Pros
Smooth rowing experience
Lots of useful data
Aesthetic style
Gamified programming
Cons
Water has to be replaced every so often
Resistance cannot be changed
Although the gamification is fantastic, I know many people would love the option of trainer-led workouts.
Bottom Line
This machine is aesthetically-pleasing (which is an often overlooked attribute for equipment that lives in peoples homes) and the programming is interesting and engaging. If you're looking for a water-powered rowing machine and want programming that's different from what's typically offered, you'll be a fan of the Ergatta.
Is the Ergatta Rower Worth It?
The Ergatta Rower has a lot going for it on paper. However, it isn't the ideal selection for everyone looking to add a cardio machine to their home gym. Check out who I think should take a closer look at the Ergatta and who should pick something else.
Great For:
People who plan to leave their rowing machine out in the open
Those who want engaging, gamified programming
Individuals who want a water-based rowing machine
Not Recommended For:
People who want mostly trainer-led programming
Those who don't want to do any maintenance
Individuals who don't want to pay a monthly subscription for programming
Ergatta Rower Specs
| | |
| --- | --- |
| Weight | 103 lbs |
| Weight without water | 76.5 lbs |
| Dimensions | 86" x 23" x 40" |
| Warranty | 5 year warranty on frame, 3 years on parts, 1 year on tablet |
| Weight limit | 500 lbs |
| Max height | 6'8″ |
| Inseam | 40″ |
| Dimensions stored | 86" x 23" x 22.5" |
| Resolution of touchscreen | 1920 x 1080 full HD |
| Touchscreen type | 17.3" android-powered |
| Frame type | Cherry wood frame |
| Wi-fi connection required | Yes |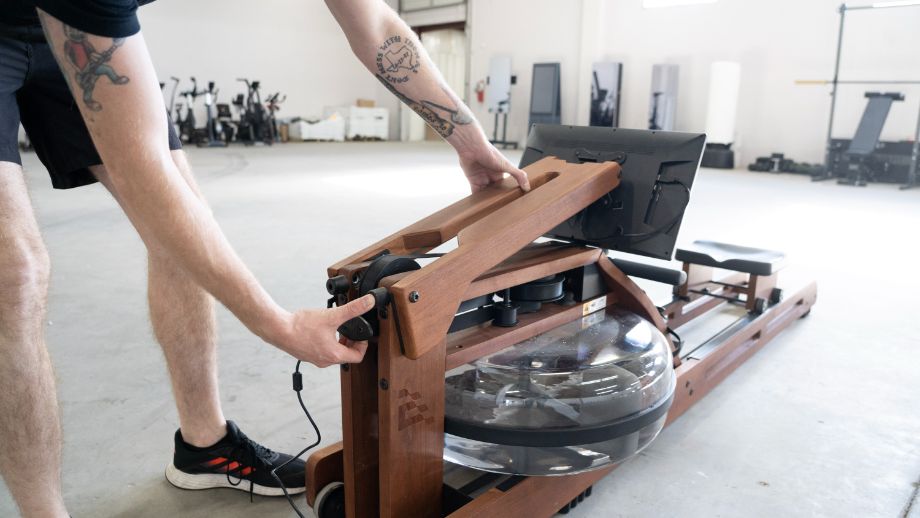 Ergatta Rower Design
In a nutshell, Ergatta gives off a luxury feeling and design. From the grip of the handle to the sliding of the seat to the white-glove delivery, WaterRower's securely built cherry wood rower, created for Ergatta is really distinctive.
Rowing combines resistance training with cardio and muscle training, but there are four different forms of resistance to choose from: air, hydraulic, magnetic, and water. It's a matter of taste, the swish of a water rower is significantly more pleasant and realistic than that of equivalent air rowers. No, it's not the same as rowing on the water, but because the flywheel is spinning through actual water, the overall experience is more natural than an air rower would produce.
Accommodating Many Body Types
One of the real winning pieces of the Ergatta? The sheer amount of people it can accommodate. Although I don't think the cherry wood will hold up over time as well as aluminum, Ergatta clearly has faith in its durability. The weight limit on this rowing machine is 500 pounds, which is one of the highest I've seen, making this an inclusive choice for many.
What if you're really tall? The Ergatta is also on standby to accommodate people up to 6-foot-8, or with a 40-inch inseam. This is another impressive feat and an area where other rowing machines fall short.
Ergatta Rower Assembly
Getting the Ergatta Rower delivered was one of the more seamless processes I've had. Granted, you are paying $249 for it to be set up in your home by professionals, but I've seen steeper prices for similar services. If you really think you're Bob the Builder, I think you can forgo professional assembly and save your $200, but if you're already paying over $2,000 for a machine, I'd personally recommend coughing up the extra cash.
If the idea of paying this much money all at once makes you cringe deeply, you can finance your purchase on the Ergatta website through Klarna. You'll be able to check if you're pre-qualified/eligible before making your purchase. Once you've placed your order, it'll take a week or two before you get the machine.
Ergatta Rower Workout Experience
As most of you know, I have a pretty tricked-out home gym with quite a lot of space. However, I know the struggle of the average home gym owner. You probably have to stick your rowing machine in your living room or against the wall in your bedroom once you've run out of space in your garage or spare bedroom. Don't even get me started on you poor people that live in New York City with a postage stamp for an apartment. Sheesh.
The nice thing about the Ergatta Rower that you small-spaced folks will like? It's made of cherry wood and looks pretty dang aesthetic in almost any space you have to put it in. If this machine was to win any award with me, it would be the best rowing machine on the market.
Technology and Screen
Ergatta teamed up with WaterRower to outfit a rower with a techy screen. Thus, the Ergatta was born. As the name WaterRower suggests, the rowing machine is water-powered. This can be both positive and negative, depending on personal preference. I personally prefer a magnetic rower, because you can mess with the resistance level and jack it higher when you're really trying to get a full-body strength row in. However, the water-powered rowers can more closely mimic the feeling of being on the water (and it can create less catch in the middle of the rowing motion).
RELATED: Best rowing apps
Noise
Plus, the whooshing noise is a lovely reminder when you really need to pee in the middle of a workout. Reminds me of when my sibling would try to make waterfall noises on road trips when we were 25 miles from the nearest bathroom to make me pee my pants. Ah, good times.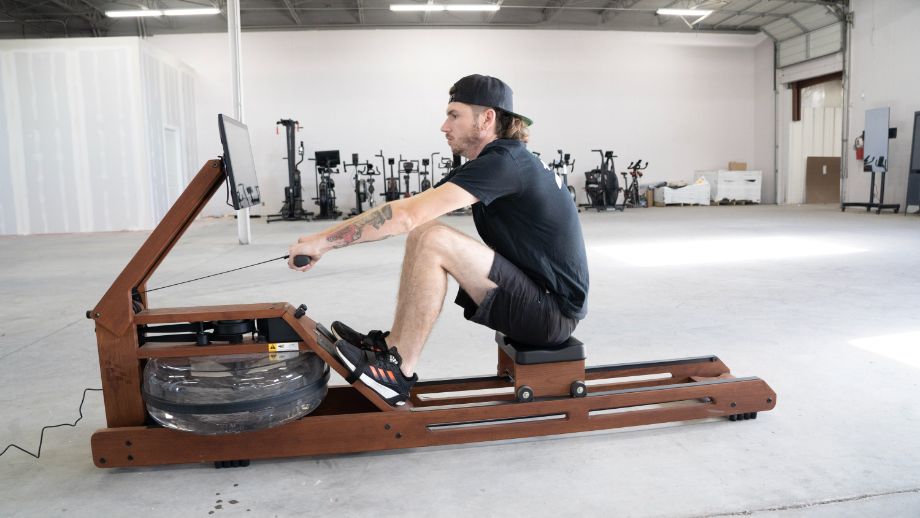 Portability
After the machine is set up in your desired position, you do have the ability to move it pretty easily. At only 103 pounds with water in the tank, it can generally be moved by one strong individual to any area you choose. It can also rest against the wall, similar to the CITYROW GO Max. I do think the Ergatta is way prettier to look at compared to the more austere look of the CITYROW.
Programming
In terms of the actual programming, once you've paid the $29 per month subscription fee, you're ready to get started. In terms of the subscription's price, that's fairly standard, if not slightly under the price of other rowing machines. However, I don't know if I think the subscription packs enough of a punch for the $29.
The first thing the Ergatta will put you through is a baseline rowing test of sorts for calibration purposes. The machine wants to see where you are fitness level-wise. It reminds me of the Bowflex VeloCore, which required a similar baseline with different interval rowing machine workouts. I personally think this machine might be hard for a beginner to get started on because there isn't a ton of proper direction (if you've never rowed before).
As of February 2023, Ergatta has released a "Getting Started" program to assist beginners with things like form and other roadblocks they may encounter when learning to row.
The graphics are nice and the color palette has been well-thought-out. I did notice pretty quickly that the screen is smaller than other smart rowers in a similar price bracket. The 17 inches is definitely a deviation from the semi-standard 22 inches I'm used to seeing with other home rowing machines.
The built-in Bluetooth is a nice touch. You're able to connect things like an AppleWatch, Bluetooth headphones like AirPods, your WHOOP strap, or a regular heart rate monitor for a more in-depth workout experience.
4 Ways to Workout on the Ergatta Rower
The Ergatta offers four different types of workouts with your subscription. I don't like that there isn't any instructor-led programming. If you're someone who is accustomed to the sort of programming Peloton is famous for, you might not like that it isn't an option (as of now) with the Ergatta.
Open Row: This is the most basic of the four options. You can row at your own pace and view various stats as you go.
Pulse Workouts: I like this type for practicing more skill-based pieces of rowing. For example, they may ask you to hit a certain target with your split time or strokes.
Meteor Workouts: Similar to the Aviron Rower Review, Ergatta offers arcade-style/video game-esque programming to keep you engaged as you row.
Race Workouts: I thought I would like this section best, but I found out you aren't actually competing with people in real-time, which kind of eliminates some of the fun for me.
Ergatta vs. Hydrow
Hydrow Rower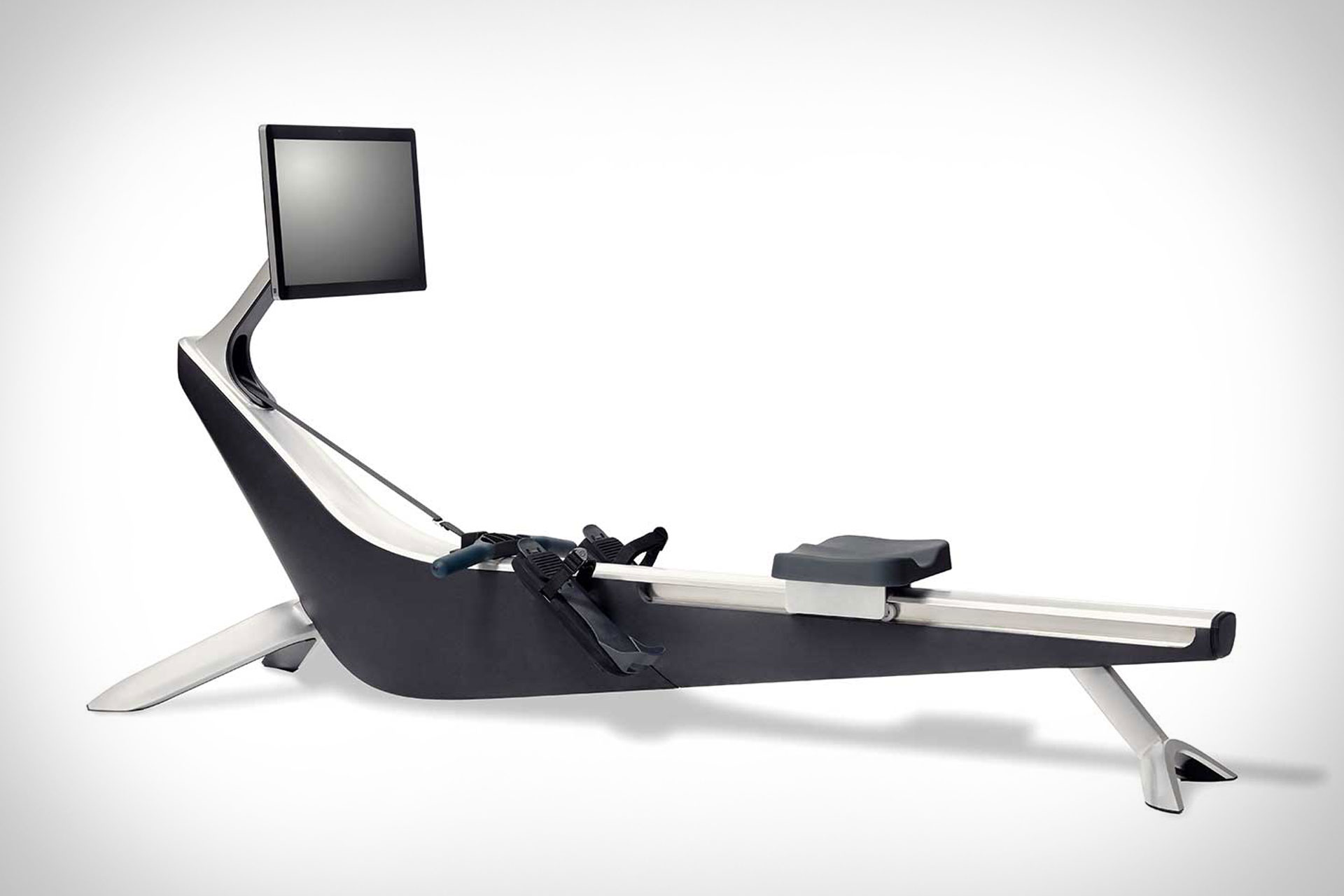 Product Highlights
Sleek and sexy design
16″ touchscreen display
Magnetic resistance done right
Gorgeous virtual rowing workouts filmed on location all over the world
Smooth rowing experience
Pros & Cons
Pros
Consistent and smooth magnetic rower
Engaging interactive programming
Ability to compete against others via a leaderboard
Sleek and modern design
Cons
Just under $2,500 for the Hydrow Essentials Package
Additional subscription fee for programming
Limited customer service contact options
Bottom Line
This is a fantastic, advanced rowing machine ideal for people who have the money to spend and the desire for trainer-led workouts.
Both the Ergatta and the Hydrow are two of the most aesthetically pleasing rowing machines I've ever seen. I'd classify the Hydrow as having more of a sleek, modern look versus the mid-century-modern vibe of the cherry wood-clad Ergatta, but I digress. I know this isn't a home styling website, but some people care about how things look, OK? 
RELATED: Hydrow Review
Anyway, the Ergatta comes in at around $2,500 and $29 per month for the programming subscription. The Hydrow (without all the extras) is about $2,300 and $38 per month. Although the Hydrow is slightly more expensive than the Ergatta, I personally prefer the programming the Hydrow offers. Not only does the Hydrow have instructor-led classes on water, but they also offer the portability of an app with their subscription. This means you can bring your workout on the go (unlike the Ergatta, which is limited to the rowing machine). Plus, the Hydrow offers other types of fitness classes for you to do besides rowing like strength workouts, as well as yoga and pilates.
RELATED: Hydrow Discount Code
If you really are competitive, the Ergatta experience is slightly less rewarding than the Hydrow one. With the Hydrow, you can compete in real-time against friends and other users for rankings on the leaderboard. Ergatta users don't get real-time competition. Instead, you're rowing against other people's times, but not actually with them.
If you're looking to get a full-body workout out of your subscription service, you'll likely prefer the Hydrow. In terms of the actual rowing machine, it will likely come down to personal preference. The Ergatta is a WaterRower, and the Hydrow is a magnetic resistance rowing machine. Some people prefer the smoother drag of a water resistance rowing machine, but keep in mind you will have to do maintenance of some sort on a water rower (i.e. changing the water in the water tank). 
| | | |
| --- | --- | --- |
| | Ergatta Rower | Hydrow Rower |
| Weight | 103 lbs | 145 lbs |
| Dimensions | 86" L x 23" W x 40" H | 86″L x 25″W x 47″H |
| Warranty | 5 year warranty on frame, 3 years on parts, 1 year on tablet | 5 year warranty on frame, 12 months on parts, electronics, and labor |
| Weight limit | 500 lbs | 375 lbs |
| Max height | 6'8″ | N/A |
| Inseam | 40″ | 36″ |
| Folded dimensions | 86" L x 23" W x 22.5" H | 25″W x 33″D x 86″H (separately sold upright storage kit required) |
| Touchscreen | 17.3″ Android-powered | 22″ HD touchscreen |
| Frame | Cherry wood | Aluminum and steel with flat anthracite polymer |
| Wi-Fi required? | Yes | Yes |
Customer Reviews
With over 450 reviews on the Ergatta website, this rowing machine receives 5 stars out of 5. I've said it before and I'll say it again: when I see a product with an average rating of 5 stars, I am a little wary that the brand is deleting reviews they don't love. Nonetheless, customers do have a lot of positive things to say about this rowing machine. They love the sleek look, fun programming, and the constant new challenges the Ergatta adds to the system frequently.
In terms of negative reviews, there was very few present, with one of two in the 2-star category. The customers in question were having difficulty with the connectivity of the software, and someone else said they didn't like the "competitive nature" that the Ergatta promoted versus a more "relaxed rowing experience." Not going to lie, that's the first time I've ever heard someone complain about the competitiveness of a piece of cardio equipment, but there is a first time for everything I guess.
Final Verdict of Ergatta Rower Review
Overall, I like the Ergatta Rower. Would I personally choose to use it over the Hydrow? Honestly, no. However, that doesn't mean I don't like it. I think the machine is aesthetically-pleasing (which is an often overlooked attribute for equipment that lives in people's homes) and the programming is interesting and engaging. If you're looking for a water-powered rowing machine and want programming that's different from what's typically offered, you'll be a fan of the Ergatta.
Ergatta Rower Rating
Ergatta Rower
The Ergatta Rower is a WaterRower crafted out of cherry wood with a 17" HD touchscreen attached.
Product Brand: Ergatta
Product Currency: $
Product Price: 2200
Product In-Stock: InStock
Ergatta Rower Review FAQs
Does the Ergatta Rower work without a subscription?
You can use this without a subscription, but I really wouldn't bother spending this much money if you're not going to really use the touchscreen. You're better off getting the Concept 2 RowErg Rower if you just want to row with zero interactive programmings.
Did WaterRower become the Ergatta Rower?
Ergatta actually teamed up with WaterRower to use the WaterRower machine with the Ergatta technology and screen attached. Think of it as the best of both worlds.
What kind of rowing workouts can I expect to do once I join the Ergatta Community?
There are a variety of full-body workouts you can expect to do with your new rowing machine. Ergatta is constantly posting low-impact new workouts.
What other workout equipment would you recommend I have in my home gym besides something like an Ergatta rowing machine?
For a well-rounded workout program, I'd recommend getting your hands on some dumbbells, a barbell, weight plates, a jump rope for HIIT, and (depending on your floor space) possibly something like a full-rack or another workout machine if you like switching up your cardio.