We test and review fitness products based on an independent, multi-point methodology. If you use our links to purchase something, we may earn a commission. Read our disclosures.
Nike Metcons are generally heralded as some of the best training shoes on the market. From cardio to strength training, from CrossFit Games athletes and your average CrossFit box-goer, Nike Metcons have proven to be a favorite among athletes of all levels and perform well during CrossFit workouts of all types. I've been a CrossFit L-1 Trainer since 2019, and I've been participating in CrossFit since 2013—suffice it to say, I've worn plenty of CrossFit training shoes!
In August 2023, Nike released the newest version, the Nike Metcon 9. Cooper Mitchell—aka "Coop from Garage Gym Reviews"—thoroughly tested the Nike Metcon 9 to find out what exactly is different about them compared to the Nike Metcon 8.
The short version: They're quite different and really fantastic for lifting. In our Nike Metcon 9 review, we take a look at the specifications of the shoe, the updates, and how they perform for lifting, running, CrossFit, and everyday wear.
RELATED: Nike Metcon 8 Review
Experts In The Best CrossFit Shoes
From HIIT to heavy deadlifts, our team of fitness professionals and athletes has put various CrossFit shoes through the ringer over the years. Our roster of product testers includes Olympic lifters, triathletes, CrossFitters, and powerlifting enthusiasts—and our shoe testing reflects these variable viewpoints. As of this writing, we've collectively tested dozens of workout shoes, from Nike Metcon 4s to adidas Ultraboosts to the Reebok Nano X2 and beyond. You can learn about various shoes in our guides to the best CrossFit shoes and the best cross-training shoes.
Nike Metcon 9
GGR Score: 4
Product Highlights
Released August 2023
Versatile, durable training shoe
Meant for CrossFit workouts and training
Enhanced rope guard
Larger Hyperlift crash pad
11 colorways available at launch
Pros & Cons
Pros
Versatile training shoe
Rope guard wrap-around
Rigid heel great for stability
Multiple colorways to choose from
Lace locking system
High-traction outsole
Durable upper
Breathable woven textile upper
Wide toe box
Cons
Not great for running or WODs with longer run intervals
Some people may find them too rigid
Expensive at $150 a pair
Bottom Line
The Nike Metcon 9 training shoes were released in August 2023 and build upon the Nike Metcon 8s with an enhanced rope guar wrap-around, plus a larger and more rigid crash pad. They feature a tightly woven and durable, but breathable, upper. The patterned, grooved outsole provides great traction during most weather conditions.
A Quick Look at the Nike Metcon 9 Training Shoes
The newest in a continual release of Metcons, the Metcon 9s ring up at $150 and come in 11 colorways between the men's and women's options. There is a separate listing for the Nike Metcon 9 AMP, but there don't seem to be any significant differences other than colorway and price (the AMP shoes cost $160).
According to the Nike website, the new Metcons feature some differences in comparison to their predecessor, the Metcon 8. Namely, the crash pad in the heel (dubbed the "Hyperlift plate") and the rubber rope wrap-around feature different, improved designs, which we'll get into more later.
Before You Buy
According to Coop, the newest iteration of the Metcons are best for people who mostly lift and do some metcons with minimal running. They are not good for running in general, he says.
On the Nike website, there are two separate listings for the shoe: The Nike Metcon 9 and the Nike Metcon 9 AMP. I've reached out to a Nike representative to find out what the difference is, but based on my research, it seems that the only difference is the colorway. The price for the AMP shoes is $10 higher at $160 per pair.
Around the same time, Nike also released the new Nike Free Metcon 5, the more running-friendly version of the metcons. (Check out our Nike Free Metcon 4 review). 
Always be sure to look out for any Nike promo code to help you save your hard-earned money.
Nike Metcon 9 Video Review
Are the Nike Metcon 9 Training Shoes Worth It?
I'll start by telling you that I'm the type of person to wear a pair of shoes until they have holes in them, so… I personally don't think it's ever worth it to buy the latest and greatest pair of shoes if you just bought a pair of the same kind last year.
However, after trying the Metcon 9 training shoes, Coop says it's absolutely worth buying the new pair. "Nike has changed everything about this shoe, including the platform, which is the most significant part," Coop says.
Aside from our beloved gearheads who buy each new release because they can, here's a look at who else the Metcon 9s are a good fit for.
Great for:
CrossFitters looking for shoes to help with rope climbs
Athletes who tend to need assistance with heel stabilization
People who are looking for a very durable cross-training shoe
Anyone looking for a hybrid training shoe that can take you from the weightlifting platform to 100-m sprints
Not recommended for:
People looking for a specific running shoe (see the best running shoes)
People looking for a specific weightlifting shoe (see the best weightlifting shoes)
Individuals who already have a pair of Metcon 8s in good condition
CrossFitters who prefer a more flexible training shoe
Nike Metcon 9 Specs
| | |
| --- | --- |
| Price | $150; $160 for AMP version |
| Heel-to-Toe Drop | Not disclosed online (we have reached out to a rep) |
| Stack Height | Not disclosed online (we have reached out to a rep) |
| Upper | Woven textile |
| Midsole | Dual-density foam |
| Tread | Patterned, grooved rubber |
| Shoe Weight | Not disclosed online (we have reached out to a rep) |
| Sizing | Women's 5-12, men's 3.5-15 |
| Colorways | AMP: Phantom/Light Bone/Black; Men's: Monarch/Mica Green/Medium Ash/Amber Brown, Black/Anthracite/Smoke Grey/White, Light Smoke Grey/Photon Dust/White/White, White/Racer Blue/Obsidian/Pure Platinum, Olive/High Voltage/Luminous Green/Sequoia; Women's: Amber Brown/Light Bone/Mica Green/Guava Ice, Pink Oxford/Diffused Taupe/Pearl Pink/White, Jade Ice/Black/Mineral/White, Sail/Guava Ice/Rush Fuchsia/White, Black/Anthracite/Smoke Grey/White |
Wearing the Nike Metcon 9 Shoes
"You could wear these shoes for cross-training and running, but this is 100% a shoe that has been designed primarily for lifting," Coop says. "It's designed to be an all-in-one shoe, but I see it being the best fit for someone who, for instance, mostly lifts and does a bit of running or cross-training on the side."
It's not as cushioned as a running shoe; it's not as stable as a lifting shoe; it's not as flat as a deadlift shoe—but when you meld all of these elements together, you get the best possible shoe for someone who's doing a lot of functional training, a lot of athlete-like training, Coop explains.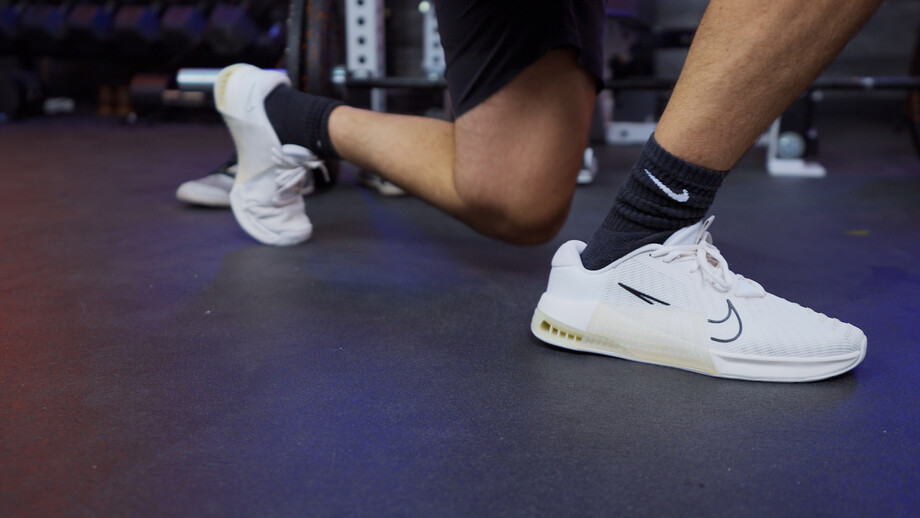 This is because of the Hyperlift TPU (thermoplastic polymer) plate, which provides stability and a slight lift of the heel, which assists in achieving proper squat or barbell receiving positions. Coop says to think of it like a miniature version of the heel lift/plate on the Nike Romaleos, the brand's lifting shoes.
The Hyperlift plate is a "huge positive" for weightlifting, Coop says, but not so much for running or other movements that require a lot of flexing and extending of the foot. So if you're doing a lot of running, "you're probably going to hate this shoe—just being honest," Coop says. At the max, Coop says they can suffice for 400- to 800-meter runs. More than that, and you'll probably find yourself wishing you chose a different pair.
Nike Metcon 9 Construction and Materials
Overall, the Nike Metcon 9s look very similar in construction to the Nike Metcon 8s, but there are quite a few differences. Here's a rundown of the construction.
Upper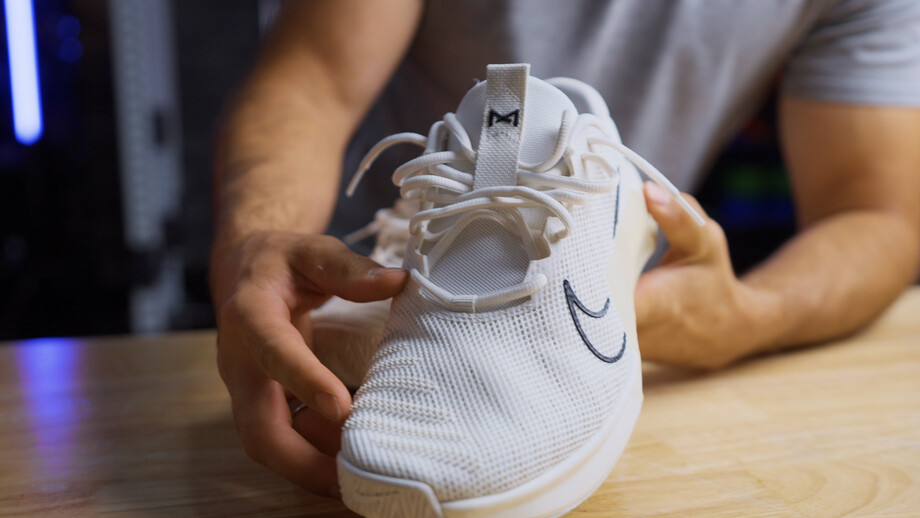 The upper consists mainly of the same tightly woven textile you'll find on the Metcon 8s. This synthetic mesh is more durable than the woven mesh on the Metcon 7s, which was more breathable but more prone to tearing.
To me, the newer, more tightly woven textile on the 8s looks and feels more like the patented—and ultra-durable—SuperFabric on NOBULL Trainers. It's definitely not quite the same, but the newer uppers certainly feel more plasticky, like the NOBULLs, than previous versions of the Metcon.
Still, Coop says the upper is plenty flexible for most types of workouts. Again, it's not ideal for long running intervals, but the upper allows for enough movement to comfortably do box jumps, lunges, burpees, and other exercises.
RELATED: NOBULL Trainer Review
Midsole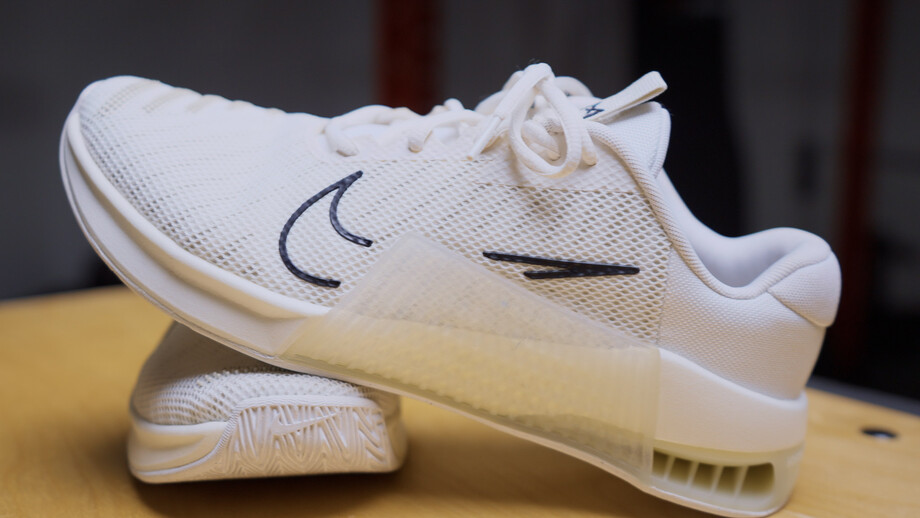 According to the Nike website, the midsole on the Metcon 9s is constructed of "dual-density foam." To be frank, I'm not entirely sure what Nike means by this, and the only other information Nike provides is this: "firm foam on the outside, soft foam on the inside." The dual-density midsole intends to provide cushioning combined with responsive feedback, increasing the versatility of the shoes for different types of WODs.
Since past versions of the Metcon have used Nike's popular React Foam, I assumed that the 9s likely utilize the same material. While we still aren't sure of the exact name of the midsole material, Coop says the Metcon 9s feel very springy and that they provide great energy return. It's great for box jumps and double-unders, he says.
Insole
The Metcon 9's insole is much like the Metcon 8: contoured with a gusseted tongue. There's an improved lace lock system, which helps secure your foot in the interior of the shoe and limits unwanted movement, particularly on plyometric exercises like burpees or box jumps. The lace lock system also helps with stability during barbell lifts.
Outsole
Like past iterations of the shoes, the Nike Metcon 9s feature a patterned, grooved rubber outsole constructed of rubber, although the Nike website doesn't provide specifics. Thanks to Coop's testing, we know that the outsole on the 9 lives up to the superior traction Nike is known for.
RELATED: TYR CXT-1 Training Shoes Review
Nike Metcon 9 Fit and Functionality
Here's our analysis of the new Metcon 9s in terms of fit and function.
Toe Box
Nike Metcons are known for their wider toe box with plenty of room to splay the toes. In the new product listing, Nike claims that the upper features "flexible, durable support in the toe area, so that when your toes splay when lifting heavy weights, it won't feel restrictive."
And based on the shape of the shoes in the available photos, it's clear to see that there is a lot of contour in the design, with much more room in the forefoot than midfoot or heel. Some other first look reviews of the Nike Metcon 9s mention that the new model is even wider in the toe than the 8s.
Coop confirms this after testing the new Metcons: "These shoes have some of the widest toe boxes that Nike has ever released in a shoe before," he says. It's one of the most notable updates. This is a good thing for most people, Coop says, because it allows your toes to splay more.
Midfoot
Metcon training shoes historically have a narrower midfoot area than some other CrossFit shoes, which makes them great for locking down the feet when stability is needed, but not always ideal for those with wide feet. Thankfully, the Metcon 9s feature a wider toe box than previous iterations.
The shoes also feature a lace lock system, which secures the foot inside the insole of the shoe and limits unwanted movement, such as the foot shifting from side to side within the shoe.
Heel
One of the major improvement areas for the Nike Metcon 9 is the heel. Nike implemented a larger Hyperlift plate, which is the plate or crash pad beneath the heel. This underfoot plate assists with stability and rigidity, which causes the shoe to excel during heavy lifts, barbell cycling, and plyometric movements.
Coop says this platform on the heel is the most significant change from the Metcon 8s to the 9s, and it's a huge positive for people who lift in their metcon/cross-training shoes. If you don't want to get a pair of dedicated lifting shoes, the Metcon 9s are a great alternative, Coop says.
RELATED: Lululemon Chargefeel Review
Metcon 9 Vs. Metcon 8: What's New?
Nike says that they "improved on the [Metcon] 8 with a larger Hyperlift plate and added rubber rope wrap." That's all the explicit information given regarding the differences between the Metcon 8 and the newest iteration, the Metcon 9.
Indeed, the rubber rope wrap is one of the most significant visual changes to the shoe, with the lateral portion (the part on the outside of the foot) extending up nearly to the laces and the medial (inner) portion extending to the tongue. No matter what foot positioning you use on your rope climbs, this rubber wrap should prevent any fraying or decaying of the mesh outer of the shoe. It also intends to help with grip during rope climbs and descents.
The Hyperlift plate is a stabilizer in the heel, which adds rigidity to your stance during heavy lifts and landing patterns during movements like box jump overs. Nike says they increased the size of this heel plate from the 8s to the 9s, so theoretically, these should feel even more stable and grounded.
Coop says the main differences he feels between the 8s and 9s are:
The 9s have a wider toe box
The 9s feature a wider and more stable heel
The midsole on the 9s is a bit more reactive than the midsole on the 8s
The 9s, overall, are stiffer than the 8s
Nike Metcon 9 vs Reebok Nano X3
Reebok Nano X3
GGR Score: 4
Product Highlights
13th iteration of Reebok Nano
Unisex sizing
Lift And Run Chassis in midsole
Mesh upper
Durable rubber heel clip
Great traction on outsole
Pros & Cons
Pros
More comfortable for running than other CrossFit shoes
Lift And Run Chassis
Responsive midsole
Breathable upper
Sick colorways
Reflective detailing
ROPEPRO rope guard
Durable heel clip
Wider crash pad
Wide toe box
Cons
Sizing is kind of funky and confusing
Feels wider/looser than previous iterations
Pricey (but not any more so than other CrossFit shoes)
Bottom Line
The Reebok Nano X3 training shoes are the 13th iteration of the popular Nano and are supposedly the most "runnable" CrossFit shoes to date. They are also available in unisex sizing.
Reebok Nano trainers are the main competitor to Nike Metcon trainers. They feature Reebok's well-known Flexweave knit upper and a wide crash pad and toe box.
Our product testers have worn Nanos for years, testing multiple iterations. We're familiar with the ins and outs of Nanos, and primarily, we think they're better than the Nanos for people with wider feet and people who want more cushion and flexibility.
Nanos tend to absorb more shock than Metcons and move with you rather than lock your feet down. As for which is better for you, it comes down to foot anatomy and personal preference. Both shoe lines perform fantastically, but neither one is the right choice for every athlete.
For more details on the Reebok Nano, read our Reebok Nano X3 shoe review.
Ordering the Nike Metcon 9s
Getting your own pair of the Metcons is easy: Just go to Nike.com, search for the Metcon 9s, add to cart, and boom. A virtual swipe of your credit card later and they'll be on the way. Shipping costs range from $7 to $30 depending on where you are and how fast you want the shoes.
Customer Experience
Nike has a two-year warranty on all of its shoes for manufacturer defects. This warranty doesn't cover normal wear and tear from normal use of the shoes. If you're a Nike member (it's free and easy to sign up), you also get the benefit of 60-day returns for any reason. If you don't like the shoes, you can return them with no penalty and get a full refund as long as you do so within 60 days of delivery.
Nike Metcon 9 Customer Reviews
Since the shoes just dropped, there are few reviews. On the product listing for the men's Metcon 9 AMP, there are almost 40 customer reviews at the time of writing with an average rating of 4.4 out of 5 stars.
One customer wrote, "These are as good as it gets for squatting and heavy lifting, without buying powerlifting shoes," adding that the overall build quality of the shoe is highly impressive.
The other buyer, who claims to own more than 30 pairs of Nike Metcons, wrote that the Nike Metcon 9 is the best trainer of all time because "its wider overall base and forefoot creates more stability when performing functional fitness movements, which gives the athlete confidence to push up the intensity during the WOD."
On the listing for the women's Metcon 9, one reviewer wrote, "Although I have not used them much, first impressions on the Black Nike Metcon 9's are phenomenal. Comfortable yet supportive shoes. Sleek and trendy. Fits well. I have been needing shoes for my exercises and am really looking forward to these shoes specifically designed for what I need. I can't wait to see how they do!"
Several of these reviews were collected as part of a promotion wherein the reviewer got the shoes for free, which can sway opinions, so keep that in mind when shopping.
Final Verdict of Our Nike Metcon 9 Review
Coop is a huge fan of the new Nike Metcon 9s, saying they're some of the best shoes Nike has produced yet—as long as you aren't looking for running shoes. For functional training, CrossFit, and lifting, Coop recommends the Metcon 9s without reservation.
Nike Metcon 9 Full Rating
Nike Metcon 9
The Nike Metcon 9 training shoes were released in August 2023 and build upon the Nike Metcon 8s with an enhanced rope guar wrap-around, plus a larger and more rigid crash pad. They feature a tightly woven and durable, but breathable, upper. The patterned, grooved outsole provides great traction during most weather conditions.
Product Brand: Nike
Product Currency: $
Product Price: 150
Product In-Stock: InStock
Nike Metcon 9: FAQs
What are the best CrossFit shoes? 
Are Nike Metcon shoes available on Amazon? 
There are some Metcons available on Amazon. As of writing, the new Metcon 9s are not on Amazon, but some colorways of the 8s are. You may also find older versions on Amazon every so often.
What's special about Nike Metcon shoes?
Nike Metcons are considered some of the best CrossFit shoes available. They're known for their versatility and supreme stability and traction.