We test and review fitness products based on an independent, multi-point methodology. If you use our links to purchase something, we may earn a commission. Read our disclosures.
I'll be the first to admit––I'm a shameless Lululemon fan. I proudly sport my Belt Bag like it's going out of style, and am forever wearing a rainbow of Hotty Hot Shorts throughout the year. You can imagine my excitement when I saw the brand was releasing a new pair of shoes specifically crafted for women in the summer of 2023.
As soon as they were released, I was eager to put together a Chargefeel review detailing what to expect if you pick them up yourself (and all of my thoughts, of course). Don't worry––I won't spare a single detail.
Certified Sneakerheads (Oh Yeah, and Fitness Experts)
Besides being certified personal trainers, nutrition coaches, and former NCAA D1 athletes, our team of expert product testers and reviewers loves a good pair of shoes. Whether you're looking for the best weightlifting shoes in the game or the best CrossFit trainers, we have you covered. We've put dozens upon dozens of the most popular workout shoes on our feet, and we wouldn't recommend a pair unless they pass our rigorous testing standards.
Lululemon Chargefeel Shoes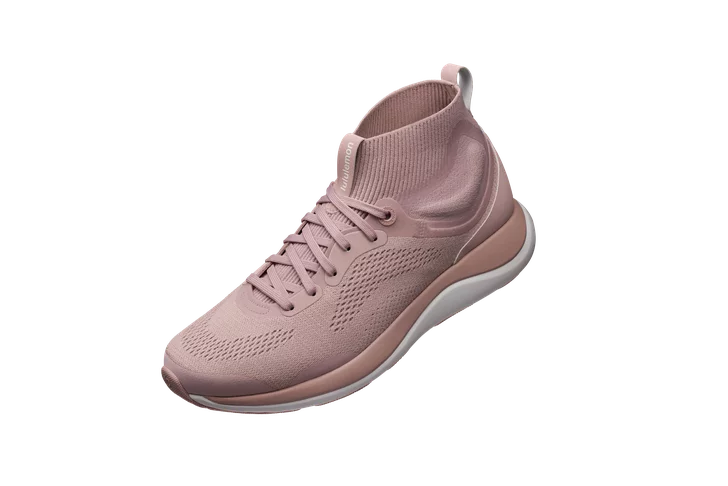 Lululemon Chargefeel Women's Workout Shoe
Lululemon created two different styles of the Chargefeel Women's Shoe––the Chargefeel Mid and the Chargefeel Low. The Chargefeel Mid Shoes have a sock-like top that allows for extra support around the ankle. If you prefer a more traditional running or training shoe look, you'll likely prefer the Chargefeel Low.Both are similar in price, clocking in at $148 and $138 respectively. They are both lightweight (although the Chargefeel Mid Shoes are slightly lighter for some reason) and flexible to allow for quick movements. However, they are not designed for Powerlifting or the Olympic lifts––save the Chargefeel shoes for your next sweaty HIIT sesh.
A Quick Look at the Lululemon Chargefeel Shoes
Lululemon is known for a lot of products in the activewear industry (think oodles of leggings and sports bras), but shoes haven't always been one of them. The Lululemon Blissfeel running shoe—which hit the shelves in March 2023—was the brand's first footwear release. In the past, Lululemon did carry some shoes in-store, but they were by popular brand APL and not designed by Lululemon. The Chargefeel is following in the Blissfeel's footsteps, designed specifically for the female foot and women's unique biomechanics.
My Tips
The Lululemon website recommends you go up half a size if you have wider feet.
Take advantage of Lululemon's financing options through Affirm.
Pros:
Designed specifically for women
Financing options available 
Variety of colorways 
Can be returned for a refund within 30 days of purchase
Lightweight
Flexible
Comfortable and snug-fitting shoes
Cons:
May not provide enough support for all runners
Expensive at close to $150
Sizes may not be inclusive enough
Are the Lululemon Chargefeel Shoes Worth It?
The Lululemon Chargefeel shoes may be the sneaker of the summer, but are they the right choice for you? Check out who I think will drool over these and who should take a look at something else.
Great for:
Runners and HIIT enthusiasts
Those who identify as women
People who have proper running form
Not recommended for:
Individuals on a tight budget
Those who need more stability in a running shoe
People who exclusively lift weights
Lululemon Chargefeel Shoe Specs
| | | |
| --- | --- | --- |
| Shoe | Chargefeel Mid | Chargefeel Low |
| Heel drop | 9 mm | 9 mm |
| Price | $148 | $138 |
| Size range | Women's 5-11 | Women's 5-11 |
| Weight | 245 g (8.6 oz) | 267.5 g (9.4oz) |
| Designed for | Running | Running |
| Midsole | Dual-density | Dual-density |
Chargefeel Construction
Lululemon has marketed the Chargefeel shoes as "specifically designed with women's feet in mind" for both training and running. The Chargefeel shoes have a breathable mesh upper to support a variety of high-intensity movements and general running. The Chargefeel Mid shoes also have the added bonus of extra support around the ankle (thanks to a sock-like band), which I personally love. If you enjoy a nice foot hug, the mid-top Chargefeels will appeal to you over the more traditional low-top Chargefeels.
The mid-top and low-top Chargefeel shoes have "dual-density cushioning," which is just a fancy way to say there is both harder and softer cushioning in the shoe. This is ideal, as you want to be able to have some sort of rigidity for stabilization and durability, while also having the support and comfort you need.
However, the Chargefeel shoes are likely going to be best for those who have nailed their running form and strike midfoot. This is because the cushioning in the Chargefeel shoes is minimal towards the front, so if you strike the ground with your toes first, you'll likely end up on a very short run (aka you won't be very comfortable). 
As someone with a collapsed arch, I don't think these shoes are ideal for long-distance running. I need more cushioning and support (think Hoka Clifton 8s). However, I am a fan of the band around the ankle, as they remind me of my high-top soccer cleats. They feel snug and don't make me worried about flinging the shoe off of my foot during high-intensity movements.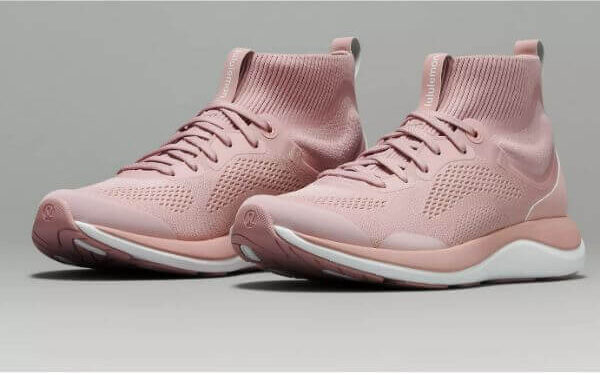 Colors and Sizes Available
The Chargefeel shoes are offered in half sizes ranging from 5-11. However, I did notice the larger sizes sold out very quickly, so it was either a stocking issue or everyone is a size 11.
The mid-top and the low-top Chargefeel shoes have different color offerings.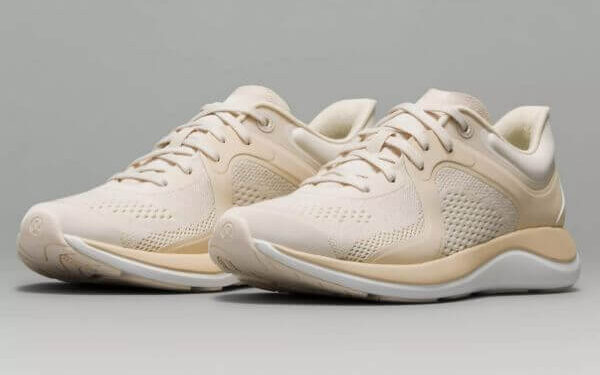 If you're looking to purchase the mid-tops you'll be able to choose from the following colors (as of right now):
Highlight Yellow
Anchor
Flare Red
White
Silver Drop
Peach
Mink Berry
Black
For those interested in the low-tops, you'll see the following options available:
Magenta Purple
Lemon Ice
White
Pink Clay
Light Sage
Light Ivory
Black
Anchor Grey
Customer Reviews
Right now, the Chargefeel mid-top shoes have 31 reviews on the Lululemon website with an average of 4.7 stars out of 5. Overall, people seem happy with their purchase, as 24 of those 31 reviews were 5 stars. The low-top Chargefeels have a slightly lower 4.4-star rating after nine reviews at the time of this writing.
Happy customers love the Chargefeels' comfort, versatility, and the color options.

"The Chargefeels have been perfect for training, HIIT, walking, and everything else I do in a day," reviewer Activekait writes. "They are supportive and lightweight with the perfect amount of cushion and I love the sporty mid-sock look."
Less enthusiastic Chargefeel owners didn't enjoy the ankle chafing, small toe box, and lack of cushioning.
"My primary form of exercise involves lifting heavy weights and the cushion isn't great for applying force against the ground (necessary for weight training)," customer Rachel explains. "I'm not sure I would call these a training shoe, but they would likely be great for a bootcamp-style class."
Final Verdict of Our Lululemon Chargefeel Review
If you're looking for a pair of shoes that'll help you crush your next run (or some burpees), the Lululemon Chargefeel shoes might be a good option for you. If you're solely a weightlifter, these may not be the best choice for you (unless you just want a cute pair of athleisure shoes).
Lululemon Chargefeel Shoes FAQs
Can I purchase the Lululemon Chargefeel shoes online and in-store?
Yes! You can purchase the Lululemon Chargefeel shoes both online and in-store. I recommend purchasing online, since you can get the exact color and size you want. If you go into the store, you're more at the mercy of what they have in-stock.
Are the Lululemon Chargefeel sneakers only for women, or can men wear them, too?
The Lululemon Chargefeel sneakers are designed for women, as per the company website. However, they're shoes. Anyone of any gender can wear them, provided they carry a size that fits you!
Should I buy the Lululemon Chargefeel low-top or mid-top shoes?
I think this depends on the look (and feel you're going for). If you're worried about potential blisters on the back of your ankles and don't like wearing tall socks, go with the more traditional low-top option. If you're a bit more avant garde and want something different in a cross-training shoe, go with the mid-tops.