We test and review fitness products based on an independent, multi-point methodology. If you use our links to purchase something, we may earn a commission. Read our disclosures.
I've been a registered dietitian in the fitness world for more than a decade and I can tell you, there's no sports nutrition supplement that people swear by more than their favorite contender for the best pre-workout. Now, there's a serious case to be made that, instead of consuming a cocktail of B vitamins and nitrate, you could just eat a sufficient amount of carbs that are timed properly through a solid sports nutrition regimen.
However, there are some pre-workout ingredients that can offer just a little extra energy and fuel, including compounds that can affect muscle recovery, muscle soreness, and even promote fat burning.
It's also fair to say that some of us need the jitters of caffeine to put a fire under our butt and get that extra push we need to walk into the gym with confidence. Also, for people who engage in creatine supplementation, take BCAAs, nitrate, or others of these other ergogenic aids separately, a high-quality pre-workout can be quite an efficient one-stop-shop of a supplement.
So, we compiled a list of pre-workout supplements that can have applications in a variety of fitness goals, but focused on those specifically offering the best pre-workout for muscle gain. It's not enough to just have a caffeine rush to give you the energy to work out, having a pre that contains ingredients to help promote muscle growth can be a tremendous help. Just a reminder, though, no pre-workout is gonna make you gain weight from lean mass without a well-designed resistance training regimen—which should go without saying!
RELATED: What Is Resistance Training?
Medical disclaimer: This article is intended for educational and informational purposes only. It is not intended as a substitute for medical advice. For health advice, contact a licensed healthcare provider.
Best Pre-Workout for Muscle Gain
Best Overall Pre-Workout for Muscle Gain: Transparent Labs BULK
Good for: People who want a clearly labeled, third-party tested pre-workout supplement
Transparent Labs says that their BULK Pre-Workout formulation provides targeted micronutrients to support anabolic hormone production and that it was formulated with one goal in mind: muscle gain. So who would we be to not include it on our list?
Along with some ingredients that are commonly found in other pre-workout powders, like L-citrulline, Transparent Labs BULK also contains 200 milligrams of PurCaf® Organic Caffeine. It's a patented brand of caffeine that is sourced from organic green coffee beans. Though some people (like myself) prefer stim-free pre-workout supplements, there are certainly benefits for ingesting caffeine before a workout.
The results of a study conducted in 20121 demonstrated that in trained adult males who consumed caffeine an hour before exercise, they had increased exercise performance to failure during resistance training and they were more motivated. This effect was seen with 180 milligrams of caffeine and, luckily for us, Transparent Labs' BULK contains 200 milligrams.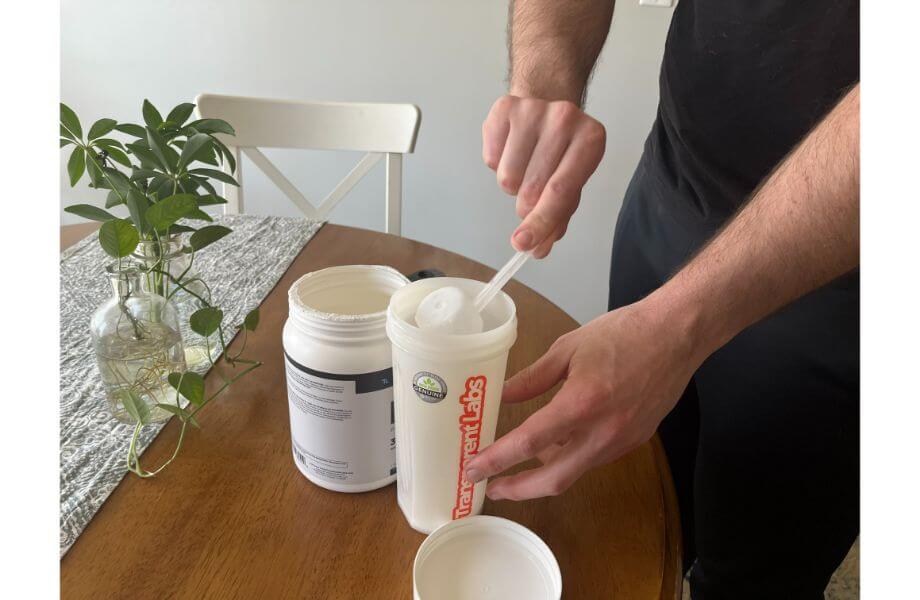 According to a recommendation by Transparent Labs, you should first test your tolerance to BULK by mixing a half scoop of the supplement with 8-10 ounces of water about 20-30 minutes before your training session. Due to the content of caffeine and other stimulating compounds, do not exceed more than 2 scoops a day.
GGR performance editor Anthony O'Reilly had this to say after testing it out: "Pretty big scoop compared to other pre-workouts, but the Blue Raspberry flavor is really good. I did notice improved focus and a great pump at the end of my workout, and there was also no crash once the caffeine wore off."
To learn more, read our full Transparent Labs BULK review.
| | |
| --- | --- |
| Price Per Serving | $1.67 |
| Flavors | Strawberry Kiwi, Pina Colada, Blue Raspberry, Black Cherry, Peach Mango, Tropical Punch, Watermelon, Sour Grape, Green Apple, Orange, Strawberry Lemonade, Lemon Lime |
| Contains Caffeine? | 200 mg of PurCaf Organic Caffeine |
Best Natural Pre-Workout for Muscle Gain: Naked Energy
Good for: Those who value a pre-workout made with natural ingredients
People seeking out a pre-workout supplement with natural ingredients might be interested in Legion Pulse. This third-party tested, gluten-free pre-workout has 100% natural ingredients, with no artificial flavors or sweeteners. The formulation is backed by peer-reviewed scientific studies cited on the website's product page, and is designed to boost energy, support strength gains, and reduce fatigue with clinically effective doses of key ingredients.
What key ingredients? Pulse includes about 350 milligrams of caffeine in each serving, along with L-theanine and a low dose of beta-alanine (to reduce the tingling sensation common in pre-workouts). L-theanine is a nitric oxide booster that can help with blood flow, according to a 2013 study2. Paired with caffeine, studies show3 L-theanine can also have a positive effect on mood and focus.
GGR's Senior Editor Nicole Davis tested the Blue Raspberry flavor with caffeine, but halved the dose to cut down on her caffeine intake. She describes the flavor as, "very sweet (and a touch bitter) with a slight aftertaste. This flavor isn't my favorite," she continues, "but I can get it down in a few minutes without any issue." Along with Blue Raspberry, Pulse comes in 17 other flavors, including six caffeine-free flavors, and customers love the variety of flavors.
Although the price is a bit high for a pre-workout at $2.25 a serving, Pulse offers a clean and natural pre-workout with no filler. Nicole saw it as an effective pre-workout, saying, "It gives me energy for sure, and I haven't experienced any of the negative stuff like post-workout crashes." For that effectiveness, it may be worth the price indeed.
Price Per Serving
$2.25
Flavors
With caffeine: Apple Cider, Frosted Cranberry, Strawberry Margarita, Fruit Punch, Arctic Blast, Strawberry Kiwi, Blood Orange, Blue Raspberry, Blueberry Lemonade, Cherry Limeade, Grape, Green Apple, Mojito, Pink Lemonade, Sour Candy, Tropical Punch, Watermelon, Peach Ring
Without caffeine: Fruit Punch, Grape, Sour Candy, Blue Raspberry, Tropical Punch, Green Apple
Contains Caffeine?
Yes (350 mg), but non-stim versions are also available
Best Pre-Workout for Muscle Gain for Beginners: Jacked Factory Nitrosurge Build
Good for: Individuals just starting out with incorporating pre-workout into their routine
If you're still warming up to the idea of starting a pre-workout and don't want to dip your toe in that pool with something too intense, Jacked Factory's Nitrosurge Build might be the move for you. The product tastes great, but there is much less beta-alanine and other active ingredients than comparable products…and this may be a good thing.
If you've ever tried pre-workout and were put off by the tingly feeling you got, what you were likely experiencing was the effects of beta-alanine, a very common ingredient in pre-workout supplements. Most people notice an itching or burning sensation in their arms, head, and neck within 10-15 minutes of taking pre-workout. However, it can also occur all over if the person is very sensitive to it. Just know that it's not harmful, it just feels really weird.
The reason for this is that there are nerve cells that are only found in your skin and they are highly sensitive to beta-alanine as a compound. So, why on earth do people put up with this crazy feeling?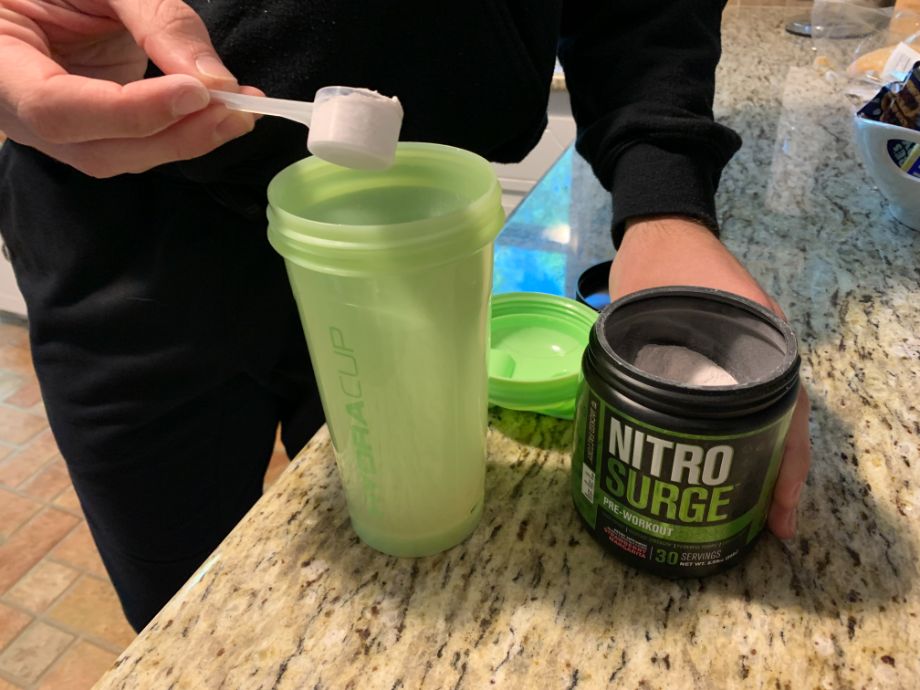 Well, it's because beta-alanine can help you lift more weight, which translates into building more muscle, especially if you engage in high-intensity exercise. For example, according to a 2008 study4, men who took beta-alanine every day for a month performed 22% more reps than those who did not. 
RELATED: Best Pre-Workout Ingredients
The good news with Nitrosurge Build is that, since it contains smaller-than-normal doses of beta-alanine which minimizes the itchy tingly effect, it's a great "starter" pre-workout, as Jacob Penner, a USA Weightlifting Level 1 Coach and member of the GGR expert panel, will tell you.
He tried the regular version of Nitrosurge, not Build, but looks like it's very similar. "We tried Strawberry Margarita (which looks like it's only available on Amazon). It is wildly delicious. Like, I'd drink this by the side of a pool over ice. Drink it all day," he said. "I took this in the morning, did just one scoop, which really only gives you a half dosage of the active ingredients you'd find in other pre-workouts, aside from caffeine, so I don't feel itchy or hype, because ingredients like beta-alanine are halved. This is what makes it really good for a beginner who isn't ready to get the mad-hype feeling you get with other pre-workouts."
| | |
| --- | --- |
| Price Per Serving | $1.17 |
| Flavors | Arctic White, Fruit Punch, Cherry Limeade, Blue Raspberry, Strawberry Margarita (Amazon only) |
| Contains Caffeine? | Yes. 180 mg (1 scoop), 360 mg (2 scoops) |
Best High-Stimulant Pre-Workout for Muscle Gain: Huge Supplements Wrecked Enraged
Good for: People who prefer a huge, caffeine-fueled rush before they hit the gym
If you're looking for a caffeine rush beyond all belief, you're ready for a scoop of Wrecked Enraged. This is a pre-workout that's not for the faint of heart as it contains three different types of caffeine—caffeine anhydrous, di-caffeine malate, and caffeine citrate—as part of the formulation.
Combine that with the 2 grams of beta-alanine we talked about earlier and if this pre-workout doesn't get you going, we don't know what will. All joking aside, do be careful with how much of this you take, and definitely start out slow the first time you try it.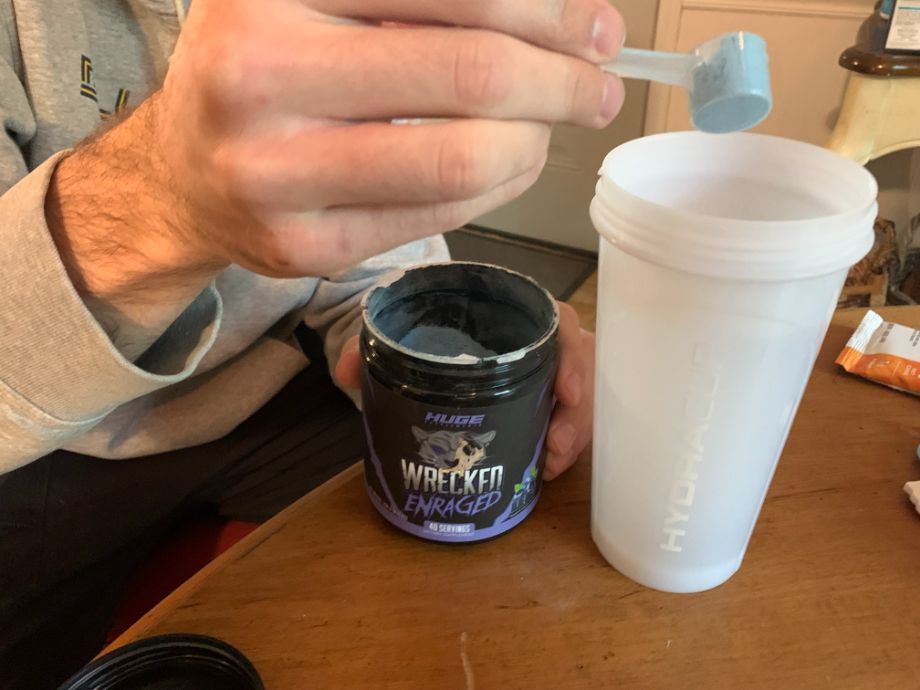 Jacob from the GGR team had this to say: "There is an aggressive amount of stimulants in this; I have been taking pre-workouts for years, and tried 50+ types, and this is wildly aggressive even for me. I am more than good with just one scoop of this, I can't imagine taking two. I will say that this could be one of the best ones I've tried; it doesn't hurt my stomach, I feel really stimulated, and I like the ingredients. I'd just be careful taking this and wouldn't recommend it to beginners."
Wrecked Engaged also contains alpha-gpc. Alpha-GPC is a neurotransmitter that studies have shown5 to be effective at increasing power and strength in the lower body after six days of supplementation.
In addition, we love the creative, different flavors there are. You can only find the "Death Wish" flavor during Halloween, but if we were to say we were not VERY curious to know what that flavor is like, we would be lying!
| | |
| --- | --- |
| Price Per Serving | $1.12 |
| Flavors | Blood Razz, Blue Razz, Death Wish, Mango Citrus |
| Contains Caffeine? | 150 mg (1 scoop), 300 mg (2 scoops) |
Best Pre-Workout for Muscle Gain and a Pump: 4 Gauge
Good for: People who want a quality pre-workout that will give them that increased blood flow and pump they are looking for
So, I think this is a good time for us to have a talk…about "the pump." For those who aren't familiar with the term, it's defined as a temporary increase in muscle mass that happens after an intense workout as a result of the blood flow being increased to the muscles. It's something that's hotly pursued by bodybuilders and weightlifters alike because it makes you feel and look amazing. But does this extra blood flow actually translate to lasting muscle gain?
If you had asked me that 10 years ago, I'd have rolled my eyes and given you a hard "no." However, recent research6 has suggested that it is likely that efforts focused on getting a "pump" while engaging in resistance training can result in muscular adaptations that can translate to the gain of lean muscle mass. Exciting stuff right?
Well, pre-workouts like 4 Gauge can help increase blood flow enough to make this pump even more pronounced. It achieves this by including ingredients like creatine7 and red beetroot extract for optimal blood flow. 
RELATED: Best Creatine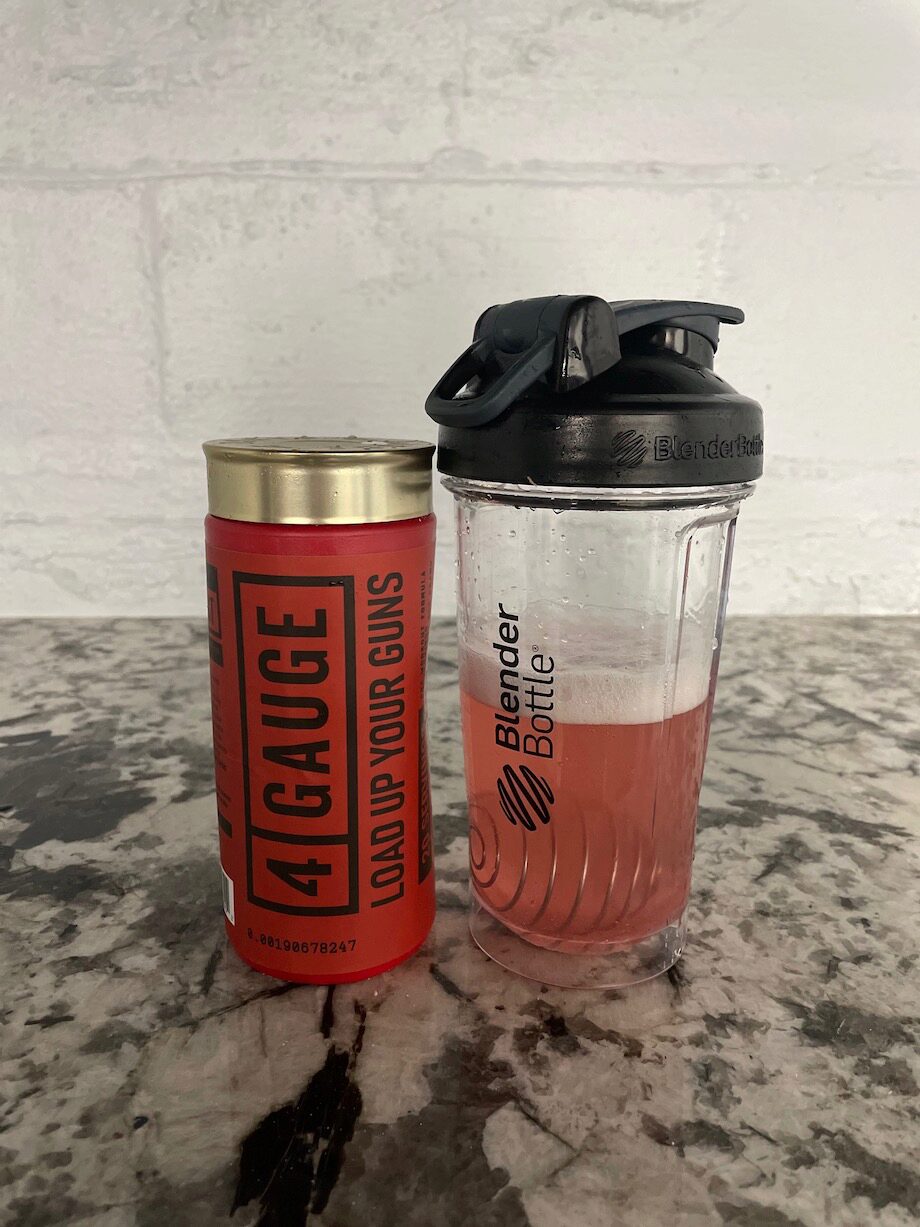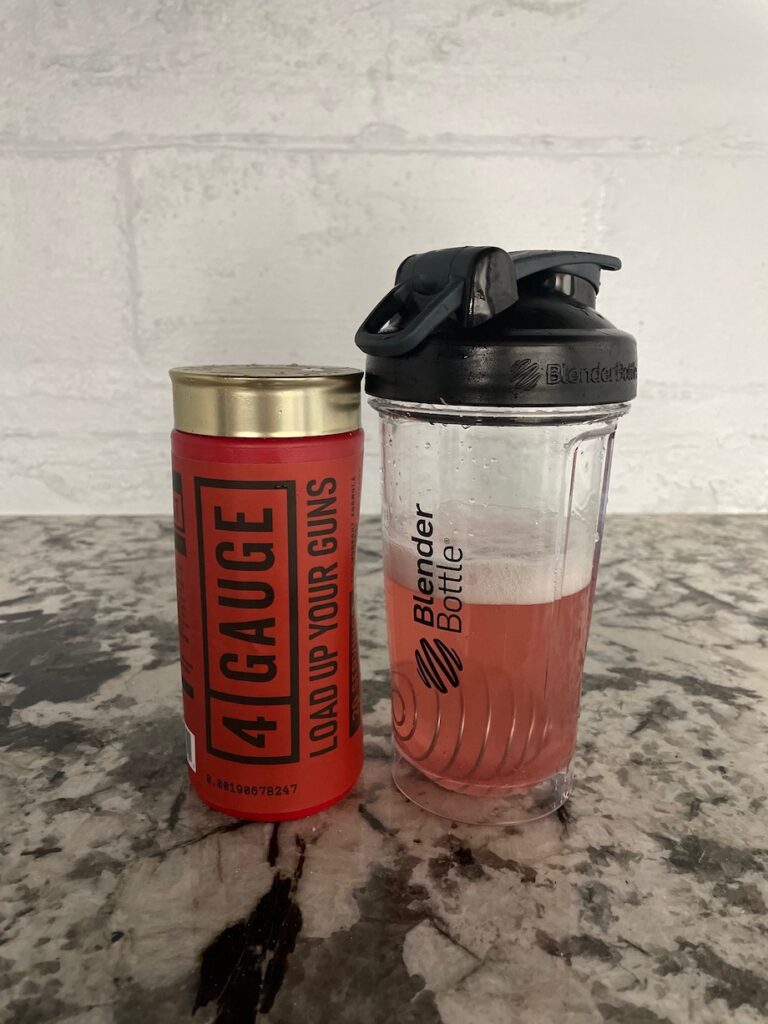 Beetroot juice in particular is an extremely popular supplement among athletes, especially endurance athletes, due to its ability to increase levels of nitric oxide in the blood8. Nitric oxide is extremely popular in the sports nutrition world due to its ability to increase blood flow and strengthen muscle contraction.
During triathlons and other endurance races, sports performance professionals like dietitians and strength coaches have swapped stories about nearby stores being completely wiped out of beetroot juice, a popular source of nitric oxide. But I digress. Basically, if you're looking for less of a rush of caffeine and more of a pump, 4 Gauge is an excellent choice for you.
Good news for some people who aren't a fan of the tingles! 4 Gauge does not contain beta-alanine, so you shouldn't feel any of those pins and needles. GGR senior editor Nicole Davis said, "The flavor wasn't my favorite—it almost has a sour tinge—but it mixes up really well. I also definitely felt a pump but no tingles, which was great."
| | |
| --- | --- |
| Price Per Serving | $2.25 |
| Flavors | Frozen Lemonade, Fruit Blast |
| Contains Caffeine? | 150 mg |
Best Stim-Free Pre-Workout for Muscle Gain: Kaged Pre-Kaged Stim-Free
Good for: People who want a boost from a pre-workout, but are sensitive to caffeine
Make no mistake, stimulant-free by no means means "useless." Kaged Pre-Kaged's formulation still contains all the right ingredients to give you the boost you need to pump out a killer workout, including B vitamins for an energy boost. Instead of using creatine monohydrate, which is the most commonly used form of creatine, Pre-Kaged uses creatine HCl.
Now, there isn't much of a difference in how creatine monohydrate and creatine HCl affect workout performance, but recent science has suggested that creatine HCl is better absorbed. The study also showed9 that, compared to monohydrate, creatine HCl was able to promote fat loss and increase lean muscle mass in a way that creatine monohydrate could not.
The dietitian in me really loves the SPECTRA™ blend in this pre-workout, which includes 20+ fruit and veggie extracts from tomatoes, carrots, blackberries, and kale. It's hard to find a pre-workout that's not just a powder of compounds for blood flow and a rush—there's some actual nutrition in this thing! And it's vegan and vegetarian-friendly.
And of course, this is a caffeine-free pre-workout, so it's safe to take if you're sensitive to caffeine. As well as being naturally flavored, it is also free of any artificial flavors, colors, gluten, or GMOs. Finally, even without the caffeine, it gives you some serious muscle pumps, as Anthony from the GGR team will tell you:
"The pump is strong with this one!" he said. "Holy hell, I was working to a heavy top set after taking this, and the after-effects were very apparent. I hate that there are only 20 servings and the scoop is VERY large compared to other pre-workouts, but that's because there are quite a few compounds in here. That said, the flavor I got, Cherry Bomb, does taste a bit artificial, which isn't great."
RELATED: Kaged Muscle Pre-Kaged Review
| | |
| --- | --- |
| Price Per Serving | $2.25 |
| Flavors | Fruit Punch, Cherry Bomb |
| Contains Caffeine? | No |
Best-Tasting Pre-Workout for Muscle Gain: JYM Pre-JYM
Good for: People who want to find themselves addicted to the flavor of their pre-workout
There are 13 active ingredients contained in Pre-JYM that are designed to make you feel your best during your workout. These ingredients include creatine HCl, beta-alanine, beetroot extract, branched-chain amino acids, and 300 milligrams of caffeine. It also contains taurine and 1.5 grams of betaine, which is a compound that's been shown to improve resistance training and endurance performance.
One study10 done in active males who supplemented with betaine for two weeks showed they had greater muscular endurance than the group of men who were not given betaine, with the betaine group performing significantly more reps, indicating greater muscular endurance.
It also comes in plenty of unique flavors that are all pretty darn delicious. Jacob from our team at GGR can confirm this after testing the product himself: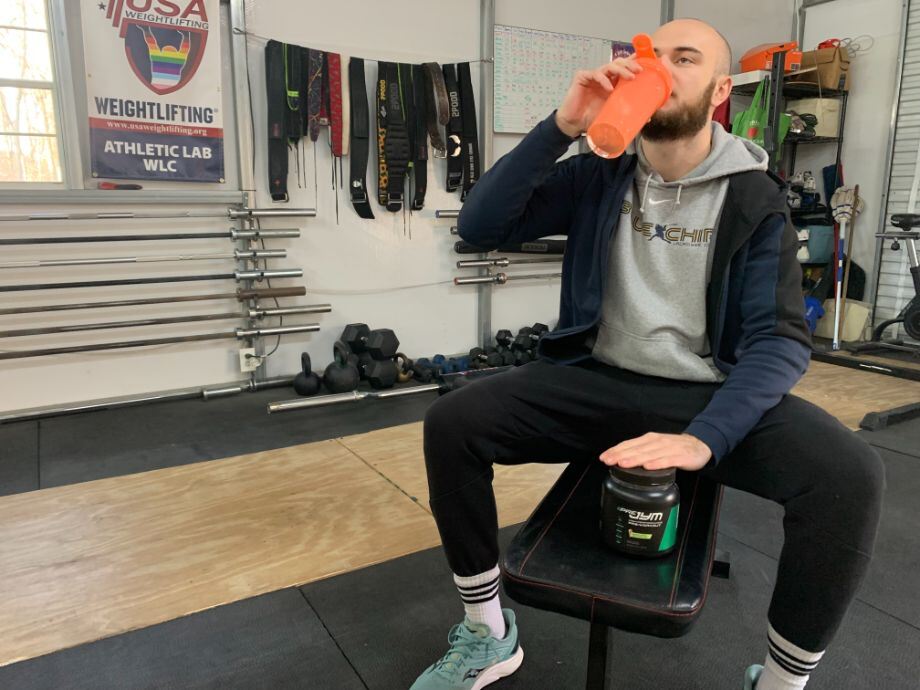 "I've taken this at least half a dozen times, and I always felt really clear and super stimulated for my workouts. This has actually ended up becoming my weightlifting team's favorite pre-workout of potentially all time, and these guys have literally used 50+ pre-workouts."
GGR performance editor Anthony is also a fan of the flavor, saying, "Pineapple Strawberry is very tropical. I want to drink this while on a beach, but without the caffeine."
Due to the sheer number of active ingredients in this pre-workout, the scoop is about 25 grams, which is significantly more than the 5- to 10-gram scoops you'll find with other pre-workouts. Luckily, with more volume, there's more great-tasting stuff for you to enjoy.
Check out our full JYM Pre-Workout review to learn more.
| | |
| --- | --- |
| Price Per Serving | $2.80 |
| Flavors | Raspberry Lemonade, Rainbow Sherbet, Grape Candy, Cherry Limeade, Orange Mango, Tangerine, Pink Lemonade, Black Cherry, Pineapple Strawberry, Strawberry Kiwi |
| Contains Caffeine? | 300 mg |
Best Budget Pre-Workout for Muscle Gain: MuscleTech Vapor X5
Good for: People looking for a standard, wallet-friendly pre-workout supplement
At only 83 cents per serving, MuscleTech's Vapor X5 is the cheapest brand on our list by far. However, that doesn't mean they've skimped on the active ingredients! There's creatine monohydrate, betaine, taurine, l-theanine, beta-alanine and NITROSIGINE®.
The original intent of Nitrosigine was to treat heart disease, but now it is commonly found in pre-workout supplements as a vasodilator that lowers blood pressure. Research shows that Nitrosigine supplementation increases exercise blood flow and decreases muscle fatigue after exercise. It is because of how much faster Nitrosigine improves blood flow and reduces fatigue that it has gained a reputation as a superior form of L-arginine in the pre-workout supplement market, according to a study done in 202011.
GGR team member, Jacob, can speak to Vapor X5's great taste and energy boosting effectiveness: "Tried the blue raspberry; it's a pleasant taste, it doesn't smack you in the face as being overly strong—tastes like your standard berry-flavored drink. Felt more awake pretty quickly. I took this at the end of my workday about 15 minutes before my workout session. I could tell some of that low-energy feeling I had at the end of the workday went away. No tingling, just very alert."
| | |
| --- | --- |
| Price Per Serving | $0.83 |
| Flavors | Fruit Punch Blast, Blue Razz Freeze, Miami Spring Break |
| Contains Caffeine? | 190 mg (1 scoop), 380 mg (2 scoops) |
Best Pre-Workout for Muscle Gain Without Beta-Alanine: Gorilla Mode
Good for: Recreational or casual athletes who are sensitive to the effects of beta-alanine
So, you've gotten this far down the list. Would you happen to be looking for a pre-workout that has the caffeine rush you want, but without the jitters and tingles you get from beta-alanine? Look no further than Gorilla Mode.
Along with the usual suspects of ingredients in the form of creatine monohydrate and betaine, among others, Gorilla mode also contains 1.5 grams of something called GlycerPump.
GlycerPump is basically a very concentrated form of glycerol, a compound that studies have established12 as being an effective way to improve aerobic and anaerobic exercise performance due to its ability to increase blood volume. 
Small note: These studies also showed glycerol was effective at causing weight gain, but that could very well be why some of you are here in the first place. Just know this won't be the best choice if weight loss is among your fitness goals.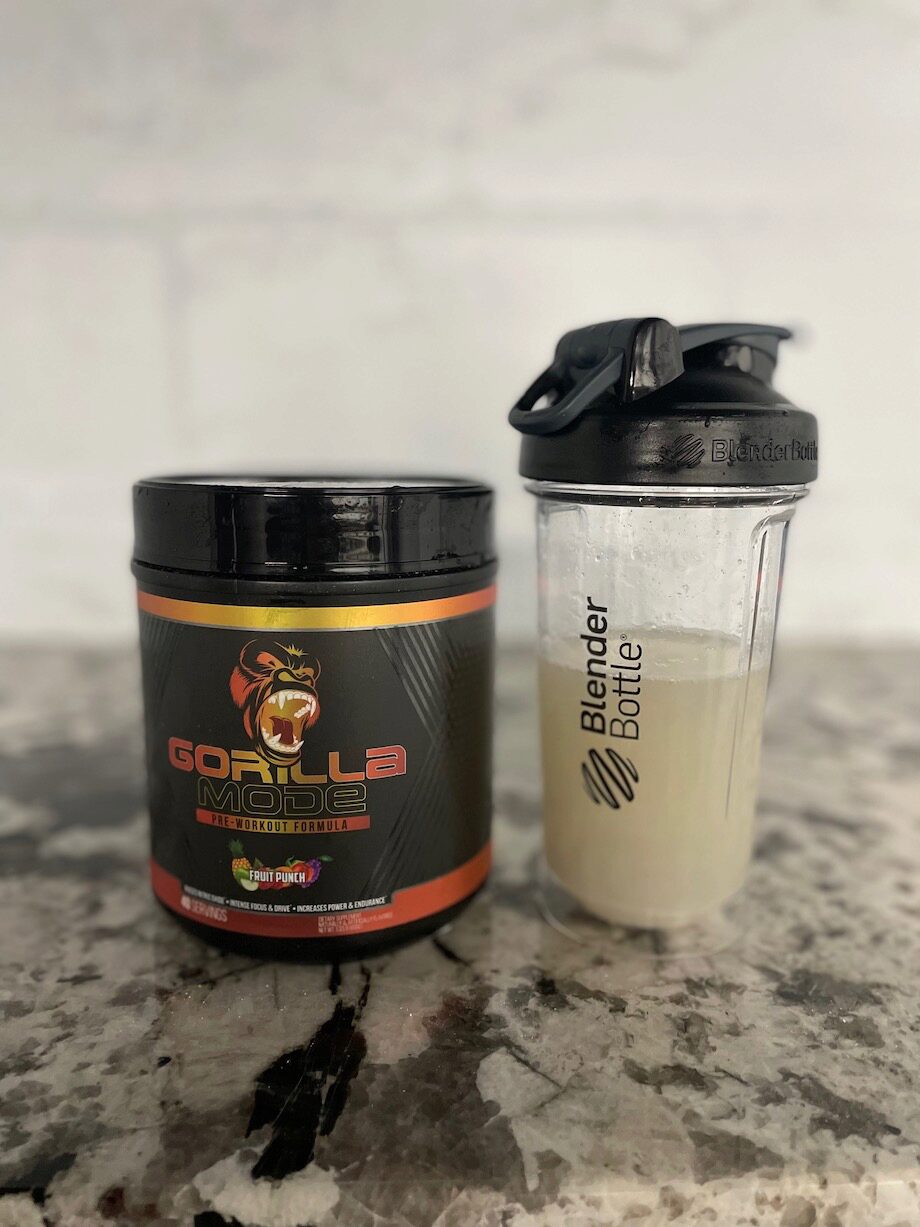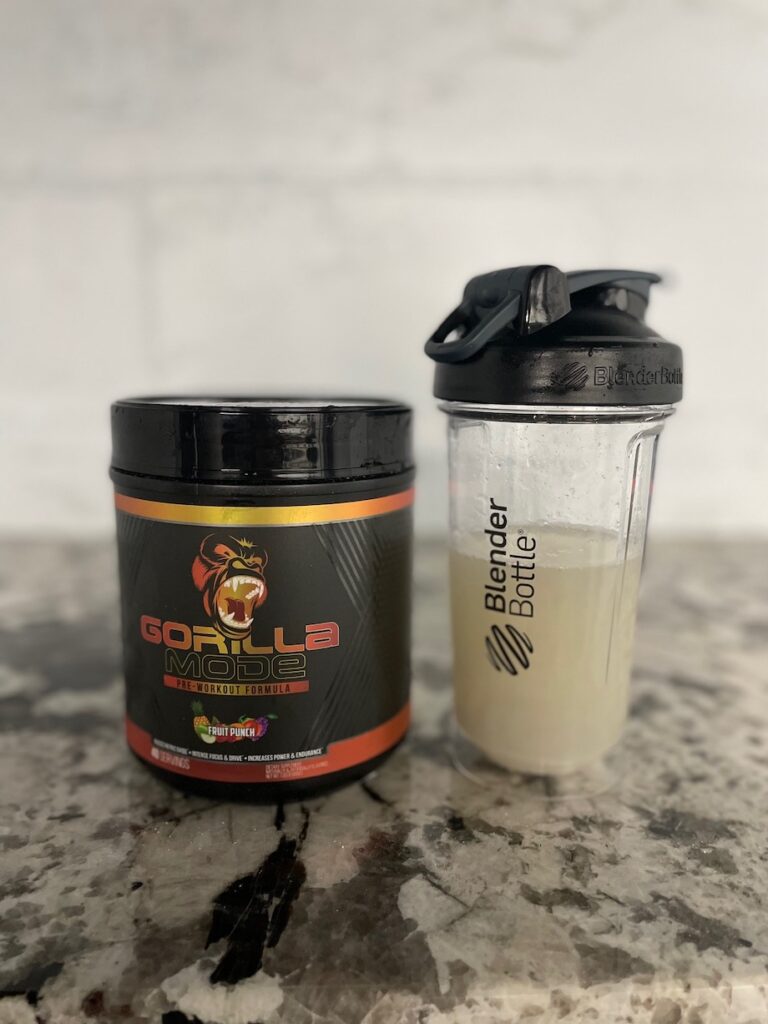 As a sports dietitian who works with professional athletes, I have to put a huge asterisk on this product. Why? Since glycerol has plasma expansion properties that can mask doping effects, the World Anti-Doping Agency (WADA) prohibits the use of it as an ergogenic aid. Basically, you will fail a drug test as an athlete if you use this product. However, if you are a recreational athlete or casual weightlifter just trying to get muscle pumps and make gains, it's perfectly safe and legal to take.
Jacob, one of the testers on our team, tried the Bombsicle flavor and had this to say: "It just tastes like something sweet. I don't dislike it, I'd just say that the taste isn't the selling point here. I took this about 15 minutes before my workout; two hours later, and I still have a pump. I felt very calm but energetic. I felt confident. I got a pump almost immediately. I also noticed my skin felt warm. I didn't notice tingling at all with this one, which makes sense because there is no beta-alanine. I've taken 50+ pre-workouts, and this is one of my favorites. I'll definitely be using this in my workout routine."
| | |
| --- | --- |
| Price Per Serving | $1.25 |
| Flavors | Bombsicle, Cherry Blackout, Fruit Punch, Jungle Juice, Lemon Lime, Lemonade, Mojo Mojito, Orange Krush, Tigers Blood, Volcano Burst, Watermelon |
| Contains Caffeine? | 175 mg |
Best Pre-Workout for Muscle Gain for Endurance Athletes: 1st Phorm EnduraFormance
Good for: Endurance athletes who want a pre with added electrolytes
Despite being a stimulant-free pre-workout, 1st Phorm EnduraFormance is great tasting, includes electrolytes for hydration, and has compounds to help with those who engage in longer-than-normal (over an hour) training sessions. Don't take it from me though. Amanda Capritto, one of the testers on our team, is a triathlete who can tell you firsthand:
"I ordered Berry Lemonade and it's easily one of the best-tasting supplements I've tried for this go-around of product testing," she said. "It's fantastic: Not too sweet, slightly tart, no weird aftertaste. Endura-Formance has been a great addition to my supplement stack. I love taking this before all types of workouts, but especially endurance workouts since it has ample sodium.
"It also contains the clinical dosage of creatine which is awesome to see, plus beta-alanine, betaine anhydrous, and L-tyrosine, all great ingredients in pre-workout. I don't know if it's placebo from knowing what's in the powder or if it's actually working, but I definitely feel like this helps with my triathlon training sessions."
| | |
| --- | --- |
| Price Per Serving | $1.50 |
| Flavors | Berry Lemonade, Grape, Green Apple, Orange |
| Contains Caffeine? | No |
Other Pre-Workout for Muscle Gain We Researched
Our team has tested many pre-workouts, so there were some that didn't make this list. Here's a sampling:
How We Picked and Tested the Best Pre-Workout for Muscle Gain
Out of all the sports supplements on the market, pre-workouts can get the most confusing. They are so far away from the food-based supplements like the best whey protein and greens powders and tend to contain ingredients that the everyday person likely doesn't recognize…so we'll just assume it works? So, we compiled this list to keep you informed using the following criteria:
Price
If you're the type of person who absolutely needs a scoop of the ol' pre to give you the pick-me-up you need to make it to the gym, you're going to be going through it fast. So, we wanted to focus on brands whose price reflected its quality for sure, but that could also be accessible to most people.
Flavors
In the same vein as the previous point, once you make a habit out of chugging pre-workout, it's very likely your favorite flavor can become your least favorite flavor super fast. However, just because you can't stomach another drink of slightly-salty Cherry limeade doesn't mean you should have to switch from your favorite and most effective brand. So, we like brands that offer different flavors for you to cycle through to keep your supplementation going without hiccups.
Ingredients
Normally with supplements, and even food, the nutritionist in me would have to give the knee-jerk recommendation that longer ingredient lists are no good. However, that's not entirely the case with pre-workout due to the fact that many of the compounds that make pre-workout supplements effective work even better when they are combined with other stimulants. It's not simply that more ingredients = better pre-workout. However, we did want to select pre-workout powders that had effective, clinically-proven ingredients to help you build muscle.
Third-Party Testing
Since dietary supplements are not approved by the FDA, having an independent third-party lab verify that what's on the label is what's in the pre-workout is super important, especially for athletes. This is particularly important for pre-workouts, because overloading on stimulants can be dangerous.
Transparency also plays a part in this—does the company provide certificates of analyses, not use proprietary blends, and generally seem very upfront about what's used in their pre-workout and why?
Benefits of Pre-Workout for Muscle Gain
Gives You That "Pump"
As we talked about at length, it's common for a quality pre-workout to have ingredients that give you that "pump" or that temporary increase in blood flow that makes your muscles look huge after a workout. Not only is this a huge confidence booster and a vital tool for bodybuilders who need that "big" aesthetic, but science is beginning to show it can have lasting effects as it pertains to muscle growth.
Longer Workouts
There are plenty of compounds in our listed pre-workouts that delay muscle fatigue, or at least blunt your perceived level of fatigue. This, in turn, can result in longer workouts than normal. Longer workouts can easily result in improved strength and more muscle gain, as long as you are recovering properly and are not overdoing it and damaging your muscles as a result.
Energy Boost
Anybody else here think that people who wake up at 5 in the morning to do an intense weight-training workout are total unicorns? I may be alone, but in case you're in this boat with me, pre-workout can be the solution. After all, you can't make gains if you stay at home and sleep.
The combination of caffeine and other stimulants can not only help peel you out of that bed at the crack of dawn to make it to the gym, but can give you the energy levels that make you feel like a million bucks when you get there.
Dosing and Interactions
The risk of experiencing side effects when taking even the best pre-workout supplements is significantly higher than other sports nutrition supplements like protein powder.
However, with the prevalence of high amounts of caffeine and the sheer number of stimulants and other concentrated compounds present in the form of proprietary blends, you definitely want to follow the instructions very carefully. Also be mindful of how much caffeine you're getting from additional sources, like green tea and coffee to lower your risk of overdoing it.
Generally speaking, if you have heart problems, you definitely shouldn't be taking pre-workout. There are far too many compounds that affect blood pressure, blood volume, and alter your heart rate in dramatic ways.
If you have liver or kidney conditions, it is also not recommended that you take pre-workout supplements. As with all dietary supplements, you should consult your physician before starting it, especially if you take prescription medications.
Potential Side Effects
Pre-workouts can quickly cause negative side effects if overused, especially high-stim pre-workouts. These pre-workout supplements can cause rapid heart rate, which could cause cardiovascular issues or, in extreme cases, a heart attack. Caffeine and other stimulants may also cause disruptions to your sleep cycle if taken too close to bedtime.
Third-Party Testing
The risk of exposure to banned substances or illegal stimulants is high with pre-workout powder due to the fact that making these supplements very effective at getting you absolutely jacked is…well, super profitable.
In 2013, a supplement company selling a pre-workout called Craze came under fire for being caught including meth in their pre-workout after several athletes failed drug tests after taking the product.
Sadly, this is something more common than we'd like it to be because the FDA does not regulate supplements. That's why third-party testing is important. When your pre-workout is third-party tested, an independent lab has cleared it of containing any banned substances. So, if this is a concern for you, look for pre-workouts that have been third-party tested and labeled with certifications from NSF for Sport of Informed Choice.
FAQs About Pre-Workout for Muscle Gain
Does pre-workout build muscle?
There are some ingredients in some brands of pre-workout powders that have a direct impact on hypertrophy. However, the muscle building capabilities of most pre-workout supplements are indirect in the way that they can help delay fatigue, extend workouts, and give more of a "pump."
What pre-workout makes your muscles bigger?
Most pre-workout supplements will give you a "pump" due to increased blood flow to the muscles, making them appear bigger. Though some recent studies suggest these muscle pumps can translate to lasting muscle gains, no pre-workout supplement can make your muscles bigger without a solid resistance training regimen.
Which pre-workout is best for lean muscle?
The best pre-workouts for lean muscle are likely those that include ingredients which promote anabolism and prevent catabolism for positive protein balance. When the body is in positioned protein balance, it is signaled to be in a lean muscle-building state.
These statements have not been evaluated by the Food and Drug Administration. This product is not intended to diagnose, treat, cure, or prevent any diseases.
References