We test and review fitness products based on an independent, multi-point methodology. If you use our links to purchase something, we may earn a commission. Read our disclosures.
One might assume, at a glance, that the Echelon EX1 is simply a Peloton bike knock-off offering inferior quality in exchange for the reduced retail price. Since their company was founded in 2015, Echelon Fitness has been known to ride hot on the heels of Peloton's success, coming out with a line of exercise bikes shortly after Peloton did the same in 2012, and since expanding to make treadmills, rowers, and mirrors.
So, Echelon Fitness is doing quite well as a company these days, but do they make good stuff? Is the Echelon EX1 exercise bike a quality product, or are you better off paying the premium price for a Peloton instead?
As it would turn out, the Echelon EX1 is an excellent option for those looking for a fantastic user experience comparable to Peloton but for a fraction of the price. Unfortunately, Echelon recently discontinued the EX1, but we're providing a full Echelon EX1 Exercise Bike review to share some of the features that make a great choice, as well as a worthy alternative to purchase instead.
Spin It to Win It!
Our expert testers at Garage Gym Reviews have logged hundreds of hours sweating it out on popular exercise bike brands like Echelon, Peloton, Schwinn, NordicTrack, and more. We take our product reviews very seriously to make sure you have the information you need to make an excellent buying decision.
We're CrossFit-L1 trainers, certified personal trainers, nutrition experts, and, most importantly, fitness-focused people just like you, looking to get an excellent indoor cycling workout without breaking the bank.
Looking for an Alternative to the Echelon EX1 Exercise Bike?
Best Alternative to Echelon EX1 Exercise Bike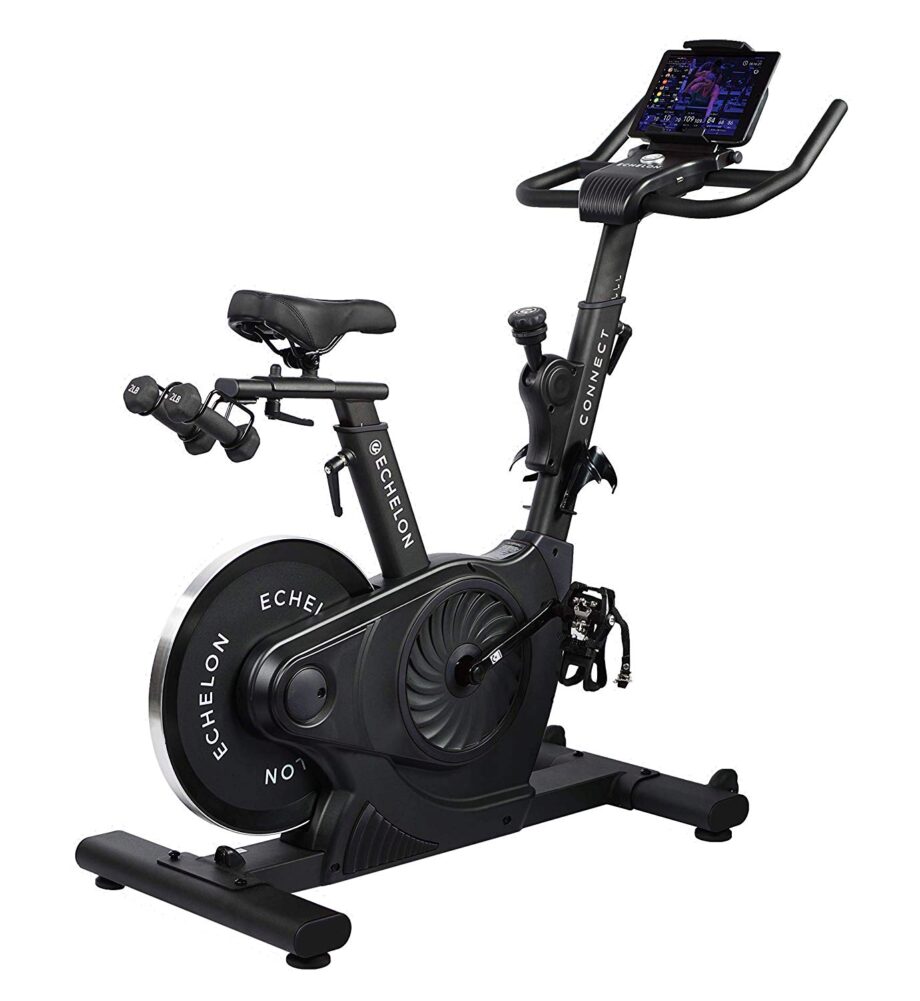 GGR Score: 3.3
Community Score: 4
Product Highlights
14 DAY TRIAL INCLUDED. The Echelon Fit APP provides totally immersive fitness in the comfort and convenience of your own home.
We found a lot to love about the Echelon EX1, so it's a shame it's been discontinued. For an excellent alternative that offers almost identical features with a little extra oomph, you'll want the Echelon EX-3.
The two spin bikes are basically identical, but the EX-3 boasts a more powerful hardware resulting in a smoother ride. For that reason, you'll pay slightly more for the EX-3 compared to the budget-friendly EX1. Since the EX1 is no longer manufactured, though, you may not have a choice.
Overall, if you like the features of the Echelon EX1 and you can't get your hands on one now that it's discontinued, the Echelon EX-3 is an excellent alternative boasting identical features with some slight improvements.
A Quick Look at the Echelon EX1 Exercise Bike
The Echelon EX1 is a comprehensive piece of fitness equipment considering its price point. It features a sturdy, powder-coated steel frame that, while light, accommodates users up to 300 pounds in weight while offering 32 levels of magnetic resistance. It's lightweight yet sturdy and offers a smooth ride comparable to the premium products sold by Echelon's competitors.
The EX1 is sometimes referred to as the Echelon Connect EX1 because of its ability to pair via Bluetooth with the Echelon Fit app. This compatibility allows users to have access to choose from a variety of live classes, on-demand classes, or scenic rides from locations around the world.
From the great ride to its wealth of features, the EX1 provides a lot of bang for your buck.
Pros:
Considerably cheaper than Peloton
32 levels of magnetic resistance
Bluetooth and Echelon Fit app compatible
Dual pedals allows clip-in and regular sneakers
Cons:
No built-in console
No preset programs
Limited warranty
Echelon EX1 Exercise Bike Specs
| | |
| --- | --- |
| Footprint | 48.81" L x 19.88" W x 58.26" H |
| Weight | 105 lbs |
| Weight Capacity | 300 lbs |
| Resistance | 32 resistance levels |
| Pedals | SPD compatible with fully adjustable toe cages |
| Interactive Programming | Live and on-demand classes available through Echelon Premier Membership. Accessed by connecting your device to the machine via Bluetooth and using the Echelon Fitness app. |
| Adjustability | Adjustable seat, multi-position handlebars |
| Flywheel Weight | Approximately 28 lbs |
| Seat | Adjustable, padded seat |
| Warranty | 1-year warranty on parts and labor |
Key Features of the Echelon EX1 Exercise Bike
The EX1 offers a lot for the most cost-conscious of the line, which includes the mid-tier EX-3 and the luxurious Echelon EX-5. It boasts a sturdy frame, silent magnetic resistance, and an intelligently-placed flywheel which offers a smooth ride with minimal lag or jerkiness.
On top of the great construction, the EX1 offers Bluetooth connectivity and compatibility with the Echelon Fit app, so you are able to hop on and fire up one of the many live or on-demand classes. If you're looking for the spin class vibe from the comfort of your own home, the Echelon EX1 is a great and affordable option for your home gym.
Footprint, Portability, and Durability
Starting with the footprint, the EX1 features a similar size to commercial models you might encounter in the gym or studio. At under 50 inches in length and 20 inches in width, it's a little sleeker and more compact, making it ideal for squeezing into tight quarters.
At 105 pounds fully assembled, it's one of the more portable options, as well. Simply give the EX1 a tilt and you can safely wheel it back and forth to your heart's content.
Where the EX1 shines most, especially considering its status as a budget option, is the welded, powder-coated steel frame. Users up to 300 pounds can hop in, clip in, and get in a sweat sesh without worrying the bike is going to tip. Coupled with the drive belt-assisted flywheel, the EX 1 is sturdy and feels safe while in use, even during hills and sprints.
Ergonomics
Echelon skimped a little on hardware to keep the price down, but they still implemented a heck of a lot of intelligent design features to make the EX1 a pleasure to use. You'll notice this immediately upon getting situated, as the seat adjusts to your height and the handlebars move in multiple directions to get things just right for your preferred ride.
The handlebars are excellent, allowing for a number of hand positions and culminating in a slight incline at the end. Adjacent to the handlebars is the tablet holder, which swivels 180 degrees so you can take your workout to the floor if the situation calls for it. The dual pedals also allow for a user to use their favorite exercise sneakers or dedicated cycling shoes to clip-in.
All this allows for the user to really get comfy, as we don't want the nagging thought that our positioning is off even the slightest bit when our concentration should be pushing through the sprints of your HIIT workouts. In regard to that, the 32 levels of magnetic resistance are both silent and easy to access via the resistance knob located on the down tube.

There is one design oversight, namely the lack of water bottle holder. The dumbbell holder behind the seat functions to hold your H2O in a pinch, but unfortunately it does so at the expense of keeping your dumbbells handy for the strength training that cycling classes often like to include toward the end of the session.
Technology Benefits and Conveniences
Starting with the positives, the Bluetooth connectivity and compatibility with the Echelon Fit app open up a literal world of possibilities for the EX1. I do mean "literal," as one of these options allows you to display locations throughout the world and take scenic rides with stunning views as a backdrop.
Using the Echelon Fit app also allows the user to access an extensive collection of live and on-demand classes to really help get that heart rate going. Similar to Peloton, you get the energy and enthusiasm of excellent instructors without having to leave your home.
Unfortunately, there are a number of features that work against the Echelon EX1, too. While many premium alternatives include a high-definition touchscreen, the EX1 requires you to provide your own tablet in the tablet holder if you want to take advantage of the Bluetooth connectivity and Echelon Fit app features.
In addition, the EX1's lack of built-in console and display mean you'll be left guessing what your workout metrics are unless you pair it with Echelon Fit. There's no other way to get information about your workout, nor does the EX1 pair with other workout apps.
Final Verdict of Our Echelon EX1 Exercise Bike Review
Echelon got a lot of things right when putting together the EX1. They sacrificed a few conveniences and nice-to-haves, but the overall experience is solid and it includes everything you need to get an all-around excellent cardio experience from the comfort of home.
If you chance across a reasonably priced EX1, it's a great bike to have. On the other hand, if you can't track down this discontinued model and prefer getting something similar but better, the Echelon EX-3 offers an improved take on the EX1 at a slightly higher price.
All in all, the Echelon EX1 was one of the best bargain buys on the market, combining solid hardware specs with thoughtful design features, and we're sad to see it go.
Echelon EX1 Exercise Bike Rating
Echelon EX1 Exercise Bike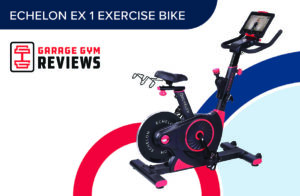 So what if it's discontinued? We're giving a full Echelon EX1 Exercise Bike review to celebrate one of the best bargain buys of its time! Let's dive in!
Product Currency: $
Product Price: 800
Product In-Stock: InStock
Echelon EX1 Exercise Bike FAQs
Is Echelon as good as Peloton?
Echelon does its best to offer an affordable alternative to Peloton, often by sacrificing some premium features or hardware. Most users will still enjoy an excellent experience using the considerably chapter Echelon options over the premium Peloton bikes, but it comes down to personal preference regarding the hardware, features, and instructors.
Can you ride the Echelon EX1 without a subscription?
The Echelon EX1 allows you to ride without a subscription or the app, but you'll be missing out big on workout stats, live and on-demand classes, and other useful features that makes it such a great buy. It's recommended to pair with the Echelon Fit app, but it's not required.
Will Echelon Fit work for my phone or tablet?
Echelon Fit is available for download in the Apple iOS App Store and the Android Google Play Store.