We test and review fitness products based on an independent, multi-point methodology. If you use our links to purchase something, we may earn a commission. Read our disclosures.
Peloton and Echelon are, without a doubt, two of the best exercise bike brands on the market today. Both offer interactive workout experiences, extensive on-demand classes in multiple categories, and high-quality pieces of equipment that should last for many years in your home gym.
So that begs the question: In the battle of Echelon vs Peloton, which one should you pick for the ultimate indoor exercise experience? We'll let you know the major differences between the two brands, what we like about both, and who we think might lean toward one side over the other.
Ladies and gentlemen, let's get ready to rumble. 
Editor's note: Peloton in May 2023 announced a voluntary recall of all original Peloton Bikes sold from January 2018 to May 2023 because of a defect with the seat post that causes it to break while in use. Peloton has identified 35 reports of broken seats, resulting in 13 injuries including a wrist fracture, lacerations and bruises.
The original Peloton Bike can be identified by "its PL-01 model number on the label located on the inside front fork (near the flywheel), the red 'P' logo followed by the white-colored' 'Peloton' brand name on the Bike's frame, and by its non-swivel display."
If your bike is impacted or if you have any questions, call Peloton's support team toll-free at 866-679-9129 from 6 a.m. to 12 a.m. ET, 7 days a week or by visiting onepeloton.com and clicking on Product Recalls at the bottom of the page.
We Put The Pedal To The Metal
The Garage Gym Reviews team has researched and tested more than two dozen exercise bikes, and at this rate, we've pedaled enough miles to qualify for a virtual Tour de France. And we're not just a group of people who are excited about all things fitness, but we're also certified personal trainers, CrossFit coaches, certified nutrition coaches, and professional athletes who know what it's like to use high-quality exercise equipment.
We know how each part of the bike, from the pedals down to the handlebars, can impact a workout and either help or hurt someone who has specific fitness goals.
Reigning Champ
The Competition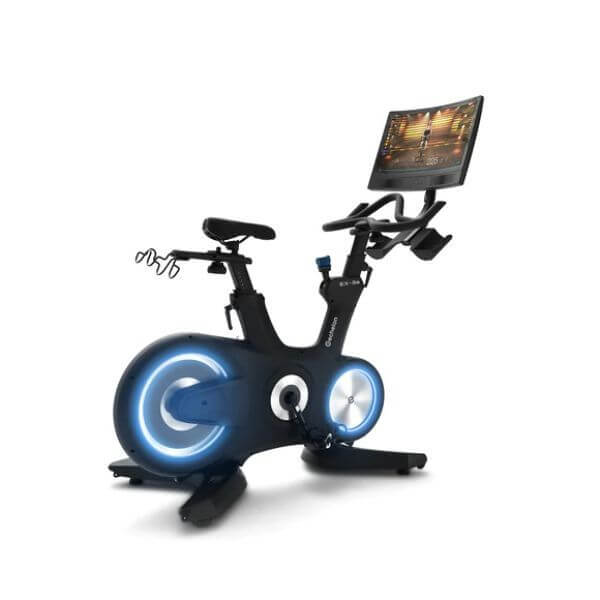 Echelon EX-8s
Exercise bikes have become much more than just a bike, taking on an entirely new immersive experience that branches out beyond cycling. Smart exercise bikes are taking the at-home workout experience to the next level offering a connected, high-tech, interactive, and motivating fitness routine. The Echelon EX-8s is a premium smart bike designed to add to user's motivation and to enhance the immersive nature of the entire experience.The EX-8s features a 24-inch curved interactive HD screen that not only mimics the feeling of being in a cycling studio, but also enhances the entire experience. While a curved screen may not seem like a big deal, trust us when we say it is. What's more, this screen swivels 180 degrees, which allows users to jump off the bike and into another workout by just flipping the screen.This bike is incredibly cool-looking as well. Its sleek design is highlighted by the dual-ring design that includes illuminating wheels. These wheels rotate through 15 LED color variations synced to your live fitness metrics. You can literally watch the colors change based on the intensity of the workout, which is very motivating. The EX-8s is equipped with some impressive specs including adjustable handlebars that  maximize comfort and enable good form. These handlebars have control buttons that allow users to change resistance levels even when out of the saddle, a feature not seen on many other smart bikes. Other notable features are the Bluetooth 5.0 connectivity, a fast processing speed, 32 levels of magnetic resistance, and water bottle holders to keep you hydrated throughout the workout. The EX-8s does require a membership to Echelon's online fitness platform, which costs $35 per month. Without it, the bike really cannot be used, which is a bummer. That said, the platform is stacked with live and on-demand workouts, a ton of music and playlists, and over 60 world-class instructors. 
A Quick Look At Echelon vs Peloton
Peloton has been the king of indoor bikes for quite some time, so much so that it's been featured on major TV shows (though not always in a good way). The original Peloton Bike itself is impressive, with quiet magnetic resistance and a 38-pound flywheel that makes it feel like you're on an outdoor bike, but the motivating instructors and live bike workouts were what made it a real hit (more on that in a bit).
Then they released the Peloton Bike+ that comes with a larger touchscreen display, an auto resistance option to set the resistance for you during classes, and a screen that fully rotates (the original bike only swivels). You can also sync the Bike+ with your Apple Watch to keep track of all your workout metrics.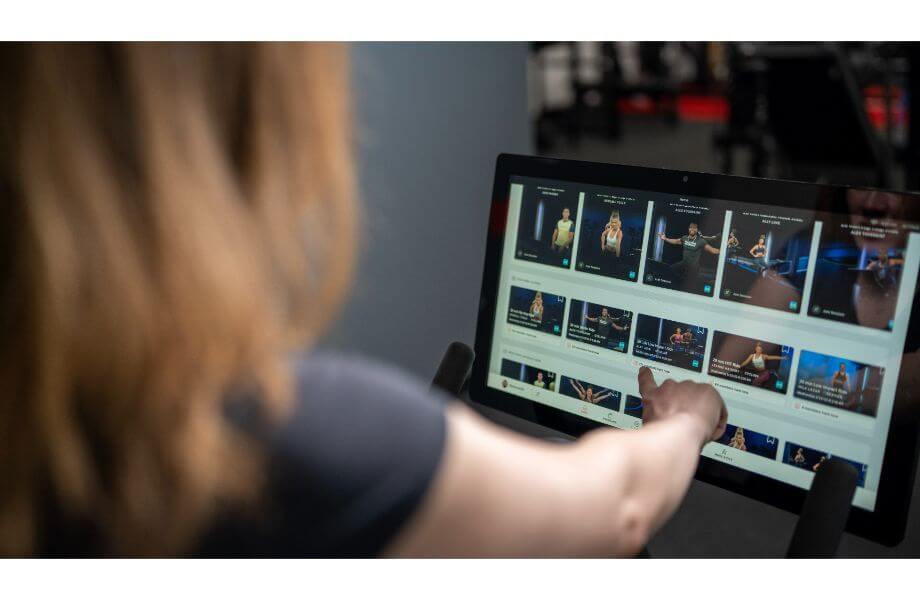 And while Echelon wasn't the first Peloton alternative to hit the market, many in the fitness community were impressed that it delivered a similar studio cycling experience at a more affordable price tag. Echelon released their Smart Connect Bike Series in 2018, and have since released several models in an effort to put their mark on the industry.
Like Peloton, Echelon offers live and on-demand fitness classes and has partnered with Pitbull for exclusive streaming rights to his songs (he's also an investor in the company). But unlike Peloton, not all of Echelon's bikes come with a built-in screen (this is one way they're able to keep the costs low) so depending on which you get you may have to stream the cycling classes on your smartphone or iPad.
Our full Peloton bike review goes more in-depth on what it's like to ride this bike. We've yet to write a full review on any of the Echelon bikes, but we'll be sure to update this page when we do.
Echelon
Pros:
Offers bikes at multiple price points
Come in different color options
Ergonomic and ventilated seats
Wide range of live and on-demand workout classes
Can be used with cycling cleats or cross-training shoes
Cons:
Some bikes don't come with any display
Instructors are not as high-energy as Peloton's
Lower-cost models have light flywheels that aren't as smooth
Disappointing 12-month warranty on all bikes
Some models don't come with a water bottle holder
Peloton
Pros:
Some of the best live and on-demand workout classes
Recent price drops make both bikes an incredible value
100 resistance levels make it easy to customize each workout
One of the nicest-looking exercise bikes out there
Cons:
Requires Delta cycling cleats
$39 per month app is necessary to access many features
Seat is not the most comfortable
Hardware is not the best and it's difficult to schedule a repair if one is needed
| | | | | | | | |
| --- | --- | --- | --- | --- | --- | --- | --- |
| | Echelon GT+ Connect | Echelon Connect EX-3 | Echelon Connect EX-5 | Echelon Connect EX-5s-10 | Echelon Connect EX-8s | Peloton Bike | Peloton Bike+ |
| Price | $899.99 | $799.99 | $999.99 | $1,199.99 | $2,229.99 | $1,195 | $1,995 |
| Footprint | 54" L x 24" W x 57" H | 55" L x 20" W x 55" H | 58″L x 20″W x 55″H | 58″ L x 21.5″ W x 61″ H | 59" L x 23" W x 65" H | 59″ L x 53″ H x 23″ W | 59″ L x 59″ H x 22″ W |
| Weight | 88 lbs | 104 lbs | 106 lbs | 124 lbs | 124 lbs | 135 lbs | 140 lbs |
| Max user weight | 300 lbs | 300 lbs | 300 lbs | 300 lbs | 300 lbs | 297 lbs | 297 lbs |
| Flywheel weight | 15 lbs | 28 lbs | 28 lbs | 35 lbs | 38 lbs | 38 lbs | 38 lbs |
| Resistance levels | 32 magnetic levels | 32 magnetic levels | 32 magnetic levels | 32 magnetic levels | 32 magnetic levels | 100 micro-adjustable magnetic levels | 100 micro-adjustable magnetic levels |
| Drive system | Belt | Belt | Belt | Belt | Belt | Belt | Belt |
| Display | None | None | None | 10" HD touchscreen* | 24" curved HD touchscreen | 21.5" touchscreen | 23.8" touchscreen |
| Pedals | Dual-sided: SPD clips/adjustable toe cages | Dual-sided: SPD clips/adjustable toe cages | Dual-sided: SPD clips/adjustable toe cages | Dual-sided: SPD clips/adjustable toe cages | Dual-sided: SPD clips/adjustable toe cages | Delta-compatible aluminum pedals | Delta-compatible aluminum pedals |
| Connects to fitness tracker? | No | No | No | No | No | Yes | Yes |
| Conveniences | Dual water bottle holders, oversized padded seat, dumbbell rack | Vented bicycle seat, dumbbell rack | Dual water bottle holders, vented bicycle seat | Dual water bottle holders, phone charging ports, rotating screen, dumbbell rack, extra-large cushioned screen | Dual water bottle holders, dual front-facing speakers, phone charging ports, dumbbell rack, low-impact flexing frame | Two water bottle holders, dumbbell holders, phone charging port | Two water bottle holders, dumbbell holders, phone charging port |
| Warranty | 12 months limited parts and labor | 12 months limited parts and labor | 12 months limited parts and labor | 12 months limited parts and labor | 12 months limited parts and labor | 5 years on frame. 12 months limited parts and labor | 5 years on frame. 12 months limited parts and labor |
* The Echelon EX-5s is also available with a 22-inch screen and costs $1,499. Other than that, they're the same bike.
Echelon vs Peloton: The Training Apps
As a bike, the Peloton didn't offer anything innovative or different from the countless others that were released before it. Sure, it looks and feels pretty sleek, but that's not what kept people coming back. No, what made Peloton a household name and inspired its users to keep riding day after day were the live classes and on-demand workout programming.
People would hop on their bikes just to hear their names yelled out by their favorite trainers, and work hard to climb up the leaderboards. Peloton had found a way to make cardio workouts fun (no small accomplishment).
And honestly, it's not hard to see why. The instructors have big personalities, and many of them have gone on to appear on TV shows and some have even left the company to start their own fitness brands.
Beyond being inspiring, Peloton's instructors are very thorough and make sure you're on the same page with them throughout a workout.
How does the Echelon Fit app compare? We felt the instructors were just as vibrant and inspiring, but they fell a little flat on the instructions. They weren't nearly as clear as Peloton's, but some people might prefer that. Exercise shouldn't be an all-or-nothing experience, and doing something that's challenging for you (even if you're not hitting a specific number) is better than nothing.
Both apps don't just have cycling workouts, as you can also follow along with yoga, HIIT bike workout, pilates, strength training, bootcamp, running, and other classes.
An all-access Peloton app membership costs $39 per month, whereas an unlimited Echelon Connect membership costs $34.99. Echelon's app can also be used with its rowers, treadmills, and fitness mirrors.
Echelon vs Peloton: Workout Experience
Because there are so many Echelon exercise bikes, it's difficult to have a fair apples-to-apples comparison on what it's like to ride on the different bike models. (The most accurate comparison would be the Echelon Connect EX-5s vs the two Peloton bikes, but we've yet to test that model.)
Instead, we'll go over how the two brands go about building their bikes and how that can have an impact on your workout experience.
Resistance System
Both Echelon and Peloton offer magnetic resistance, which offers a smoother and quieter ride compared to friction resistance (there's also less maintenance with the former). Peloton wins in this category because it has 100 microadjustable levels of magnetic resistance, whereas every Echelon Smart Connect Bike only has 32 levels.
This means you can have a more customized riding experience each time you hop on the Peloton compared to what you can get on an Echelon Bike. That doesn't mean the Echelon bikes aren't challenging, there's just not as much versatility when compared to Peloton.
Flywheel
The Peloton Bike and Peloton Bike+ have 38-pound flywheels, which provides a smooth ride (the heavier the flywheel, the better). The Echelon Smart Connect Bikes have flywheels that range from 15 to 38 pounds.
Pedals
Echelon is the clear winner in this category because its bikes have dual-sided pedals with SPD-compatible clips on one side, for those who wish to wear cycling shoes during their indoor cycling workouts, and adjustable toe cages that can be used with athletic shoes on the other.
Both the Peloton Bike and Peloton Bike+ have "Look Delta" pedals, which require a special type of cleat that are $125 on Peloton's website. That's a lot of money to spend on top of the bike and monthly subscription cost. You can change out the pedals, but that also costs extra.
Seat
Not one of the GGR product testers found the Peloton Bike's seat to be very comfortable, and you can change it out for a better one or put a padded cover on it. All of the Echelon Smart Connect Bikes are either oversized or padded, or ventilated for comfort. Although we haven't tried all of them, several online reviews say they had no issues sitting on them for extended periods of time.
Adjustability
Both Echelon and Peloton have four-way adjustable seats, so you can fix it in a way that feels comfortable for you. However, only Echelon offers four-way adjustable handlebars that can be moved up, down, forward, and backwards. This makes it the better option for people with shorter arms who may find other stationary bikes uncomfortable to ride for long periods of time.
Displays
The Echelon Connect GT+, EX-3, and EX-5 have no displays and rely on the Echelon Fit app to track any metrics. All come with device holders that are capable of swiveling 180 degrees so you can follow workouts both on and off the bike.
The Echelon Connect EX-5s comes with either a 10- or 22-inch HD touchscreen, and the EX-8s has a curved 24-inch touchscreen. The curved display, according to reviews, makes it truly feel like you're riding an outdoor bike during scenic rides.
The Peloton Bike has a 21.5-inch touchscreen that tilts up and down, whereas the Peloton Bike+ has a 23.8-inch touchscreen that can fully rotate so you can follow workouts from wherever.
Tech Features
The Echelon Smart Connect Bikes and both Peloton Bikes come with Bluetooth connectivity so you can hook them up to your headphones, heart rate monitors, fitness trackers, and health apps.
Conveniences
Every Echelon Smart Connect Bike comes with a water bottle holder (with the exception of the EX-3) and a dumbbell rack. Both Peloton bikes come with dual water bottle holders and a dumbbell rack.
Durability and Construction
All Echelon Smart Connect Bikes are made with heavy-duty steel frames that, according to most online reviews, are corrosion-resistant and help keep the bike stable even during the most intense pedaling. We haven't read many complaints about the hardware.
Peloton, on the other hand, has had multiple issues with faulty parts, especially when it comes to the pedals. The frame is made with powder coated welded steel that looks and feels nice.
Echelon vs Peloton: Assembly
Echelon
Echelon says that all their bikes take about 20-30 minutes to assemble at home. There is no white glove assembly service available.
Peloton
Included in the price of the Peloton bikes is at-home assembly by a certified Peloton professional. This service was discontinued during the COVID-19 pandemic, but has since resumed.
Echelon vs Peloton: Customer Service
Echelon
Echelon customers can reach out via the Echelon website, text, phone call, and social media.
Peloton
Peloton has a live customer service chat on its website, and can also be reached via email, phone, and social media.
Echelon vs Peloton: Returns, Financing, Warranty
Echelon
Echelon doesn't offer any warranty on its bikes frames, and the coverage on parts and labor is only good for one year.
Echelon has its own financing program with plans depending on your budget, all with 0% APR.
You have 30 days from the date of delivery to return your Echelon bike if you decide it's not for you. After that, no returns will be accepted.
Peloton
The warranty on the Peloton Bike and Peloton Bike+ is five years for the frame and 12 months for parts and labor.
You can finance your Peloton purchase with plans starting at $38 per month.
You can try both Peloton bikes for 30 days and return it for a full refund (minus shipping and handling) if you don't like it.
Echelon vs Peloton: What Do We Recommend?
At the end of the day, whether you choose an Echelon exercise bike or a Peloton is going to come down to personal preference. Are you looking for a budget exercise bike that can be used for live and on-demand workout classes? You can't go wrong with the Echelon Connect GT+, EX-3, or EX-5. Even the EX-5s-10 is about the same price as the Peloton Bike, and the EX-5s-22 is less than the Peloton Bike+.
All models offer similar functionality, and in some areas (such as pedals and seats) are superior to the Peloton.
But if you're in it to recreate a boutique studio workout class in the comfort of your living room, our money's still with the Peloton. When it comes to creating a sense of community, nobody has been able to do what Peloton has done over the past few years and it's still one of the best fitness experiences out there.
RELATED: How to Choose an Exercise Bike
Echelon vs Peloton FAQs
Is Echelon as good as Peloton?
Asking if Echelon is as good as Peloton is like asking if chocolate is as good as vanilla. There's no right answer, but you're going to get a lot of people defending what they think is "correct." Both are high-quality exercise bikes, offer interactive live workouts, and extensive on-demand classes. Which one you go with at the end of the day is going to depend on personal preference, space restraints, and your budget.
Which is better, the Peloton or Echelon app?
Both apps have thousands of classes, both live and on-demand, but we personally prefer the trainers on the Peloton app. That said, the Echelon app is cheaper ($34.99 a month) than Peloton's ($39.99 a month for all-access membership).
How do Echelon classes compare to Peloton's?
Echelon and Peloton offer thousands of cycling, strength and conditioning, yoga, bootcamp, running, and other classes through their respective apps. You can choose recovery workouts, high-intensity interval training, or music-themed workouts. We found the Peloton instructors to be a little clearer in their instructions, and a little more motivating than those on Echelon Fit.