We test and review fitness products based on an independent, multi-point methodology. If you use our links to purchase something, we may earn a commission. Read our disclosures.
Odds are when you think "exercise bike," you're probably thinking of a Peloton, Schwinn, NordicTrack, or Echelon bike that costs well over $1,000 and comes with all the bells and whistles. But what if you're just looking for a straightforward bike, or simply don't have the money for one of the big-name brands?
We've got you covered, and are sure you can find the best budget exercise bike for your needs in this roundup. You'll get to pick from multiple categories, from bikes that can easily fit behind a sofa to those you can use to train for CrossFit.
We're sure you'll be able to find something that fits your budget and allows you to get a quick cardio workout whenever you want or need one.
Why You Should Trust Us
We understand that not everyone can afford the best-of-the-best, which is why we always make sure to offer recommendations for budget home gym equipment. For our product testers, our goal with these roundups is to recommend products that are easy on the wallet but heavy duty when it comes to functionality. Yes, you'll have to sacrifice some quality, and we'll be sure to tell you where you can expect that, but we wouldn't list these products if we didn't truly think they were worth your time and money.
7 Best Budget Exercise Bikes
Best Budget Cycling Bike: YOSUDA Indoor Cycling Bike
Good for: Anyone looking for a studio cycling bike at a budget-friendly price
A Cheaper Cycling Bike
YOSUDA Indoor Cycling Bike
The Yosuda Bike is a budget-friendly Peloton alternative perfect for people in small spaces or who just want a simple machine for cardio workouts. It features a heavy flywheel, a belt drive system, has an iPad mount, and adjustable cage pedals.To be clear, this isn't the best indoor cycling bike out there and there's some concerns about its durability. There are several hundred reviews stating it starts to fall apart after a few months, but people seem to love it for the most part. So buy at your own risk.One great thing about this bike is that you can buy it and then stream Peloton workout classes.
Pros:
Sells for around $300
Compact and lightweight
Comes with grippy caged pedals
Free year of replacement parts
Cons:
Bike isn't made from the most durable materials
No dynamic programming
Reviewers have said the bike falls apart during use
The YOSUDA Indoor Cycling Bike has just about everything you need in an exercise bike: Heavy 35-pound flywheel (only 3 pounds less than the high-end Peloton bike), belt drive for a smooth and quiet ride, micro-adjustments to customize the workout experience to your fitness goals, and adjustable handlebars and caged toe pedals.
RELATED: Best Exercise Bike
You'll also get a bike that's lightweight and compact, and stays secure during the most intense rides (ours had minimal wobbling when we put it to the test). That's a lot for a bike that sells around $300, but that price point means it's not what most would consider "high-quality."
RELATED: Check out our picks for the best Peloton alternatives.
For one, the YOSUDA bike is not made with the most durable materials. Ours had a small tear in the seat cover after barely any use and our LCD screen never felt secure no matter how hard we tried to tighten it. Other reviewers have complained about parts, such as the pedals falling off during use.
You also won't be getting any built-in dynamic programming, but that's to be expected for a bike at this price tag.
If you're simply looking to put some pedal to the metal and get your heart rate pumping while on a budget, then we still recommend this bike. The workout experience was smooth and quiet, surprisingly so for a bike that utilizes friction resistance, and if taken care of it should last you at least a few years.
It's also a great choice for beginners who want to get used to the feeling of a cycling bike before spending cycling-bike money.
For more, read our full YOSUDA bike review.
Best Budget Exercise Bike Under $500: Sunny Health and Fitness Synergy Magnetic
Good for: Home gym owners who have a slightly larger budget, but still don't want to spend a lot of money.
A Great Value
Sunny Health and Fitness SF-B1002 Belt Drive Indoor Cycling Trainer
STATIONARY BIKE: The sturdy steel frame, heavy 49 lb weighted flywheel and 275 maximum user weight gives this bike a rock solid build that will keep it moving ride after ride. RESISTANCE: Resistance system gives you the experience of a realistic, real-road feeling. Push down emergency brake will bring the bike to an immediate stop. SILENT RIDE: Experience a smooth and quiet ride with the maintenance free belt drive system which allows you to workout without interrupting your workout or anyone around you. CUSTOMIZABILITY: 4-Way adjustable seat and 2-way adjustable handlebars adapt to any user type. Use the toe clip pedals with straps to keep your feet in place. BOTTLE HOLDER: Stay hydrated throughout your workout. This convenient bottle holder is built into the frame for easy access.FOOT PEDAL STYLE: caged
Pros:
Priced under $450
Uses magnetic resistance
Comfortable seat that's very adjustable
For a budget exercise bike, it comes with a lot of extras
Cons:
Made with lots of plastic
Flywheel only weighs 30 pounds
Short 6-month warranty on parts
For those who want a slightly nicer budget exercise bike, but still aren't looking to break the bank, please allow us to introduce the Sunny Health and Fitness Synergy Magnetic Classic bike. The main reason this bike is more expensive than the others on this list is because it uses magnetic resistance.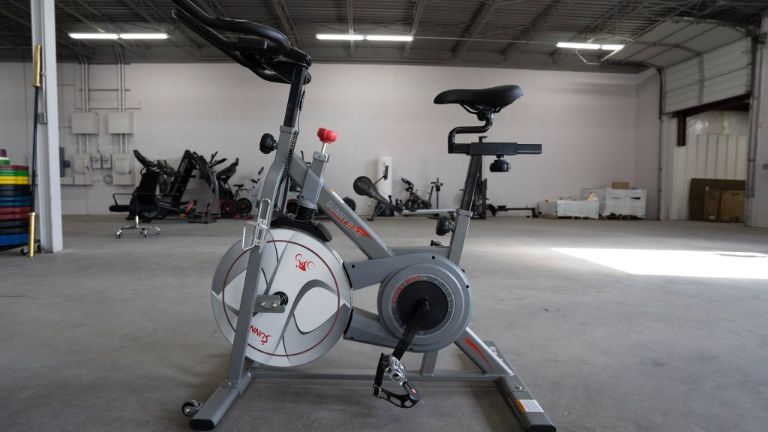 That means you don't have pads hitting the flywheel, which eliminates the whooshing sound you get on friction bikes, and you won't have to fix those pads in the future when they inevitably wear down.
If that wasn't enough, the bike also comes with a four-way adjustable seat, dumbbell holders, media stand, floor stabilizers, and water bottle holder. Those are features we've seen omitted on exercise bikes twice (and sometimes thrice) the cost of this one, so you're getting an incredible value.
There's two versions of this bike: Classic and Pro. The Classic comes with a slightly lighter flywheel (30 pounds, compared to the Pro's 40 pounds) so that means your rides won't be quite as smooth. That shouldn't be too much of a problem, especially since the bike has a wide range of micro-adjustable resistance levels that should challenge most home gym owners.
There have been some reviews stating the bike has arrived chipped or damaged, which is probably due to the fact that it's made with a lot of plastic to bring the price down. Try to notice any such damage as soon as possible, as the bike only comes with a six-month warranty on parts.
Best Budget Folding Exercise Bike: Marcy Foldable Exercise Bike
Good for: Anyone who needs a compact but functional stationary bike
Compact and Functional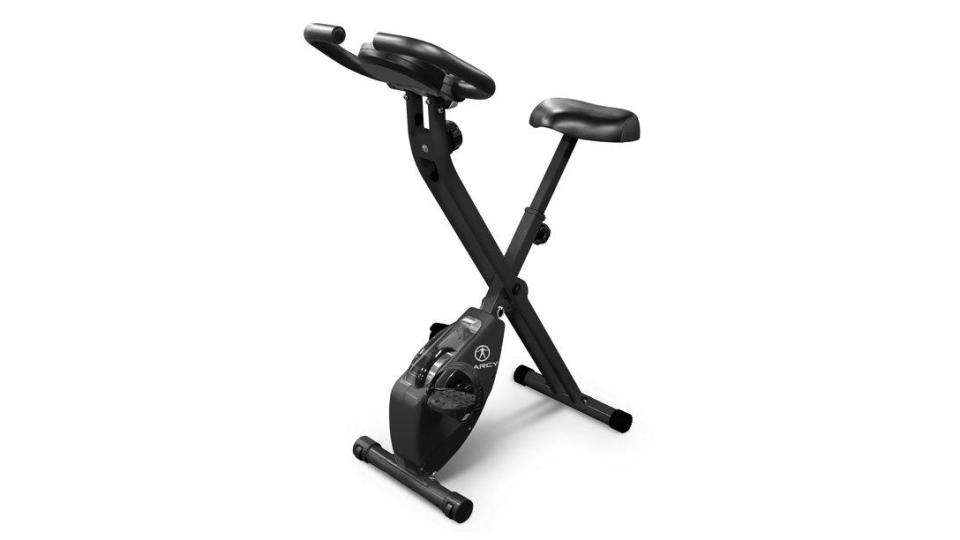 Marcy Fitness Upright Foldable Exercise Bike
The Marcy Foldable Magnetic Resistance Upright Bike is a Garage Gym Reviews top pick for folding exercise bikes. It has eight levels of magnetic resistance, an adjustable seat and adjustable pedals, and it's made out of durable 14-gauge steel tubing.
Pros:
Affordable, at under $200
Felt sturdy and smooth in use
It's made of more durable materials than other budget bikes
Cons:
Not for people of advanced fitness levels
No water bottle holder
No tech capabilities
While doing research for this piece, we found a lot of praise for the Marcy Foldable Exercise Bike, and it didn't take us long to find out why. This thing feels incredibly durable and smooth compared to most other folding exercise bikes, which can feel a little wobbly and unsecure during heavy use.
Budget-friendly home gym equipment typically isn't made from the most heavy-duty material, since…well, those things cost money. Manufacturers use cheaper materials to offer you a cheaper product.
Yet, even at just a little more than $150, we noticed the Marcy Bike's steel frame felt wider and heavier than other bikes at a similar price point. And it still somehow only weighs 50 pounds, making it easy to move it whenever you need to do so.
If you're someone who considers themselves a hardcore cyclist, you might want to look elsewhere though. We tried the Marcy bike at its highest resistance and it simply couldn't provide that much of a challenge to us, but the good news is, it still felt sturdy no matter how hard we pedaled.
And if you're new to the world of indoor exercise bikes, you should know that a foldable option means you'll most likely be giving up any and all tech features (you'll get a basic LCD display that shows you your time, speed, distance, calories burned, and total distance) as well as a water bottle holder.
Best Compact Budget Exercise Bike: DeskCycle
Good for: Those with limited space
Best Compact Budget Exercise Bike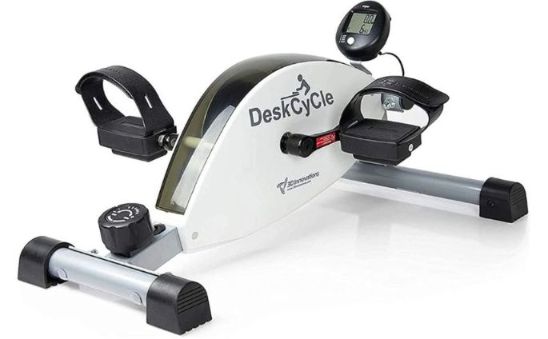 DeskCycle
The DeskCycle is the perfect choice for people who want to keep their legs moving during hours-long Zoom meetings, but don't have enough space for a full exercise bike. It's only 10 inches in height, meaning it should work for everyone's workspace, and comes with eight magnetic resistance settings. It won't make you break a sweat, but you'll burn more calories using this thing than you would sitting still.The compact height is both a blessing and a curse because though it's small, it's not adjustable. So if you're on the smaller side, there's a chance your feet may not reach the pedals.If you're thinking this thing looks too easy, consider you won't have handlebars to keep your balance.
Pros:
Sells for less than $200
Can be easily stowed away when not in use
Uses magnetic resistance to provide a smooth and quiet ride
8 resistance settings
Cons:
Resistance isn't challenging for advanced athletes
Height isn't adjustable
Made with lots of plastic, so it's not very durable
Alright, so it's not technically a bike, but it does have two pedals and adjustable resistance. But honestly, that's not giving the DeskCycle enough credit.
Not only is it lightweight and incredibly compact (it's only 10 inches in height), the DeskCycle also uses magnetic resistance so you can pedal on a work call or while you watch TV and not hear a sound. It's been used by teachers, office workers, and even some professional video game players to help increase the amount of calories they burn throughout the day.
Best of all, you can leave it under the desk when it's not in use so it's not taking up any space in your office or apartment. Now that's what we call compact exercise equipment.
And while it looks easy, the lack of a proper bike seat or handlebars means you'll have to do some extra work to keep yourself balanced. We're not saying you'll be going through the Tour de France, but you may have to focus a little as you pick up the resistance.
One of the biggest drawbacks of the DeskCycle is the lack of adjustable height. If your chair, or whatever you're sitting on, doesn't allow your feet to comfortably reach the pedals that might make using this a little difficult. To that end, you should measure the space in which you'd use this to make sure you're good to go.
Best Budget Air Bike: Titan Fan Bike
Good for: Anyone who needs an air bike but doesn't have a large budget
Affordable Air Bike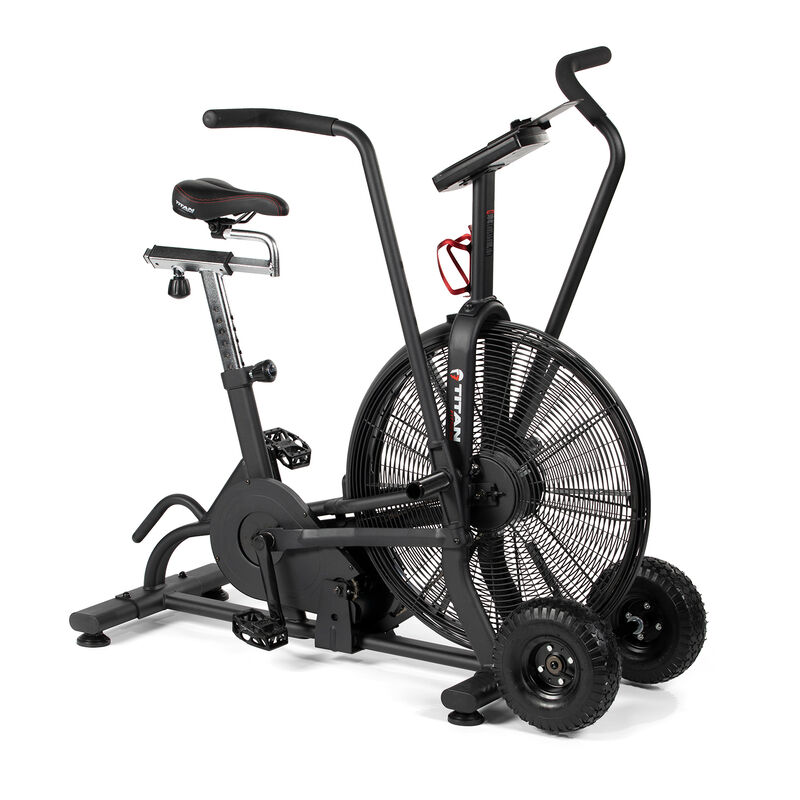 Titan Fan Bike
The Titan Fitness® Fan Bike is bigger and brawnier made with 111-pounds of heavy-gauge steel to help take your workout to the next level. This bike is integrated with sealed cartridge bearings in every pivot, reinforced pedals, and cranks, and is fashioned around a heavy-duty steel frame with a powder-coated finish. Additionally, the Fan Bike features a high contrast LCD console tailored to fit your specific goals. From endurance and stamina training to HIIT and Tabata — choose from a range of interval training programs for a total body workout. This Fan Bike's compact design makes it easy to use anywhere and with durable 10-inch turf tires, moving this bike is easy across any terrain. Plus, it's loaded with all the extras that come standard: fan guard, water bottle holder, phone holder, and a built-in back handle for easy maneuverability.
Pros:
Priced under $650
Comes with included fan guard to reduce wind blowback
Has a water bottle holder and a phone holder
Comes with movable arms for a full-body workout
Cons:
High-maintenance chain drive system
It's an air bike, so it's going to make a lot of noise
Short 1-year warranty
"Budget-friendly" is a relative term here, but if you're looking for an inexpensive air bike, your best choice is the Titan Fitness Fan Bike. Most people might be tempted to compare this to the Rogue Echo Bike, the official air bike of the CrossFit Games, but this is more like an AssaultBike Classic— just more than $100 cheaper.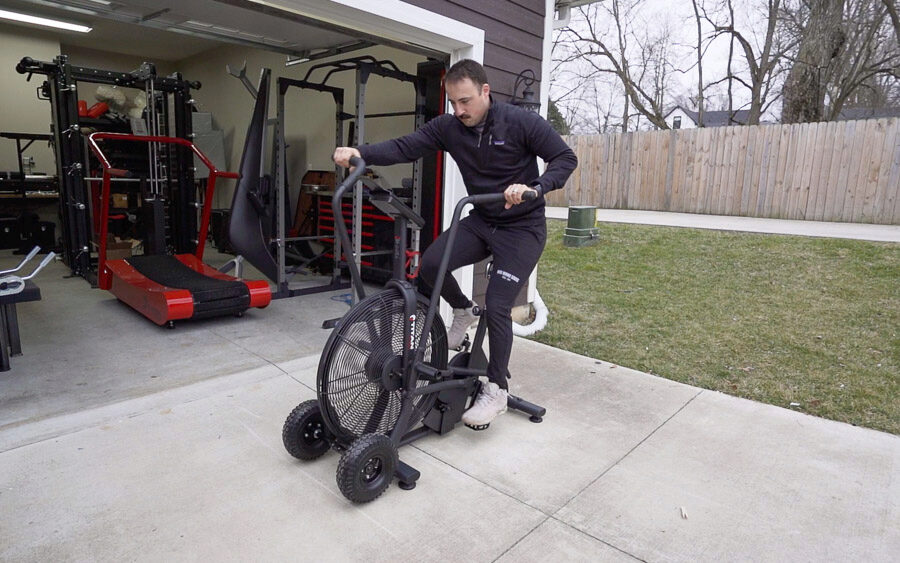 And in some ways, it actually improves upon the AssaultBike, with the inclusion of a water bottle and cell phone holder being just one example. It also comes with an included fan guard, which is something the near-$800 Echo Bike doesn't even have. Yeah, some people like the wind blowback, so if you're one of those people, the guard is easily removable.
RELATED: Check out our picks for the best air bikes.
The Titan Fan Bike feels pretty durable and heavy-duty for its price, but the one thing we'll call out is the chain drive system, which is a bit noisier than a belt drive system and does require some regular cleaning. Utilizing a chain drive is one of the ways Titan was able to bring the cost of this bike down and make it so affordable, but with careful maintenance it shouldn't be too much of a problem.
The monitor also leaves a bit to be desired, and only shows the basic metrics and a few preset workout programs. On the bright side, the bike comes with turf transport wheels that make moving it around your home gym a breeze.
Read our full Titan Fan Bike review for more information.
Best Budget Recumbent Exercise Bike: Sunny Health & Fitness SF-RB1117
Good for: People with bad knees or those who prefer recumbent-style bikes
Budget Recumbent Bike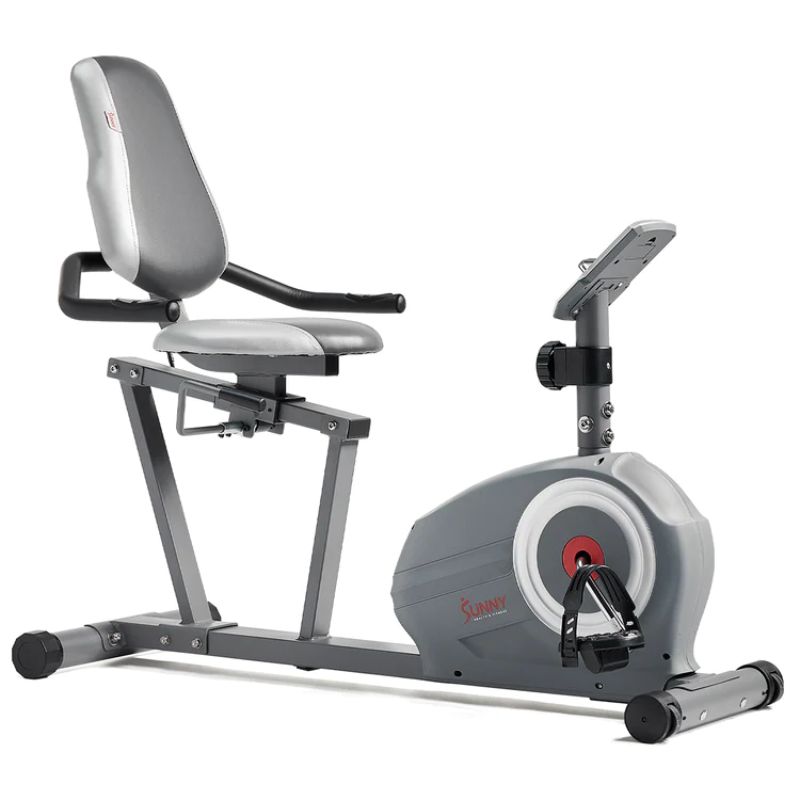 Pros:
Sells for less than $300
Folds into compact, space-saving footprint
Uses magnetic resistance
Recumbent design is great for low-impact workouts
Cons:
Only comes in pink (not a problem for some, but we like having options)
Max user weight of 220 pounds (lighter than industry standard)
Basic LCD monitor; doesn't come with tech compatibility
Recumbent bikes are often much bulkier, and therefore more expensive than an upright exercise bike. That's because the pedals need to be in front of the user to reduce the impact on their joints, and manufacturers usually do this by building a fixed piece of equipment that can't be stowed away easily.
The Sunny Health & Fitness SF-RB117, however, takes all the best parts of a recumbent bike and a folding bike and combines them for a compact and budget exercise bike. For less than $300, you're getting something that offers eight levels of magnetic resistance and is lightweight and portable.
Sunny Health & Fitness isn't the first company to do this, and some foldable bikes even allow you to pick between upright and recumbent. But we're big fans of the company's quality, and find that they outperform bikes offered at similar or even lower prices.
While this might sound nitpicky, we would like to see this bike offered in different colors. Right now it's only available in pink, and while that's not a problem for us, it's a very polarizing color to some people.
RELATED: Best Exercise Equipment for Bad Knees
Best Budget Desk Bike: Exerpeutic Exerwork 1000
Good for: People who want to get a quick home workout in while working
Best Budget Desk Bike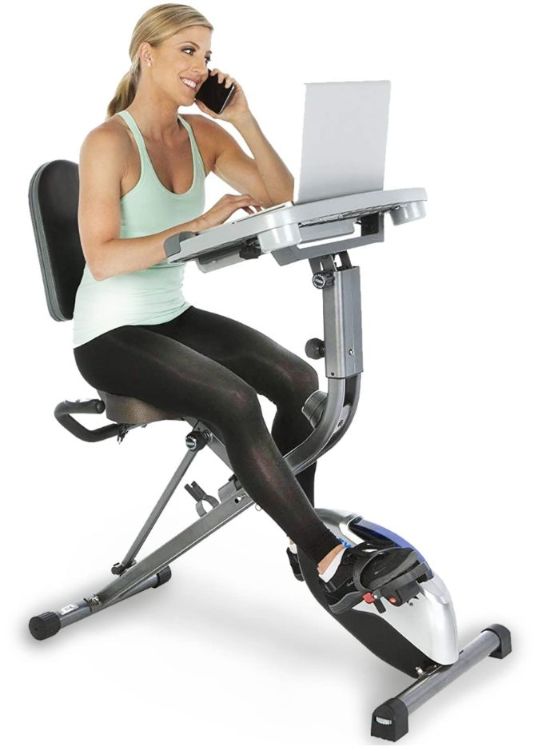 Exerpeutic ExerWORK 1000 Fully Adjustable Desk Folding Exercise Bike
With more people working, and working out, from home, the Exerpeucitc ExerWORK 1000 Fully Adjustable Desk Folding Exercise Bike allows you to maximize your space by combining a vital piece of furniture with your home gym equipment. As the name suggests, every part of this bike is adjustable, and that includes the desk. It even comes with a storage drawer for all your files.As far as the bike goes, it has eight magnetic resistance settings and a seat comfortable enough that you can sit on it for your entire monthly business review and not feel sore. Reviewers say the bike is sturdy during use, even at maximum resistance.There is an option to have 24 built-in workouts included with the bike, but that bumps up the price by $120.
Pros:
Priced under $300
Belt drives makes for a quiet ride
Magnetic resistance
Desk is adjustable
Cons:
Made with lots of plastic
Some reviews state it's not built for shorter people
Desk stand makes it a little harder to store than other foldable bikes
Desk bikes have become quite popular, especially as more people start working and working out from home. If you're someone who simply needs a bike and a desk stand, and not all the fancy extras that other desk bikes come with, go for the Exerpeutic Exerwork 1000i.
This recumbent-style bike comes with eight levels of magnetic resistance, so it's quiet and smooth during your work calls, folds into a compact footprint, and sells for under $300. Not bad if you ask us.
How does it perform as a bike? Garage Gym Reviews staff writer and product tester Caroline Lubinsky tried it out on carpet, and still felt secure. As a desk, we could spend hours at this thing and not get tired of it. The seat is incredibly comfortable, and the bike is highly adjustable so we were able to find a position that worked for us.
However, we did read several reviews that claimed shorter people had trouble reaching their laptops in a way that felt natural. Our product testers who tried it are vertically gifted, so we didn't experience that, but it's something to be aware of if you fall into that category.
For $100 more, you can upgrade to the Exerpeutic Exerwork 2000i, which is largely the same bike but with 24 magnetic resistance levels (the 1000i only has 8), 24 built-in workout programs, Bluetooth connectivity, and a free app. In our opinion, though, the 1000i should perform just fine for most people.
Other Budget Exercise Bikes We Researched
We're constantly testing new budget exercise bikes to see which ones belong on our lists, but not every one is deserving of such an honor. Here are a few that fell just short of the mark.
Cyclace Exercise Bike: This Peloton-like bike is more than $300, and honestly doesn't come with anything too much extra that warrants that cost over our top picks. Yes, you get a tablet holder but this bike uses friction resistance, which will wear down over time, and its flywheel is only 1 pound heavier than the YOSUDA bike, which is under $300. If it were of higher quality, we'd say go for it.
AtivaFit Indoor Cycle: Our main issue with most of the AtivaFit cycles is that, while they seemed durable, there was a fair amount of wobble on them during use. Other, less expensive bikes held up better during heavy pedaling.
Xterra Fitness FB150 Folding Bike: We haven't tested out this bike just yet, but we'll be sure to let you know our thoughts when we do! From some of the reviews, it appears to be a great space-saving and budget exercise bike for those who are not of advanced fitness levels.
ProForm Carbon CX: See above—we're excited to try this smart budget exercise bike soon. It's made with durable materials and can connect to iFIT, all at a budget-friendly price, but reviewers claim parts like the pedals tend to break easily.
LEIKE X Bike Ultra-Quiet Folding Exercise Bike: This is a great choice, but at close to $200, it's a little more expensive than some of our top picks.
What to Look for in a Budget Exercise Bike
If you've gotten this far and still aren't sure which budget exercise bike is best for you, here are a few things to keep in mind before deciding.
Price
Obviously, the first thing you'll want to find out is how much money do you have to spend on an exercise bike? As we've demonstrated, you can find plenty of good ones for under $300 or $500.
We wouldn't recommend spending any less than $150, as you'll begin to sacrifice too much quality and durability at that point.
Many of these are also available through Amazon Prime, meaning free shipping!
Construction and Durability
Manufacturers will bring down the cost of an exercise bike by using cheaper materials, such as plastic, rather than more durable and expensive options like steel. Do your best to find out what each budget exercise bike is made of, how durable that material is, if it reacts to any climate conditions, and how to take care of it.
Also know no matter how much you maintain it, a budget exercise bike will begin to deteriorate at some point because the materials aren't meant to last. It may take a few months or even a few years, but there will come a time when something will pop up unexpectedly. This also happens to the more expensive exercise bikes as well.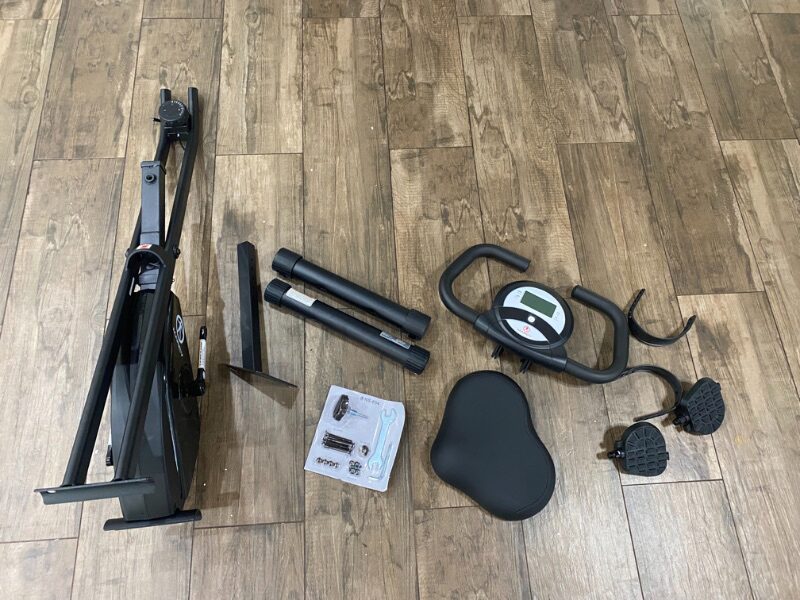 Resistance
There are two types of resistance systems on budget exercise bikes: friction and magnetic. Friction is when pads come in contact with the flywheel to provide your desired resistance level. Because of this, it produces a whooshing sound with some bikes being louder than others. It also means the pads will wear down over time and will need to be replaced.
Magnetic resistance is generated by a metal disk spinning through a magnetic field, and it's much quieter than friction resistance. But it's also much more expensive to build, and therefore makes the bikes more expensive.
Drive System
The drive system is what helps propel your exercise bike's flywheel, and it's either going to be a belt or chain drive system. A belt system is typically lower maintenance, and provides a smoother ride.
A chain drive system might be a better pick if you're looking to simulate a road bike, but you'll also have to clean and maintain the chain regularly to ensure it continues to perform.
RELATED: How to choose an exercise bike
Adjustability
This goes for non-budget exercise bikes, but make sure you can fit in the bike. To find out if a bike can work for you, you'll want to look for what's known as an inseam. This is the length from your groin's underside to the bottom of your ankle. If that length is in range with what's listed on the bike, you're most likely good to go.
Tech Features
Most exercise bikes won't come with a touchscreen, or even Bluetooth and WiFi connectivity. You're most likely going to get a basic LCD display on just about any budget exercise bike, and only a few will be able to connect to a fitness app (such as iFIT or Zwift) or heart rate monitor.
Best Budget Exercise Bike FAQs
What is the cheapest and best exercise bike?
Is a cheap exercise bike worth it?
A budget exercise bike provides access to a great piece of equipment that can help you burn calories, and improve certain health markers with regular use. That said, you will sacrifice some durability and special features but if you're just looking to pedal, there's no reason to spend lots of money on a bike.
Are home exercise bikes worth it?
Absolutely! Investing in a home budget exercise bike can cost less than the price of a cycling studio membership over time—less than a year in some cases. If you see yourself cycling fairly regularly for the immediate future, it's a purchase worth looking into.