We test and review fitness products based on an independent, multi-point methodology. If you use our links to purchase something, we may earn a commission. Read our disclosures.
Whether you're short on space or short on time, foldable equipment poses a great solution for getting in a cardio workout at home. By nature, these machines are compact even when unfolded, which means a smaller footprint compared to more traditional equipment, like an indoor cycling bike.
Small doesn't always mean mighty, as our team found out when testing more than half a dozen folding bikes. However, one stood out well above the others. In this Marcy Foldable Exercise Bike review, I'll tell you why our team believes this to be one of the best of its kind on the market.
Expert Tested and Reviewed
It's our policy at Garage Gym Reviews to give readers an unbiased look at every product we touch. As certified personal trainers and fitness enthusiasts ourselves, we analyze equipment the same way we would if we were purchasing it for ourselves or our clients. Along that vein, our team has tested dozens of exercise bikes to determine which rises to the top, and which aren't worth your money.
One of the Best Foldable Bikes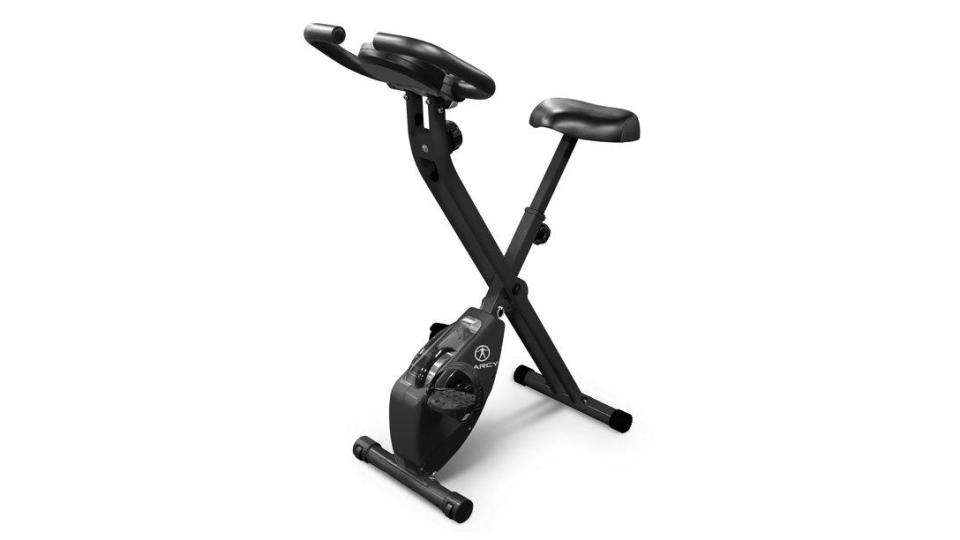 A Quick Look at the Marcy Foldable Exercise Bike
Marcy isn't quite a household name the way some stationary exercise bike brands are (ahem, Peloton), but that doesn't mean they don't make good fitness equipment. Generally, you can expect budget-friendly, no-frills pieces that range from cardio machines to strength training equipment.
When it comes to the brand's upright bike, there was instantly a lot we loved about it, including the under-$150 price tag. While you generally shouldn't expect the world of a folding bike because they are meant to be simple, we're happy to report that this particular one has a lot to offer.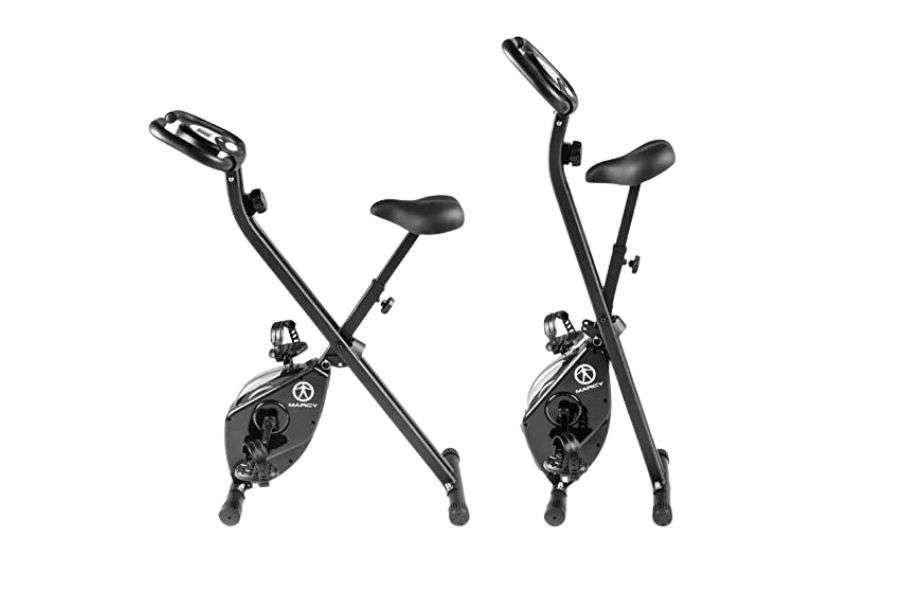 My Tips
If you need additional back support, Marcy has an upright recumbent bike on Amazon as well.
Use the adjustable straps on the pedals to keep your feet in place or you might slip out at higher speeds.
Pros:
Incredibly sturdy for a folding bike
Has a 14-gauge steel frame
Adjustable seat
Transport wheels for portability
Has two color options: black and white
Comfortable seat
8 resistance levels
Weighs just 37 lbs
Cons:
No heart rate monitoring available
2-year warranty
Although light, not the lightest foldable bike
30" max seat height may not accommodate taller users
Is the Marcy Foldable Exercise Bike Worth It?
As budget exercise bikes go, this Marcy one is a pretty good deal. As of this writing, it is listed on Amazon for around $130, and financing is available. At that price, you really shouldn't expect much in the way of technology or conveniences.
Certified personal trainer and Garage Gym Reviews editor Amanda Capritto tested this bike. She said it was this one among all the others she tried that changed her otherwise-ill perception of folding exercise bikes, thanks to its quality.
Still, it may not be for everyone. Here's who we think might like this piece of equipment:
Great for:
People living in small spaces
Those looking for budget home gym equipment
Casual exercisers and beginners
Not recommended for:
Cyclists looking to train hard
People who need cardio equipment with built-in programming
Marcy Foldable Exercise Bike Specs
| | |
| --- | --- |
| Footprint | 34" L x 19" W x 44" H |
| Folded Footprint | 18.5" L x 18.5" W x 51.5" H |
| Weight | 37 lbs |
| Weight capacity | 250 lbs |
| Resistance Levels | 8 levels of magnetic resistance |
| Programming | None |
| Adjustability | Seat adjusts up and down; pedals have adjustable straps |
| Extras | Padded seat, transport wheels |
| Power source | 2 AA batteries |
Taking the Marcy Foldable Exercise Bike for a Spin
Amanda said when she was tasked with testing folding exercise bikes, she was underwhelmed. A student of functional fitness, she had grown used to exercising on air bikes, which deliver a highly challenging workout. To her, folding bikes didn't seem to present the same kind of intensity.
However, she said she was pleasantly surprised using the Marcy bike. "It's become the bike I use in warmups and cool-downs," she says.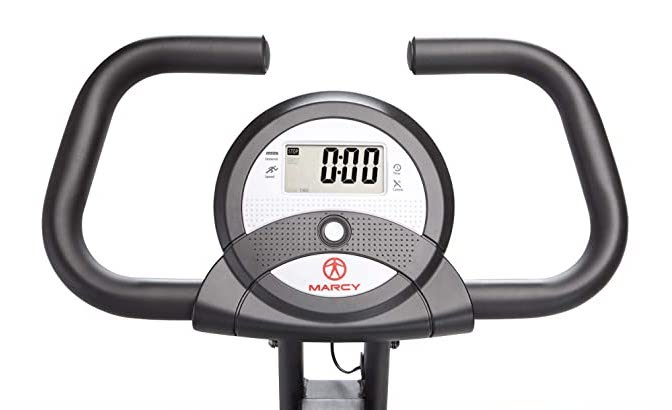 Why? First, stability. Amanda noted that the 14-gauge steel that Marcy uses on this bike is more durable than what you'll find on competitors. Thus, you get a more stable base for your ride. Amanda said that even when pedaling hard, she didn't experience rocking on the bike.
One downside, she noted, is that there isn't quite enough resistance to deliver a high-intensity workout (there are eight adjustable levels). Therefore, the bike may be best-suited for casual exercisers or beginners just dipping their toes in the cardio water.
Portability and Durability
Thanks to a 14-gauge steel tubing, the Marcy bike delivers on a solid ride. Also, it boasts an impressive 250-pound user weight capacity. While that's lower than you'll find on commercial exercise bikes and Peloton alternatives, it's still quite a lot for a machine that weighs just 37 pounds itself.
Because the bike is so lightweight, it's easy to move around. Plus, it has transport wheels that Amanda said were great for easily steering it around her space.
Comfort and Adjustability
One of the biggest complaints people have about just about any exercise bike is the seat. If you aren't used to spending time in the saddle, a hard bike seat is your rear end's worst enemy.
The Marcy bike comes with a padded seat that our testers found to be comfortable. If you need a little more support in that area, that brand does offer a recumbent folding bike that has similar specs to the one we tested.
The seat height has an adjustable range from 26 inches off the ground to 30 inches. Those heights should accommodate most people under 6 feet, but those taller may have an issue with riding comfortably.
The handlebars are covered in high-density foam but do not adjust. The pedals, however, do feature an adjustable strap. They are not clip-in, and they are not caged; just a flat surface with a single strap over the top. This is far from being a secure pedal, so we recommend strapping in, especially if you plan on riding at higher speeds.
Technology Benefits and Conveniences
Generally speaking, budget exercise bikes tend to have very little in the way of technology. That's the case here, where a basic LCD display shows speed, time, calories, distance, and an odometer. Two AA batteries power the bike, which means you can move it pretty much anywhere in your space without worrying about having to plug it in. However, Amanda says that the bike doesn't come with batteries—so be prepared!
Convenience-wise, you won't find heart rate monitoring, a tablet holder, or even a water bottle on this bike. But, that's what you should expect when you're paying less than $150 for a cardio machine.
Marcy Foldable Exercise Bike vs Exerpeutic Magnetic Folding Upright Exercise Bike
Exerpeutic Magnetic Folding Exercise Bike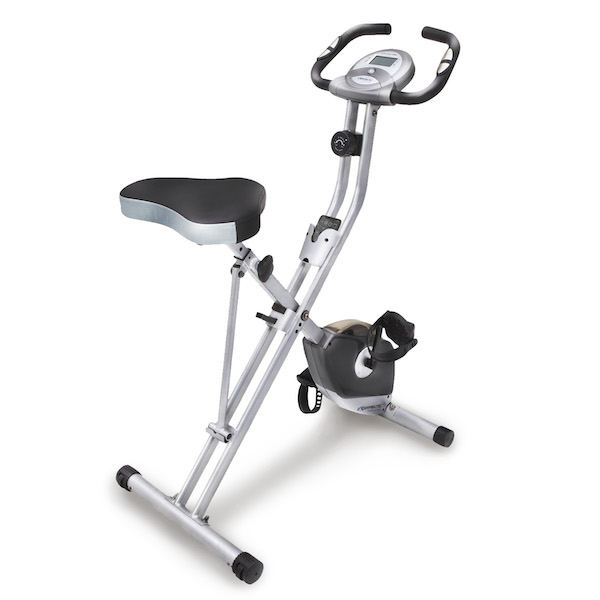 Exerpeutic Folding Magnetic Upright Exercise Bike
If you're looking for a portable and foldable cardio machine for your home gym, the Exerpeutic Folding Magnetic Upright Exercise Bike might be a solution.At just 39 pounds, this bike has a high 300-pound weight capacity, making it an option for many. When in use, its footprint is just 31 inches long by 19 inches wide by 46 inches high, and it also folds for easy storage. It has a large, padded seat and a basic LCD display that shows metrics including distance, calories burned, time, speed, and pulse (which it calculates from the pulse sensors on the handlebars). While it doesn't have any tech capabilities built in, you have the option of purchasing the cadence sensor from MyCloud Fitness for $50 to attach to one of the Exerpeutic bike's pedals, allowing you to connect to the MyCloud Fitness app via Bluetooth to access on-demand classes for a monthly fee. The bike has just eight resistance levels, so it won't be the best choice for serious cyclists. And for $130, it probably won't last forever. But, if you're just looking for an easy way to get active at home, this bike could work.
On paper, the Exerpeutic and Marcy folding bikes are incredibly similar. Both have:
8 levels of magnetic, adjustable resistance
A price tag under $150
Multiple seat height adjustments
Basic LCD screen
I personally tested the Exerpeutic Folding Exercise Bike, and the first thing I noticed was how big the seat is. It's incredibly wide, like the kind you find on recumbent exercise bikes, and is undoubtedly more comfortable than the seat on the Marcy bike. It also boasts a 300-pound weight limit, which edges out the Marcy bike.
Marcy features a better warranty (the Exerpeutic is just a year). If you're looking for comfort, I'd pick Exerpeutic, but otherwise, I like the portability and sturdiness of the Marcy bike.
For more, check out our Exerpeutic Folding Magnetic Bike review.
Customer Experience
The Marcy Foldable Bike comes with a two-year warranty. While this falls far short of what we typically see in the industry, I'm not surprised that such an affordable exercise bike has a short term.
As far as returns go, both Amazon and Marcy require unused and original packaging within 30 days. You might get hit with a 15% restocking fee if you purchased through the Marcy website.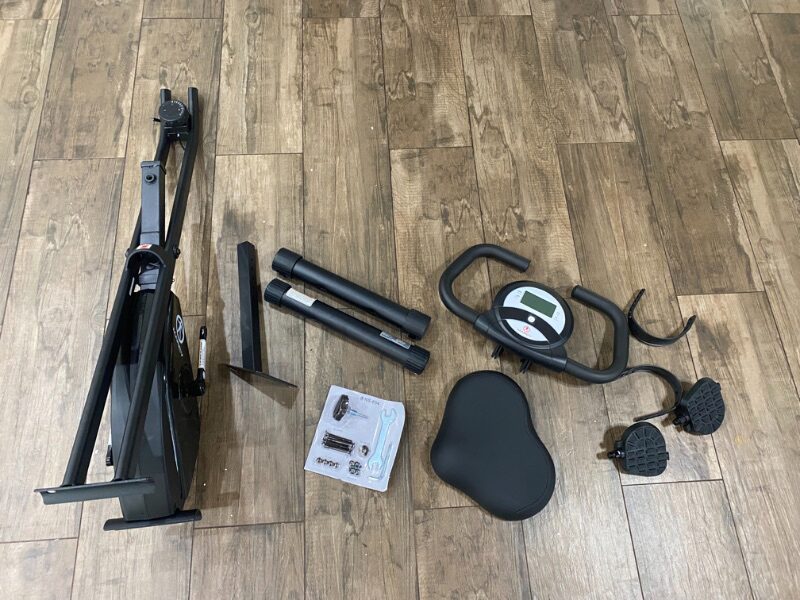 Ordering and Assembling the Marcy Foldable Upright Exercise Bike
Amanda said that she ordered the bike directly through Marcy, but she ended up playing phone tag with the brand for a week. "They needed to confirm my address, but they never left a good callback number with an extension."
Amanda eventually just canceled the order, and instead placed the order through Amazon, and the delivery was seamless. Fortunately, the assembly process was far less complicated than getting the bike to her house. Amanda said it only took about 45 minutes and presented no challenges.
Customer Reviews
On Marcypro.com, this bike has 14 reviews, almost all of which are 5 stars. Alternatively, there are more than 6,000 reviews of the Marcy foldable line on Amazon, averaging a 4.5 rating.
Most people seemed to draw the same conclusion, that this is a great choice for low-impact, low-intensity workouts or warmups.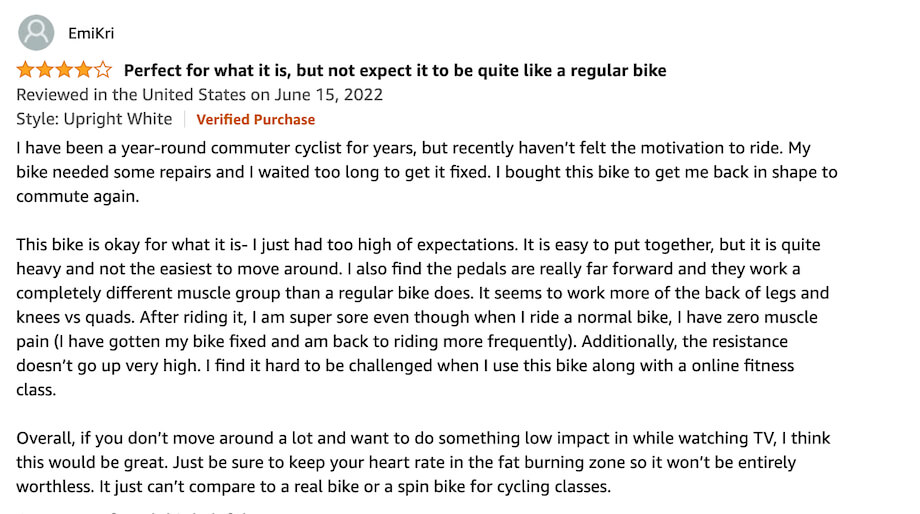 Final Verdict of Our Marcy Foldable Exercise Bike Review
If you're in the market for a foldable bike, the Marcy Foldable Exercise Bike is one we would highly recommend. While it's not meant for high-intensity work, it does offer great stability for the casual exerciser or those looking to do cardio in a small space.
Marcy Foldable Bike Rating
Marcy Foldable Bike
In our Marcy Foldable Exercise Bike review, we'll tell you why this small bike is a mighty choice.
Product Brand: Marcy
Product Currency: $
Product Price: 149.99
Product In-Stock: InStock
Marcy Foldable Bike FAQs
Are foldable exercise bikes worth it?
Because foldable exercise bikes are usually under $300, they don't require a significant investment. You shouldn't expect the bells and whistles you'll find on the best exercise bikes, like large screens, interactive programming, or even conveniences like water bottles. Also, they usually don't provide enough resistance to host intense workouts. However, if you need something to just help you move during the day, they are usually a low-risk, low-cost investment.
Can you stand up on a foldable exercise bike?
This is a "yes and no" answer. Yes, there are some durable folding bikes on which you could stand, but there are some that simply aren't sturdy enough. These types of bikes have a small footprint and are typically pretty lightweight. 
Before purchasing, check out the weight capacity of the bike as well as customer reviews to find out if standing is safe before you try it.
How much does the Marcy Foldable Bike weigh?
The Marcy Foldable Bike weighs 37 pounds.