We test and review fitness products based on an independent, multi-point methodology. If you use our links to purchase something, we may earn a commission. Read our disclosures.
Here at Garage Gym Reviews, we're big fans of rowing machines. We like machines that allow you to work on your cardiovascular endurance all while stimulating a full-body workout for your muscles, too.
No matter your fitness level or reason for wanting a rower, you're probably landing on this comparison because you want the best rowing machine you can find. In this comparison of Hydrow vs Peloton, we're going to explore the similarities and differences between these two high-end brands.
Hydrow Rower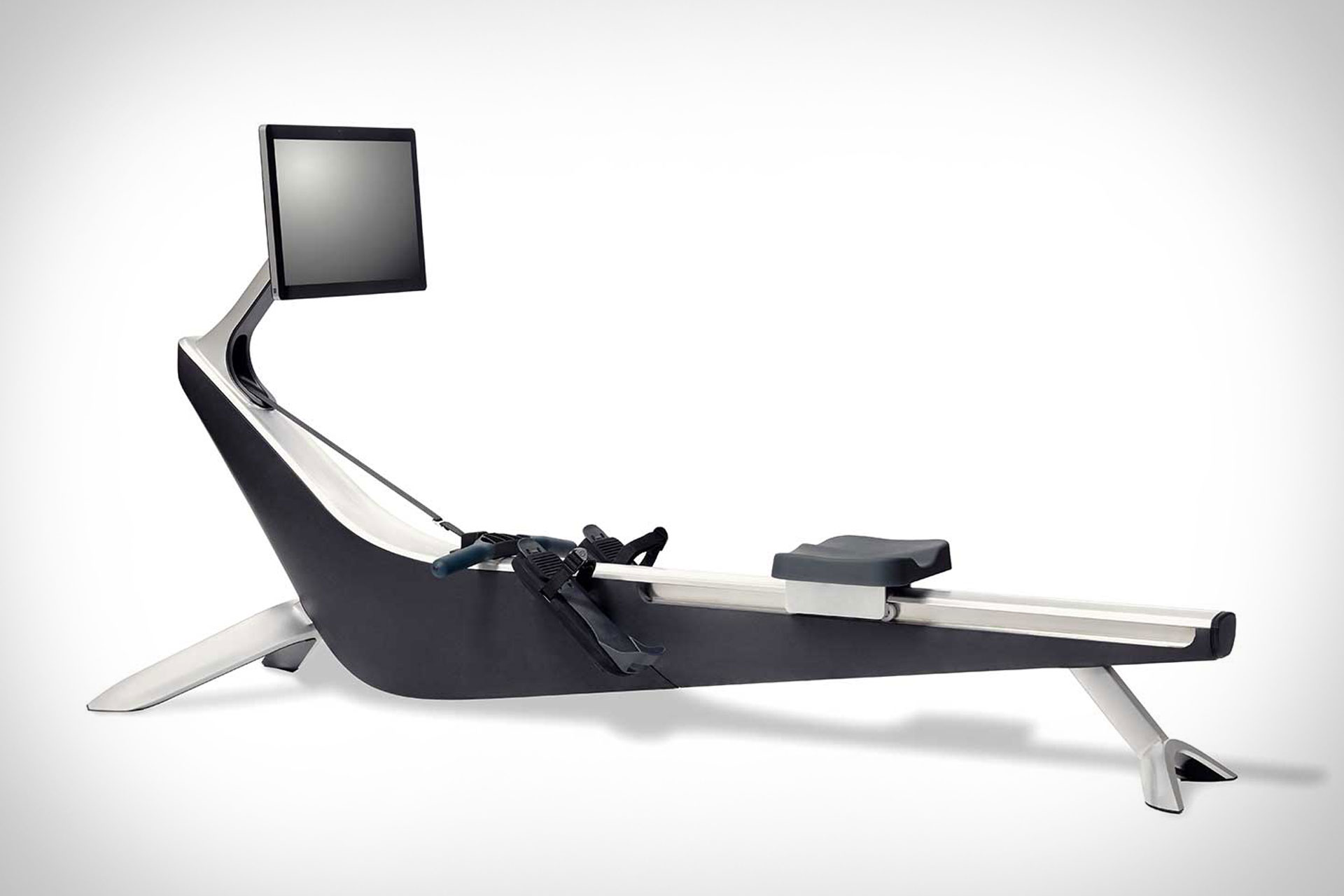 GGR Score: 4.2
Product Highlights
Sleek and sexy design
16″ touchscreen display
Magnetic resistance done right
Gorgeous virtual rowing workouts filmed on location all over the world
Smooth rowing experience
Pros & Cons
Pros
Consistent and smooth magnetic rower
Engaging interactive programming
Ability to compete against others via a leaderboard
Sleek and modern design
Cons
Just under $2,500 for the Hydrow Essentials Package
Additional subscription fee for programming
Limited customer service contact options
Bottom Line
This is a fantastic, advanced rowing machine ideal for people who have the money to spend and the desire for trainer-led workouts.
Peloton Row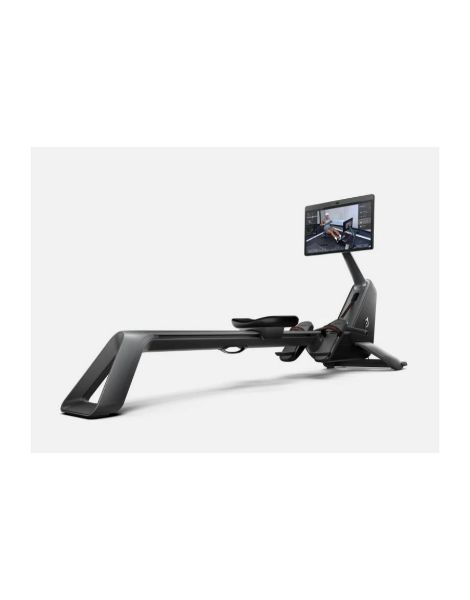 GGR Score: 4.0
Product Highlights
Available for pre-order

Products begin shipping in early December 

Anodized and powder-coated frame

23.8" swiveling touchscreen

Peloton All-Access membership required
Pros & Cons
Pros
Form Assist: Live feedback on form and technique
Set your own personal pace target for each class
Shipping and setup included (excluding wall anchor)
Folds away for vertical storage
30-day triall: If you're not satisfied schedule a pickup from Peloton and you'll be refunded
Cons
More expensive than competitors
Requires additional monthly membership
No financing options available
No customer reviews
12-month warranty is short for such an expensive product
Bottom Line
The Peloton Row is an expensive premium rower with the high-quality Peloton programming users love.
Hydrow vs Peloton Comparison Chart
| | | |
| --- | --- | --- |
| | Hydrow | Peloton Rower |
| Price | $2,495 | $3,195 |
| Footprint | 86″ L x 25″ W x 47″ H | 96" L x 24" W |
| Resistance type | Computer-controlled magnetic resistance | Electronic resistance |
| User weight capacity | 375 lbs | 300 lbs |
| Height limit | Fits up to 36" inseam | 6' 5" |
| Product weight | 145 lbs | 156.5 lbs |
| Display | 22" HD touchscreen | 23.8" HD touchscreen |
| Bluetooth | Yes | Yes |
| Programming | All-inclusive Hydrow Membership | Peloton All-Access membership required |
| Upright storage | Upright storage kit sold separately | Upright wall anchor included |
| Warranty | 5-year frame, 1-year components, screen, and electronics | 5-year frame, 1-year on screen, components, and labor warranty |
Quick Look: Hydrow vs Peloton
You will see in this comparison that the Peloton and Hydrow offer a lot of similar (and desirable) features. Although we haven't personally tested the Peloton rower, we published a first look Peloton rower review right after the brand announced it was taking preorders in September 2022. That said, we think our expert product tester's experience with plenty of other rowers, plus the Peloton app, exercise bikes, and treadmill, gives us insight to lay out the pros and cons for this comparison.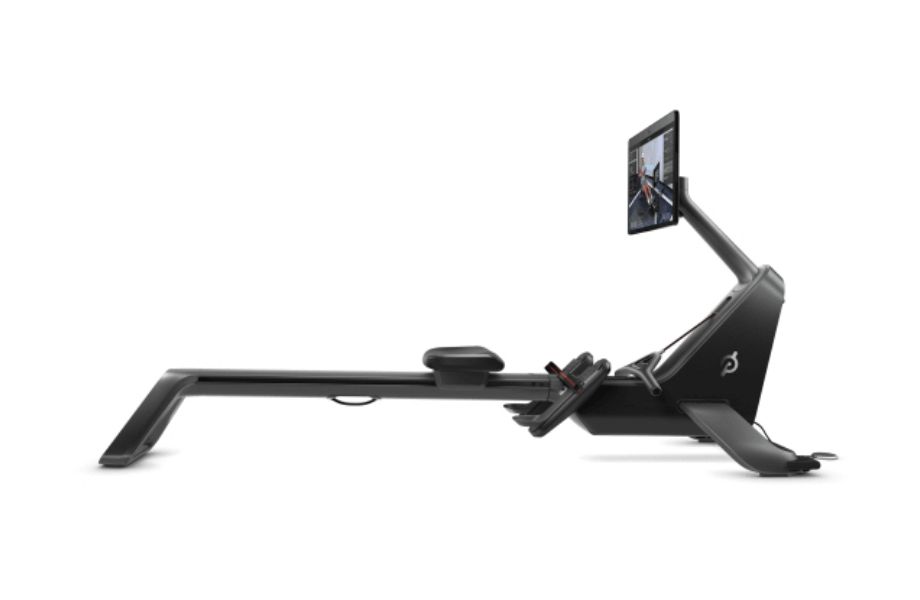 Hydrow offers two different rowing machines: the Hydrow Connected Rower and the Hydrow Wave. The Hydrow Wave is the smaller, more compact, and less expensive model.
For the purpose of this comparison, we're going to keep our attention on the Connected Rower because it is the most similar to the Peloton Row. That said, if you're interested in the less expensive version of the Hydrow, be sure to check out our Hydrow Wave review, which includes a video of GGR founder Coop Mitchell comparing the two Hydrow machines side-by-side.
Who Should Buy The Hydrow Rower
Folks who like the idea of following outdoor rowing classes
People who like being led through rowing workouts with world-class athletes and rowing experts
Anyone interested in a smooth, nearly silent rowing experience
People seeking Peloton Row alternatives
Anyone who wants a stable, heavy-duty machine
People interested in an aesthetically pleasing machine
Who Should Buy The Peloton Row
Individuals drawn to high-quality studio classes
People who like fitness classes to include catchy music and motivating coaches
Anyone looking for live classes with leaderboard-style competition
Folks interested in form assist technology for real-time rowing guidance
Anyone who already owns Peloton fitness equipment and an All-Access membership
Key Similarities Between Peloton Row and Hydrow
Low-impact, full-body workouts
Monthly memberships required for full functionality
Different types of workouts (not just rowing workouts) including yoga, pilates, and strength training
Live and on-demand workouts
Upright storage solutions
If you decide to cancel your membership on either machine, you can use manual mode or Just Row feature
Touchscreen swivels side-to-side for on (or off) rower workouts
Peloton All-Access membership and the Hydrow Membership cost $44 per month
Important Differences Between Peloton Row and Hydrow
Peloton Row is $700 more than the Hydrow
Hydrow classes are filmed on water, not a studio
Hydrow has a higher user weight capacity by 75 pounds
The monitor can fold down on the Peloton Row for compact upright storage
Technology Comparison
One of the main differences between the technology you'll see on the Peloton vs the Hydrow rowing machine is the way classes are filmed and presented to you. Hydrow classes are all filmed outdoors on the water, while Peloton offers a mix of indoor studio sessions and scenic outdoor classes.
It's also worth mentioning that Peloton rowing classes are only available if you buy the Peloton Row. As of this writing, rowing content is not available to folks who just have the Peloton app. I mention that because you can hack other cardio equipment by using a non-Peloton brand and streaming the programming through the Peloton app—but in the case of the rower, you cannot use that trick.
Both machines have a $44 monthly subscription fee to access interactive programming, on-demand classes, and live workouts. It's also worth mentioning the full membership access allows you to see and rank in the leaderboard-style competition that both subscriptions offer.
That said, I wanted to look into what happens if you decide to cancel or pause your membership. After a little digging I verified on both websites that you will still be able to use a manual mode, aptly named Just Row on both machines.
In addition to a library of workouts, both the Peloton and Hydrow feature large swiveling touchscreens so you can easily view the instructors for rowing workouts and other studio workouts like yoga, pilates, and dumbbell strength sessions (which are offered on both).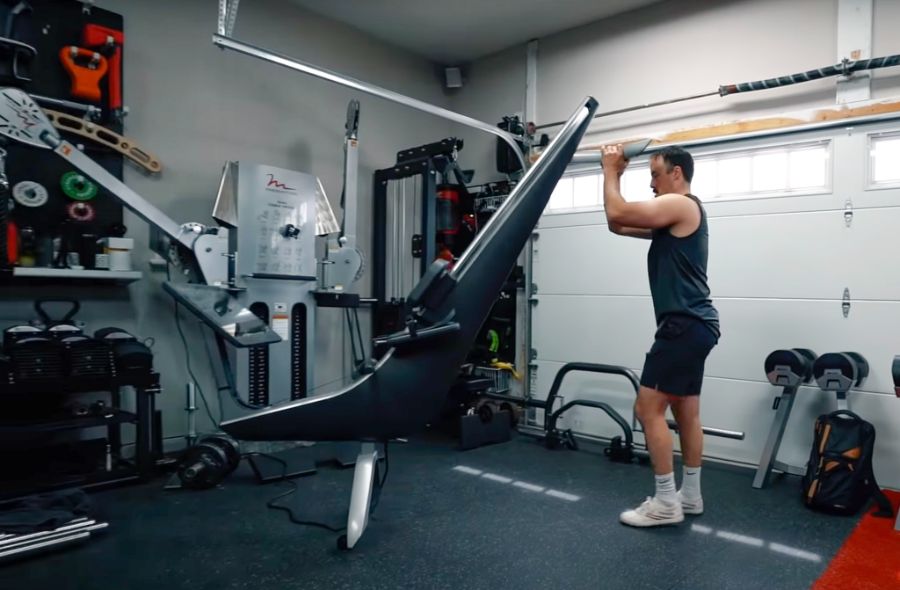 The Hydrow also allows you to sync with other apps like Strava and Apple Health for heart rate monitoring and tracking activity. The Peloton Row also has Apple Health connectivity for Apple Watch users.
Both rowers also feature Bluetooth speakers and can connect with wireless headphones so you can hear the music and the instructors' voices and background music without disturbing anyone in your household (especially during early morning workouts).
RELATED: Best Rowing Apps
Workout Feel
When it comes to rowing machines, you have a few different options for resistance type including air, water, and magnetic resistance. Although similar, each resistance style delivers a different experience.
It's worth noting that both the Hydrow and Peloton both offer whisper-quiet workouts with a belt drive system, but the odd thing is that there is not a lot of information about Peloton's resistance mechanism.
The Hydrow website explicitly states the rower uses computer-controlled electromagnetic resistance, while the Peloton Row spec chart reads: electronic resistance. If you're confused about what that means, you're not alone. It sounds ambiguous to our experts here at GGR, too. However, from our product testing experience and research the Peloton also features magnetic resistance.
That said, I will mention that Hydrow features a patented electromagnetic resistance mechanism with the goal of creating a more realistic water rowing sensation.
Construction Differences
One of the standout features on the Hydrow is the sleek, modern design. In Coop's YouTube video of the Hydrow review, he even notes it's even sleek enough to leave it in your living room without the need for stowing it away.
I personally think it's a pro that it looks good because in order to achieve vertical storage (like you might do with a Concept 2), you'll need to make an additional $80 purchase of an upright storage kit so it can be tethered to the wall.
I will mention that the Hydrow Connected Rower is a hefty machine, weighing 145 pounds, which might not make it easy to prop up into the vertical position. The challenge of storing aside, the weight of this machine makes it sturdy, which eliminates excessive movement or shaking. Overall, this machine is built to last with an aluminum and steel frame.
The Peloton Rower comes in at 156.5 pounds made from an anodized powder-coated aluminum frame, molded plastic sheathing to cover the hub, and woven fabric pull strap. The heavy frame will give you a locked-to-the-ground feel and provide a solid base for rowing workouts.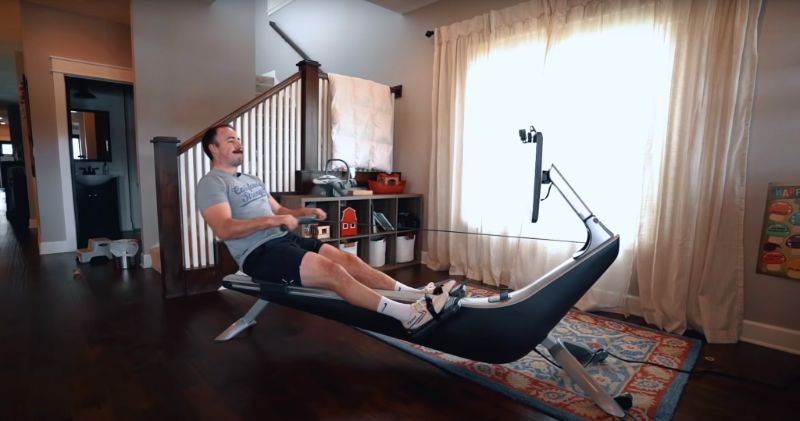 When you've completed a Peloton class, you'll have the option to stow your rower vertically like the Hydrow. However, the main difference is the fact that the purchase of a Peloton rower includes the Upright Wall Anchor. To store vertically, you'll need to use the folding mechanism on the upright that holds the touchscreen display and fold it down toward the monorail before tipping upright.
Additionally, the ergonomic seat and handlebar on the Peloton Row will provide comfort during short HIIT rowing workouts and long endurance sessions alike.
Company Policies
When you're making an investment of a few thousand dollars, it's good to know what your options are when it comes to financing your purchase, warranty policies, and the steps to take if you need to make a return.
Warranty
The Hydrow limited warranty period includes five years on the structural frame and upright storage kit. However, this five-year period excludes any moving parts attached to the structural frame like moving arms and position adjustment. It's also worth mentioning the fine print states that the warranty policy does not apply to damage or equipment failure from normal wear and tear, incorrect assembly, or improper maintenance.
You will have a 12-month warranty on the Hydrow screen, electronics, and other components including handles, straps, seat, and hinges. Labor also has a 12-month warranty period.
Peloton also offers a 5-year warranty on the frame, which protects against defects in workmanship. There is also a 12-month warranty on all other components of the rowing machine, HD touchscreen, and labor.
Return Policy
When you're a new customer, you can buy a Hydrow and receive a 30-day risk-free home trial. To receive this risk-free offer, you will need to make your purchase on hydrow.com (not at a third-party retailer like Best Buy).
If during this 30-day period you feel like the Hydrow is not the right piece of fitness equipment for you, just contact Hydrow member services within 30 days of delivery so the company can arrange a free pickup of your Hydrow rower.
That said, if you are not a new customer and you don't qualify for the risk-free trial you'll be on the hook for a $250 return shipping fee. You also will not receive a refund for the original shipping, delivery, or installation charges.
Peloton has a policy similar to Hydrow—if you are a first-time customer (meaning you've never bought or returned a Peloton Bike, Tread, or Rower) you can qualify for the home trial program.
If you're going to make a return, you'll need to contact the Peloton Support Team within the 30-day window to coordinate your return, which will include a pickup in most areas. To arrange your return, you can use the live chat function on the Peloton website or call the support team at 1-866-679-9129.
However, if you are not a first-time customer, returning the Peloton rower will cost you $250 in return shipping fees and you will not receive a refund for original shipping or delivery fees.
Financing Options
Hydrow offers financing through Klarna with payments as low as $52 per month with 0% APR for 48 months. Receiving 0% APR is subject to a credit check. That said, standard purchases will have 19.99% APR.
Peloton offers financing through Affirm. If you qualify, you can receive 0% APR for a 12-month loan. Affirm has longer terms as well—ranging from 24 to 43 months—with a 4.99% interest rate, which is also dependent on your credit history.
It's worth noting that with either brand, when you finance your purchase it does not include your monthly membership to access interactive programming.
Final Thoughts: Hydrow vs Peloton
Although similar in many ways, the Hydrow and Peloton rowers have distinct differences. Here are the ones I think are important to call out:
You will not find studio classes on the Hydrow membership, only outdoor classes filmed with athletes on water.
The Hydrow rower has a user weight capacity of 375 pounds, which is higher than the 300-pound limit of the Peloton Row.
The Peloton Row comes with a wall anchor for upright storage, while the Hydrow sells the anchor kit separately for $80.
The Peloton is priced about $700 more than the Hydrow Connected Rower.
You might be able to snag a deal if you use a Hydrow discount code or shop during one of the major holiday sales.
Hydrow vs Peloton FAQs
Which is better: Peloton or Hydrow?
The Peloton Row and Hydrow Connected Rower have a lot of similarities. They both offer a solid rowing machine, high-tech interactive programming, and low-impact workouts. With both machines being solid options for at-home workouts, it will depend on your budget and workout preferences to determine which machine is the better.
Is a rowing machine better than a Peloton bike?
The best cardio machine for your home gym will be the one you enjoy using the most, whether than be biking, rowing, running, or the elliptical. Be sure to read our review on the Peloton Row and our in-depth Peloton Bike review for a better look at both machines.
Is there a rowing equivalent to Peloton?
Our product testers agree that Hydrow Connected is one of the most comparable rowing machines on the market to the Peloton Row.