We test and review fitness products based on an independent, multi-point methodology. If you use our links to purchase something, we may earn a commission. Read our disclosures.
The almighty barbell is at the top of most people's list when building a home gym, but those who live in compact spaces just don't have the luxury of having enough room for one, not to mention all the weight plates you'll need. Heck, I've had problems finding enough space for myself in an apartment and I'm only 6 feet, 3 inches tall (a standard Olympic barbell is 7 feet long).
That's why I was pretty excited to dig into this Jayflex HYPERBELL Bar review. On the surface, it seems like the perfect solution for those who want to do barbell exercises but don't have the room for something like a Rogue Ohio Bar. But looks can be deceiving, which is why we gave it the classic Garage Gym Reviews treatment to see if it's worth your hard-earned money.
Read on to see what we thought of it.
Small Gym, Large Gym, Car Gym, Home Gym—We've Used Them All
The Garage Gym Reviews team is uniquely qualified to help out every type of home gym owner, because we've used the fitness equipment we write about in many different environments. One of our team members was able to create a mobile home gym on a cross-country road trip, while I've had to create a workout space in a 300-square-foot apartment.
As certified personal trainers and CrossFit coaches, we want to help people find ways to train no matter where they are. That's why we're always on the hunt for the best compact exercise equipment that can be used just about anywhere.
Make Your Own Barbell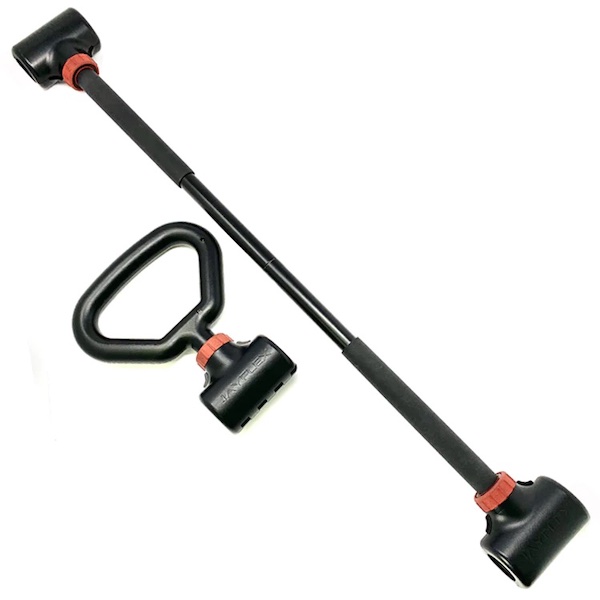 Jayflex Hyperbell
The Jayflex Hyperbell is a new innovation in the industry, allowing you to transform dumbbells into a barbell or kettlebell with its patent-pending device. The Hyperbell Bar can hold up to 200 pounds—simply attach your dumbbells via the multiposition handles and perform any exercise you would with a barbell. It's made of industrial-strength steel with commercial-grade rubber grips and foam inserts in the polycarbonate clamp. A quick-lock collar secures the dumbbells in place.The Hyperbell Kettlebell works much the same—attach a single dumbbell to the handle and use up to 100 pounds for swings, thrusters, or cleans. The kettlebell has a textured handle, as well as the same quick-lock collar and clamp system.The appeal of this product is that it eliminates the need to have sets of fixed barbells, kettlebells, and dumbbells, thus being a space-saving and more budget-friendly option. And at only $179, it is much more affordable than buying multiple sets of weights. Hyperbell comes with a 30-day money-back guarantee as well as a two-year warranty.
A Quick Look at the Jayflex HYPERBELL Bar
The Jayflex HYPERBELL Bar is kind of like a loadable dumbbell, but in barbell form. It has two handles that can attach to most fixed and adjustable dumbbells to allow you to perform back squats, bench presses, deadlifts, and much more. (Some reviewers say it's a little difficult to do Olympic lifts, particularly the snatch, due to the bar's length).
The bar has a 200-pound weight capacity, which might not be heavy enough for some trainees, but it's also heavier than most adjustable barbells on the market (adjustable barbells can be a great option for those in compact workout spaces).
In addition to the bar, Garage Gym Reviews founder Coop also tested out the Jayflex EZ-curl Bar and kettlebell handle, both of which also work with dumbbells. The EZ-curl Bar also has a 200-pound weight capacity, and the kettlebell handle has a 100-pound weight limit.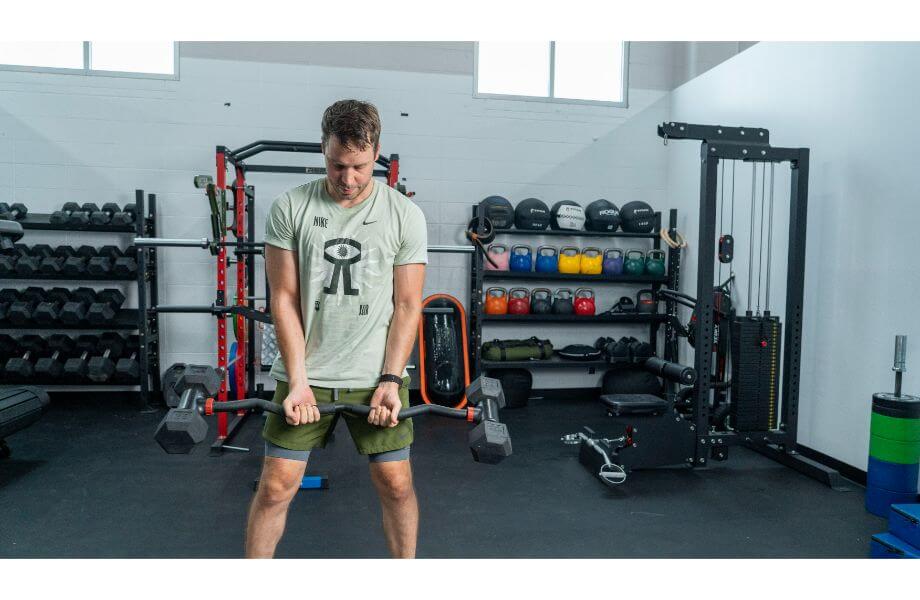 Our Tips
The dumbbells you use must be less than 1.5 inches in diameter at their thickest point, and at least 4.5 inches in length.
Pros:
Easy to attach and detach dumbbells
Kettlebell handle can be switched to perpendicular position, which prevents dumbbells from hitting your knees
More budget-friendly than most adjustable barbells
Free shipping
Cons:
Don't work with PowerBlocks or NÜOBELLs, which are two of the best adjustable dumbbells
Bar only has a 200-pound weight capacity
No knurling
Weight can sometimes feel unbalanced, depending on which dumbbell you use
Video Review
Is the Jayflex HYPERBELL Bar Worth It?
If you're an apartment owner or someone who's really tight on space, the Jayflex HYPERBELL Bar and other attachments could be a very smart investment, and we use that word lightly since the bar is less than $150. The HYPERBELL bundle, which includes the straight bar and kettlebell handle, is $180, and the EZ-curl bar is $160.
Adjustable barbells like the Bowflex SelectTech 2080 and the MX Select Barbell System cost upwards of $600, so the Jayflex is a more budget-friendly option even when you factor in the cost of the dumbbells you'd need to use it (depending on which type you buy, and assuming you don't already have some).
But, it does have some limitations. Here's who we think would get a lot of use out of this product, and who should look elsewhere.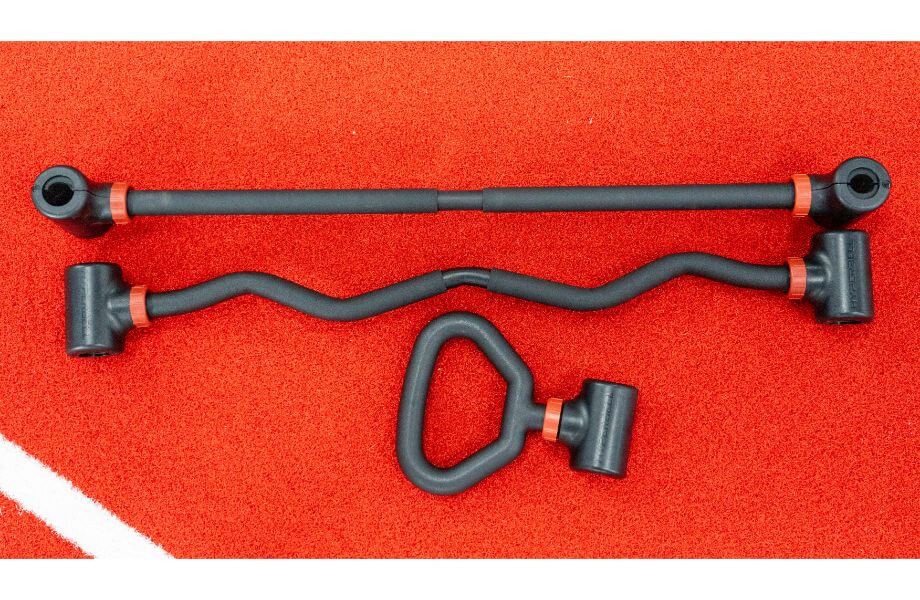 Great for:
General trainees who are tight on space
Anyone who already owns dumbbells and wants to make good use of them
Those who want to add some versatility to their weight training regimen
Not recommended for:
People who want to lift very heavy weights
Anyone who needs or wants knurling on their barbells
PowerBlock or NÜOBELL owners
Jayflex HYPERBELL Bar Specs
Length
Weight
Weight capacity
Material
Warranty
40" L
5 lbs
200 lbs
Steel, rubber, polycarbonate
2 years
Lifting With the Jayflex HYPERBELL Bar
Personally speaking, I think the Jayflex HYPERBELL Bar is a fantastic idea and I'm kind of surprised I haven't seen anything like it sooner. Speaking from experience, I know a lot of apartment dwellers are often limited to a pair of dumbbells that they use for HIIT-style workouts in their living room.
And yeah, you can easily do squats and presses with dumbbells, but there are certain strength and muscle gains that are more easily achieved with a bar. Plus, having a bar allows you to add a little variety to your home workouts, which is always a plus in our book.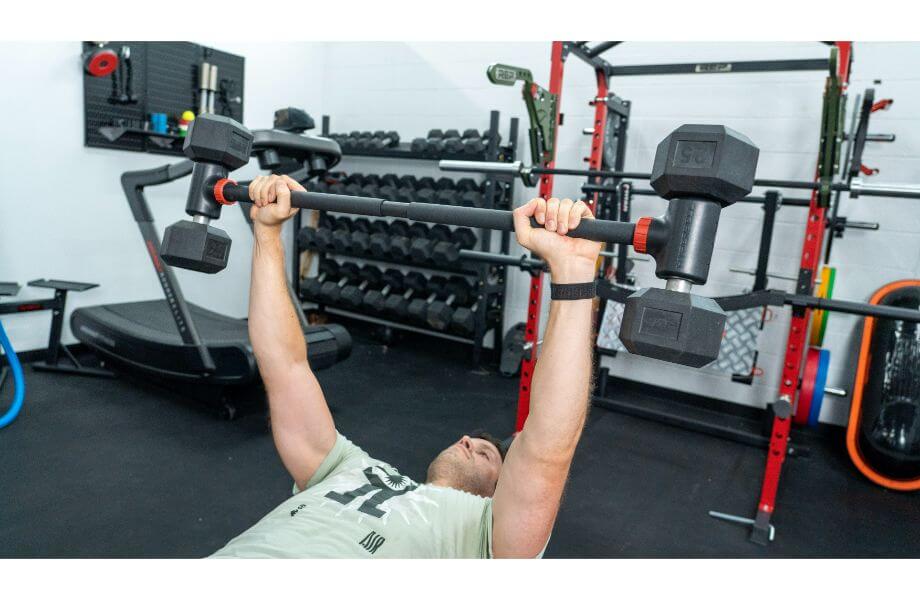 To attach your dumbbells, you simply open the handles on either end, place the weights in, and shut them tight. Then, you get to lifting. I will say it's a little annoying that it doesn't work with PowerBlocks or NUOBELLs, but that comes down to those adjustable dumbbells' design.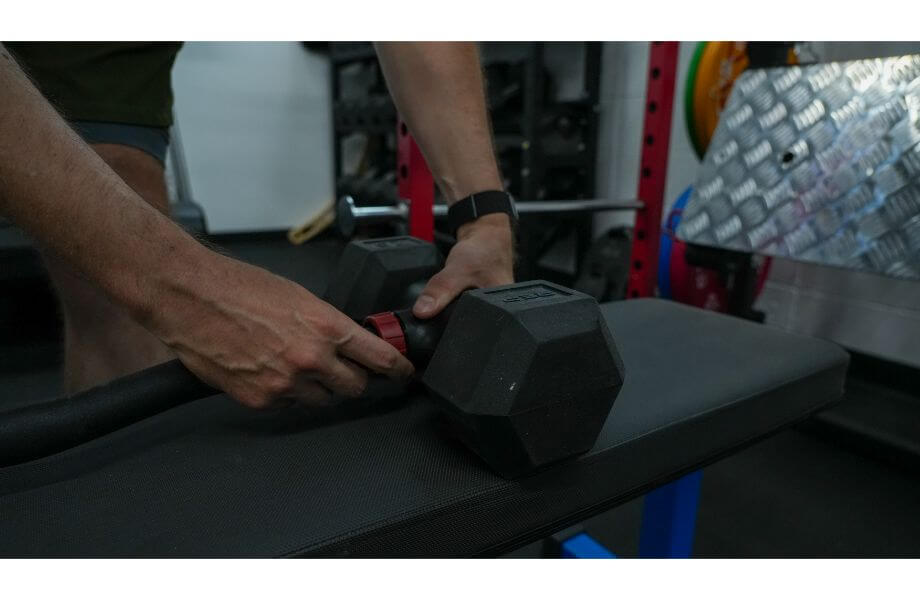 I think it'd be worthwhile for Jayflex Fitness to explore the possibility of an attachment that could work with those dumbbells, as it'd probably expand their customer base by quite a lot.
If you have just about any other adjustable dumbbell, like the Bowflex SelectTech 552, or almost any type of fixed dumbbell, you're in business. These could even work with loadable dumbbells as well.
Now, you're probably wondering how this thing feels compared to a standard barbell. Well, the answer is quite different, according to Coop.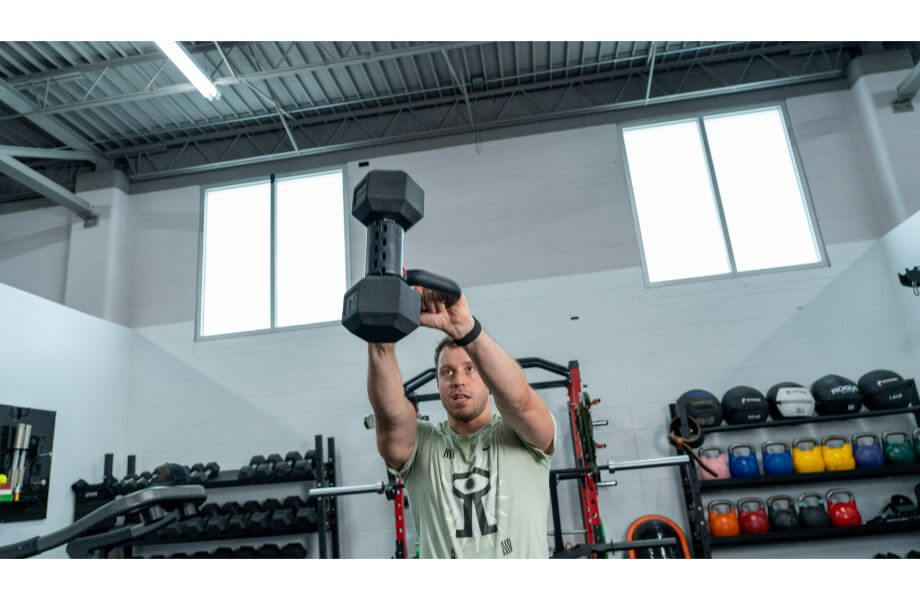 There's no knurling on the straight or EZ-curl bar, which may be annoying to those who are into weightlifting, but may not make a huge difference to the general trainee. Instead, there's a rubber grip that's comfortable enough for just about any exercise you'll do with it.
The weight feels evenly distributed on both bars for the most part, but Coop notes that some dumbbells may cause a little imbalance depending on the size of their heads. "For instance, the resistance curve on bicep curls can change based upon where the weight is," he says. "I don't think it's a major thing for most people, but it is there."
Jayflex HYPERBELL Kettlebell
The Jayflex HYPERBELL Kettlebell is very similar to the Kettle Gryp, which we've recommended for those in compact home gyms in the past. Both work by placing a dumbbell into the handle, allowing you to use it like a kettlebell for moves like swings and Turkish get-ups.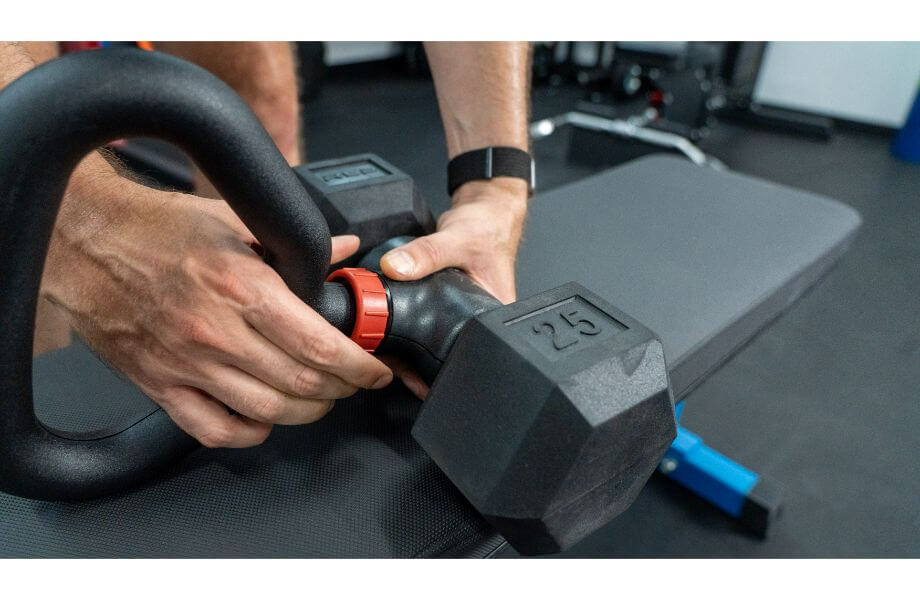 One of the big advantages of Jayflex's handle is that you can switch it so the handle is either perpendicular or parallel.
This is big because it's easier to avoid hitting your knees with the dumbbells during moves like swings if the handle is perpendicular, rather than parallel.
The Jayflex Kettlebell Handle can also hold dumbbells up to 100 pounds, whereas the Kettle Gryp can only go up to 55 pounds.
Durability and Construction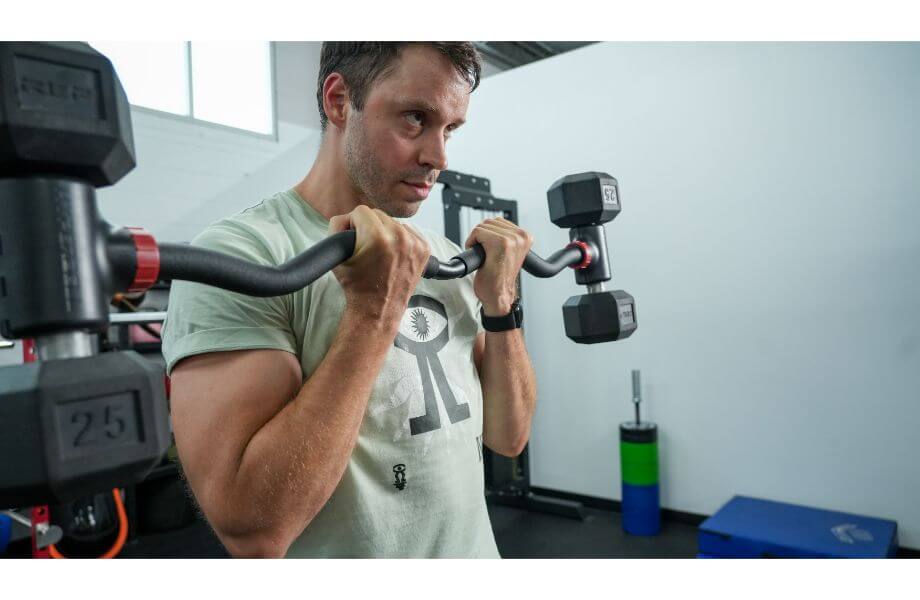 There's not much information on the type of material Jayflex uses in its products, and it only uses terms like "industrial-grade steel" and "commercial-grade rubber grips." The one area where they get specific is the clamps that hold the dumbbells, which are made with polycarbonate.
Polycarbonate is a type of plastic that's used in a number of applications, including bulletproof windows and riot shields.
The website does promise that you can "flip it, rack it, and drop it," so we can only assume that this thing is built to last. Only time will tell…
Footprint and Portability
The Jayflex HYPERBELL Bar is 40 inches in length, and weighs only 5 pounds. Not only is this great for people with small workout areas, but if you travel often, you can easily fit it into your bag and use it with hotel gym dumbbells.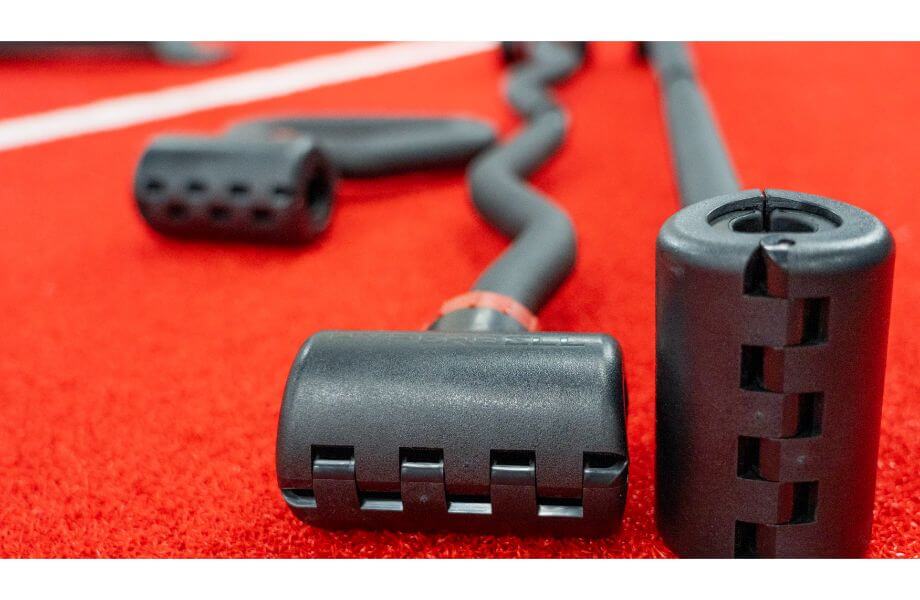 Financing, Warranty, Returns
If you wish to finance your Jayflex purchase, you can do so at checkout by paying via ShopPay or PayPal, both of which allow you to split the total cost into four equal payments.
If for any reason you don't like your HYPERBELL, you can return it for a full refund within 30 days of delivery.
Jayflex offers a two-year warranty on all of its products, but you must activate the warranty within 30 days of receiving your product.
Ordering the Jayflex HYPERBELL Bar
Ordering the Jayflex HYPERBELL Bar is as simple as clicking "Add to Cart." You just pick which package you want, head to checkout, and wait for it to arrive, which usually takes 2-5 days.
Customer Reviews
As of this writing, the Jayflex HYPERBELL Bar has a 4.5 average rating on its website with a little more than 1,500 reviews. Close to 1,200 of those are 5-star reviews, which consists of people raving about how the workout equipment has changed how they train at home.
There are some complaints that the clamp doesn't work for every type of dumbbell, and that the bar is too short for some people.

Final Verdict of Our Jayflex HYPERBELL Bar Review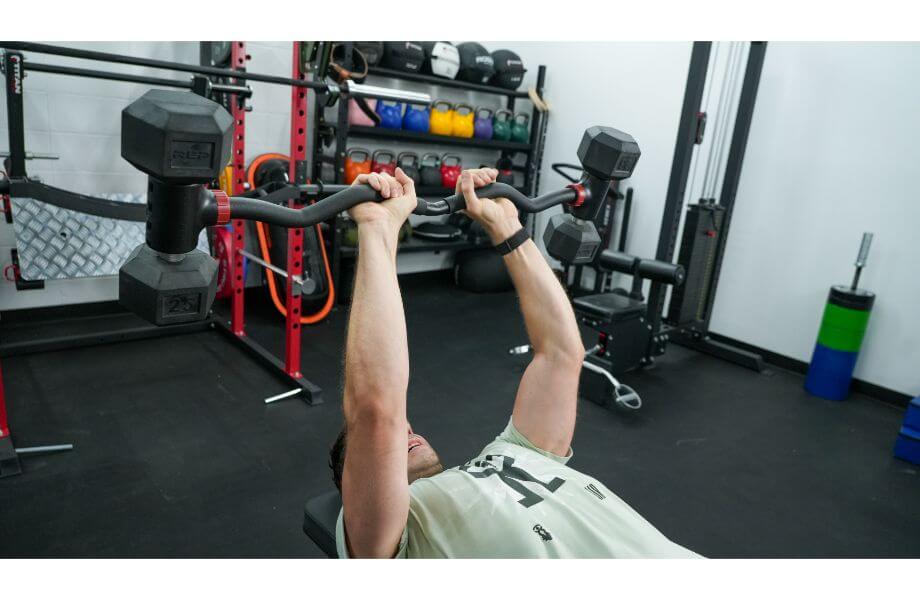 The Jayflex HYPERBELL Bar isn't meant for everyone, but for those who need a compact piece of home gym equipment it's certainly a great option. Yes, you need a pair of dumbbells for it to work, but we suggest just about every home gym owner have a pair of those anyway.
With the HYPERBELL bar, you can lift heavier weights than most adjustable barbells on the market while still saving plenty of space. It's also very affordable, even if you have to buy a pair of dumbbells to use with the bar, and seems to be made with long-lasting materials (though we'd like to know exactly what type of steel the bar uses).
If you have enough space for a traditional barbell, then go for that. But if that's out of the picture, you can't do much better than the Jayflex HYPERBELL Bar.
Jayflex HYPERBELL Bar Rating
Jayflex HYPERBELL Bar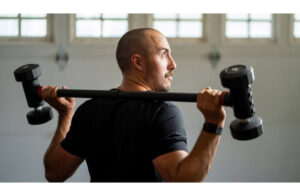 Our Jayflex HYPERBELL Bar Review looks at one of the best pieces of gym equipment for apartment dwellers.
Product Brand: Jayflex
Product Currency: $
Product Price: 179.00
Product In-Stock: InStock
Jayflex HYPERBELL Bar FAQs
How much does the Jayflex HYPERBELL bar weigh?
The Jayflex HYPERBELL Bar weighs 5 pounds.
Does the HYPERBELL work with Bowflex?
Yes! The Jayflex HYPERBELL bar works with all Bowflex SelectTech dumbbells, as well as heavier weights like traditional hex dumbbells.
Does the HYPERBELL work with Nuobell?
No, the HYPERBELL bar does not work with the NÜOBELLadjustable dumbbells because their handles are too thick for the bar's clamps.
How long is the HYPERBELL bar?
The HYPERBELL bar is 40 inches in length.