We review free products that we receive and participate in affiliate programs, where we may be compensated for items purchased through links from our site.
See our disclosures page for more information.
PowerBlock Adjustable Dumbbellsare, by and large, the best adjustable dumbbells best currently available. The rectangular profile is a bit unusual, but it only inhibits a few movements and for what it lacks in that area, makes up for it in durability and value. After testing, quite literally, every make and model of adjustable dumbbell, we believe that Powerblocks are, for most people, the best.
PowerBlock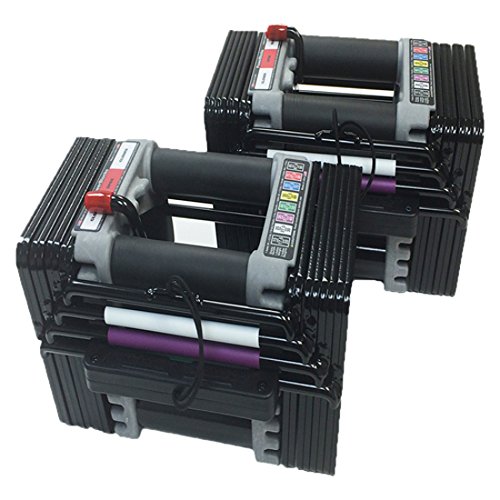 PowerBlock Elite Series Adjustable Dumbbells
PowerBlock was an innovator in this category and has been making adjustable dumbbells since 1991. This means they have had over 25 years of production and refinement to create the ultimately adjustable dumbbells set, and they truly have. The PowerBlock Elite dumbbells are one of the highest-rated and best-selling sets of all time. This is one of the last adjustable dumbbells sets to still be made in the USA, and PowerBlock uses only premium-quality materials. Thanks to their smart and economical design, the PowerBlocks are extremely tough and can withstand all sorts of regular gym abuse.Has a weight range of 5-50 lbs per hand and increments- 2.5 (adder weight), 5, 7.5, 10,15, 17.5, 20 25, 27.5, 30, 35, 37.5, 40, 45, 47.5, 50 pounds per handIs expandable later to 70 and again to 90 pounds per hand.Made in USA10 year home use warrantyReplaces 16 pairs of dumbbells in the space of 1
Powerblock Adjustable Dumbbells are the easiest to use adjustable dumbbells on the market. I've tested, reviewed, and used nearly every option including those from Ironmaster, Bowflex, and loadable options. Despite the competitors, which honestly all offer good solutions, I still think Powerblocks are the best adjustable dumbbells due to their ease of use, accurate weight ratings, many options, and affordable price point.
What are Powerblock Adjustable Dummbells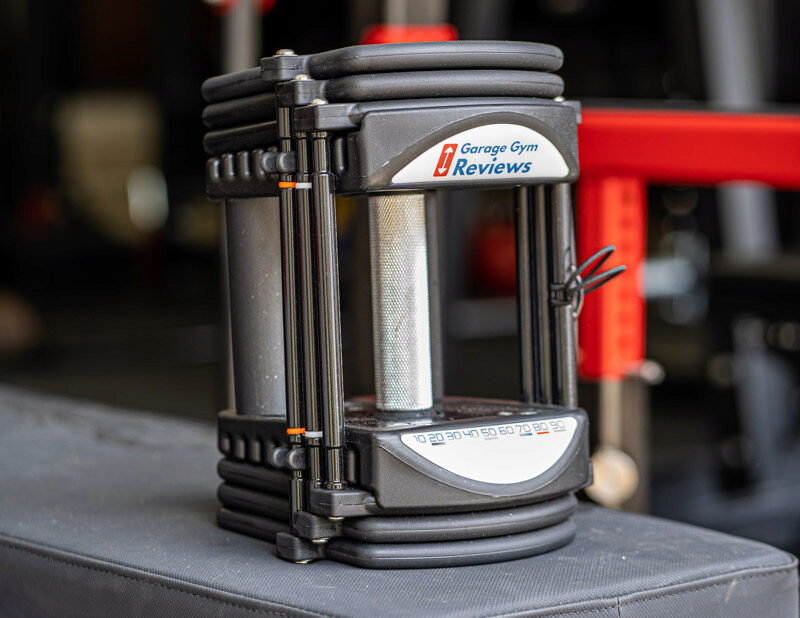 Powerblock Adjustable Dumbbells are, as their name suggests, dumbbells that adjust in weight using a unique, patented clip system. The idea behind Powerblocks and pretty much every other adjustable dumbbell set is that rather than having an entire set of fixed dumbbells taking up space in your precious home gym, you instead are able to pack the equivalent in a single, adjustable dumbbell.
Honestly, regardless of whether you go with a set of Powerblocks or any of the competitors, adjustable dumbbells and even adding some of the best adjustable kettlebells are by far the best option for most home gym owners.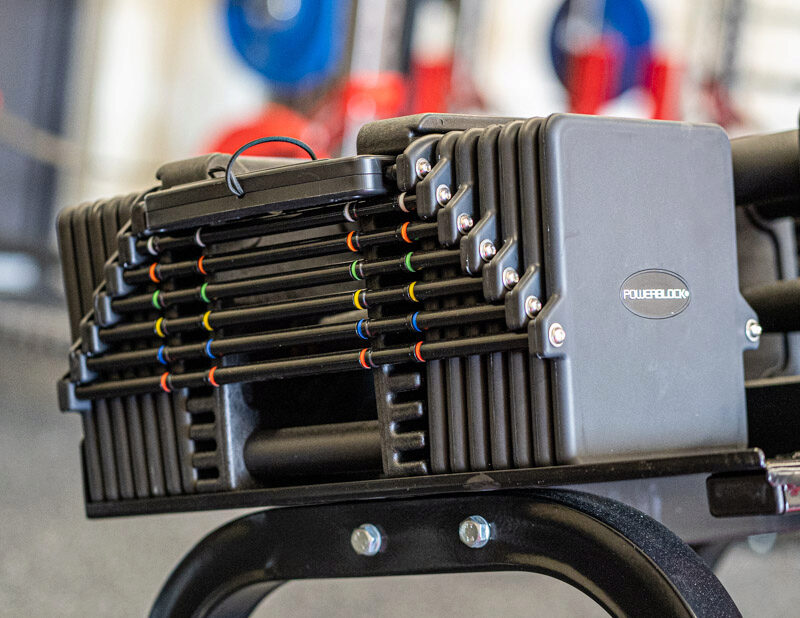 What separates Powerblocks versus their competitors (and there are many, some good, others not so good) is both how quick it is to change between weight increments as well as how heavy they can go. For most people who are just trying to get fit, there are more budget-friendly options with lower quality and lower weight capacities. However, for those that are into strength training, bodybuilding, or just lift more than 50 LB, Powerblocks are an outstanding option which takes up very little space, get's quite heavy, and feels very similar to a fixed dumbbell (although there are certainly trade-offs which we will detail later on.)
What We Like About Powerblocks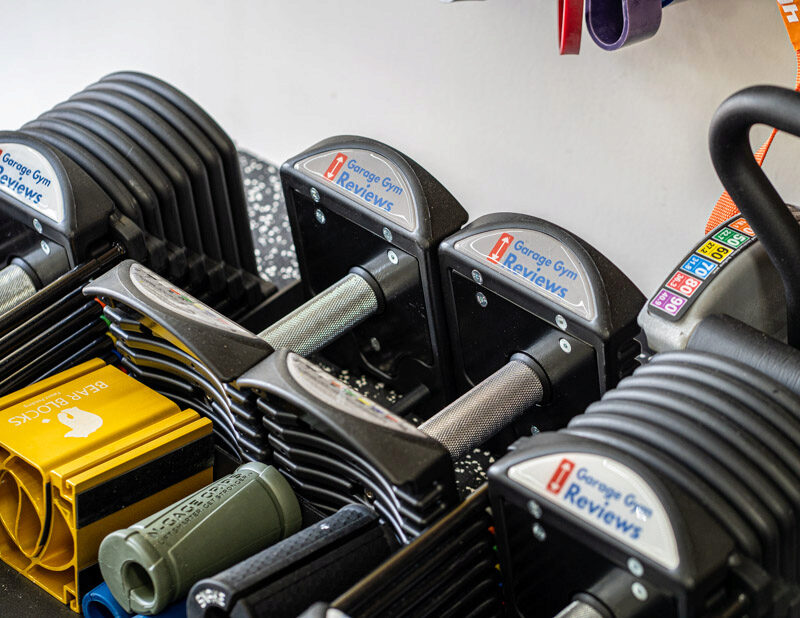 To give you an idea on my experience which Powerblocks, I've owned a pair for over a decade (the first set I bought was purchased via Craigslist) and have used the same set for everything from CrossFit Metcons with lots of dumbbell snatches (and yes, they've occasionally been dropped from overhead, although I wouldn't recommend doing so) to max effort bench press training. Dumbbells are an extremely versatile piece of equipment and being able to change the weight quickly without taking up a ton of space is paramount for anyone who trains in a home gym or garage gym.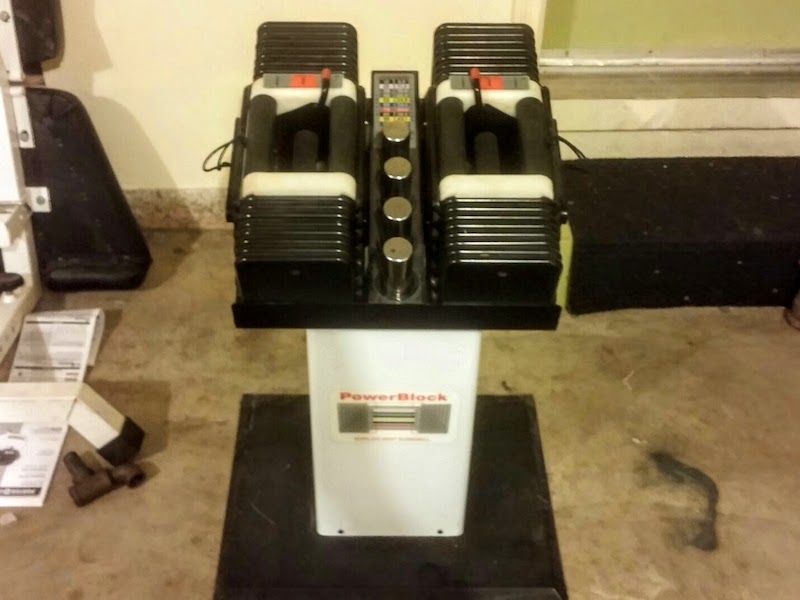 In addition to my original set, I own the latest Sport Series, Elite Series, Pro Series, Pro Commercial Series with a knurled handle as well as the Pro Series capable of reaching up to 175 LB in weight. In addition to these, I have the older Urethane Pro series. In other words, I've either used or own every set of Powerblocks that you can buy as well as the competitors like Bowflex and Ironmaster.
We get about as many questions on Powerblocks as we do any other equipment so I figured it would be helpful to have all of them to compare and to give my opinion on them as a whole as well as each style.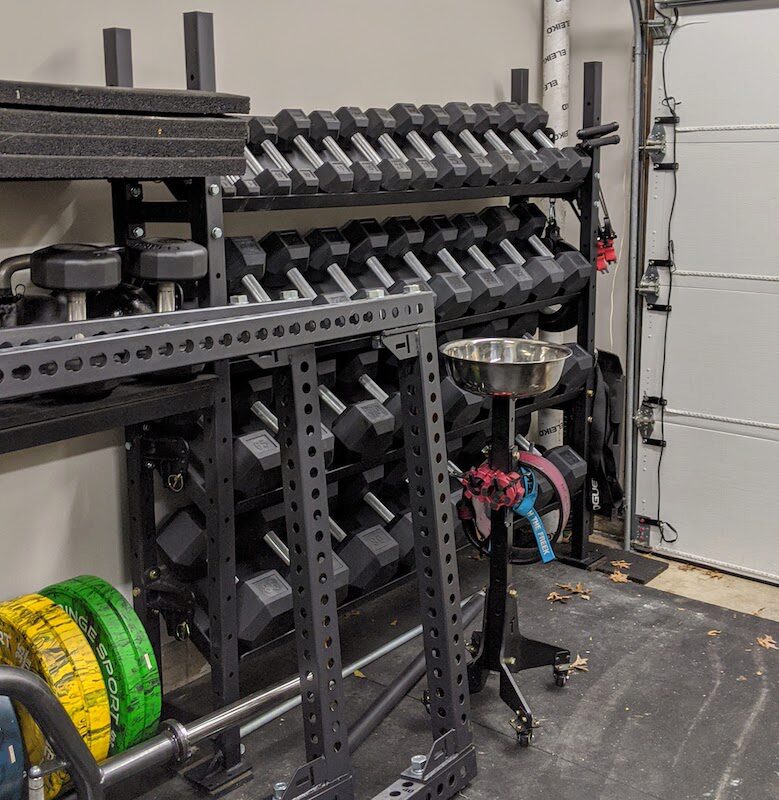 By far, the best feature of Powerblocks is how much space they take up in comparison to a full set of dumbbells. This isn't exclusive to Powerblocks, but is really a reality for most adjustable dumbbells, however, few other adjustable dumbbells are able to go as heavy as Powerblocks while maintaining the ease of changing between weights. Many Powerblock models are able to go between 5-90 LB in 5 LB increments while their Commercial Pro Series can go all the way up to 175 LB, although they do feel a bit clunky at that weight.
If you were to instead of Powerblocks, get a fixed set of dumbbells from 5-90 LB in 5 LB increments you would not only take up much more space (basically 28 pairs of dumbbells,) but you'd also pay close to 10x the price of Powerblocks(it would be equal to over 2,560 LB worth of weight,) not even including shipping. For a home gym, adjustable dumbbells, in my opinion, are pretty much the only option for most.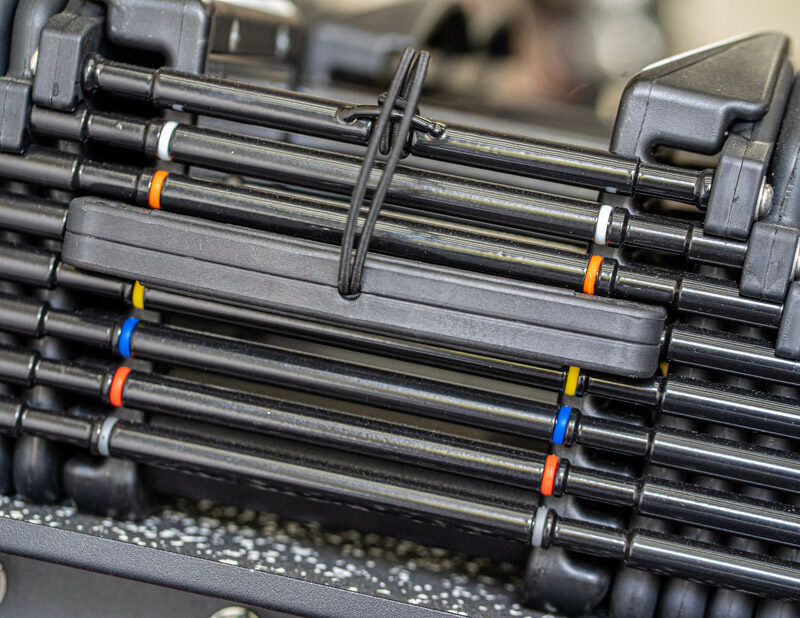 Although I love how space efficient Powerblocks are, my personal favorite feature and really the reason I prefer them over competitors is how quick and easy they are to change between weight increments. In addition to reviewing gym equipment, I also own a couple other business, have three kids, a Wife, and many other responsibilities. Training is a supplement to everything else in my life and therefore forces me to value each second I spend in the gym.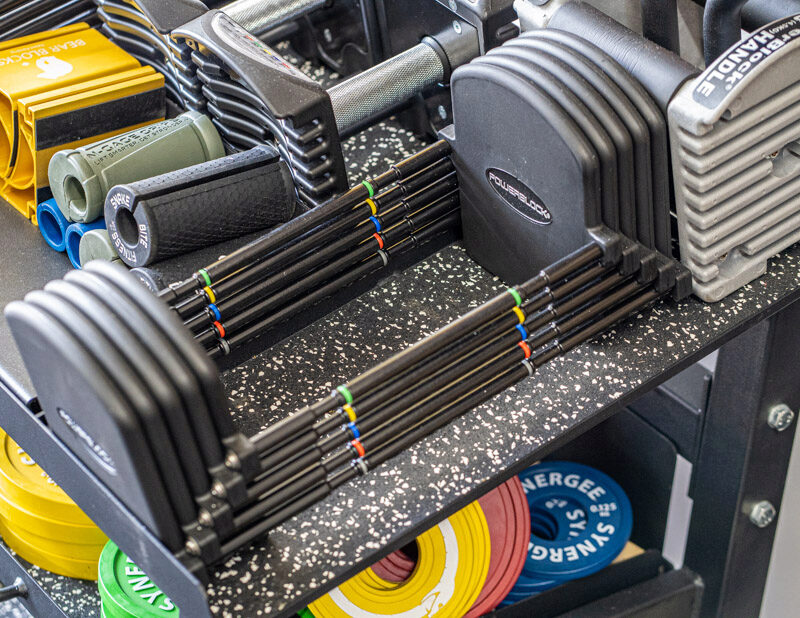 I don't want to spend a lot of time setting up my workouts or changing out weight plates. I want to quickly change between weights, pick them up, hit my set hard, and move onto the next exercise. The way all Powerblocks change between weights is with their Selector Pin made of polypropylene that they assure me is rated for 500 LB but can, in reality, take much more. The pin has magnets on the inside to hold it securely against the weights and although I've had mine fall out during dumbbell snatches one time, it was only because I didn't place it all the way in. Otherwise, this method for holding the weights hasn't caused me any issues.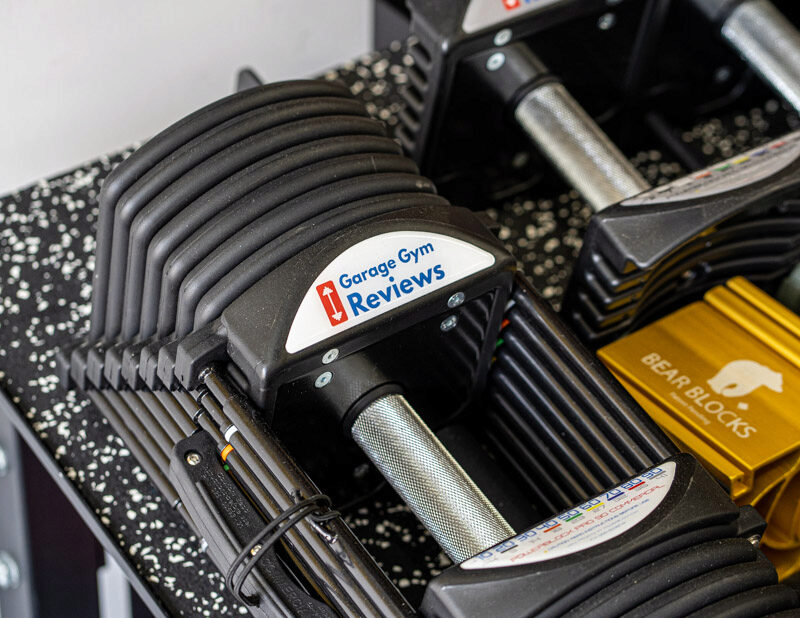 Depending on which Powerblocks set you end up going with (more on which we recommend in a bit) there will either be an Auto-Lock lever that opens up a hatch to add in 2.5 LB chrome ballast weight cylinders in the lower tubes or two sets of handles of varying weights. Personally, I prefer having multiple handles because they make changing between weights easier than the cylinders, however, I used Powerblocks with cylinders for nearly a decade without any issues.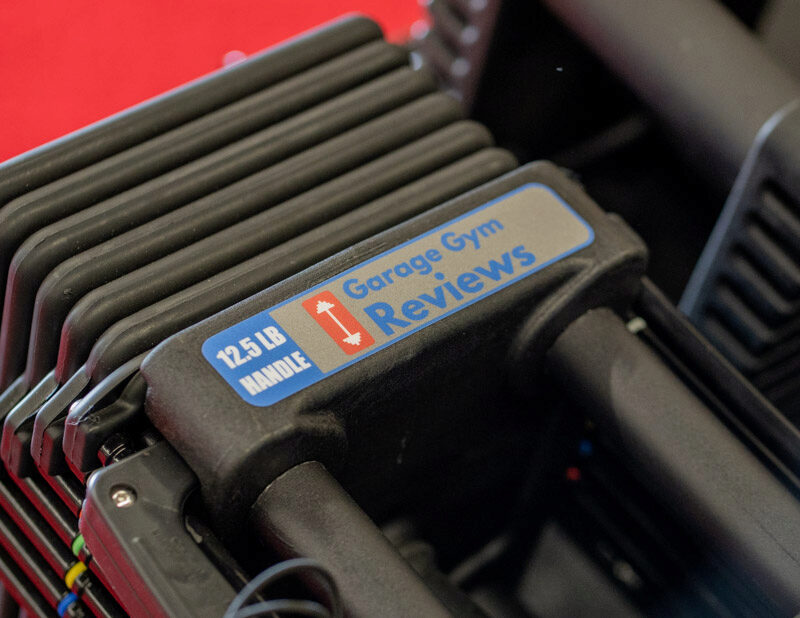 The handle on Powerblocks is typically contoured similar to most rubber hex-head dumbbells, but instead of being metal, they're often coated in Urethane. Personally, I don't like this type of grip, it feels to "commercial" to me, if that makes sense. Thankfully, after requesting it for years, they've brought out a knurled handle option for their Commercial Pro Series. These are my personal favorite, but they are more expensive and may not be what most want.
The last thing I want to hit on that we like is the durability. As we'll discuss in the next section, Powerblocks aren't quite as compact as a traditional dumbbell and do make more noise, however, after seeing my set of Powerblocks get absolutely beaten by everyone who comes over to our garage gym and personal training studio to use them, I'm a believer in their durability.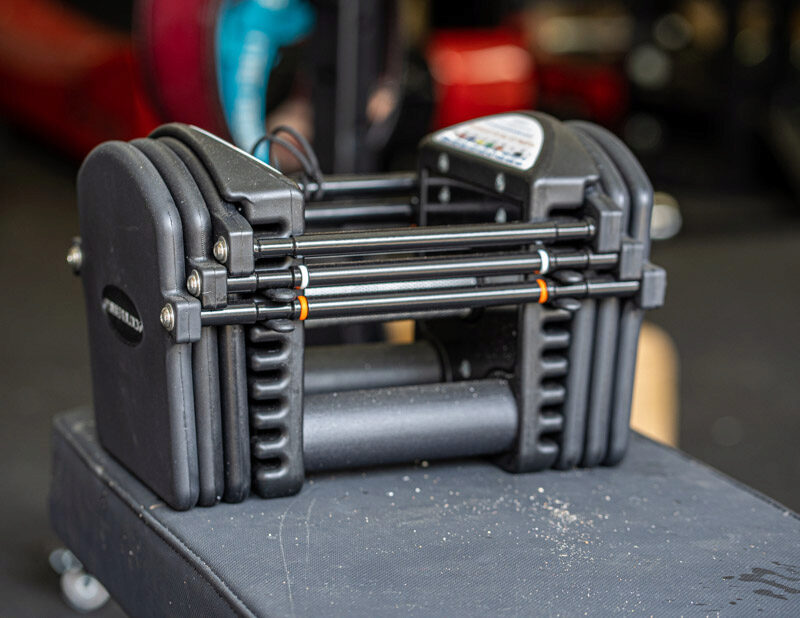 When you first pick up a set of Powerblocks, you may be skeptical at how durable they can be—I know I was. However, after nearly a decade of use, I'm now a believer.
If you want the best adjustable dumbbells on the market, in my opinion, Powerblocks are them.
What We Don't Like About Powerblocks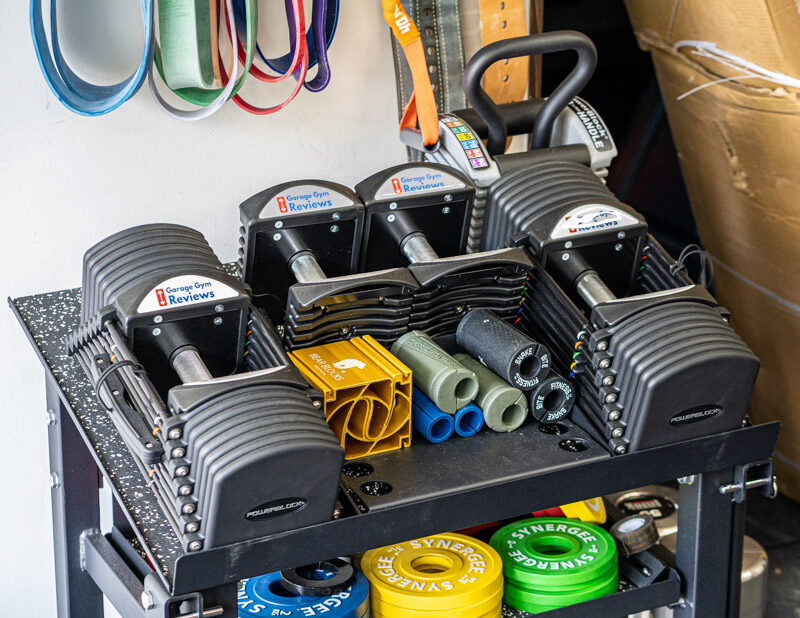 Now although I've ranted and raved about Powerblocks for thousands of words, they're no doubt imperfect. In fact, there are quite a few things we dislike, however, that comes with the territory.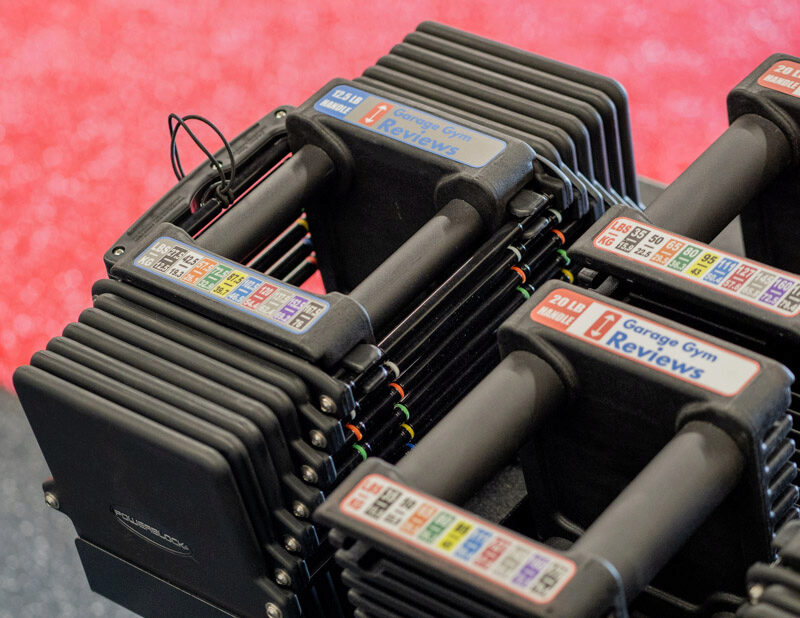 First off, Powerblocks really aren't that great to use for anything over 100 LB. I have a set of the Powerblock Commercial PRO 125 Series and they are my least used set. They are simply too cumbersome and oversized to be used without altering the movement. There isn't much a way around this as the size is required for the amount of Weight Stacks that must be on the handle, but it is something we dislike. If you just plan on using that heavy of a weight for things like snatches and rows, it's not a big deal. But, if you plan to use them for presses, the extra girth can get in the way.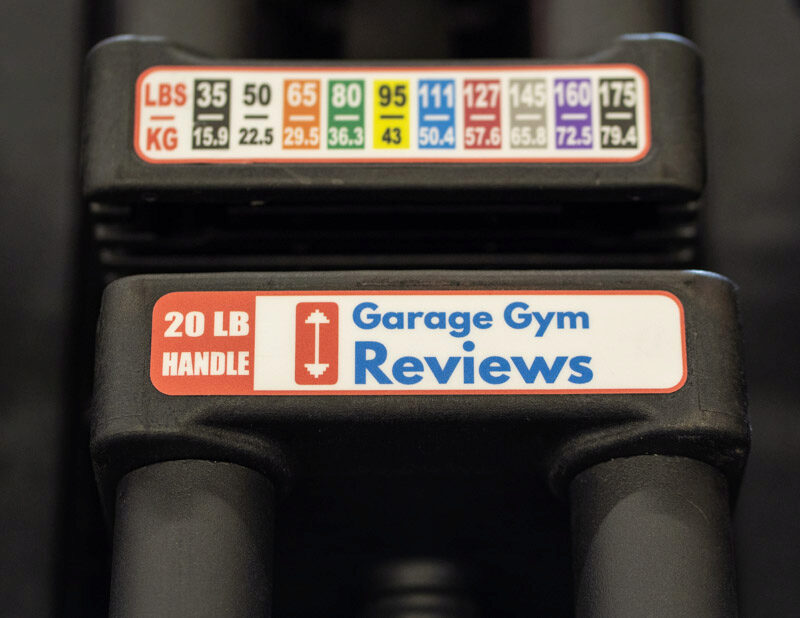 Next, due to the way Powerblocks are made, they don't have quite as much versatility as traditional dumbbells or even competitors like Ironmaster. The square shape is great in that it prevents the dumbbells from rolling away, but because of the connection system, it becomes pretty difficult to use the dumbbells with two hands. Things like behind the head dumbbell extensions and goblet squats are awkward, but thankfully that's only a small amount of movements.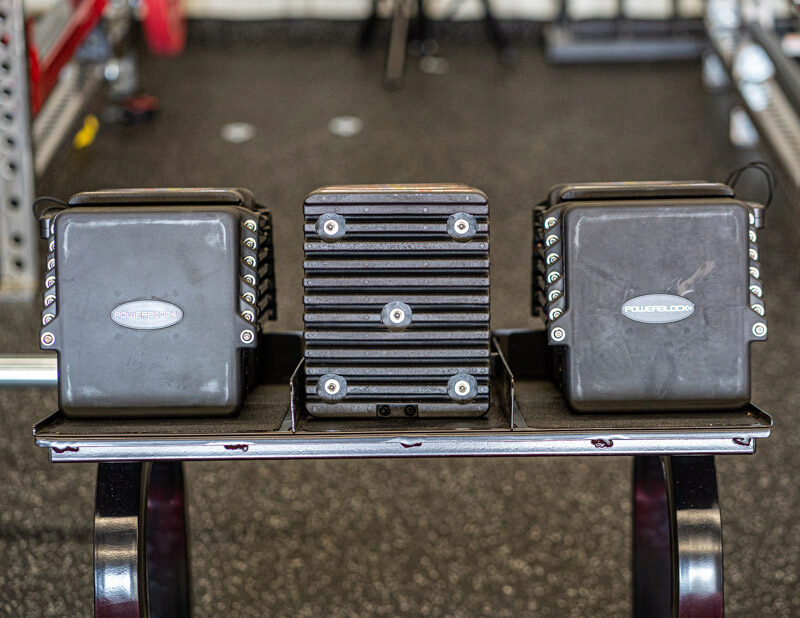 A question that often comes up regarding Powerblocks is whether the bars on the side of the handles get in the way of your hands. The early models of Powerblocks featured bars at all four corners of the dumbbells, but now that's only seen on the USA Elite and Commercial PRO 125 series. Regardless, I never found it to get in the way for most movements. However, recognizing that some don't like the bars, many of the newer models only have bars on the bottom of the handles which is superior, in my opinion.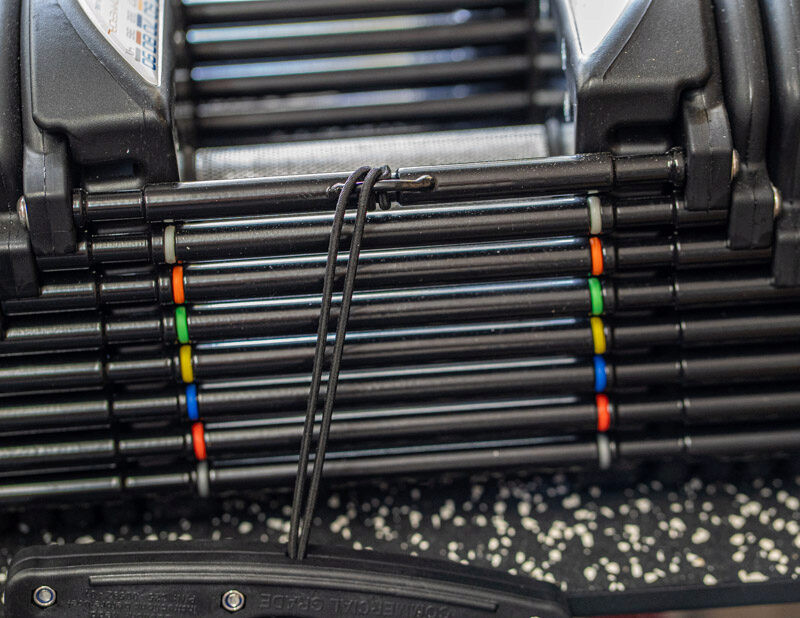 The other thing we dislike about Powerblocks is that they do clank and rattle a bit during use. Due to the way they're secured, the weight stacks have loose tolerances between them which causes them to clank against each other during training. This doesn't assure the trainee of their durability and sounds a bit unnerving if you're used to traditional fixed dumbbells. This is kind of just the nature of this style of dumbbell and you do get used to it, but it is a complaint we often hear.
What Models of Powerblocks Are Currently Available?
Most Budget Friendly Powerblocks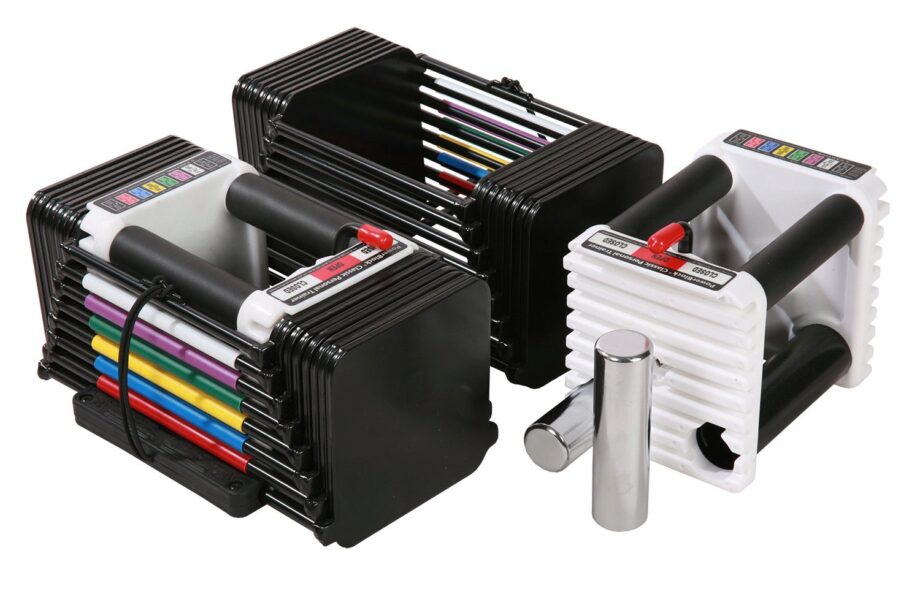 PowerBlock Sport Series Adjustable Dumbbells
The only dumbbell system that can expand to meet your strength needs, PowerBlock dumbbells are the most versatile and effective exercise tool ever developed for strength training. PowerBlocks work intuitively. Rather than requiring you to buy a room full of dumbbells, PowerBlocks act just like a weight stack at the gym, with a weight handle that fits inside the first weight, which fits inside the second, which fits inside the third, etc. When you want to change weights, you simply move the weight selector pin into the appropriate slot and you're set. As you lift the core, all the weights above the selector pin are lifted at the same time, turning your 3-pound dumbbell into a 6-pound dumbbell, or your 6-pound dumbbell into a 12-pound dumbbell. Not only is the system remarkably easy to use, but it's also cost- and space-efficient, as a single pair of dumbbells can do the work of dozens. This personal trainer set is a hybrid system that employs the weight stack from PowerBlock's Personal Set and the handles of the Elite Set. As a result, users can achieve every 2.5-pound jump within the weight range of 5 to 50 pounds per dumbbell, in effect doing the job of 40 individual weights. Even better, the weights are more compact and balanced than traditional dumbbells, with a padded handle that protects people with weak wrists. Best of all, the free weights are terrific whether you're trying to build muscle mass, firm and tone your physique, or get rid of unwanted body fat. The personal trainer set is not expandable and is compatible with the Elite/Pro weight stand. It also carries a limited 10-year warranty.
The Powerblock Sport Series is the most budget-friendly adjustable dumbbell that Powerblock makes. It's designed with lower great components, lighter weight, and aren't expandable in the future. There are two weight variants available that are sized based upon how much weight they are. The Sport 24 and Sport 50's. For those that just want to get fit and stay active, this is a great option. If you plan to ever lift more than 50 LB, we suggest avoiding these.
Original Powerblocks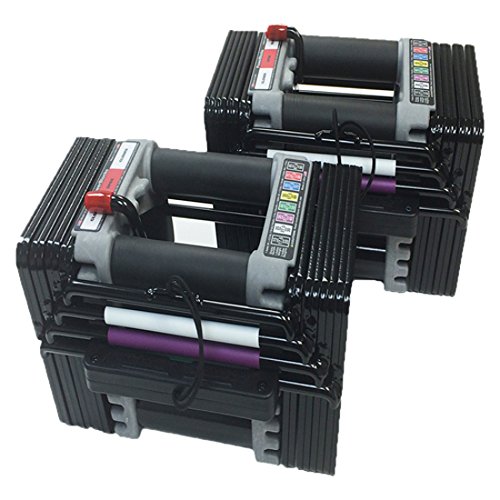 PowerBlock Elite Series Adjustable Dumbbells
PowerBlock was an innovator in this category and has been making adjustable dumbbells since 1991. This means they have had over 25 years of production and refinement to create the ultimately adjustable dumbbells set, and they truly have. The PowerBlock Elite dumbbells are one of the highest-rated and best-selling sets of all time. This is one of the last adjustable dumbbells sets to still be made in the USA, and PowerBlock uses only premium-quality materials. Thanks to their smart and economical design, the PowerBlocks are extremely tough and can withstand all sorts of regular gym abuse.Has a weight range of 5-50 lbs per hand and increments- 2.5 (adder weight), 5, 7.5, 10,15, 17.5, 20 25, 27.5, 30, 35, 37.5, 40, 45, 47.5, 50 pounds per handIs expandable later to 70 and again to 90 pounds per hand.Made in USA10 year home use warrantyReplaces 16 pairs of dumbbells in the space of 1
The Powerblock Elite Series is based upon the original Powerblock design and although it's somewhat different, it's largely been unchanged. This model is expandable from 5 LB all the way up to 90 LB. This is the best value option Powerblock sells and probably the best for most people.
Best Powerblocks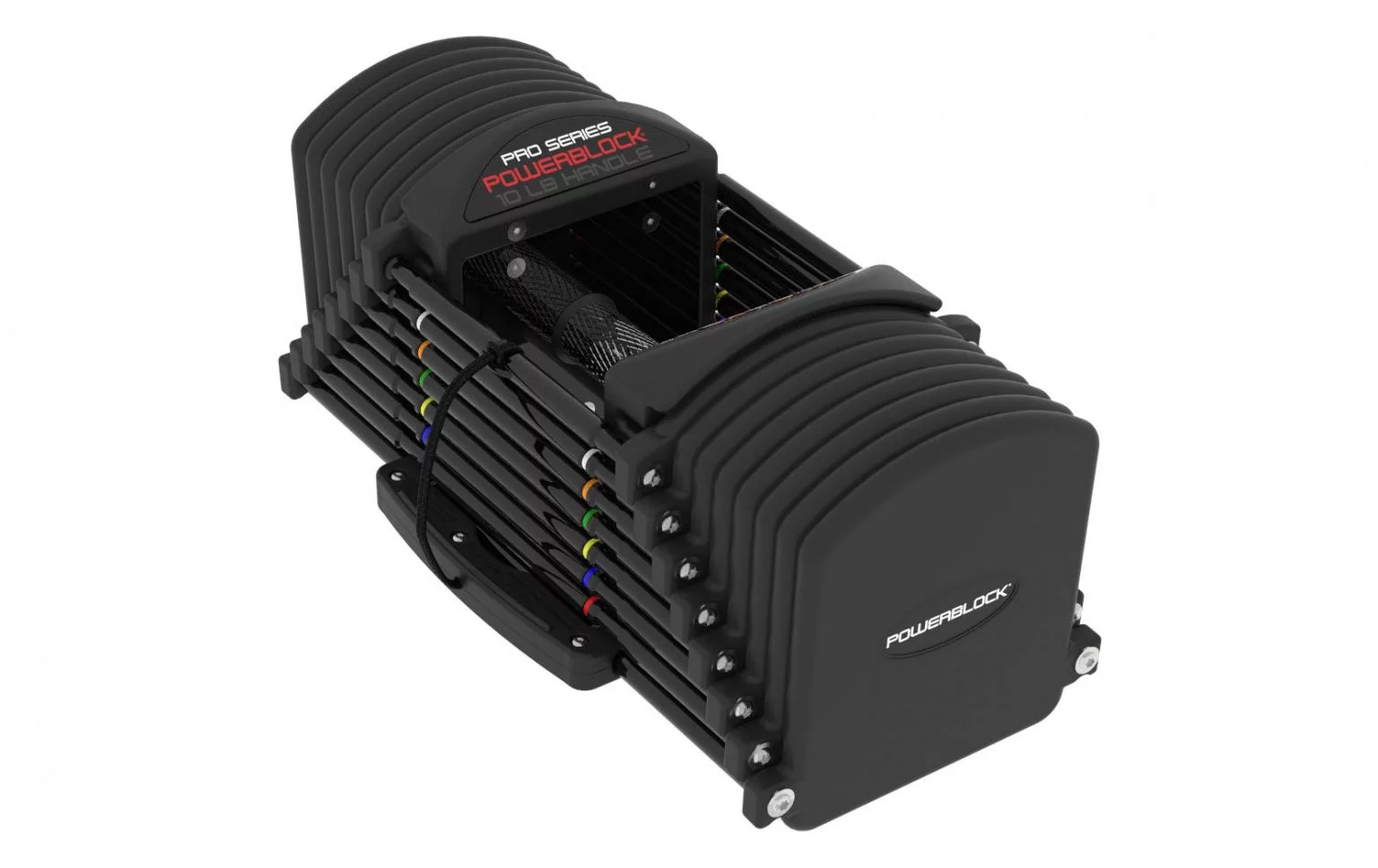 PowerBlock Pro Series Adjustable Dumbbells
From the company that pioneered the selectorized dumbbell, PowerBlock's new and improved Commercial Series Dumbbells set a new standard for efficiency, versatility, and ease of use. Whether you're equipping a small home gym or a large pro facility, any training space can benefit from the use of adjustable dumbbells, as just one set of PowerBlocks can serve the equivalent function of dozens of traditional dumbbells, saving you on both costs and storage space. Each PowerBlock has color-coded side rails on the weight plates that correspond to an easy reference weight chart on the handle. The weight plates are nested, which means the handle fits inside weight plate 1, which fits inside weight plate 2, etc. To change the weight in just seconds, slide the selector pin into the blocks at the weight you want. Then reach inside the "core" and grab the handle. When you lift the handle, the weight you selected is lifted along with the handle. Rogue offers all five PowerBlock Commercial Dumbbell Sets: the Pro 32, Pro 50, Pro 90, Pro 125, and Pro 175. All versions include an updated, sleek design, ergonomic handles (TPR grip for the 32, 125 and 175; knurled steel for the 50 and 90), and Black Urethane Coated Weight Plates for smooth, quiet performance. Compatible stands comes standard with all sizes except the Pro 32.
The Powerblock Pro Series is my favorite series. These are expandable all the way up to 175 LB depending on the model you buy and feature premium details throughout, such as urethane coated steel plates, multiple handles, knurled options, and more. If you want the best adjustable dumbbell that Powerblock makes and just the best one on the market, period (in our opinion) then this is the set we would suggest.
Powerblock Adjustable Dumbbells vs. Ironmaster Adjustable Dumbbells
Powerblocks vs. Ironmasters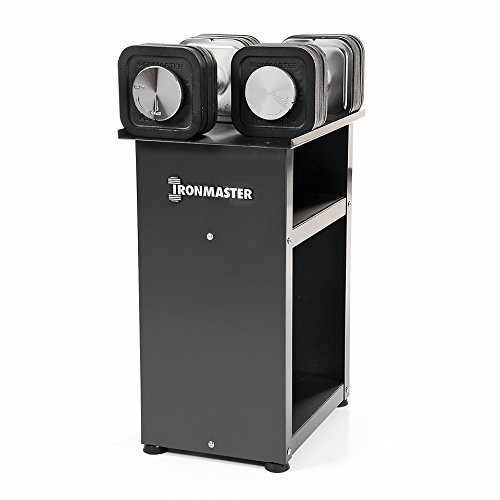 Ironmaster Quick-Lock Adjustable Dumbbells
Ironmaster Quick-Lock Dumbell system is the latest generation of our adjustable dumbbells. You can quickly adjust each dumbbell from 5-75 lbs with our patented quick lock design in under 15 seconds! The set includes the Stand at no extra charge. Now you can have a complete set of free weight dumbbells at home that feel just like traditional dumbbells with no restrictions, rattling or safety concerns! Set includes two handles with four locking screws, 24 ea. 5 lb plates and 4 ea. 2.5 lb plates and dumbbell stand. Handles weigh 5 lbs empty and each locking screw weighs 2.5 lbs so the starting weight is 10 lbs each dumbbell before plates are added. 65 lbs of plates can be put loaded on each handle. Add-on kit available to go up to 120 lbs each dumbbell. Dimensions are just 6.5" x 6.5" x 14.5" at the 75lb size. Heavy Duty - go ahead and drop them. No plastic or fragile parts!Quick-Lock design adjusts from 5-75 lbs in 2 1/2 lb increments in just seconds!Super heavy duty construction with welded steel, chrome plated handles.System includes two adjustable dumbbells at 75 lbs each (150 lbs total) and Dumbbell Stand.Super space efficient design. Takes up less than 2 square feet.Limited lifetime warranty.
If you're considering Powerblocks then you should definitely consider their competition. The biggest competitor at the moment is Ironmaster. Ironmaster Dumbbells feel more like a traditional dumbbell, can go up to 165 LB, and are offered at a great price point.
To be honest, we really like Ironmasters and don't think you could go wrong with either option. However, the reason we prefer Powerblocks is because of how quick they are to change weight increments. Ironmasters aren't slow to change as the Quick-Lock Screws are a great design, however, having to load the plates on and off is more of hassle in making sure you're getting the right amount of weight.
Ironmasters also don't have quite the fit and finish of Powerblocks. The plates chip, rust, etc, while Powerblocks pretty much look the same no matter how long you've used them.
Although we prefer Powerblocks, Ironmasters are still a great pair of adjustable dumbbells.
Powerblock Adjustable Dumbbells vs. Bowflex SelectTech 552 Adjustable Dumbbells
Bowflex vs. Powerblocks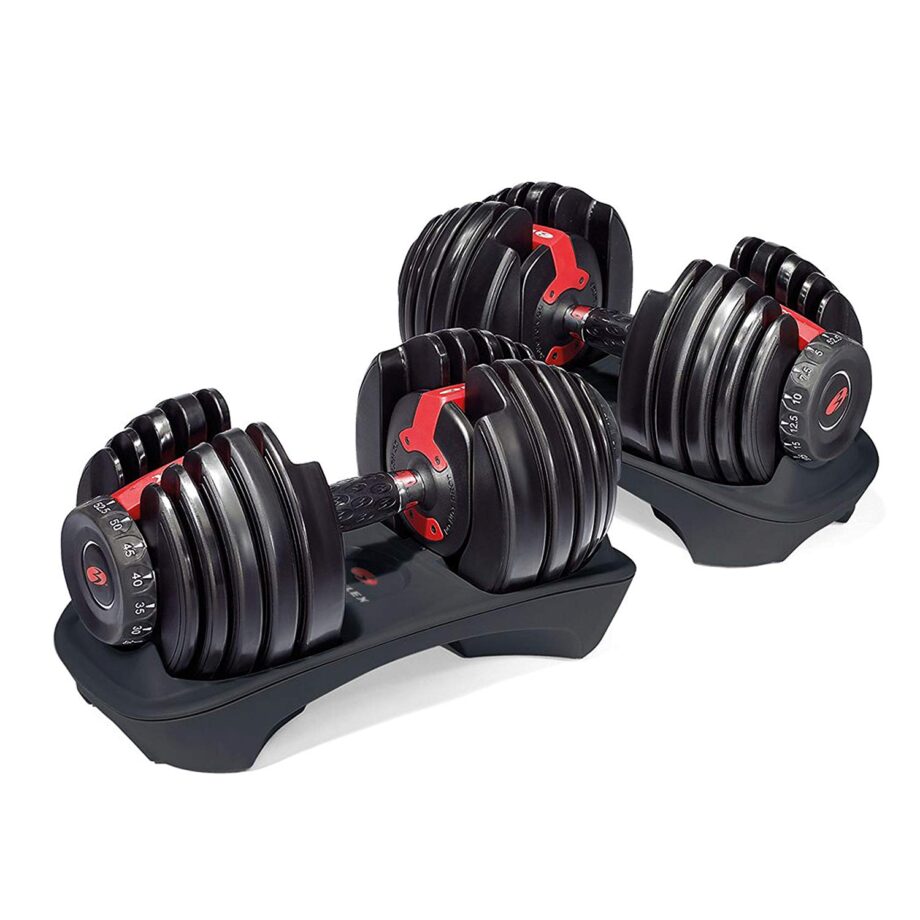 Bowflex SelectTech 552 Adjustable Dumbbells
These adjustable dumbbells replace 15 sets of weights. Weights adjust from 5 to 52.5 lbs in 2.5 lb increments up to the first 25 lbs. Easy-to-use selection dials for adjusting weights. They are sold as a pair. Easily switch from one exercise to next and with the turn of a dial you can change your resistance, enabling you to gradually increase your strength. Versatile workout for your legs, back, chest, abs, shoulders and arms. Compatible with the free Bowflex SelectTech® training App for iOS and Android. No more picking up 30 different dumbbells to give you the results you want! Say goodbye to 15 sets of dumbbells cluttering your workout space. With weight that adjusts from 5 to 52.5 lbs., you'll continue to see results as your fitness level improves. Durable molding around metal plates provides for a smooth lift-off and quieter workouts...no clanging metal plates! With the wider weight range you can do heavy exercises such as shrugs and lunges as well as lighter exercises such as curls and raises.
The other comparison that often comes up is the battle between Powerblocks and the Bowflex SelectTech 552 Adjustable Dumbbells. Although Bowflex is most known for making cheapy exercise equipment, the SelectTech Dumbbells are actually a pretty good product.
In comparison to Powerblocks, they don't go nearly as heavy (52.5 LB per dumbbell) and they're not quite as durable. However, they are often much cheaper, and have a quick dial system for changing out the weights.
If you're looking for a lightweight, budget-friendly adjustable dumbbell, we think the Bowflex SelectTech's are surprisingly a great value. We've used them quite a bit and have many people in the Home Gym Community that love them for lighter weight training. Understand they won't be as durable as Powerblocks, but for the price, they're an excellent alternative.
Powerblock Adjustable Dumbbells FAQs
Are Powerblock dumbbells worth it?
Despite the competition, which all provide solid solutions, I believe Powerblocks are the greatest adjustable dumbbells because of their ease of use, precise weight ratings, variety of choices, and low price point.
What is the difference between Powerblock models?
The Powerblock Sport is a Powerblock brand of all-level adjustable dumbbells. The dumbbells feature the trademark flat base, but a more rounded top. The Sport variant is constructed of welded solid steel with a powder-coated finish.
Is Bowflex or Powerblock better?
While Bowflex is a wonderful business with some excellent items, I believe this article should have made it apparent that Powerblock is certainly the best choice if you're looking for an adjustable dumbbell.
Are Powerblock dumbbells still made?
The Powerblock Elite dumbbells are one of the most popular and well-received sets of all time. This is one of the few adjustable dumbbell sets produced in the United States, and Powerblock exclusively employs high-quality materials.
Full Rating