We test and review fitness products based on an independent, multi-point methodology. If you use our links to purchase something, we may earn a commission. Read our disclosures.
PowerBlock Adjustable Dumbbells are, by and large, the best adjustable dumbbells currently available. The rectangular profile is a bit unusual, but it only inhibits a few movements and for what it lacks in that area, makes up for it in durability, ease of use, accurate weight ratings, many options, and affordable price point.
There are a few models we cover in this PowerBlock Adjustable Dumbbells review, as well as comparisons to other similar products on the market. After testing, quite literally, every make and model of adjustable dumbbell, we believe that PowerBlocks are, for most people, the best.
Why You Should Trust Us
Here at Garage Gym Reviews, we get about as many questions on PowerBlocks as we do any other equipment. I'm well-versed in covering every aspect of these dumbbells.
PowerBlock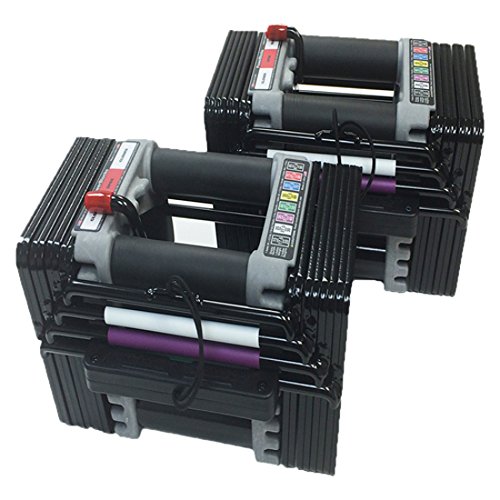 GGR Score: 4.5
Community Score: 4.6
Product Highlights
Change the weight in 2.5- or 5-lb increments
Up to 70 lbs per hand
Add extension kits for up to 90 lbs per hand
Extremely durable
Made in USA
Pros & Cons
Pros
Can change weight in increments of 2.5 to 5 pounds
Weight goes up to 90 pounds with add-ons
More durable than most adjustable dumbbells
Cons
Rectangular shape might throw some people off
Returns subject to 20% restocking fee
Not as comfortable as using fixed dumbbells
Bottom Line
Ideal for people seeking a durable adjustable dumbbell option that has a high weight capacity.
A Quick Look at the PowerBlock Adjustable Dumbbells
Related: The PowerBlock Adjustable Dumbbells made our Best Fitness Gifts list!
Coop's Tips
Don't expect these to feel like traditional fixed dumbbells; their shape is boxy and the handle is caged.
The extender options are absolutely worth it for those who lift heavier and need more weight; the non-expandable options are a great value for people who don't need lots of weight.
If you want to lift really heavy, you need to buy the Commercial Pro PowerBlock (not the regular Pro) and the expansion kits, which go up to 175 pounds per hand.
Pros:
Incredibly easy for anyone to use
Fast weight change
Cost-efficient
Space-efficient
Priced very well
Lots of options for weight ranges
Cons:
Make a little noise while you use them
Some people complain about the range of motion due to the caged handle
Unique shape that some people dislike
Are the PowerBlock Adjustable Dumbbells Worth It?
The idea behind PowerBlocks and pretty much every other adjustable dumbbell set is that rather than having an entire set of fixed dumbbells taking up space in your precious home gym (and costing quite a lot of money), you instead are able to pack the equivalent in a single, adjustable dumbbell.
Honestly, regardless of whether you go with a set of PowerBlocks or any of the competitors, adjustable dumbbells, like the best adjustable kettlebells, are by far the best option for most home gym owners.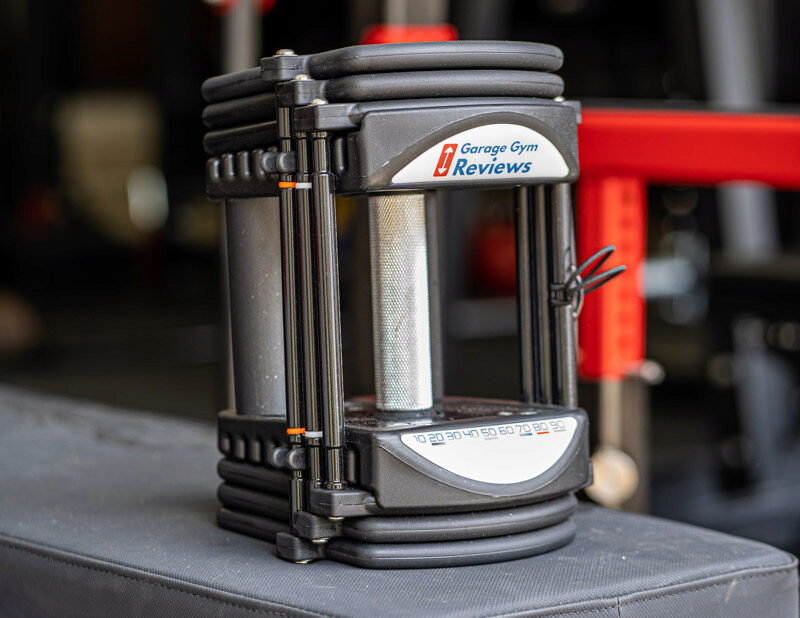 What separates PowerBlocks versus their competitors (and there are many; some good, others not so good) is both how quick it is to change between weight increments as well as how heavy they can go. For most people who are just trying to get fit, there are more budget-friendly options with lower quality and lower weight capacities.
However, for those who are into strength training, bodybuilding, or just lift more than pounds, PowerBlocks are an outstanding option. We love these for anyone looking for compact exercise equipment.
Great For
People who want to save space but need multiple dumbbell options
Those who lift relatively heavy and want adjustable weights at or above 50 pounds/bell
Lifters looking for cost-efficient home gym equipment options
Not Recommended For
People who just need a few dumbbells
Anyone who wants the feel of a traditional dumbbell
PowerBlock Adjustable Dumbbells Series Specs
| | | | |
| --- | --- | --- | --- |
| Model | Elite 50 USA | Pro Series | Sport Series |
| Price | Starting at $419 | Starting at $339 | Starting at $199 |
| Footprint | 12″L x 6″ W x 6″ H | 12.5″L x 7″W x 7.25″H | 12″L x 6.5″ W x 6.5″ H |
| Replaces | Replaces 16 pairs of dumbbells, or 825 lbs | Replaces 8, 19 or 28 pairs of dumbbells, depending on the model | Replaces 8, 9 or 16 pairs of dumbbells, depending on model |
| Range | 5-50 lbs, expands to 70/90 lbs per with expansion kits | Options up to 32, 50 or 90 lbs/bell; the Commercial Pro can be extended up to 175 lbs per hand | Options up to 24, 50 or 90 lbs/bell |
| Increments | 5 lbs | Varies per model | Varies per model |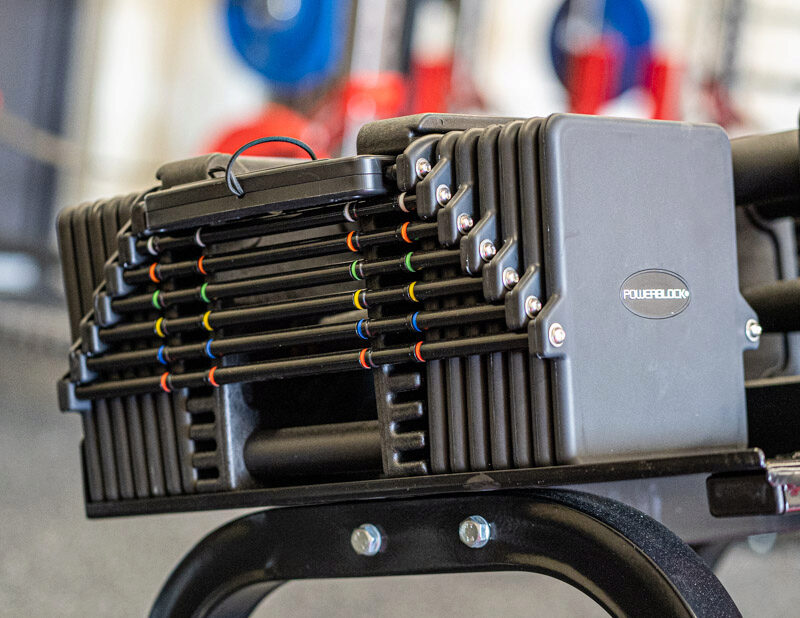 Types of PowerBlock Adjustable Dumbbells
Sport Series
The PowerBlock Sport Series are the most budget-friendly adjustable dumbbells that PowerBlock makes. Each is designed with lighter weight. The Sport 24 and Sport 50s are not expandable and go up to 24 and 50 pounds per hand, respectively. For those who just want to get fit and stay active, these are great options. If you plan to ever lift more than 50 pounds, there is an expandable option, the Sport EXP, which has a maximum weight of either 70 or 90 pounds per hand, depending on which kit you purchase (you do have to purchase the first expansion kit to get the second).
Each of the Sport Series has a rubber grip and a more open handle design intended to give the user a wider range of motion. The design of the Sport dumbbells is "sportier" than the other models because it has a more aerodynamic, rounded weight look. The biggest difference between these and the Elite Series, which are what we recommend most often, is where they're manufactured.
Elite Series
The PowerBlock Elite Series is based on the original PowerBlock design. Although it's somewhat different, it's largely been unchanged. This model is expandable from 5 pounds all the way up to 90 pounds, depending on which expansion kit you buy. I believe this is the best value option PowerBlock sells and probably the best for most people.
The handle on the Elite Series has a straight, cylindrical feel. It's more boxed in than the Sport Series. The Elite Series is still made in the USA and is one of the best value adjustable dumbbells on the market, in my opinion.
Pro Series
The PowerBlock Pro Series is my personal favorite series. These are expandable all the way up to 90 pounds per hand, depending on the model you buy, and feature premium details, such as urethane-coated steel plates. They can also be used with some of PowerBlocks' attachments, including a straight bar that turns your dumbbells into a barbell.
If you want the best adjustable dumbbell that PowerBlock makes and just the best one on the market, period (in our opinion) then this is the set we would suggest. However, I do think the Elite Series is a better value for most home gym owners.
Commercial Pro Series
There is, technically, another PowerBlock option: The Commercial Pro Series. If PowerBlock made cars instead of dumbbells, this would be their Porsche. They're expandable up to 175 pounds, have a knurled steel grip (something none of the home gym models offer), and are made with stainless steel. However, you're going to pay well over $1,000 depending on which model you buy.
As the name implies, these are for commercial use. Does that mean home gym owners aren't allowed to buy them? No, but we don't think many need a product like this.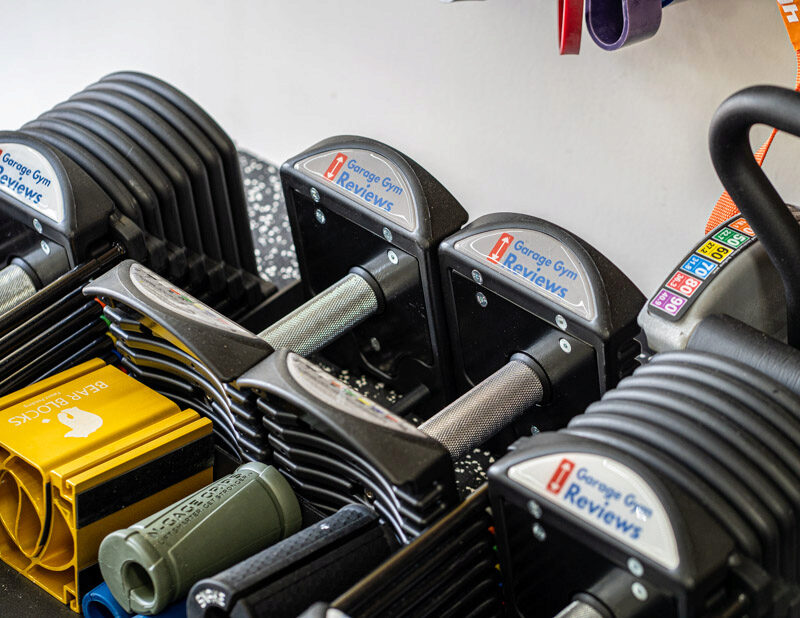 Lifting with PowerBlocks
To give you an idea on my experience with PowerBlocks, I've owned a pair for over a decade (the first set I bought was purchased via Craigslist) and have used the same set for everything from CrossFit metcons with lots of dumbbell snatches (and yes, they've occasionally been dropped from overhead, though I wouldn't recommend doing so) to max effort bench press training.
Dumbbells are an extremely versatile piece of equipment, and being able to change the weight quickly without taking up a ton of space is paramount for anyone who trains in a home gym or garage gym.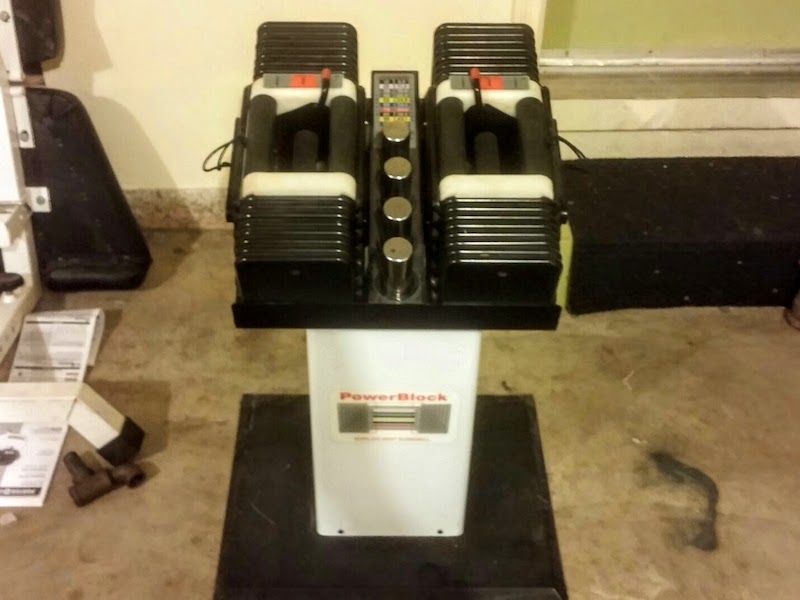 Weight Adjustments
In addition to reviewing gym equipment, I also own a couple other businesses, have three kids, a wife, and many other responsibilities. Training is a supplement to everything else in my life and therefore forces me to value each second I spend in the gym.
That said, I don't want to spend a lot of time setting up my workouts or changing out weight plates. I want to quickly change between weights, pick them up, hit my set hard, and move onto the next dumbbell exercise. The way all PowerBlocks change between weights is with their Selector Pin made of polypropylene that they assure me is rated for 500 pounds but can, in reality, take much more.
The pin has magnets on the inside to hold it securely against the weights. Although I've had mine fall out during dumbbell snatches one time, it was only because I didn't place it all the way in. Otherwise, this method for holding the weights hasn't caused me any issues.
Most of the PowerBlocks change in 5-pound increments, though there is a way to adjust by 2.5 pound increments.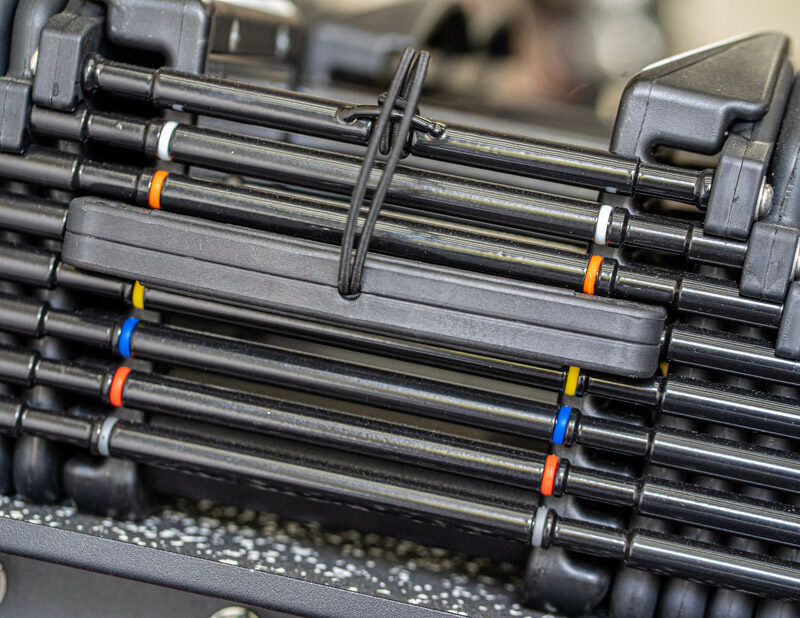 A Fantastic Space-Saving Option
By far, the best feature of PowerBlocks is how much space they take up in comparison to a full set of dumbbells. This isn't exclusive to PowerBlocks. However, few other adjustable dumbbells are able to go as heavy as PowerBlocks while maintaining the ease of changing between weights.
Let's look at the actual footprint of the PowerBlocks: There are slight discrepancies in size, but for the most part, each model is about a foot long and 6 inches high and wide. Sort of like a shoe box.
In that tiny amount of space, you get (again, depending on the model), between 5 and 90 pounds in 5-pound increments, replacing anywhere between eight and 28 pairs of dumbbells. The Commercial Pro Series can go all the way to 175 pounds (though, I won't lie, they do start feeling pretty clunky at that point).
By comparison, if you were to get a fixed set of dumbbells from 5 to 90 pounds in 5-pound increments, you would not only take up much more space (basically 28 pairs of dumbbells,) but you'd also pay close to 10 times the price of PowerBlocks (it would be equal to over 2,560 pounds worth of weight). Oh, and that wouldn't include shipping. For a home gym, adjustable dumbbells, in my opinion, are pretty much the only option for most.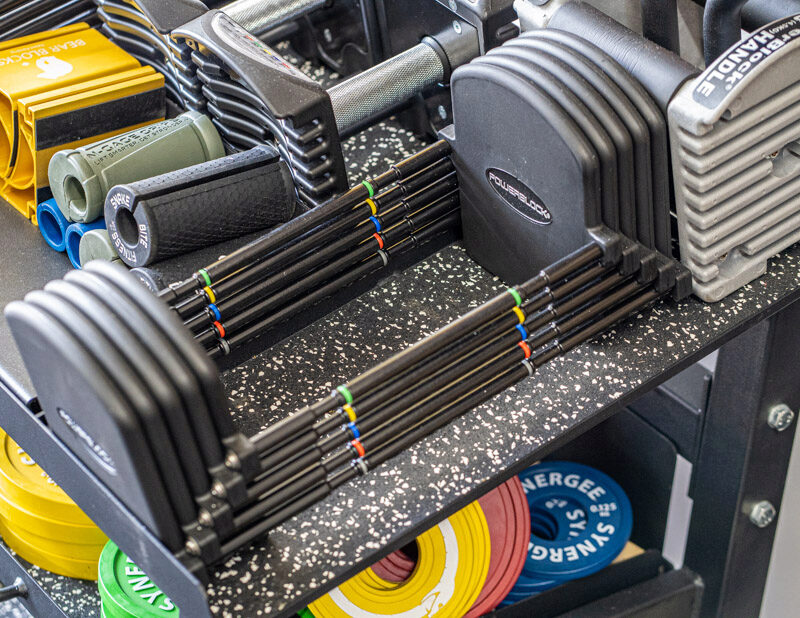 Room For Improvement
Even though these are my favorite adjustable dumbbells, they aren't without their flaws.
High Weight Bulkiness
PowerBlocks really aren't that great to use for anything over 100 pounds. I have a set of the PowerBlock Commercial PRO 125 Series, and they are my least used set. They are simply too cumbersome and oversized to be used without altering the movement at those heavier weights. There isn't really a way around this, because they just need more weight stacks on the handle.
Still, it is something we dislike. If you just plan on using that heavy of a weight for things like snatches and rows, it's not a big deal. But, if you plan to use them for presses and even bicep curls, the extra girth can get in the way.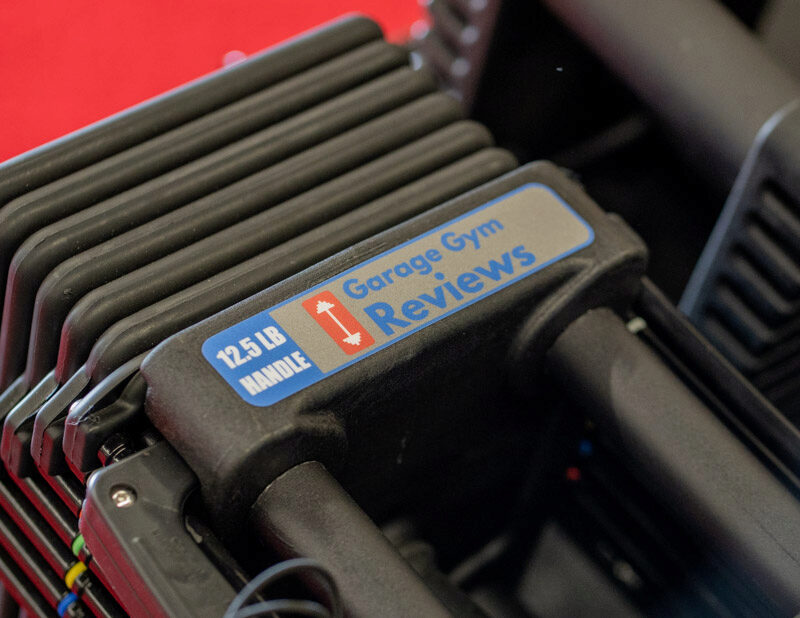 Lack of Versatility
Next, due to the way PowerBlocks are made, they don't have quite as much versatility as traditional dumbbells or even competitors like Ironmaster. The square shape is great in that it prevents the dumbbells from rolling away, but because of the connection system, it becomes pretty difficult to use the dumbbells with two hands. Movements like behind-the-head dumbbell extensions and goblet squats are awkward, but thankfully that's only a small amount of movements.
Handle Discomfort
A question that often comes up regarding PowerBlocks is whether the bars on the side of the handles get in the way of your hands. The early models of PowerBlocks featured bars at all four corners of the dumbbells, but now that's only seen on the USA Elite and Commercial PRO 125 series. Regardless, I never found it to get in the way for most movements. However, recognizing that some people don't like the bars, many of the newer models only have bars on the bottom of the handles which is superior, in my opinion.
Again, while the caged handle doesn't bother me, I recognize that people used to lifting with traditional fixed dumbbells might not like the feeling. It might take some getting used to. But, it's a small sacrifice to make considering the big value you get from these.
A Little Noise
PowerBlocks do clank and rattle a bit during use. Due to the way they're secured, the weight stacks have loose tolerances between them, which causes them to clank against each other during training. This doesn't assure the trainee of their durability and sounds a bit unnerving if you're used to traditional fixed dumbbells. This is kind of just the nature of this style of dumbbell, and you do get used to it, but it is a complaint we often hear.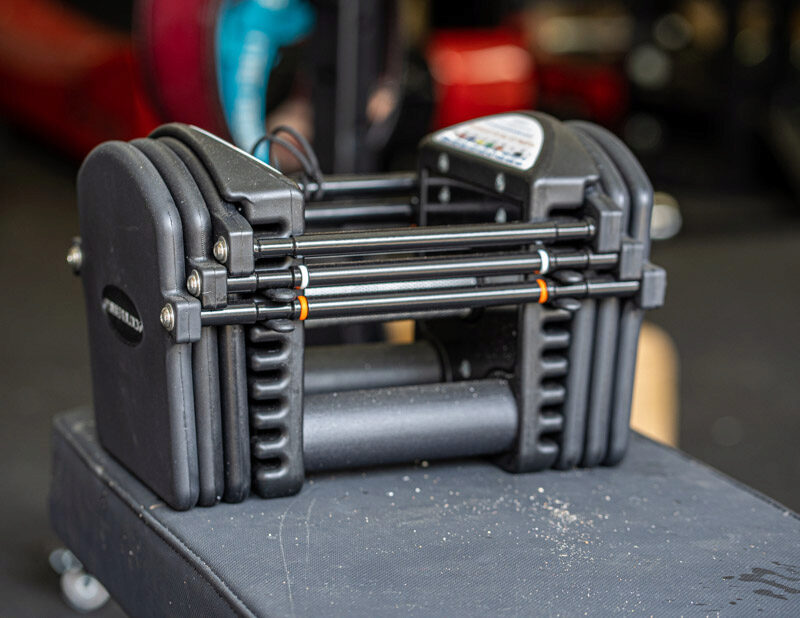 The Build of the PowerBlocks
Depending on which PowerBlocks set you end up going with, there will either be an auto-lock lever that opens up a hatch to add in 2.5-pound chrome ballast weight cylinders in the lower tubes, or two sets of handles of varying weights. Personally, I prefer having multiple handles because they make changing between weights easier than the cylinders, however, I used PowerBlocks with cylinders for nearly a decade without any issues.
The handle on PowerBlocks is typically contoured similar to most rubber hex-head dumbbells, but instead of being metal, they're often coated in urethane. Personally, I don't like this type of grip, it feels too "commercial" to me, if that makes sense.
Thankfully, after requesting it for years, they've brought out a knurled handle option for their Commercial Pro Series. These are my personal favorite, but they are more expensive and may not be what most want.
One thing that trips up many people about the handles is that they are caged in, which isn't the most ergonomic thing in the world. On some movements, the bars hit your wrists. This isn't a dealbreaker for me, but it's worth noting.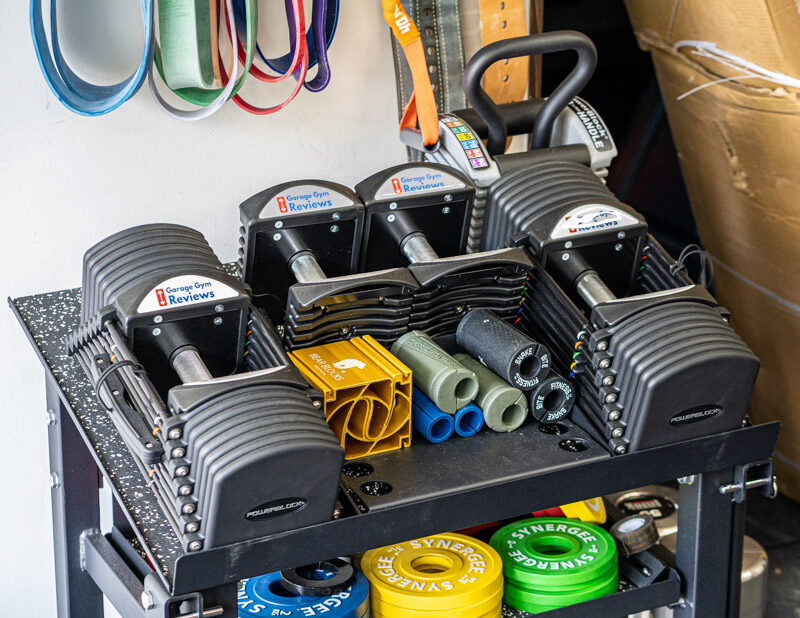 Durability
PowerBlocks aren't quite as compact as a traditional dumbbell and do make more noise, however, after seeing my set of PowerBlocks get absolutely beaten by everyone who comes over to our garage gym and personal training studio to use them, I'm a believer in their durability. Each model uses its own materials and finish, including powder coats, urethane, and steel. Unlike cheaper adjustable dumbbells, PowerBlocks do not have an excessive amount of plastic (which lends nicely to their durability).
Powerblock Adjustable Dumbbells vs. Ironmaster Adjustable Dumbbells
Ironmasters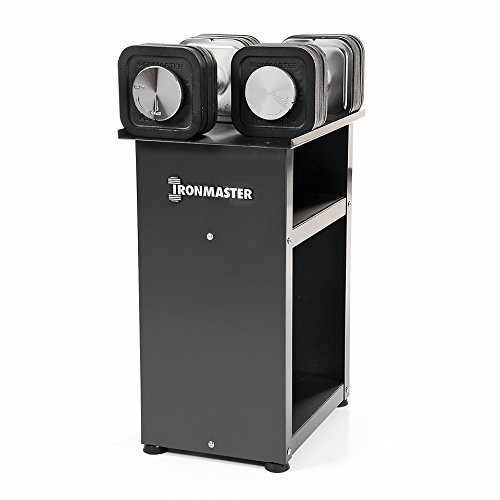 GGR Score: 4.6
Community Score: 4.8
Product Highlights
Quickly adjustable in under 15 seconds

Adjustable from 5 to 75 lbs

Patented quick-lock design 

Includes a stand
Pros & Cons
Pros
Shaped like a traditional dumbbell
Quick-Lock system makes weights are easy and quick to change
Lock does hold tight
Comes with a stand
Change weights in 2.5-lb increments
Weight range 5 to 75 lbs
Knurled handles
Compact design
Flat ends make for ease in resting weights on legs
Fits a number of accessories like fat grip adapters and kettlebell handles
Plates marked in kgs and lbs
Cons
Not quite as easy to change as other options
Priced just under $900
Cast iron plates could crack if dropped
Not designed for movements like snatches
Bottom Line
The Ironmaster Quick-Lock Adjustable Dumbbells are some of the best adjustable dumbbells available. I personally prefer Powerblocks due to how quickly the weight can adjust, however, there are many who prefer Ironmasters and for good reasons. They're the most similar adjustable dumbbell to traditional fixed dumbbells, they have a wide weight increment range, and they're priced very affordably. If you own a home gym and want a set of dumbbells that doesn't take up a ton of space, Ironmasters are a great option.
If you're considering PowerBlocks then you should definitely consider their competition. As I discuss in my in-depth comparison between Ironmaster and PowerBlock, Ironmaster dumbbells feel more like a traditional dumbbell, can go up to 165 pounds, and are offered at a great price point.
RELATED: Powerblock Coupon
To be honest, we really like Ironmasters and don't think you could go wrong with either option. However, the reason we prefer PowerBlocks is because of how quick they are to change weight increments. Ironmasters aren't slow to change, because their quick-lock screws are a great design. However, having to load the plates on and off is more of a hassle in making sure you're getting the right amount of weight.
Ironmasters also don't have quite the fit and finish of PowerBlocks. The plates chip and rust, while PowerBlocks pretty much look the same no matter how long you've used them.
Although we prefer PowerBlocks, Ironmasters are still a great pair of adjustable dumbbells.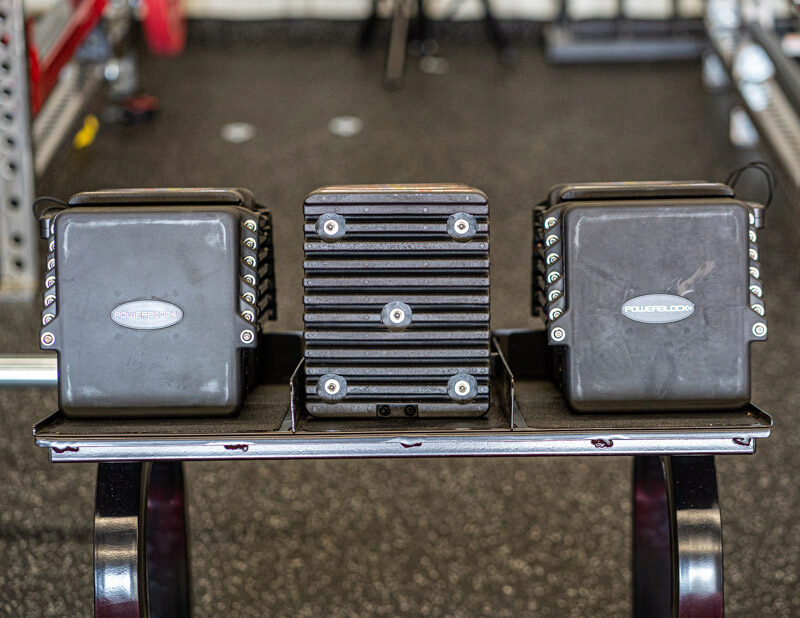 Powerblock Adjustable Dumbbells vs. Bowflex SelectTech 552 Adjustable Dumbbells
Great for Beginners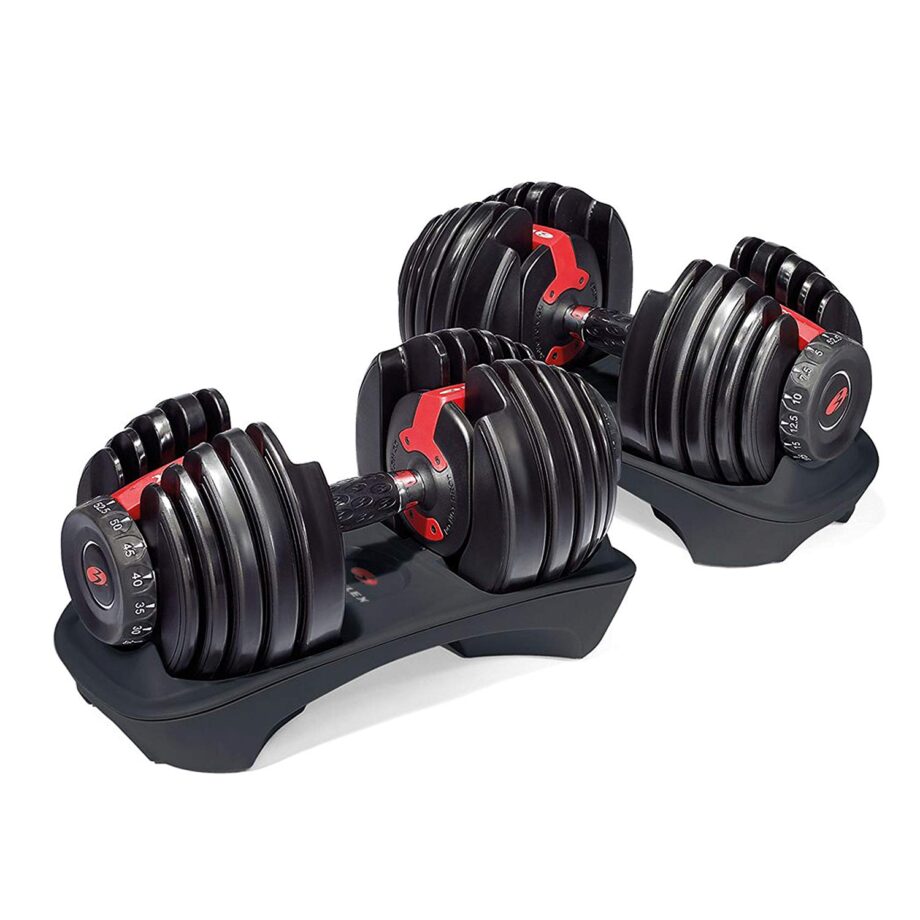 GGR Score: 4.5
Community Score: 4.4
Product Highlights
Replace 15 sets of weights
Weights adjust from 5 to 52 lbs
Extremely affordable at $329/pair
Weight adjustments in 2.5-lb increments
Pros & Cons
Pros
Replace 15 sets of weights
Weights adjust from 5 to 52 lbs
Extremely affordable at $329/pair
Weight adjustments in 2.5-lb increments
One of the fastest changing dumbbells on the market
Come with a stand
Cons
Max weight is 52.5 pounds
Wide footprint remains the same at any weight
Not meant to be dropped
Bottom Line
If you want affordable adjustable dumbbells, the Bowflex pair are a great option. Although they don't get very heavy, they are a great option for beginners and those who do not need more than 52.5 lbs per hand.
The other comparison that often comes up is the battle between PowerBlocks and the Bowflex SelectTech 552 Adjustable Dumbbells. Although Bowflex is most known for making cheap exercise equipment, the SelectTech Dumbbells are actually a pretty good product.
In comparison to PowerBlocks, they don't go nearly as heavy (52.5 pounds per dumbbell), and they're not quite as durable. However, they are often much cheaper and have a quick dial system for changing out the weights.
If you're looking for a lightweight, budget-friendly adjustable dumbbell, we think the Bowflex SelectTech is surprisingly a great value. We've used them quite a bit and have many people in the Home Gym Community who love them for lighter weight training. Understand they won't be as durable as PowerBlocks, but for the price, they're an excellent alternative.
Customer Experience
When it comes to customer service, it appears that PowerBlock does a great job. We found one user who left an initial poor review on the brand's Facebook page. Within a month, he updated his review to say the situation had been resolved: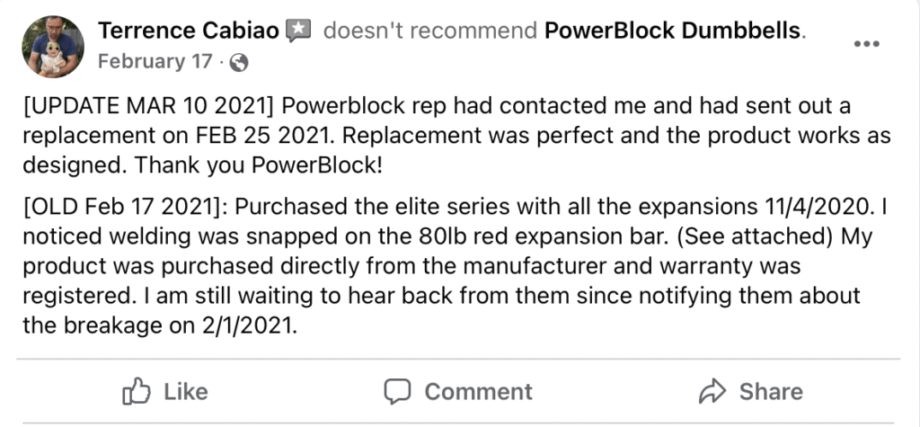 Return Policy
PowerBlock makes no secret that it will charge a 20% restocking fee if you return your dumbbells. Also, you're only eligible for a refund if you initial your return within 30 days from the date of purchase–NOT the date you received it. Your return must also be approved by PowerBlock's customer service department.
Warranty
Most PowerBlock models offer a five-year limited warranty that covers manufacturing defects. In other words, don't misuse these things. We suggest registering your dumbbells right away on the off-chance that something is defective.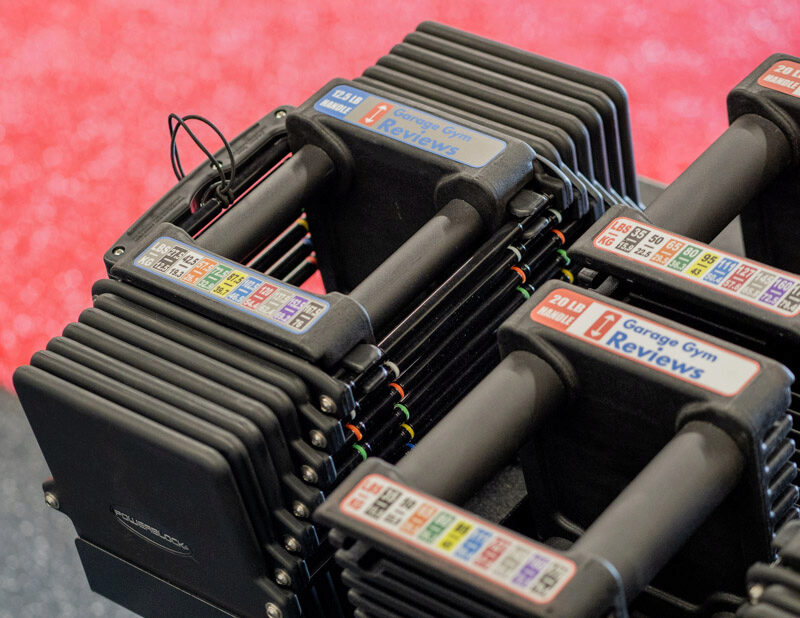 Customer Reviews
Reviews on PowerBlock Adjustable Dumbbells are overwhelmingly positive. The brand's Facebook page has seven reviews with a 5/5 rating. However, if we look on Amazon, as of this writing, PowerBlocks average a 4.8/5 rating with more than 1,000 reviews.
Some complaints include that the weights feel imbalanced. Another customer had shipping issues (which we can't exactly blame PowerBlock for because this was an Amazon order).
User Rayson had this to say:
"Better than Bowflex and all of the other brands, way easier to use"
We agree.
Final Verdict of Our PowerBlock Adjustable Dumbbells Review
When it comes down to it, the PowerBlock Adjustable Dumbbells are simply the best on the market. That doesn't necessarily mean they are the best for every single person out there, because some people will want less of a caged handle or lighter weight. But from my vantage point, it really doesn't get better than these.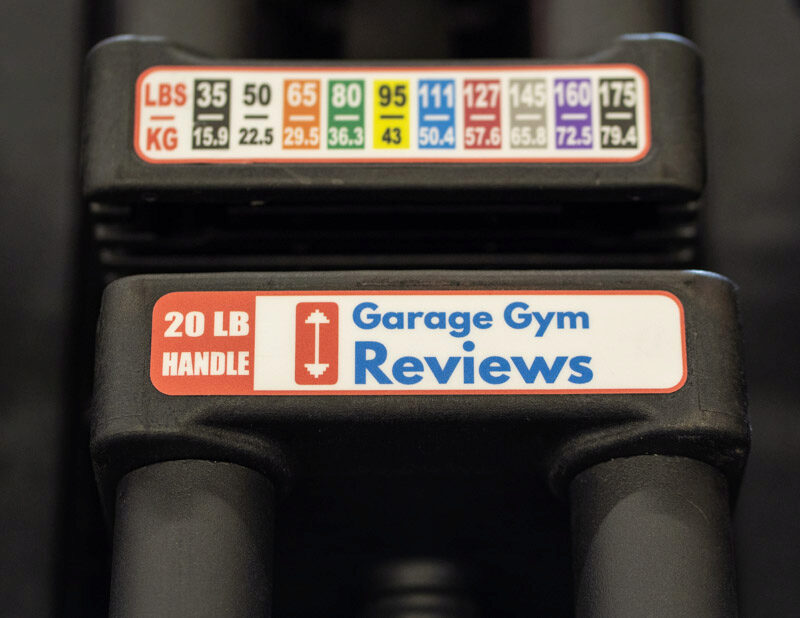 Full Rating
PowerBlock Adjustable Dumbbells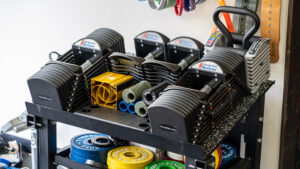 PowerBlock Adjustable Dumbbells are, by and large, the best adjustable dumbbells currently available. The rectangular profile is a bit unusual, but it only inhibits a few movements and for what it lacks in that area, makes up for it in durability and value. After testing, quite literally, every make and model of adjustable dumbbell, we believe that PowerBlocks are, for most people, the best.
Product Brand: PowerBlock
Product Currency: $
Product Price: 509
Product In-Stock: InStock
Powerblock Adjustable Dumbbells FAQs
How many dumbbells does PowerBlock replace?
This comes down to which PowerBlock set you buy. There are non-expandable models that can replace between eight and 19 sets of weights, or expandable options that can replace as many as 28 pairs of free weights.
Is Bowflex or PowerBlock better?
I really like the Bowflex adjustable dumbbells as a budget-friendly piece of home workout equipment for people who don't need to lift heavy. However, I prefer the PowerBlock models for their durability, weight range, and how easy it is to adjust the weights.
Are PowerBlock dumbbells still made?
They sure are! PowerBlock has gone through various iterations of the adjustable dumbbells, improving upon each. In fact, the PowerBlock Elite is one of the best-selling set of adjustable dumbbells of all time, and it is still manufactured today.
Are adjustable dumbbells worth it?
Absolutely! Adjustable dumbbells take up less space than an entire dumbbell set and usually cost the same, if not a little less than a dumbbell set.