We test and review fitness products based on an independent, multi-point methodology. If you use our links to purchase something, we may earn a commission. Read our disclosures.
If all the best exercise bikes on the market were to enter an NCAA-style tournament, NordicTrack vs Peloton would certainly be a Final Four matchup—if not, the Championship game. While there's a few similarities, the two are very different when it comes to things like the apps they both utilize, the hardware, and special features.
So which one should you get for your home gym? While nobody likes hearing "it depends," there's going to be a lot that comes down to what you're willing to spend and what you truly want, and need, in an exercise bike.
That's why we're here. We'll take a close look at what both brands offer, and who would benefit from the different bikes offered by NordicTrack and Peloton.
Editor's note: Peloton in May 2023 announced a voluntary recall of all original Peloton Bikes sold from January 2018 to May 2023 because of a defect with the seat post that causes it to break while in use. Peloton has identified 35 reports of broken seats, resulting in 13 injuries including a wrist fracture, lacerations and bruises.
The original Peloton Bike can be identified by "its PL-01 model number on the label located on the inside front fork (near the flywheel), the red 'P' logo followed by the white-colored' 'Peloton' brand name on the Bike's frame, and by its non-swivel display."
If your bike is impacted or if you have any questions, call Peloton's support team toll-free at 866-679-9129 from 6 a.m. to 12 a.m. ET, 7 days a week or by visiting onepeloton.com and clicking on Product Recalls at the bottom of the page.
We're Wheel-ey Serious About Exercise Bikes
NordicTrack and Peloton may be two of our favorite exercise equipment brands, but we've tried everything from the cream of the crop to the bargain brands in an effort to give you the most thorough recommendations for your home gym based on your space, budget, and fitness goals. We've tested and reviewed more than two dozen bikes, and that's just in our role as product testers.
As certified personal trainers, CrossFit L1 trainers, and competitive athletes, the Garage Gym Reviews team has used countless other bikes and other cardio machines. So we know how to judge a machine based on how it's built, how its features will impact a workout, and how long you can expect it to last in your home gym.
Both bikes may be a good choice if you're worried about space, but for those people check out one of our best folding exercise bikes.
An Amazing Bike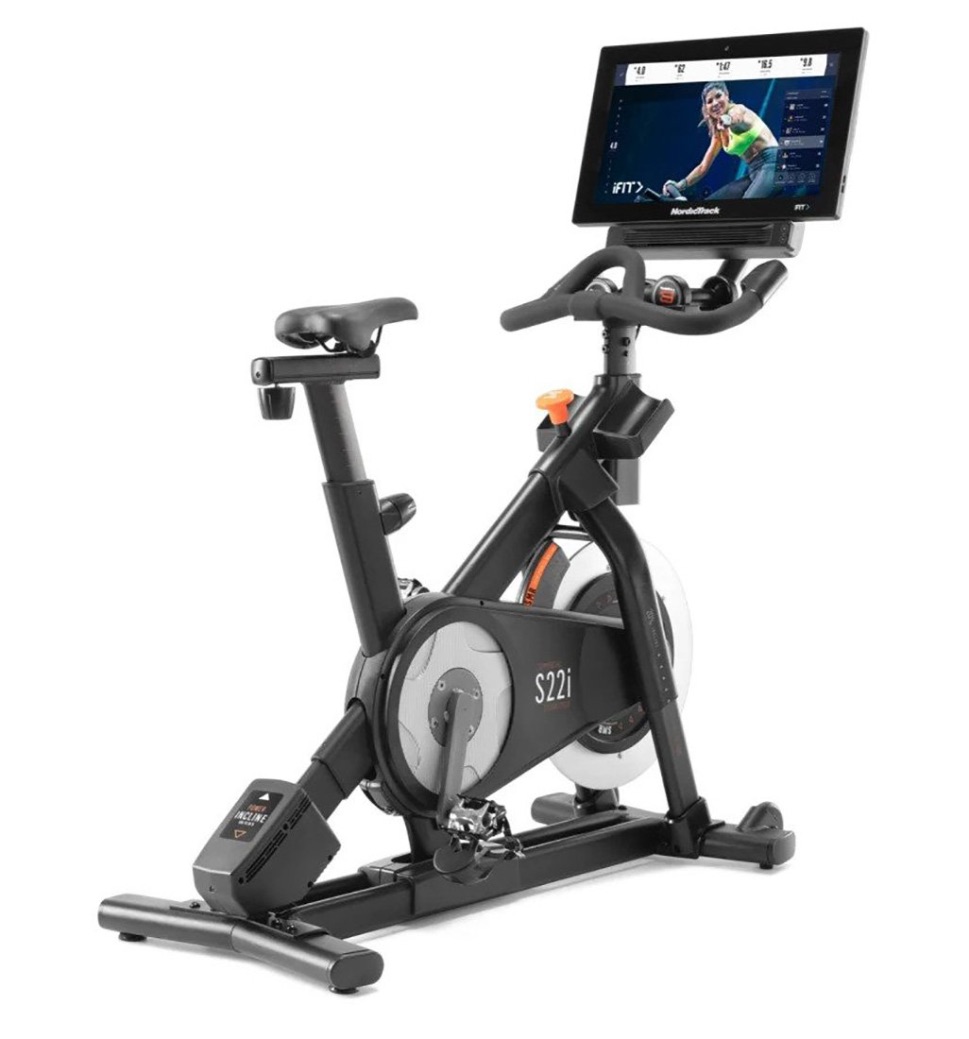 NordicTrack S22i Studio Bike
Join high energy studio classes, mountain bike rides in Moab, or ride a Tour de France stage all from the comfort of your home. Access on-demand classes with the world's best personal trainers for beginners or the hard-core cyclist. Interactive Personal Training comes to life as your personal trainer controls the incline, decline and resistance of your ride, a truly Interactive Experience.
Best Workout Classes
A Quick Look at NordicTrack vs Peloton
NordicTrack and Peloton are two of the biggest names in the cardio equipment landscape. NordicTrack, owned by iFIT, has produced countless high-end ellipticals, bikes, rowers, and treadmills, as well as some strength training equipment. The company was founded in 1975, and its machines can be found in many commercial gyms as well as home gyms.
RELATED: Visit our NordicTrack promo code page for the best deals on all the company's best cardio machines
When it comes to exercise bikes, the company has two in its lineup: the NordicTrack S22i Studio Bike and the S27i Studio Bike. The S22i Studio Bike is a revamped version of the S22i Studio Cycle with new bike pedals, seat, audio system, and welded stabilizers. The S27i bike is also largely the same, but with some nicer features such as a vegan leather bike seat and handlebars, corrosion-resistant steel frame, and a larger screen.
It should be noted NordicTrack also sells the S15i Studio Cycle, which is a more budget-friendly version of the S22i with a smaller screen and fewer resistance levels. But like the S22i Studio Cycle, the S15i is now on closeout sale, which indicates that NordicTrack is preparing to phase it out of circulation.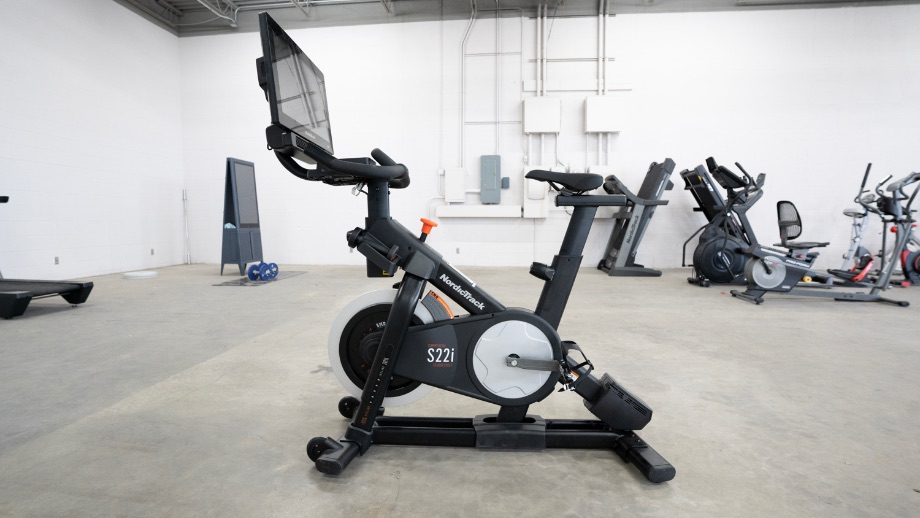 One of the biggest features of the S22i is that it has incline and decline options, which can be controlled by your virtual trainer. That's not the only thing they can control–iFIT equips its machines with optional automatic tension control, which allows for the trainer to adjust the resistance for you mid-workout.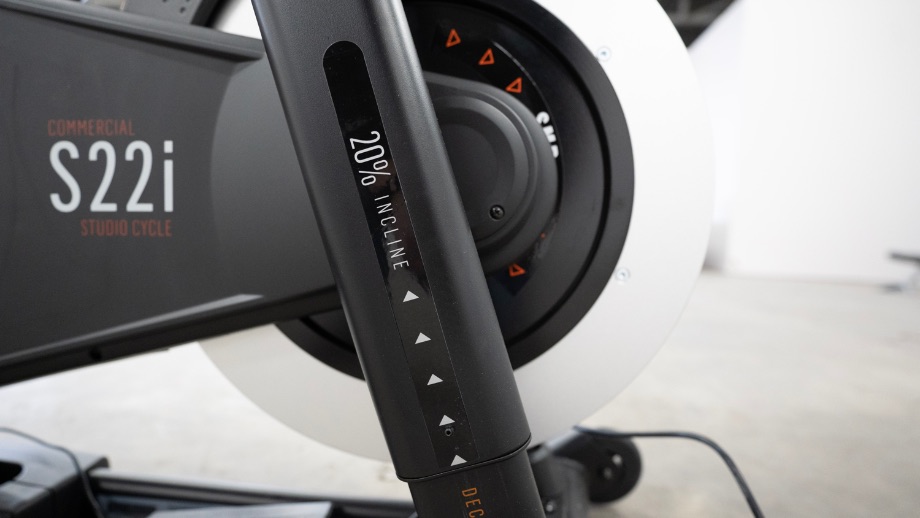 To learn more about the bike, check out our full NordicTrack S22i review.
Because it's owned by iFIT, all NordicTrack machines use the iFIT app for interactive live indoor cycling classes, as well as on-demand workouts for everything ranging from strength training, yoga, pilates, boot camp, and more.
Peloton requires little to no introduction, as it's one of the most popular at-home studio cycle bikes on the market. There's the original Peloton Bike and the Peloton Bike+, with the latter coming with a larger touchscreen, auto resistance option (similar to what you find on iFIT machines), a fully rotating screen, and the ability to sync to your Apple Watch.
Where Peloton shines, of course, is its live classes and on-demand workouts that have made it a household name. Like iFIT, it's not just limited to cycling workouts and has multiple categories for you to choose from.
RELATED: How to Choose an Exercise Bike
NordicTrack
Pros:
Incline/decline training
Automatic resistance control
Hybrid pedals (SPD clips/adjustable toe cages)
24 digital resistance levels
350 pound user weight capacity
Comes with a fan to keep you cool during rides
10-year warranty on the frame
Cons:
Large and bulky
Difficult assembly
Warranty will be voided if stored in garage
Bikes are on the pricier end (the S22i is $1,800)
Peloton
Pros:
Top-tier live and on-demand workout classes, and instructors
Starting at around $1,200, it's an incredible value for a studio cycling bike
100 microadjustable resistance levels
The bike looks and feels very sleek
Compact footprint
Heavy flywheel and magnetic resistance make for a smooth ride
Cons:
Must use Delta cycling cleats ($125 on Peloton's website)
Peloton app ($39 per app) is required for many of the bike's features
Uncomfortable seat (can be replaced but that costs extra)
Multiple complaints of faulty hardware and difficult customer service
Only five-year warranty for the frame
NordicTrack vs Peloton: Specs
| | | | | |
| --- | --- | --- | --- | --- |
| | NordicTrack S22i Studio Bike | NordicTrack S27i Studio Bike | Peloton Bike | Peloton Bike + |
| Price | $1,899 | $2,499 | $1,195 | $1,995 |
| Footprint | 61" L x 22" W x 58" H | 57" L x 28" W x 65" H | 59″ L x 53″ H x 23″ W | 59″ L x 59″ H x 22″ W |
| Weight | 205 lbs | 217 lbs | 135 lbs | 140 lbs |
| Max user weight | 350 lbs | 350 lbs | 297 lbs | 297 lbs |
| Flywheel weight | 32 lbs | 32 lbs | 38 lbs | 38 lbs |
| Resistance levels | 24 digital | 24 digital | 100 microadjustable magnetic levels | 100 microadjustable magnetic levels |
| Incline/decline? | Yes | Yes | No | No |
| Drive system | Belt | Belt | Belt | Belt |
| Display | 22" rotating touchscreen | 27" tilt and pivot touchscreen | 21.5" touchscreen | 23.8" touchscreen |
| Pedals | Hybrid: SPD clips/adjustable toe cages | Hybrid: SPD clips/adjustable toe cages | Delta-compatible aluminum pedals | Delta-compatible aluminum pedals |
| Connects to fitness trackers? | Yes | Yes | Yes | Yes |
| Conveniences | Dual water bottle holder, fan, dumbbell rack, phone holder, USB phone charging ports, two 3 lb dumbbells | Dual water bottle holder, fan, dumbbell rack, phone holder, USB phone charging ports, two 3 lb dumbbells | Two water bottle holder, dumbbell holder, phone charging ports | Two water bottle holder, dumbbell holder, phone charging ports |
| Warranty | 10 years on frame, 2 years on parts, one year for labor | 10 years on frame, 2 years on parts, one year for labor | 5 years on frame. 12 months limited parts and labor | 5 years on frame. 12 months limited parts and labor |
NordicTrack vs Peloton: The Training Apps
Yes, the bikes themselves are very important, but what's made studio cycling bikes, like the Peloton bike, a cultural phenomenon are the live and on-demand workout classes. Don't just take our word for it, scientists have actually proven that people are more likely to workout regularly if they can see their names climb up a leaderboard.
People also love hearing their favorite trainers yell out their names in the middle of a workout, which can be inspiring to someone who's looking to make strides in their fitness journey. The Peloton app has been so successful at fostering this kind of culture that many of their trainers have gone on to create their own fitness brands.
We also appreciate that the instructors are clear and concise in their instructions, and avoid using subjective words such as "challenging." You never have to guess what you need to do in a workout. But that's just us, and many people find the Peloton instructors to be a little intimidating with what's been described as "over the top" motivation.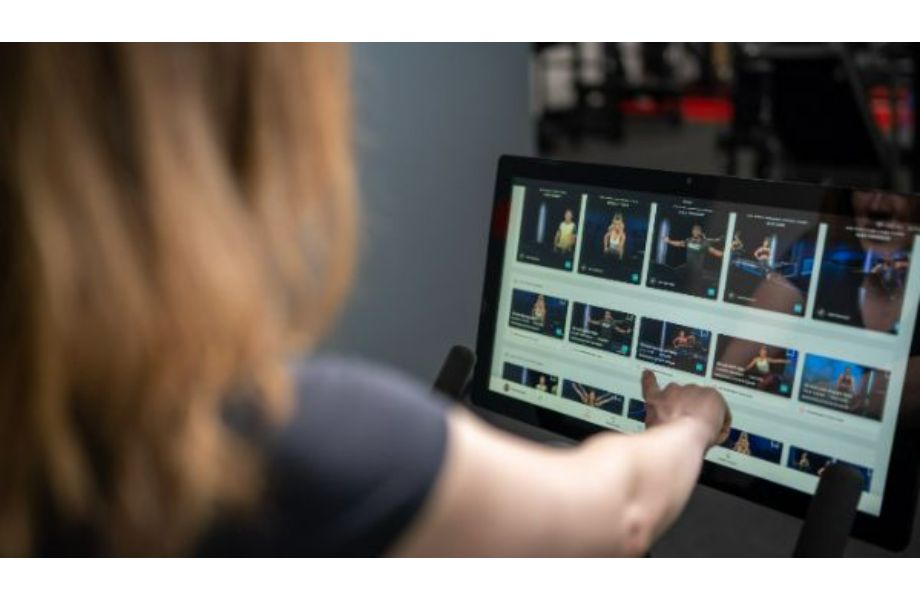 If you're curious what it's like to use the competition, you can check out GGR product tester and fitness writer Caroline Lubinsky's full iFIT reviews. The former Division 1 NCAA D1 Women's College Soccer player and WPSL athlete (so you know she knows a thing or two about cardio workouts) has used both the Peloton app and iFIT extensively.
She personally finds the iFIT instructors, playlists, and classes to be on par with Peloton. There are more iFIT instructors and classes than Peloton, but that's because iFIT is compatible with more than just bikes and treadmills.
Both apps cost $39 per month for all-access membership, and are required to unlock most of the bikes' features (such as tracking your metrics).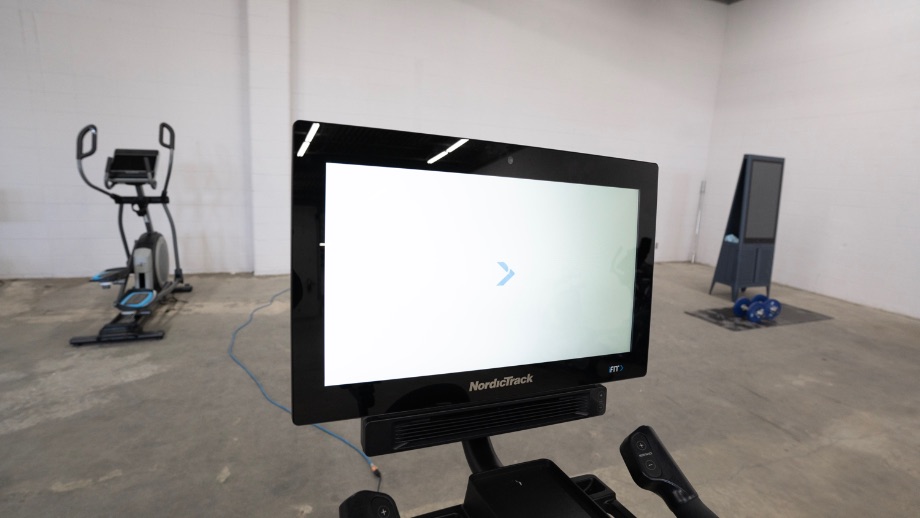 NordicTrack vs Peloton: Workout Experience
When it comes to using the bikes to workout, both NordicTrack and Peloton offer similar riding experiences. The only big difference is NordicTrack bikes come with incline/decline options, which further challenge your core stability during a ride. This is a great feature for those who are looking to truly replicate the outdoor cycling experience in the comfort of their own home.
There are a few other things that separate the two bikes, and we'll go over those details here.
Resistance System
Both Peloton and NordicTrack utilize silent magnetic resistance, which is not just quieter than friction resistance but is also low maintenance. Peloton has 100 microadjustable levels, which means you can greatly customize your riding experience each time via the manual knob on the bike.
NordicTrack has 24 levels that are controlled on your screen. That's a pretty good number, but it doesn't offer quite as much customization as the Peloton.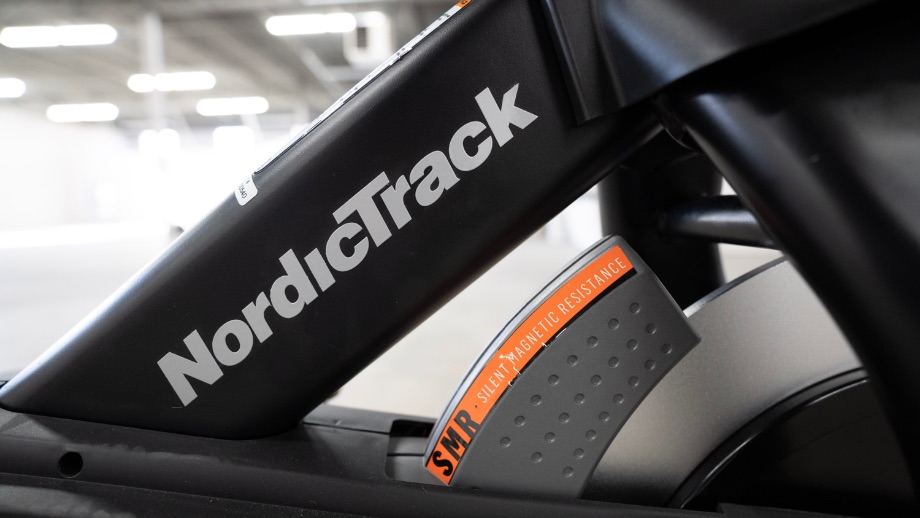 While all NordicTrack bikes come with automatic tension control, only the Peloton Bike+ comes with that option. This feature works during live and on-demand classes, and your instructor will set the resistance where it needs to be depending on which workout you're doing. The benefit is that you can have a hands-free workout, but if you're not at the same fitness level as the instructor the resistance can sometimes be a little too challenging. You can, however, override the auto-resistance to adjust it to where you need it to be.
RELATED: Stationary Bike Benefits
Flywheel
For those who don't know, a heavier flywheel will generally provide more stability and resistance compared to a lighter one (the lighter ones, on the other hand, may be easier for beginners). Both Peloton bikes have a 38-pound flywheel, whereas NordicTrack's have a 32-pound flywheel. None of our testers noticed a huge difference between the two despite the 6-pound weight difference.
Pedals
NordicTrack is a clear winner here due to the hybrid pedals, with SPD clips on one side and adjustable toe cages on the other. The prior version of the S22i only had the toe cages, which can be used with just about any cross-training shoes, but the newer one has both for those who want to wear cycling cleats during their ride (this is also true for the S27i).
The Peloton bikes, on the other hand, have aluminum "Look Delta" pedals that require special cycling shoes (that you can purchase for $125 on Peloton's website). You can remove the pedals and replace them with the ones of your choice, but that costs extra money.
Seat
Most exercise bikes are not comfortable, but the Peloton bike is one of our least favorite of the bunch. Like the pedals, you can replace it…at a cost.
The new S22i comes with a padded, ergonomic saddle that, according to recent reviews, offers a good amount of comfort. The S27i has a vegan leather seat that's designed similar to the S22i.
Adjustability
The NordicTrack bike seats can be adjusted horizontally, as well as vertically, whereas the Peloton bikes can only be adjusted vertically. In other words, NordicTrack is more customizable for people of different height levels.
Both NordicTrack and Peloton allow their bikes' handlebars to be adjusted vertically, but not horizontally.
Displays
The NordicTrack S22i bike has a 22-inch HD touchscreen that can rotate 360 degrees, so you can follow workouts both on and off the bike. The S27i is 27 inches wide, and, because of its size, can only tilt and pivot.
The original Peloton bike has a 21.5-inch touchscreen that can swivel, and the Peloton Bike+ has a 23.8-inch touchscreen that can fully rotate.
Tech Features
All bikes come with Bluetooth and WiFi connectivity so you can sync to fitness trackers, headphones, heart rate monitors, and the respective training apps.
Conveniences
Both Peloton and NordicTrack have dual water bottle holders, cell phone stands, phone charging ports, and dumbbell racks on their bikes. The NordicTrack bikes come with two three-pound dumbbells, and the Peloton can be upgraded to include the weighs but they don't come standard.
Durability and Construction
Peloton bikes' frames are made with carbon steel, which is incredibly durable, but there have been many complaints about the aluminum pedals breaking during use.
NordicTrack only says their bikes are made with "premium" steel, with no further explanation. That said, the bikes feel solid and there have been few complaints about faulty parts.
NordicTrack vs Peloton: Assembly
NordicTrack
NordicTrack does offer white glove assembly service, but some ZIP codes might not allow it during the COVID-19 pandemic. You can check if you qualify on NordicTrack's website.
If you can't get, or don't go for the assembly service, be forewarned that putting the S22i is, to paraphrase GGR Head of Content Kate Meier, a long and painful process. "Not a complicated assembly, just has a lot of parts and takes time," she says. "You put everything on: seat, pedals, handles, screen, and stabilizers."
NordicTrack gives you two allen wrenches and a regular wrench, but you'll also need to have a Phillips screwdriver on hand to complete the assembly.
Peloton
Peloton offers at-home assembly by certified Peloton professionals for all of its products. This is included in the price of your bike.
Peloton vs NordicTrack: Customer Service
NordicTrack
NordicTrack can be reached via a live website chat, email, phone, and social media.
Peloton
Customers can direct any questions or concerns to a live chat on Peloton's website, as well as email, phone, and social media.
NordicTrack vs Peloton: Returns, Financing, Warranty
NordicTrack
NordicTrack has a 10-year warranty on its bikes' frames, 2 years for the parts, and 1 year for labor. This is about the industry average, but be warned that the warranty will be voided if you put your NordicTrack bike in a garage.
You have 30 days to return your NordicTrack bike from the day of receipt, but you'll be charged $250 in shipping costs and a 10% restocking fee.
NordicTrack offers payment plans that range from 12 to 44 months with no money down.
Peloton
Peloton's warranty is a little disappointing, with only five years for the frame, and 12 months for parts and labor.
Financing plans for Peloton bikes start at $45 per month.
You have 30 days from the date of delivery to return the Peloton bikes for a full refund, minus the cost of shipping and handling.
NordicTrack vs Peloton: What do We Recommend?
Are you a serious road cyclist who wants to recreate that experience with an indoor stationary bike? Go for NordicTrack. The incline and decline options are worth the extra money, and you'll truly feel like you're riding on a hill even as you're in your own home. For our money, NordicTrack has a more well-built exercise bike.
If you're shopping on a budget, or simply just want to recreate the studio cycling experience at home, then Peloton is your pick. The instructors are unmatched, the programming is high quality, and at around $1,200 it's one of the best value exercise bikes on the market.
NordicTrack vs Peloton FAQs
Which is better: Peloton Bike or NordicTrack?
If you're looking for an outdoor cycling experience at home, then the NordicTrack is our pick because of its incline and decline feature. Peloton offers a studio cycling experience at home with high-quality cycling workouts and instructors, and is more affordable than the NordicTrack bikes.
Is Peloton or iFIT better?
If you're simply talking about cycling workouts, Peloton has unmatched programming and instructors. iFIT has great cycling classes, but because iFIT produces more than exercise bikes there are a wider range of classes available for the same price as Peloton.
Can you do Peloton classes on NordicTrack?
No, you cannot. NordicTrack is owned by iFIT, so all NordicTrack machines require an iFIT membership to access live and on-demand classes.