We test and review fitness products based on an independent, multi-point methodology. If you use our links to purchase something, we may earn a commission. Read our disclosures.
Fitness trackers are not a new invention. For decades, people have been counting their daily steps with things like primitive pedometers. Today's wearables have much more to offer in terms of durability, aesthetics, and technology.
In this roundup of best fitness trackers, I'll talk you through the positives and negatives of each to help you get the most out of your hard-earned dollars.
7 Best Fitness Trackers
Why You Should Trust Us
Our team of expert product testers lives and breathes fitness—from triathlons, to CrossFit, to weightlifting, and more—and we've all had experience with fitness trackers. I personally tested many of the best wearable fitness trackers on this list in my real life, during workouts, sleep, and just living.
I analyzed a variety of features including activity tracking, GPS, sleep data, and recovery information, and leaned on my experience as a certified CrossFit coach and certified weightlifting coach, to know what was important, what seemed accurate, and what didn't.
My Top Pick: Fitbit Charge 4
My Top Pick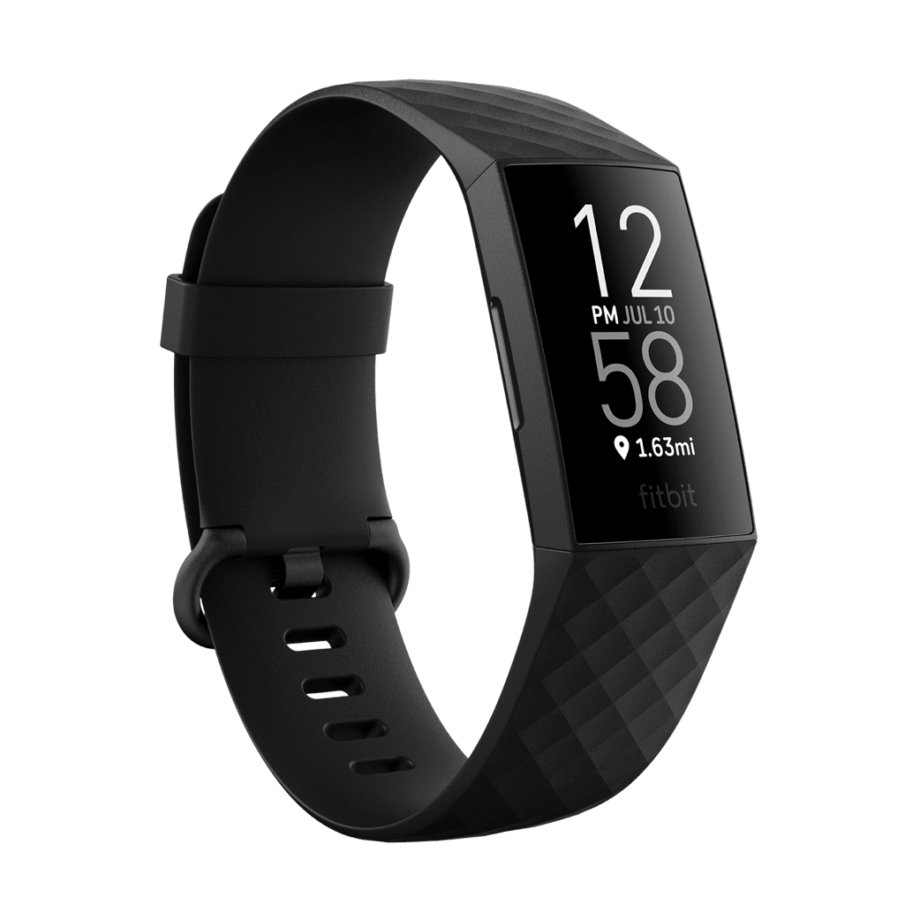 Good for: People who want a fitness tracker with lots of features and built-in GPS
Pros
Under $100
Built-in GPS and cellular capabilities
1-year limited warranty and a 45 day money back guarantee
24/7 heart rate sensor
Cons
Small display face at just 1 inch wide
Takes hours to charge fully
Use of GPS significantly cuts down on battery life
Fitbit is well-known and respected within the fitness tracker industry. I was impressed by the overall value and plethora of features on the Fitbit Charge 4. It wins as my top pick for the best fitness tracker.
For under $100, the Charge 4 comes ready to sync with your IOS or Android device using Bluetooth technology. Once it is paired with your phone, you'll be able to see incoming calls, texts, and other smartphone notifications on the Charge 4's display.
The Charge 4 is the upgraded version of the Charge 3, which was released in 2018. The Charge 4 added GPS, Spotify capabilities, swim tracking, and active zone minutes. A few years ago, I tested the Fitbit Ionic which had both GPS and music playing capabilities. However, the active zone minutes is a new feature that gives you points depending on the minutes you spend in your heart rate's fat-burning zone.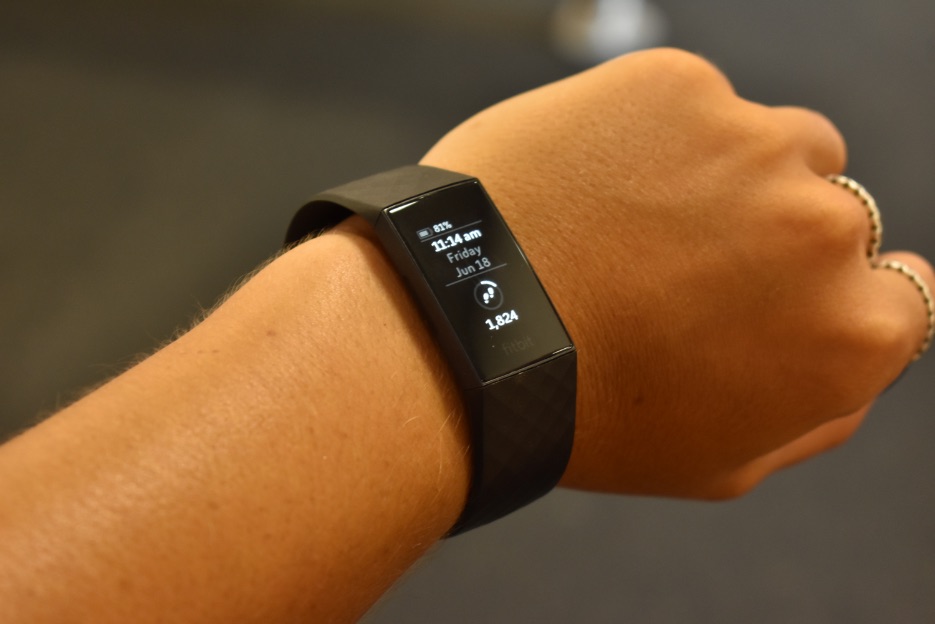 You'll be able to use the free Fitbit app to view a dizzying amount of health and fitness stats. I found the amount of information to be a little overwhelming and difficult to navigate at first.
The Charge 4 comes with a free 90-day trial of Fitbit premium, the upgraded version of the free app. Once the free trial is over, membership is $10 per month or $80 per year. Premium allows you to see additional stats about your sleep and heart rate. You'll also be able to access over 200 workouts and 100 mindfulness sessions.
Even without paying for the premium membership, the Charge 4 itself has a variety of useful features to enjoy – including the ability to make contactless payments with Fitbit Pay. I like that you're able to track steps, a variety of exercises, and sleep patterns. The Charge 4 is also water-resistant up to 50 meters, perfect for swimming or even just taking a shower.
Although the design of this fitness tracker is sleek and minimalistic, I thought the face was too small and made reading stats difficult. The watch itself was comfortable and adjustable. It did not move around when I did my regular workouts.
The Charge 4 can last seven days but it will only last 5 hours if you use the GPS continuously. Other factors like cell phone connection and alerts can also lessen the charge. It takes more than a few hours to fully charge.
To get more details, read my full Fitbit Charge 4 review.
Best Fitness Tracker for Multisport Athletes: Garmin Vivosmart 4
Best Fitness Tracker for Multisport Athletes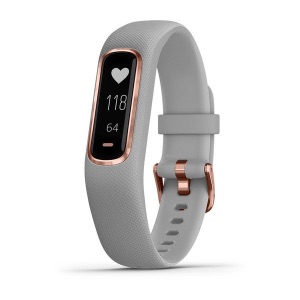 Garmin Vivosmart 4
This slim, swim-friendly wearable comes loaded with fitness and wellness features to help you make the most of a healthier, more active lifestyle.
Good for: People interested in tracking different types of movement
Pros
Tracks seven different types of activities
Automatically detects exercises without setting a timer
Water resistant (Suitable for water activities)
Connects to iPhone or Android and sends alerts
1 year limited warranty (90 day warranty on repairs)
Cons
Narrow touchscreen (.26"x.70")
No built-in GPS
Tracker isn't always immediately responsive when tapping the screen
The Garmin Vivosmart 4 is under $130 and has the ability to track a variety of activities – running, cycling, swimming, walking, as well as "catch-all" functions like multi-sport, "gym and fitness equipment," and "all activities." This is my favorite fitness tracker for multi-sport athletes because of its ability to go from the pool to your treadmill without a hitch.
Besides the seven pre-set activity timers, you're also able to add custom activities for your Vivosmart 4 to track. To add a new exercise, click the "add more button" under the activities tab within the companion app. You'll be able to tell the tracker a similar workout to mimic that it is familiar with.
When strength training, the Vivosmart 4 can keep track of your reps, sets, work, and rest times. The tracker also has the ability to sense a workout with the MoveIQ feature, even if you forgot to set an activity timer.
One of my favorite additions is the auto goal fitness tracking feature. The Vivosmart 4 learns what a typical day of activity looks like for you and assigns a step goal based on this information. This can be helpful if you're unsure where to start in terms of making a daily exercise goal.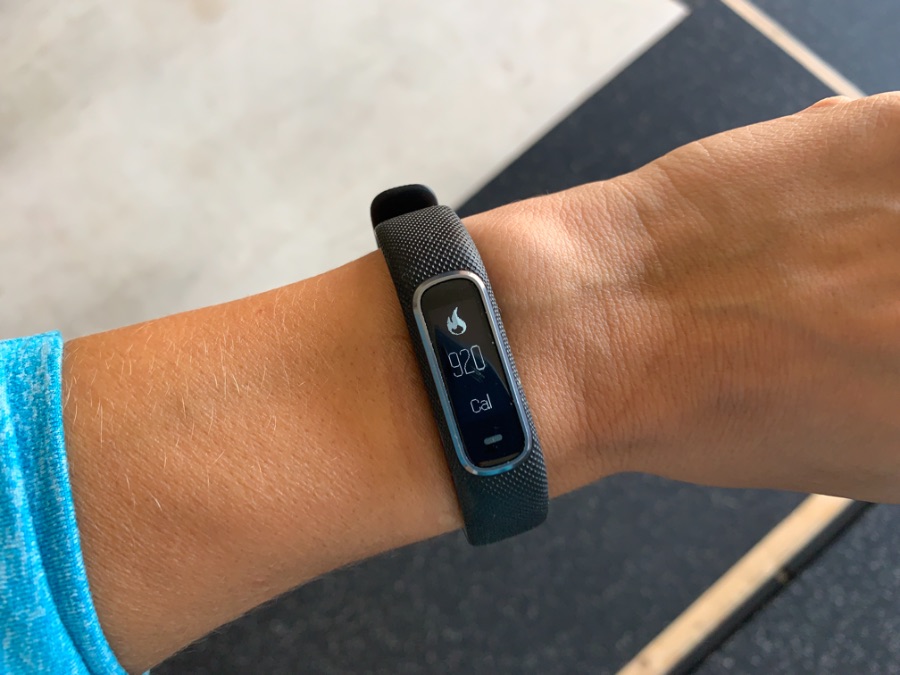 The free Garmin Connect app works in tandem with the Vivosmart 4 to track heart rate, sleep, stress, step count, calories burned, VO2 Max, and type of activity as well as the intensity of exercise.
The setup is easy:
Download the Garmin Connect app
Pair watch to smart device
Fill out personal information (Gender, weight, height, age)
Personalize watch face
You're also able to participate in workout challenges and compete with friends to earn virtual badges.
Although there is no built-in GPS on the activity tracker, the Vivosmart 4 can connect to your smartphone's GPS to accurately track outside activities like running and walking. It can also connect to your phone to give both text and call notifications.
For more details, read my full and in-depth Garmin Vivosmart 4 review.
Best Fitness Tracker for Recovery: Whoop 4.0
Best Fitness Tracker for Recovery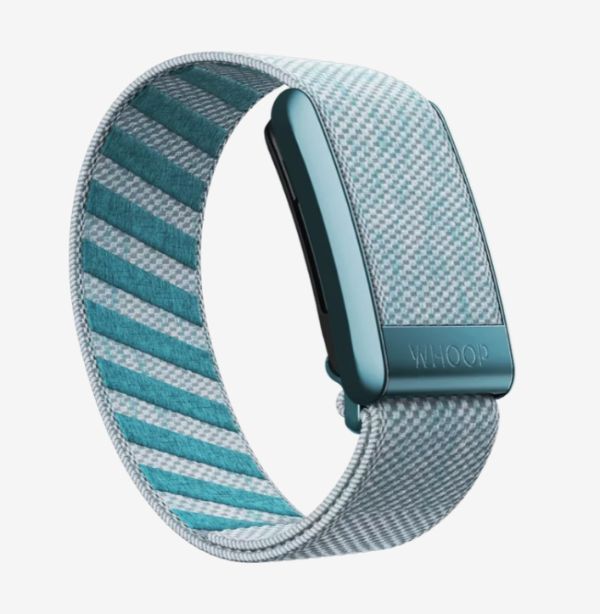 Whoop 4.0
The Whoop 4.0 fitness tracker is designed to capture your key vital signs—blood oxygen, skin temperature, heart rate, sleep quality and more—continuously. Smaller than its predecessor, the Whoop 3.0, by 33%, but fitted with a more powerful sensor, the Whoop 4.0 has a four- to five-day battery life, Bluetooth capability, and is waterproof up to 10 meters. Simply download the compatible Whoop app to access the in-depth insights into your sleep, training, and recovery. New with the Whoop 4.0, you can gain a picture of your overall health. An SPO2 sensor and skin temperature sensor measure your blood oxygen levels, skin temperature, and heart rate to see how you might be deviating from your baseline vitals because of stress or illness. You can customize the look of your Whoop 4.0 with a variety of band, hook, clasp, and fast link slider color and finishes. It's comfortable to wear, and is designed so you never have to take it off. Whoop is unlike other fitness wearables in that you'll pay a monthly membership fee—starting at $30 monthly for six months—and you'll receive the band for free.
Good for: Serious athletes who want data to optimize their training and recovery
Pros
Data driven information that tracks sleeps, recovery, and strain
5-day battery life
Option to wear band on your wrist, arm, or in Whoop apparel
User-friendly compatible Whoop app
Cons
No interface on band
Cannot use tracker without monthly subscription
No daily step count
The Whoop 4.0 is one of my favorite fitness trackers because it measures sleep, recovery, and overall strain. This fitness tracker is best for the serious athlete who wants a deep dive into the data that will help them train optimally.
Design-wise, the Whoop 4.0 is minimalist with just a strap, similar to the Beast Sensor. Personally, I wish there was a screen or face rather than just a band. The compatible Whoop app shows a variety of data including heart rate variability, resting heart rate, and circadian rhythm.
The strap has 24/7 heart rate, blood oxygen, and temperature monitoring, which has been upgraded from the Whoop 3.0 technology. This can help you optimize training based on how recovered you are. For example, the app will let you know if you're good to train or if you need to take a rest day based on the amount of strain your body is under.
Although the Whoop 4.0 technically doesn't cost any money, you must purchase a membership for a minimum of six months, which comes to $180. Custom bands start at $64—more expensive than the Whoop 3.0—and go up from there. You are unable to use the band without having a membership.
Not only does the Whoop 4.0 measure your daily effort, but it also gives a monthly performance assessment, which is chock-full of useful data and insight. Although I don't love the idea of constantly wearing my fitness tracker, it is useful because the strap gives in-depth information about your sleep. The length, quality of sleep, and how much sleep you need to perform optimally the next day are all broken down in the app.Another update on the Whoop 4.0 is a haptic alarm, that vibrates to wake you up at the optimal time based on your individual sleep cycle.
With a full charge, the Whoop 4.0 can last five days. Even better, the battery pack slides on for on-the-go charging so you can continue to monitor your stats.
Read my Whoop 3.0 review to see how this newer model compares to its predecessor.
Best Fitness Tracker for Beginners: Fitbit Inspire 2
Best Fitness Tracker for Beginners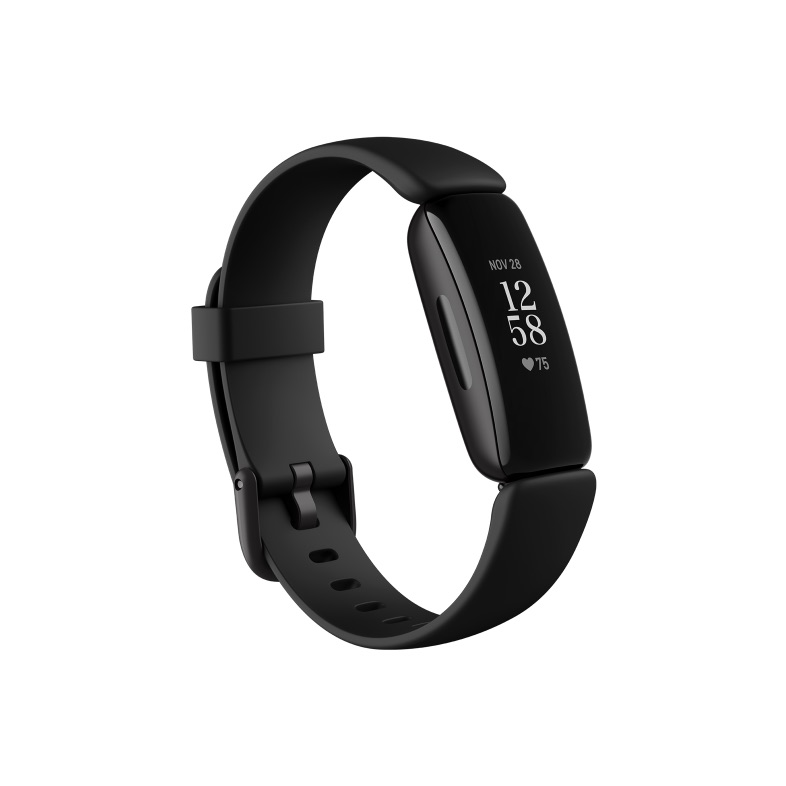 Fitbit Inspire 2
The Fitbit Inspire 2 is a fitness tracker that packs a big punch in a small package. For under $100, the Inspire 2 can track oodles of metrics, including your heart rate, calories burned, active zone minutes, daily readiness score, and steps in a day.Plus, you'll be able to specifically track over 20 different types of workouts. Whether you're into strength training, swimming, or running, the Inspire 2 will be able to keep up with your lifestyle.
Good for: Someone new to exercise that wants a fun and interactive way to track their movement
Pros
All-levels workouts on Fitbit Premium
Daily reminders to get up and move
Water resistant up to 50 meters
Compatible with the Tile App in case you misplace it
Cons
Small display
No built-in GPS
Can't track floors climbed or altitude
The Fitbit Inspire 2 wins my pick for the best fitness tracker for beginners. Under $100, the Inspire 2 packs a mighty punch for the price. Exercise novices will appreciate the simple touchscreen and helpful reminders to get moving.
With the free one-year Fitbit Premium trial, users have access to all-level workouts that make exercising simple. Crushing your goals is also easier within the app because you're able to complete programs that help you make better nutrition, sleep, and exercise decisions.
A one-year warranty is included with the option to add a two-year protection plan for about $20. There is also a 45-day money-back guarantee. Although the screen is small, I was pleasantly surprised by the addition of the touchscreen. The band can be swapped out for a different color strap sold separately.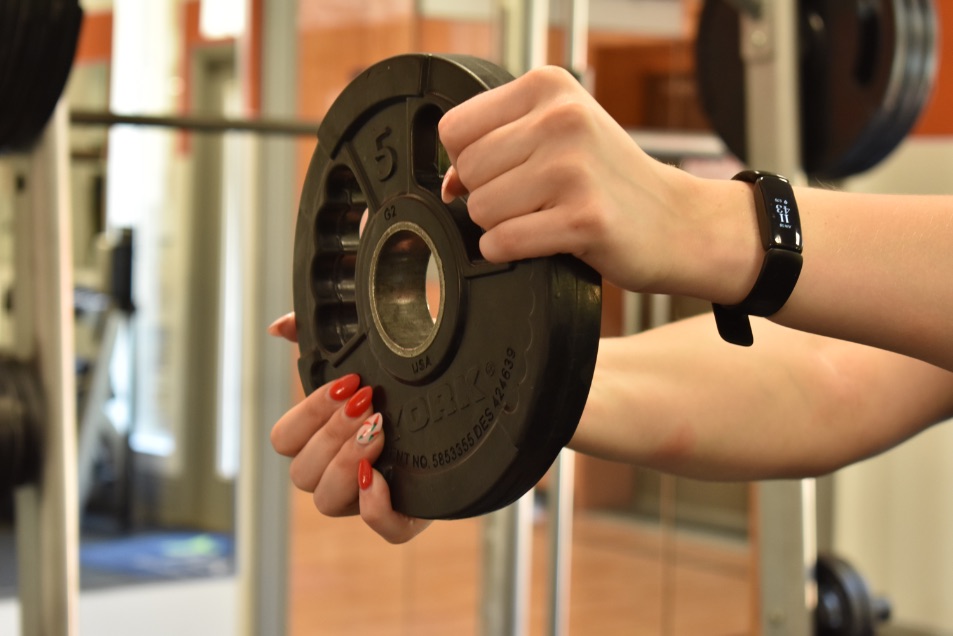 The Inspire 2 tracks steps, distance, and calories burned during your workout. This fitness tracker is also water-resistant up to 50 meters, which means it is a great option for swimmers.
With Fitbit Premium, you can access hydration tracking, workout videos, BPM, and sleep cycle information. Even without the premium upgrade, you're able to enjoy the community dashboard, which connects you to friends and public-themed groups. The groups are titled with different locations, interests, and fitness levels so you can find like-minded people.
I enjoy the new active-zone minutes feature that Fitbit has recently added to their fitness trackers. Based on your age and typical heart rate, you'll be awarded for every minute your HR is in the fat-burning zone. You'll be able to set your own personal goal for both the week and individual days.
The Inspire 2 shines for beginners–and as one of the best fitness trackers for weight loss—because of its low-stakes way to start tracking your exercise. It buzzes to remind you to stand up and get moving throughout the day. The community can also help beginners stay motivated and feel connected to others in an easy-to-digest format.
For an even more in-depth look at this tracker, read my full Fitbit Inspire 2 review.
Best Fitness Tracker for Runners: Garmin Forerunner 245
Best Fitness Tracker for Runners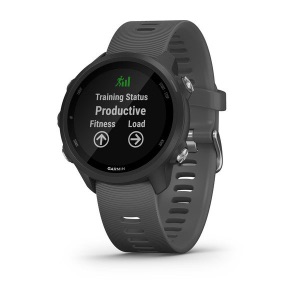 Garmin Forerunner 245
This GPS smartwatch tracks your stats, crunches the numbers and gets to know all about your performance, your running form, your training and even your goals.
Good for: Cardio junkies wanting training plans and stats geared towards running and cycling
Pros
Free Garmin coach adaptive training plans
Built-in GPS (shows outdoor route and stats)
Tracks running dynamics
Water-resistant up to 50 meters
Cons
Lacks an altimeter (Incline/decline)
Easy to press the wrong button
Extra rubber clasp on band adjuster can cause skin irritation
Calling all cardio lovers: the Garmin Forerunner 245 will be your new favorite running watch as it's one of the best fitness trackers for runners, and one of the best Garmin fitness trackers in general.
There's a lot to like: a built-in GPS to track route, distance, pace, and intervals, as well as free training plans to help you hit your running goals. The adaptive training plans are free with the watch and can help you prepare for a 5K, 10K, or half marathon.
The plans last anywhere between 6 to 26 weeks depending on the distance you chose and goal time. All three coaches have different approaches to training. Each plan has a variety of running styles—sprint work, long-distance runs, hill runs, and drills to improve form.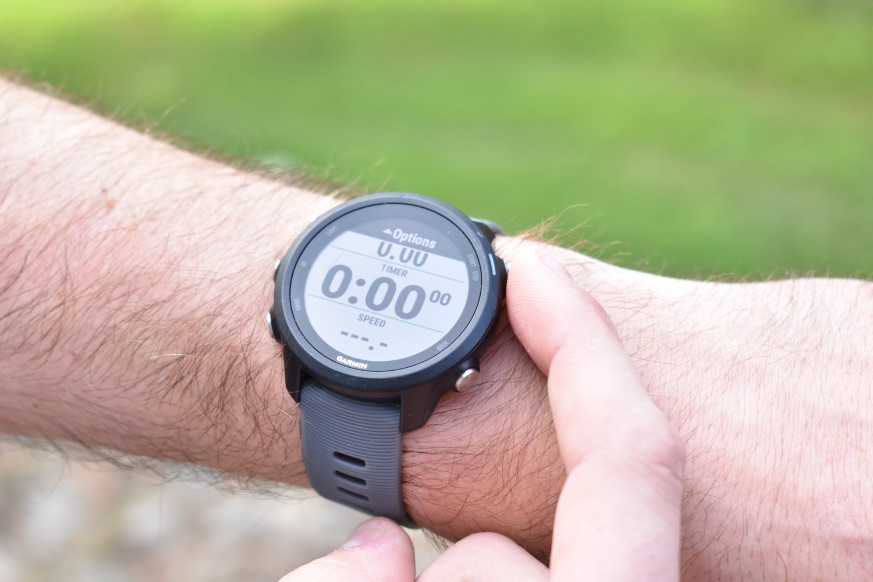 The Forerunner 245 will also give you feedback on your running form. An accelerometer measures running dynamics such as ground contact time, the balance of GCT between feet, cadence, vertical ratio, stride length, and vertical oscillation. Unfortunately, the Forerunner 245 lacks an altimeter but the almost $600 upgraded Forerunner 945 tracker does have one.
For under $300, the Forerunner 245 will track your heart rate, steps, calories burned, stress levels, respiration, and daily amount of energy. You're able to access the data using the easy-to-navigate dashboard within the Garmin Connect app. The app tracks daily progress and you can earn virtual badges for hitting goals or participating in a workout challenge. Much like the Apple Series 6 watch, you can compete with friends who also own a Forerunner 245.
The face itself is large and looks like an old-fashioned stopwatch because of the buttons that protrude from the side. I found the buttons easy to bump, which would then start a timer or keep track of a metric I didn't currently need. There is also not a touchscreen, which is uncommon for a fitness tracker in this price range.
The band provided with the watch caused irritation around my wrist after a full 13 hour day of wearing. However, the fitness band didn't budge while working out and didn't bother me while sleeping.
Speaking of sleeping, the Forerunner 245 offers an interesting insight into your REM cycle, deep sleep periods, and restlessness during the night. This fitness watch has GPS, Bluetooth, Spotify, and Find My Phone. The Forerunner 245 is also able to sync with your smartphone to receive texts, emails, and alerts.
The Forerunner 245 has LiveTrack to let loved ones know what route you're currently taking in case of emergency. I appreciate the peace of mind features like the LiveTrack and incident detection, which will alert your emergency contact if you need help.
For more information and details, check out my in-depth Garmin 245 Forerunner review.
Best Budget Fitness Tracker: Xiaomi Mi Smart Band 5
Best Budget Fitness Tracker
Xiaomi Mi Smart Band 6
This budget-friendly fitness tracker boasts many of the same functions that fancier devices have: sleep tracking, step count, heart rate, full-color touchscreen, water resistance, and a long battery life.Check out our full Xiaomi Mi Smart Band 6 review.
Good for: People who want an affordable and uncomplicated way to track their fitness stats
Pros
Under $50
Full color touchscreen
Water resistant up to 50 meters
Lasts up to 14 days on a single full charge
Cons
Lacks an altimeter (Incline/decline)
Difficult to contact customer service/navigate the website
Heart rate monitor and step count isn't always accurate
No Built-in GPS
As you know, I love to find budget home gym equipment. The Xiaomi Mi Smart Band 6 fitness tracker hits the mark as the best fitness tracker under $50 and is available for purchase on Amazon.
The Mi Smart Band 6 is a recent upgrade to the Mi Band 5 for around the same price. Changes between the 5 and 6 include additional activity tracking, a bigger screen, and an SpO2 sensor.
The watch face is a full color AMOLED display at just over an inch long. I love the large, easy to read screen that shows the time, date, steps, and battery life. The strap is a plastic silicone material that you would typically find with other comparable fitness trackers. The Mi band 6 comes with a blacks trap, but you can purchase one of six different colors online if you prefer something else.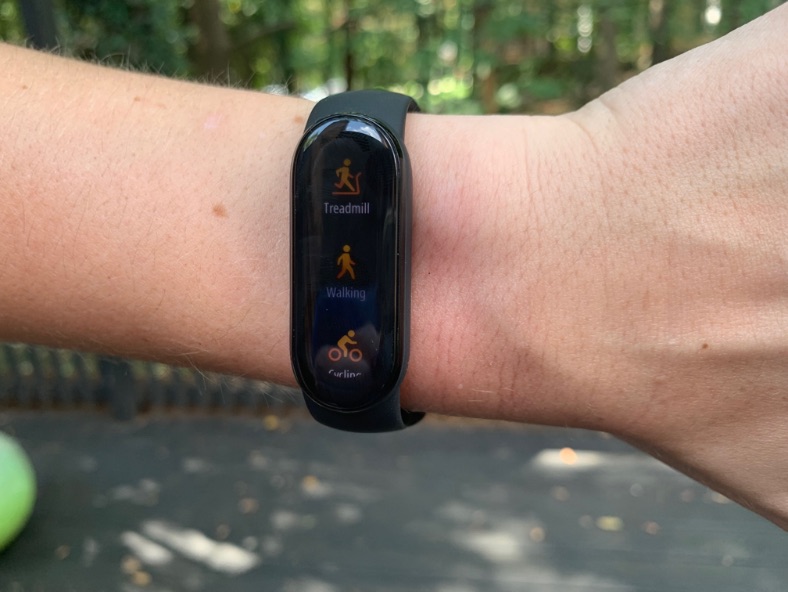 There are 30 workout modes that the Mi Smart Band 6 can specifically track—Zumba, Treadmill Walking, Freestyle, Jogging, Cycling, Swimming, Rowing, Elliptical, Basketball, Volleyball, Table Tennis, Street Dance, Jump Rope, Indoor Fitness, Gymnastics, High-Intensity Training, Core Training, Stretching, Bowling, Badminton, Boxing, Stepmaster, Pilates, Cricket, Ice Skating, and Yoga.
A huge plus for the Mi Band 6 is the quick 2-hour charge, which can last up to 14 days. I think this is an awesome perk, especially if you're used to charging your fitness tracker every night.
When I originally tried the Mi Band 6, I wore it alongside my Apple Watch Series 6 to see if there were any discrepancies between the two in terms of heart rate and step count. I did find both were slightly different. The Mi Band 6 had more trouble picking up my increased heart rate when doing cardio or high-intensity interval training. Additionally, the Mi Band 6 said I had more steps in a day than my Apple Watch did. This isn't a deal-breaker, but it is good to keep this in mind.
The Mi Band 6 has a strong 1-year warranty. However, customer service can be tricky to reach because they are an international company. I was able to find an email address and phone number on the Xiaomi website, but it took some digging.
Just like a lot of higher-priced fitness trackers, the MiBand has a compatible app. Although you won't find fun challenges or hundreds of workout classes, you are still able to track activity and connect with friends through QR codes.
Check out my full Xiaomi Mi Smart Band 6 review.
Best Fitness Tracker for iPhone Users: Apple Watch Series 7
Best Fitness Tracker for iPhone Users
Apple Watch Series 7
The Apple Watch is now on its seventh iteration, and this one is said to be the best one yet. With the largest display, most durability, health tracking like blood oxygen level, and even faster charging, the Apple Watch Series 7 continues to up the ante of fitness trackers. The screen area on the Series 7 is 50% larger than on the SE model without a dramatic increase in the size of the screen. The Always-On Retina display provides a brighter screen, too, so it's easier to see even indoors. The Series 7 is crack-resistant, dust-resistant, and water-resistant up to 50 meters. It also goes from 0 to 80% charged in just 45 minutes. One of the highlights of the Series 7 watch is the ability to measure your blood oxygen level, and take an ECG, simply by using the compatible app, which allows you greater insights into your overall health. 
Good for: People who don't mind paying a premium price for the latest watch technology and features
Pros
Measures blood oxygen saturation
Essentially is your phone on your wrist
Water-resistant up to 50 meters
Cons
Expensive
Difficult to get quick customer service assistance
Amount of technology/features can get confusing
The Apple Watch Series 7 is a majestic combination of a smartwatch and a fitness tracker. The seventh iteration of this watch has the largest display yet, most durability, health tracking like blood oxygen level, and even faster charging.
Starting at almost $400 for the base model, these features do come at a price. You are able to choose between a 41 mm or 45 mm watch screen, and the band of the watch is easy to switch out—Apple has a variety of bands sold separately. Financing options are available.
This fitness tracker gives you the option to track all kinds of workouts such as strength training, biking, dancing, and more. When tracking a specific workout, the Series 7 will display the time elapsed, BPM, distance, and other relevant information depending on the exercise. For example, the watch will inform you of your current elevation when hiking.
Standout features of the Series 7 include an ECG app to track your heart's electrical signals, a sleep tracker app, and an oximeter to determine your SpO2 level. I also enjoyed listening to music, podcasts, and audiobooks with my watch. You can set daily activity goals for yourself that include calories burned, exercise minutes, and stand time. After setting a goal, I like being able to challenge friends (with Apple Watches) to competitions to see who is more active on a given day.
With the Series 7, a 2-year limited warranty is included. You also have the option to purchase AppleCare+ for $79 or $3.99 monthly. AppleCare+ extends the protection of your watch and will cover up to 2 incidents per year.
This fitness tracker and smartwatch combo have tons of technology and features. You can pay from your watch, view directions, or talk to Siri (similar to Alexa). The number of apps you can connect to the Series 7 can be overwhelming and the personalization options are endless.
Read my full Apple Watch Series 6 review for a look at how this update model compares.
Other Fitness Trackers We Researched and Tested
Although we haven't personally tested all of the fitness trackers available today, we did do our research; here are some other wearables that didn't quite make the list.
As one of FitBit's more premium watches, the Versa 3 tracks activity and sleep, can sync to your phone and comes with a built-in GPS. If ECG and skin temperature tracking are important to you, skip this wearable.
If you're looking for a smart watch on a budget, the Amazfit Bip U series might be one worth checking out. It tracks heart rate, blood oxygen levels, sleep quality, stress levels, breathing, women's health, plus all your workouts. It can also sync to your phone and can last for nine days on a full charge. Complaints about it breaking after light use, as well as poor customer service to resolve any issues, are worth noting though.
At $700, this watch is for those who are serious about their training. It's said to combine the best of a smart watch and an outdoor watch, so if sports like skiing, mountain biking, open-water swimming, or surfing are up your alley, check into this watch further.
SImilar to what the Apple Watch is to the iPhone, the Galaxy Watch4 is like having your phone on your wrist. It also offers wellness tracking like ECG monitoring and sleep analysis, plus VO2 readings to assess your cardiovascular endurance.
If you're looking for a smaller GPS smartwatch for everyday living, consider the Vivoactive 4s. It features all of the tracking that you could need—heart rate, blood oxygen level, sleep, step counting, plus training, planning and workouts—in a more petite package.
For $40, we had to dig into the hype behind the Amazfit Band 5. This slim device not only tracks your steps, sleep, blood oxygen levels, and menstrual cycle, it can also sync with your phone to function as a smart watch. Customer complaints about the display and brightness were the biggest red flags.
If you're looking for the best fitness tracking ring, the Oura ring might be for you. It provides analysis on Sleep, Activity, and Readiness, plus heart rate, blood oxygen level, period prediction, and more. It does lack phone syncing capabilities, though, so if you like the idea of having your phone on your wrist via a watch, the Oura ring probably isn't for you.
How We Picked and Tested
We carefully selected the fitness trackers on this list, and evaluated each one we researched and tested based on the following criteria:
General wear: Is it comfortable? Is it easy to take on and off? Does it stay on during exercise? Do we like the look?
Activity tracking: Does it count steps, and accurately? Does it track your workouts? Does it log running, biking and swimming along with other forms of cardio? Does it log resistance training?
Record workouts: Can you record a workout? Can you create progressive training plans based on your previous training?
Heart-rate accuracy: Does it monitor heart rate? Did it seem accurate?
Battery life: How long can I go between a charge?
Privacy and security: Does this fitness tracker sync to my phone? Does this fitness tracker have built-in GPS? Does this fitness tracker have Bluetooth capability? Does the fitness tracker have a companion app?
Ease of use: Is it easy to access all of the features? Is it easy to navigate? Is it easy to track and record stats?
Benefits of Using a Fitness Tracker
You may be asking, "Kate, why the heck do I need a fitness tracker?" Well, reader, there are many reasons. Regardless of your fitness level, I believe anyone and everyone can benefit from owning one. You can learn cool stats that will improve the way you workout, sleep, recover, and track your goals.
Goal Tracking
Without a fitness tracker, you may be way over or underestimating your activity levels. It can be frustrating to not see results, but a tracker will keep you accountable for your fitness goals.
With a fitness tracker, you'll be able to see your daily step count, active minutes, calories burned, and more. Some compatible apps will offer workout suggestions, tips for success, and plans you can use to reach your goals.
Better Recovery
With better technology, many fitness trackers can be tools for recovery and wellness. REM cycle information and general sleep tracking can help you know how to optimize your training for tomorrow. If you didn't get good sleep the night before (sleep experts say adults need 7-9 hours), then it might be time for a rest day or a lighter workout.
For example, the Whoop Strap 3.0 will measure things like the strain currently on your body. If you did a difficult workout the day before, your body may be too fatigued or strained to perform well tomorrow. With a fitness tracker, you'll gain valuable insight into your body's needs from a data-driven perspective.
Community
Most fitness trackers have an app where you can connect with other users. Having a community keeps you accountable and motivated. The majority of fitness trackers have options to connect with friends, participate in challenges, and climb leadership boards. The Apple Watch Series 6 gives you the option to compete weekly with friends to see who can crush their move goals. It adds a level of fun and competition that fitness doesn't always have.
Another great place to get plugged into the fitness world is my Home Gym Community Facebook page.
What to Consider When Buying a Fitness Tracker
Buying a fitness tracker doesn't have to be stressful. I've done plenty of testing and research to eliminate the hassle for you. Check out the things you should consider when purchasing the best fitness tracker watch for your needs.
Price
Cheap fitness trackers can start as low as $30 and high-end options cost upward of $600. Decide what your price range is and what fitness features you're willing to compromise on if you spend less.
Generally speaking, you get what you pay for. If you purchase a $20 fitness tracker, you'll likely run into issues you wouldn't with a more expensive option. Higher-priced trackers like the Apple watch often have financing options available if you aren't able to pay in one sitting.
Activity Tracking
With the latest technology, most fitness trackers are able to track so much more than simply running and biking. Here are a few cool things you can keep track of with a wearable:
Swimming laps
Cardio: rowing, elliptical, walking, hiking, dancing, HIIT
Strength: lifting weights, core training
Yoga, pilates, and barre
Sleep (REM, restlessness, tracking hours)
Menstrual Cycle
Technology
Today's fitness trackers have plenty of options for technology. Some can connect to apps, your smartphone, or even friends. Here are some things you might want your fitness tracker to be able to do:
Play music, audiobooks, and podcasts
Track EKG and blood oxygen levels
Connect to smartphone to see texts, calls, emails, and notifications
Ability to pay virtually
Have compatible apps to connect and compete with friends
Give performance assessments and form suggestions
Track route via GPS
Sleep stats (REM, restlessness, hours slept)
HR variability, resting HR, and circadian rhythm
Style
Some fitness trackers are discrete and sleek while others are bulkier and easy to read. Many fitness trackers have options to customize the band or even the watch face. With a variety of colors and materials to choose from, pick a few that work with your lifestyle so you can interchange them.
Display
A simple LED display, through a watch face, or only through an app are a few options you can expect to see for a fitness tracker display. Some faces are larger and easier to read while others are smaller and more difficult to see for those who are far-sighted. The Apple Watch Series 7 has a full-color display while some fitness trackers are in black and white. When going out into the sun, keep in mind that come displays may dim or brighten without you manually switching it yourself.
Lifestyle Compatibility
Some of you want a fitness tracker that will keep tabs on your marathon training, while others are just looking to stay active and get enough daily steps. Depending on your exercise preference, you'll want to find a compatible fitness tracker. For example, if you're a serious athlete looking to get the most out of your training, getting a data-driven fitness tracker like the Whoop 4.0 can help you achieve your goals.
Water-Resistance
If you're interested in swim tracking, water resistance is an important factor to look at when choosing a tracker. There are seven levels of water ratings to determine what activities are okay with different fitness trackers. The lowest water-resistance level is IPX7, which means the technology can only withstand 30 minutes of mild water exposure like rain or showering.
Most fitness trackers that are water-resistant will be a 5ATM. This means the tracker can withstand 50 meters of water exposure while swimming. If you are a scuba diver or someone who goes deeper than 50 meters, you may have more difficulty finding something that has been given the highest water rating, which is "Dive tested."
Battery
Depending on the type of activity you like to do, charging your fitness tracker every night may not be feasible for you. For example, if you enjoy hiking or camping and won't have access to an outlet to charge your tracker, choosing a wearable with long battery life is advisable.
It is also important to keep in mind that certain features will wear down the battery on a tracker more quickly. The GPS will generally cut down battery life significantly. Luckily, some trackers have rapid-charge options that require little downtime for your wearable.
Sleep Tracking
Being able to access analysis on your sleep patterns can help your overall wellness. By logging data on how long you sleep, the quality of your sleep, and the phases of your sleep cycle, as well as other lifestyle factors like exercise and alcohol, fitness trackers with sleep tracking can help you detect patterns that you may otherwise have not discovered.
For instance, do you sleep poorly after you've had a few glasses of wine with dinner? Does a hard workout mean for a more restful night's sleep? If you go to bed earlier and wake up earlier, do you have more energy throughout the day?
While this sleep data is not as accurate as a sleep study would be, it does provide a framework for you when you're thinking about your quantity and quality of sleep—an important pillar in your overall health.
Heart Rate Monitor
Heart rate monitoring on a fitness tracker can be beneficial for several reasons. For one, during a workout, you'll be able to tell how much you're exerting yourself, and even base your workout off of heart rate zones, which can be an effective way to improve your fitness level.
Second, many fitness trackers on the market today offer 24/7 heart rate monitoring—this means that your baseline heart rate will be tracked, and any deviation from that, maybe because of stress or illness, will be noted. Some of the most advanced fitness trackers also offer ECG monitoring, which measures how well your heart is working.
It's worth deciding beforehand if you'll just take advantage of heart rate monitoring for workout purposes, or if you could use it daily as a way to keep tabs on your overall health. Finding the best fitness tracker with a heart rate monitor shouldn't be too complicated today, as most come equipped with this capability.
GPS
If you're a runner, walker, or biker, GPS built into a fitness tracker can be a helpful feature. This means that you won't have to bring your phone along to track your route. You'll pay more for this capability, but if you're outdoors training frequently, it could be a worthy investment.
Best Fitness Trackers FAQs
Can you use a fitness tracker with a phone?

You can use most fitness trackers without a phone. Although the majority work with a compatible app, it is not generally needed to use the watch itself. The Fitbit app is an example of an app that can enhance your experience with additional workouts and tips but isn't required for the fitness tracker's use.
How do I know which fitness tracker is best for me?
It is important to take into account your personal activity level as well as your preferred workout method when considering a fitness tracker. Some fitness trackers like the Whoop 4.0 would work best for very serious athletes looking to get additional insight into their recovery and sleep.
Others like the Garmin Forerunner 245 or the Polar watch are ideal and are some of the best fitness trackers for runners looking for pertinent metrics. The best wearable is the one that fits your lifestyle, budget, and has the features that are most important to you.
What is the point of a fitness tracker?
A fitness tracker is helpful for meeting activity goals and getting more information about how you sleep, recover, or exercise. For example, if you're trying to lose weight, aiming for 10,000 steps a day and 30 minutes of exercise is much easier to track with a fitness tracker. You'll be able to look back at previous metrics and stay on track to progress and hit your personal goals.