We test and review fitness products based on an independent, multi-point methodology. If you use our links to purchase something, we may earn a commission. Read our disclosures.
We are back. Again. The new Rogue Ohio Bar 2.0S just dropped, and Garage Gym Reviews is here to give you the scoop on what makes this bar so special. The newest member of the Ohio Bar variants, the 2.0S is being advertised for two new innovations: a sound-dampening sleeve structure, and a coating said to be even more corrosion-resistant than cerakote, but without the drawbacks. These are two exciting features that we haven't seen much of from competitors, and we will dive into in this Rogue Ohio Bar 2.0S review.
Do the claims hold up? Is the bar quieter? Can you go to the library and drop it (see video below)? Is the coating really all that? Why should/shouldn't I buy this?
Here are my honest answers.
Why You Should Trust Us
I've been reviewing barbells for years now. Take a close look at the background of any GGR video and you'll see the volume as well as the variety of bars I've worked with. On top of that, as GGR has grown, I've hired a diverse team of experts who take many of these products through a rigorous, standardized testing process. We know our barbells.
Related: The Rogue Ohio Bar 2.0S made our Best Fitness Gifts list!
Rogue Ohio Bar 2.0S
Rogue Ohio Bar 2.0s
The Rogue Ohio Bar 2.0S gives you all the features of the regular Ohio Bar, but with a twist: machining to make it a quieter barbell.
A Quick Look at the Rogue Ohio Bar 2.0S
If you've made your way to this review, you probably have some recognition of the Rogue Ohio Bar. The Ohio is the brand's flagship multi-purpose barbell made in the USA. It has been reworked, updated, and re-released in several variations over the years, from bare steel power bars to stainless steel bars and more.
Pretty much any CrossFit gym you step into will have an Ohio Bar, its variants, or something strikingly similar.
These bars have a few consistent functional traits:
190K PSI steel for industry standard tensile strength
28.5mm shaft diameter
Unique Ohio knurl
Dual knurl marks
Bushing sleeve rotation system
The 2.0S keeps all of these traits, adding:
Cerakote shaft
New proprietary matte black coating on the sleeve. This is extremely hard and doesn't appear to come off.
New sound-dampening inner sleeve structure intended to dull the sound of drops.
$100 over the standard black zinc Ohio Bar. The 2.0S rings up at around $395.
Do these traits live up to the hype? Short answer: Yes. The bar is quieter. This is Rogue's first barbell with this new coating, which is just all-around superior and may set the standard going forward. All that said, this bar is not perfect and is not for everyone.
Coop's Tips:
This bar is tough to take apart. You may need some extra tools if you plan to fully strip the bar and clean/oil it, although it shouldn't be needed.
There is a confirmed lower decibel reading on this bar's drops. Most notable to me is that it's also a different kind of sound. There's less metal rattling. It's more of a thud.
In most ways, the 2.0S is similar to the other Ohio bars offered by Rogue. The things you need to pay attention to are at the forefront of this bar's marketing: the quieter drop and the sleeve coating. More details on those below!
My Favorite Things:
The proprietary matte black sleeve coating – this coating doesn't just sit on top of the surface. It transforms the metal itself. It's extremely hard and doesn't scratch off.
The sleek all-black design. Black shaft. Black sleeves. Black bushings. All black everything.
The sound-dampening features hold up to Rogue's claims. The bar isn't mind-blowingly quiet, but it consistently outperformed the Cerakote Ohio Bar and the American Barbell Training Bar in our tests.
My Callouts:
The Ohio knurl is already pretty passive, and the layer of cerakote coating makes it too passive for my preference.
With the cerakote shaft, I think Rogue missed an opportunity to release their first bar with the proprietary coating on both the shaft and sleeve. This would make a much more affordable, yet very close competitor to the Eleiko Hybrid Bar, which has a similar coating on the entire bar. This said, there's likely durability reasons for Rogue not.
To me, the difference in noise doesn't justify making the 2.0S its own product. I don't really like the approach of making a "silent option" as opposed to just updating the classic Ohio Bar with the new tech, making it the standard.
Is the Ohio 2.0S Worth It?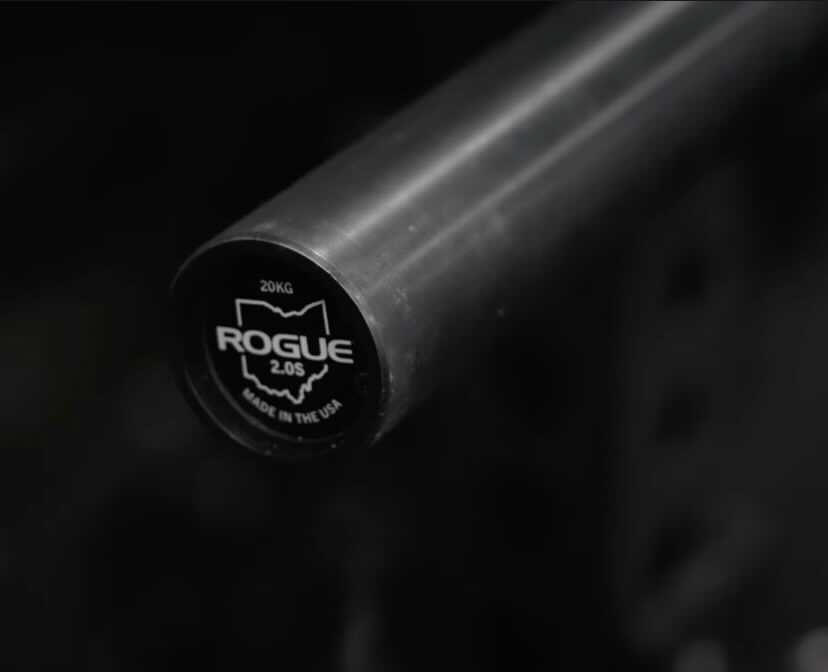 Like any bar, there's always an intended user. Multi-purpose bars like the Ohio tend to serve a large variety of lifters, but there are always exceptions. Here's who we recommend the bar for, as well as who may want to check other options:
Great for:
Those looking to minimize noise in any way they can
Lifters in an area where corrosion is more likely than usual
High-volume gyms such as CrossFit affiliates.
Not recommended for:
Anybody looking for a competition-specific bar. There are much better power bars and weightlifting bars for that purpose.
Lifters who prefer an aggressive knurl
Those looking for budget home equipment
Construction and Use
In short, this bar is built well with a lifetime warranty. There's not much more we can ask for at this price point ($395). Specs mostly match other versions of the Ohio, but this one likely will hold up the longest structurally, functionally, and aesthetically.
Bar Weight
This is a standard 20kg barbell (44lb). Rogue does not offer a 15kg "silent" counterpart, the way the Bella Bar is the 15kg counterpart to the Ohio Bar.
Tensile Strength
The Rogue Ohio Bar 2.0s has a 190K PSI tensile strength. This is pretty much the market standard for multi-purpose bars and definitely machined well enough for most of us.

Durability
The 2.0S boasts an F-8R rating from Rogue. This is the highest rating given on Rogue's F Scale™, meaning the 2.0S can withstand regular abuse in high-volume gyms. All that to say: if you're buying this for a garage gym, durability will be the least of your concerns.
Finish
The Ohio 2.0S has a cerakote shaft and a proprietary black finish on the sleeves. The proprietary finish actually binds to the steel and transforms its outer surface, meaning it will have the best resistance to corrosion and scratches. This never-before-seen finish may be the future of coatings.
The bar shaft is the same as the Rogue Cerakote Ohio Bar. Tried and true. The sleeves are made with some extra pieces, for example the foam backing to the end cap, intended to reduce the metal-on-metal noises that come with dropping the bar. As stated before, the sleeves feature a new game-changing coating that sets them apart from other bars.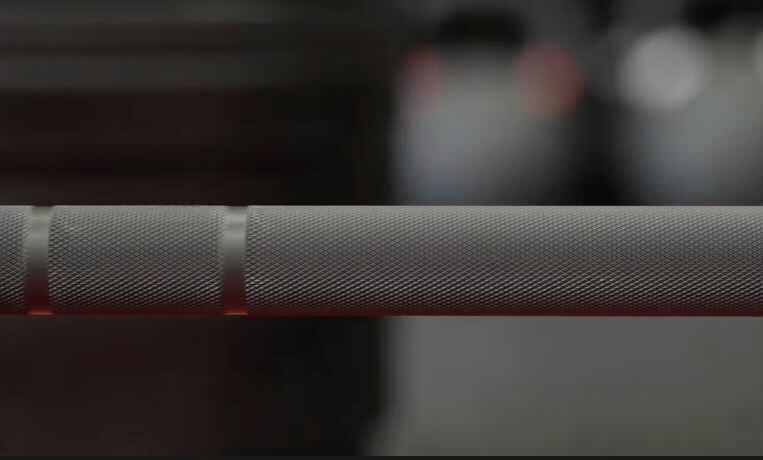 Knurling
The Ohio Bar is intended for multi-purpose use, so it is knurled as such with a medium depth. This makes it aggressive enough to do some heavy lifting, but not so aggressive that you couldn't do high rep sets or Oly barbell cycling with bare hands.
As I've said with other cerakote bars, the layer of cerakote tends to dull the knurl. So for my preference, the knurl is a bit too passive.
Whip and Spin
As a multi-purpose bar, the Ohio 2.0S falls right into the happy medium for both whip and spin. It uses a "proprietary" bushing system with snap rings.
This bar won't whip and spin for days like a competition weightlifting bar will, but it's not so little that certain movements can't be performed. On the flip side, there's plenty of stiffness and the sleeves don't unnecessarily spin when performing slower strength lifts.
Ordering the Rogue Ohio Bar 2.0S
I don't have any complaints with receiving this bar. Most Rogue barbells ship for around $25. I've seen it more expensive, and I've seen it cheaper.
The bar was delivered in a tube with the packaging intact. Rogue always seals their bar tubes with a thin metal sheet that is nailed into the cardboard. They can be tough to remove, but I'd rather the bar be overpacked than come loose and get damaged in shipping.
Ohio Bar 2.0S Specs
| | |
| --- | --- |
| Weight | 20kg / 44lbs |
| Length | 86.75" |
| Finish | Shaft – Black Cerakote. Sleeve – Proprietary Black Coating |
| Sleeve Length | 16.3" |
| Shaft Diameter | 28.5mm |
| Tensile Strength | 190K PSI |
| Knurl | Medium-passive |
| Center Knurl | None |
| Knurl Marks | Dual (IWF/IPF) |
| Bushing/Bearing | Bushing |
| | |
Customer Experience
Rogue has wonderful customer service. Best in the biz. They are quick to respond no matter how you reach out–call, chat, or email. Many bars, the 2.0S included, have a lifetime warranty that Rogue is exceptionally quick to satisfy with proof of malfunction.
Customer Reviews
As of this writing, there are only six reviews on Rogue's website, and they are all 5 stars.
From user Robch on Rogue's customer review section:
"Love this bar. I keep this in my apartment complex gym, our Rogue Bar makes a lot of noise even when you're trying to put it down gently. This doesn't make as much of a sound, and I can't imagine it disturbs anyone in the floors above. I tried, dropping it from overhead to see if that was a lot quieter. It wasn't. So great for cycling barbell movements(deadlifts, cleans, snatches), but I would still go with drop pads if you plan on dropping from overhead and you don't want to disturb any neighbors."
From user Hodgefunctionalstrength on Rogue's customer review section:
"Knurl has perfect blend of stick. I think it's similar, but better than ABB Mammoth power bar knurl, which I think is just the right knurl for all types of lifting for a functional style bar. Appearance is phenomenal. Sound is super quiet. Plates fit nice and snug on the sleeves. End cap is cool. My top bar I have now, coming from a ABB, Rep, TPB, Rogue type bars."
Related: Check out the Rogue Monster Lat Pulldown Seat review.
Final Verdict of Our Rogue Ohio Bar 2.0S Review
All in all, I don't think there is much benefit over the standard Ohio Bar for most people. Rogue isn't failing to deliver on their promises, however, as the 2.0S is definitely quieter. I don't think this is something that should cost extra; rather, it should come out as an updated version of the standard model. I've looked into the patents Rogue owns, and it seems they are planning for "silent" versions of a variety of other products.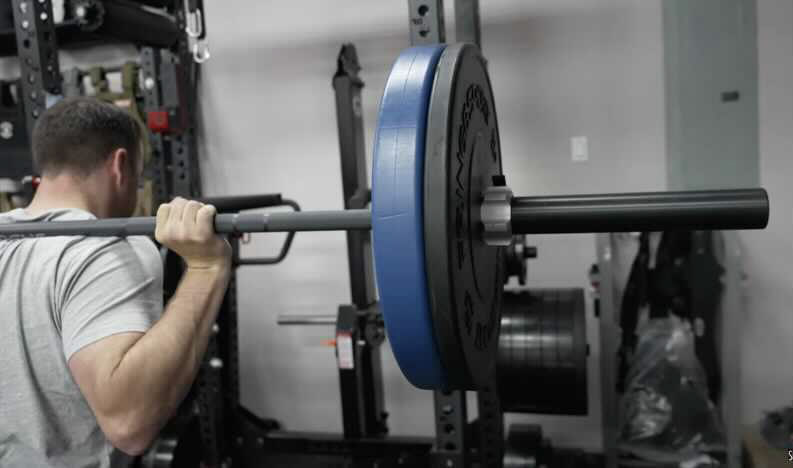 My final takeaways on the Rogue Ohio Bar 2.0S:
The 2.0S is quieter, although not as much when plates go on…but it consistently performs better on noise tests.
The sleeve finish could very well be the future of coatings. It is more oxidation and corrosion resistant than cerakote and e-coat, but doesn't get scratched off with plates sliding on.
This is essentially just another version to add to the list of Ohio Bars we can choose from, this one showcasing some new technology that we hope to see more of from Rogue.
Full Rating
Rogue Ohio Bar 2.0S
If you've found your way to this page, you're definitely familiar with the Rogue Ohio Bar. The Ohio is the brand's flagship multi-purpose barbell, designed and manufactured in the United States. Over the years, it has been revised, upgraded, and re-released in a variety of forms, including bare steel power bars, stainless steel bars, and more.
Product Brand: Rogue Fitness
Product Currency: USD
Product Price: 410
Product In-Stock: InStock
Rogue Ohio Bar 2.0S FAQs
Is the Rogue Ohio Bar good for powerlifting?
All Ohio Bars can be used to some extent as an Olympic bar and powerlifting bar, with its intended use as a general purpose bar for strength training. If you want a power bar but like the Ohio, check out the Rogue Ohio Power Bar.
Can I use the Ohio Bar for CrossFit?
Yes, that is the intended use. The 2.0S boasts an F-8R rating, meaning it will withstand thousands upon thousands of drops from CrossFitters as well as movement in and out of a power rack.
Is the 2.0S silent?
No, it is not 100% silent. However it is noticeably quieter in overall decibel reading and provides more of a thud than a rattle like you would find on competitors.