We test and review fitness products based on an independent, multi-point methodology. If you use our links to purchase something, we may earn a commission. Read our disclosures.
The Rogue Cerakote Barbells may look cool, but the corrosion resistance provided by the Cerakote coating is actually a very effective innovation in barbells. Although Rogue isn't the first to add Cerakote to barbells, they are doing it at a better value than just about everyone else.
Rogue Fitness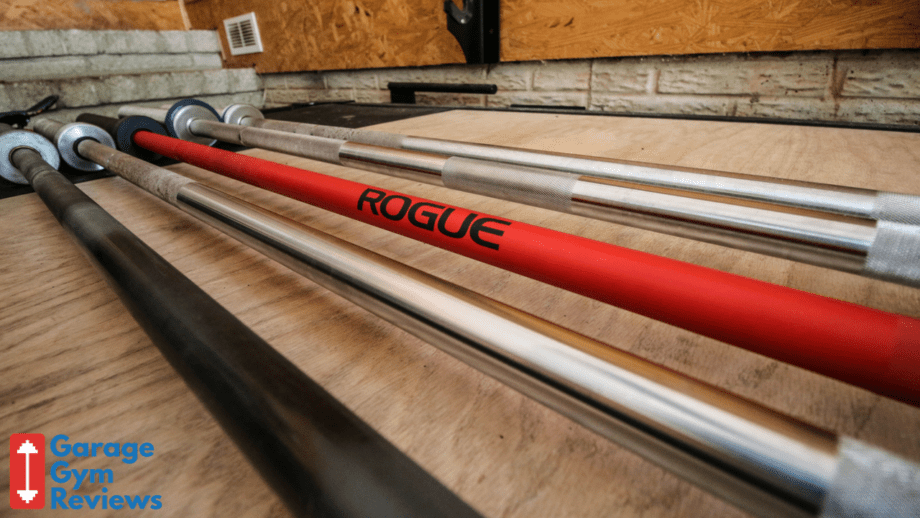 Rogue Ohio Bar - Cerakote
This new variation on our flagship 20KG Rogue Ohio Bar introduces a unique polymer-ceramic composite coating—popularized in the gun industry for its durability in thin applications. Available in a range of custom-color finish options with exclusive Rogue branding, this model is a genuine game-changer.Fully machined and assembled in Columbus, OH, the Ohio Bar continues to represent the highest level of precision engineering. The Cerakote Finish version maintains all the key features of the standard Ohio Bar, including a 190,000 PSI tensile strength shaft, dual knurl marks, quality composite bushings, and a lifetime warranty against bending.* A barbell that has always delivered multi-purpose versatility and dependable performance now also offers the ability to match it with the colors of your gym / school / team etc.This version of the Ohio Bar is distinct for its use of an advanced ceramic-based coating, originally established in the gun industry for its remarkable durability in thin applications. This unique finish can deliver superb abrasion/wear/corrosion resistance over time—100X that of standard black zinc—and it's available to order in a range of exclusive colors, with the Rogue logo branded on the center of the shaft. See the menu for current color combination options.This steel is manufactured in the US and has proven to be one of the best steel variants for a multi-purpose barbell.Each barbell shaft is ground and polished prior to machining which allows the bar to have a very smooth finish.Every bar shaft is machined in Columbus, Ohio, with painstaking attention to detail. The knurling has been carefully refined over the years, as well, for a firm but non-abrasive grip (there is no center knurl). We assemble the Ohio Bar with a snap ring design and quality composite bushings, which act as bearing surfaces between the bar sleeve and bar shaft, producing normal "whip" during Oly weightlifting but enough stiffness to hold for heavy powerlifting.Specifications:Manufactured in Columbus, OH Diameter: 28.5MM Weight: 20KG Dual Knurl Marks for Oly and Power lifts No Center Knurl 190,000 PSI Tensile Strength Steel Composite Bushings NEW Polymer-Ceramic Composite Finish option in Custom Colors w/ Rogue branding Sleeve Finish Options: Cerakote or Chrome Lifetime Warranty Against Bending*
What is Cerakote?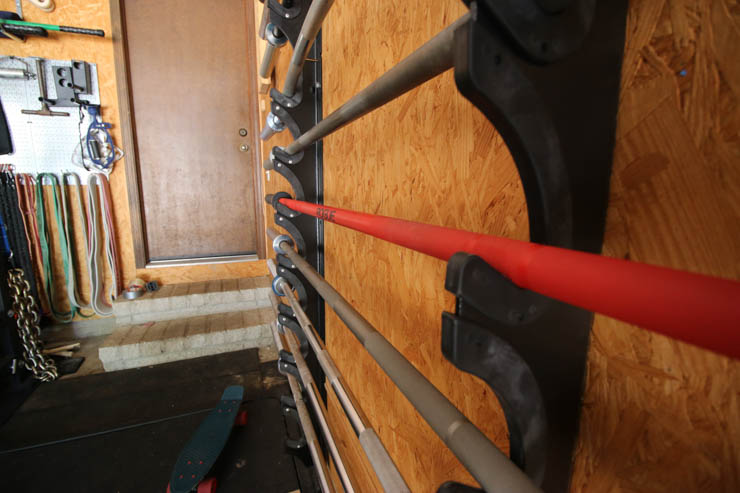 Cerakote although new to strength training is far from a new coating. Traditionally, it's been used most often on firearms and is used in many of the harshest environments in the world. In all reality, Cerakote is a ceramic coating that is sprayed over something you want to protect. For barbells, what we traditionally see are zinc and chrome coatings; we also are starting to see more stainless steel barbells. Although these coatings have proven to hold up well over time, according to Cerakote as well as many independent, third-party testers, in a corrosion salt spray test, the Cerakote coating has proven to last over 70 times longer than both chrome and stainless steel.
In other words, there aren't many coatings, if any that are more durable than Cerakote. This is beneficial for the barbell owner as anyone who lives in a humid environment can attest to, barbells corrode and rust. In my own personal use of barbells coated in Cerakote, over a six-month period including the summer, there is no corrosion evident on a barbell I use almost daily. I can't say the same about any other bars.
Video Review
Rogue Cerakote Barbell Review
The bar I'm actually reviewing is the Ohio Bar that is coated in Cerakote. I've had an Ohio Bar ever since Rogue Fitness introduced them to market and although the newer ones feature some great updates, they've always been great barbells. Although the Rogue Cerakote Ohio Barbell is called the Ohio Bar, it's really a mash-up of the Rogue 2.0 Bar (the one that received our marks as the best Olympic barbell for most people) and the Rogue Ohio Bar with a special coating on the shaft and sleeves.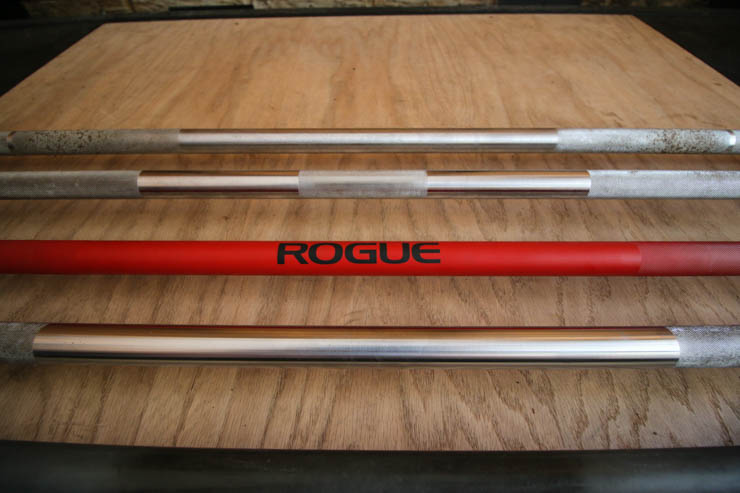 You see, the Rogue 2.0 Bar features the same steel, knurling, sleeves, and knurl marks as the Rogue Ohio Bar. The only differences between the two are the price and the indent in the sleeves of the Rogue 2.0 for customization and the bushings that are used (in fact, they're actually both made in the USA now which used to be the reason people bought the Ohio Bar.)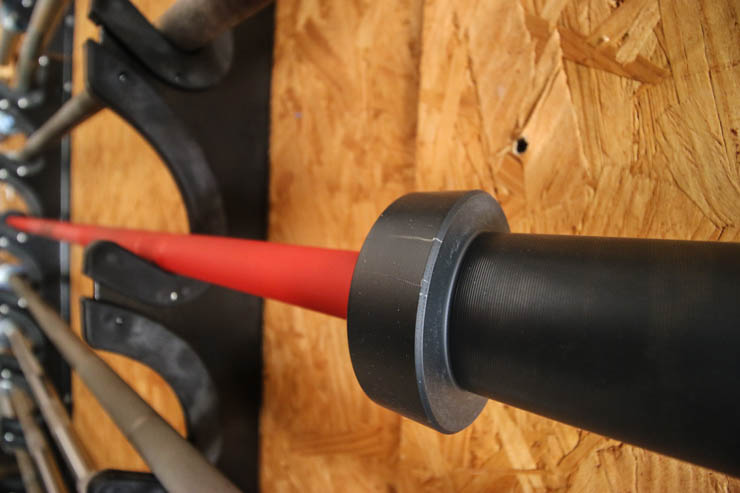 The Cerakote Ohio Bar features the same sleeves, shaft, knurl, and other attributes of the original Ohio Bar, however, it's replaced the bronze bushings that are used in the traditional Ohio Bar with composite bushings which are what's used in the cheaper Rogue 2.0 Bar.
Is there a big difference between bronze and composite bushings? Not in my extensive experience, in fact, I've noticed that composite bushings spin a bit better when oiled than bronze bushings and they should both wear at about the same rate (there's a reason composite bushings are used by NASA more often than bronze.)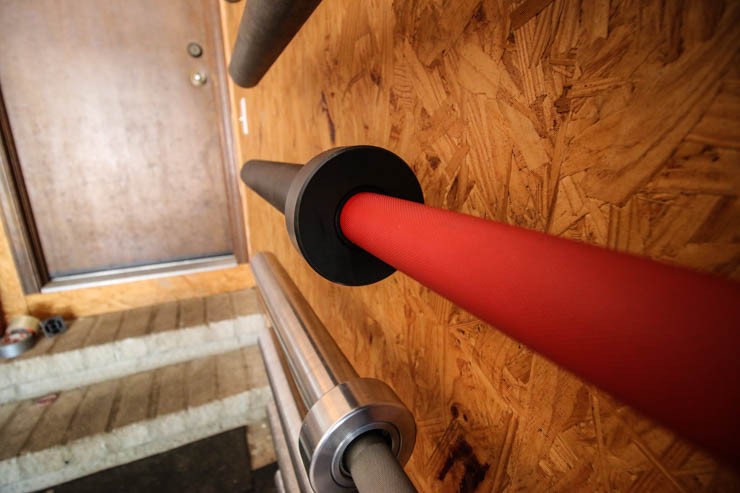 So, although Rogue calls the Cerakote Ohio Bar an Ohio Bar, it's somewhat of a Frankenstein, but that's not a bad thing. The shaft of the Cerakote Ohio Bar is the traditional 190k PSI tensile strength that Rogue is known to use. It's a solid foundation to build from, and although many companies have higher listed tensile strengths, many are producing false numbers, and more is not always better. The steel Rogue uses is excellent for multi-modality training and has just the right combination of whip and stiffness for any type of training – from the Powerlifter to the Olympic Weightlifter.
Although specialists will be better served by more specialized bars, the Ohio Bar will get the job done in great fashion for any type of training. There's a reason it was used so often in the 2017 CrossFit Games and will continue to be used in the future.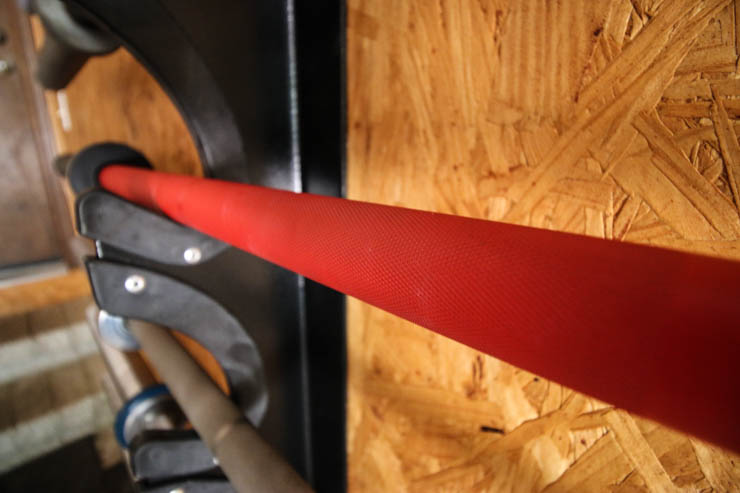 As previously mentioned the knurl of the Cerakote Ohio Bar is the same as the original Ohio Bar. However, the Cerakote that is applied does make the knurling slightly less aggressive in my opinion. This is going to be something to take into account, however, although the Cerakote feels slightly less aggressive, Rogue assured me the thickness of the coating applied is the same as the zinc that's traditionally applied. It's a small enough difference in feeling that it's likely just in my head.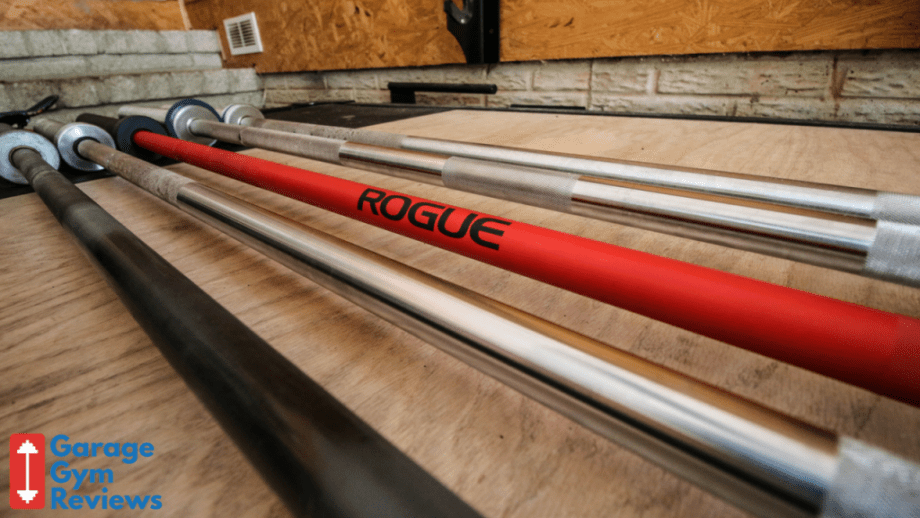 One benefit of the Cerakote is it naturally feels less slick compared to zinc and chrome coated barbells. In fact, the Cerakote feels like there's a slight layer of permanent chalk that's applied to the steel. It's an awesome feeling and superior to every coating available outside of a raw steel bar (however, a raw steel bar will corrode almost immediately upon use.)
The Cerakote that is used on firearms is applied at a .001″ thickness, and I would assume the Rogue bar is as well largely due to the fact that American Barbell sprays Cerakote at the .001″ thickness level. At this level, the bar will resist corrosion and the performance of the knurl are affected, but not to a level that is entirely noticeable. I do think they could stand to do a thinner coat, but that may have a big effect on the corrosion resistance.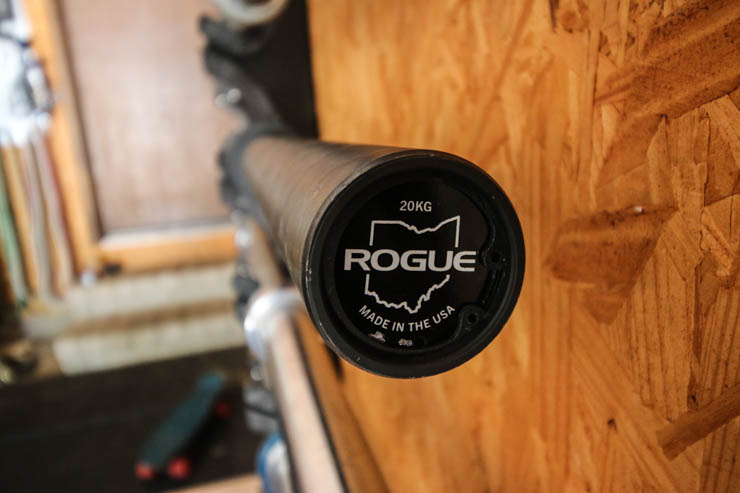 One innovation that Rogue has applied to the Cerakote Ohio Bar is coating the sleeves with the same Cerakote coating that is on the shaft. Other companies have stayed away from this (I'm not positive for the reason why,) but in my attempts at testing the durability of the coating with weights being slid on and off as well as dropped from overhead, the sleeves appear to be largely unphased.
One reason I always tell people to stay away from black zinc coated sleeves is because, after one workout, they will be scarred. The Cerakote coated sleeves up to this point have held up extremely well, and I will update this review should that change with time.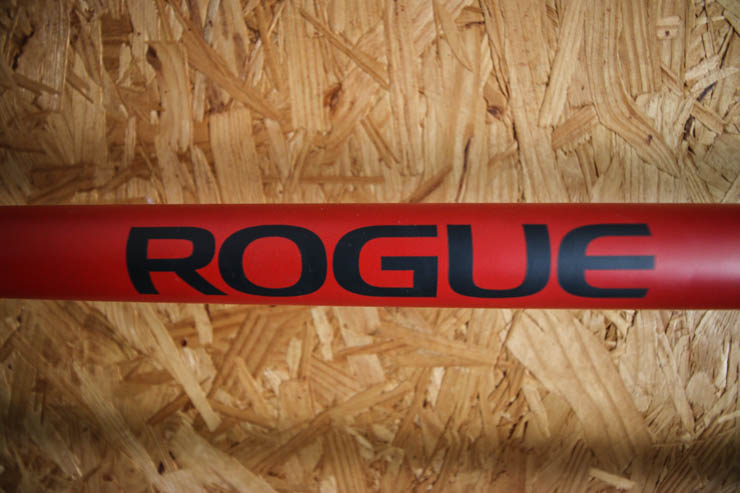 The final innovation on the Rogue Bar is more of a benefit for Rogue than the user, and that is applying branding to the middle of the shaft. This is the first bar, to my knowledge, that has had branding on the shaft. Typically, the only signifier of the manufacturer is on the end cap, but Cerakote opens up a wide array of options for branding and customization.
Imagine the opportunity to brand the barbell with your gyms name or even your personal name. The customization options are endless, and unlike anything we've seen in barbells. This is obviously ideal for Commercial Gyms, Personal Training Facilities, and CrossFit Affiliates, but it would also be pretty cool to see a bar with, "Garage Gym Reviews" in the middle.
Finally, the Cerakote Bar also comes with Rogue's legendary lifetime warranty against bending and excellent customer service. The Rogue Ohio Cerakote Bar is an awesome tool for anyone wanting more corrosive resistance or something unique.
Suggested Improvements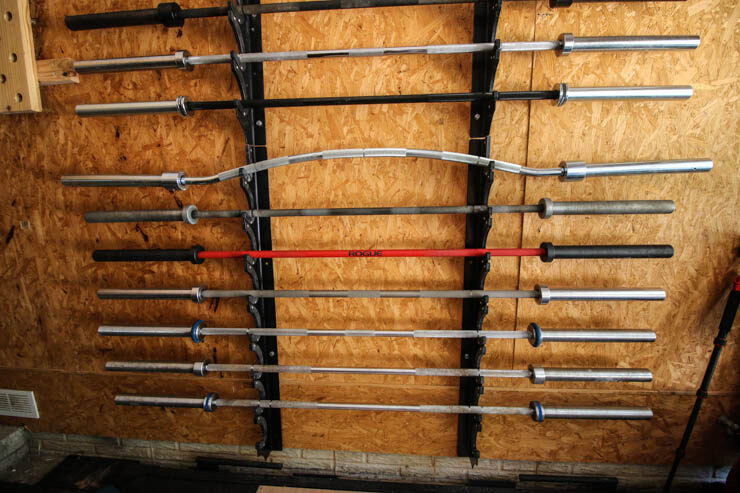 The main improvement I would like to see is an increase in color options and the ability to customize or remove the Rogue text. Many people will prefer the Rogue logo, but some will not or would like to have their own unique take on it.
Full Rating
Rogue Cerakote Barbell
The Rogue Cerakote Barbells may look cool, but the corrosion resistance provided by the Cerakote coating is actually a very effective innovation in barbells. Although Rogue isn't the first to add Cerakote to barbells, they are doing it at a better value than just about everyone else.
Product Brand: Rogue Fitness
Product Currency: $
Product Price: 350
Product In-Stock: InStock
Rogue Cerakote Barbells FAQs
Is Cerakote good for barbells?
The Rogue Cerakote Barbells may seem stylish, but the Cerakote coating's corrosion resistance is a very useful breakthrough in barbells. Rogue isn't the first to apply Cerakote on barbells, but they do so at a lower cost than almost everyone else.
Does Cerakote scratch barbell?
Aside from the fact that having a colored barbell just looks badass, Cerakote is said to give 100x greater corrosion, scratch, and wear resistance than ordinary zinc coating. You should be thrilled if you reside in a humid environment and have to worry about rusty barbells.
Will Cerakote barbell rust?
Cerakote bars have even more material deposition on them than zinc bars, giving them a better feel in your palm as well as superior corrosion resistance. When dealing with a cerakote bar, you'll have a plethora of color possibilities.
Where to Purchase
Rogue Fitness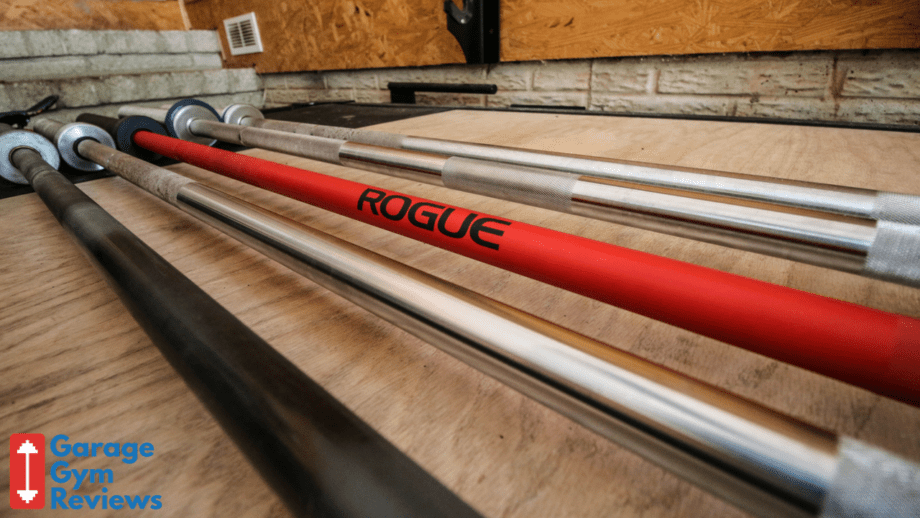 Rogue Ohio Bar - Cerakote
This new variation on our flagship 20KG Rogue Ohio Bar introduces a unique polymer-ceramic composite coating—popularized in the gun industry for its durability in thin applications. Available in a range of custom-color finish options with exclusive Rogue branding, this model is a genuine game-changer.Fully machined and assembled in Columbus, OH, the Ohio Bar continues to represent the highest level of precision engineering. The Cerakote Finish version maintains all the key features of the standard Ohio Bar, including a 190,000 PSI tensile strength shaft, dual knurl marks, quality composite bushings, and a lifetime warranty against bending.* A barbell that has always delivered multi-purpose versatility and dependable performance now also offers the ability to match it with the colors of your gym / school / team etc.This version of the Ohio Bar is distinct for its use of an advanced ceramic-based coating, originally established in the gun industry for its remarkable durability in thin applications. This unique finish can deliver superb abrasion/wear/corrosion resistance over time—100X that of standard black zinc—and it's available to order in a range of exclusive colors, with the Rogue logo branded on the center of the shaft. See the menu for current color combination options.This steel is manufactured in the US and has proven to be one of the best steel variants for a multi-purpose barbell.Each barbell shaft is ground and polished prior to machining which allows the bar to have a very smooth finish.Every bar shaft is machined in Columbus, Ohio, with painstaking attention to detail. The knurling has been carefully refined over the years, as well, for a firm but non-abrasive grip (there is no center knurl). We assemble the Ohio Bar with a snap ring design and quality composite bushings, which act as bearing surfaces between the bar sleeve and bar shaft, producing normal "whip" during Oly weightlifting but enough stiffness to hold for heavy powerlifting.Specifications:Manufactured in Columbus, OH Diameter: 28.5MM Weight: 20KG Dual Knurl Marks for Oly and Power lifts No Center Knurl 190,000 PSI Tensile Strength Steel Composite Bushings NEW Polymer-Ceramic Composite Finish option in Custom Colors w/ Rogue branding Sleeve Finish Options: Cerakote or Chrome Lifetime Warranty Against Bending*