We test and review fitness products based on an independent, multi-point methodology. If you use our links to purchase something, we may earn a commission. Read our disclosures.
If you had all the time in the world to workout, then there would be no need for 15-minute workouts. But as you know, this is not the case. There are times in your week when you will have the desire to exercise, but not the time.
A common misconception among gym goers is that you need 30 to 60 minutes for a workout to be effective. But this certified personal trainer (CPT) is here to tell you this is false. In an ideal world, you'd workout for longer than 15 minutes, as longer workouts tend to be more effective at building muscle and helping you reach your fat loss goals.
But you don't live in an ideal world, do you? Work, children, and other life responsibilities sometimes make longer workouts impossible, and 15-minute workouts like the ones provided below will be your best friend. Short workouts will help you with stress, keep your head on straight, and potentially still even help with weight loss goals, if you have them.
Here, we'll dive into a series of 15-minute home workouts and gym workouts to keep you on track when you don't have tons of time to do your thing.
Tips For Quick Physical Activity
When your time is short, make the most of it by structuring and performing your workouts like this:
Performing tri-sets
Circuit training
Keeping the reps on the lower end
Limiting equipment
Minimize rest
Perform these 15-minute workouts by doing one exercise after the other and minimizing the time you rest between exercises and circuits. But, if you need more rest, take it. When you're doing these workouts right, one 15-minute workout should be enough.
15-Minute Workouts for Beginners
When you're a beginner, it's more important to do full-body workouts than just an ab workout. Full-body exercises like squats, push-ups, and rows must be your go-to. These movements will train the lower-body muscles including the quads, glutes, and hamstrings, as well as the upper-body muscles of the chest, back, shoulders, and triceps.
Here, we'll include a bodyweight workout if you have no equipment to work with, and one gym workout with dumbbells and resistance bands.
15-Minute Bodyweight Total Body Workout
This bodyweight and gym workout is a combination of reps and time. You will complete all the reps on each exercise within the minute. If you finish the reps within the minute, you will rest during the remainder of the minute before moving on to the next exercise. Complete three circuits for a total workout time of 15 minutes.
15 EMOM:
Minute 1: Prisoner squats: 12-15 reps
Minute 2: Incline push-ups: 8-15 reps
Minute 3: Bodyweight hip extensions: 12-15 reps
Minute 4: Marching in place: 20 reps on each side
Minute 5: Bodyweight T raise: 8-12 reps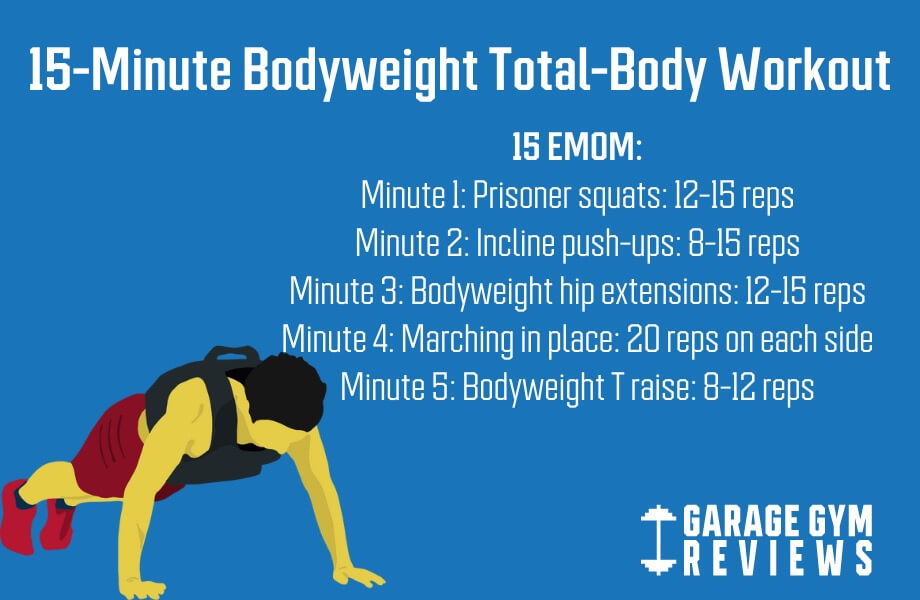 15-Minute Workout for the Gym
Get all your equipment together before starting this strength-training circuit to minimize transition time between exercises.
Minute 1: Goblet box squat: 8 reps
Minute 2: Dumbbell bench press: 8 reps
Minute 3: Bodyweight reverse lunge: 8 reps on each side
Minute 4: Resistance band biceps curls or triceps extensions: 8 reps
Minute 5: Resistance band pull-aparts: 8 reps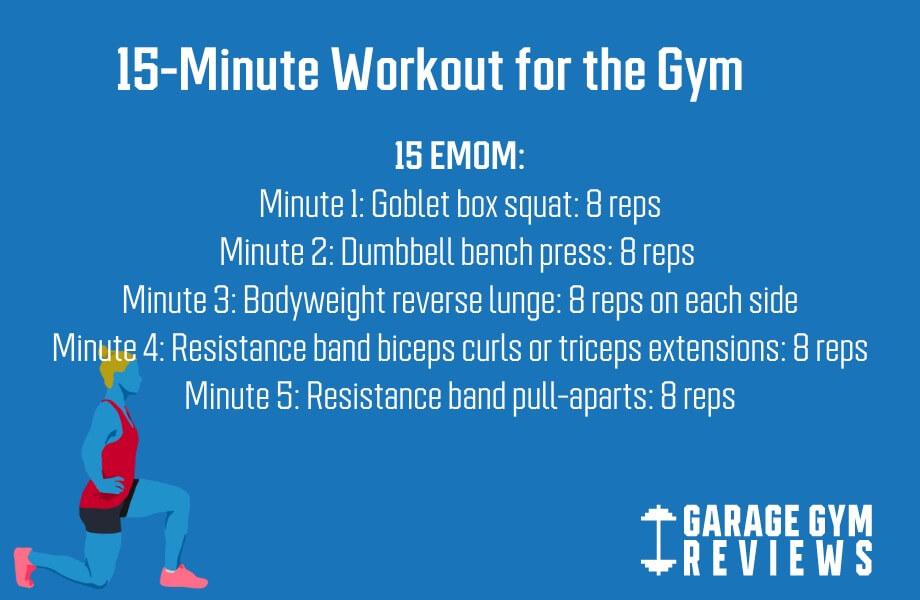 15-Minute HIIT Workout
Here, you'll have the option of using a cardio machine or body weight if you don't have access to a piece of equipment or time to go to the gym. Either way, you'll be getting your heart rate up.
Use a 40/20, 30/30, or 20/40 work-rest interval when performing this high-intensity bodyweight circuit, depending on your fitness level.
3 Rounds:
Or head to the rowing machine at your local gym and try this HIIT training on for size.
Row easily for 2 minutes.
Row hard for 30 strokes
Row easy for 30 strokes
Row hard for 20 strokes
Row easy for 20 strokes
Row hard for 10 strokes
Row easy for 10 strokes
Return to the start, repeat the circuit, and do a total of 3 rounds.
Cool down with an easy row for 2 to 3 minutes.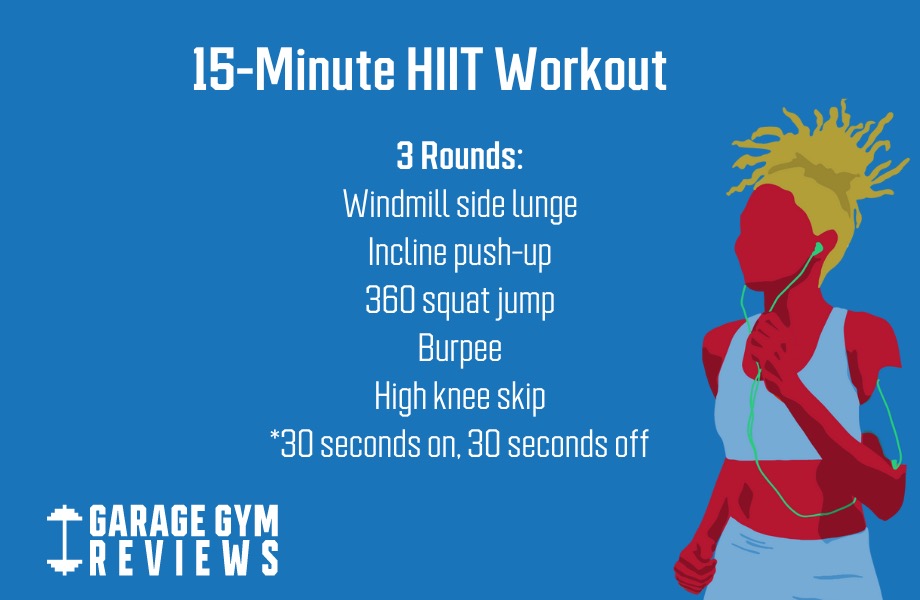 15-Minute Arm Workout
Here, you'll do a compound move like a shoulder press followed by an isolation move that works the same muscle as the compound movement. This 15-minute arm upper-body workout will be performed in a superset, doing two rounds of each superset and limiting rest between exercises and supersets.
2 Rounds:
1A. Dumbbell overhead shoulder press: 6-8 reps
1B. Dumbbell lateral raises: 12-15 reps
2A. Underhand or neutral grip lat pulldown: 6-8 reps
2B. Resistance band bicep curl: As many reps as possible in 30 seconds
3A. Dumbbell floor press: 6-8 reps on each side
3B. Overhead triceps extension: 12-15 reps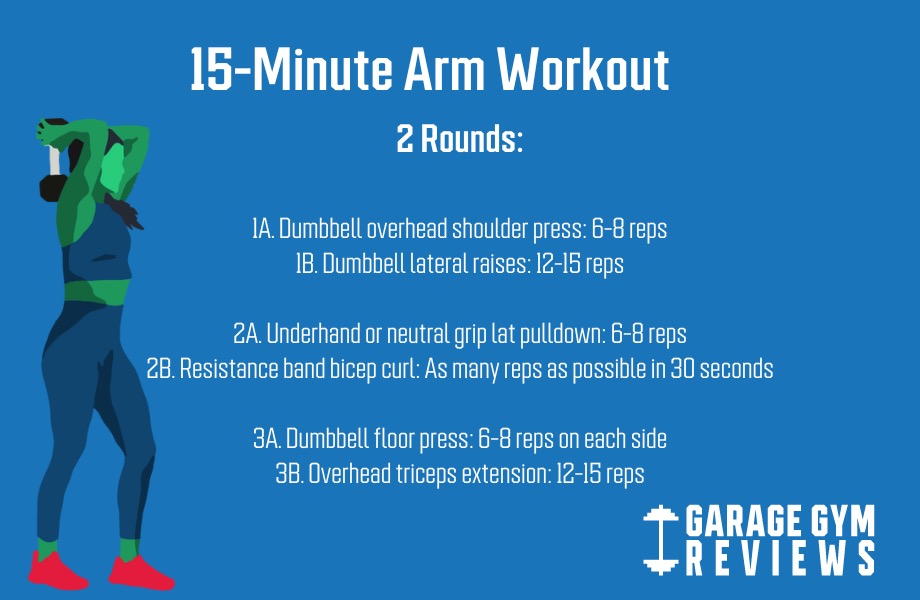 15-Minute Full-Body Workout
You'll need dumbbells for this fat-burning 15-minute full-body workout. The dumbbells never leave your hand for the entire five-exercise complex. Do 5 to 8 reps for each exercise. Do as many rounds as possible in 15 minutes, resting only at the end.
RDL
Bent over row
Alternating forward lunges
Curl to press
Front squat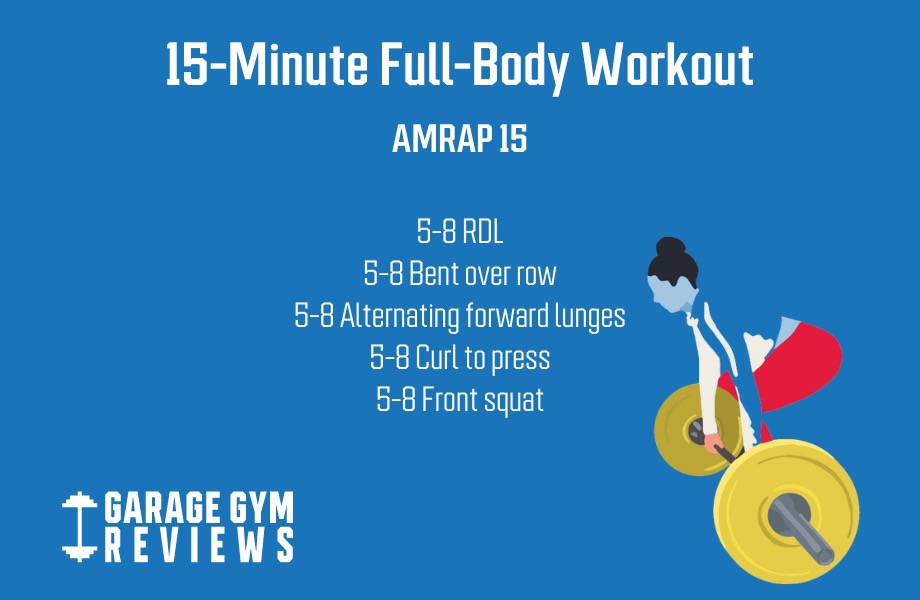 15-Minute Cardio Workout
You'll have the choice between bodyweight cardio and a machine cardio workout below.
Bodyweight Cardio
30 seconds alternating reverse lunge
30 seconds rest
30 seconds high knee skip
30 seconds rest
30 seconds bodyweight squat
30 seconds rest
30 seconds ice Skater
30 seconds rest
30 seconds run in place
30 seconds rest
3 rounds = 15 minutes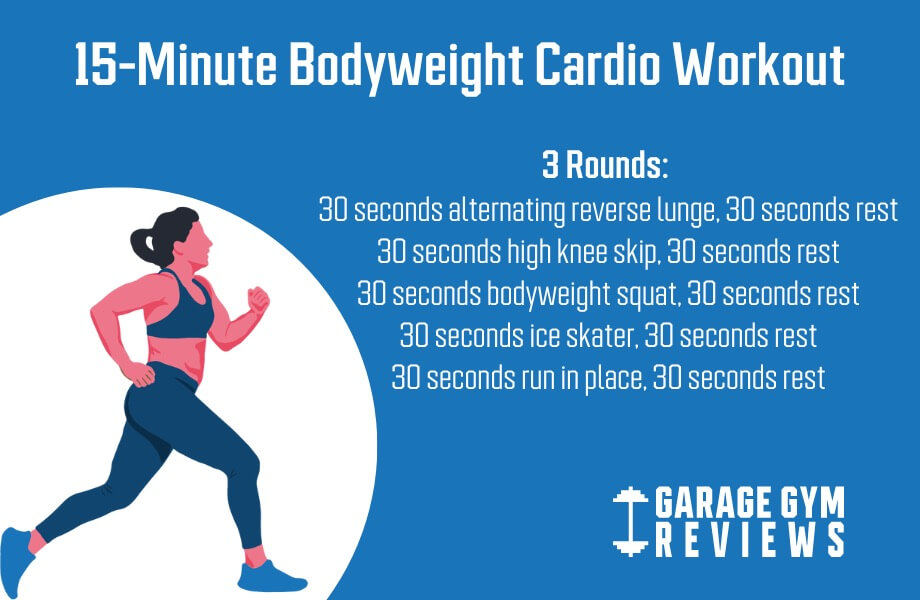 Cardio Machine Workout
Note: Any machine works here, including a treadmill, recumbent or upright bike, rowing machine, or elliptical.
Warm up for 3 minutes
20 seconds all out/ 40 seconds rest
Repeat for 9 rounds
Cool down for 3 minutes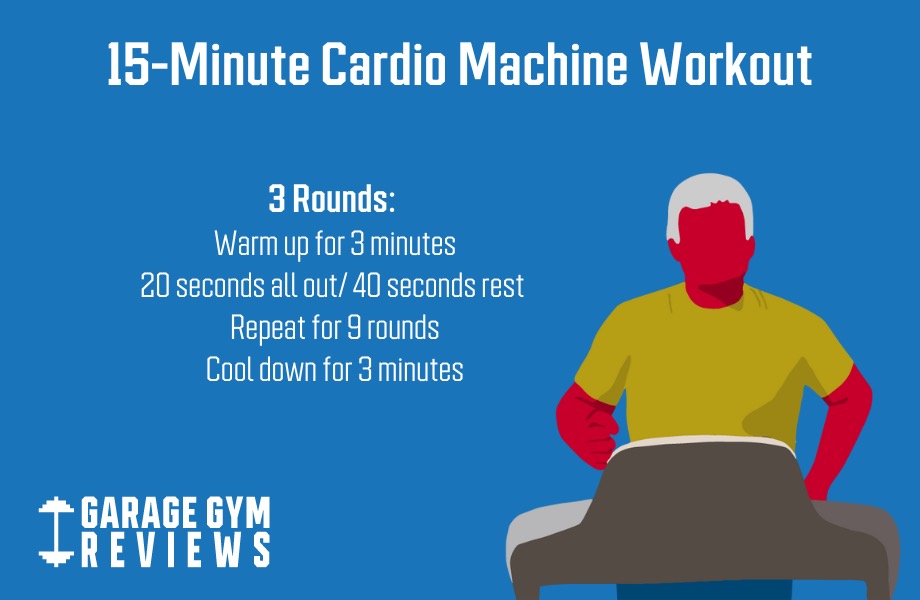 15-Minute Workout: Final Thoughts
Time may be an issue for your usual workout, but it should never be an excuse. When circumstances conspire against you and doing your regular training is impossible, reduce your stress and increase your sweat with these quick workouts that hit major muscle groups, increase your total-body strength, and help you reach your goals.
15-Minute Workout: Q&A
Can a 15-minute workout be effective?
Yes, 15-minute workouts are effective when you increase the intensity by minimizing rest or doing as many reps as possible within a given time frame. 
Can a 15-minute workout help you lose weight?
Given the choice of skipping your workout and doing a 15-minute workout, a 15-minute workout combined with a calorie deficit will help you lose weight. 
How many calories do you burn in a 15-minute workout?
Calories burned depend on your intensity, type of activity, and weight. A heavier person will burn more calories, and a lighter person less.
How long should you work out a day?
Think less about working out and more about being active during your day. The CDC recommends 150 minutes of physical activity per week. Aim for that.