We test and review fitness products based on an independent, multi-point methodology. If you use our links to purchase something, we may earn a commission. Read our disclosures.
If you have flat feet, you're not alone. Around 30% of adults1 can empathize with your situation, as it's estimated that about that many have flat feet themselves. While you might not think anything of it, having flat feet can make you more likely to experience pain and negatively affect your walking gait.
You can't physically reverse flat feet—you're either born with them or develop a condition called fallen arches2, which basically means you've acquired flat feet at some point in your life. But you can better support your feet, and reduce your risk of pain and injury, by wearing the proper footwear, especially when exercising. But what exactly is the proper footwear?
In short, the best walking shoes for flat feet have extra padding for shock absorption, very specific arch support, and heel stability, according to Brad Schaeffer, DPM, a board-certified podiatrist and foot surgeon with the American Board of Foot and Ankle Surgery (ABFAS) and owner of Central Park SOLE. There are many companies that make sneakers that promise all of these things, but not all of them actually do them. To help you out, we've put together a list of our top choices based on testing, research, and Dr. Brad's advice.
We've Walked A Lot Of Miles
The GGR team consists of professionals such as personal trainers, nutrition coaches, and CrossFit-L1 trainers, and we like to walk the talk. Research is a big part of what we do, but so is testing. We don't just make recommendations based on things we see online. In addition to looking at the features and specs of dozens of sneakers, we've tested almost 70 of them ourselves. We also tapped into experts, like Dr. Brad, to get sound scientific advice to help make the best recommendations for you.
Best Walking Shoes for Flat Feet in 2023
Best Walking Shoes for Flat Feet Overall: Brooks Adrenaline GTS
Good for: Anyone looking for cushioning, arch support, and a little extra stability
The Brooks Adrenaline GTS are marketed as road-running shoes, but they have a lot to offer walkers with flat feet, too. If you have flat feet, you need more stability, plus some cushioning and arch support. These shoes fall in the mid-range for both of these features. They're made for comfort more than speed, and have a roomy toe box that doesn't crush wide feet.
The midsole is made of Brooks' DNA Loft cushioning that's soft but not so squishy that you feel like you're unstable. The foam reacts to your foot structure and stride to help you keep your balance and ensure a smooth transition from heel to toe.
Brooks shoes also have a patented feature called GuideRails. These provide additional support by helping you maintain your natural stride while preventing excess movement. Those with flat feet tend to overpronate, so these sneakers can help keep that in check without forcibly correcting your movements.
They also come in four widths: narrow, medium, wide, and extra-wide. While those with flat feet tend to also have a wider foot, that's not always the case. These sneakers give you options to help you get a better fit without shelling out the extra cash for a custom shoe.
| | |
| --- | --- |
| Upper construction | Breathable mesh |
| Pronation support | Medium |
| Midsole construction | DNA Loft foam cushioning |
Best Budget Walking Shoes for Flat Feet: New Balance Fresh Foam 860v12
Good for: Those who want to save money by buying an older (but still great) sneaker
New Balance came out with a new version of the popular 860s (version 13), which means the version 12s are now marked way down. The biggest difference between the two versions is the foam in the midsole—it's softer in the v13s, but it's still nothing to scoff at in the v12s. New Balance uses the same Fresh Foam, which is designed to react to and support your foot without adding a bunch of extra weight.
There's a medial post in the heel counter that helps control pronation, and a squishy-yet-supportive rubber outsole that helps with rebound and stability. We didn't test this particular shoe, but we did try the 880s, which have a similar midsole.
According to GGR tester Caroline Lubinsky, they felt durable and well-cushioned, yet still had a lot of support. If you're into a more minimalist style, she says you likely won't like the look of these shoes. But they offer the extra support and stability for flat feet, so you might have to prioritize function over fashion here.
| | |
| --- | --- |
| Upper construction | Mesh |
| Pronation support | Overpronation |
| Midsole construction | Foam |
Best Women's Walking Shoes for Flat Feet: ASICS Gel-Kayano
Good for: Women looking for extra cushioning and more support in the rear foot
Asics are no longer a dad shoe. The brand has upped its game and now has so many stylish options that are suitable for all types of feet and striking patterns. The Gel-Kayanos are one of the brand's most popular options, and rightfully so.
There have been many iterations of this particular shoe, but the latest model—the 29s—have maximum cushioning with extra stability. Yet, despite the extra cushioning, they're lighter than the previous models, so you won't feel like your feet are being weighed down.
This pair is designed for neutral to overpronation, so for those with flat feet, low arches, and/or neutral arches. A low-profile heel counter and extra rear foot support help keep your foot in place, while foam cushioning in the midsole offers shock absorption and stability.
There's an extra stability feature on the inside of the midsole that offers more motion control—it keeps your foot from rolling too far inward, which can ultimately cause foot pain.
Asics prioritizes sustainability, too. A minimum of 50% of the mesh upper is made with recycled materials, and the company uses a specialized dying process that reduces water usage and carbon emissions by 33% and 45%, respectively.
| | |
| --- | --- |
| Upper construction | Engineered stretch knit; mesh |
| Pronation support | Neutral/Overpronation |
| Midsole construction | Foam |
Best Men's Walking Shoes for Flat Feet: Brooks Addiction Walker 2
Good for: Men who want a classic style that's strictly for walking
The Brooks Addiction Walker 2s are designed solely for walking (as you might have inferred from the name), and are our choice for the best walking shoes for men with flat feet. They have the brand's signature soft DNA foam cushioning in the midsole (Brooks categorizes these as maximum cushioning) and extra support that Brooks calls an Extended Progressive Diagonal Rollbar (PDRB).
Essentially these two features work together to respond to movement, weight, and speed, and provide support and absorb impact when needed. The extra support system also helps you maintain your natural strike pattern while mitigating some of the overpronation that can come with flat feet.
They also have a specialized outsole that's very slip-resistant. These are similar in style to anti-slip work shoes. There are no standout colorways or patterns, just your traditional all-black or all-white.
The Addiction Walker 2s comes in four widths—narrow, medium, wide, and extra wide. The wide widths are likely the best option for those with flat feet, but it really depends on your foot shape and structure. Many people with flat feet need a wide toe box, but some don't.
| | |
| --- | --- |
| Upper construction | Leather |
| Pronation support | Overpronation |
| Midsole construction | Foam |
Best Cushioned Walking Shoes for Flat Feet: HOKA Gaviota 4
Good for: Anyone looking for extra cushioning and a rocker-style
Since ample cushioning is a must for flat feet, all the pairs that made our list have it. But HOKAs don't just have cushion, they're known for cushion—and the Gaviota 4s are no exception here.
They were tested by GGR performance editor and product tester Anthony O'Reilly, who called them very plush and super comfy, and said these are the shoes he puts on whenever his feet are in pain. They're also backed by the American Podiatric Medical Association (APMA), and have a seal of acceptance that signifies that they promote good foot health.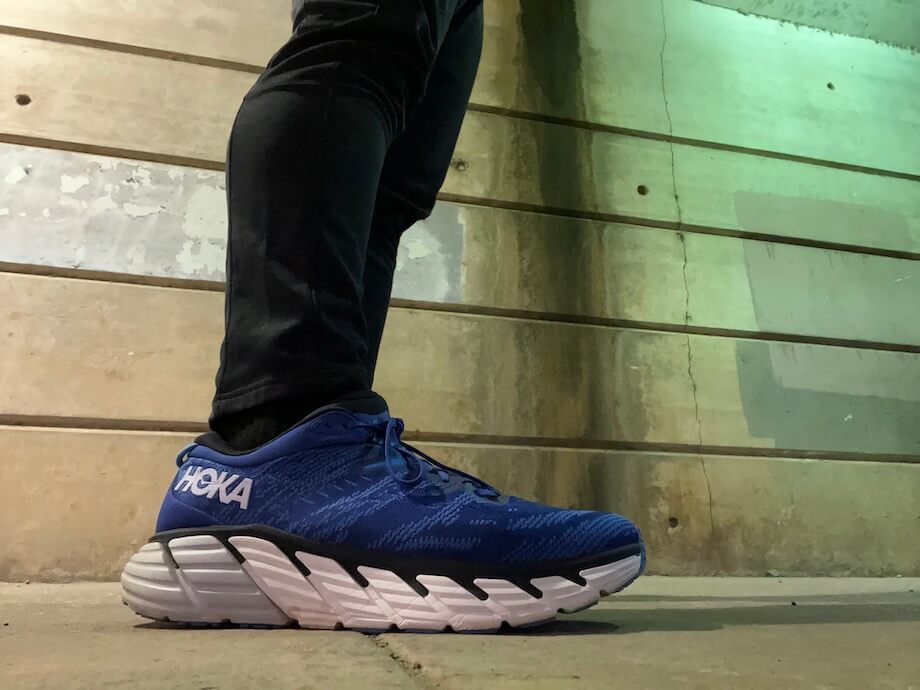 Like many HOKA pairs, these are classified as stability shoes, which is ideal for those with flat feet. They have a compression-molded memory foam midsole, plus a J-frame in the midsole that's designed to cradle your foot while keeping your heel in place. HOKA claims this makes you feel like your foot is a part of a shoe, rather than just resting on top of it. The J-Frame also helps prevent overpronation.
The Gaviota 4s have HOKA's signature late-stage meta rocker style, which helps support the forefoot while ensuring a smooth transition from the heel to the toe.
While these do have an anti-slip bottom, they don't have any lugs, so Anthony advises against using them on any rugged terrain and sticking to pavement or a treadmill instead.
| | |
| --- | --- |
| Upper construction | Mesh |
| Pronation support | Overpronation |
| Midsole construction | Compression-molded foam |
Best Lightweight Walking Shoe for Flat Feet: Saucony Guide 15
Good for: Those looking for an uber-lightweight shoe with plenty of cushion
All the shoes that made our list are on the lighter-weight side, but the Saucony Guide 15s are uber light. The men's version weighs just 9.5 ounces, while the women's shoe comes in at just 8.2 ounces. There are no sacrifices when it comes to features, though.
While you're not going to get a fully personalized feel unless you opt for custom orthotics, Saucony tried to make these sneakers as adaptable as possible. Underfoot contouring hugs your foot and allows you to sink further into the footbed, while still providing the support and stability you'll need for flat feet.
The brand recently upgraded the foam that's in the midsole, so you'll get more cushion even with less bulk. The sockliner is also cushioned, which adds an extra layer of comfort and protection. There's also more flexibility in the forefront so the shoe doesn't hinder your natural walking stride.
They come in regular and wide width versions, which have more room in the toe box so you won't get any cramping. Like the HOKAs, the Saucony Guide 15s have a seal of approval from the APMA, which means they're beneficial to your foot health and can actually provide value when worn consistently.
| | |
| --- | --- |
| Upper construction | Mesh |
| Pronation support | Neutral to overpronation |
| Midsole construction | Foam |
Best Trail Walking Shoes for Flat Feet: HOKA Arahi 6
Good for: Walkers who prefer to go off the beaten path
If you prefer to go walk on trails, you need a sneaker with more traction. The HOKA Arahi 6s aren't trail-running shoes per se, but they have excellent traction combined with other features that make them a good choice for people with flat feet.
HOKA categorizes these as "balanced" cushion, which means they're not too plush, but not too firm either. This balance is good for trail walking, since you typically want more responsiveness but don't want to end up with heel pain after hitting the harder terrain. They're still categorized as a stability shoe.
GGR senior editor and certified personal trainer Nicole Davis, who tested the shoes, agrees with this description and said the shoes felt like they were in the middle for cushion, which she prefers for walking.
Like the HOKA Gaviotas, these have the J-Frame technology that helps prevent excessive overpronation without making the shoe feel stiff or heavy. While Nicole doesn't overpronate, she said they still felt comfy to her.
They also have zoned rubber on the outsole that contributes to their durability and helps the shoe mold to your movement.
They come in two widths—regular and wide—and have an easy-pull heel tab that makes them as close as you can get to a slip-on without actually being a slip-on.
| | |
| --- | --- |
| Upper construction | Mesh |
| Pronation support | Overpronation |
| Midsole construction | Molded foam |
Best Walking Shoes for Seniors With Flat Feet: Brooks Addiction Walker 2
Good for: Older folks who want mid-level cushioning and extra support
The Brooks Addiction Walker 2s are so good we gave them two spots on this list. In addition to naming them the best walking shoes for men with flat feet, we also thought they deserved a callout as the best walking shoes for seniors with flat feet.
By the time you reach your senior years, the ligaments and tendons in your feet lose strength3. Because of this, they don't spring back as well as they did when you were younger. This can cause the arches to flatten and actually make your feet and toes seem longer. Essentially, as your foot flattens, it also spreads out.
The best walking shoes for seniors for flat feet have a cushioned insole that's also firm enough to provide the right amount of responsiveness. While comfort is important, you don't want to just sink into your shoe.
The Brooks Addiction Walkers have the combination of mid-level cushioning and extra support that come together to respond to your natural movement and speed. This helps you maintain your natural stride without putting too much pressure on your foot.
They're available in classic black and white only, so you won't get any decision fatigue here. It's worth noting that the upper is made of leather, though, so these aren't as breathable as some of the other options on the list.
| | |
| --- | --- |
| Upper construction | Leather |
| Pronation support | Overpronation |
| Midsole construction | Foam |
Other Walking Shoes for Flat Feet We Researched
The Nike Zoom Structure 24s got high ratings in our testing, but GGR head of content and certified personal trainer Kate Meier said they're pretty narrow and would likely take a lot of breaking in if you have wider feet. You could always go up a half size for some extra room, but we think there are better options out there for flat feet.
Nicole tested these shoes and said they're unlike any other she's ever tried. They're springy and cushioned, even more so than HOKAs. But they're also $250, which is a lot for a pair of walking sneakers. If you have the budget and don't mind spending the money, you'll probably love them, but there are other options out there that we just think are more practical.
Skechers Go Walk Speed Walker
Skechers are well-known for comfort, and the brand has an entire line dedicated just to walking. These shoes have extra cushioning and a removable insole that helps with arch support. We haven't gotten around to testing them yet, but they're on our radar.
How We Picked and Tested the Best Walking Shoes for Flat Feet
Our decision-making process was two-fold. We combined our own research and firsthand experience testing more than 70 pairs of sneakers with expert advice from Brad Schaffer, DPM, a podiatrist, board-certified foot surgeon, and star of the show "My Feet are Killing Me" on TLC.
First, we narrowed our pool of sneakers to only those that received high ratings in various testing categories like construction, stability, durability, ergonomics, and overall value. For testing, these shoes were taken on long walks and runs on pavement and through rougher terrain over a period of several weeks.
RELATED: Best Running Shoes for Beginners
Once we had the list of sneakers we liked, we considered specific factors—like extra cushioning, arch support, fit, and stability—that people with flat feet need. We narrowed down the list even further to only those that hit the mark here.
We also added some sneakers that we haven't been able to test yet. We looked at shoe construction, features, and customer feedback to get a sense of how people with flat feet felt wearing the shoes. We excluded any pairs with major complaints (or that we thought were just too expensive for the average person) to come up with this final list.
Benefits of Walking Shoes Designed for Flat Feet
The biomechanics of your foot make a huge difference in how you feel. Flat feet, scientifically referred to as pes planus4, means that the arches of your feet make more contact with the ground. On its own, this doesn't cause any symptoms or discomfort, but it can change the biomechanics of your legs and spine, which can ultimately increase your risk of developing pain or experiencing an injury.
Walking shoes designed for flat feet help combat this by providing extra cushioning and arch support. This not only gives you a more natural strike pattern, it also helps absorb shock and impact that can cause irritation and damage. Orthotic insoles5 also have a similar effect, but a good pair of shoes is the foundation for maintaining your foot health and staying pain-free.
Buying Guide: What to Look for in the Best Walking Shoes for Flat Feet
All feet are different, but there are some common things you should look for when choosing the best walking shoes for flat feet. These include arch support, ample cushioning, stability, and balance transfer. It's also vital to make sure your shoes actually fit well.
Arch Support
"Arch support is probably the most critical feature that affects comfort and can help prevent a myriad of issues. Arch supports are designed to relieve, and often prevent, pain. [They also] ensure that the arch of the foot is properly supported and can absorb that pain-inducing pounding that happens when walking, running, or doing other activities." says Dr. Brad. He adds that this isn't restricted only to those with flat feet—it's common in people with high arches and neutral feet, too.
RELATED: Best Running Shoes for High Arches
Ample Cushioning
Cushioning and extra padding absorb shock and help prevent tissue irritation and damage, according to Dr. Brad. You want to choose supportive shoes that have an ample amount of cushioning—some type of foam or padded midsole is best—but still offer stability.
Stability and Balance Transfer
Stability and balance transfer are other considerations. "Shoes should provide a good balance transfer for one's gait. [This is] the movement from when one's heel strikes the ground until the toe off, propelling forward at the end of one's step," says Dr. Brad. Those with flat feet lean toward overpronation, so stability shoes that support the arches and provide more support in the midsole and heel will be helpful.
The Right Fit
It may seem obvious, but you want to make sure your sneakers fit properly, both length and width. "Ill-fitting and constricting shoes cause a lot of the problems I see in my practice including bunions, plantar fasciitis, ingrown toenails, blisters, and more," says Dr. Brad, adding that, "You don't want your heel or foot slipping around." This includes making sure there's enough room in the forefoot and toe box.
RELATED: Training Shoes Guide
FAQs About Walking Shoes for Flat Feet
What kind of shoes should you avoid if you have flat feet?
Dr. Brad says to avoid flat, loose-fitting shoes at all costs. This means flats, flip-flops, and slides, but also includes ill-fitting sneakers.
Do flat feet need arch support shoes?
Yes. According to Dr. Brad, arch support is the most critical feature when it comes to comfort and foot health. "The best shoes for flat feet will have extra padding for shock absorption, very specific arch support, and also heel stability to keep the foot from moving around too much and helping to attain as neutral a gait as possible," he says.
Are wide shoes better for flat feet?
Not necessarily. "The width of the shoe doesn't matter as much as the added arch support and stability for those with flat feet," says Dr. Brad. "There are so many great brands now that make stylish and casual to dressy options with amazing arch support, heel cups, and stability."
References
1. Pita-Fernandez, S, Gonzalez-Martin, C, Alonso-Tajes, F, et al. Flat foot in a random population and its impact on quality of life and functionality. J Clin Diagn Res. 2017;11(4):LC22-LC27. doi:10.7860/JCDR/2017/24362.9697
2. American Academy of Orthopedic Surgeons. Adult acquired flatfoot. 2021.
3. UCLA Health. Coping with the changes your feet undergo as you age. 2018.
4. StatPearls. Pes planus. 2022.
5. Chen, YC, Lou, SZ, Huang, CY, Su, FC. Effects of foot orthoses on gait patterns of flat feet patients. Clin Biomech (Bristol, Avon). 2010;25(3):265-270. doi:10.1016/j.clinbiomech.2009.11.007