We test and review fitness products based on an independent, multi-point methodology. If you use our links to purchase something, we may earn a commission. Read our disclosures.
The Rogue Resin Plyo Box is a new take on traditional stackable plyo boxes from Rogue Fitness that utilizes 100% Post-Consumer Recycled Plastic (think water bottles, plastic bags, yogurt cups, etc) that is compression-molded and made into boxes to jump on. In our testing, we observed that the Resin Plyo Boxes are stable, grippy, and, most importantly, don't leave lifetime scars on your shins when a jump is missed.
Rogue Fitness
Rogue Resin Plyo Box
Our American-made Resin Plyo Boxes represent another literal leap forward in both durability and space efficiency. Available in 4 height options (12"/ 18" / 20" / 24"), each box is manufactured from Recycled Plastic, which is compression-molded into shape. The top portion (19" x 19") is reinforced underneath using an arched rib pattern, and the surface features a textured grid pattern for superior traction.Rogue Resin Plyo Boxes can be ordered individually or as a full set featuring (1) each of all 4 sizes. They are packed flat, saving the customer on shipping costs, and require only minimal assembly (holes are pre-drilled). Once built, multiple boxes of any size can be stored conveniently in overlapping stacks--a space-saver for small home gyms and larger facilities, alike. Hand-hold slots are also included on all four sides of the box for easy transport, placement, and removal.IMPORTANT: Do Not Use Rogue Resin Plyo Boxes on hard or smooth surfaces where a slip-out is more likely to occur and potentially cause injury. TEST THE STABILITY OF THE BOX PRIOR TO EACH USE.Specifications:Made in the USA Order individually or as a set of (4) Recycled Plastic construction, compression molded Textured Grid Top: 19" x 19" (4) Height Options: 12", 18", 20", 24" Stackable Storage - We do NOT recommend using these plyo boxes while they are stacked. Hand-Hold Slots on all Sides Embossed Rogue branding Application: Box Jumps, Plyometric exercise
We've spent 3 weeks testing out the Rogue Resin Plyo Box—comparing it to wood, plastic, foam, and metal plyo boxes—and although they're slightly more expensive than the comparable wood plyo boxes, the Resin Plyo Boxes are vastly superior. Stackable plyo boxes aren't designed for the home gym community due to their size and single side available for use, but for commercial gym owners, personal trainers to CrossFit Affiliates, the Resin Plyo Box from Rogue Fitness is outstanding. Thanks to the more forgiving resin plastic, people will have fewer fears of receiving lifelong scars on their shins due to a missed box jump, thus jumping with greater confidence (and the gym owner will also have less blood clean-up and liability.) The Resin Plyo Boxes are also easy to maneuver and stackable so they don't take up a ton of space. We'd like to see other options using the material in the future, but until then, these will suffice.
What We Like About the Rogue Resin Plyo Boxes
Ever since CrossFit has grown in popularity, we've seen a big increase in the performance of plyometric work, specifically box jumps, and therefore a large influx of different plyo box designs and materials. A plyo box is, for the most part, a pretty simple design. Either a square or rectangular design with a widened base if increased stability and stackability are desired. Many plyo boxes utilize a design that allows for all sides to be used, and although these are preferred for most home gym users due to their versatility, the ability to stack boxes so they're out of the way is a huge benefit for commercial facilities.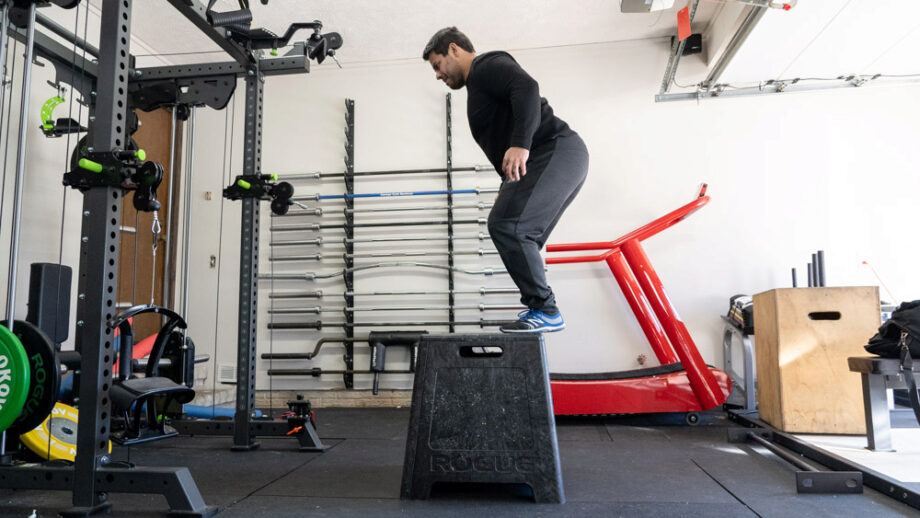 Without a doubt, the standout feature of the Rogue Resin Plyo Boxes is the material they're made out of. Utilizing 100% Post-Consumer Recycled Plastic made in Michigan, USA, Rogue has created a plyo box unlike any other. Plastic is one of the most used and thrown away materials in the world. Our landfills are full of empty bottles, trays, and containers made for one-time use, so finding unique ways to repurpose these materials makes not only helpful products to society, but also extremely durable products. To simplify the process, recycled plastic is melted and put in molds where it is then compressed and allowed to harden. This creates a durable surface that both looks and functions extremely well.
The Resin Plyo Boxes from Rogue Fitness aren't the first piece of gym equipment to use the material, however. Olympic Weightlifters have utilized resin blocks called DC Blocks that interlock and work great for pulls and jerks and despite taking tons of pounds of force (literally) are guaranteed to never chip, crack, rust, or break. They're essentially indestructible. This same machine-molded, recycled plastic is what makes up the Resin Plyo Boxes. In fact, the underside of the plyo box tops appear to use the same honeycomb design used by the DC Blocks that increases rigidity and strength, albeit a bit more shallow.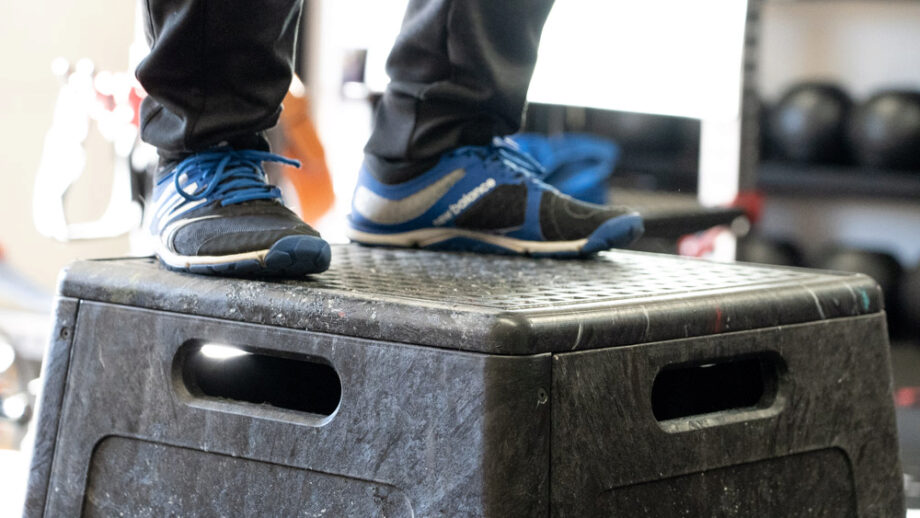 One might think that jumping on a plastic box would be unstable, however, in our experience, the Resin Plyo Boxes feel as solid as any wooden box we've used. One of our favorite features of the Resin Plyo Boxes, however, is not the stability, but the rounded edges. Although the plastic feels a bit more forgiving than wood, it still hurts if you miss a box jump. However, rather than having plywood literally cutting into your shin (I still have a scar on my left shin from a missed box jump five years ago), you'll just end up with a bruise from the impact and likely no blood if you miss a jump on the Resin Plyo Boxes. This less gruesome injury leads to greater confidence when jumping higher than what you ordinarily do, and therefore a greater likelihood that you'll succeed. Honestly, wooden plyo boxes with sharp edges are archaic at this point with all of the other options available.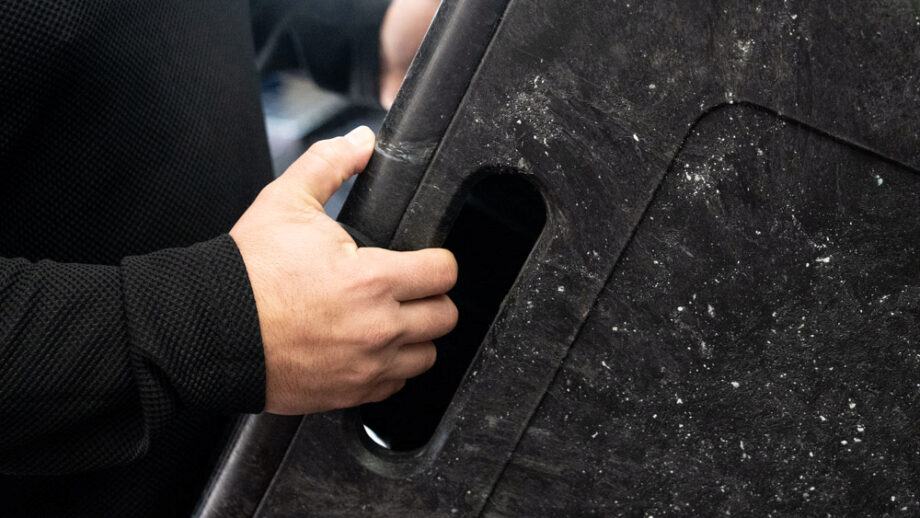 The Rogue Resin Plyo Boxes are constructed using five individual pieces that are shipped flat and then assembled using black zinc-coated screws and chrome nuts. Be careful during assembly as we've heard from multiple people who have screwed the nut through the resin due to the heat and pressure caused by a battery-powered drill. The bottom of the box is angled wider than the 19" top which allows for increased stability and it's not angled so much that the sides get in the way during a jump. There are handles on all sides that are rounded to make it easy and comfortable to carry around. The bottom of the sides feature feet at each corner to increase surface area and prevent the boxes from sliding or digging into flooring, specifically rubber matting.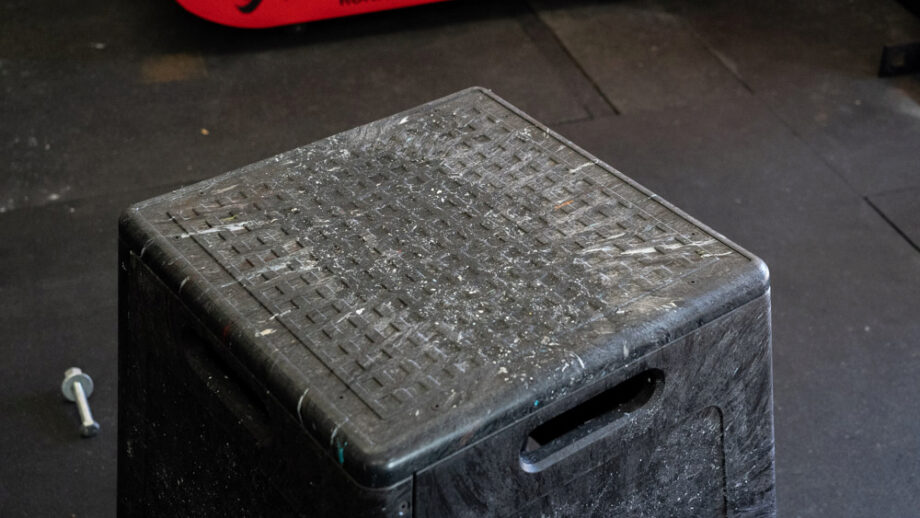 Lastly, the top of the box features a grid pattern that looks good and does aid in gripping your shoes/feet when jumped on. When wet, the top does become slicker, but not so much so that it presents a safety hazard. It would be cool to have a rubberized top, but that would lead to increased wear and therefore lower durability, so I'm glad they chose going with it uncoated. I've noticed that parts of the box are smoother than others, which I don't think is done by design. It honestly would be beneficial to have the sides smooth, while the top is more roughed up, similar to the textured powder coat Rogue uses on parts of equipment that have hands holding them.
Small Shortcomings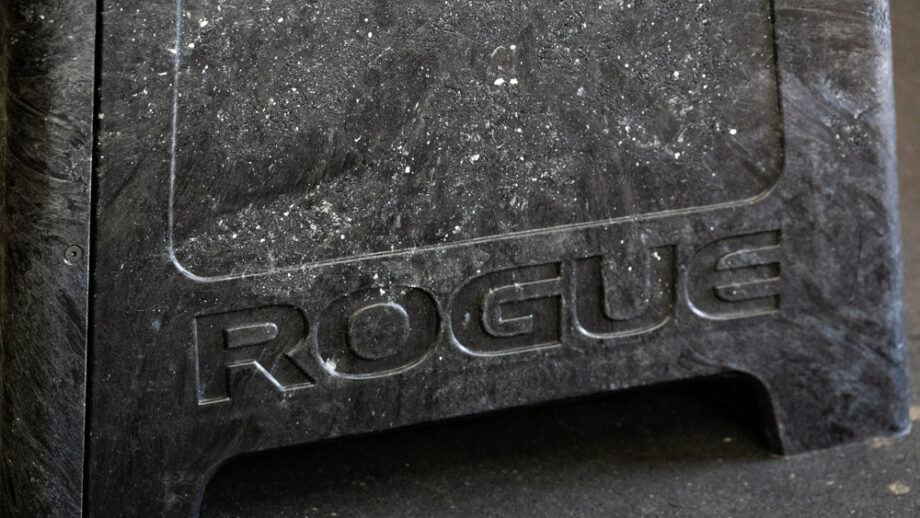 Although we like the Rogue Resin Plyo Boxes overall, there are a couple of minor shortcomings we've noticed that aren't necessary to be addressed, but would increase the quality of the product.
One thing we've noticed and mentioned previously in the article is that the smoothness of the plastic is inconsistent throughout the box. Various parts of the box, randomly, are smooth while others are rough. I'm sure there are multiple reasons for this, the fact that various types of recycled plastic are used is one reason we can think of, but we'd honestly like to see the smoother plastic be used on the sides, while the top is rough. A rough top would allow for better traction during landing, while smoother plastic on the sides looks better. Either way, we think if neither is chosen on purpose, the box should feel consistent throughout.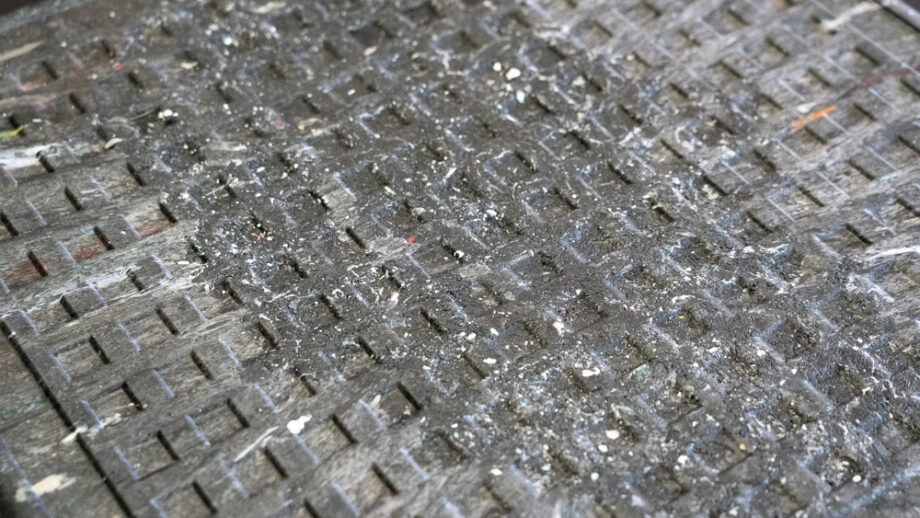 Next, and this is more of a future product idea, but we'd like to see the resin material used for a 4-sided box that can hold up to being jumped on, on all sides. Think a Games Plyo Box made out of Resin, now that would be sweet and I foresee pretty popular for those that train at home.
Resin Plyo Boxes vs Wood Plyo Boxes vs Foam Plyo Boxes
Wooden plyo boxes are the standard, and for good reason, they're cheap, and easy to make. The main issue with wood though is the fact that if you miss a box jump, you can say goodbye to the skin on your shin. So, as with most things, there are benefits (stability, availability, price) and drawbacks (durability and injury). After using some of the alternative materials for plyo boxes like resin and foam, we've pretty much completely stopped using wood plyo boxes.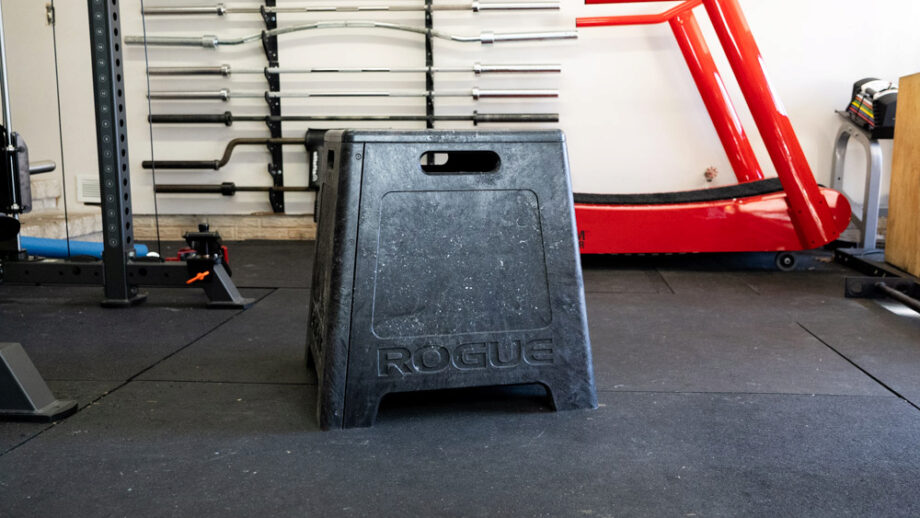 Resin is a great alternative to wood. It's more durable, not much more expensive, has a higher weight capacity depending on how it's made, looks more professional, and doesn't hurt as bad when a rep is failed.
Foam plyo boxes are pretty great for performance, but we've seen some issues with longevity, maneuverability, and stability with foam boxes. Over time, the foam can start to break down in high use areas, they're often much heavier than their wood or resin counterparts, and they're much more expensive for quality foam boxes. Although we like foam because it presents the lowest potential for injury, it is the most costly and will have to be replaced more often. Ultimately, we think if resin was made to be a 4-sided Games-style box with three different jumping heights, then it would likely end up being the best plyo box for most people in most situations. Resin is that good of a material for this application.
Full Rating
Rogue Resin Plyo Box
The Rogue Resin Plyo Boxis a new take on traditional stackable plyo boxes from Rogue Fitness that utilizes 100% Post-Consumer Recycled Plastic (think water bottles, plastic bags, yogurt cups, etc) that is compression-molded and made into boxes to jump on. In our testing, we observed that the Resin Plyo Boxes are stable, grippy, and, most importantly, don't leave lifetime scars on your shins when a jump is missed.
Product Brand: Rogue Fitness
Product Currency: $
Product Price: 85
Product In-Stock: InStock
Rogue Resin Plyo Box FAQs
How much weight can a rogue PLYO box hold?
The 56 LB Games Box is intended for safe, effective plyometric training at any skill level. It is American-made, battle-tested, and guaranteed by a year-long warranty.
What is a good PLYO box height?
Most novices should begin with a 16″ box, while some guys may prefer a 20″ box. When you've become used to working with PLYO boxes, you may raise the height to a conventional 24 or 30 inch box.
Where to Purchase
Rogue Fitness
Rogue Resin Plyo Box
Our American-made Resin Plyo Boxes represent another literal leap forward in both durability and space efficiency. Available in 4 height options (12"/ 18" / 20" / 24"), each box is manufactured from Recycled Plastic, which is compression-molded into shape. The top portion (19" x 19") is reinforced underneath using an arched rib pattern, and the surface features a textured grid pattern for superior traction.Rogue Resin Plyo Boxes can be ordered individually or as a full set featuring (1) each of all 4 sizes. They are packed flat, saving the customer on shipping costs, and require only minimal assembly (holes are pre-drilled). Once built, multiple boxes of any size can be stored conveniently in overlapping stacks--a space-saver for small home gyms and larger facilities, alike. Hand-hold slots are also included on all four sides of the box for easy transport, placement, and removal.IMPORTANT: Do Not Use Rogue Resin Plyo Boxes on hard or smooth surfaces where a slip-out is more likely to occur and potentially cause injury. TEST THE STABILITY OF THE BOX PRIOR TO EACH USE.Specifications:Made in the USA Order individually or as a set of (4) Recycled Plastic construction, compression molded Textured Grid Top: 19" x 19" (4) Height Options: 12", 18", 20", 24" Stackable Storage - We do NOT recommend using these plyo boxes while they are stacked. Hand-Hold Slots on all Sides Embossed Rogue branding Application: Box Jumps, Plyometric exercise