We test and review fitness products based on an independent, multi-point methodology. If you use our links to purchase something, we may earn a commission. Read our disclosures.
You know cardio is good for you, and you might even know all about the benefits of indoor cycling. So if you've decided it's time to go shopping for an exercise bike for your home gym, the extensive Google sleuthing might have commenced.
If you don't have a boatload of cash to drop on an exercise bike, you may have come across the Schwinn IC3 in your price-comparison research. This bike is $700—a low-to-mid-range option as far as exercise bikes go—but it does supply some great features.
While we haven't tested the IC3 specifically, we've done in-depth testing on the Schwinn IC4, the IC3's newer—and souped up—sibling. In this Schwinn IC3 review, we'll give you the lowdown on this bike, and whether it's worth your hard-earned dollars. Let's dive in.
Come Along for the Ride
First, you should know that our team of expert product testers here at GGR—many of whom are certified personal trainers, by the way—has had our feet on nearly two dozen exercise bikes, evaluating key attributes like the drive system, ergonomics, programming, and more. We're also just crazy about that #fitlife in our own lives, too, buying desk bikes to work from home and doing triathlons on the weekends. Fitness equipment professionals, at your service.
Schwinn IC3
Schwinn IC3
The Schwinn IC3 bike is sturdy and durable. If you have any problems with the bike, reviews state that the customer service Schwinn provides is excellent. The 40-pound flywheel helps power a quiet ride, which means you can place the bike wherever you want to place it in your home or gym. The infinitely variable resistance lets you create the workout that you need depending on your goals.Whether you have cycling shoes with clips or sneakers, the dual SPD pedals will work for you. The handlebars are padded and come with multiple grip positions so you can put your hands where you feel comfortable. This bike also comes with a ventilated race style seat to help you prepare for races that you may or may not have coming up. The seat and handlebars are easily adjustable so you can find the height and distance that is perfect for you or your family.In regards to technology, this Schwinn bike comes with a LCD console that can monitor heart rate as well as your standard metrics like time, distance, and calories. If you are somebody who likes to follow a workout online, you can use the multi-media device holder, which is the perfect size for a tablet or iPad. There is no connectivity option on the IC3 though, so you'll have to stream any online workouts separately.For $700, this bike isn't the greatest value, but Schwinn is a reputable brand so you should get a durable product.
A Quick Look at the Schwinn IC3
Schwinn has been making bikes since the turn of the 20th century, so they know a thing or two about these machines. In addition to a smattering of recumbent bikes, upright bikes, airdyne bikes, and even ellipticals, the company currently offers two indoor cycling bikes—the IC3 and the IC4.
What We Know About the IC Product Line
While the IC3 and IC4 do have some major differences, there are some similarities as well.
Both the IC3 and IC4 ring in at sub-$1,000, with adjustable seats and handlebars, and have a reputation for providing a stable ride.
They both also have transport wheels and are fairly easy to move, weighing around 100 pounds.
Both come with a water bottle holder and integrated tablet holder so you can stay hydrated and watch programming on your phone—or Netflix, let's be real—while you ride.
Pros:
40-lb flywheel
Max user weight capacity of 300 lbs
Compact frame
Cons:
Friction resistance requires more maintenance than magnetic
No WiFi or Bluetooth connectivity
5-year warranty on the frame
May not be the best option for folks over 6-feet tall
Is the Schwinn IC3 Worth It?
If you're looking for a heavy-duty bike at an affordable price and don't care about tech extras, the Schwinn IC3 indoor cycling bike might be for you.
Great for:
Those who want a durable, stable exercise bike
Apartment and condo dwellers
Beginner and more advanced cyclists alike
Not recommended for:
Those who want a touchscreen and other tech extras
Those who want a true Peloton alternative
Those who aren't up for regular maintenance
Schwinn IC3 Specs
| | |
| --- | --- |
| Footprint | 45″ L x 23″ W x 49″ H |
| Weight | 100 lbs |
| Weight capacity | 300 lbs |
| Display | LCD console |
| Drive | Friction |
| Resistance | Infinite levels |
| Flywheel | 40 lbs |
| Pedals | Toe cages and SPD clips |
| Seat | Race-style with horizontal and vertical adjustments |
| Handlebars | Horizontally and vertically adjustable |
| Transport wheels | Yes |
| Connectivity | None |
| Heart rate monitoring | Compatible with select devices but strap is not included |
| Power source | 2 AA batteries |
| Warranty | 5-year frame, 2-year mechanical & electrical, 1-year labor |
An Expert Opinion on Working Out With the Schwinn IC3
While we haven't used the IC3, we have tested the IC4 extensively, and can glean a lot about the workout experience on the IC3 by comparing our testing notes to its specs.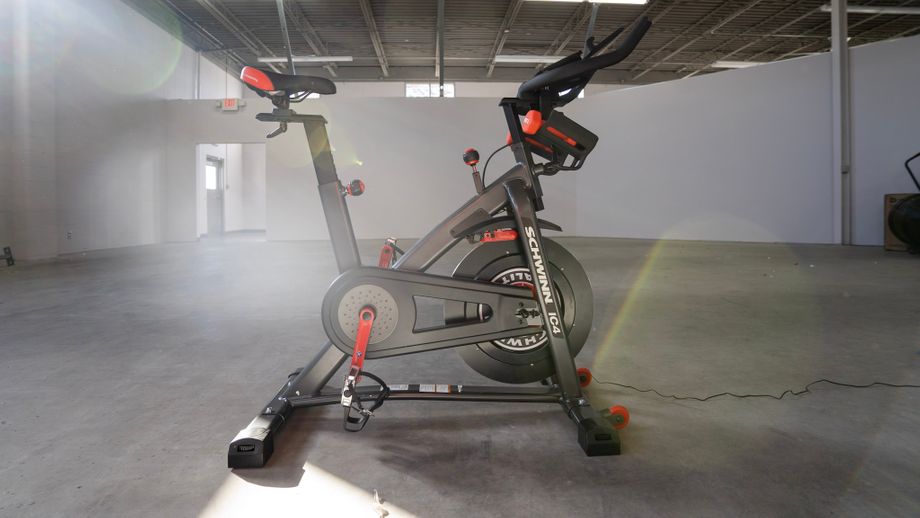 While both the IC3 and IC4 use a belt-drive system, a major difference is that the IC4 uses magnetic resistance, while the IC3 uses friction resistance via pads on the flywheel. What this means for you is that the ride on the IC3 might not be quite as smooth or as quiet—although, Schwinn makes high-quality products, so you can expect that it's respectable as far as friction resistance systems go.
You'll also need to perform regular maintenance on a friction-resistance system, changing out the pads when they wear down—magnetic resistance doesn't require much maintenance. Friction resistance tends to be cheaper than magnetic, too, which is part of the reason why the IC3 is several hundred dollars cheaper than the IC4.
One bonus of friction resistance is that there are infinite levels of resistance possible via the pads, so you'll really be able to hone in on your workout intensity with the IC3.

The IC4 is also Bluetooth-compatible and connects to training apps like JRNY, Peloton, and Zwift so you can track your workouts and take advantage of auto-resistance adjustments if you want. Coop, founder of GGR, tested the IC4 and found that the connectivity was easy to set up and is a great plus for a bike in the IC4's price range.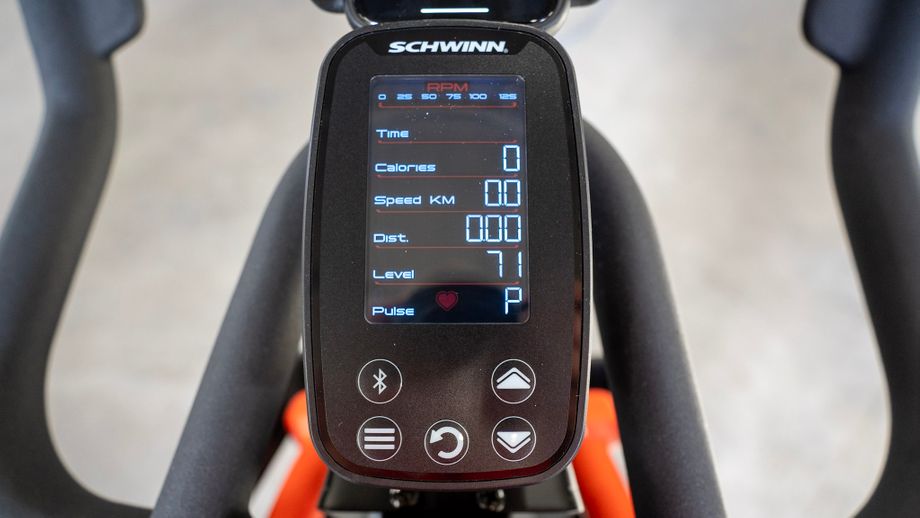 That being said, the IC3 is not Bluetooth-compatible, doesn't connect to any fitness apps, and does not come with any built-in workouts (but neither does the IC4). If you don't care about connectivity and just want to get on and ride, you'll probably still have a great experience on this bike. Plus, there is a media shelf on the IC3, so you can stream your own fitness app separately.
Both bikes are equipped with wireless heart rate monitoring, which is a nice plus—the only caveat is that with the IC3, you'll have to BYOS (bright-your-own-strap) and it's only compatible with select devices, while the IC4 comes with a heart-rate armband.
Beyond these differences, the actual bike itself is fairly similar: Comparable weight and compact footprints, transport wheels to move it around, equipped with a water bottle holder (two for the IC4, actually) and an integrated tablet holder. Both bikes also offer horizontal and vertical adjustments for the handlebars and seat, and an option of toe cages or clip-ins on the SPD pedals.
Customer Reviews
On the SchwinnFitness.com website, the IC3 has a 4.5-out-of-5-star rating with 329 reviews at the time of this writing. Plus, 93% of people said they'd recommend the bike to a friend. On Amazon, it has a 4.6-out-of-5-star rating with nearly 5,000 reviews.
Some reviewers did have problems with the bike squeaking after riding consistently for a while, which is not unheard of with friction resistance.
Some taller folks also said that the IC3's seat did not adjust high enough for them, so that's something to consider if you're over 6-feet tall.
On the flip side, most users said the bike is sturdy, fairly quiet, and provides just what they were looking for—a no-frills indoor cycling experience at home.
Footprint and Durability
The IC3 has a footprint of 45″ L x 23″ W x 49″ H. For comparison's sake, the Peloton Bike measures 59" L x 23" W x 53" H, so the IC3 is on the more compact size. It has a 300-pound user weight capacity, which meets industry standards, and it doesn't appear to have a ton of plastic components, which bodes well for durability. There's also a 40-pound flywheel, too, which adds to the bike's stability.
As mentioned, the IC3 can be moved via the transport wheels. And, weighing in at 100 pounds, most people should be able to maneuver it short distances on their own. It also runs on two AA batteries, so you have flexibility on placement, which is a plus.
The Ergonomics
The race-style seat on the IC3 is ventilated for added comfort, but let's be honest—most bike seats aren't that comfortable. Some reviews did say that the seat was hard, but that's not surprising.
The handlebars are padded for added comfort, plus multiple grip positions give you added flexibility depending on whether you're head down in the saddle or up out of it, working your way up a hill.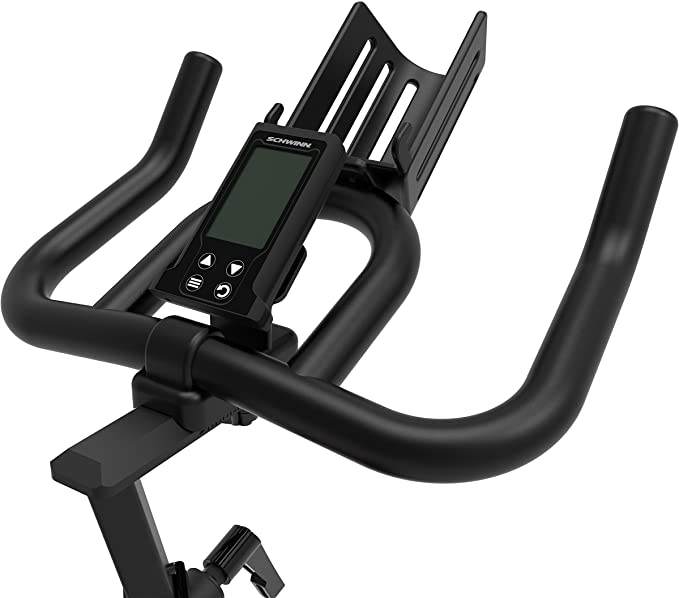 You can adjust both the seat and handlebars vertically and horizontally, so the bike will accommodate a wider size range of riders. However, if you're tall, the seat may not adjust high enough for you to achieve a comfortable ride.
You also have the option of wearing regular sneakers and opting for the toe cages, or utilizing the SPD clips with cycling shoes, which is a nice plus.
Technology
The IC3 is pretty bare-bones as far as indoor bikes go. It doesn't have Bluetooth connectivity and it can't connect to training apps, there's no USB port for charging, and the display is a basic LCD. The display will read out metrics including time, distance, calories, speed, RPM, heart rate, and BPM (the bike is equipped to monitor your heart rate, so that's a nice touch).
There is a media shelf, however, so you can stream JRNY or the Peloton app on your phone while you ride, if you'd like—it just won't communicate with your bike.
Comparison to the Sunny Health & Fitness SF-B1002
For less than half of the price of the IC3, you could purchase the Sunny Health & Fitness SF-B1002 budget cycling bike. It also uses friction resistance, but it has a heavier 49-pound flywheel (which would provide a more stable ride), and is compatible with the SunnyFit app for programming.
The weight capacity is slightly less at 275 pounds, and there's only a one-year warranty on the frame, but with an average of 4.4-out-of-5 stars on Amazon after nearly 6,000 reviews, it's safe to say this bike is a good value. For those who just want to do recreational cycling in their home gyms, give this bike some consideration.
Comparison to Bowflex C6
Bowflex C6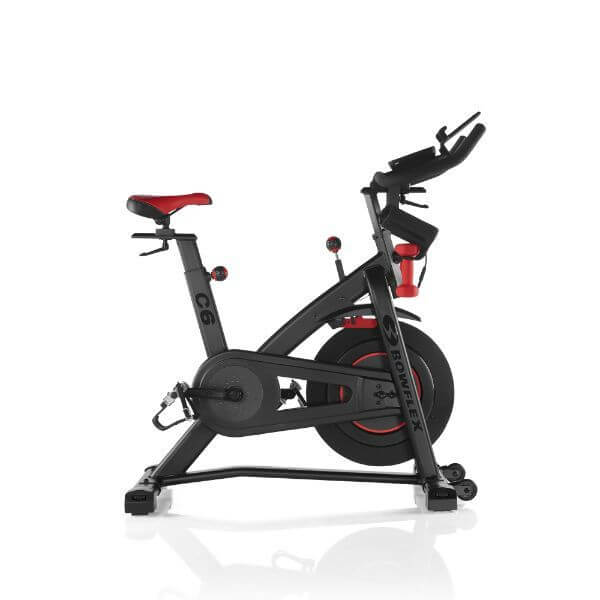 The Schwinn IC3 indoor cycling bike has some similarities to the Bowflex C6, which is on sale right now for $800. While it is a bit more expensive than the IC3, the C6 is compatible with a handful of fitness apps, which bests the Schwinn.
Both bikes have a 40-pound flywheel, a simple LCD display, and about the same footprint. The C6 does have magnetic resistance, though, and a slightly higher weight capacity at 330 pounds.
For just $100 more, the C6 provides more beneficial features and would probably be worth it for most people.
For more, check out our Bowflex C6 review.
Brand Policies
For the most part, customers seem pleased with Schwinn's customer service. To reach Schwinn, you can call their customer care line Monday to Friday 6 a.m. to 5 p.m. PST. They also have a Facebook page where you can ask them questions via the Messenger function Monday to Friday 8 a.m. to 5 p.m. PST.
And it's good that the brand's customer service is responsive, because the warranty on the IC3 is pretty subpar—five years on the frame, two years on mechanical and electrical, and one year on labor. Industry standard is more like 10 to 15 years on the frame, so that's definitely something to be aware of.
If you are unhappy with your purchase, you can return your bike within six weeks of delivery for a refund, but you'll have to pay for the shipping and handling to return it. Schwinn also offers a price-match guarantee—if you find a lower product price advertised on an authorized retailer's website, they'll match it.
Ordering and Assembling the Schwinn IC3
Ordering the IC3 is a breeze. You can purchase through the Schwinn website, or other retailers like Amazon, Best Buy, or Walmart. There is a financing option through Schwinn financing where you could pay as little as $39 per month if the purchase is paid off in the first 18 months—you'll of course have to qualify, but this is a nice option to have if you're concerned about budgeting.
While we haven't assembled the IC3 ourselves, most reviewers who talked about the assembly process explained it as clear and easy-to-follow.
We did, however, assemble the IC4 in our warehouse, and found that process to be just mediocre. GGR's Operations Manager Sam "asSAMbly" Presley said it took about 45 minutes.
"There are only three steps in the manual, because they combine about nine steps into one," Sam says. "Also, the screws and parts aren't clearly labeled. You can use common sense for the most part to put this together, but the directions could have been clearer."
Final Verdict of Our Schwinn IC3 Bike Review
The Schwinn IC3 indoor cycling bike provides the quality build of a Schwinn bike without any technology add-ons.
If you just want to get on and ride, regardless of your fitness level, this compact stationary bike could provide just what you need.
However, for the price, there are other comparable options like the Sunny Health & Fitness SF-B1002 that provide a better value.
The IC3 uses a friction resistance system, so be prepared to perform regular maintenance on it to keep it functioning optimally.
If you do want to take advantage of any interactive programming on your cardio machine, you may want to consider a different exercise bike for your home gym.
Schwinn IC3 Rating
Schwinn IC3
In this Schwinn IC3 review, we'll let you know how this low-to-mid-range bike stacks up.
Product Brand: Schwinn
Product Currency: USD
Product Price: 699.00
Product In-Stock: InStock
Schwinn IC3 FAQs
Is the Schwinn IC3 a good bike?
"Good bike" is relative and depends a lot on your own preferences and budget. The Schwinn IC3 bike is a sturdy, no-frills exercise bike. If you just want to get on and ride, it could be a good bike for you.
Is the Schwinn IC3 quiet?
The Schwinn IC3 uses friction resistance, so it won't be as quiet as a bike with magnetic resistance. However, reviews say it is a quiet bike overall.
What is the difference between the Schwinn IC3 and IC4?
The main differences between the IC3 and the IC4 are the resistance systems—the IC3 uses friction and the IC4 uses magnetic—as well as tech capabilities—the IC4 is Bluetooth-compatible and can connect to a bevy of fitness apps, while the IC3 cannot.
Is the Schwinn IC3 magnetic resistance?
No, the Schwinn IC3 uses friction resistance.