We test and review fitness products based on an independent, multi-point methodology. If you use our links to purchase something, we may earn a commission. Read our disclosures.
Studio cycling bikes are kind of like the Fast & Furious movies—there's way too many and they're all basically the same thing with small tweaks, but we're still going to see the next one because they're always fun. Every so often, though, one comes along and you find yourself thinking, "Huh, that wasn't too bad. I'd watch it again."
Our Bowflex C6 review will show you why this bike is exactly like one of those movies. It's not the best, but it delivers on all the elements you'd want in a quality exercise bike. Not only that, but it's compatible with various training apps, including JRNY, Zwift, and Peloton. That's a lot of versatility for just one piece of equipment.
Hands-on Testing From Industry Pros
By the time I started my research for this Bowflex C6 review, I had looked at and put my hands on well over two dozen exercise bikes (both as a GGR product tester and someone who just likes to work out). This allows me to not only look at the bike in and of itself, but compare it to other options on the market to answer the question "Is this the best exercise bike for me, or should I get something else?"
And because the Garage Gym Reviews team is filled with certified personal trainers, CrossFit and nutrition coaches, and competitive athletes, we know what to look for in exercise equipment to help people improve their overall health and fitness.
A Versatile Exercise Bike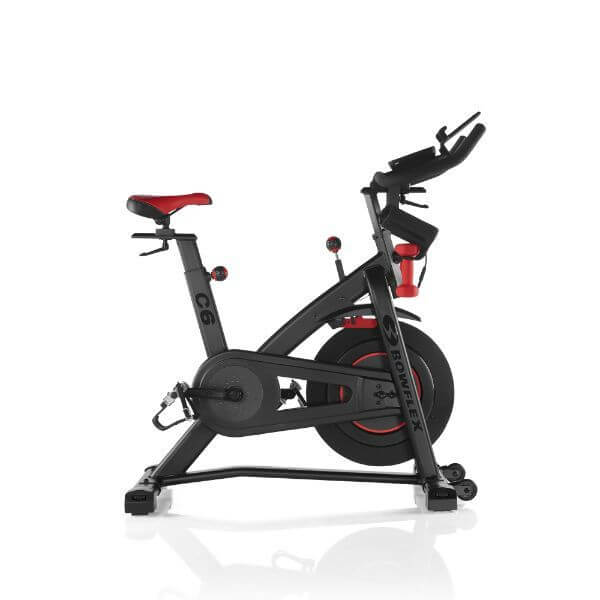 Bowflex C6 Bike
Providing users with a low-impact, cardio workout, the Bowflex C6 is a high-quality bike at a decent price. For about $800, this bike features a backlit LCD metric console, 100 levels of magnetic resistance, dual-sided pedals (SPD or toe cage), a pair of 3-pound dumbbells, a media holder, and a Bluetooth-enabled heart rate armband monitor. Buyers receive a one-year free membership to JRNY, an online fitness platform with on-demand classes, live coaching, adaptive workouts, virtual destinations, and music playlists to keep you motivated as you sweat. Unlike many other bikes, using the Bowflex C6 does not require an app subscription and you are not locked into just one fitness app option. The C6 integrates with well-known, third-party fitness apps including Peloton, Sufferfest, Rouvy, FulGaz, Tacx, TrainerRoad, and Zwift. Keep in mind that many of those apps will require a subscription. The Bowflex C6 is designed to accommodate multiple users of varying sizes. Thanks to the four-way adjustable handlebars and padded seat, which can be adjusted vertically and horizontally, the Bowflex C6 can be customized for each use. The bike also supports users up to 330 pounds.The C6 comes equipped with an impressive 100 adjustable levels of magnetic resistance. As a result, it suits riders of all fitness levels and provides variability in training. The display is a backlit LCD console, which is a bit disappointing. It would have been nice to see an interactive touchscreen on the Bowflex C6. That said, the C6 is compatible with both Android and iOS systems. With a secure tablet holder and Bluetooth connectivity, you can stay entertained with your own smart device if desired.
A Quick Look at the Bowflex C6
The Bowflex C6 is a relatively straightforward piece of fitness equipment compared to most studio bikes being released today with features like high-tech touchscreens, speakers, and even smart fans. This bike, however, is just that—a bike.
It has a 40-pound flywheel that's smooth and quiet, 100 levels of magnetic resistance, a simple backlit LCD console, dual-sided pedals (SPD clips on one side and adjustable toe cages on the other), and a media holder. So unlike many similar models, you don't need a membership to a fitness app to access all of its features.
If you are a fan of fitness apps, the bike does come with a free year of JRNY programming that can be streamed to your tablet or smartphone, and you can also connect via Bluetooth to the Zwift and Peloton apps.
Bowflex also offers a C7 bike, which is essentially the same bike as the C6 but with an included 7-inch touchscreen (as of this writing, Bowflex has put that bike on clearance for less than $800 so that one may be discontinued soon).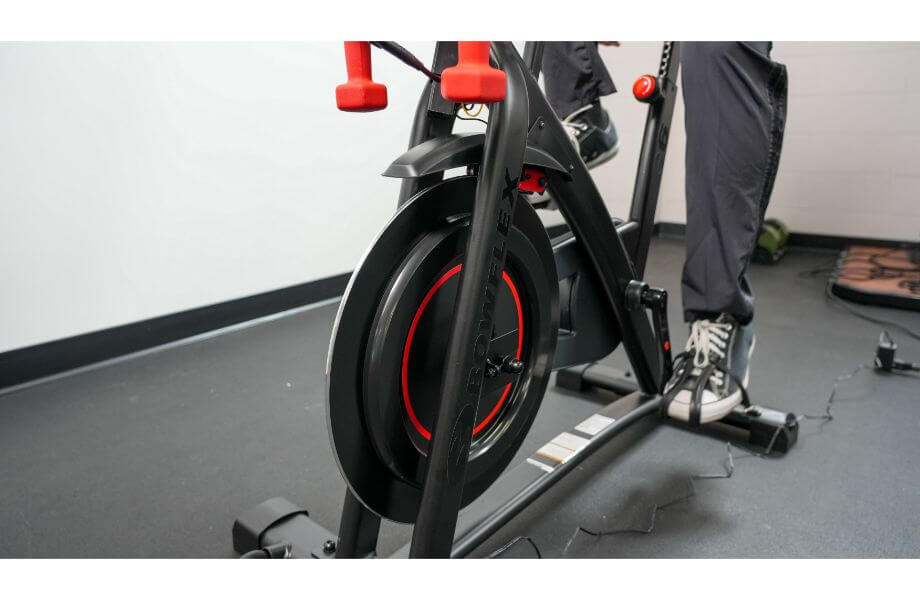 My Tips
Start off on a low resistance, as the higher settings make for a grueling experience (even for experienced riders).
If you're on the fence, Bowflex gives you up to six weeks to decide if you want to return a product.
Pros:
100 magnetic resistance levels
LCD console let's you know what resistance you're on
Stable
Can be used without a fitness app membership
Dual-sided pedals
Bluetooth connectivity works with multiple apps
Lightweight
Cons:
Standard seat isn't comfortable, but it can be replaced
No built-in workouts
Seat and handlebar adjustment not the easiest
A lot of plastic parts
Complaints of shorter people not being able to reach the pedals
Is the Bowflex C6 Worth It?
The Bowflex C6 exercise bike sells for around $1,000, not including shipping and handling. On top of a high-quality stationary bike, you get a free year of JRNY programming, the ability to connect to other cycling apps, and a Bluetooth heart rate monitor.
In my opinion, I think that's worth the price tag. When I'm looking for an indoor cycling bike I want something that has a smooth and quiet flywheel, can fit easily in my home gym, and is made with high-end materials that will last a while. This bike meets all those qualifications.
If it didn't have Bluetooth compatibility I would have a different opinion, but we live in a time where having a smartphone or tablet is the norm. That's what the tablet holder is for, and during my test I found it steady enough to hold whatever smart device you place on it.
Yeah, having live and on-demand classes right there on your bike is convenient, but I personally don't like the idea that you need to pay a monthly subscription just to access a bike's most basic features.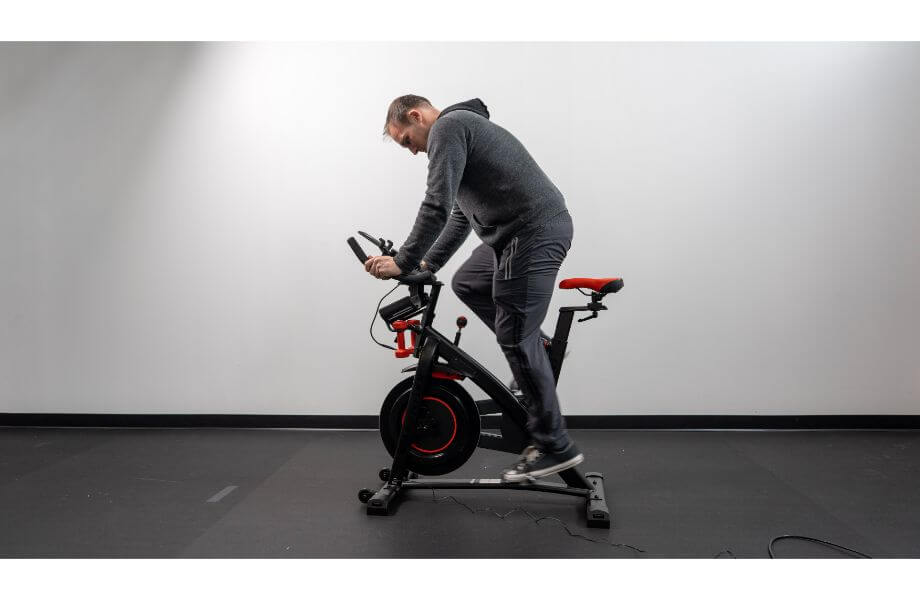 Great for:
Anyone looking for a low-tech Peloton alternative
Trainees looking for a cardio machine that will provide them with a challenge
Those who do heart rate zone training
Not recommended for:
Those looking for an exercise bike with built-in programming
Anyone shopping on a budget
Anyone who wants a larger console on their exercise bike
Bowflex C6 Specs
| | |
| --- | --- |
| Footprint | 51.8″ H x 48.7″ L x 21.2″ W |
| Weight | 112 lbs |
| Weight capacity | 330 lbs |
| Display | Backlit LCD |
| Seat adjustment | Up/down, front/back |
| Handlebar adjustment | Up/down, front/back |
| Drive system | Belt |
| Resistance | Magnetic (100 microadjustable levels) |
| Pedals | SPD clips/adjustable toe cages |
| Flywheel weight | 40 lbs |
| Construction | Steel/plastic |
| Warranty | 10 years frame, 3 years parts and electronics, 1 year labor |
| Conveniences | Dumbbell holders, two water bottle holders, media stand |
| Compatible apps | JRNY, Zwift, Peloton, MyFitnessPal, TrainerRoad, Sufferfest, Rouvy, FulGaz, Tacz, Apple Health, Google Health |
Workout Experience With the Bowflex C6
After testing so many exercise bikes and treadmills that require you to log into an app before you can use them, it was nice to just hop onto the Bowflex C6 and get to pedaling.
But if I'm being completely honest, there wasn't really anything special about this bike…that's also not a bad thing, though. The flywheel provided a quiet ride, I never experienced any wobbling, and the resistance was tough enough to give my legs that "hurts in a good way" feeling while also getting a cardio workout.
I believe this is an exercise bike for people who are already committed to getting regular aerobic exercise and just want something that can withstand daily use. This could either be cyclists who want an alternative on days when outdoor riding isn't an option, or anyone who simply wants to keep their activity level up.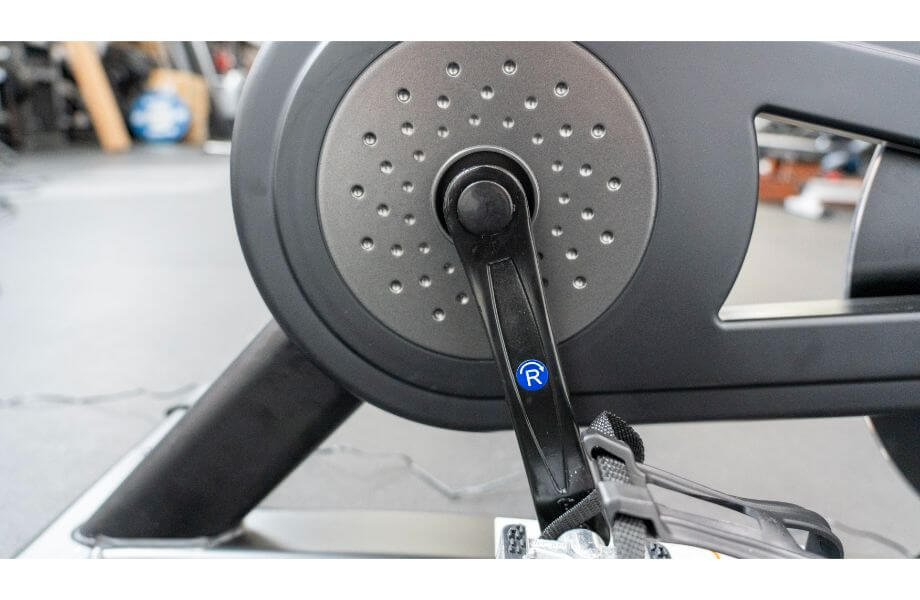 The Bowflex C6 very much reminded me of the Schwinn IC4, and that's because they're probably the same bike (seriously, they have the same exact footprint, features, and price). Oh, and they're also owned by the same parent company, Nautilus.
To get our thoughts on the Bowflex C6's cousin, read our full Schwinn IC4 review.
It should also be noted that the same product being sold with different branding is a common practice in the home gym equipment industry. In fact, some manufacturers sell their products to brands owned by different companies, but one will be sold to the consumer for much more simply because of that brand's prestige.
App Compatibility
With the exception of iFIT and Echelon Fit, the Bowflex C6 can connect to just about every cycling app to access workouts and leaderboards. (These apps, of course, require a subscription.) The bad news is there are some features, such as automatic resistance control where your live or on-demand trainer adjusts the resistance for you, that can't be accessed with this bike.
Here's how to connect your Bowflex C6 to an app.
Turn on your iPad or smartphone's Bluetooth
Go to the app of your choice
Press the bike's Bluetooth button
Pick a workout class
Select the Bowflex C6 bike from the connected devices list
Go back to the program
The app you're using will be able to track your cadence, speed, and distance so you can measure your progress in real time. I was able to connect it to Apple Health via my iPhone with no problems, and many of the other reviews I read said there was no problem connecting it to Android devices.
LCD Display
Although you might not be able to watch Netflix on it, the Bowflex C6's display gets the job done. The metrics on it are time, calories, speed, resistance levels, distance, and pulse. I like that it shows you what resistance level you're on, as not every micro adjustable exercise bike offers that.
There's a Bluetooth button on the display that you use to connect the bike to the JRNY app, or any other fitness app, and the included heart rate armband.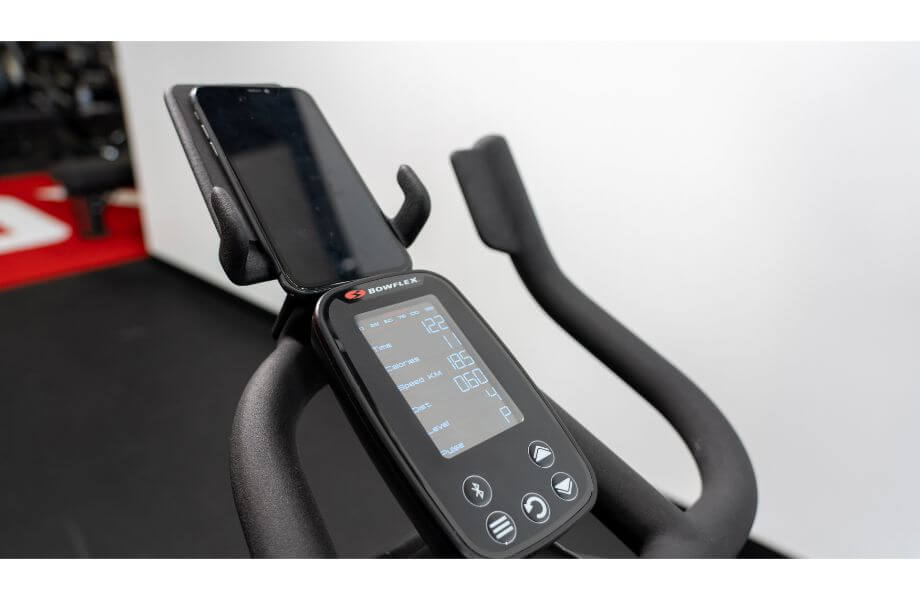 Seat
The seat on the Bowflex C6 isn't the most comfortable in the world, but you can buy an "extra comfort bike" seat from the brand (or use one of your choice) without voiding the warranty. It adjusts horizontally, and vertically, and is advertised as being good for height levels ranging from 4'6" to 6'6", but I read some reviews stating shorter people had problems reaching the pedals even after putting the seat at the lowest position.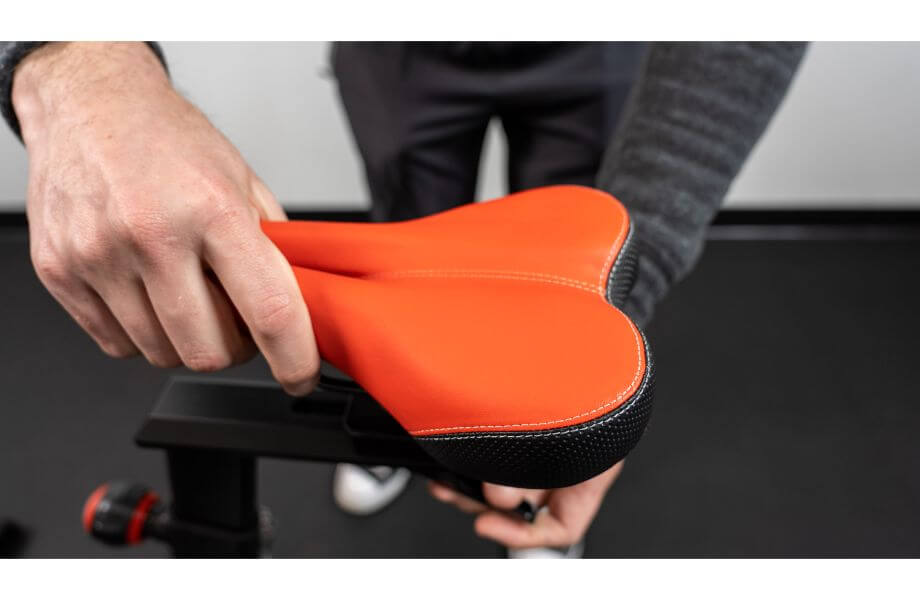 Pedals
The Bowflex C6 has SPD clips on one side and adjustable toe cages, so you can ride them with cycling shoes or your everyday cross-training shoes. I was able to get my size 15 shoes into them with no problem, so I imagine most people will also find them to work for their feet.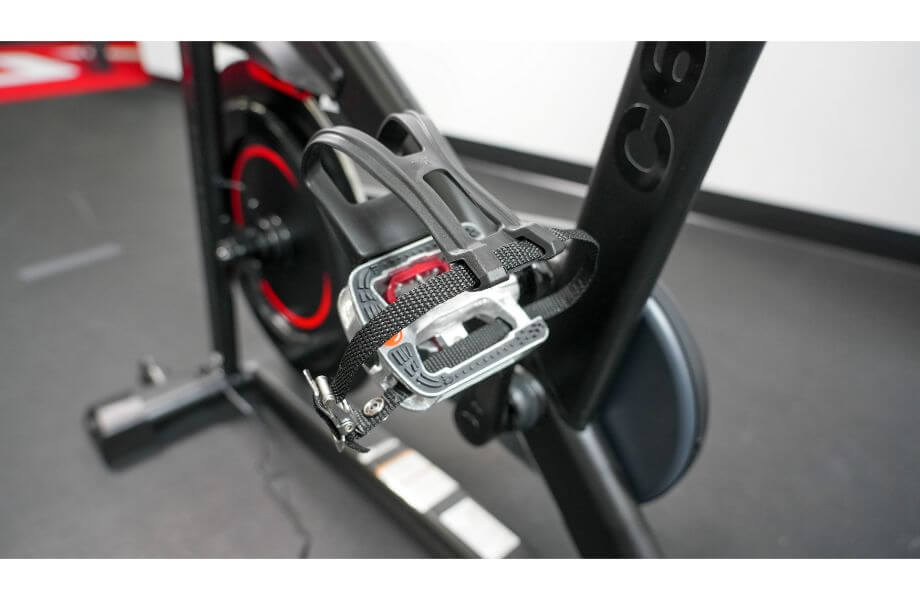 Conveniences
The Bowflex C6 comes with a media stand, two water bottle holders placed in front of you (instead of behind the rider), dumbbell cradles, a USB charging port, and transport wheels.
Durability and Construction
The Bowflex C6's frame is made with steel, and has some plastic parts. Overall it seems durable and it was heavy enough where someone of my 6'3" stature didn't experience any wobbling.
There are some plastic parts, but as long as you don't hit the bike against anything it shouldn't be too much of a problem.
Footprint and Portability
The Bowflex C6 isn't the most compact exercise bike out there, but it will also fit in just about any home gym or apartment. It's 51.8 inches tall, 48.7 inches in length, and 21.2 inches wide.
Weighing in at 112 pounds, the bike has smooth transport wheels that make it easy to move around the home gym.
Bowflex C6 vs. Peloton Bike
Still Worth It?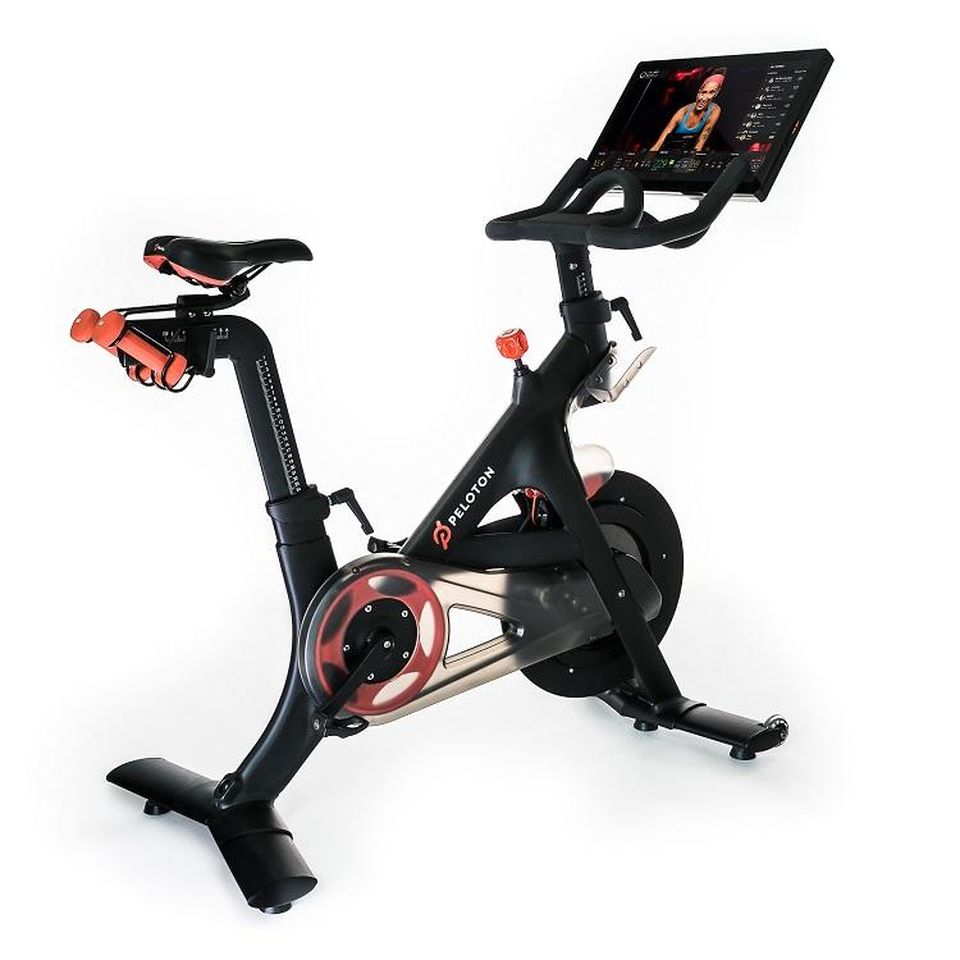 If we were to leave out all the extra features and just compare the bikes side-by-side, the Bowflex C6 gets the win here. Both it and the Peloton bike are made with steel and utilize durable magnetic resistance, but the Bowflex bike has a slightly heavier flywheel (40 pounds compared to Peloton's 38), and has a higher weight capacity. 
RELATED: Peloton Bike Review
After trying out both, I noticed the Bowflex bike had a smoother ride and there was slightly less wobbling on it than the Peloton.
Plus, you can get the Peloton experience by connecting the bike to the Peloton app.
Bowflex C6 vs. Bowflex VeloCore
Worth the Money?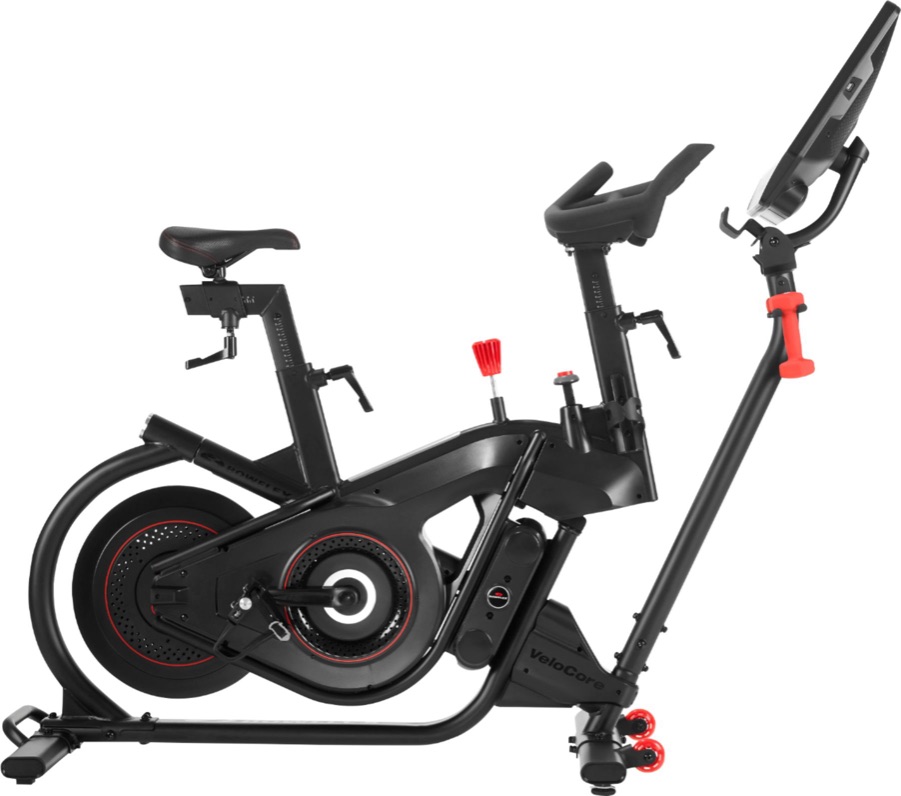 Bowflex VeloCore
Meet the indoor bike that's thoughtfully engineered with leaning mode to create a wildly immersive riding experience. You'll rock, sway, and bend to life down winding roads. Tilting gently from side to side as you sprint like a banshee toward the finish line. It's a high-intensity escape that'll help to ignite your arms, core, and your thrill for epic outdoor adventure…all from your living room.Take a look at our full Bowflex VeloCore Bike review.
This isn't so much an apples vs. oranges comparison as it is a honeycrisp vs. granny smith comparison—they're both roughly the same, with some differences in appearance and experience. Both bikes offer 100 levels of magnetic resistance and are compatible with the JRNY, Peloton, and Zwift apps.
The C6 bike has a heavier flywheel—the VeloCore's is 33 pounds—and has a better warranty (the VeloCore only has a two-year warranty).
Of course, the biggest difference here is the VeloCore's leaning feature that simulates a road cycling experience. The VeloCore also comes with its own built-in screen, unlike the C6 Bike.
As of this writing, the VeloCore will run you $1,699 for a bike with a 16-inch console, and $2,199 for a 22-inch console.
Do we think the VeloCore is worth it? At the end of the day it's going to depend on what you're looking for. Do you simply want a quality exercise bike that can help you burn calories? The C6 Bike is probably the better choice based on price alone. Are you looking for a unique experience to shake up your cardio workout routine? Go for the VeloCore.
To learn more, read our full Bowflex VeloCore review.
Customer Experience
Bowflex can be reached through their website, social media, email, or telephone on Mondays through Friday. Customer service representatives are unavailable on weekends and holidays.
Warranty, Financing, Returns
The Bowflex C6 comes with an excellent 10-year warranty on the frame, three years for parts and electronics, and one year for labor.
Bowflex offers different financing options, and has a credit card program you can apply to. One benefit of using that card is you pay no interest on the product if you pay it off in 18 months.
You have six weeks from the date of delivery to decide if you want to return your Bowflex C6 bike for a full refund, minus the cost of shipping.
Ordering and Assembling the Bowflex C6
Assembling the bike is pretty simple, and shouldn't take more than 30 minutes. Essentially, you'll take the mainframe and screw it into the front and back stabilizers, then proceed to attach the seat, pedals, dumbbell rack, and handlebars.
Customer Reviews
The Bowflex C6 has a 4.7 average rating, out of 5 stars, with more than 2,700 reviews on Bowflex's website. Of those, more than 2,000 are 5-star reviews. People love the versatility of the bike and said it helped give them the cycling bike experience they wanted at a lower price.
Others, though, found that the C6 broke down shortly after they received it. We'll be keeping an eye on how ours does over time.

Final Verdict of Our Bowflex C6 Review
Here's the bottom line: The Bowflex C6 is a simple exercise bike. This is for people who don't necessarily need the motivation of a virtual trainer, or the ability to watch Netflix on a screen right in front of them, to get their cardiovascular system pumping. And there's nothing wrong with needing that type of external motivation—we're all different in how we approach fitness.
But if you're someone who just wants a bike that's built to last, and has high-quality parts, then the Bowflex C6 bike is it.
Bowflex C6 Rating
Bowflex C6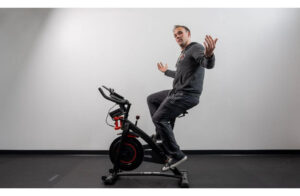 In our Bowflex C6 review, we'll examine this minimalist exercise bike and who we think would enjoy it.
Product Brand: Bowflex
Product Currency: $
Product Price: 999.00
Product In-Stock: InStock
Bowflex C6 FAQs
Is Bowflex C6 the same as Peloton?
The Bowflex C6 is similar to the Peloton, but Bowflex doesn't have a built-in screen or dynamic programming. Both have 100 levels of micro adjustable resistance, utilize silent magnetic resistance, and have Bluetooth connectivity. 
The Bowflex C6 can connect to the Peloton app and other cycling programs, whereas the Peloton only allows you to use the Peloton app.
Is Bowflex C6 the same as Schwinn IC4?
The Bowflex C6 and Schwinn IC4 are probably the same bike. They have the same specs, features, and are owned by the same parent company, Nautilus. 
Can you use Bowflex C6 without subscription?
Yes, the Bowflex C6 can be used without a monthly subscription but you can also sign up for a cycling app and connect it to the bike if you wish.
Is the Bowflex C6 a smart bike?
The Bowflex C6 is not a smart bike because it doesn't come with any built-in screen or dynamic programming, but you can connect it to different cycling apps.