We test and review fitness products based on an independent, multi-point methodology. If you use our links to purchase something, we may earn a commission. Read our disclosures.
If you're on the hunt for an exercise bike with a little built-in motivation, then our selection of the top five exercise bikes with virtual courses will start spinning your wheels. This roundup features some of the best exercise bikes for home gyms that we've personally tested.
Plus, each of these bikes gives you access to take scenic rides through virtual courses and turn your workouts into an entertaining experience, which can help you stay focused on your fitness goals.
You'll also like knowing that our expert product testers here at Garage Gym Reviews are not just a bunch of fitness geeks off the street; we're a group of professionals ranging from CrossFit Level 1 Trainers to nutrition coaches. Some of us have even completed marathons and triathlons. Essentially, we know our stuff, whether it be barbell-based training or conditioning exercise.
Best Exercise Bike With Virtual Courses
Best Overall Exercise Bike With Virtual Courses: NordicTrack S22i Studio Bike
Good for: Anyone looking for an immersive cycling experience plus incline and decline training
The NordicTrack S22i made it to the top of our list for the best exercise bike with virtual courses because this iFIT-enabled cardio machine delivers much more than just a virtual course.
The S22i features a 22-inch touchscreen that brings the iFIT programming to life. With your iFIT monthly membership, you will have access to trainer-led outdoor rides through breathtaking terrain all over the globe, and Google Maps technology, which allows you to drop a pin and select bike routes nearly anywhere in the world.
And if you want to switch things up, you can also use iFIT for studio cycling classes and full-body workouts off the bike including dumbbell strength training, bodyweight routines, and yoga. It's also worth noting that NordicTrack offers AutoAdjust technology, which automatically adjusts the resistance on your S22i according to the terrain or the instructor's coaching cues.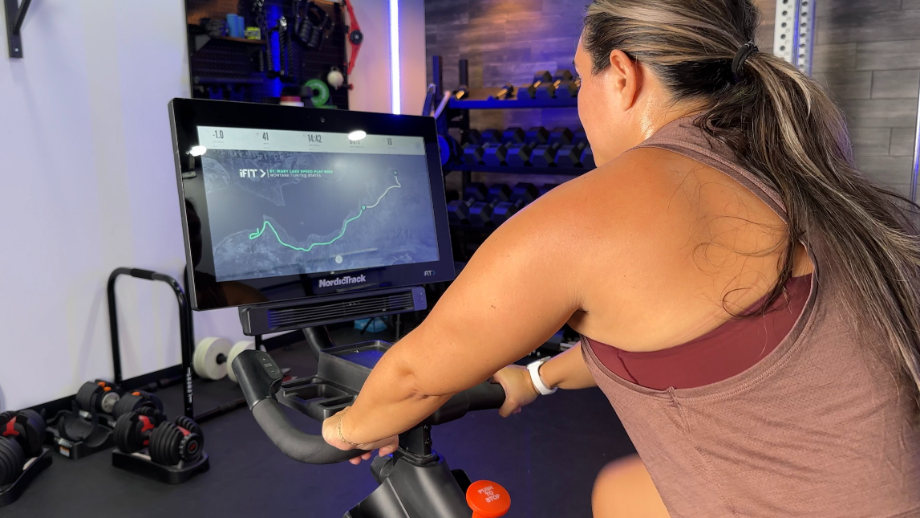 Another standout feature is the fact the S22i can incline up to 20% and decline to -10%. The AutoAdjust feature will not only control your resistance, but the incline and decline settings, too. You will also have controls on your handlebars and the touchscreen.
RELATED: Best Exercise Bike With A Screen
GGR founder and OG product tester Coop Mitchell tested the S22i and says he enjoys the unique incline and decline settings, writing that, "if you want to feel like you're actually outside riding, the incline and decline do simulate real rides."
Coop also notes that with the Google Maps technology, cyclists can potentially even practice routes prior to races performed in the real world. If virtual courses, incline training, and automatic controls excite you, read about our hands-on experience in the NordicTrack S22i review.
| | |
| --- | --- |
| Display | 22" HD touchscreen; 360-degree rotation |
| Connectivity | Bluetooth headphone connectivity |
| Pedals | SPD toe clip; adjustable toe cages |
| Resistance | 24 digital levels of digital magnetic resistance |
| User weight capacity | 350 lbs |
Best Exercise Bike With Virtual Courses and Entertainment: Bowflex VeloCore
Good for: Folks who want the option for virtual courses or watching movies and shows
If you're stuck deciding how you want to entertain yourself during indoor bike workouts, look no further than the Bowflex VeloCore. With this bike, you'll have access to the Explore the World app within Bowflex's JRNY programming, which features over 200 different destinations to choose from for virtual courses.
The Explore the World is not trainer-led, but you will have real-time metrics displayed on the screen while you ride. Plus, one of the most unique things about the VeloCore is the leaning feature that allows you to lean into corners and turns—just like you would on the road!

RELATED: Indoor vs Outdoor Cycling
Former GGR writer and product tester Caroline Lubinsky ordered, assembled, and tested the VeloCore and notes that "Explore the World is a good way to zone out and play your own music or podcast," she writes. "You can simply enjoy your scenic ride with no virtual coaching."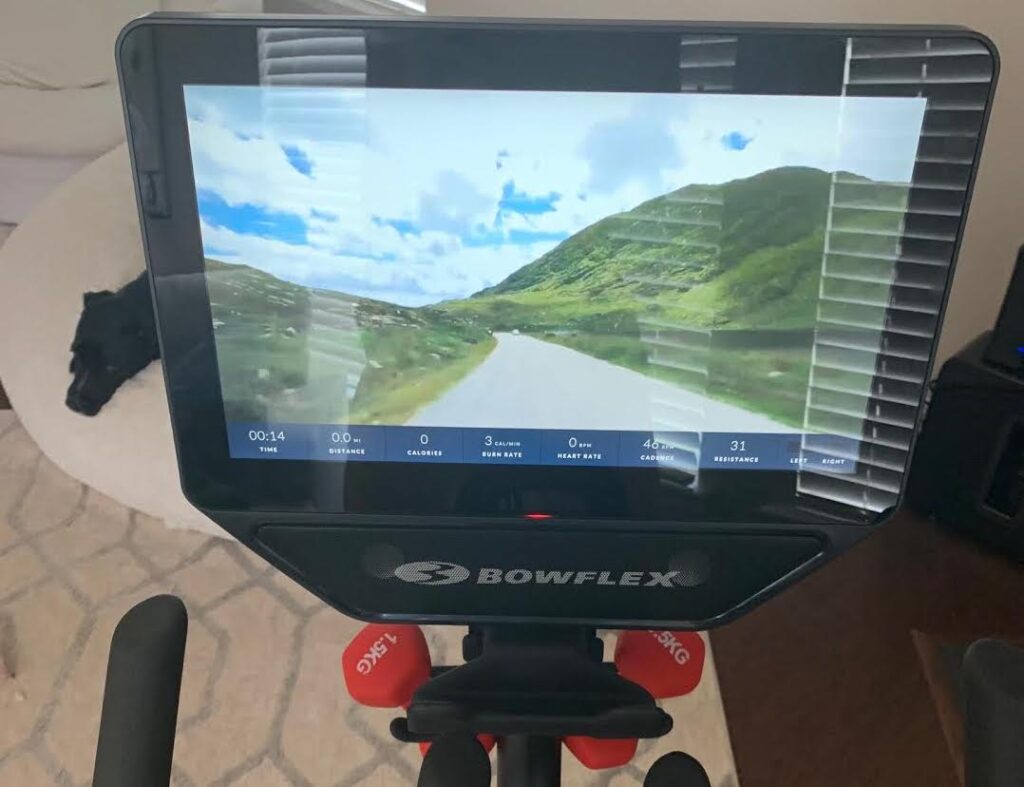 You'll have the option to go at your own pace or participate in scenic rides as a part of the JRNY adaptive workout experience. The JRNY app is designed to deliver personalized and adaptive workouts based on your fitness level and your progress. In other words, the software is going to create a baseline and deliver you more difficult workouts over time and when you make progress.
In addition to Explore the World features, JRNY also allows subscribers to have access to streaming services like Netflix, Hulu, Disney+, and Amazon Prime Video. While all these services are sold separately, we think it's worth mentioning that most cardio equipment with built-in touchscreens doesn't have software that can support third-party apps and entertainment.
JRNY also offers studio classes in cycling as well as strength training and other forms of cardio. If you're interested in additional information like what it was like to assemble this indoor cycling bike, check out our Bowflex VeloCore review.
| | |
| --- | --- |
| Display | 16" or 22" adjustable HD touchscreen |
| Connectivity | Bluetooth heart rate armband |
| Pedals | SPD clips; adjustable toe cages |
| Resistance | 100 levels of magnetic resistance |
| User weight capacity | 325 lbs |
Best Budget Exercise Bike With Virtual Courses: ProForm Carbon CX
Good for: Anyone on a budget who still wants the features of a smart bike
What if I told you could buy a studio bike for under $600 and access the full library of iFIT interactive programs—would you believe me?
If that sounds too good to be true, the ProForm Carbon CX is the bike for you. It's the most affordable bike in the brand's Studio Series lineup. ProForm can keep the price tag low by installing a LCD window on the console instead of a smart HD touchscreen. The budget price is also reflected in the 28-pound flywheel, which falls just short of our recommended 30 to 40 pounds on exercise bike flywheels. It also only has 16 levels of magnetic resistance.
You may be wondering how you can view virtual courses if there is no touchscreen, but that's where your own smartphone or tablet comes into play. You'll use the media tray and the bike's Bluetooth connection to stream iFIT on your own device.
RELATED: Best Budget Exercise Bike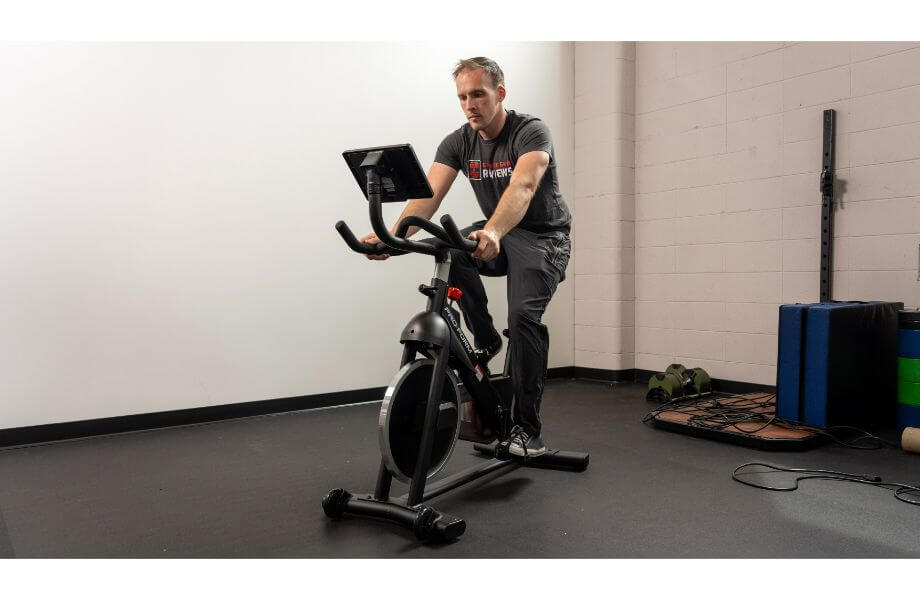 GGR performance editor Anthony O'Reilly tested the Carbon CX and writes, "Personally, I don't see the need for a touchscreen on my exercise bike. Most people own a smartphone or iPad," he says. "And I'd much rather have a high-quality bike that requires me to use my own technology than an average bike with tech-filled features," he adds. 
You can read more about Anthony's riding experience in our ProForm Carbon CX review.
You'll even have full functionality of the iFIT AutoAdjust feature where your resistance settings are controlled either by the instructor's cues or the terrain of the course you choose. Keep in mind that to have access to iFIT, you will have to budget for the monthly membership fees, which will run you $39 per month for a family plan or $15 per month for an individual plan. 
| | |
| --- | --- |
| Display | LCD window |
| Connectivity | Bluetooth heart rate monitors and iFIT |
| Pedals | Adjustable toe cages |
| Resistance | 16 levels of magnetic resistance  |
| User weight capacity | 250 lbs |
Best High-End Exercise Bike With Virtual Courses: Echelon EX-8s
Good for: Home gym owners on the hunt for a high-end Peloton alternative
The Echelon EX-8s is our top pick for best high-end exercise bike that delivers virtual courses. Much like the other stationary bikes on this list, you'll also have access to on-demand classes and live workouts through the brand's Echelon Fit app.
Echelon scenic rides are self-guided, which allows you to be in control of your workout with the added stimulus of riding through destinations like Rome, Hong Kong, or the French Alps.
Caroline tested the Echelon EX-8s and reports the scenic rides are "reminiscent of Bowflex's JRNY and NordicTrack's iFIT cycling classes," she says.
And much like the other popular apps on the market (especially brands competing with Peloton) Echelon also offers more than just cycling workouts. Your Echelon monthly subscription also gives you access to high-intensity interval training (HIIT), yoga, strength training, pilates, and other styles of cardio.
RELATED: Echelon vs Peloton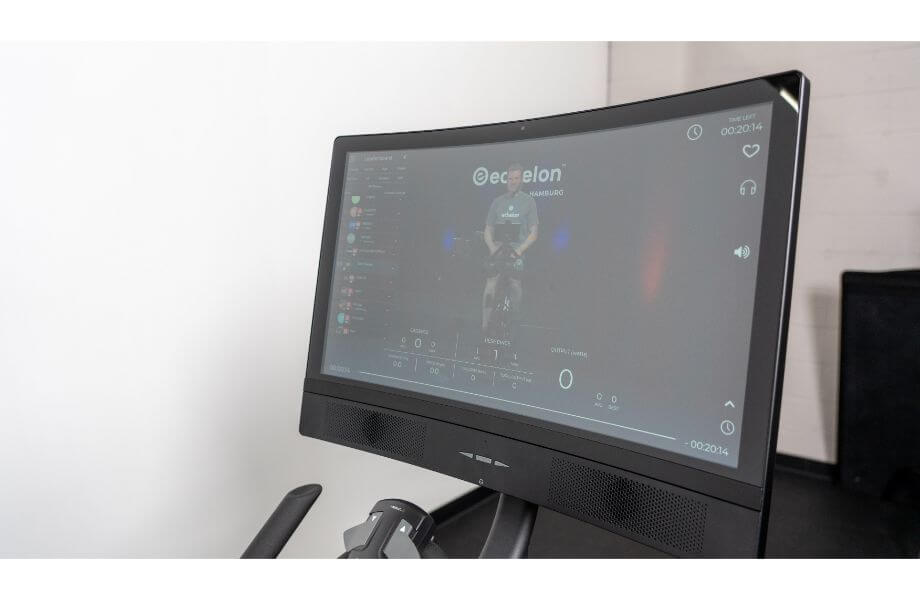 Similar to the Peloton Bike, the EX-8 indoor cycle bike features studio classes, leaderboard competition, and live fitness classes in addition to virtual scenic courses.
That said, what Echelon has over the Peloton Bike is the 22-inch rotating touchscreen so you can adjust the screen to view workouts off the bike. The Echelon also features dual-sided pedals for clip-in cleats or toe cages for regular cross-training shoes, unlike Peloton that pigeon holes users to using specific cycling shoes.
It's also worth noting that the all-access membership for Echelon costs $34.99 per month, which is just under Peloton's $44 monthly fee. One thing we also think you'll want to be aware of is the fact that the Echelon warranty is extremely short and only lasts one year.
If you want to read more about our experience, check out the Echelon EX-8s review.
| | |
| --- | --- |
| Display | Curved 24" HD touchscreen; 180-degree rotation |
| Connectivity | Bluetooth 5.0-compatible |
| Pedals | SPD clips; adjustable toe cages |
| Resistance | 32 levels of magnetic resistance |
| User weight capacity | 300 lbs |
Best Exercise Bike With Virtual Courses and Studio Classes: Peloton Bike
Good for: Individuals looking for high-quality virtual rides in addition to live classes
The Peloton Bike is well-known for its live classes, leaderboard competition, and virtual community. However, to keep up with the list of growing Peloton competitors, the brand now features scenic virtual rides and classes for All-Access members.
You can access the new category by navigating to "more rides" on the 21.5-inch touchscreen display. You'll even have three different options to choose from when selecting your virtual courses including:
Travelogues: These are instructor-led scenic classes with automatic resistance and incline controls.
Distance workouts: This feature gives you responsive video playback that is consistent with your own speed. 
Timed workouts: This feature offers you distance-based timelines instead of timed countdowns (plus customized playlists).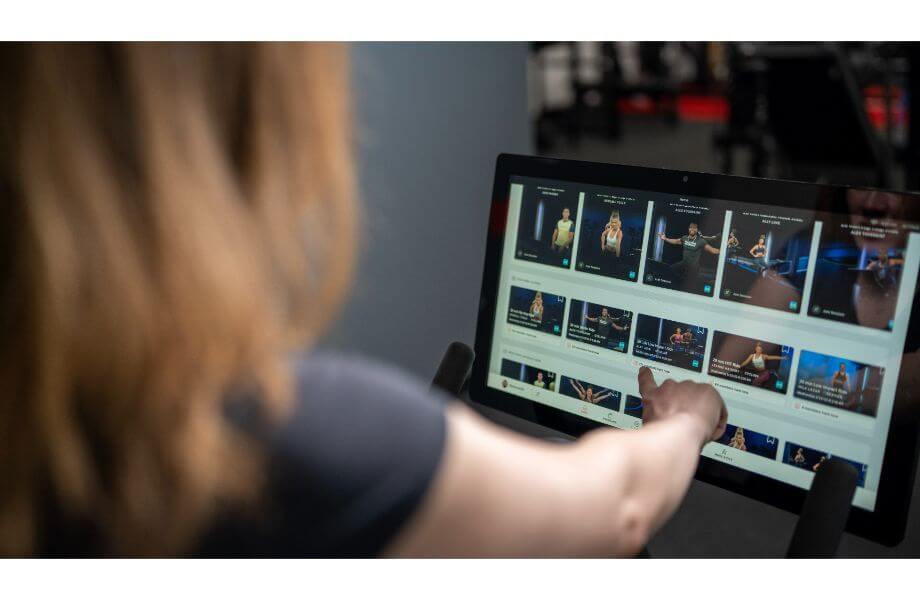 These virtual courses are not specific to the Peloton Bike either— you can also find these features on the Peloton's treadmill and rowing machine.
We know that compatibility is also important for home gym owners, so I'll mention that the Apple Watch pairs seamlessly with Peloton equipment to track your progress and monitor your heart rate. You can read more about our full hands-on experience in our Peloton Bike review.
| | |
| --- | --- |
| Display | 21.5" HD touchscreen |
| Connectivity | Bluetooth and WiFi-enabled |
| Pedals | Delta-compatible aluminum |
| Resistance | 100 levels of magnetic resistance |
| User weight capacity | 297 lbs |
Other Exercise Bikes We Researched and Tested
Our team has collectively ridden and tested dozens of different exercise bikes, and there are several more that almost made it onto this roundup.
Diamondback Fitness 1260SC: Although this is a sturdy rear-wheel drive bike, it didn't make this roundup because of the expensive price tag paired with the fact it doesn't have a built-in screen.
That said, what we do like about this bike is the fact you can connect with any app that features scenic or virtual courses as long as it is ANT+ or Bluetooth-compatible.
Keiser M3i Indoor Cycle Bike: Similar to the Diamondback bike above, the Keiser is a high-quality bike that can connect with a multitude of apps, but it doesn't have a built-in touchscreen to deliver the high-quality visual experience you may be looking for at the price point this bike is offered.
NordicTrack Commercial R35: This NordicTrack recumbent bike offers virtual courses through iFIT, but didn't make the list because we decided to stick with studio cycle bikes for this roundup.
Schwinn IC4: This is another bike without a screen but offers the ability to connect with third-party apps. That said, one of the reasons we didn't choose this bike is because many reviewers find that the metrics lag or don't match when using third-party apps.
How We Picked and Tested
Our process typically starts with internet research. We started by making a comprehensive list of every exercise bike that offers virtual courses.
Then we narrowed down that initial list to a smaller selection based on which of those bikes we've actually tested. In some compelling cases, we'll absolutely include fitness equipment we haven't tried, but for the most part, we like our expert product testers to have experience with it before we can call it "the best" of anything.
For this roundup of indoor exercise bikes with virtual courses, we also took into consideration the bike as whole and what else it offers. We also wanted this roundup to include options for folks on any budget.
Benefits of an Exercise Bike With Virtual Courses
Here are some benefits of investing in an exercise bike with virtual courses:
Engaging Indoor Experience
We think this is the most obvious benefit: Your indoor workouts become a little less boring!
Although studio classes also help you stay engaged on your bike, participating in instructor-led classes is not everyone's cup of tea. If you are someone who prefers a little less hype and needs a little more zen, then a virtual scenic course might be your best bet.
RELATED: Benefits of Indoor Cycling
Tracking Your Metrics
In addition to having a scenic and enjoyable bike ride, most apps that offer scenic rides also track your bike workouts and provide data about your performance. You'll be able to track your time, speed, distance, and calories burned. This can be a helpful tool to set goals and stay motivated.
You may even be able to track your heart rate if the bike you choose features connectivity with heart rate monitors.
What to Look for in an Exercise Bike With Virtual Courses
You might be on the hunt for the best exercise bike with stunning virtual courses and amazing visuals, but let's not forget you'll want a sturdy bike, too. Here are some things to keep in mind:
Resistance Levels
Choosing the right bike now that offers a wide range of resistance will make it so you don't have to upgrade your bike once you become a better cyclist. Ideally our product testers like to see at least 12 levels of resistance.
It's also worth pointing out that many indoor studio bikes have a knob—not all bikes in this style have digital resistance controls.
Durability
Factors we consider when looking for a durable exercise bike include:
Maximum user weight capacity of 275 pounds or more
Flywheel weight between 30 to 40 pounds
No shaking or shifting while riding
Pedals
We appreciate it when indoor exercise bikes come with two options: toe cages and clip-in pedals. That way you can choose and not everyone in your household has to own a pair of cleats to use the bike.
Comfort and Customizations
Be sure you read the specs carefully for things like seat and handlebar adjustments. Ideally, you'll have the option to move both points up and down in addition to horizontally.
Also, it's worth looking to see if the screen that comes with your bike adjusts, tilts, or pivots. This can be helpful for getting the most ergonomic position while you ride in addition to allowing you to use the screen for workouts off the bike.
Lastly, as part of your overall comfort, make sure you take into consideration extra features like built-in workout fans, water bottle holders, and a place for your phone.
Exercise Bike With Virtual Courses FAQs
Which exercise bike has free scenic rides?
Most exercise bikes with built-in screens do not provide scenic rides or workout content for free without a subscription. If you're using a stationary bike without a screen, you can download the free app from Bowflex called Explore the World for scenic rides and runs.
Can you use Zwift on an exercise bike?
On select exercise bikes, you can use the Bluetooth connection to sync with the Zwift app. For example, the software on the Bowflex VeloCore allows you to stream third-party apps like Zwfit on the built-in touchscreen. 
In other cases—like the Keiser M3i Indoor Bike—there is no built-in screen but it's compatible with Zwfit and other third-party apps. 
What exercise bikes let you watch Netflix?
The Bowflex VeloCore allows you to stream more than just the brand's JRNY app. Although you will need your own login, separate from Bowflex or JRNY accounts, you can access your favorite movies and TV shows on Netflix in addition to Amazon Prime, Disney+, HBO, and Hulu. 
How much is the Peloton app per month?
The Peloton app is $12.99 to use it on your phone or tablet. If you own a Peloton machine, you will be required to sign up for the Peloton All Access, which is $44 per month.