We test and review fitness products based on an independent, multi-point methodology. If you use our links to purchase something, we may earn a commission. Read our disclosures.
With so many companies claiming to make the best exercise bike, it's hard to determine which ones are telling the truth and which are hiding behind marketing speak. Luckily for you, we're not afraid to give our honest opinion on anything we test.
And that's exactly what we've done with our ProForm Studio Bike Pro 22 review. On paper, this bike makes a lot of claims about why it's the best choice for those looking to add a high-quality cardio machine to their home gym, such as automatic resistance adjustment, a durable frame, and easy portability.
If you're curious about whether it delivers on those promises, read on to see what we thought after taking it for a few spins.
Hands-on Testing From Industry Pros
As someone who's spent most of his life in apartments, exercise bikes are a piece of fitness equipment I've become very familiar with as they're one of the few things you can use without disrupting your downstairs neighbors. So after researching, using, and testing well over 25 different bikes, I've developed a sixth sense, of sorts, on how to choose an exercise bike based on one's living space, budget, and fitness goals.
On top of that, the Garage Gym Reviews team is filled with certified personal trainers and coaches who have programmed exercise bike workouts for themselves and their clients, so we're looking for the best to help you not only get results, but enjoy your workout as well.
ProForm Studio Bike
ProForm Studio Bike Pro 22
The ProForm Studio Bike Pro 22 is the highest-end model in ProForm's studio bike series, complete with 24 digital resistance levels and an impressive 24-inch swivel touchscreen. It also has iFIT programming, so you can access countless live and on-demand cycling, strength and conditioning, pilates, and other classes.Like all other iFIT products, the ProForm Studio Bike Pro 22 comes with automatic tension control, which allows iFIT trainers to adjust the resistance for you. This feature, though, can be turned off if you wish to customize your workout.As a bike, we weren't impressed by the ProForm Studio Bike Pro 22 as it showed a lot of wobble and the welding was below par. In our opinion, there are higher quality exercise bikes at this price point.
A Quick Look at the ProForm Studio Bike Pro 22
The ProForm Studio Bike Pro 22 is one of the three options in ProForm's Studio Bike series, and on paper is the best between it, the ProForm Studio Bike Pro, and the ProForm Carbon CX. It has 24 digital resistance levels (the Studio Bike Pro has 22 and the Carbon CX has 16) and has a 22-inch swivel touchscreen with iFIT programming (the Studio Bike Pro has a 10-inch and the Carbon CX has no screen).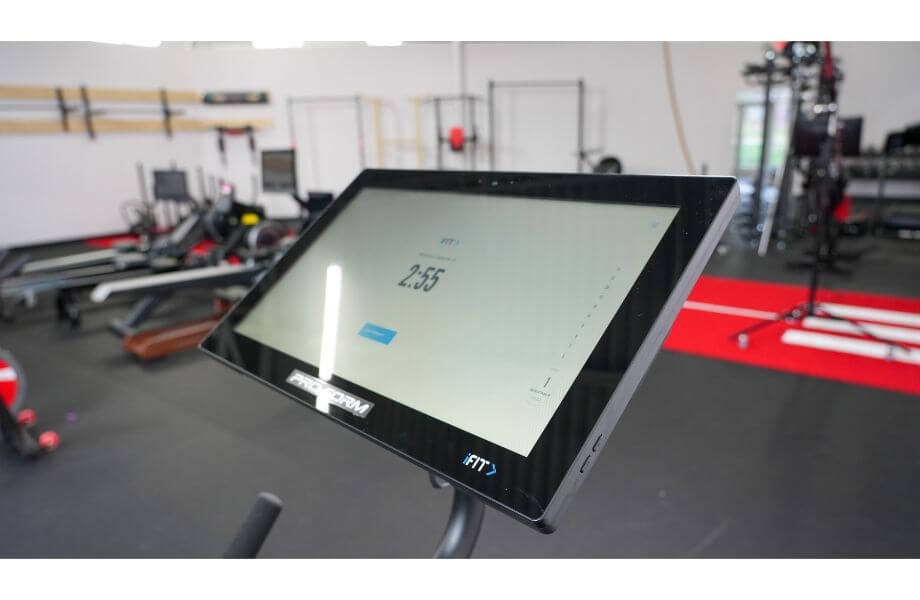 Like most exercise bikes, it comes with an adjustable seat that can be moved up and down, and forward and backwards, and has adjustable handlebars. It has a max user weight of 250 pounds, below the industry average of 300.
One cool feature about the bike is that it comes with automatic tension control, which allows iFIT trainers to remotely adjust the resistance during live or on-demand workouts.
But as we'll get into, ProForm seems to have forgotten that this is an exercise bike before anything else.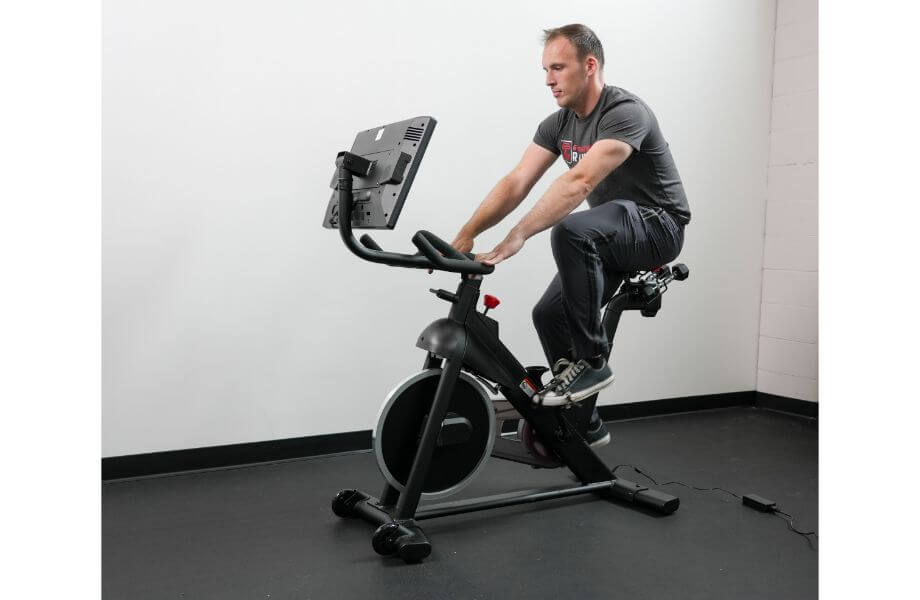 My Tips
Make sure the lever adjusters are fully tightened when adjusting the seat or handlebars, as some reviewers have complained of them popping out during use.
Find the most level and stable area of your home gym to place this bike on—you're going to need it.
Pros:
Automatic tension control
24 levels of digital resistance
Large and well-lit touchscreen
Belt drive system
Seat and pedals can be removed and replaced with your own
Cons:
Incredibly unstable and wobbly during use
Resistance wasn't too challenging
Flywheel wasn't the quietest
Poor welding throughout the bike
Bike is made with a lot of plastic
Is the ProForm Studio Bike Pro 22 Worth It?
To be honest, I don't think the ProForm Studio Bike Pro 22 is worth the $1,299 price tag. Now that price tag is pretty budget-friendly compared to the NordicTrack S22i (ProForm and NordicTrack are actually owned by iFIT, formerly ICON Health & Fitness) or the CAROL Bike, but it's still a lot of money and around the same price as some other high-quality exercise bikes.
RELATED: CAROL Bike Coupon
Even on its own, this bike leaves a lot to be desired. I found it to be incredibly unstable even at the highest resistance, the overall construction was subpar, and it had one of the louder flywheels of all the exercise bikes we've tested.
The real highlight is the 22-inch swivel touchscreen that comes with iFIT programming, but buying an exercise bike for its touchscreen is like buying a pair of eyeglasses just for the frames. In both cases, you're not going to go very far.
Don't take my word for it: The bike has an average rating of 3.4 stars on Amazon with 40 ratings. That said, there are some people who rated it 5 stars and you may very well be someone who could like it.
Great for:
Trainees looking for an exercise bike with interactive and on-demand workout classes
Anyone looking for a compact piece of exercise equipment
People who like to customize their exercise bikes with their own seats and pedals
Not recommended for:
Trainees who like HIIT bike workouts (the instability will be a big problem)
Anyone on a budget
Those above 250 pounds
ProForm Studio Bike Pro 22 Specs
| | |
| --- | --- |
| Footprint | 54" H x 21.9" W x 56.5" D |
| Weight | 144 lbs |
| Weight capacity | 250 lbs |
| Levels of resistance | 24 |
| Display | 22" swivel touchscreen |
| Seat adjustment | Up/down, front/back |
| Drive system | Belt |
| Resistance | Magnetic |
| Flywheel weight | 32 lbs |
| Construction | Steel frame, plastic parts |
| Pedals | Adjustable toe cages |
| Warranty | 10-year frame, 2-year parts, 1-year labor |
Workout Experience With the ProForm Studio Bike Pro 22
The ProForm Studio Bike Pro 22 has a max user weight capacity of 250 pounds, and I bring that up because I'm 6'3" and can push 220 during bulking season. So when I noticed a lot of wobble on this bike, despite the fact that I had the resistance all the way up, I thought maybe this was just a bike that wasn't meant for someone like me.
That's when I recruited fellow GGR product tester and fitness writer Caroline Lubinsky, 5 feet 9 inches tall and much lighter than me, to test out my theory. The results: pretty much the same. Even when we were doing minimal peddling, the bike resembled that one bar stool that constantly needs a coaster underneath it.
And that was before I attempted coming out of the saddle on a ride, which as you could probably guess didn't go much better either. ProForm advertises that the bike comes with adjustable leveling feet, but there was still just as much turbulence as there was on my flight to GGR headquarters to test this bike.
The other thing I noticed when I put the resistance to 24, the highest it can go, was that it just wasn't that challenging. I've gotten harder workouts from folding exercise bikes, and for a bike at this price tag, I was expecting a little more.
This appears to be a common problem, as some Amazon reviews I read through noted that other bikes either came with minimal or no resistance at all. The reviewers clarified that ProForm worked with them to deliver replacement parts, at times with positive results and others that failed to address the problem.
The flywheel is 32 pounds, which isn't the heaviest but I've used bikes that have around the same and none of them made the amount of noise the ProForm Studio Bike Pro 22 did. This was also surprising because the bike uses a belt drive system and magnetic resistance, both of which typically result in a quieter ride compared to chain drives and friction resistance.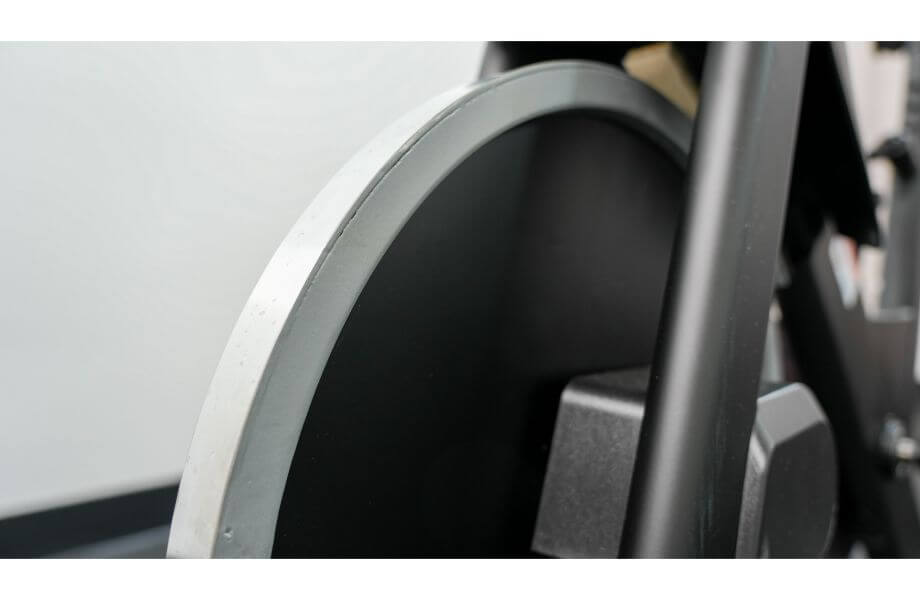 As I've said, the big selling point of this bike is that it comes with a 22-inch swivel touchscreen where you can stream iFIT workouts, and the trainers can automatically adjust your resistance (more on the screen in just a second).
But the actual bike itself falls short in some major areas. I'm someone who typically likes to find the positives in people and most things, but I found it hard to say many nice things about this bike.
Touchscreen
The ProForm Studio Bike Pro 22 actually has one of the nicest touchscreen displays I've seen on any piece of smart home gym equipment. At 22 inches wide, the smart HD touchscreen display is big enough and well lit so anyone can clearly follow any interactive or on-demand workout you're following.
It's also where you adjust the silent magnetic resistance and get access to your overall metrics.
You can swivel the touchscreen in different directions, which comes in handy if you're following a strength training or yoga class that requires you to be off the bike.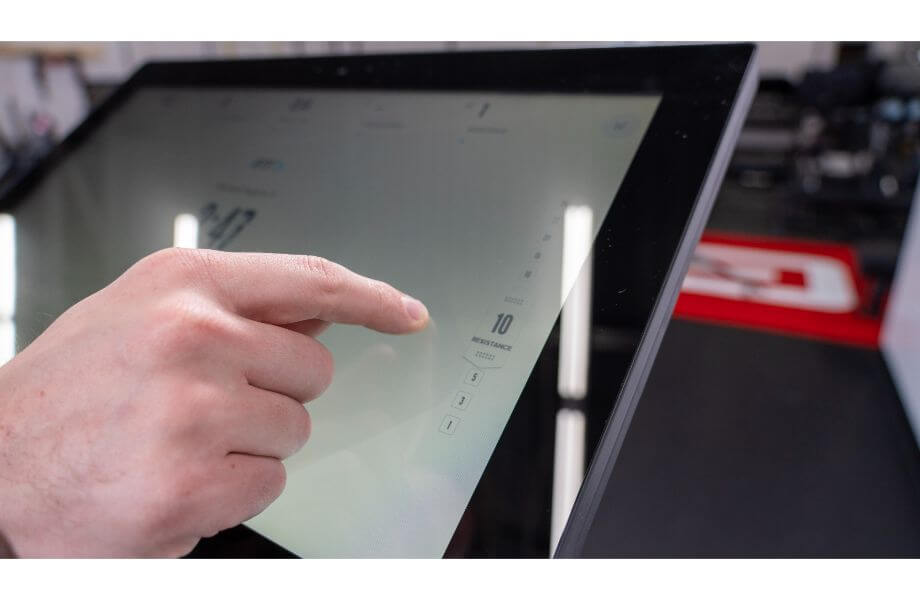 iFIT Programming
The ProForm Studio Bike Pro 22 comes with a 30-day iFIT family membership, which is required to access the bike's features.
With iFIT, you have access to countless live and on-demand indoor cycling workouts. As we mentioned, one of the standout features of the bike is the automatic resistance control, or when trainers can adjust your bike's resistance for you.
It felt a little strange the first time the resistance was changed for me, but you quickly get used to it. You can also turn off this feature if you want, but I'm personally a fan of this SkyNet-like feature as it allows the rider to focus on the workout at hand.
iFIT offers much more than cycling classes, and with the 3-pound dumbbells that come with the bike you can also do strength or high-intensity interval training (HIIT) workouts. Many of the classes are specific to the machines they're built for (there are rowing classes as well for those with rowing machines) but there are also road biking, strength, walking, and yoga classes that can be streamed from your phone.
RELATED: Biking vs Walking
The iFIT community also offers leaderboards for multiple classes and workout challenges, so you can see how you compare to other people doing the same virtual workouts. This doesn't just offer a sense of community and competition, but research has actually shown that leaderboards can make people more likely to workout more regularly (because they want to improve their scores).
Read our full iFIT review to learn more about this training app.
Seat
Both myself and Caroline found the seat to be uncomfortable to sit on for long periods of time, but ProForm wins points here by allowing you to put in your own seat if you choose to do so. Yes, you can do that with other bikes, but companies will sometimes discourage it by saying doing so voids the warranty. With this bike, you'll have no such ramifications.
Pedals
The ProForm Studio Bike Pro 22 comes with adjustable toe straps, and like the seat, can be removed and replaced with the pedals of your choosing. I wear a size 15 shoe and had no problem using these pedals, so most people should be fine with them as well.
Adjustments
The seat can be adjusted horizontally and vertically, and the handlebars can be moved to accommodate any user's size. I read some reviews that said riders below 5 feet 4 inches tall had trouble reaching the pedals no matter how much they adjusted the seat, but we didn't have anyone of that stature at the HQ during testing time to test that out.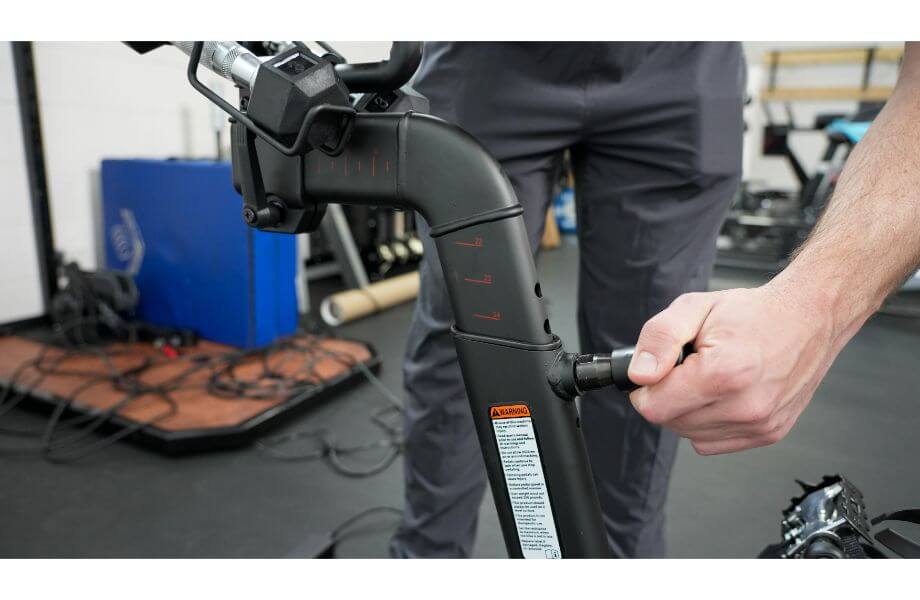 The seat and handlebars have lever adjusters, which you have to twist for a bit before pulling it out to adjust either to your desired position. One thing to note is you have to tighten the lever when you're done adjusting it, otherwise the parts could move without warning during your next ride.
There's also adjustable leveling feet near the front stabilizer that, in theory, allow you to make it stable on just about any surface but we found that using that didn't make much of a difference.
Construction and Durability
One of my other major beefs with this bike is the construction. The frame is made with corrosion-resistant steel, and I have no doubt that it will hold up over time. They don't clarify what type of steel is used, but I can't imagine it's anything too strong since it only holds up to 250 pounds (the industry standard for studio bikes is around 300 pounds.)
Secondly, looking at the bike I noticed some really poor welding.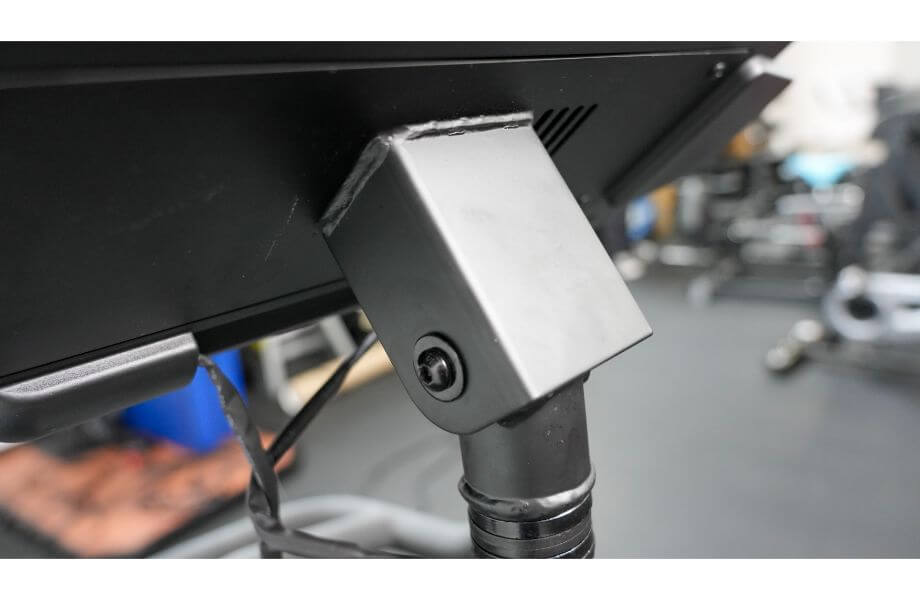 Looking at the flywheel, I also noticed the brake pad had a gob of glue on it that made it look like it had been haphazardly applied. Again, for a bike that costs $1,299, I really was expecting a better construction job.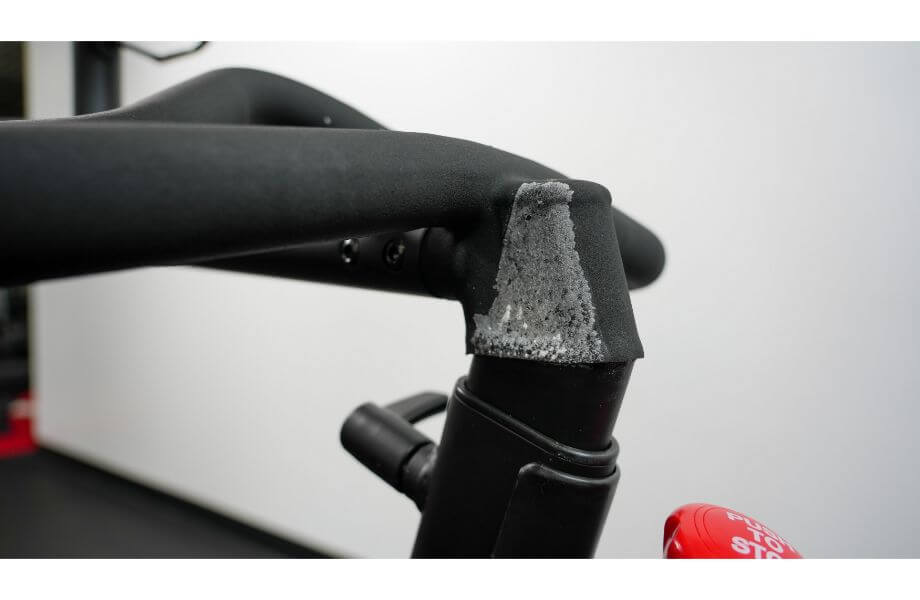 Footprint and Portability
The ProForm Studio Bike Pro 22 is 54 inches in height, 21.9 inches in width, and 56.5 inches in depth. That's about the industry standard for most studio exercise bikes, and it should work for those with large gyms and those looking for compact exercise equipment.
The 22-inch touchscreen made the bike feel heavier than it is (it clocks in at 144 pounds) and added a little awkwardness when trying to move it from place to place. It just wasn't a smooth experience, and there's also no handles to grab onto when you do want to change its location. There are transport wheels on the bottom, and they're pretty smooth but they don't make up for the fact that the touchscreen caused most of the weight to be frontloaded.
Conveniences
The ProForm Studio Bike Pro 22 comes with a water bottle holder, and a dumbbell rack to hold the 3-pound weights that come with the bike. You can also easily sync your Bluetooth headphones to the bike.
While the bike doesn't come with a heart rate monitor, ProForm does sell one that can be synced to the bike to track your cardiovascular fitness.
ProForm Studio Bike Pro 22 vs. Peloton Bike
The Best Studio Bike
When most people think "studio bike," they think of the Peloton Bike. The classic indoor exercise bike is still one of the best on the market today, though we think it's a bit overhyped.
That said, it's undeniable that the Peloton Bike is a more durable machine than the ProForm Studio Bike Pro 22. It's made with carbon steel, which is incredibly durable, has a weight capacity of 297 pounds, and a 38-pound flywheel. It's much quieter and smoother in use than the ProForm bike, and the Peloton programming is just as wide-ranging and thorough as iFIT's (which one you should go with really is a matter of personal preference).
Peloton has been cutting the price of its classic exercise bike in recent months, and as of this writing it now costs $1,195, $100 less than the ProForm Pro. Granted that might be due to the company's economic difficulties, but it's still an excellent bike.
Customer Experience
ProForm can be reached through phone, email, its website, and social media with any customer concerns.
Warranty, Financing, Returns
The ProForm Studio Bike Pro 22 comes with a 10-year warranty on the frame, two years on parts, and one year on labor.
You have 30 days to return the bike if you choose not to keep it, and you'll get a full refund minus the cost of shipping the bike back to the company's headquarters (they don't pay for shipping due to the size and weight of the product).
You can pick financing plans that range from 12 to 38 months, with 0% APR.
Ordering and Assembling the ProForm Studio Bike Pro 22
This bike will take two people to assemble, according to ProForm, but GGR Operations Manager Sam "AsSAMbly" Presley was able to do it on his own because he's the best assembler out there.
The bike arrives mostly in one part, and all you'll have to do is screw the main frame into the front and back stabilizers before screwing in the seat, handlebars, pedals, and console mount. The hardest part might be lifting some of the components out of the box—they can be a little heavy.
Customer Reviews
The ProForm Studio Bike Pro 22 has a 3.4 average rating, out of 5 stars, on Amazon with 40 reviews, and only 43 percent of those are 5-star ratings. Those who wrote positive reviews said they found it easy to ride and burn calories on the bike, but even those reviewers noted there were many things that could be improved (such as the welding and resistance).
The negative reviews noted that bikes arrived with damaged or missing parts, and some said the bike stopped working after less than three months of use.

Final Verdict of Our ProForm Studio Bike Pro 22 Review
If I were a tech reviewer, I could speak for days about how great the ProForm Studio Bike Pro 22 is between the big and attractive-looking touchscreen, and the automatic tension control offered during iFIT classes. But, since we're here to talk about home fitness products, my focus is on the exercise bike part of this product and to be frank, this just doesn't cut it.
Between the loud flywheel, poor construction, and instability this bike offers, it's just not something I can recommend to people looking for a cardio machine. If this were significantly cheaper, I might be able to overlook a lot of that, but $1,299 is not a small amount of money for most people. For that price, you could buy two of the best budget exercise bikes and get much more value out of them.
ProForm Studio Bike Pro 22 Rating
ProForm Studio Bike Pro 22
Wondering if this exercise bike is worth its price tag? Our ProForm Studio Bike Pro 22 review gives you our honest opinion.
Product Brand: ProForm
Product Currency: $
Product Price: 1299
Product In-Stock: InStock
ProForm Studio Bike Pro 22 FAQs
Are ProForm exercise bikes any good?
We're big fans of the ProForm Carbon CX exercise bike, and we've yet to try out the ProForm Studio Bike Pro, but the ProForm Studio Bike Pro 22 left a lot to be desired, in our opinion. Among other things, it was very unstable, had poor construction, and we found it to be overpriced. If you're a tech enthusiast, you might appreciate the 22-inch touchscreen that comes with iFIT programming.
Is ProForm the same as Peloton?
No, they are owned by separate companies. iFIT, which also owns NordicTrack and other fitness brands, owns ProForm, and Peloton is its own publicly-traded company.
Can you change the pedals on the ProForm Studio Bike Pro 22?
Yes, you can, and you're also able to change the seat on it should you choose to do so. ProForm will also not void the bike's warranty if you change either.