We test and review fitness products based on an independent, multi-point methodology. If you use our links to purchase something, we may earn a commission. Read our disclosures.
Since 1974, NordicTrack has created innovative exercise equipment for the home gym crowd. The NordicTrack Commercial S22i Studio Cycle is one of the most technologically advanced exercise bikes that the company has put out (and also took our top pick in our best Peloton alternatives roundup).
In the past year, the S22i has received a facelift to include faster Wi-Fi connectivity, improved HD graphics, and enhanced automatic trainer control. The S22i impresses with expansive interactive programming, adjustability, and an inertia-enhanced flywheel to create a smooth-riding, quality ride and one of the best exercise bikes.
The NordicTrack S15i, the brand's other indoor cycle bike in this line, has similar features to the S22i but has a smaller screen and fewer resistance levels. When I test exercise bikes, I consider the footprint, assembly, durability, and overall workout experience. In this NordicTrack S22i review, I'll give you all the information on what I liked and what you should know if you're considering buying it.
RELATED: Indoor vs Outdoor Cycling
NordicTrack Commercial S22i Studio Cycle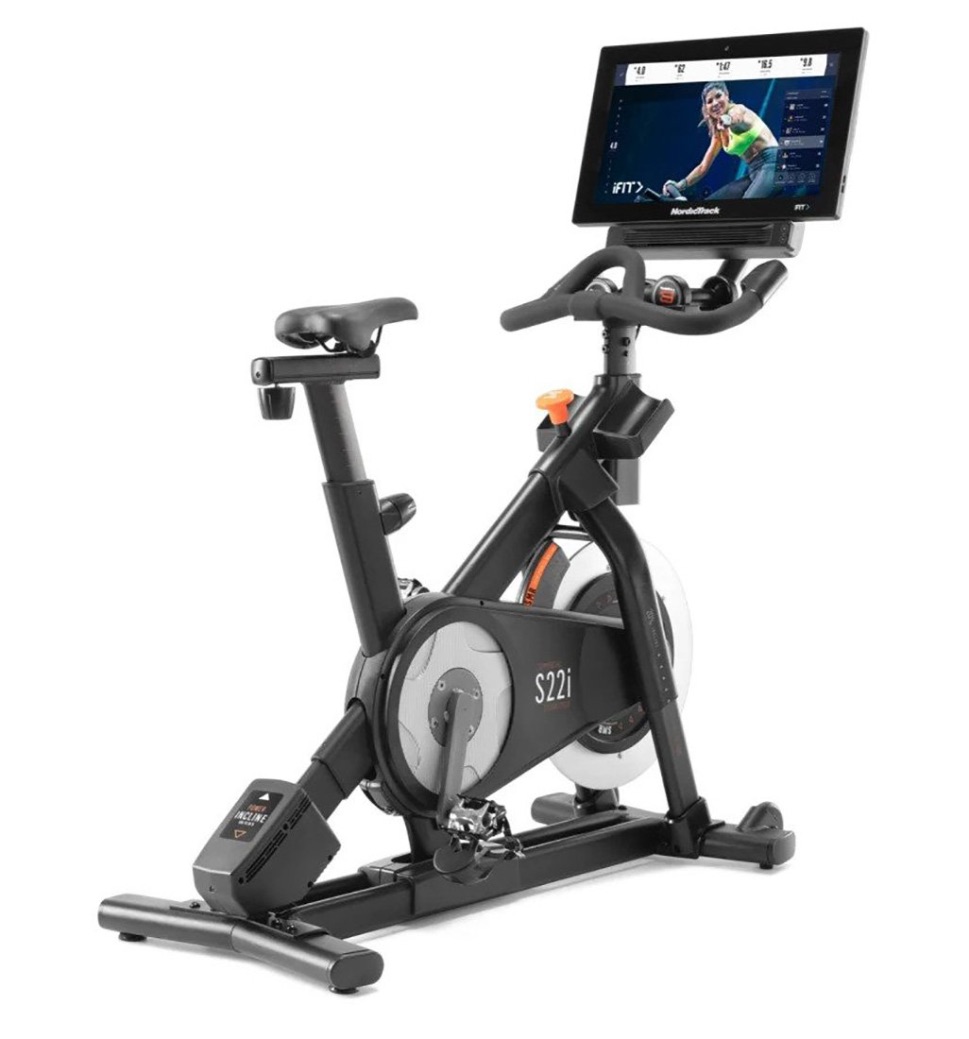 Product Highlights
24 digital resistance levels
Incline and decline adjustments
Fully rotating touchscreen
Pros & Cons
Pros
Large 22" smart HD touchscreen
Incline and decline ability
Compatible with iFIT
Adjustable seat
Adjustable handles
Dual-sided pedals
Fan
Comes with 2 3-lb dumbbells
24 digital resistance levels
Cons
Expensive
iFIT membership not necessary, but most beneficial
Difficult to assemble
Can't be stored in the garage (brand states doing so will void the bike's warranty)
Hard to move and weighs more than 200 pounds
Bottom Line
This is the bike to get if you want an indoor cycling bike with interactive programming, incline and decline capabilities, and all the extras.
NordicTrack S22i Video Review
What Is the Nordictrack S22i?
The Nordictrack Commercial S22i Studio Cycle is a high-end workout cycle with a variety of innovative features for at-home fitness training. You may enjoy courses where a virtual trainer controls your equipment to match the difficulty of the live workout. The 22-inch spinning touchscreen allows you to get off your bike and continue with strength training, flexibility training, and other activities. You can track your progress with in-depth, customized workout statistics for goal management.
This is a fantastic exercise bike with cutting-edge technology. The s22i includes a motor that can tilt the bike up to a +20 percent incline or down to a -10 percent decline. The bike will automatically rise and tilt to accommodate the terrain as you follow an iFit class or route! Furthermore, the s22i has a 22″ HD Touchscreen, handlebar controls for resistance and slope, a built-in fan, and 3lb hand weights for upper body exercises.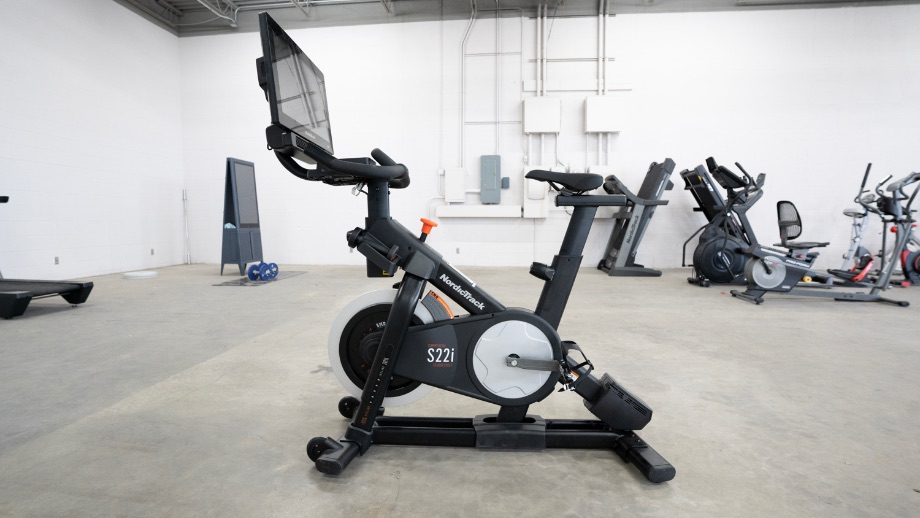 Who Should Buy the NordicTrack S22i?
At around $2,000, this could be either the ideal exercise bike or a very expensive place to hang your laundry.
Great For:
People who enjoy interactive exercise programing
Those who are technology savvy
Cyclists who want to experience incline and decline training
Not Recommended For:
People who want an air bike
A budget option
Those who need portability and compactness
See more on the best budget home gym equipment.
NordicTrack S22i Exercise Bike Video Review
NordicTrack Commercial S22i Specs
| | |
| --- | --- |
| Footprint | 63" L x 22" W x 60" H |
| Weight | 203 pounds |
| Weight capacity | 350 Pounds |
| Resistance Levels | 24 Digital Resistance Levels |
| Incline | 20% |
| Decline | -10% |
| Pedals | Caged but compatible with standard road bike pedals |
| Display | 22" Smart HD Touchscreen |
| WiFi | Dual 2.4 GHz & 5 GHz Wi-Fi Connectivity |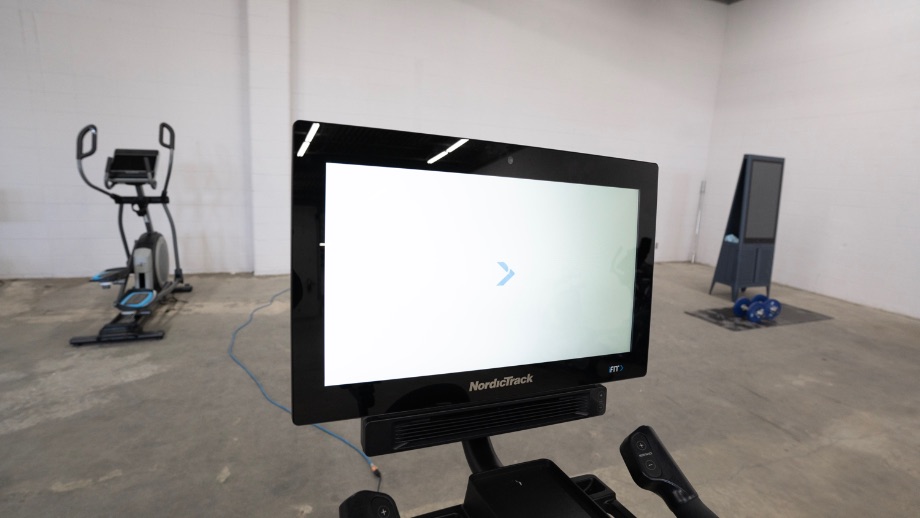 Simple Order, Difficult Assembly
The Nordictrack S22i exercise bike is around $2,000 with various opportunities to finance. On Amazon, you can pay $111.11 each month over the course of 18 months interest-free. On the NordicTrack website, threshold delivery is $200 as opposed to Amazon's free scheduled delivery if you have Prime.
RELATED: Building a Budget Home Gym on Amazon
The assembly process is slightly complicated, due in part to the variety of pieces to attach. Unlike some bikes where handlebars and footers may already be attached, the Nordictrack S22i demands that you put every single part in its place. The unboxing alone took me a good 10 minutes because everything is individually wrapped. On the upside, each piece was in excellent condition.
Since the bike is 203 pounds and fairly bulky when assembled, I recommend deciding where your Nordictrack S22i will live before putting it together.
It's possible to assemble the bike alone because I did it. However, the console is large and a little awkward, and NordicTrack recommends that two people tackle the job. You'll need to use your own Phillips-head screwdriver, but NordicTrack provides two Allen wrenches and a regular wrench.
Although the instructions are clearly written, there are many parts to keep track of. It's easiest to keep all the screws, nuts, and bolts in their individual packaging until you need them. A rookie mistake is to open all the tools at once – that could end in disaster.
One key and potentially tricky part of the assembly is that you are responsible for installing the wiring connected to the 22-inch screen. This involves threading the wiring through a part of the bike from the base up to the console. As long as you follow instructions, it isn't too difficult.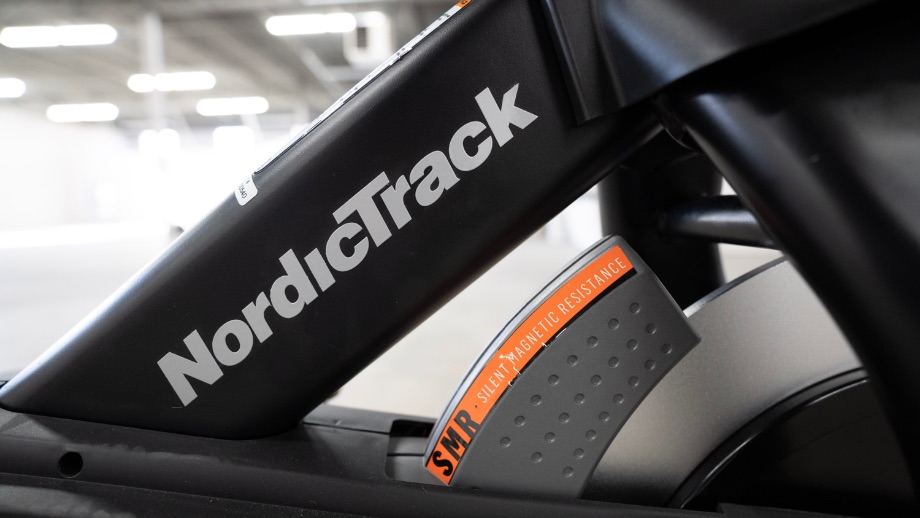 Footprint, Portability and Durability
With a footprint of 63in x 22in x 60in, the Nordictrack S22i is slightly larger than a typical stationary bike, mostly due to the 22-inch screen. Space-wise, the S22i would fit fine in most home or garage gyms. It isn't exceptionally bulky like some squat racks or treadmills. This durable bike has a weight capacity of 350 pounds. That's much heavier than the typical 250- to 300-pound weight capacities, I see on other bikes.
This 203-pound piece of equipment has transport wheels on the front, which makes it easier to move. However, the large screen does make maneuvering it difficult in tight spaces. I had to take my time wheeling it around the room to make sure I didn't knock the console. Also, there isn't a transportation handle like some other exercise bikes have, so you have to hold onto either the bottom rail or the seat.
Frame: The bike's frame is made with durable commercial-grade steel.
Flywheel: The 32-pound intertia-enhanced flywheel not only provides great tension but will remain in great shape for many years to come.
Motor: The motor is what powers the incline and decline capabilities and has a two-year warranty.
Handlebars: The handlebars are the only shaky part of the bike, but we're not too concerned with their durability.
RELATED: Exercise Equipment for Small Spaces
The Ergonomics
The pedals of the Nordictrack S22i are caged to allow riders to wear regular sneakers. If you'd prefer to use clip-in cycling shoes, you're able to easily replace the pedals with compatible road bike pedals.
The S22i can accommodate riders between 4'10" and 6′ 10." The seat is adjustable and allows you to find your perfect height for riding.
(If you don't know how to size a bike, for most people, finding the ideal seat height would entail standing next to the bike and lining up the hips with the seat. Move the seat up or down within the numbered settings until it matches your hip height. You should be able to comfortably pedal without reaching or bending your knee too much.)
If you regularly attend cycling classes, you'll probably adjust well to the seat on this bike. The Nordictrack S22i has the standard exercise bike seat that doesn't provide a lot of padding. If you want to purchase a separate comfort seat, make sure it has a post and clamp attachment to fit the bike.
Depending on personal preference, you can adjust the handlebars up or down for your preferred height. Those who are newer to cycling may choose to have the handlebars above the saddle to avoid any strain on the lower back. Others with more experience generally like the handlebars at seat height or lower to get the full effect of riding.
iFIT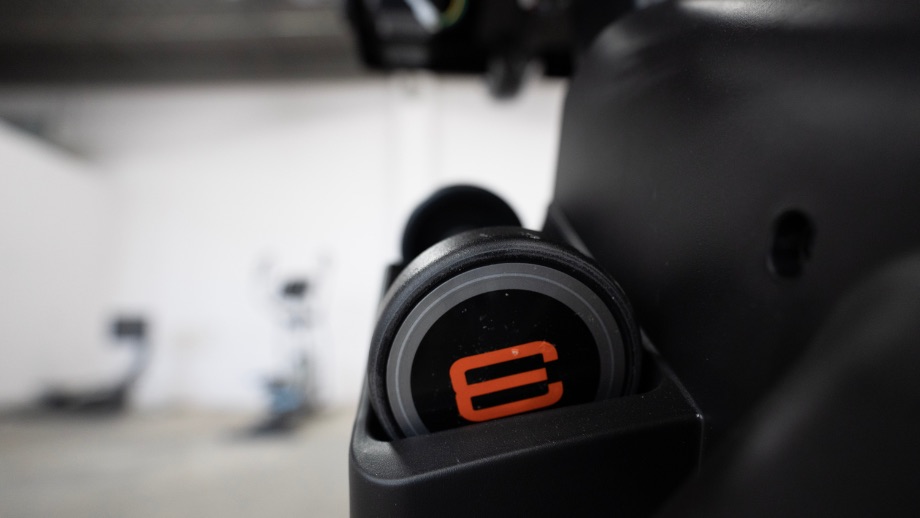 The NordicTrack S22i comes with a free year of the fitness subscription service known as iFit, which ICON Fitness created. Besides cycling classes, iFit has many workout options that use a variety of equipment. If you own an indoor rowing machine, you can take advantage of a variety of rowing classes. Want to use your dumbbells? Enjoy iFit strength classes for both upper and lower body.
Hundreds of new classes are added each month. You are also able to view the schedule for upcoming live classes as well as view pre-recorded content. Also, if you own other equipment from the ICON Fitness family (which includes NordicTrack and ProForm), you'll be able to sync your iFit account. So, for example, you can use it on the NordicTrack Commercial 1750 treadmill for a running workout and then on the S22i for a cycle workout.
RELATED: Benefits of Indoor Cycling
A unique feature of iFit is the variety of class settings. Not only can you take studio classes, but you're also able to take scenic rides that are set on trails or at interesting locations like the Golden Gate Bridge.
For me, the different locations with the iFit trainers make the time pass quickly while doing cardio because I find it more engaging. The bike is also equipped with Google Maps to let you build your own route while biking. You can enjoy a street view while pedaling from the comfort of your own home gym.
When setting up the bike, you are required to put in your credit card information in order to redeem the free year included with the S22i, which I don't love. If you decide you don't want to continue with iFit when the trial is over, make sure to cancel your subscription so your credit card is not charged.
If you do decide to continue with iFit, the price for a yearly family membership is $396 or $39 monthly. You can also purchase an individual membership for $180 per year. This is only slightly more expensive than the JRNY programming that works in tandem with the Bowflex VeloCore, however, Nordictrack usually offers great sales during Black Friday or Labor Day holidays.
You are able to use the S22i without iFit, but you'll have to adjust your own incline/decline as well as resistance. iFit has a few free workouts for non-subscribers but they are not as exciting as the paid rides.
RELATED: Best Smart Home Gym Equipment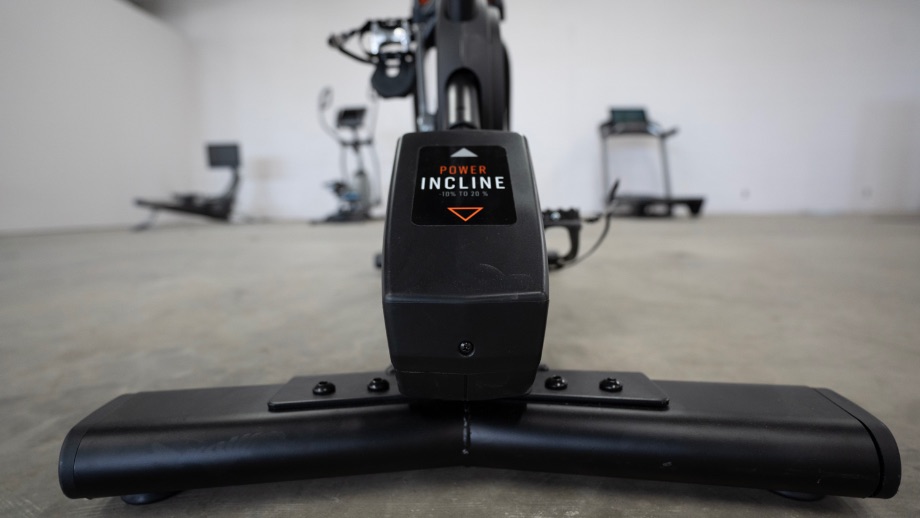 Hands-Free Exercise
With the trainer-controlled incline, decline, and resistance, all you have to worry about is giving your best effort while biking. The maximum decline is -10% and the maximum incline is 20%. These changes simulate an actual ride going up and downhill while giving you a great calorie burn. I enjoyed not having to worry about switching my settings while focusing on what the instructor is saying. However, you can turn this off if you prefer to control it manually.
If you want to take a strength training class, you're able to easily move the 22-inch swivel monitor attached to the bike to face you. This is convenient for days you want to stack a strength or yoga workout on top of your cycling class.
Lots of Extras
Directly below the monitor, there is an adjustable fan to keep you cool while riding. It was a nice touch to have cold air blowing on my sweaty face during the workouts.
Included with the bike are two 3-pound dumbbells with respective holders. These are useful for incorporating upper body workouts into your ride. Similar to the Schwinn IC4 bike, there are two water bottle holders on the bike. I found them to be on the smaller side and only able to hold the typical 16-ounce plastic bottles. They may not be big enough to fit larger, reusable water bottles.
Although a device holder is included, it is only big enough to hold your phone. This is unfortunate if you wanted to watch a show on your tablet or larger device.
The Bluetooth and headphone connection is one of the recent updates to the S22i. This is helpful for listening to separate music or tuning into a workout without disturbing anyone nearby.
Nordictrack S22i Functionality
Once you have adjusted the seat and handlebars to your preference, you'll be ready to start riding. With iFit, it's easy to get set up on a ride right away. Just turn on the bike, pick your workout and go. You can choose to let the trainer-controlled incline, resistance, and decline feature take over or manually input your own levels. There are 24 digital resistance levels on the S22i compared to the 22 on the S15i.
Incline/Decline Range
The -10% decline and 20% incline are unique features most exercise bikes don't have. I enjoyed feeling like I was going up or downhill to match the resistance. If you want to feel like you're actually outside riding, the incline and decline do simulate real rides. Because Google Maps is included, riders can even practice routes ahead of races.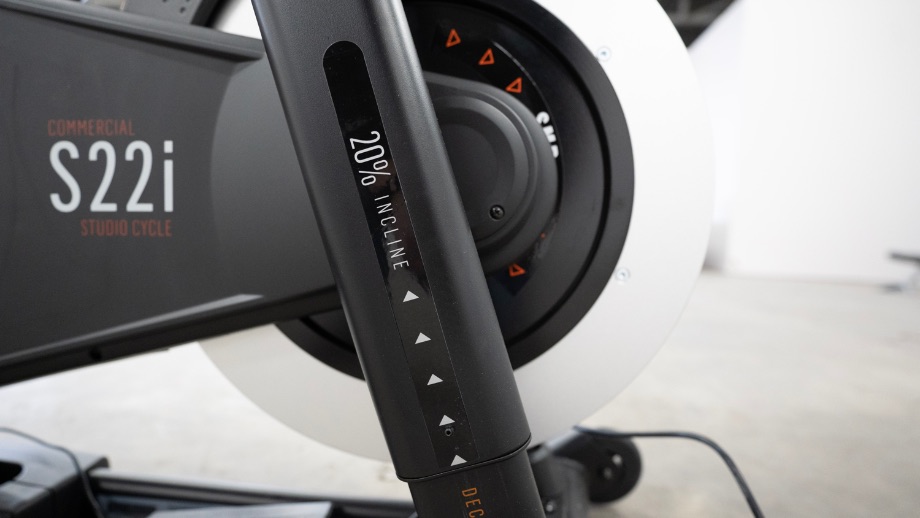 Construction
The ride is quiet due to the inertia-enhanced 32-pound flywheel. The Nordictrack S22i is constructed out of commercial-grade steel, and the core feels generally solid. I did notice the handlebars and monitor shake slightly when I was standing out of the saddle. It didn't bother me much, but this is something to note if you tend to rely heavily on the handlebars while cycling.
The screen is a 22-inch HD touchscreen with recently improved graphics and processor cooling. To find a ride, you simply tap on the screen and choose a workout. The screen shows five different metrics while cycling – incline, watts, time elapsed, cadence, and resistance. I enjoyed being able to see all the data during my workout. I found no issues with the display, and it made it easier to stay engaged during my ride.
The actual operation of the bike is fairly simple. However, I do not like that you have to unplug the entire bike after you're finished using it as recommended by NordicTrack. The reboot (when you want to use it next) requires a few minutes to get restarted. It is supposed to preserve the life of the bike but it is inconvenient.
The NordicTrack Studio Cycle Line
Let's take a look at how NordicTrack's three Studio cycles compare to each other:
S27i
S22i
S15i
Price
$2,499
$1,899
$1,872 "free with iFIT"
Footprint
57"L x 28" W x 65"H
61" L x 22" W x 58"H
60" L x 22" W x 58"H
Weight
217 lbs
205 lbs
203 lbs
User Weight Capacity
350 lbs
350 lbs
350 lbs
Display
27 inch

Improved graphics performance
22 inch
14 inch
Pedals
Hybrid
Hybrid
Toe Cage
Adjustability
Saddle: Vertical/Horizontal

Handlebars: Vertical (gas shock)
Saddle: Vertical/Horizontal

Handlebars: Vertical
Saddle: Vertical/Horizontal

Handlebars: Vertical
Resistance
24 silent magnetic resistance
24 silent magnetic resistance
22 silent magnetic resistance
Programming
iFIT
iFIT
iFIT
Fly Wheel
Inertia enhanced flywheel
Inertia enhanced flywheel
Inertia enhanced flywheel
Wi-Fi
2.4 GHz + 5Ghz
2.4 GHz + 5Ghz
2.4 GHz + 5Ghz
Colors
Black or Slate Gray
Black
Black
Warranty
10 year frame

2 year parts

1 year labor
10 year frame

2 year parts

1 year labor
10 year frame

2 year parts

1 year labor
Speakers
30w
30w
2" digital amplified
Saddle
Padded ergonomic saddle
Padded ergonomic saddle
Padded ergonomic saddle
Policies
Warranty
The warranty for the S22i is average – 10 years for the frame, 2 years for the parts, and 1 year for labor. However, you would be wise to store this inside your home. NordicTrack will not allow you to utilize your warranty if you have been using or storing the S22i in your garage.
Return Policy
You're able to return the NordicTrack S22i within 30 days upon receipt. However, you'll be charged a 10% restocking fee and $250 in shipping costs.
Customer Reviews of the NordicTrack S22i
Customers love the NordicTrack S22i for the automatic adjustment of resistance, incline, and decline to match the ride. iFit is another favorite amongst owners for its fun and engaging programming. I also noticed other owners enjoyed the silent magnetic resistance system.
On the other hand, people disliked assembly being complicated and requiring another person to assist. There were also a few complaints about the handlebars wobbling when pressure was put on them.
Final Verdict of Our NordicTrack S22i Review
The bottom line: I enjoyed testing the NordicTrack S22i. It is technologically advanced and the programming with iFit is solid. The automatic trainer that adjusts incline, decline, and resistance is a huge plus for people trying to mimic real trail rides or hills. I'm not the biggest fan of the mediocre warranty and expensive return policy.
Overall, if you're looking for a bike similar to a Peloton with engaging workouts and you don't mind the price tag, I would definitely recommend the S22i.
NordicTrack S22i FAQs
Do you need cycling shoes for the NordicTrack S22i?
Cycling shoes are not required for the NordicTrack S22i. The pedals that come with the bike are caged and appropriate for any sneaker. However, you are able to easily purchase separate road bike pedals that will allow you to clip in if you desire.
Is the Nordictrack worth the money?
The NordicTrack S22i Studio Cycle is a high-quality cycle with a lengthy list of specifications and functions. It's an especially wonderful choice if you appreciate streaming interactive fitness courses and want an exercise bike with a variety of training alternatives.
Is Nordictrack or Peloton better?
NordicTrack is definitely less priced, but their navigation isn't quite as reliable, and their goods aren't nearly as stylish. They do, however, provide a larger range of classes and inclination and decline aspects that Peloton devices do not have. NordicTrack is a superior option for those seeking for a better value.
Does the NordicTrack S22i have a swivel screen for off-the-bike workouts?
The NordicTrack S22i does have a 360-degree swivel screen for off-bike workouts. You can utilize the 22-inch HD touch screen during rides and stream additional iFit workouts. The screen also is capable of tilting up and down.
See more about bikes in our review of the best home gym equipment
Can you use Nordictrack S22i without iIFT?
The Nordictrack S22i bike may be used in manual mode without a subscription, but iFit is what really sets it apart.
Full Rating
NordicTrack S22i
The NordicTrack Commercial S22i Studio Cycle is one of the most technologically-advanced bikes that the company has put out. In the past year, the S22i has received a facelift to include faster Wi-Fi connectivity, improved HD graphics, and enhanced automatic trainer control. The S22i impresses with expansive interactive programing, adjustability, and an inertia-enhanced flywheel to create a smooth riding, quality exercise bike.
Product Brand: Nordictrack
Product Currency: USD
Product Price: 2000
Product In-Stock: InStock