We test and review fitness products based on an independent, multi-point methodology. If you use our links to purchase something, we may earn a commission. Read our disclosures.
In recent years, Peloton has made waves for its interactive programming. For a few hundred dollars cheaper, the Schwinn IC4 Indoor Cycling Bike offers an alternative for those wanting app connectivity, durability, and a great value.
I personally test each piece of equipment and take into account the footprint, durability, adjustability, and overall workout experience. In this Schwinn IC4 review, I'll give you the lowdown on app connectivity, assembly, and how this bike rode for me. In fact, I like this bike so much, it made my list of the best Peloton alternatives.
Schwinn IC4 Indoor Cycle Bike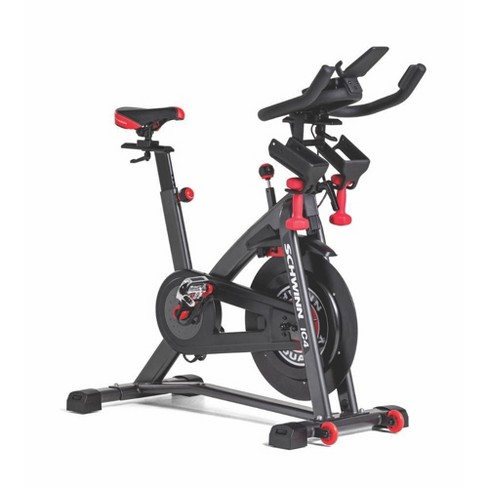 Product Highlights
Connects to Peloton and Zwift apps
100 levels of resistance
Sturdy and doesn't shake while exercising
Pros & Cons
Pros
Connects to Peloton and Zwift apps
100 levels of resistance
Sturdy and doesn't shake while exercising
Cons
LCD display is bare bones
Android users may notice a lag in metrics shown
Parts note clearly labeled to help with assembly
Bottom Line
For under $1,000, the Schwinn IC4 is a solid purchase and one of the best exercise bikes if you're looking for a cheaper alternative to Peloton.
A Quick Look at the Schwinn IC4
I believe the Schwinn IC4 bike could be a solid cardio addition to your home or garage gym. If you know me, you know that I already believe the Schwinn Airdyne Pro is the best air bike around, but the Schwinn IC4 also makes my list for the best exercise bikes.
I'm glad to see that Schwinn has released the Schwinn IC4, which is an upgrade from the brand's first iteration, the IC3 bike. With the IC4, you get magnetic resistance instead of the friction pads of the IC3 and technology to connect with apps like Peloton and Zwift.
My Favorite Things:
Under $1,000
106 pounds and easy to move
Compatible with both Peloton and Zwift apps
Smooth and quiet ride
100 micro-adjustable resistance levels
Included device/tablet holder
My Callouts:
Lack of built-in workouts
Metrics may differ between connected apps and LCD screen
Parts not clearly labeled for assembly
Schwinn IC4 Video Review
Who Should Buy the Schwinn IC4 Indoor Cycling Bike?
The Schwinn IC4 bike has a lot going for it in terms of durability and performance. It's a great value at under $1,000 and offers quiet, magnetic resistance. It isn't the most high-tech bike you'll find on the market, but its Bluetooth connectivity makes it an accessible option for those who don't want to pay thousands of dollars.
You can also check here for any Schwinn coupon codes to get a killer deal on a great value bike.
Great for:
People looking for a Peloton alternative for less
People looking for a durable exercise bike
People who want a smooth and quiet ride
Not recommended for:
People who want an exact matchup of metrics
People who want high-tech equipment and a built in monitor
People looking for air bikes
Ordering and Assembly
The ordering process for the Schwinn IC4 was pretty painless. Not only is this exercise bike under $1,000, but Schwinn also offers financing for under $60 per month over 18 months. Shipping is free and generally takes 2-3 weeks, which is about how long mine took to get here.
I chose to put the bike together myself but you can add assembly for under $150 if you want to save yourself the hassle. Although not very time consuming (it took me under an hour by myself), the instructions were not the easiest to follow. Even though the guide only mentioned three steps to complete assembly, each step seemed to include multiple other directions. The instructions could have been laid out in a more palatable way to make building the bike easier.
For those who love diving right into assembling something without looking at the instructions– don't do that with the IC4. The included parts are not clearly labeled. I recommend matching each piece up with the pictures on the instruction manual before getting started.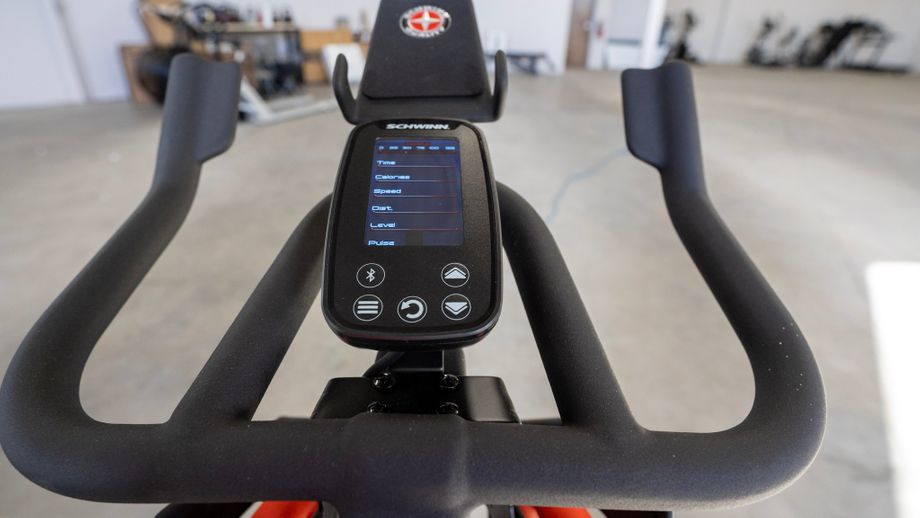 Footprint, Portability and Durability
At 48.7 in long x 21.2 in wide, the Schwinn IC4 has the footprint of a typical exercise bike. This bike isn't compact, but it would fit comfortably inside an apartment or garage gym (provided you have the required nearby power adapter).
The 40 pound flywheel has magnetic resistance, which is part of the reason it is both quiet and stable. Magnetic resistance offers a more durable option than bikes that use brake pads to create resistance. Brake pads wear out over time and must be replaced in order to work properly. Magnetic resistance requires little to no maintenance or replacement.
The bike weighs 106 pounds and has a weight capacity of 330 pounds. If you are of average strength, I think you can move this by yourself with the attached wheels.
If you've ever been on a low-quality indoor cycle machine, you know shaking and jiggling is bound to happen while riding. The Schwinn IC4 impresses with its stability and high quality: I felt no movement when getting in and out of the saddle on my various rides.
The Ergonomics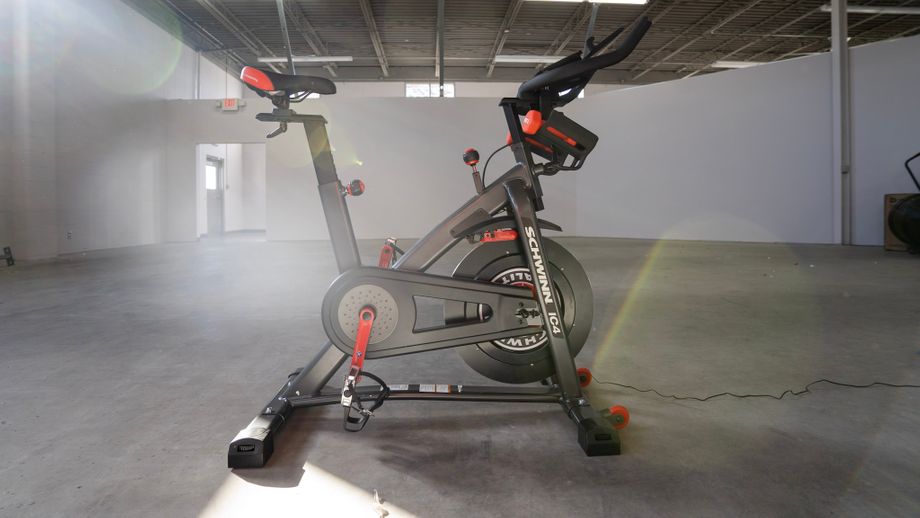 Seat
The Schwinn IC4's cushioned seat is typical for an exercise bike – it isn't the most comfortable if you aren't used to it. Luckily, you're able to easily swap the seat out for a different one if you find it too uncomfortable to use. On the plus side, the seat is adjustable both side to side as well as up and down. The bike can accommodate riders between 4'6"and 6'6" without issue.
Pedals
The pedals have duality – one side has SPD clips for cycling shoes and the other has a caged toe for regular shoes. I like this option because not everyone wants to purchase separate cycling shoes.
Handlebars
The handlebars are adjustable depending on your preferred positioning. I like the shape and long length of the handlebars because they support you both in and out of the saddle.
Technology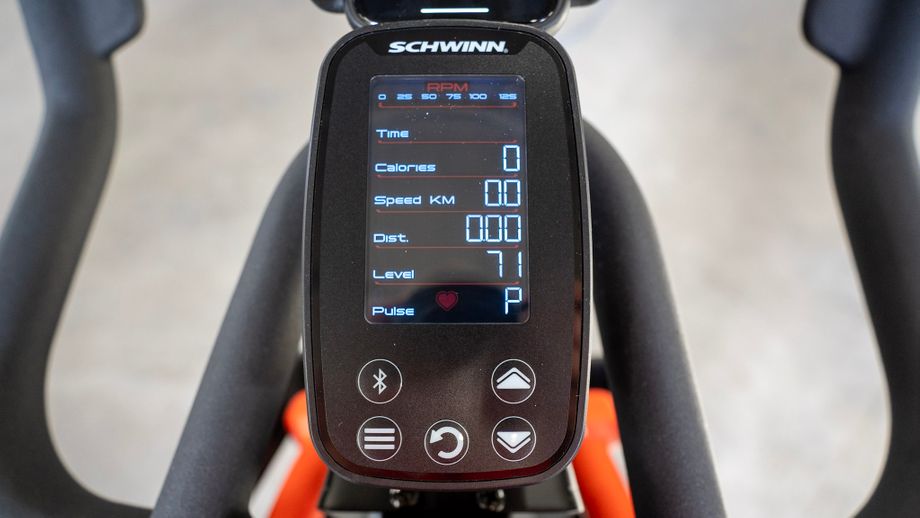 Although the Schwinn IC4 doesn't have a large connected monitor to view programming on, like the 22-inch screen on the NordicTrack Commercial S22i, you're still able to utilize various apps with the bike. The IC4 is able to sync with apps like Peloton digital, Explore the World, and Zwift via Bluetooth connectivity.
Explore the World
Explore the World is the fitness app created by Schwinn. It works with Bluetooth enabled equipment from brands like Schwinn, Bowflex and Nautilus. With this app, you're able to run or bike a variety of trails and streets from around the world.
New destinations are added monthly. The cost is either $9.99 per month or $59.99 per year. Although the routes are scenic, there is no sound or instruction given. The only metrics shown on screen are time elapsed and distance traveled. This app is a good option for those who enjoy doing their own workout without interference or instruction but also enjoy a nice view.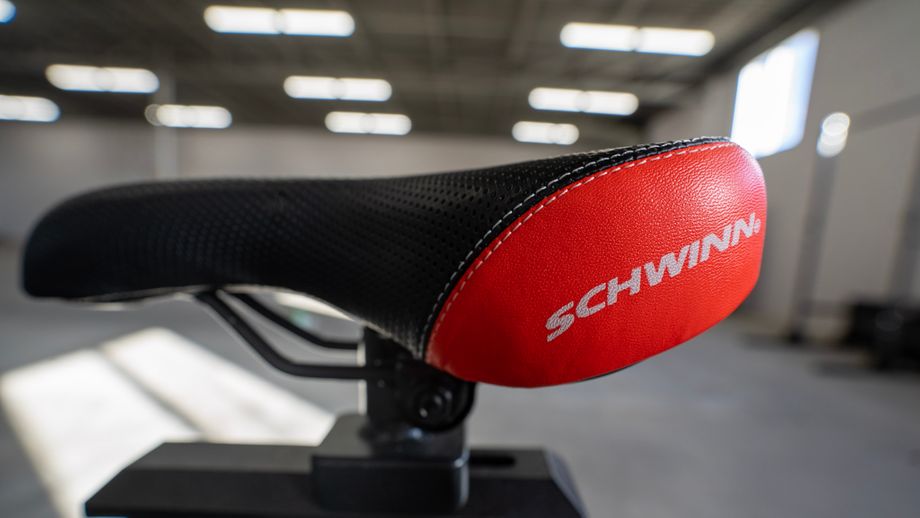 LCD Display
Unfortunately, some Android users noticed a lag between the metrics on the LCD display and their connected device. I did not personally experience this problem while using my Apple device but it is still something to be aware of.
The back lit LCD display is simple, like what you would find on the Rogue Echo Bike. If you want to view a class with a compatible app, you must utilize your own device. This is obviously different from bikes like Peloton that have an included screen for programming. Once you have your chosen device hooked up to the bike, I don't feel like I'm missing out on anything without an included screen.
App Connectivity
I decided to test how easy it is to connect the bike to my iPad with an app. A quick look at how to connect the Schwinn IC4 to the Peloton app:
Turn Bluetooth on your device (Such as an iPhone or tablet)
Open the Peloton app on your device
Press the Bluetooth button on your Schwinn IC4
Choose a cycling class and click the start button
Click the connected devices button on the right hand side of the screen
Press cadence and select your machine when it appears on the list
Touch the screen to go back to the program
You're connected and will now be able to see your cadence on your device.
Overall, this was a simple process that only took a few minutes.
Once your preferred compatible app is connected to the bike via Bluetooth, the app auto-adjusts your resistance. This is a big plus for a bike at this price range. You'll be able to enjoy a hands-free workout without worrying about adjusting your resistance. If you'd rather manually input your own levels, you're able to do that as well. The automatic adjustment makes this bike more technologically connected and immerses you in your chosen ride.
I connected my Schwinn IC4 with an Apple product so I can't personally speak to how it works for any Android device. Keep in mind you do have to pay a separate monthly subscription fee if you want to use the Peloton app with your exercise bike.
Heart Rate Armband
A heart rate monitor armband is included with the purchase of the IC4. I appreciate this add-on. To connect the band:
Prior to use, charge the armband with the provided charging cables
Place the armband snuggly on your forearm
Push the on/off button to activate
Once you see a blue light flashing slowly detecting your HR, you're ready to start working out
Upon completion of your workout, push the on/off button to disconnect
Connecting the armband monitor was simple and it's a useful tool if you're trying to hit a certain percentage of your maximum heart rate. Although the technology connectivity requires a little setup on the user's end, it isn't difficult to figure out.
USB Charging Port
The USB port is an awesome add-on for a bike that requires the use of a separate device. I love being able to charge my phone or tablet while completing a ride without the worry of my device dying mid-ride.
Conveniences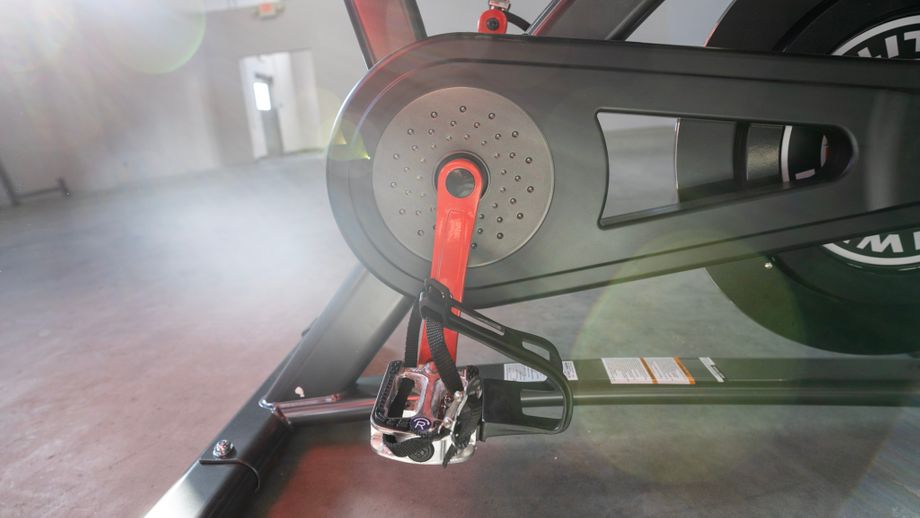 The Schwinn IC4 has a lot of conveniences to offer, such as:
Dual water bottle holders
Device holder (Tablet or phone)
USB charging station
Included 3 pound dumbbells with holders
Attached wheels for portability
Workout Experience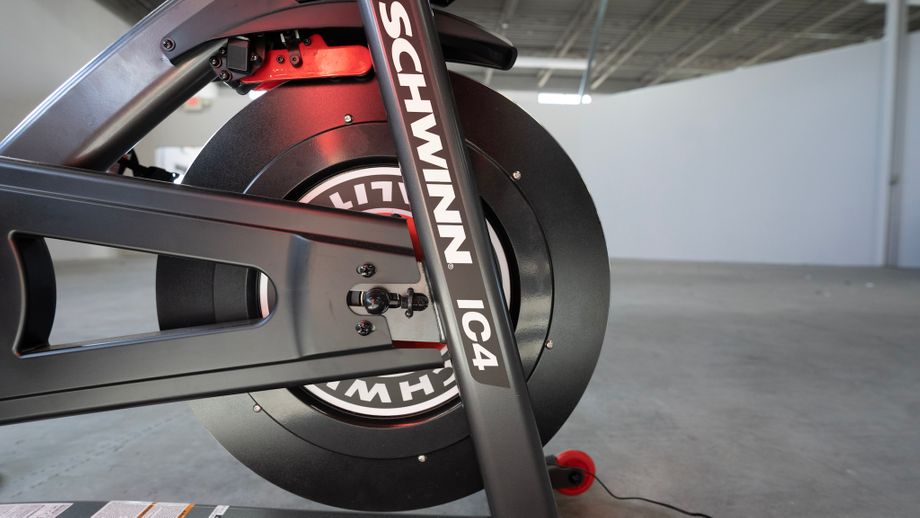 The Schwinn IC4 is quiet and smooth due to the magnetic resistance and 40-pound flywheel.
There are over 100 levels of micro-resistance to tailor your workout to your preferred intensity level. This is a big plus and something you'd expect to find on more expensive bikes like the Bowflex VeloCore. Using the knob on the crossbar, you can manually turn the resistance level up or down. You are also able to adjust the level digitally with the press of a button.
The IC4 comes with a pair of 3 pound dumbbells and an attached holder. This is useful for a variety of cycling classes that incorporate upper body workouts into the ride. I haven't previously seen many of the best exercise bikes in this price range come with included weight. This is usually an accessory sold separately.
The heart rate monitor and Bluetooth connectivity are enjoyable and easy to use. This bike has adjustable features such as the seat and handlebars that make it feel personalized to the user.
Schwinn IC4 Specs
| | |
| --- | --- |
| Footprint | 48.7" L x 21.2" W x 51.8" H |
| Weight | 106 pounds |
| Weight capacity | 330 lbs |
| Resistance levels | 100 levels |
| Pedals | Toe cages and clip-in compatible with SPD cleats |
| Display | Full-color, backlit LCD |
Policies
Warranty
For the Schwinn IC4, the warranty for the frame is 10 years, parts and electronics is three, and labor is one.
Return Policy
If you aren't satisfied with the Schwinn IC4, you are able to return it up to six weeks after purchase. The Customer Service department handles all requests for returns. Once you call (800) 605-3369 and have received approval, you'll be given a return merchandise authorization number. Schwinn will not accept a return without this number.
Unfortunately, if you decide to return and are approved to do so, Schwinn will not refund the assembly price or pay for shipping. Since an exercise bike isn't light, this is something to consider since the postage will be expensive for a return.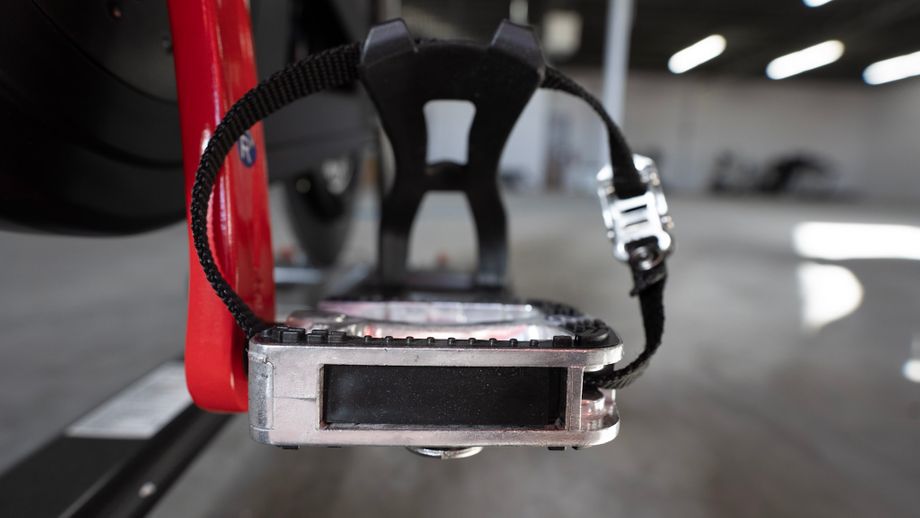 Customer Reviews of the Schwinn IC4
The Schwinn IC4 is a popular exercise bike with thousands of reviews on the brand's website. Customers appreciate the quiet ride, stability and affordability of this exercise bike.
I saw several complaints about the water bottle holder getting in the way while pedaling for those with long legs. People also mentioned compatibility issues between the bike and Android systems. When riding, some Android users found that the data was not synching properly to the bike.
Final Verdict of Our Schwinn IC4 Review
Overall, I would say this bike is an affordable option for those who don't mind putting in a little extra work to get the technology started. The IC4 is a stable cycling bike with both good warranties and solid return period. Bluetooth connectability isn't as ideal as having a screen with wifi-capabilities, but it gets the job done for half the price. For more, check out the best exercise bikes here.
Schwinn IC4 FAQs
Is the Schwinn IC4 as good as Peloton?
The Peloton bike has both a larger footprint and overall weight compared to the IC4. However, the IC4 only has Bluetooth connectivity compared to the Wi-Fi capabilities of the Peloton. Another difference lies in the 22" swivel monitor from the Peloton versus the LCD backlit display. The Schwinn IC4 comes with included accessories the Peloton doesn't have, such as 3 pound dumbbells and a heart rate monitor.
RELATED: Peloton Bike Review
Ultimately, you'll have to decide if price is a determining factor in your purchasing decision. I believe the IC4 has a lot going for it and is a great way to get the Peloton experience on a cheaper budget.
What is the difference between the Schwinn IC3 and IC4?
The Schwinn IC3 is the cheaper alternative to the IC4. It doesn't have Bluetooth connectivity and is not compatible with apps like Peloton or Zwift.
The IC4 has an included heart rate monitor band and 3 pound dumbbells, which the IC3 does not. The IC3 uses friction pads versus the IC4, which uses magnetic resistance and is generally quieter. The max weight is also higher for the IC4 (330 pounds) as opposed to the IC3 (300 pounds).
The Schwinn IC4 is definitely the overall better option and is worth the extra money spent for a higher quality machine.
Does the Schwinn IC4 require a subscription?
The Schwinn IC4 does not require a subscription to use. You're able to pedal manually without following a workout or paying extra. However, you can purchase the Explore the World app (Schwinn's workout subscription service) or use the bike with compatible apps like Peloton and Zwift.
Does the Schwinn IC4 have enough resistance?
The Schwinn IC4 has 100 levels of resistance, which is comparable to other exercise bikes.
Can you do live classes from other subscriptions like Peloton on the Schwinn IC4?
Yes, you can connect your Schwinn IC4 exercise bike to other fitness apps such as the Peloton app.
Full Rating
Schwinn IC4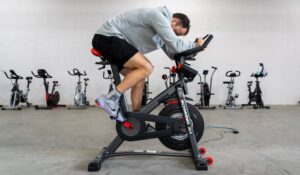 The Schwinn IC4 Indoor Cycling Bike offers an alternative for those wanting app connectivity, durability, and a great value. In this Schwinn IC4 review, I'll give you the lowdown on app connectivity, assembly, and how this bike rode for me.
Product Brand: Schwinn
Product Currency: USD
Product Price: 999
Product In-Stock: InStock