We test and review fitness products based on an independent, multi-point methodology. If you use our links to purchase something, we may earn a commission. Read our disclosures.
About a month ago, I was watching TV and an advertisement for the new Bowflex VeloCore bike popped on the screen. I was fascinated to see a bike trying to compete with Peloton but with an added layer of intrigue: it can lean while you're riding.
Right away, I knew I had to order it and try it out for all you fine folks in the Garage Gym Review community. I love the core engagement you get when using the lean mode on this exercise bike. It's such a unique and fun feature that separates the VeloCore from other exercise bikes.
In this Bowflex VeloCore review, you can expect to see my opinion on what really matters – durability, overall value, and the leaning feature. I put this bike through my standardized tests to help you decide if this is worth your money (and even put it on my best Peloton alternatives list.)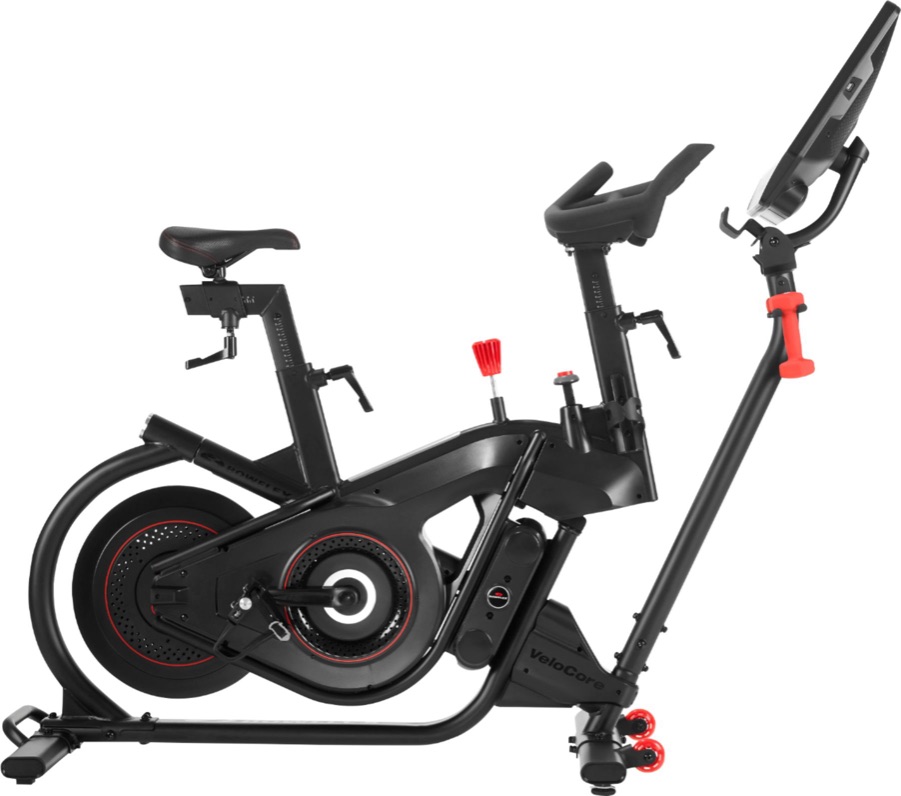 Bowflex VeloCore
Meet the indoor bike that's thoughtfully engineered with leaning mode to create a wildly immersive riding experience. You'll rock, sway, and bend to life down winding roads. Tilting gently from side to side as you sprint like a banshee toward the finish line. It's a high-intensity escape that'll help to ignite your arms, core, and your thrill for epic outdoor adventure…all from your living room.Take a look at our full Bowflex VeloCore Bike review.
My Favorite Things:
Leaning feature activates core muscles
Large monitor with lots of information
Durable with almost no shaking while in use
User-friendly and simple to get started
My Callouts:
Difficult assembly with unclear instruction
Limited music options with JRNY membership
Uncomfortable seat
Sub-par warranty
Why You Should Trust Us
I've researched over 70 different exercise bikes and tested most of them myself. I know the industry standards and what to expect from a quality piece of equipment. You can trust that I'll give my honest opinion 100% of the time.
What is the Bowflex VeloCore and is it worth it?
Great For:
People who want interactive programming
People who love trying the latest innovations
People who want an overall durable bike
People who want a full body workout
Not Recommended For:
People who want a budget bike
People who don't really care about technology extras
People who don't want to pay for a monthly subscription
People who want an air bike like the Rogue Echo
Bowflex VeloCore Assembly and Order
The Bowflex VeloCore bike has two different options for purchase: the bike with a 16" or a 22" screen size. If you decide to go with the 16", it'll run you just under $1,700. If you opt for the 22" as I did, you'll pay closer to $2,200.
When ordering the bike from the Bowflex website, I chose the free shipping option. It came quickly much like when I've ordered other products such as the Bowflex HVT and the SelectTech 840. You can also purchase in-home assembly and white-glove service for $199. This basically means people will take all the heavy boxes inside and set them up so you don't have to lift a finger.
Seeing as the Bowflex VeloCore is 158 pounds, I didn't think it would be very difficult to move. After all, I work out a lot, right? WRONG. This sucker was a real pain to get inside my garage and a cardio workout all on its own.
RELATED: Best Cardio Equipment
The first box (of two) is generally unwieldy and has no easy way to hold it. I really wish Bowflex had thought of adding cardboard handles or something because it was difficult to get a good grip on it. You'll almost certainly need another person to help you lift this box, especially if you plan to take it up the stairs.
The second box is easy to carry. Included in this smaller box are the monitor, weights, and all-important instructions.
Financing
If you don't want to pay for the bowflex bike in full upfront, there is an option to finance the bike for $123/month over 18 months. This is a good option if you're hesitant to spend the money all in one go.
Assembly
Everything is packed very carefully into the boxes. Expect to cut half a dozen zip ties off and have a lot of shrink wrap, styrofoam, and cardboard to dispose of on multiple trash days.
I assembled the bike entirely by myself, but I think it probably would've gone quicker with someone helping. The body of the bike itself is also fairly weighty, so you may want to have someone help you unwrap that component.
In total, assembly took three irritating hours. The directions were lacking and each step had quite a few elements. None of the parts were labeled coming out of the box, which meant I was left to guess based on the diagrams drawn in the instructions. I was getting flashbacks to assembling the Schwinn IC4. All the tools you need are provided for you, but I used my own screwdriver to speed up the process.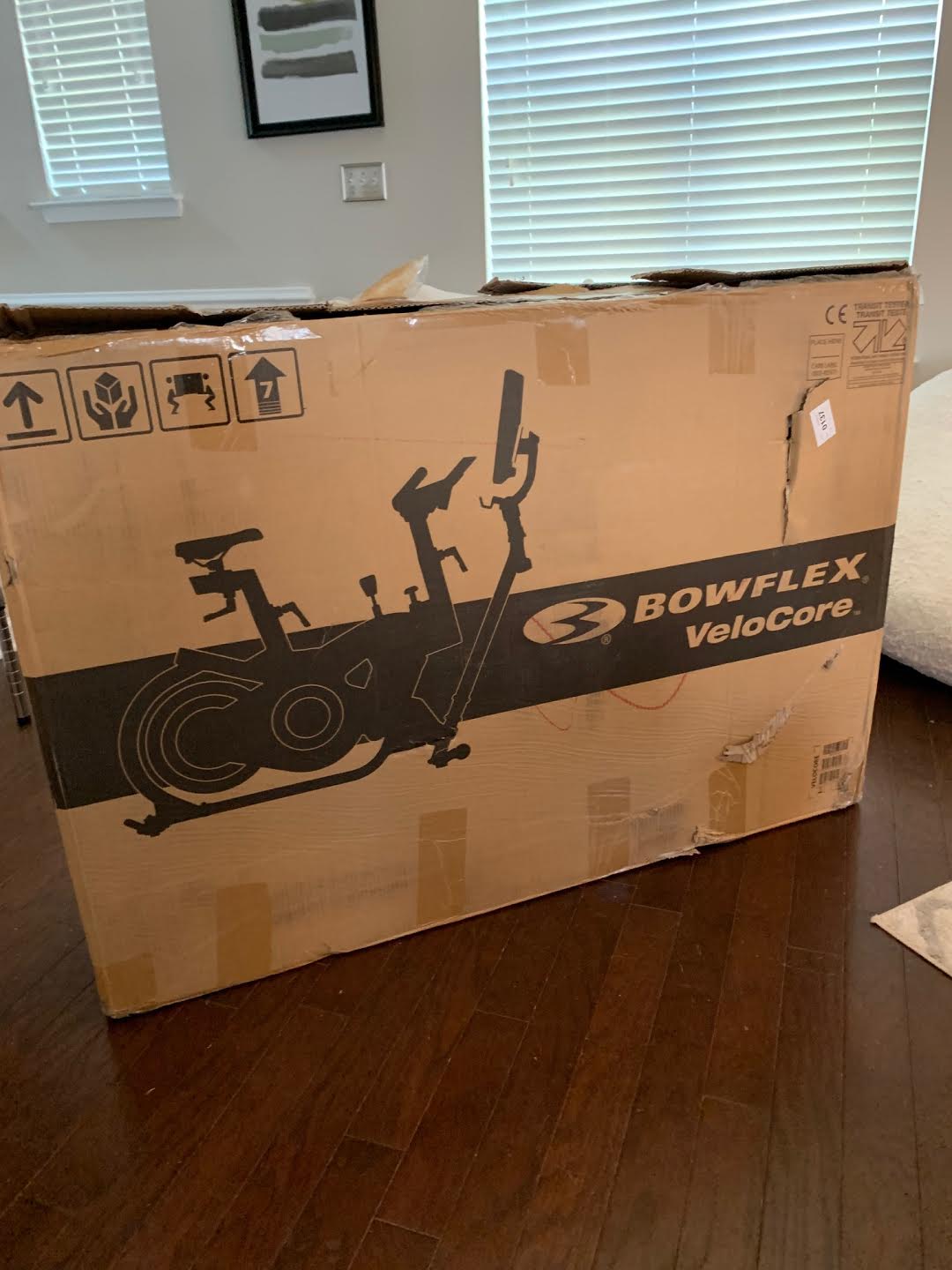 How Big is the Bowflex VeloCore?
Since part of the draw of this bike is the leaning feature, you'll have to account for the needed extra space when determining where to put the VeloCore. The dimensions of the bike are pretty standard at 59.8″ L x 24.1″ W x 55.3″ H. However, you'll need a total of 48.4" width-wise so you can comfortably utilize the leaning component.
The VeloCore also must be plugged into an outlet to work, so you'll need to account for the rather short plug and situate it accordingly.
You could put this bike in an apartment if you're willing to leave it out all the time. There is no option to fold the bike, so that is something to consider if storage options matter to you.
Once the VeloCore is fully assembled, it isn't super difficult to move. There are two wheels attached to the front of the bike to help you maneuver it around. I switched the position of my bike myself multiple times and found it easy to move single-handedly. Simply tip the bike towards the side with wheels and scoot it to your desired spot.
Is the Bowflex VeloCore Durable?
An impressive feature of the Bowflex VeloCore is its user capacity of up to 325 pounds. For comparison, the Peloton Bike can only hold up to 297 pounds. This makes the VeloCore an accessible option for most people and a cut above the industry standard of 275 pounds for user capacity.
RELATED: Peloton Bike Review
The bike itself feels really sturdy, as the base is made of steel. All the different parts feel well-made as I felt each when adding them to the bike during assembly.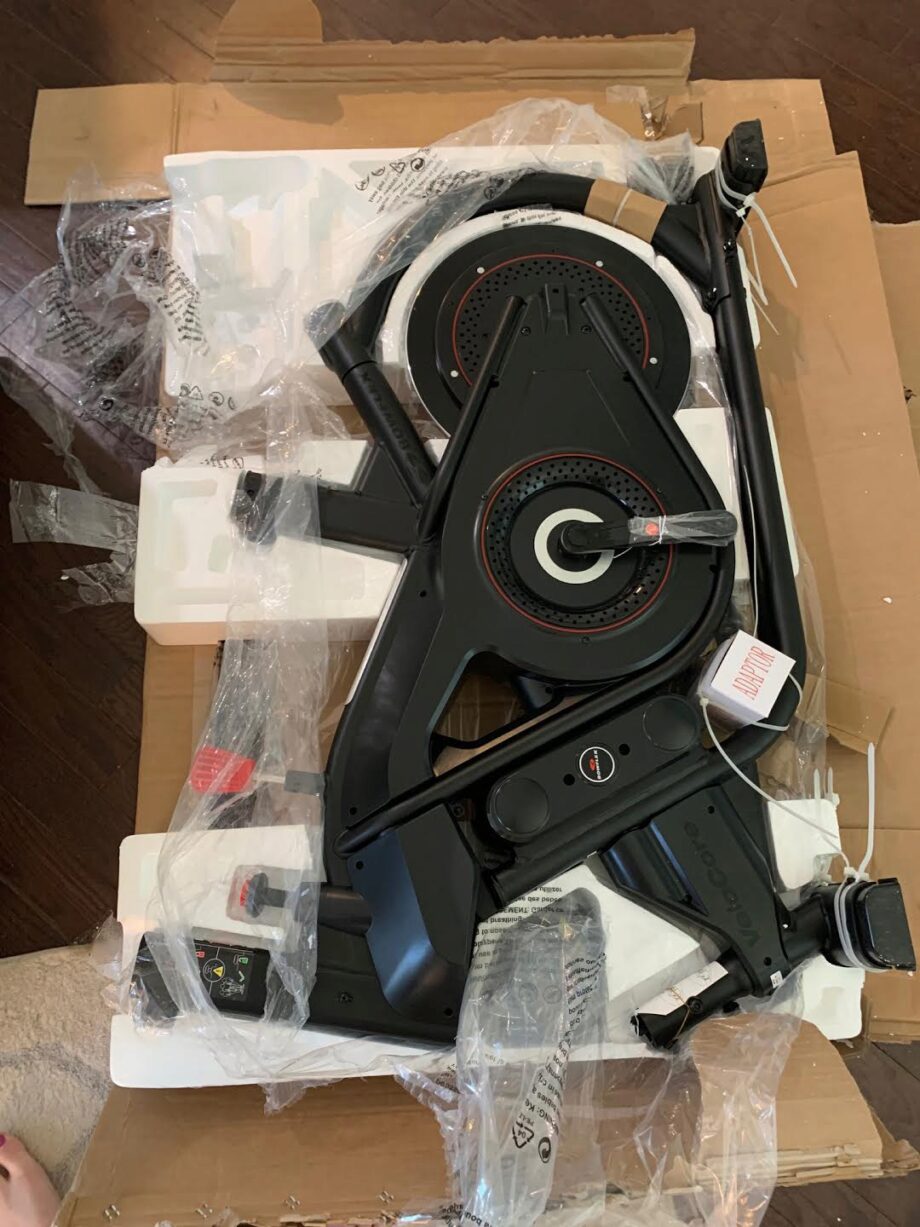 Is the Bowflex VeloCore Comfortable to Use?
As someone who isn't an avid cyclist, I appreciate that the VeloCore has dual-sided pedals. This is different from many other high-end exercise bikes (such as Peloton) that require you to wear clip-in shoes. You can choose to use the caged side with sneakers and adjust the tightness with the strap or use the SPD clips and cycling shoes.
Prefer something else? The VeloCore is compatible with any 9/16" pedal. You can easily switch them out by loosening the left pedal clockwise and the right pedal counter-clockwise.
Handlebars
I found the handlebars to be comfortably padded. You can adjust the height of them to suit your personal preference. Generally speaking, you should aim to have your handlebars at around the same height as your saddle.
My only complaint is that you aren't able to adjust the handlebars forwards or backward. This could be a problem if your arms are particularly long or short.
Conveniences
The VeloCore has a few things that make your indoor cycling experience more pleasant. There are dual water-bottle holders on either side of the bike, two 3-pound dumbbells, and a media rack.
What I appreciate about the specific water holders is that they are flexible and can accommodate something larger than a typical disposable bottle. Plenty of exercise bikes that I have tested have water bottle holders that cannot hold anything sizable, which can be frustrating.
Another nice addition to the VeloCore is the included 3-pound dumbbells with their respective holders. Quite a few of the classes on JRNY include sequences with the weights. Even though 3 pounds seemed piddly to me, they can definitely be challenging for the upper body with fast and plentiful reps while cycling.
Right below the monitor, you can place your phone or tablet on the included media rack. This is useful if you want to watch something on your phone while cycling or even if you're just using it as a resting place for your device during the workout.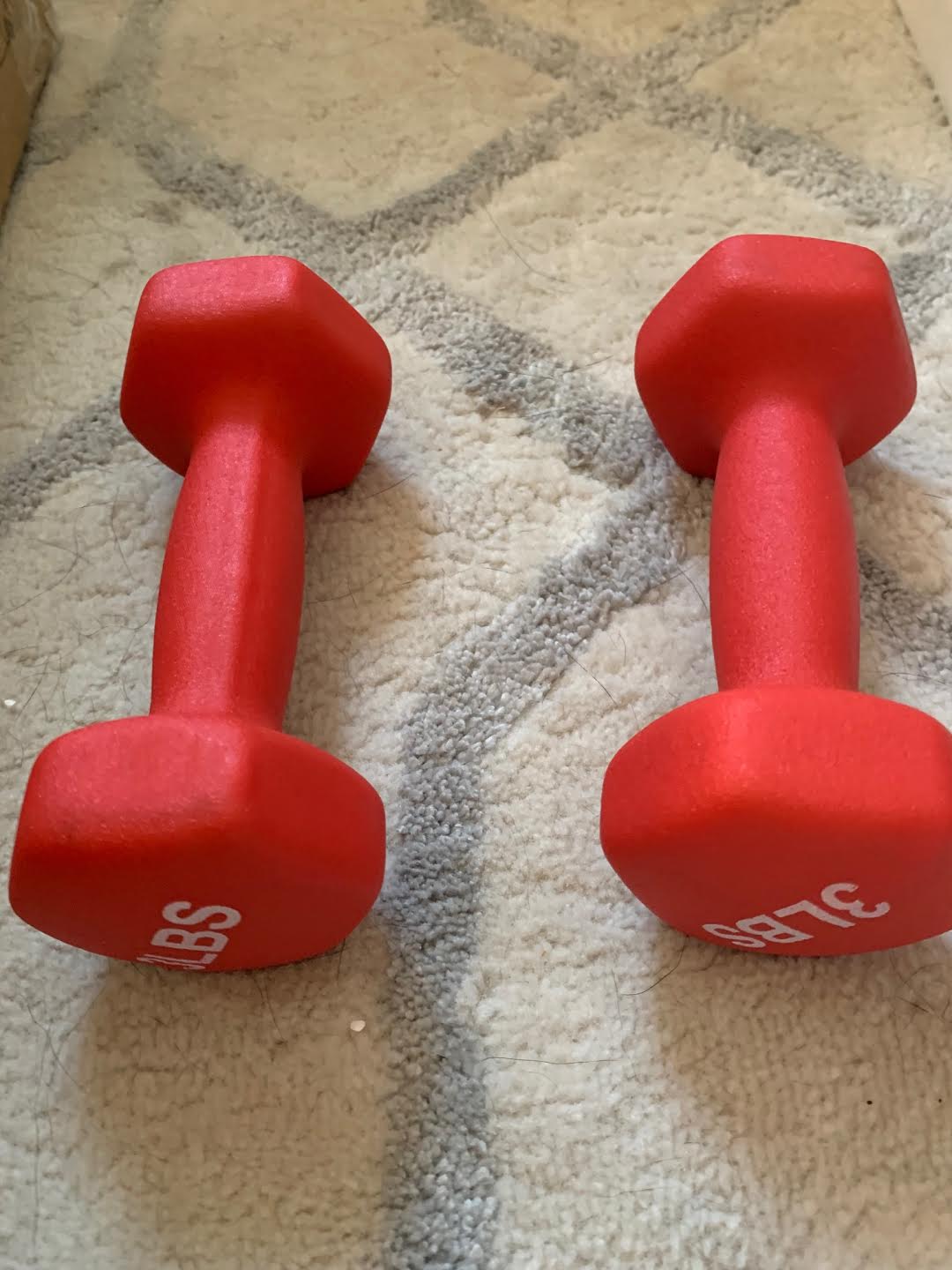 Let's Get Tech-y with it
One of the main draws for this indoor bike is the technology and fitness programming available through a JRNY app subscription.
In terms of general Bluetooth connectivity, the VeloCore has it on lock. The Bluetooth speakers can connect to your phone or other device to play any music you want during your workout. On the backside of the monitor, you're able to toggle the volume up or down depending on how hard you're trying to rock.
If for some reason you don't have a smartwatch like the Garmin Forerunner 245 or Fitbit Inspire 2, you can still monitor your heart rate with the included Bluetooth heart rate monitor. Here are the steps for set up:
Put the armband on the upper part of your forearm
Hit the Bluetooth icon on the stationary bike
Click "Manage Bluetooth"
Click "ON" then press the "Exit" button
Push LED button on the heart rate band to the "ON" position
Start a workout. You'll now be able to view your heart rate on the display.
JRNY Subscription
Included with the VeloCore is a free two-month trial of the JRNY programming. The code to redeem is attached to the handlebars of the bike. I don't like that you have to input your credit card information in order to redeem these free months. If you plan to cancel after the free trial, make sure you do so 48 hours in advance of the two months ending. Otherwise, Bowflex will charge your card for the next month.
If you decide you enjoy the JRNY programming and want to continue with it, the price is either $149/year or $19.99 per month. For comparison, the iFit programming you'd find on the NordicTrack S22i is $180/year for an individual subscription.
When you first turn the VeloCore on, you'll be prompted to take a quick 15-minute fitness assessment. The machine sees how long you can hold different paces in order to recommend individualized adaptive workouts for your fitness level. Once I finished the assessment, I thought I'd see some sort of score or term for my fitness level but you don't see any further information on how you did.
Once you've completed the mandatory fitness assessment, you'll be able to view the classes. If you've redeemed your free trial, you'll be able to view any of the classes or instructional videos. If you decide to not activate the JRNY subscription, your option will be pretty limited to about four classes total.
There are six tabs for you to click on within the display: Just For You, Programs, Explore the World, Videos, Favorites, and Learn.
The programs have a variety of lengths and class types available. I took a few different classes for things like endurance, fat burning, and interval training. The classes vary in length from 10-60 minutes depending on what you choose.
The one thing I was surprisingly not crazy about was having to pick your own music. As someone who has the Peloton app, I'm more accustomed to each class having its own unique track that the instructor has picked. With JRNY, you have the option to choose a playlist or play your own music. I think plenty of people will appreciate the flexibility but I personally like preset tracks for each class.
Explore the World is another option with JRNY where you can "travel" to over 50 different destinations as if you were biking them. In my opinion, this is a good way to zone out and play your own music or podcast. You can simply enjoy your scenic ride with no virtual coaching.
Want to just pedal on your own while watching a show? You can definitely do that too. With the JRNY subscription, you can utilize streaming services like Netflix, Hulu, Disney+, and Prime Video (all sold separately) from the monitor.
Lastly, you can track workouts and other achievements from the "Journal" tab. If you want to see your progress, you can view a variety of past metrics from different classes you've previously taken.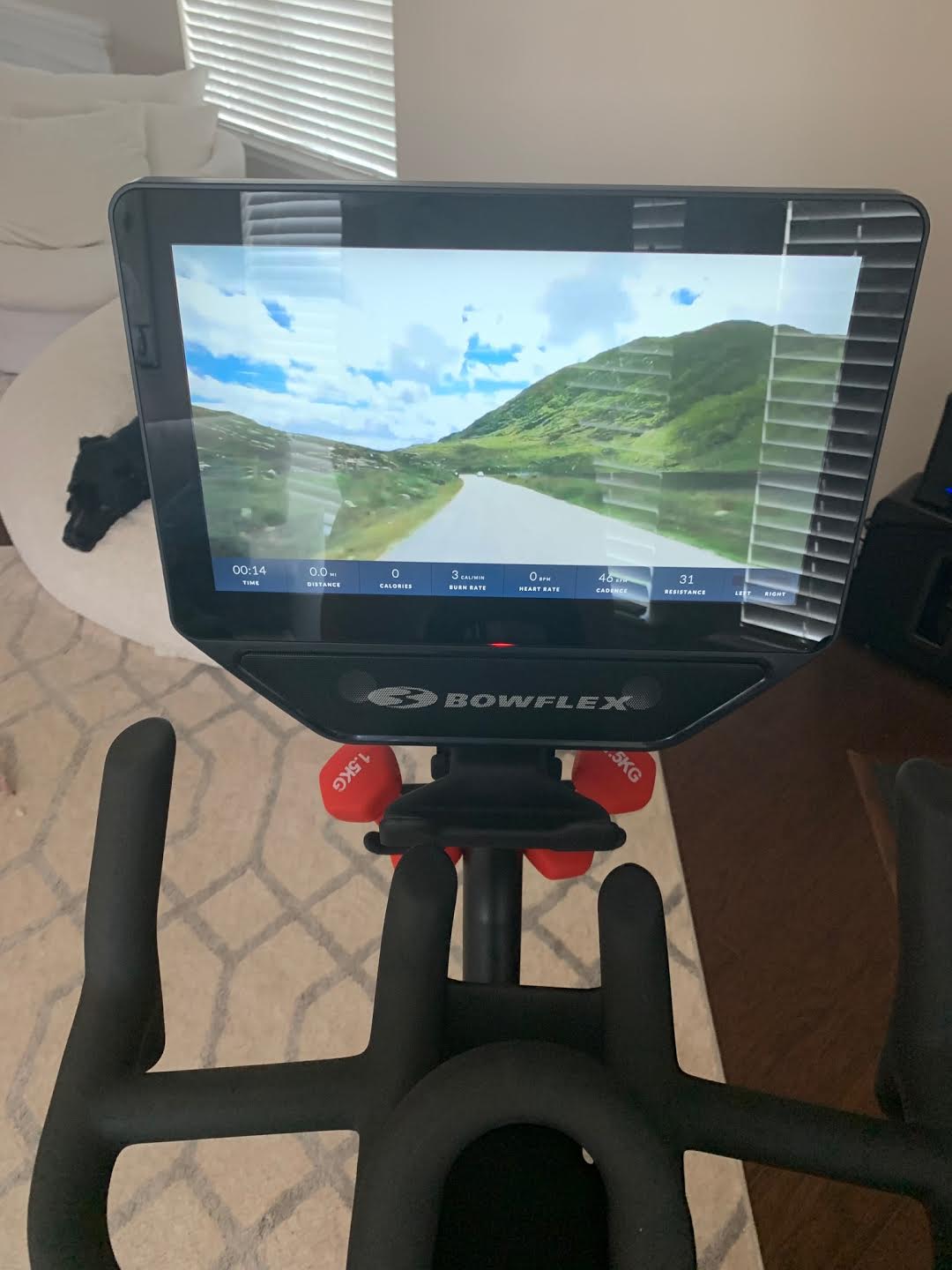 Workout Experience
The VeloCore is really simple to get started and doesn't require any previous riding experience. To begin, you just need to plug the machine into the outlet then select a class to take.
The machine barely vibrated while I was riding, even when doing standing climbs. The heavy-duty steel frame construction feels high-quality and like it's built to last. I would recommend putting the bike on flat, hard ground. If you place the VeloCore on the carpet, you may experience more movement and instability when riding.
Due to the silent magnetic resistance, this bike is a great option for people trying to quietly work out and not disturb others.
With over 100 levels of resistance on the VeloCore, this bike is able to cater to a variety of fitness levels and personal preferences. My only callout would be the lack of digital resistance adjustment. It can sometimes distract the flow of the ride when I have to manually adjust to what the instructor is saying.
The console is HD and has a touchscreen. I have zero complaints about the screen or picture quality. Everything was crystal clear and in bright color.
Honestly, Bowflex could've done better in terms of the seat. It's rock hard and super uncomfortable. Luckily, you can easily replace the adjustable seat with a more comfortable one if you'd prefer.
Leaning Feature
The leaning mode is what sets the VeloCore apart from its competitors. A variety of the JRNY classes incorporate the lean feature, which is surprisingly easy to use.
When you're ready to lean during a ride, simply push down on the large red button in front of the resistance knob. When you're done with lean mode, pull the lever up until you feel it snap back into place.
What I like about the leaning feature is the added core engagement. I really felt it in my obliques while swaying back and forth. Honestly, it's also just really fun to do. You sort of feel like a kid again riding one of those mechanical animals in front of a grocery store. Yes, an oddly specific example, but you'd get it if you tried the VeloCore in your own home gym.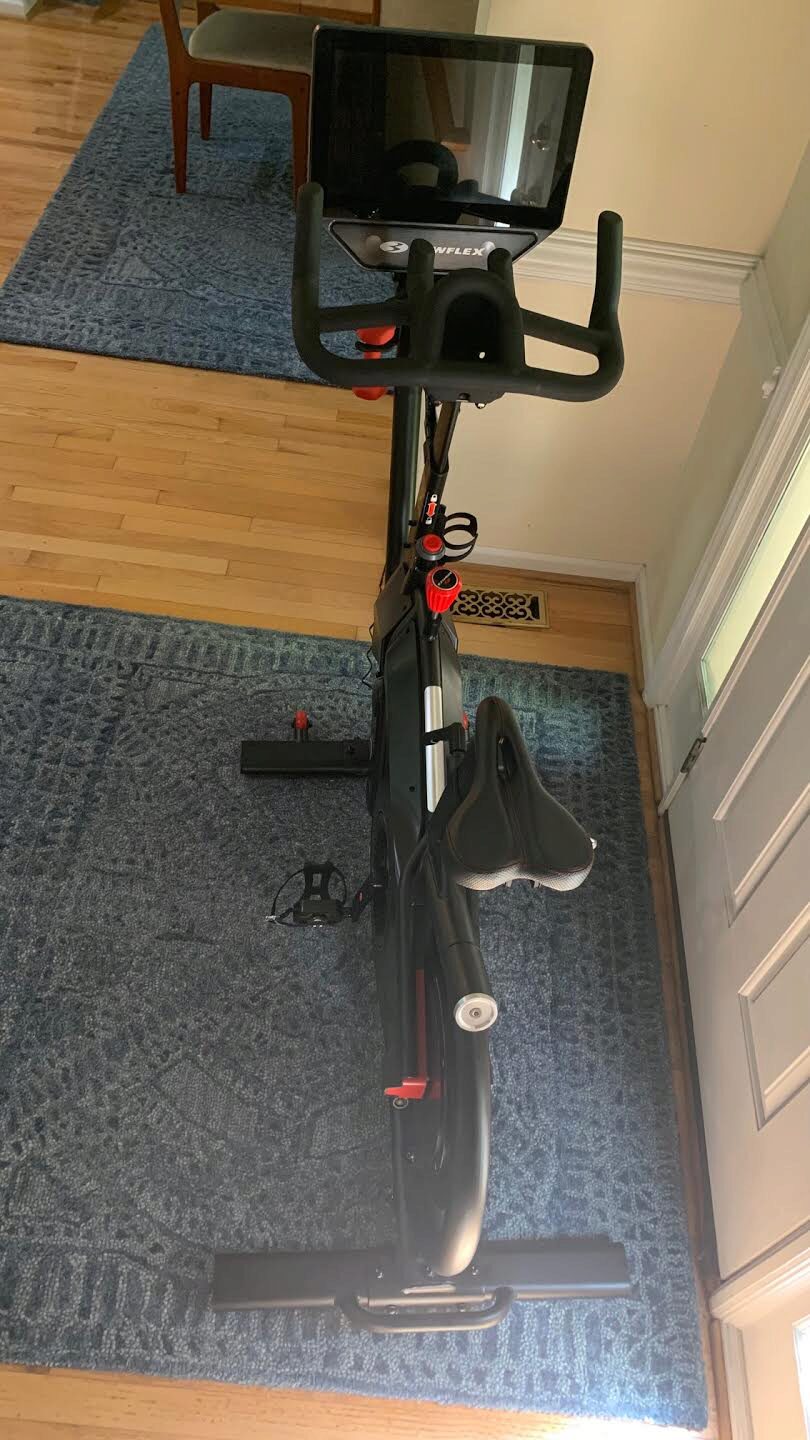 Bowflex VeloCore Specs
Footprint
59.8″ L x 24.1″ W x 55.3″ H
Weight
158.3 pounds
Weight capacity
325 pounds
Resistance
100 levels
Pedals
Dual-sided pedals;
SPD® clips for cycling shoes | Toe cages for athletic shoes.
Display
Adjustable HD touchscreen
WiFi
Wi-Fi connection required
Customer Service
Bowflex offers both a phone number (800) 605-3369 and a live chat feature if you have any customer service questions. I tested out the chat function and found that they responded almost immediately to any questions I had.
Warranty
For the price, the warranty on the VeloCore is kind of disappointing. For the frame and parts, you get a two-year warranty. For labor and electronics, you only get a year. The industry standard for an exercise bike is usually a 10-15 years warranty for the frame and one-two years for the labor and parts. I'm not sure why the frame warranty is so short – it feels sturdy and built to last but the time frame is something to be aware of.
Return Policy
If you're not happy with your purchase, you can return the VeloCore in its original packaging within six weeks for a full refund. You must have an authorized return number for Bowflex to accept the package. Another downside? You are responsible for footing the shipping bill if you choose to return (and it certainly won't be cheap).
Customer Reviews of the Bowflex VeloCore
Generally speaking, customers seem really pleased with their purchase of the Bowflex VeloCore. Some of the positive reviews talked about the durability, ease-of-use, quietness, and ability to watch TV and videos while working out.
Complaints about the VeloCore included thoughts about the uncomfortable seat, no automatic resistance adjustment, and some didn't enjoy the instructors for the JRNY platform.
Final Verdict of our Bowflex VeloCore Review
Bottom line: I was very impressed with the Bowflex VeloCore. It's a durable, innovative exercise bike that will appeal to a lot of people. I would consider adding it to your fitness equipment repertoire.
My takeaways:
Very user friendly and fun to use
Difficult assembly process
Heavy-duty bike with minimal shaking
Bowflex VeloCore FAQs
Can you use Bowflex Velocore bike without a subscription?
A JRNY membership is not required to use the VeloCore, but it considerably improves the experience. You can only complete manual workouts on the bike without a JRNY subscription, and no exercise data is kept.
What fitness and cycling apps can be used with the VeloCore bike?
You can use the JRNY workout app, which can be used on the monitor. The first two months are a free trial with purchase of the VeloCore. The regular subscription price is $19.99 per month. If you want to cancel either your free trial or paid subscription, be sure to cancel it 48 hours before the end of the period or you will get charged again.
You can also connect the Zwift or Peloton app to your tablet or phone and utilize the bike this way. Unfortunately, you cannot view the apps from the monitor.
Is the Bowflex Velocore worth it?
There are a lot of home exercise bikes on the market right now, and although most of them will give you a solid workout, the Bowflex VeloCore will really make you sweat. It's versatile enough to allow everything from a recovery cycle to an all-out sprint.
Which is better Bowflex or Peloton
Unlike other exercise bikes, like the Peloton, the Bowflex VeloCore offers two different riding modes: stationary and leaning mode, which progressively tilts you side to side to imitate the sensation of cycling roads and hills. The VeloCore, like the Peloton and other digital-screen spin bikes, can track all of the important data while you ride, including time, distance, calories, burn rate (calories per minute), heart rate, resistance, and more.
Full Rating
Bowflex VeloCore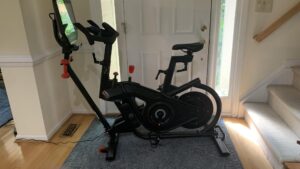 About a month ago, I was watching TV and an advertisement for the new Bowflex VeloCore popped on screen. I was fascinated to see a bike trying to compete with Peloton but with an added layer of intrigue: it can lean while you're riding. Right away, I knew I had to order it and try it out for all you fine folks in the Garage Gym Review community.I love the core engagement you get when using the lean mode on this bike. It's such a unique and fun feature that separates the VeloCore from other exercise bikes for a home gym. In this Bowflex VeloCore review, you can expect to see my opinion on what really matters – durability, overall value, and the leaning feature. I put this bike through my standardized tests to help you decide if this is worth your money.
Product Brand: Bowflex
Product Currency: $
Product Price: 1699.99
Product In-Stock: InStock