We test and review fitness products based on an independent, multi-point methodology. If you use our links to purchase something, we may earn a commission. Read our disclosures.
The Garmin Forerunner 245 is a cardio junkie's dream come true. It has built-in GPS, tracks a variety of metrics such as your VO2 Max, and gives tips on your running form. We had several people test this tracker, including an avid runner.
As always, I'll give my honest opinion and all the details with my in-depth Garmin Forerunner 245 review. When testing fitness trackers, I look for things like overall value, activity tracking options, different metrics, and the benefits of the companion app.
Our testers used this tracker to run trails, do strength training, cycle, and for daily walks. Using the Forerunner 245 for a variety of activities is important for my assessment process in order to understand where this tracker shines.
My Favorite Things:
GPS-enabled watch
Garmin Coach Training Programs
Shows your current amount of energy dubbed the "body battery"
Incident detection and assistance features
My Callouts:
Wristband might be uncomfortable
Has no music storage without upgrading to the Garmin Forerunner 245 music edition
1-year limited warranty for an almost $300 tracker
Garmin Forerunner 245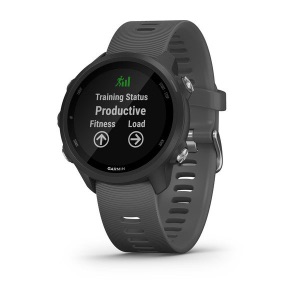 Garmin Forerunner 245
This GPS smartwatch tracks your stats, crunches the numbers and gets to know all about your performance, your running form, your training and even your goals.
Who Should Buy the Garmin Forerunner 245?
Great for:
Cardio fanatics wanting to track their routes with built-in GPS
Runners who enjoy performance-based metrics
Serious athletes looking to learn more about their sleep and recovery
Not recommended for:
People who want a simple wearable
Those who want a small screened fitness tracker
Individuals on a budget
Especially for Runners
The Garmin Forerunner 245 was designed with runners specifically in mind. This tracker gives you training programs for races, tips to improve your form, and information on your training load.
Related: You can find the Garmin Forerunner 245 on the Best Fitness Gifts list!
Garmin Coach Training Programs
If you're interested in running but don't know where to start, the Garmin app has free training programs to help you complete a 5K, 10K, or a half marathon.
Before you get started, you'll have to answer a few questions about your fitness level, goals, schedule, and race day. There are three different coaches to choose from with each offering a different style of instruction.
Once you've chosen your coach and given your information, you'll be sent a training plan to start right away. I love that this is a free feature that can really help you achieve your goals. I know plenty of people would like to run races but don't know what training plan to follow. I like that Garmin takes the guesswork out of this process for both beginner and intermediate runners.
Built-in GPS
The Garmin Forerunner 245 is a GPS watch. This is perfect for those who don't want to take their phone with them but still wish to track their running routes. You can select four options for GPS: normal satellite, GPS Glonass, GPS Galileo, or UltraTrac. When all four of these GPS capabilities work together, they increase the overall accuracy of the location data you see.
LiveTrack
The LiveTrack feature on the Forerunner 245 allows you to invite friends or family to view your route and activities in real-time. To share your activity or route with someone, simply click the settings under the "Safety and Tracking" tab. You'll have the option to send your information via email or social media.
Running Dynamics
On the website, the Forerunner 245 claims you'll be able to learn more information about your running form. This is partially true since the 245 has an accelerometer to track speed, distance, and cadence plus is an overall great running watch.
However, in order to get the most accurate read on your running dynamics, you'll need to separately purchase the running dynamics pod, HRM-Tri, or the HRM Run. These are either worn as a chest strap or clipped into your waistband. The three devices will more accurately track your pace and distance as well as six other metrics:
Vertical oscillation
Cadence
Ground contact time
Ground contact time balance
Stride length
Vertical ratio
The information is misleading on the website, because unless you've tested the product first hand, you might not know that you cannot track these stats without making a separate purchase.
I was a little frustrated at this because these running dynamics tools run between $70-$130, which drives up the price point of this tracker. Of course, this separate purchase isn't necessary to use many of the other features on the tracker, but Garmin should be more upfront about this.
Training Load
The training load feature is an interesting concept that reminds me of a feature included on the Whoop Strap 3.0. The Forerunner 245 will basically tell you if your current training load is low, high, or in an optimal range. This is based on your EPOC which tracks how much oxygen you take in after exercise. I liked this feature because I feel like it made me take conscious recovery days and then go hard when I needed to.
Training Status
Another interesting tool for better workouts or runs is the training status feature. The Forerunner 245 bases your status off of both your Vo2 Max and overall training load. The tracker will assign you one of seven levels:
Productive: positive strides in your fitness
Overreaching: give your body a rest; you're going too hard
Unproductive: training is good but check out your sleep, nutrition, and stress to improve your fitness
Recovery: light training to allow your body to rest
Detraining: need to train more
Maintaining: fitness level isn't going up or down
Peaking: ready to compete
Training Effect
I love the training effect feature on this watch. It will give you a color (grey, blue, green, orange, or red) based on the intensity of your workout. The colors each represent if the activity you are doing is having any effect on your overall level of fitness. For those of us who work out frequently, it can be difficult to know when we're overreaching and need a break. This feature uses your overall heart rate, speed, and power to calculate your training effect.
What the Garmin Forerunner 245 Measures
The Garmin Forerunner 245 measures a variety of metrics including the basics like time, steps, and distance. Here's what else you can expect to track:
VO2 Max
Calories burned
Heart rate
Sleep tracking
Current amount of energy (body battery)
Respiration levels
Stress levels
Menstrual cycle
Blood oxygen saturation
Running cadence
Stride length
Ground contact time
Exercise volume
Intensity minutes
Design and Aesthetics
The under $250 Garmin Forerunner 245 comes in two colors – slate gray and berry. I chose the slate gray to test. On the Garmin website, there are a variety of additional bands to purchase separately that fit the 245. Ranging in price between $30- $100, you can find options made of silicone, nylon, leather, suede, and stainless steel mesh. I was impressed by the different materials and colors offered, but I do think the prices are kind of high considering you can buy a Fitbit Inspire 2 for $100.
Unlike many fitness trackers, the watch face on the Garmin Forerunner 245 isn't a touchscreen, but that's not surprising for a running-focused watch. I appreciate the sizable display of almost an inch and a half in diameter made of Corning Gorilla Glass, which is designed specifically to be damage resistant. The bezel is made of high quality fiber-reinforced polymer.
The display type is transflective memory-in-pixel which is a fancy way of saying it's hard to see in direct sunlight. Okay not really, but the color screen can be dim if you're outside. You're able to adjust this somewhat under the screen preferences widget and clicking "backlight."
There are five buttons on the side of the Forerunner 245 to control things like laps, time, and recording performance. I appreciate the functions of these buttons, but they are rather easy to bump. It can cause some frustration (it did on my end) when you keep accidentally tapping the buttons and starting a function you don't currently want.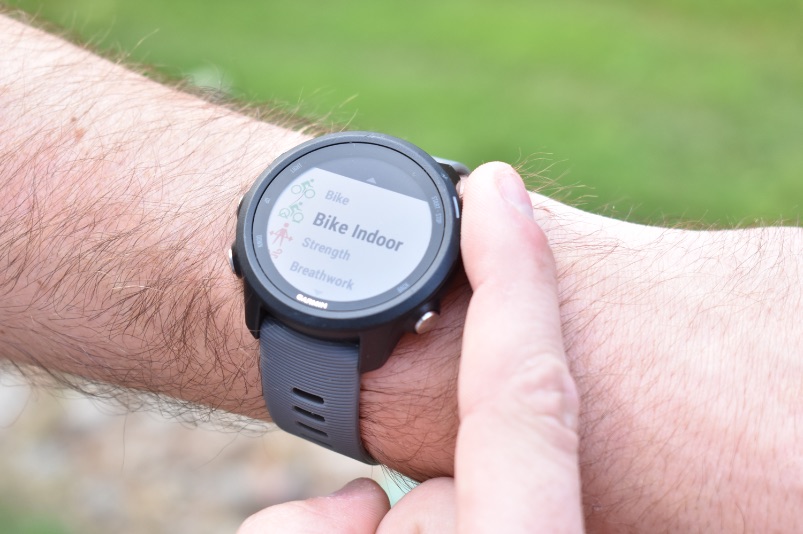 Adjustability
The Forerunner 245 fits wrists between 127-204 mm, which is equivalent to between about 5 inches to over 8 inches in circumference. This is a solid size range with just one band.
Although it fits a wide range of wrist sizes, I was surprised by the irritation the band caused. I wore it all day with no breaks and found the silicone band was rubbing on my wrist.
While working out, I was pleased that the tracker did not budge from my wrist. For all the irritation I was experiencing during the day from the band, I didn't have a problem sleeping with it on.
Technology
The Garmin Forerunner 245 has impressive technology options, especially for those who enjoy cardio-based activities. It has the ability to track a variety of exercises, give running form tips, and track your favorite outdoor route.
The Metrics
This smartwatch is able to track workout intensity minutes, sleep statistics, distance traveled, daily calorie burn, and overall step count. There are also a variety of other features the Forerunner 245 can track such as menstrual cycle, VO2 max, heart rate, and more. What you unfortunately won't find on this tracker is Garmin pay or an altimeter to track altitude.
Activity Tracking
The Forerunner 245 has 13 activity profiles programmed into the watch that you can easily select to track your workout. Here are your options:
Treadmill running
Strength training
Indoor Rowing
Elliptical training
Stair stepping
Indoor and outdoor running
Trail running
Virtual running
Indoor biking
Pool swimming
You're also able to add a custom activity but you'll have to use the base of a closely related pre-recorded exercise. For example, if you wanted to record a pilates workout, you might select "yoga" as the base of the workout so the watch can get the most accurate reading.
Connectivity
On the Forerunner 245, you can use Bluetooth or ANT+ technology to connect to devices if you want to, for example, broadcast your heart rate data to another device. The 245 Music and other upgraded versions of the Forerunner are also Bluetooth/ANT+ enabled.
Auto-Recognize Exercises
If you forget to select an activity before you begin working out, never fear! The Forerunner 245 will most likely save your butt with Move IQ. This feature automatically detects five activity profiles – running, swimming, elliptical, walking, and biking. This would be great for someone doing a triathlon that didn't want to have to switch the exercises they were tracking.
I love that this feature is included on the 245, but I am a little disappointed it will not automatically track strength workouts. This comes as no surprise from a device designed for runners. The five detected activity profiles are all cardio-based.
RELATED: Biking vs Walking
Reminders to Move
Much like Fitbit's trackers, the Garmin Forerunner 245 will remind you to move if you have been stationary for one hour. The watch will light up with a red bar and the word "Move!" You can get up and walk for a short distance to make the notification go away. You are also able to turn this feature off if it's not for you. I personally like this feature because it helps remind me to take a quick break and stretch my legs.
Notifications
After your compatible Android or iPhone is paired with the Forerunner 245, you'll be able to view texts, calls, and calendar notifications. With an Android, you are able to respond to texts with short pre-made messages. Unfortunately, iOS does not support this feature, which was a bummer for me. Luckily both Androids and iPhones can accept or decline calls. The call will be transferred to your phone if you accept.
Sleep Tracking
If you're interested in tracking your sleep with the Forerunner 245, you'll have to first set your sleeping hours on the Garmin Connect app. Once the tracker knows your regular hours, it will automatically give you data throughout the night that you'll be able to view in the morning.
The watch will track the following – sleep levels (light, deep, REM), total hours, and movement during sleep. All the sleep information is determined by the heart rate sensor and heart rate variability.
Although I enjoy learning more about my sleep, I'm disappointed that there are no options to track naps. The Forerunner 245 will only track sleep during your scheduled "sleep time." There is not even an option to manually add that you're taking a nap.
Incident Detection
One of my personal favorite features of this tracker is the incident detection. If the Forerunner 245 senses an impact, it will give you 30 seconds to confirm you are okay. If you don't confirm within 30 seconds, the tracker will send your emergency contacts an automated message, GPS location, and a LiveTack link. This is a great feature for peace of mind, especially if you often like to go on solo hikes or runs.
Before you might need to use this feature, it is wise to set up your emergency contacts within the Forerunner 245. Here's how:
Go to the Garmin Connect app
Click "Safety and Tracking" then "Incident Detection and Assistance"
Select "Add Emergency Contact" and follow the on-screen prompts
If you want to manually activate the incident feature on the Forerunner 245, you simply hold the top left button until the watch vibrates three times. It will send messages to your emergency contacts after. Luckily, it does not require wi-fi connectivity to work. The only downside to this feature is that it requires your cellphone to be nearby and on. I do wish this feature didn't require having your phone because it would be even more useful in emergency situations.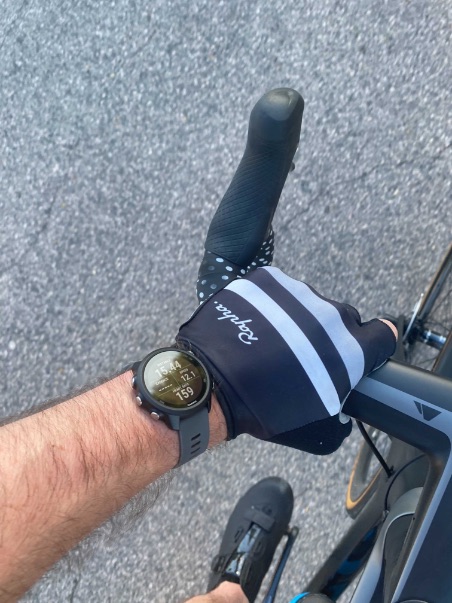 User Experience
There are a variety of features that make the Garmin Forerunner 245 special. Most of them do require additional setup and a little extra effort. However, once you get the hang of the bevy of features and data, you'll enjoy the fun extras this tracker has to offer.
Setting Up and Pairing
Pairing the Forerunner 245 to my iPhone was a fairly painless process. The tracker can be paired with a variety of different phones including Android phones (like Samsung) or a variety of Apple products that use iOS 12 or higher. Here's how you do it:
Install the Garmin Connect AppTurn on Bluetooth on the tracker
Make sure your smartphone is within 10 meters of your tracker
On the watch, select the "gear icon," "phone," then "pair phone"
Select the three dots on the Garmin Connect App, "devices," then "add device"
Follow the instructions on screen to complete setup
Connect IQ
The Connect IQ store allows you to change your apps, watch face, widgets, and data fields plus syncs easily to your tracker. I appreciate that there are free options to change and personalize the tracker to make it work best for you. The additional data fields are interesting because you can learn more metrics about activities you enjoy like running, biking, or hiking.
The Companion App
The Garmin Connect app is free to download and is a great way to connect with others. I enjoyed being able to compete with both Facebook friends and phone contacts. You can even create your own custom challenges and invite friends to join. I love competition (I know, shocker) so this was a big plus for me.
After completing an activity, the app will sync with your tracker to show you all the details of your workout. If you love seeing metrics, you'll enjoy the health and performance stats. The actual format of the app is user-friendly and pleasant to look at. I liked being able to connect the Garmin app to Strava, which is an app primarily used to keep track of cardio activities like running, walking, and cycling.
Another awesome feature is the ability to download specific routes and courses right to your phone. The Forerunner 245 doesn't have full mapping capabilities but you can both download premade courses or create your own.
Body Battery
Another cool feature the Forerunner 245 has to offer is Body Battery. This tool analyzes your stress levels, sleep, activity, and heart rate variability to determine a score between 0-100. This represents how worn out your body is based on all the factors above.
Here are the different levels:
0-25 (Low Reserve)
26-50 (Medium Reserve)
51-75 (High Reserve)
76- 100 (Very High)
Stress Level
The Garmin app will also connect with your tracker to give you a stress level score. I liked being able to keep track of how stressed I was throughout the day. There are three colors to let you know how you're doing – blue (periods of rest), yellow (periods of stress), and gray (too active to track). If you're in a period of high stress, the app will guide you through quick breathing exercises to help you regulate. This is a great feature that is akin to the Apple watch breathing function.
Battery Life
Out of the box, you can expect to wait about two hours for the Forerunner 245 to fully charge. If you decide to use the tracker without GPS, you'll have up to 7 days of charge available. If you use the GPS function continuously, you'll only have up to 24 hours of charge. If you plan to use GPS all the time, I recommend charging your smartwatch every night.
Community
If you enjoy the community aspect of working out, the Garmin Connect app can deliver. You can share your activities and challenge contacts or Facebook friends. There is also an option to post your workouts or activities to various social media networks.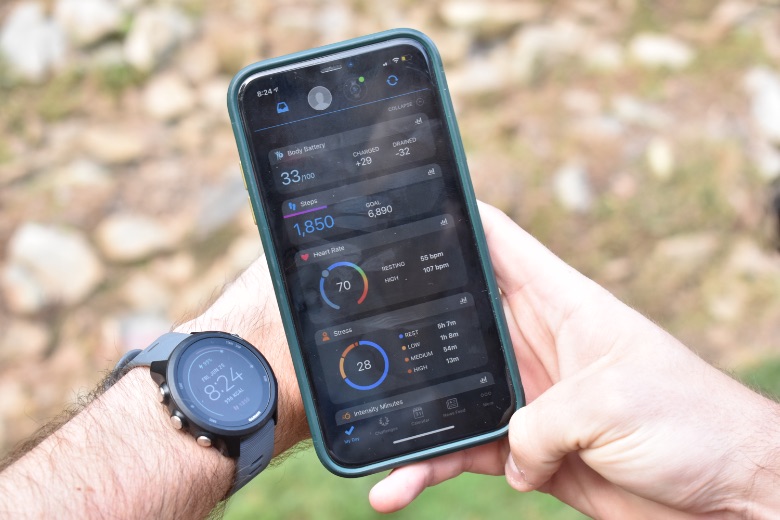 Garmin Forerunner 245 Specs
Size
42.3 x 42.3 x 12.2 (mm)
Weight
38.5 g
Water-resistant
Yes; 5 ATM (50 meters)
Battery Life
Smartwatch Mode: Up to 7 days
GPS mode: Up to 24 hours
Sleep tracking
Yes
GPS
Yes, built in
Workout programs
Yes
Compatibility

Android and iPhone
Buying Experience
Buying and Shipping
I purchased the Forerunner 245 from the Garmin website. I was able to get free shipping since the purchase was over $25. The website says the smartwatch is usually shipped within 1-3 days of ordering, which was the case with my own order.
Customer Service
The customer service for Garmin is above average. Depending on what country you're in, there are a variety of numbers you can call for assistance. The one for the good ole' US of A is 1-855-607-2536. You also have the option to do individual product support by typing in the serial numbers for specific troubleshooting problems.
Warranty and Returns
With the almost $300 Forerunner 245, you only get one year of limited warranty with purchase. I think for the price, the warranty could be better. If you want to return the sports watch, you have 30 days to do so. You'll also have to submit a return request. As with most fitness product returns, you are responsible for shipping the product back on your own dime.
Customer Reviews
Customers of the Forerunner 245 seem to love the running dynamics information, ease of changing out the band, and synching capabilities with the Strava app. A few people mentioned they wish the tracker had a touchscreen and that the brightness was a bit low. Overall, people had pretty positive things to say about this tracker and the variety of features that it has.
Comparing the Forerunners
Garmin has an extensive line of Forerunner watches, including basic GPS devices like the Forerunner 45, which is marketed as easy to use, and up to the Forerunner 945, which is the top of the line (well, top of the line for the Forerunners; Garmin makes even more advanced trackers and smartwatches, like the fenix and tactix). Here's a quick breakdown of how they all compare:
Forerunner 245 Music: For an extra $50 to the Forerunner 245, the 245 Music edition gives you the ability to play Spotify Premium (sold separately) through your watch. Otherwise, it is the exact same tracker as the 245.
Forerunner 645: Coming in just under $400, the 645 is very similar to the standard 245. It doesn't have music storage unless you choose the Forerunner 645 Music edition (for an extra $50). The key differences are Garmin Pay capabilities and the addition of five exercise tracking profiles – outdoor rowing, snowboarding, skiing, stand-up paddle boarding, and XC skiing.
Forerunner 745: The 745 is almost $500 and does come with the ability to play and store music. You can also utilize Garmin Pay or enjoy one of 15 added activity tracking profiles. There is also the option to follow on-screen workouts right from your watch. Another cool feature is the Treadline Popularity routing. This feature will help you find the best route for you to take while you're enjoying an outdoor activity such as cycling, running, or skiing.
Forerunner 945: As the most expensive model in the Forerunner family, the 945 has quite a bit to offer for about $600. It has Garmin Pay, 15 additional exercise tracking profiles, and longer battery life. The 945 also has offline maps and more storage for music and apps.
Overall, I would say that the Forerunner 245 is the best option for most people. However, if you need a special feature like offline maps or are crazy into something like XC skiing, I would select the model that fits you best.
Final Verdict of our Garmin Forerunner 245 Review
This extensive Garmin Forerunner 245 review showed a variety of perks to owning this smart tracker as well as a few things to be aware of. Here are my key takeaways:
Great tracker for cardio focused people with built-in GPS
Almost $300 but no touchscreen
Has useful safety features like incident detection and LiveTrack
Garmin Forerunner 245 FAQs
Is the Garmin Forerunner 245 worth it?
The Garmin Forerunner 245 has it all; a large, brilliant display, precise tracking, and long battery life. The Forerunner 245 Music costs $349, which is about the same as the Apple Watch 6 ($399), but it has more advanced tracking functions and longer battery life, making it the superior pick for dedicated runners.
Is Garmin 245 better than 645?
If you're debating between the Garmin Forerunner 245 and the Garmin Forerunner 645, you're already ahead of the game, both watches are among Garmin's best, with added training features, daily fitness info, and smartwatch features.
What can the Garmin Forerunner 245 do?
Running, Treadmill running, Indoor track running, Trail running, Biking, Indoor biking, Swimming, Strength training, Cardio training, Elliptical training, Stair stepping, Indoor rowing, and Yoga are just a few of the sport profiles available right out of the box on the Garmin Forerunner 245. There are plenty more to pick from.
Full Rating
Garmin Forerunner 245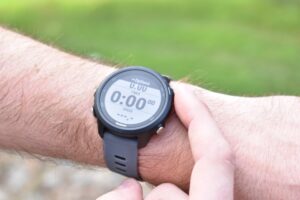 The Garmin Forerunner 245 is a cardio junkie's dream come true. It has built-in GPS, tracks a variety of metrics such as your VO2 Max, and gives tips on your running form. We had several people test this tracker, including an avid runner.As always, I'll give my honest opinion and all the details with my in-depth Garmin Forerunner 245 review. When testing fitness trackers, I look for things like overall value, activity tracking options, different metrics, and the benefits of the companion app.Our testers used this tracker to run trails, do strength training, cycle, and for daily walks. Using the Forerunner 245 for a variety of activities is important for my assessment process in order to understand where this tracker shines.
Product Brand: Garmin
Product Currency: $
Product Price: 299.99
Product In-Stock: InStock