We test and review fitness products based on an independent, multi-point methodology. If you use our links to purchase something, we may earn a commission. Read our disclosures.
For under $130, the Fitbit Charge 4 is a reasonably priced fitness tracker that sports a sleek design. With new features like on-board GPS and Spotify control, the Charge 4 is definitely an upgrade from the Charge 3, which was released in 2019. In my opinion, this is the best fitness tracker for most people.
In this Fitbit Charge 4 review, I'll give you the ins and outs on all the features, ease of operation, and if it is worth your money. As with any equipment I review, I put the product to the test to give you all the positives and negatives in order for you to make the best buying decision for you.
My Favorite Things:
Built-in GPS
24/7 heart rate tracking
Sleep tracking capabilities
Water resistant up to 5 ATM/50 meters
Under $130
My Callouts:
Narrow screen at under an inch wide
Battery drains quickly with use of GPS
Grayscale display
Fitbit Charge 4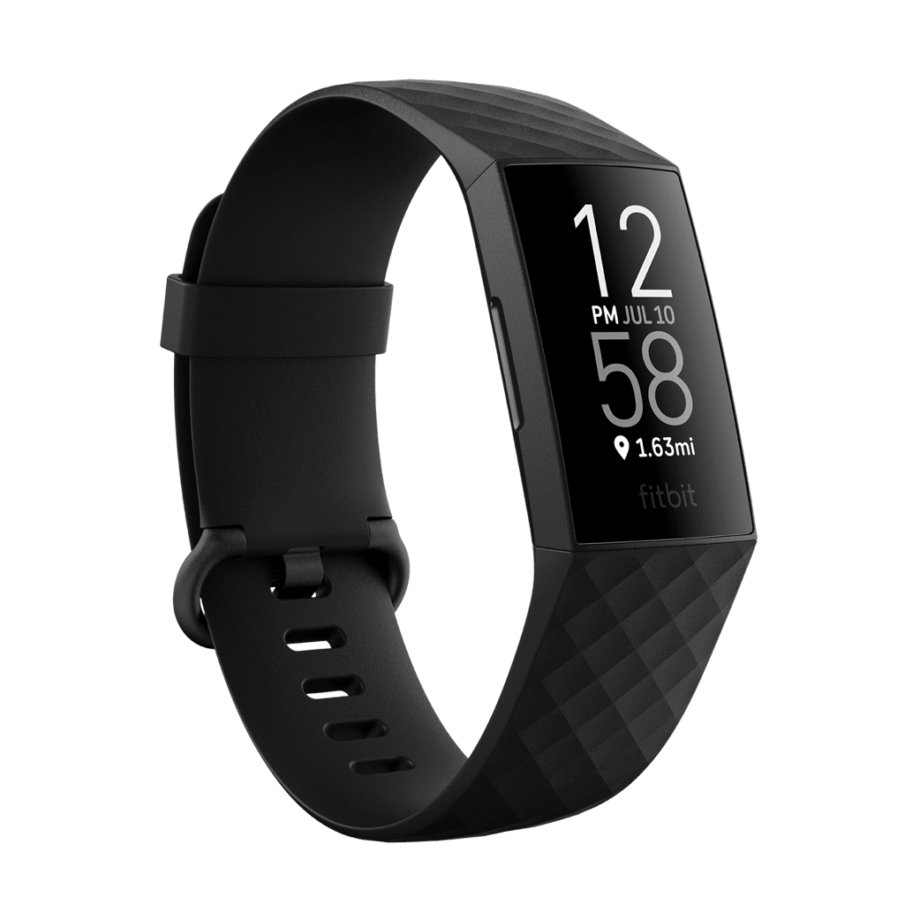 Who Should Buy the Fitbit Charge 4?
Great for:
People who want GPS capabilities in order to track outdoor routes
Anyone who enjoys different ways to exercise
Those who want to track their swimming
Not recommended for:
People who want a smartwatch with full cellular capabilities
Those who want a colorful and large display
What the Fitbit Charge 4 Measures
The Fitbit Charge 4 measures quite a few things. Here's the rundown:
Active minutes
Steps
Stationary time
Hourly activity
Distance traveled
Calories burned
SpO2 (Oxygen saturation)
Time spent in different sleep stages
Skin temperature variation
Heart rate variability
Breathing rate
24/7 heart rate tracking
Resting heart rate
Menstrual health data
Floors climbed
Pace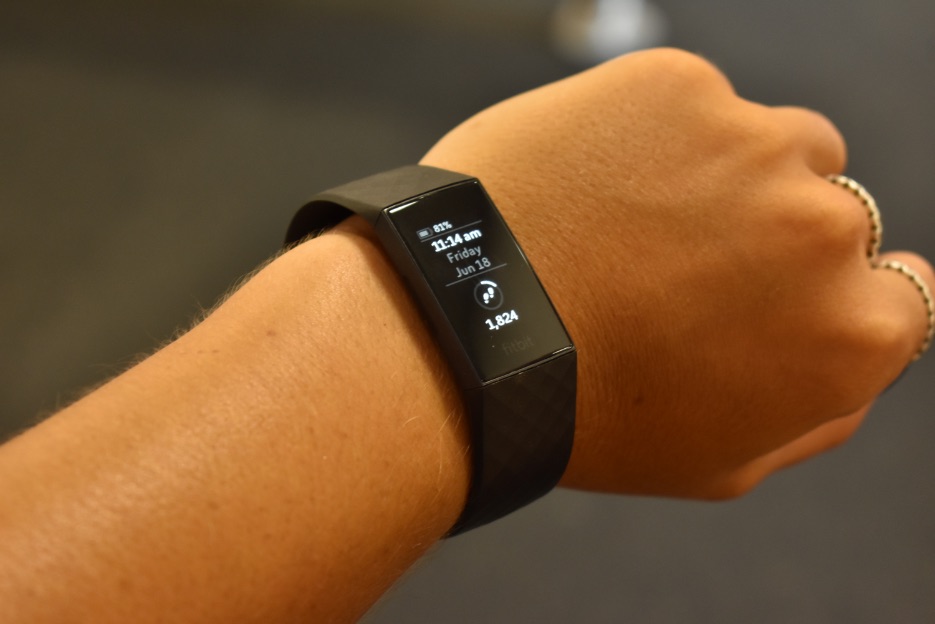 Design and Aesthetics
The Fitbit Charge 4 has four different color choices – black, rosewood, storm blue/black, and the special edition reflective woven granite (which will run you an extra $20). I chose the standard black option. The regular wristband is made from the type of silicone you'd expect from most fitness trackers and includes an aluminum buckle to match the color you choose. If you go for the woven band, it is made from polyester.
If you want to switch out the band, there are a variety of options available on the Fitbit website. The Charge 4 bands include options made of leather, woven material, and traditional rubber in different colors. You can expect to pay between $20-$50 to swap out your band. I was slightly disappointed to notice that the Charge 4 does not have the option to be put on a clip like the Fitbit Inspire 2 does.
The face of the watch itself is very small and narrow, which is typical for a lot of Fitbit's fitness trackers. The display is in grayscale, which I'm not wild about since it's harder to read. It is PMOLED backlit and under an inch in width. At times, I felt like I was squinting at the screen to read any of the metrics.
On the Charge 4, there is only one button on the side of the tracker. You can use this button to go back to a screen or view the main screen with the clock. You're also able to easily navigate by using the touchscreen and swiping down to see notifications or left to see your available apps.
Adjustability
Similar to other Fitbit trackers, there are two sizes of bands sent with your Charge 4. The small band will fit a wrist circumference of 5.5 inches to 7.1 inches, and the larger band will fit 7.1 inches to 8.7 inches. If you want to know your size without trying on the provided bands, there is a guide you can print out to find out your best fit.
The Charge 4 was very comfortable on my wrist and I almost forgot I was wearing it. Once it was adjusted to my wrist, I wore it for running, lifting, and doing burpees. It did not budge for any of the movements. You can easily wipe sweat off of the silicone bands after you're done with a workout.
Technology
With features like built-in GPS, contactless payments, and sleep tracking, the Charge 4 is a sleek fitness tracker that packs a decent technology punch for the money.
The Metrics
The Fitbit Charge 4 has a variety of useful metrics such as 24/7 heart rate monitoring, daily steps, and calorie count. I appreciated the reminder to move feature because it kept me accountable on lazier days. I also enjoyed tracking my daily steps and overall calorie burn to see how much I was moving throughout the day.
Built-in GPS
If you enjoy tracking your outdoor activities, you're in luck. The Charge 4 has built-in GPS. This is the big selling point if you're deciding between the Inspire 2 and the Charge 4 – you don't have to connect to your phone to utilize GPS with the Charge 4. This means you can track your routes in real-time when doing an outdoor workout like walking, running, biking or even kayaking without bringing your phone along. (Another great tracker with built-in GPS is the Garmin 245 Forerunner, which is literally made with runners in mind.)
If you've used the GPS function during a trackable workout, you'll be able to view the workout intensity map. The map will show parts of your route where your heart rate was high. I liked this feature because I was able to not only track my hiking route but I was also able to see how high my heart rate was throughout.
Pair With Smartphone or Device
Pairing your smartphone or device with the Charge 4 is simple.
Within the Fitbit app, click the 'Today' tab
Click your profile photo and click 'Charge 4'
Hit the notifications button
Follow the instructions on the screen to pair with your smartphone via Bluetooth
Notifications for texts, calls, and calendar updates are automatically turned on
If you have an iPhone or Apple product, the Charge 4 will automatically pair with the calendar function. If you have an Android device, you'll have to choose a specific calendar app you'd like to use with the fitness tracker.
Although you won't be able to answer calls on your Charge 4, you can send quick replies with premade messages on an Android device (sorry Apple users). As an Apple user myself, I wish they would make this a feature for everyone to use, not just Android users. As nice as it is to see phone calls and text alerts pop up, it would be way better if I could pick up the phone with my tracker or respond to a text.
Activity Tracking
The Fitbit Charge 4 has the ability to track 20+ workouts. You're able to add your own custom activity as well such as dancing or using a functional trainer. Take a look at all the exercises the Charge 4 will track:
Weights (like dumbbells or kettlebells)
Golf
Yoga
Bootcamp
Bike
Run
Spinning
Tennis
Circuit Training
Hike
Stair climber
Pilates
Martial arts
Interval workout
Kickboxing
Ability to add additional custom workouts
The Charge 4 automatically tracks your heart rate, hourly activity, distance, calories burned, and floors climbed. Even if you forget to set a timer, it can automatically recognize certain exercises like running, walking, swimming, biking, elliptical, sports, and aerobic activities. I noticed that the Charge 4 was slow to pick up certain exercises like running. It takes a few minutes for the GPS to kick in as well, so if you can, you're better off setting your own activity timer rather than waiting for the device to recognize your workout.
Throughout the day, the Charge 4 will buzz to remind you to get up and move if you haven't recently. This can be useful if you're at a desk most of the day and need to be reminded to take a break and walk around for a few minutes.
If you're not crazy about this feature, it is easy to turn off. Simply click the gear icon under the hourly activity tile on your watch. You'll be able to switch the reminders to move on and off. Sometimes I can get locked into work and emails and forget to stand up and stretch my legs. I like this feature because it gives me the opportunity to have a quick break plus get a few steps in. A win-win if you ask me.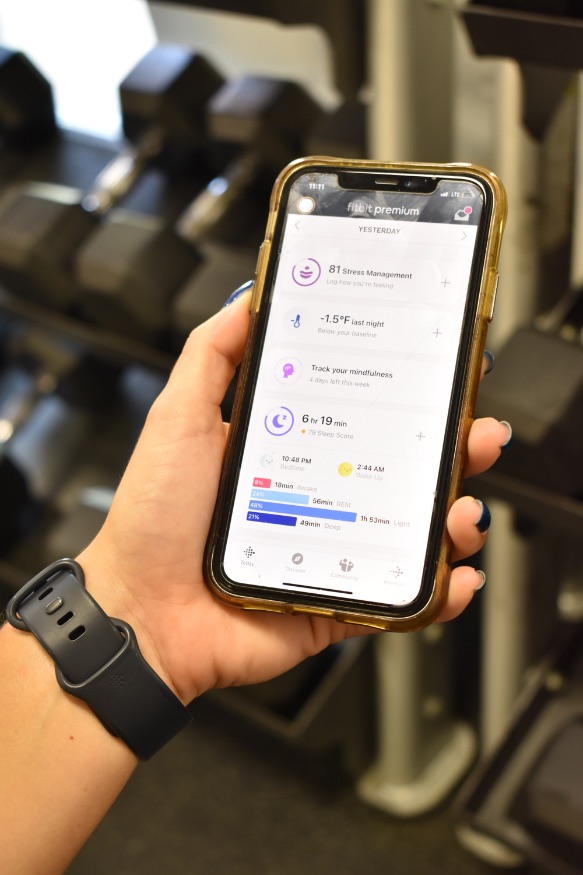 Music
A new addition from the Charge 3 to the Charge 4 is the connect and control Spotify app. You can change playlists or select songs with your fitness tracker and even switch to other connectable devices. This is a great feature that expensive smartwatches like the Apple Watch Series 6 have.
I love having the ability to switch the song on my phone with just a tap on my wrist. Unfortunately, if you have a standard Spotify account, this won't work for you. You must have Spotify Premium to enjoy this feature, and Spotify Premium is, of course, an additional cost.
Sleep Tracking
I appreciate the sleep tracking feature on the Charge 4. It's not the in-depth sleep and recovery tool that the Whoop Strap 3.0 offers. However, it is the same concept as is included in the Inspire 2 that I tried out recently. If you wear your fitness tracker to bed, you'll be able to glean data about how you sleep during the night and get an overall sleep score. The Charge 4 will track your duration, quality, and stages of sleep. For example, it'll tell you how long you spent in a light, deep or REM sleep.
You can also put the Charge 4 on sleep mode, which means your notifications won't make your tracker vibrate and the screen will be dimmer. Smart wake is another feature I enjoy. Instead of always waking you up at the alarm you set, the tracker will start 30 minutes before and try to find a time where you're not in a deep sleep. This can help you feel more rested in the morning.
It also tracks your oxygen variation during the night to see if there are any disturbances in your breathing. You also have the ability to set a goal of hours of sleep per night. Fitbit (and doctors) recommend you get eight hours of sleep. However, you can change the duration to be longer or shorter based on your personal needs.
If you utilize Fitbit Premium, you'll be able to learn more details about your sleep score and tips on how to wake up feeling more rested.
Contactless Payments
The Charge 4 has the ability to use Fitbit Pay for contactless payments. You can add up to 5 total debit or credit cards into the wallet section of the Fitbit app. In order to use this feature, you have to set up a 4 digit pin for security purposes.
Once you've added your preferred cards, you can pay by pressing and holding the button on the side of your tracker. You'll be asked to enter your pin before having the option to select which card you'd like to use. After selecting your preferred card, you simply hold your wrist near the payment area. The Charge 4 utilizes NFC, or near field communication to administer payment through your tracker. Super simple and easy to use.
I think this feature is great and super useful, especially to avoid touching unnecessary germy surfaces. It also just makes things a lot more convenient – you don't have to worry about remembering your wallet or credit card since your tracker is on your wrist.
Menstrual Tracking
For people who have periods, the menstrual tracking feature on the Charge 4 is a nice addition. You can track your ovulation, add your cycle, input period lengths, and receive predictions from Fitbit about your cycle. This doesn't replace the advice or information from a doctor, but it can still be a handy feature to utilize.
Blood Oxygen Levels
You can track your SpO2 (also known as your blood oxygen levels) with your Charge 4. Your blood oxygen levels are influenced by factors such as your movement, health, and altitude. With the Fitbit app, you can view and track trends under the 'Health Metrics' tab.
Breathing Exercises
If you're feeling stressed during the day, you can utilize the two- or five-minute guided breathing sessions on the Fitbit app. At the end of your short session, you'll get information about your heart rate and how closely you stuck to the breathing prompts.
My favorite part of this is that notifications are fully off while you're doing your breathing exercises. It might sound small, but it can be beneficial for me to be completely in the moment while trying to de-stress.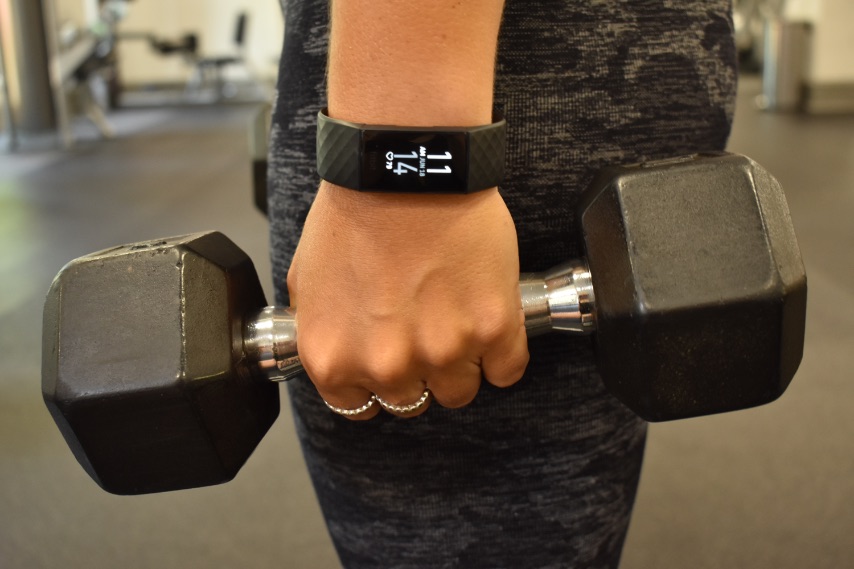 Using the Fitbit Charge 4
The Charge 4 offers quite a few other features that elevate it beyond a basic fitness tracker. The key to utilizing these extras is putting in the effort setting up the features you are interested in.
Setting up the Fitbit Charge 4
As is the case with any Fitbit product, you must login or create an account to get started. First, download the Fitbit app on any compatible Apple or Android product. Next, set up a Fitbit account. You'll have to enter details like height, sex, weight, and age in order to get the most accurate fitness tracking. Other users in the Fitbit community will be able to see your profile photo and first name but you'll have the option to make everything else private if you like.
Once you've created an account, you'll be able to click your profile photo to set up the Charge 4. All you have to do is follow the on-screen prompts and your tracker will connect to your account.
The Companion App
With the Fitbit app, the amount of information they're providing can get overwhelming.
Here are some of the things you can view from the app:
Activity tracking
Sleep information
Weight and nutrition progress
Introductory wellness programs
Short workouts
Mindfulness sessions
Fitbit Premium
The Charge 4 includes a 3-month free trial of Fitbit Premium. With Fitbit Premium, you can enjoy the following:
Step-by-step programs (sleep, nutrition, fitness)
Premium challenges
Breathing and resting heart rate
Heart rate variability
SpO2 (oxygen saturation)
Sleep score breakdown
200+ workouts
100+ mindfulness sessions
With the included free trial, you'll be required to enter your credit card information. However, you won't be charged for the 90 days, only the time afterwards if you decide not to cancel. The price to continue Fitbit Premium is either $9.99 per month or $79.99 annually.
Active Zone Minutes
If you want to see how hard you're going during a workout, the active zone minutes feature on the Charge 4 will be your new favorite. This feature tracks how much time you spend in three different zones: fat burn, cardio, or peak heart rate. The Charge 4 can tell you your individual heart rate numbers based on your peak zones. Your peak zones are when your heart goes to at least 85% of its total maximum heart rate.
While working out, your watch will buzz either once (fat burn), twice (cardio), or three times (peak). If your heart rate is within the fat burning zone, you'll get one point for every minute spent in this area. For both cardio and peak heart rate zones, you'll get two times the points for every minute completed. The active zone minutes made it easy for me to see how hard I was working out.
If the active zone minutes aren't your style, no problem. You're able to easily toggle between on and off in notifications. If you're interested in seeing your active zone minutes over time, you can check under the 'Zone Minutes' category within the Fitbit App.
Battery Life
When first unwrapping your Charge 4, don't expect to use it for at least two hours. You'll have to use the provided charger and wait until it is at 100%. Once fully charged, expect it to last up to seven days.
Unfortunately, if you plan to use the GPS function continuously (which I did), you'll only be afforded 5 hours of battery. That's a pretty steep drop off from 7 days. I'm not crazy about how much battery life is sucked from the tracker when using GPS.
Community
The Fitbit app offers ways to stay engaged with friends and like-minded people. You'll be able to connect and challenge friends who have a Fitbit device, plus keep up with what they're doing activity wise. You can also join groups of people with similar interests or by location. I think the element of a community can really be motivating for people on a fitness journey.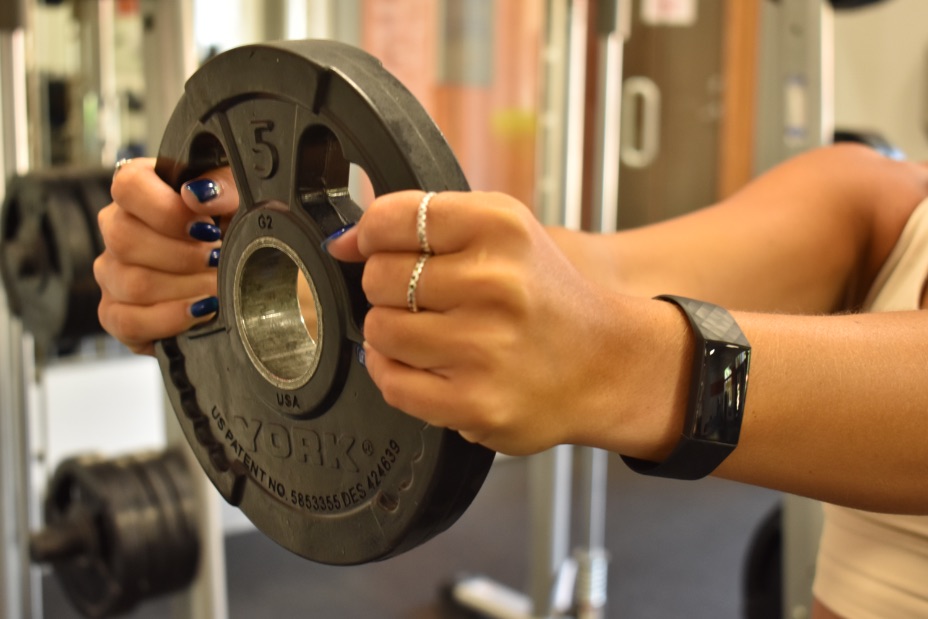 Fitbit Charge 4 By the Numbers
| | |
| --- | --- |
| Size | 1.4in l x 0.9in w x 0.5in h |
| Weight | 1.06 oz |
| Water resistant | Yes; 5 ATM (Up to 50 meters) |
| Battery Life | Up to 7 days; 5 hours with continuous GPS use |
| Sleep tracking | Yes |
| GPS | Built-in |
| Workout programs | 20+ activities to track |
| Compatibility | Syncs with Mac OS X 12.2 and up, iPhone 5S and later, Android 7.0 and later. |
Buying Experience
When purchasing the Charge 4 from the Fitbit website, I was able to score free shipping because the purchase was over $50. The tracker arrived in under a week of me ordering.
Best Time to Shop Fitbit
If you want to save extra on a new fitness tracker, watch out for Fitbit's sales. They typically do promotions and sales during holidays like Mother's Day, Father's Day, Black Friday, and Christmas.
Customer Service
On the Fitbit website, there are multiple ways to get assistance. You can contact customer service via the chat function or this number: (877) 623-4997. There are also multiple forums where you can ask questions and have a moderator answer them. Just don't expect a super quick response if you choose to go this route. You might get lucky like I did and be able to find a previous question plus answer posted for what you wanted to ask.
Warranty and Returns
When purchasing the Fitbit Charge 4, you'll receive a one-year limited warranty. This is pretty standard for a wearable in this price range.
If you're not satisfied with your purchase, you can return the Fitbit in its original packaging within 45 days. You'll have to request an authorization number and ship it back on your own dime. Luckily, this isn't like shipping back a treadmill and won't be overly expensive.
Customer Reviews
Customers generally had good things to say about the Charge 4. They appreciated the value, built-in GPS, and many features it offers.
On the flip side, some people complained about the display being small and greyscale. Others said the automatic activity tracker didn't always pick up certain exercises.
Final Verdict of our Fitbit Charge 4 Review
Overall, I was impressed by the quality of the Charge 4, especially considering it has built-in GPS for under $130. Here are my key takeaways:
The built-in GPS is a useful tool for tracking routes without lugging your phone with you
GPS can make the battery life very short
There is a multitude of data collected on the Charge 4
Fitbit Charge 4 FAQs
What is the difference between the Fitbit Charge 3 and Fitbit Charge 4?
The Fitbit Charge 3 came out in 2019 and is the older version of the Charge 4. The Charge 4 has built-in GPS capabilities and doesn't have to rely on connection from a smartphone. It also has Spotify control which the Charge 3 does not.
Can I answer calls with the Fitbit Charge 4?
Although the Fitbit Charge 4 can show you that you are receiving a call on your compatible smartphone, you are not able to answer it with your tracker. You can send short replies to text messages with your Charge 4, but only if you have an Android device.
Can I shower with my Fitbit Charge 4 on?
Yes! The Fitbit Charge 4 is water resistant up to 50 meters (5 ATM). It is fine to shower with this fitness tracker on.
Full Rating
Fitbit Charge 4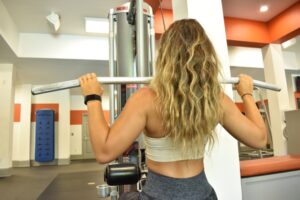 The Fitbit Charge 4 is a reasonably priced fitness tracker that sports a sleek design. With new features like on-board GPS and Spotify control, the Charge 4 is definitely an upgrade from the Charge 3, which was released in 2019. In my opinion, this is the best fitness tracker for most people. In this Fitbit Charge 4 review, I'll give you the ins and outs on all the features, ease of operation, and if it is worth your money. As with any equipment I review, I put the product to the test to give you all the positives and negatives in order for you to make the best buying decision for you.
Product Brand: Fitbit
Product Currency: $
Product Price: 145.95
Product In-Stock: InStock