We test and review fitness products based on an independent, multi-point methodology. If you use our links to purchase something, we may earn a commission. Read our disclosures.
Although I like going hard in the paint (as the great Waka Flocka once said) as much as the next person, I know there is a time and a place to take it easy. With exercise, this philosophy couldn't be more true. Say you're nursing an injury, have had recent health concerns, or don't have stellar balance. You still may want to find a way to get some movement in without exacerbating any issues. What is one to do? Luckily, recumbent bikes––like the NordicTrack Commercial R35––can be a good option for lighter exercise days.
In this NordicTrack Commercial R35 review, I'll dive into the ins and outs of this iFIT-enabled recumbent bike. We'll compare the R35 to industry standards and analyze its general useability to determine if this is a good purchase for you. 
RELATED: NordicTrack Commercial 1750 Review
Cycling through the Best Recumbent Bikes
Whether we're talking squat racks or recumbent bikes, we're no stranger to a good piece of fitness equipment. In fact, our team of expert product testers and reviewers has had our hands on hundreds of the hottest treadmills, dumbbells, barbells, and tons more. Plus, we have the know-how to back it up––we're certified personal trainers, nutrition coaches, and former college athletes.
RELATED: Best Recumbent Bike
NordicTrack Commercial R35
NordicTrack Commercial R35 Exercise Bike
The R35 is a high-quality model in NordicTrack's line of recumbent bikes. It boasts some impressive features, including 26 levels of digital resistance, silent magnetic resistance technology, a 14-inch HD smart touchscreen display, and two 2-inch digitally amplified Bluetooth speakers.The combination of its 25-pound flywheel, 26 levels of resistance, and SMR technology results in a fluid, quiet, and smooth ride with plenty of variability in intensity. Additionally, SMR is a frictionless magnetic resistance which not only minimizes noise emission, but also reduces the wear-and-tear on the flywheel.Included in your purchase is a 30-day family membership trial which provides access to thousands of on demand professional trainer-led classes which range in length, type, and intensity.When using iFIT, riders have the option to utilize the automatic trainer control to adjust resistance or to override this feature for manual control. Beyond the 30-day trial, a paid membership is required to access classes. Unfortunately, there are no pre-programmed workouts on the R35.As most recumbent bikes do, the R35 carries a hefty footprint and, even with front transport wheels, its shape makes it cumbersome to move around. So you will want a dedicated spot for this machine.
A Quick Look at the NordicTrack Commercial R35
The NordicTrack Commercial R35 is a part of the recumbent bike series, which only features one other bike––the Commercial VR25. However, it is worth noting that the VR25 is on closeout, so you won't be able to get it for much longer.
Luckily, the R35 is no slouch. This recumbent bike has a touchscreen (with which you can view iFIT programming), a supportive seat, and clocks in at less than $1,500.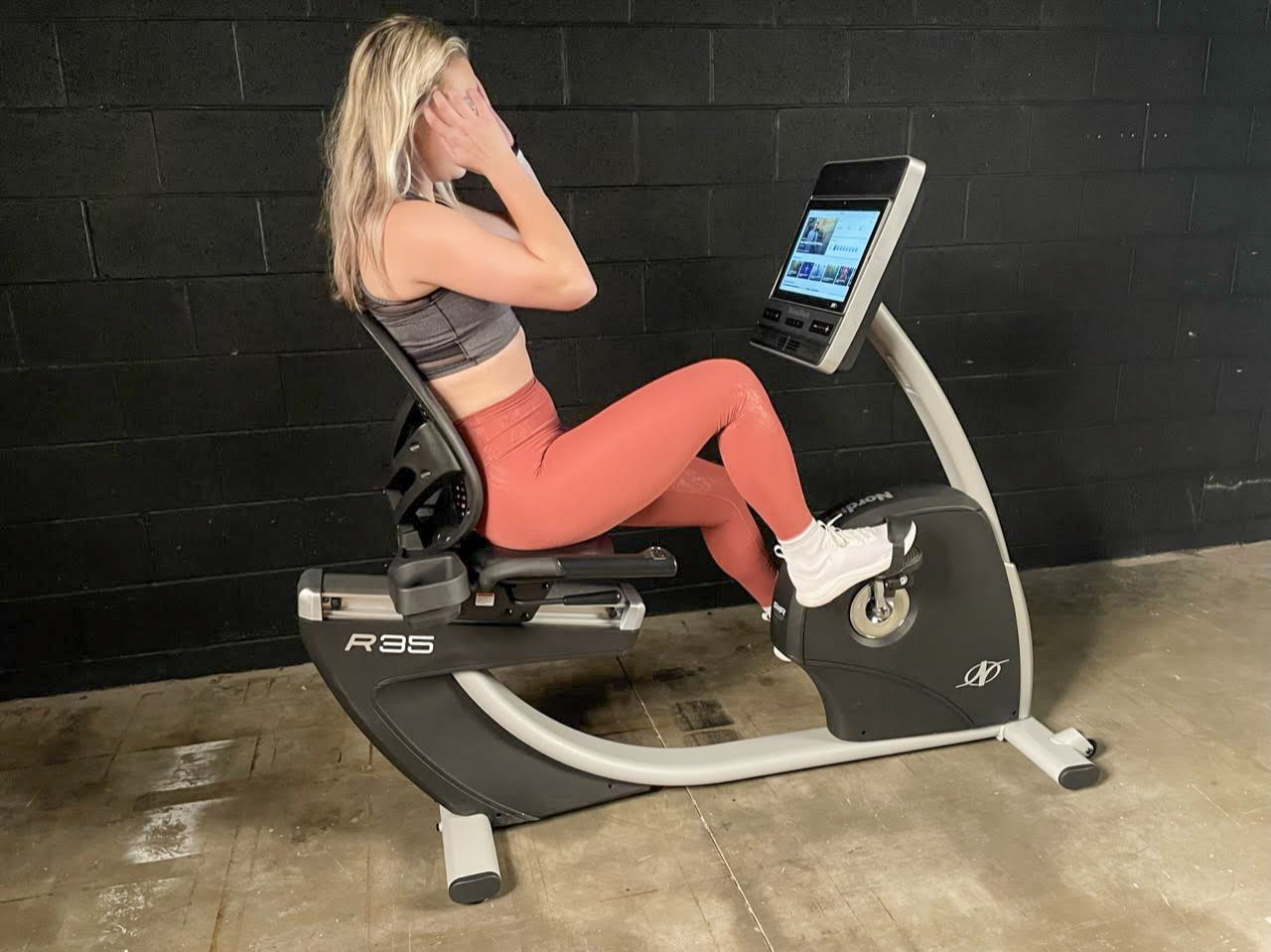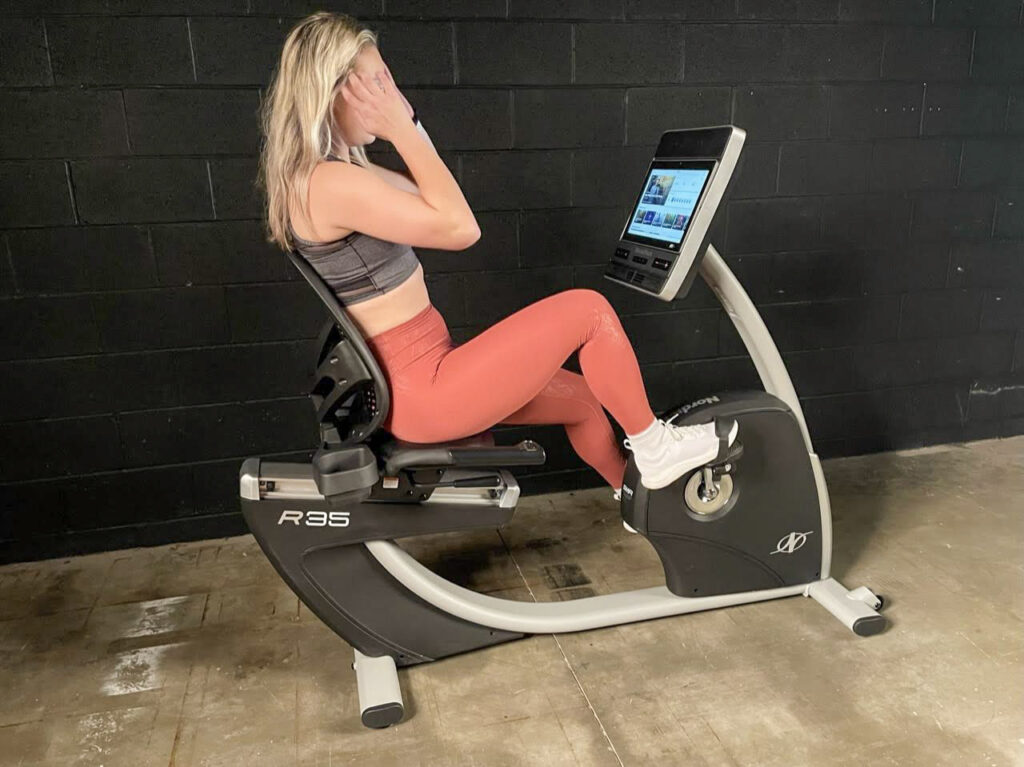 My Tips
Take advantage of the 30-day free iFIT trial offered with the purchase of the R35!
Pros:
26 levels of resistance
14" HD touchscreen compatible with iFIT programming
Stable while being used
Easy to use
350-lb user weight capacity
Adjustable
Comfortable seat with lumbar support
Pretty simple assembly process
Cons:
Fairly sizeable footprint
25-lb flywheel is lighter than industry standard
Doesn't fold
NordicTrack R35 Video Review
Is the NordicTrack Commercial R35 Worth It?
I'm a straight shooter––it's what I'm known for. I don't like to sugarcoat things and always prefer direct communication. Since I've decided we're friends, dear internet reader, I will give you the gift of stone-cold honesty. Let's dive into if I think the NordicTrack Commercial R35 is the right recumbent bike for you, or if you should look into something else.
Great for:
People with injuries
Recovery days
Low-impact home exercise
Not recommended for:
A foldable option
Someone who wants a regular exercise bike
Smaller spaces
NordicTrack Commercial R35 Specs
| | |
| --- | --- |
| Footprint | 68.22" L x 23.69" W x 53.42" H |
| Weight | 192 lbs |
| Max user weight | 350 lbs |
| Price | Under $1,500 |
| Resistance levels | 26 digital resistance levels |
| Display | 14" HD smart touchscreen |
| Warranty | 10-year frame, 2-year parts, 1-year labor |
| Water bottle holder | Yes; dual bottle holders behind the seat |
| Flywheel | 25 lb inertia-enhanced flywheel |
| Seat adjustments | Yes |
| Front-mounted transport wheels | Yes |
| Automatic trainer control | Yes |
| Cooling fan | AutoBreeze workout fan |
| Heart rate monitor | No |
| Bluetooth audio | Yes |
| Programming | iFIT (subscription available for purchase separately) |
Crushing Home Fitness with the NordicTrack Commercial R35
After I had my ankle reconstructed, using a recumbent bike was one of the first ways I was able to exercise, so I was eager to try the R35. Recumbent bikes have a special place in my heart because they're an accessible way for a lot of people to workout.
RELATED: Recumbent Bike Workout
Let's talk first impressions: The R35 is sleek-looking for a recumbent bike. The 14-inch touchscreen is attached to a curved silver mount, which made the bike look vaguely futuristic. The black seat attached has a high, textured back and felt very supportive. You're able to adjust the seat on the track so you have enough room to pedal. Simply pull up on the lever underneath the seat to adjust the positioning.
If you're worried you'll have to invest in clip-in biking shoes, let me assuage your fears––you'll only find regular foot pedals on the R35. All you have to do is slip your foot through the loop and tighten the strap.
After pedaling for a bit, I was impressed by the sturdy construction of the bike. I did not feel any play in the frame or general structure, even when I cranked the resistance up. I was also excited to note that the weight capacity is 350 pounds on the R35. The industry standard for an exercise bike is around 300, so this is better than the average. Any features that make a piece of equipment more inclusive, I'm here for it.
The 25-pound flywheel is lighter than what we usually see on traditional exercise bikes, but that isn't really a bad thing. You won't be standing up to pedal for any hill climbs, so your recumbent bike doesn't need to have the strongest flywheel in the game.
Plus, thanks to the silent magnetic resistance, the R35 is surprisingly quiet. This is a good option for someone who shares a space with others and doesn't want to disturb them.
Footprint and Portability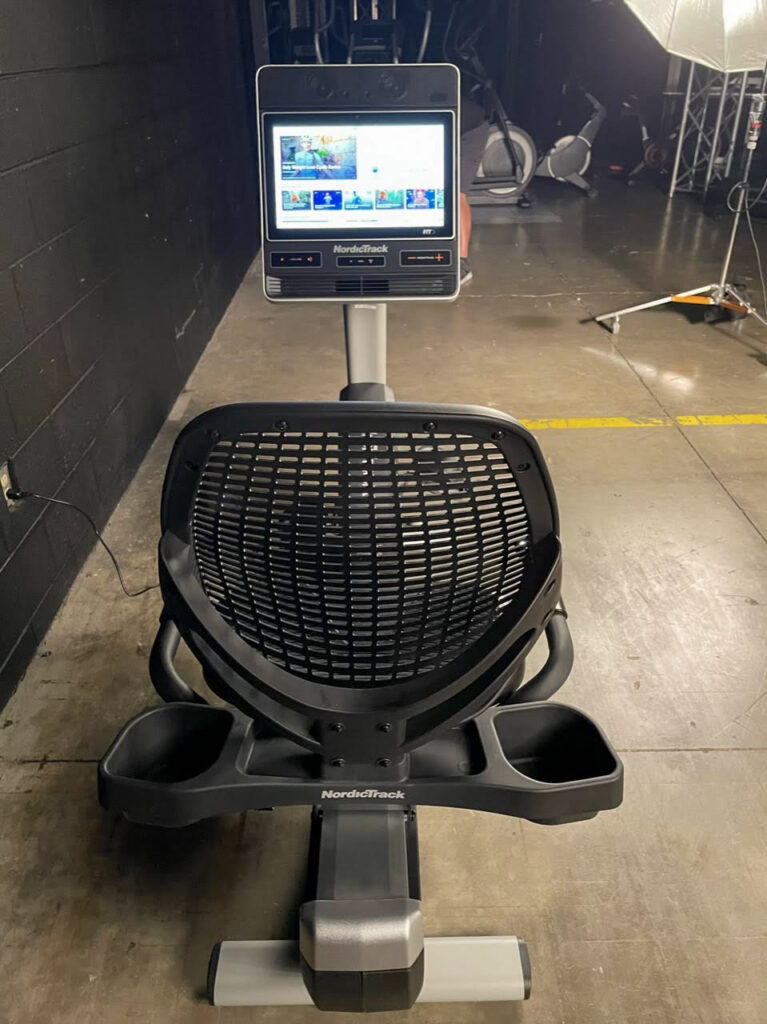 The footprint of the R35 is pretty standard when compared to other recumbent bikes. However, I would suggest having a dedicated space for the bike to live, as it cannot be compacted or folded at all.
The bike is also close to 200 pounds, so you'll need to grab others to help you move upstairs or downstairs. Although there are transport wheels attached, it is slightly unwieldy to move, even just around a room.
Technology Benefits and Conveniences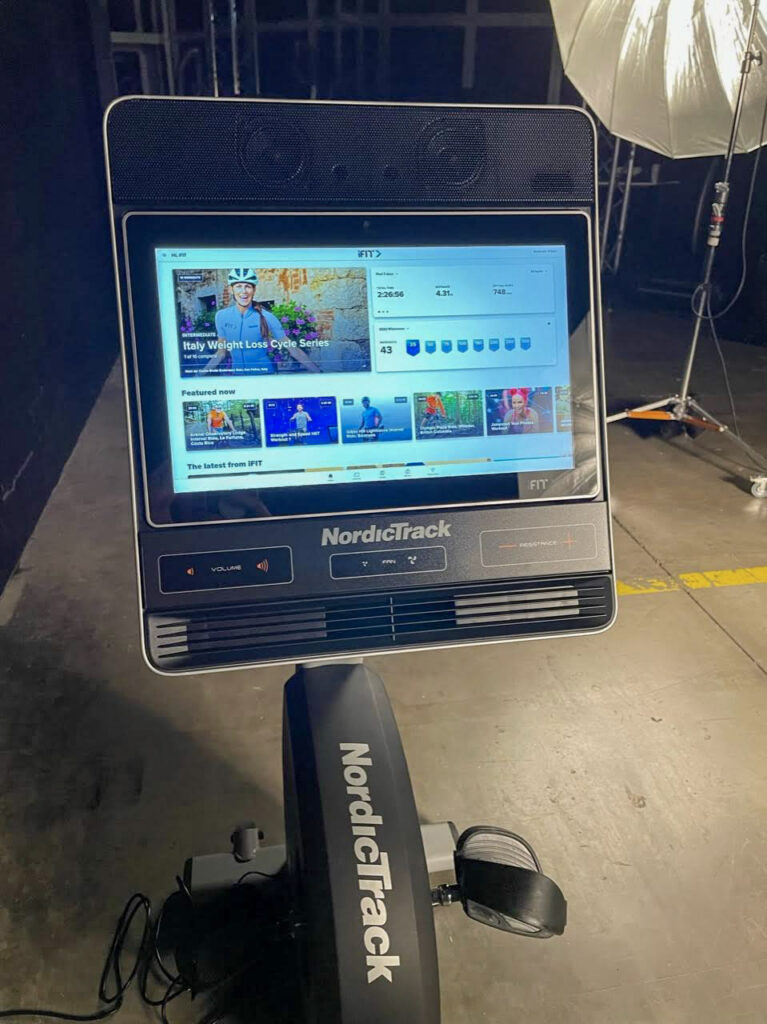 If you're into interactive programming, you're in luck. The Commercial R35 has a 14-inch HD touchscreen, which can be used to view iFIT programming. NordicTrack is currently running a promotion where you get a 30-day free iFIT trial with your purchase. This is a good opportunity to see if you like the on-demand programming before you commit to a subscription.
If you do decide you like the bevy of strength training, yoga, and biking classes they offer, there are two subscription options. You can choose between an iFIT family membership, which is $396 per year, or an individual subscription, which costs $180 for a year.
I also like the AutoAdjust feature that comes standard on the R35. While you're taking an iFIT class, your R35 will automatically adjust the resistance on your bike to match the instructions from the trainer. This is a good way to stay engaged in the class without having to fumble for the controls.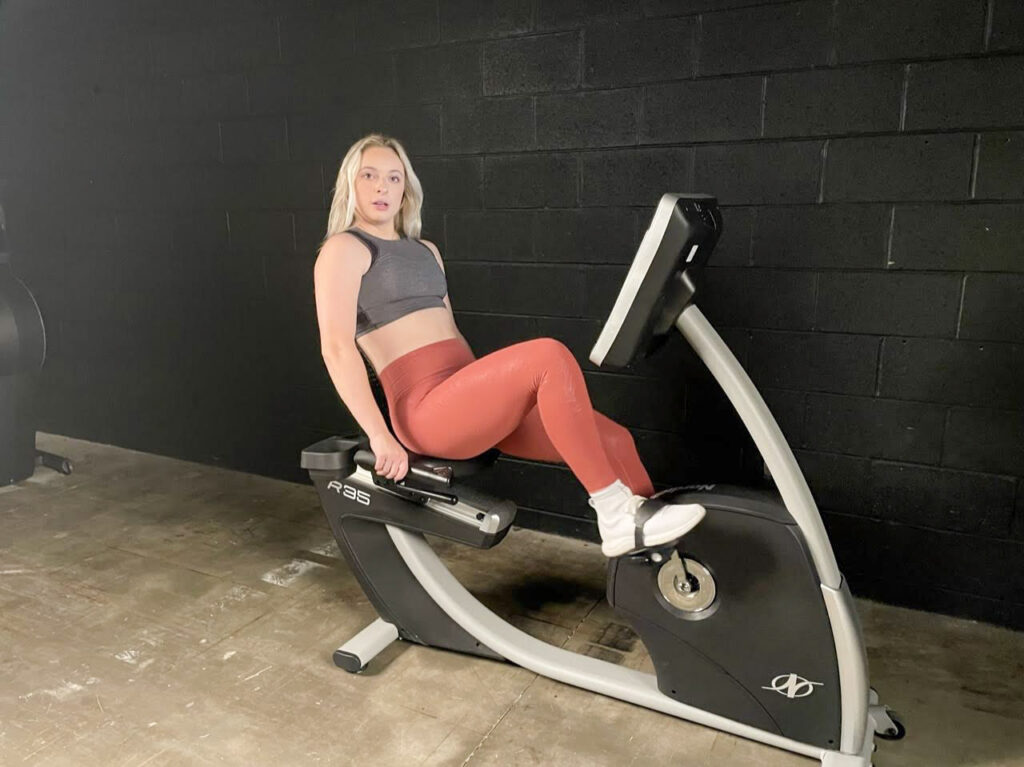 While you're enjoying an iFIT class, you'll be able to view a few different metrics across the top of your touchscreen. Expect to see things like resistance level, cadence, time elapsed, and watts.
Besides all the iFIT accouterments, you'll also be able to enjoy Google Maps, Bluetooth audio capabilities, a workout fan, dual cup holders, and high-quality speakers on the R35.
Comparison to Schwinn 230 Recumbent Exercise Bike
Schwinn 230 Recumbent Bike
Schwinn 230 Recumbent Bike
Not everyone needs a recumbent-style bicycle, but if you're someone who does then the Schwinn 230 Recumbent Bike is one of our top picks. At only $500, with free shipping, this bike comes with 16 levels of magnetic resistance, only weighs 80 pounds, and has Bluetooth connectivity so you can use it with any heart rate monitor or fitness tracker you want.One of the other great features of this bike is that you can connect to apps like Zwift or Explore the World for live and on-demand workout classes. The bike comes with its own media stand, so you can place your iPad or other smart device on the console when you're ready to ride.The bike is made with lots of plastic, which we generally don't like, and the console isn't backlit, but all told those are minor problems. If you're simply looking for a bike that can help you maintain or improve your cardiovascular fitness, you'll want this one.
The NordicTrack Commercial R35 isn't the only solid recumbent bike on the market. The Schwinn 230 is an excellent option, but how does it stack up to the R35? Check out our quick comparison chart below to see all the similarities and differences.
Want to learn more? Take a look at our full Schwinn 230 Recumbent Exercise Bike review.
| | | |
| --- | --- | --- |
| Bike | NordicTrack Commercial R35 | Schwinn 230 Recumbent Bike |
| Price | Under $1,500 | Under $600 |
| Footprint | 68.22" L x 23.69" W x 53.42" H | 64" L x 27" W x 44.5" H |
| Flywheel | 25 lbs | Not disclosed |
| Resistance levels | 26 levels | 16 levels |
| Warranty | 10-year frame, 2-year parts, 1-year labor | 10-year frame, 2-year parts, 1-year electronics, 90-days labor |
| Weight | 192 lbs | 80 lbs |
| Weight capacity | 350 lbs | 300 lbs |
| Display | 14" HD touchscreen | 5.5" LCD |
Customer Experience
The NordicTrack R35 has the same warranty that the brand gives for each of its cardio machines: 10 years on the frame, two years on parts, and one year for labor.
If we look at the industry standard for an exercise bike, we'd expect to see at least a 15-year frame warranty. For $1,500, this is slightly disappointing. Even more so disappointing when we consider that the Schwinn 230 boasts the same warranty for less than half the price. NordicTrack, your move.
The return policy is pretty standard for NordicTrack. You have 30 days to return your machine if you aren't satisfied. It is worth noting that you will be charged $250 for shipping and you could also be charged a restocking fee if the R35 isn't in new condition.
Ordering and Assembling the NordicTrack Commercial R35
You can order the NordicTrack Commercial R35 via the NordicTrack website, or through other retailers like Amazon and Dick's Sporting Goods.
Currently, you can purchase the R35 for right around $1,500, or you can break it up into chunks with financing through TD Bank. If you qualify, you may only pay $39 per month for 39 months with 0% APR.
At checkout, you're able to choose between free standard shipping, or pay an additional $199 for professional assembly.
According to our NordicTrack rep, he said assembling the Commercial R35 isn't overly difficult.
"It is a pretty easy assembly, you're basically just attaching the seat and the touchscreen," he explains. "It would be best completed with another set of hands to run the wires up to the screen, otherwise you'll likely get frustrated."
However, since the machine is almost 200 pounds when it arrives at your door, I wouldn't recommend going at this process solo.
Final Verdict of Our NordicTrack Commercial R35 Review
The NordicTrack Commercial R35 is a mid-range recumbent bike with a lot going for it. Here are my key takeaways after trying this bike out:
There are 26 levels of resistance, which is above the industry standard of 12.
The R35 is a stable machine and very user-friendly.
If you're looking for a foldable cardio machine, this isn't it––you cannot compact the R35 in any way.
The 25-pound flywheel is a little light, but that isn't necessarily a dealbreaker for a recumbent bike.
NordicTrack Commercial R35 Rating
NordicTrack Commercial R35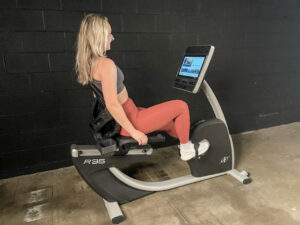 Check out our NordicTrack Commercial R35 review to see if this recumbent bike is right for you.
Product Brand: NordicTrack
Product Currency: USD
Product Price: 1499.00
Product In-Stock: InStock
NordicTrack Commercial R35 FAQs
Does NordicTrack R35 have Bluetooth?
Yes! The NordicTrack R35 does have Bluetooth audio capabilities. You'll be able to connect your Bluetooth headphones, like Apple AirPods, to the bike to listen to any iFIT class instruction.
Does NordicTrack make a recumbent bike?
Yes, NordicTrack produces a recumbent bike––the NordicTrack Commercial R35. They also have another recumbent bike currently on closeout, called the Commercial VR25. This bike won't be available for much longer, so take advantage of the discounted price.
What NordicTrack equipment is the best?
My favorite NordicTrack stationary bike is the S27i. This cardio machine has decline and incline capabilities, is iFIT-compatible with a large touchscreen, and has 24 levels of resistance. 
In terms of my favorite NordicTrack elliptical, I like the Commercial 14.9 best.