We test and review fitness products based on an independent, multi-point methodology. If you use our links to purchase something, we may earn a commission. Read our disclosures.
The NordicTrack S27i is the premier indoor exercise bike from the longtime fitness brand.
NordicTrack offers three different studio cycling bikes at different prices: the S27i, S22i, and S15i. Our team has previously reviewed the S22i and S15i studio cycles. This NordicTrack S27i bike review gives you an in-depth look at this luxury machine.
We've Spun Our Wheels on More than 50 Bikes
The Garage Gym Reviews team has spent countless hours on all types of exercise bikes to help you find the best piece of equipment for your home gym.
We were able to spend a lot of time with the NordicTrack S22i in our facility. While we have not personally used the S27i Studio Cycle, we will provide our honest opinion based on our experience with the 22i, the specs of the 27i, and customer reviews.
A Luxury Exercise Bike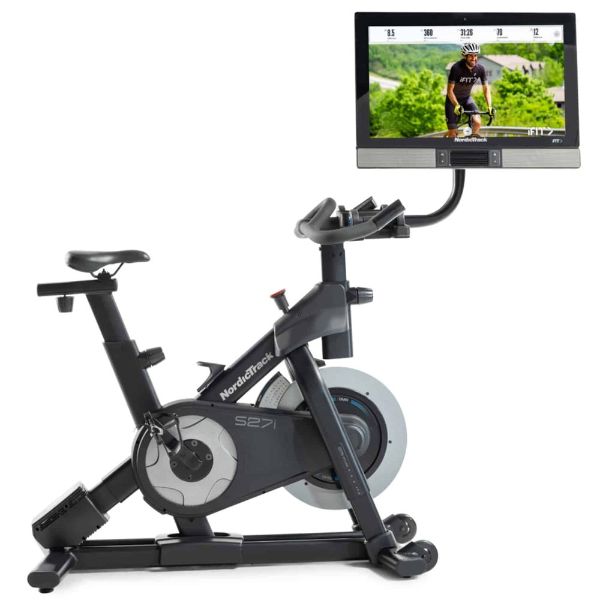 NordicTrack S27i Studio Cycle
The NordicTrack S27i Studio Cycle is the luxury bike from the brand with three such machines in its lineup. At nearly $2,500, the S27i has just about everything you could ever want on an exercise bike. First, it streams iFIT interactive workouts from a 27-inch high-definition touchscreen that swivels so you can do workouts on the bike as well as off (iFIT has classes such as yoga and strength training). With iFIT, trainers actually control the resistance and incline while you exercise, so you don't have to.Speaking of incline, the S27i is one of the few indoor exercise bikes on the market that has decline capabilities. With a range of -10% decline to 20% incline, your ride can mimic an outdoor riding experience. The bike also comes with 24 digital resistance levels.The S27i also has a number of other high-end features, such as:A built-in cooling fan Dumbbell holders and a pair of 3-lb dumbbells Silent magnetic resistance for a quiet ride Hybrid pedals so you can clip in or use the toe cagesWhile $2,500 is a lot of money, NordicTrack does offer financing. This is also a larger bike, mostly due to that huge screen. It also weighs over 200 pounds, so it's no picnic to move. However, if you can make the investment, you might just fall in love with this bike.
A Quick Look at the NordicTrack S27i
NordicTrack is a trusted brand in cardio equipment with multiple indoor exercise bike options; of these, the S27i is the most expensive and comes with the most bells and whistles.
Every NordicTrack indoor studio cycle comes with an HD touchscreen to stream interactive iFIT programming. Additionally, the whole line offers what the brand calls "Automatic Trainer Control," allowing your trainer to adjust the incline, decline, and resistance levels on your bike so you can focus on getting the best workout.
The S27i stands out from the S22i and Nordictrack S15i with its larger screen (27 inches), improved processor cooling, improved graphics, and improved gas-shock handlebars. The S27i is also available in two color options: Black and Slate Gray. The 27-inch touchscreen is larger than the ones on the other NordicTrack bikes as well as larger than the screens on both Peloton bikes (21.5 and 23.8 inches).
My Tips
Build the bike where it will live; it's even bigger and heavier than the S22i and S15i.
Get some help with assembly!
Pros:
iFIT programming with automated control
Incline and decline capabilities
27" rotating touch screen for on- and off-bike workouts
24 digital resistance levels
Silent magnetic resistance (SMR)
Financing available
Hybrid toe cage and clip-in pedals included
Cons:
Large footprint at 57" x 28" x 65"
Heavy at 217 lbs
Placing in your garage voids warranty
No online customer reviews available at time of publishing
Is the NordicTrack S27i Worth It?
The NordicTrack Commercial S27i Studio bike is the luxury machine in NordicTrack's line, currently priced at $2,499. That is approximately $600 dollars more than both the S22i and S15i. The higher price point of the S27i is similar to the Peloton's Bike+, which currently costs $2,495 for the basic package. It's worth noting that NordicTrack also offers financing for the S27i with payments of $65/month.
What sets the S27i's apart is the impressive 27-inch screen and the -10% decline and 20% incline (both of which beat out the Peloton Bike+). But is it worth the price tag?
Great for:
People seeking interactive cycling workouts
Cyclists who want top-of-the-line equipment
Users looking for incline and decline capabilities
Not recommended for:
People with a smaller space and need compact equipment
Users looking for a budget cycle bike
People who don't want to use guided classes
NordicTrack S27i Specs
Footprint
57" L x 28" W x 65"H
Weight
217 lbs
Weight Capacity
350 lbs
Display
27" HD rotating and tilting touchscreen
Pedals
Hybrid toe cage and clip-in
Adjustability
Saddle: Horizontally and vertically
Handlebars: Vertically
Can swap included saddle and pedals with standard road bike pedal for saddle
Resistance
24 levels
Programming
iFIT Classes, manual mode, Google maps location rides
Flywheel
Inertia-enhanced flywheel
Wi-Fi
Dual 2.4 GHz and 5 GHz
Incline/Decline
20% incline, -10% decline
Taking the NordicTrack S27i for a Spin
While we haven't gotten to use the S27i yet, here's what we know you can expect based on our time with the S22i:
When you prepare to work out on the S27i, you will have access to countless guided cycling and non-cycling classes through an iFIT membership. You can do an individual subscription or opt for a family membership for multiple users.
Classes include on-demand studio sessions, live event rides and race, and virtual global rides that can take you across the globe using Google Maps technology without ever leaving your home gym. You also have the ability to manually start and map out your own ride using Google Maps technology.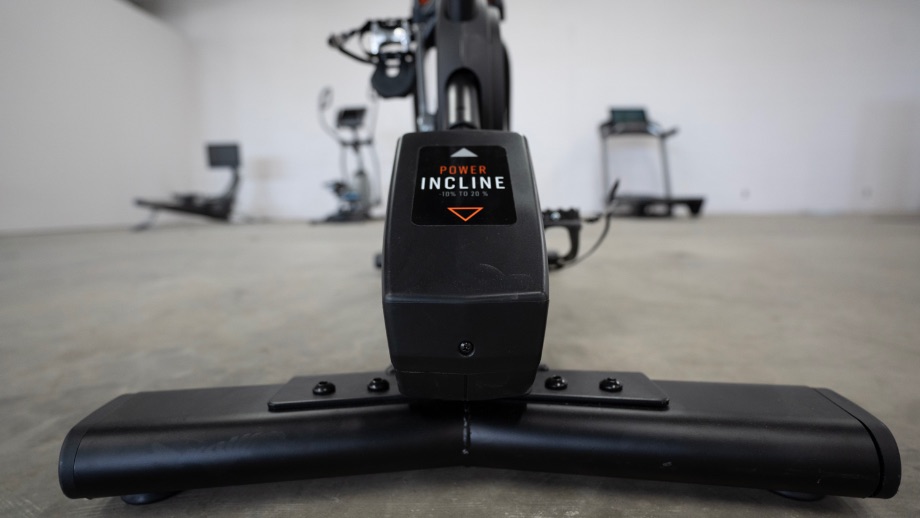 One of our testers' favorite features on all the NordicTrack studio cycles is the unique incline and decline adjustment ability. This allows your indoor exercise bike to better simulate real road riding. All trainer-led classes utilize the brand's AutoAdjust technology, allowing your trainer to adjust the incline, decline and resistance, so you can focus on your ride and not struggle with the settings.
The S27i, like the S22i and S15i, includes silent magnetic resistance, which we found made for a quiet ride. Each of these bikes also has Bluetooth connectivity to use with Bluetooth headphones and heart rate monitors. Another of our favorite features from the S22i studio cycle that is maintained on the S27i is the Autobreeze workout fan. This fan automatically adjusts its speed based on how fast you are pedaling.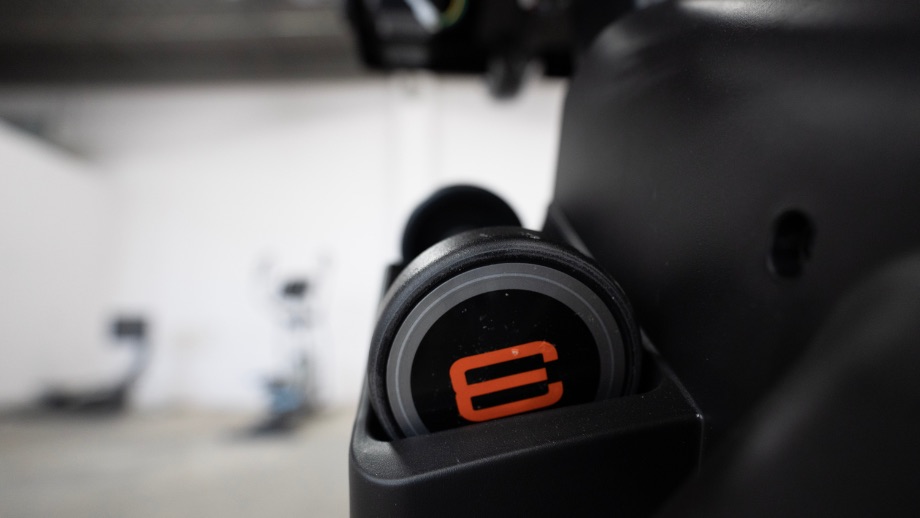 In addition to the bike, you receive two 3-pound dumbbells to incorporate upper-body workouts while riding. On the S27i, compared to the S22i, the location for dumbbell storage has changed from the front handlebars to behind the saddle. The bike has dual water bottle holders, on the other models both our reviewers and customers found these to be small.
NordicTrack specs show that they have improved the S27i in multiple ways: upgraded graphics via enhanced processor cooling, improved gas shock handlebars and a larger screen.
Durability
The S27i is an indoor cycling bike built with premium steel frame, creating a durable bike with a user weight capacity of 350 pounds. This is higher than the 297-pound capacity of its main competitor, Peloton.
RELATED: Benefits of Indoor Cycling
Our team's reviews of the S22i and S15i found the handlebars to shake and wobble slightly during use. NordicTrack states that the S27i has "new and improved handlebars." There are no customer reviews of the S27i at this time; we cannot determine if these improved gas shock handlebars have resolved the S22i and S15i's issues with handlebar wobble.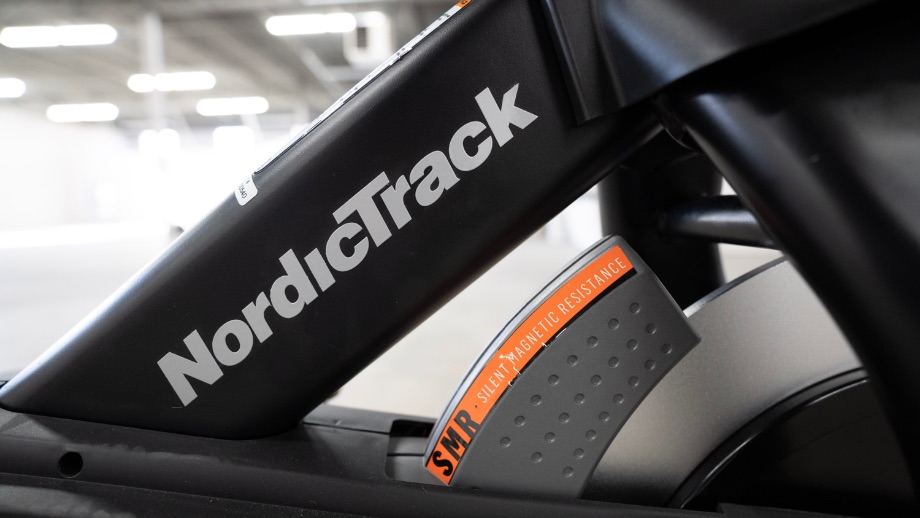 Footprint
The S27i is bigger, heavier, and bulkier than the S22i and S15i. The S27i weighs 217 pounds, an increase of 12 pounds from the S22i, which our team found to be bulky and difficult to move around solo. The S27i is wider than most other indoor exercise bikes, with dimensions of 57 inches long, 28 inches wide, and 65 inches tall. The 28-inch width is 6 inches wider than both the S22i and S15i.
Adjustability
There are multiple ways to adjust the S27i to best fit you. The saddle can be adjusted both vertically and horizontally and can be entirely swapped out with any standard road bike saddle if you prefer. The improved handlebars can be adjusted vertically.
Unlike the S15i bike, the S27i comes with dual SPD and toe cage pedals, allowing you to choose between cages or clipping in. Similar to the saddle, the pedals can be swapped out with any standard road bike pedal.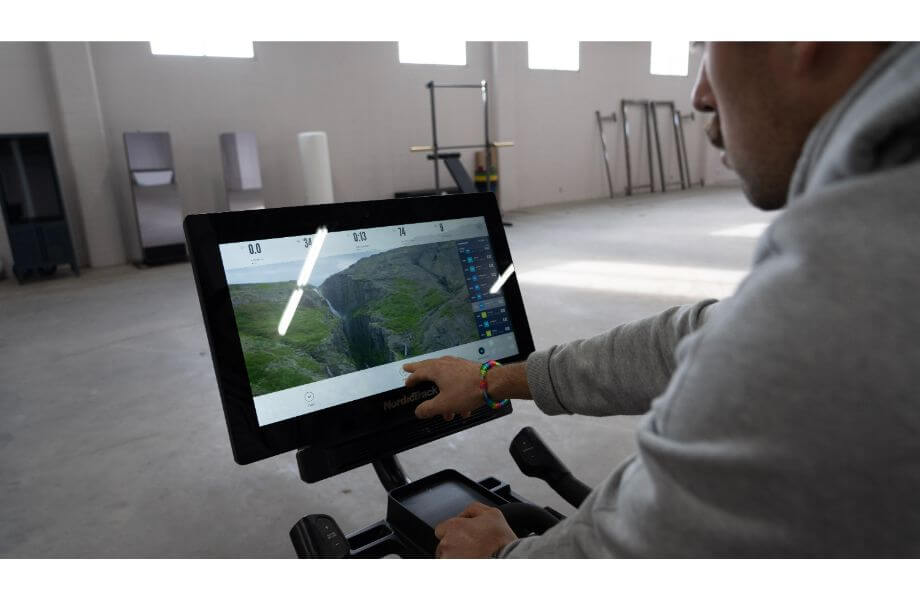 iFIT Programming
iFIT is a subscription fitness service with a variety of live and on-demand workouts. It can be used with NordicTrack and ProForm products, and offers both Android and Apple apps.
The iFIT interface on the S27i is the same as the S22i and S15i, so we would expect there to be the same great experience. You stream iFIT classes from the 27-inch HD touchscreen and take classes with iFIT personal trainers. iFIT cycling classes include global rides through various beautiful locations, on-demand studio sessions and live events/races. iFIT classes are not limited to your bike. You can also participate in boot camp, HIIT, yoga, strength and even cooking classes.

You can use your bike without an iFIT subscription, as there are a few free classes through the platform. However, without iFIT trainer led classes you will have to manually adjust incline, decline and resistance.
The NordicTrack Studio Cycle Line
Let's take a look at how NordicTrack's three Studio cycles compare to each other:
S27i
S22i
S15i
Price
$2,499
$1,899
$1,872 "free with iFIT"
Footprint
57"L x 28" W x 65"H
61" L x 22" W x 58"H
60" L x 22" W x 58"H
Weight
217 lbs
205 lbs
203 lbs
User Weight Capacity
350 lbs
350 lbs
350 lbs
Display
27 inch

Improved graphics performance
22 inch
14 inch
Pedals
Hybrid
Hybrid
Toe Cage
Adjustability
Saddle: Vertical/Horizontal

Handlebars: Vertical (gas shock)
Saddle: Vertical/Horizontal

Handlebars: Vertical
Saddle: Vertical/Horizontal

Handlebars: Vertical
Resistance
24 silent magnetic resistance
24 silent magnetic resistance
22 silent magnetic resistance
Programming
iFIT
iFIT
iFIT
Fly Wheel
Inertia enhanced flywheel
Inertia enhanced flywheel
Inertia enhanced flywheel
Wi-Fi
2.4 GHz + 5Ghz
2.4 GHz + 5Ghz
2.4 GHz + 5Ghz
Colors
Black or Slate Gray
Black
Black
Warranty
10 year frame

2 year parts

1 year labor
10 year frame

2 year parts

1 year labor
10 year frame

2 year parts

1 year labor
Speakers
30w
30w
2" digital amplified
Saddle
Padded ergonomic saddle
Padded ergonomic saddle
Padded ergonomic saddle
Customer Experience
The S27i comes with the standard NordicTrack warranty and return policy. There is a 10-year frame, two-year parts and one-year labor warranties. In order to maintain the warranty, you must keep the bike indoors and NOT in your garage! NordicTrack offers a 30-day return policy; there is a $250 shipping charge for returns and you may be charged a restocking fee.
Ordering and Assembling the NordicTrack S27i
Currently, NordicTrack offers free standard delivery for all of their bikes. The brand recommends assembly with two people, and this bike is even heavier and bulkier than the other models in the line, which we found complicated to assemble alone. Our team and customers have successfully assembled the S22i solo, but it seems much more manageable with a second set of hands. We assume assembly of the S27i is similar.
Customer Reviews
The new NordicTrack S27i was released at the beginning of 2023, and at the time of publishing there are no online customer reviews available on the NordicTrack website or on Amazon. Due to the lack of online reviews we cannot confidently state how the features unique to the NordicTrack S27i have been received by customers.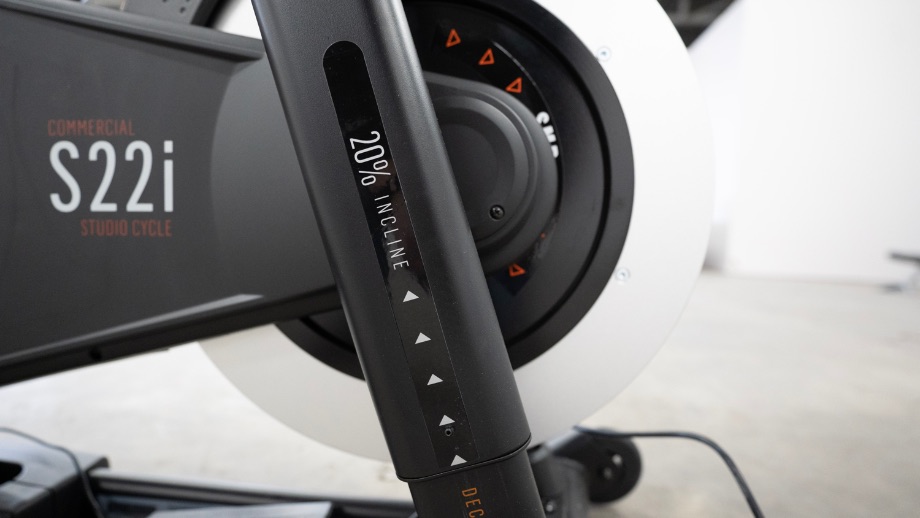 Final Verdict of Our NordicTrack S27i Bike Review
The NordicTrack S27i Studio Cycle is a solid bike similar to the other bikes in the NordicTrack product line. The core features such as incline and decline capabilities, iFIT programming, 24 silent magnetic resistance levels, and inertia enhanced fly wheel are all available on the S22i and S15i.
It is difficult to tell if the large $600 dollar price increase is worth it without customer reviews to determine how unique S27i features like the gas shock handlebars and improved processor cooling and graphics perform. This bike is best for those who want only the top of the line fitness equipment.
NordicTrack S27i Rating
NordicTrack S27i
The NordicTrack S27i is the premier indoor exercise bike from the longtime fitness brand.NordicTrack offers three different studio cycling bikes at different prices: the S27i, S22i, and S15i. Our team has previously reviewed the S22i and S15i studio cycles. This NordicTrack S27i bike review gives you an in-depth look at this luxury machine.
Product Brand: NordicTrack
Product Currency: $
Product Price: 2499
Product In-Stock: InStock
NordicTrack S27i Bike Review FAQs
Is the NordicTrack bike as good as Peloton?
The NordicTrack is rated higher for simulating road riding due to the incline and decline capabilities. The Peloton is better reviewed for studio classes. The prices change but the NordicTrack monthly subscription cost is less expensive than Peloton's at the time of publication.
Is NordicTrack a good bike?
Yes, all the NordicTrack bikes are quality bikes with lots of unique features throughout the product line. Customers love the global rides and incline and decline features.
Are there different versions of the NordicTrack S22i?
Yes, the S27i bike comes in black and limited edition Slate Gray. The Slate Gray comes with vegan leather saddle and handlebar wraps.