We test and review fitness products based on an independent, multi-point methodology. If you use our links to purchase something, we may earn a commission. Read our disclosures.
Thinking about buying an exercise bike? Before you do, it is important to understand the different types of bikes out on the market. This page will help you navigate and learn more about the variety of bikes, what we like about them, and what you should know before you order one.
Types of Exercise Bikes
There are five general categories of exercise bikes: recumbent bikes, upright bikes, indoor cycling bikes, air bikes, and folding bikes. Together, we are going to take a deeper dive into these exercise bikes so you can get an idea of which may be the best for you and your fitness goals.
Indoor Cycling Bikes
An indoor cycling bike is perhaps the most common and most recognizable type of stationary bike. The Peloton may be the most well-known example of an indoor cycling bike (however there are other cheaper alternatives to a Peloton).
This bike will look and feel the most similar to a traditional road bike. The handlebars are out in front of you, which causes you to lean slightly forward. As you exercise, you can move from a seated position into a standing position.
The pedals are located directly below your feet. Some bikes come with caged pedals, which work with most gym shoes, and some come with clip-ins, which require special cycling shoes. You can expect a small, narrow seat on an indoor cycle bike, though you can purchase a larger, more comfortable seat on a lot of models.
What makes a cycling bike unique among exercise bikes is its exposed flywheel, which will use friction or magnetic resistance to create different levels of intensity. Often, you are able to control the resistance levels with a knob that you can turn directly over the flywheel. Some high-end bikes even allow you to adjust resistance digitally.
When it comes to price, indoor cycling bikes range from just a few hundred dollars on Amazon to thousands of dollars. Some, like the NordicTrack S22i, come with dumbbells, fancy touchscreens, built-in fans, and interactive programming. Others, like the Schwinn IC4, have a lower price tag but still provide a good workout.
| | |
| --- | --- |
| Indoor Cycling Bike Pros | Indoor Cycling Bike Cons |
| Many different choices on the market | Poor technique/form could lead to injury (most common is back pain) |
| Closest to mimic an outdoor bike | No real upper body workout |
| You are in control of the resistance levels | Many find this type of bike to be uncomfortable due to narrow seat |
| Great for high-intensity workouts | |
| Smaller footprint compared to other cardio machines | |
Recumbent Bikes
If I told you to close your eyes and think about what a bike looks like, a recumbent bike like the Schwinn 270 Recumbent Bike would probably not align exactly with the visual in your head. This model of an exercise bike is unique because it places the rider closer to the ground with the pedals out in front of the body instead of directly underneath. Because the pedals are out in front, this is generally regarded as the lowest-impact style of bike.
Also, recumbent bike seats have a back, which puts the rider into an almost reclined position in comparison to other exercise bikes. Having the back on the seat also provides back support, which makes this a great choice for people who would otherwise experience pain on a bike. The seat is also usually larger and more padded than other exercise bike seats, which can create a more comfortable ride for cyclists.
The recumbent bike's accessible design makes it ideal for people who may be recovering from injury, are older, or have a disability. Something to consider is that the recumbent bike likely won't give you the heart-pounding workout other types of bikes will. Part of that reason is because on other bikes, you have the ability to ride from a standing position or use movable handles to work the upper body.
| Recumbent Bike Pros | Recumbent Bike Cons |
| --- | --- |
| Cyclist is closer to the ground making it more accessible | Less core engagement |
| Bike provides more support for your lower back | Only one way to ride the bike, which means less versatility in workouts |
| Lower impact on joints | Larger footprint than other exercise bikes |
| Ideal for seniors or those recovering from an injury | |
Upright Bikes
The term "upright bike" is often confused or even misinterpreted as any bike that puts you in an upright position. However, a true upright bike is slightly different from, say, an indoor cycle bike. The upright bike does have you sitting up straight with the pedals almost directly beneath you, similar to a traditional road bike.
However, the handles tend to be positioned much closer to your body, keeping you in that upright position the entire time, as opposed to the forward lean you get on an indoor cycling bike. This closeness between seat and handlebars translates to a more compact footprint than other types of bikes.
The seat on an upright bike is smaller than the seat on a recumbent bike, but tends to be bigger than a small cycling bike seat.
| Upright Bike Pros | Upright Bike Cons |
| --- | --- |
| Seats tend to be more comfortable than indoor cycling bikes | Not many choices for an upright bike on the market |
| Smaller footprint than other bike models | Some find the forced vertical positioning to be uncomfortable |
| Allows you to complete high intensity workouts | |
Air Bikes
If you have ever been to a CrossFit gym, chances are that you have seen an air bike before. While an indoor cycle bike uses a flywheel, an air bike is marked by its fan, which acts as a front "wheel" and is how the bike generates resistance. The faster you pedal, the more resistance you create. Unfortunately, this fan is also known for being noisy, so this isn't the best choice for people who need a quiet workout option.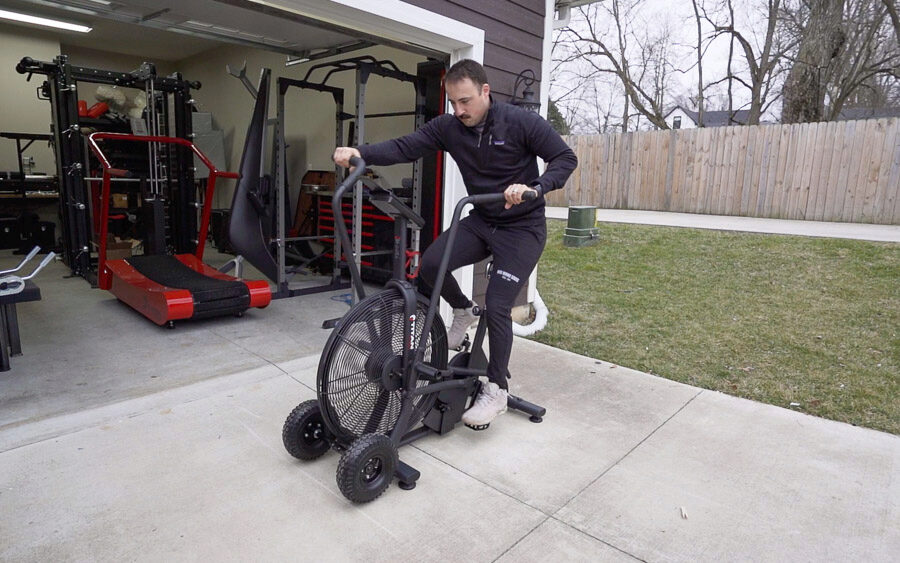 The pedals on an air bike are located below your feet, just like on an indoor cycling bike. When it comes to the seat, size and cushioning varies depending on the model (we think the Rogue Echo Bike has the most comfortable seat of any air bike).
A big benefit to air bikes is that they nearly always have movable handles, which engage your upper body. This works a little like the arms of an elliptical, in that you can move your arms to help your legs do the work.
If you have ever used one, you know that these bikes can give you quite the workout, which makes them perfect for interval training or a HIIT workout. However, they can still be incredibly low-impact, making for an ideal workout for people who are injured.
| Air Bike Pros | Air Bike Cons |
| --- | --- |
| Great for an intense workout | Fan can be noisy |
| Adds upper body element with moving handles | Footprint is typically larger than other stationary bikes |
| Usually affordable between $400-$1,000 | No ability to adjust resistance |
| | Monitors are typically very basic |
Folding Bikes
A folding bike is perfect for anybody who is looking to conserve space. These bikes are not always built out of the most sturdy material but come in many different variations. Similar to the indoor cycling bike, the handles are in front of you and the pedals are located below your feet.
If you are looking for a bike that will allow you to have an intense cardio workout, this may not be the bike for you. Many models of these bikes can feel unstable when used at high intensity since they are made to be folded and put away.
Because of their compact size, folding bikes rarely have a lot of the bells and whistles you'll find on indoor cycling bikes. Most have extremely basic monitors, and few have the "extras" like a water bottle holder or device holder. We like the Marcy Fitness Foldable Upright Bike as one of the best options on the market due to its durability.
| | |
| --- | --- |
| Folding Bike Pros | Folding Bike Cons |
| Small footprint | Not meant for high-intensity workouts |
| Easy storage | Often have a low maximum weight |
| Affordable | Don't come with all the extras that other bikes have |
Benefits of Using an Exercise Bike
There are many reasons you might choose to use an exercise bike over other types of cardio machines:
Improved Health
There are multiple stationary bike benefits for your health. When exercising on a bike, you often elevate your heart rate, which burns calories. There are also numerous studies that support that link between exercise and mental health.
Quick, Convenient Workout
Whether you are pinched for time or just not in the mood for a lengthy workout, having a stationary bike at home is key to a quick, convenient workout. If your bike comes with technology, you can do one of the built-in workouts to get in a quick sweat. We also have several HIIT bike workouts that get your heart pumping in under 20 minutes.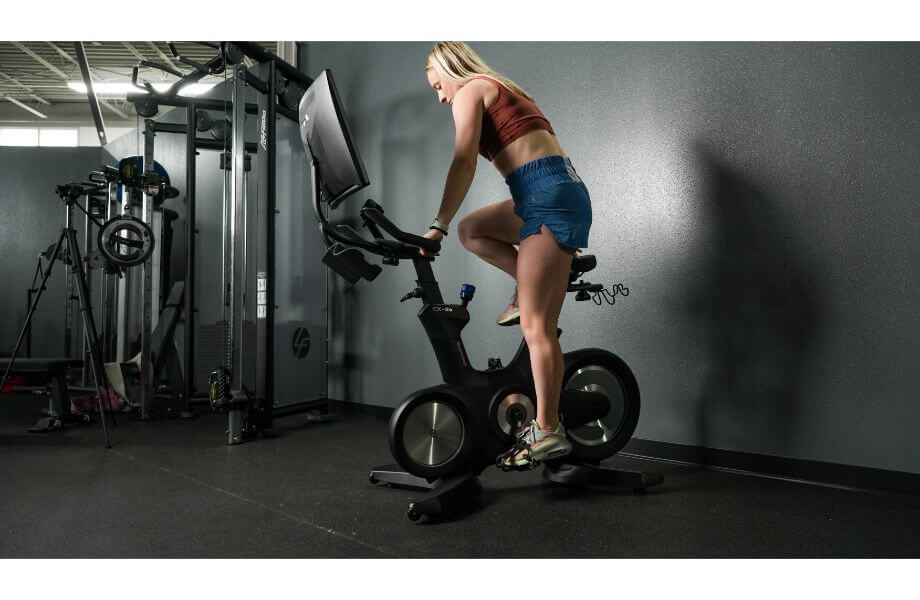 Low-Impact Workout
Any bike that you choose will lend itself to a low-impact workout. This is because riding a bike takes your weight off your feet, unlike running on a treadmill, where your joints are constantly under impact.
Strengthen the Body
Build muscle and burn calories on any exercise bike! While you may think you are only getting a lower body workout, a bike workout can target your abs, and on bikes like an air bike, you can get a great arm workout going as well! Any time you use your muscles, you have an opportunity to build them.
Build Cardiovascular Endurance
Riding an exercise bike can help improve cardiovascular strength. With consistency you can find a reduced risk of heart disease risk and blood pressure. Your heart is one of the most important muscles in your body, so you want to make sure to keep it in shape!
RELATED: Benefits of Indoor Cycling
Final Thoughts
Overall, an exercise bike can be helpful for your general health! Riding a stationary bike can offer benefits for people who are beginners at riding or people who's glutes and hamstrings have never met a cycling class they can't handle. Before you purchase a bike, make sure you understand the different kinds out there and which type would best suit your fitness goals.
FAQs About Types of Exercise Bikes
What is the best type of exercise bike?
With so many choices to choose from, there is no direct answer to this question! The best kind of exercise bike for you will be the one that fits your needs. Take into account your budget, your fitness goals, if you want programming available, and any extras you might want.
RELATED: How to Choose an Exercise Bike
What should I look for when buying an exercise bike?
When you are looking for a bike, it is important to consider your personal priorities. For example, if you are looking for a bike that works out your arms as well, you may want to consider an air bike over a recumbent exercise bike. But you should also consider:
Price: What is your budget?
Warranty: Is the bike built to last?
Ergonomics: Is there an adjustable seat? A comfortable seat? 
Programming: Do you need suggestions for what to do on the bike?
What is a stationary bike?
A stationary bike is a bike that stays in place even when the pedals and wheels are moving. There are a variety of different stationary bikes that can best suit what works for you!