We test and review fitness products based on an independent, multi-point methodology. If you use our links to purchase something, we may earn a commission. Read our disclosures.
Summer running is no joke. Workouts in the intense heat can put additional stress on the body, sometimes even flirting with dangerous consequences. But what runner wants to give up their outdoor mileage every time the heat kicks up? We feel ya. We don't want to give up our runs either, but we definitely don't want to sacrifice our safety along the way. That's why we've compiled a handy list of tips for running in the heat.
So, if you're one to log your miles rain or shine, consider these tried-and-true running tips next time you and your running shoes go out in high temperatures.
7 Tips for Running in the Heat
Running in the heat takes a bit of preparation to make sure your workout is as productive and safe as possible. Every person is different, and training plans can vary. However, these tips can be helpful for all outdoor training, no matter your fitness level.
Focus on Hydration
One of the best ways to stay ahead of the heat is to keep your body hydrated. Runners lose a lot of fluids while dripping sweat on a hot day, and if they haven't hydrated properly beforehand, it can lead to dehydration.
When hydrating for some hot weather running, aim to drink approximately 16-20 ounces of water a few hours before your run, according to guidance from the American College of Sports Medicine (ACSM). During your run, drink according to your thirst, and after your run is over, drink 16 to 24 ounces of water for every pound lost during your workout.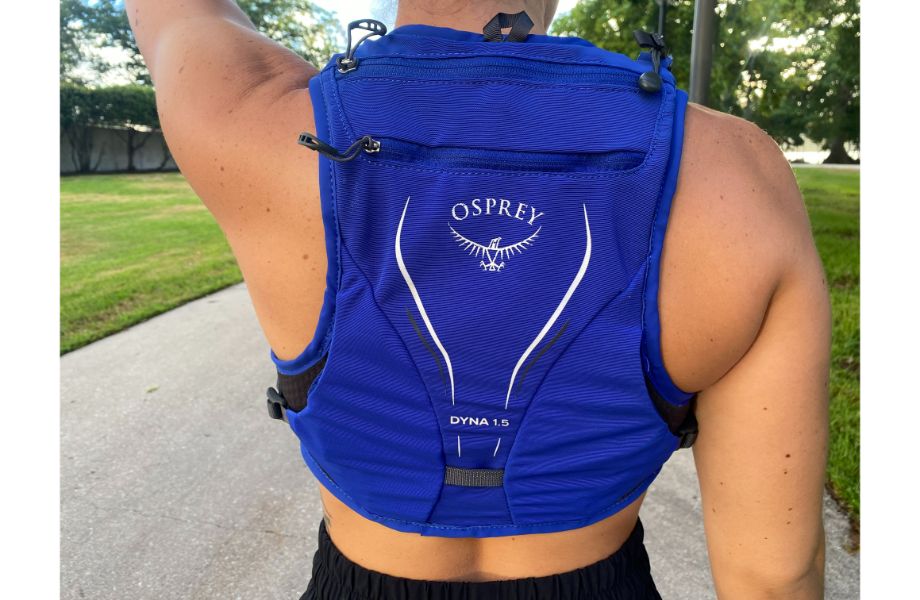 You can strategically place water bottles along your running route or run near areas with water fountains to avoid dehydration on your longer runs. While you're stopped at the hydration station, splash some cold water on your head, the back of your neck, and the inside of your wrists.
If your workout lasts longer than an hour, you may also want to consider taking sports drinks with added electrolytes. These will help replace important minerals lost when you sweat, and can be an integral part of an endurance athlete's hydration strategy.
Adjust Your Schedule
If possible, avoid running between approximately 10 a.m. and 4 p.m., as that's typically when the sun is at its strongest. Instead, try to run in the early morning or evening. A morning run is ideal because the roads haven't had the chance to absorb the day's heat yet, but don't worry if you're not a morning person—running in the evening is also a viable option.
Look For Shade
If you have to run in the heat of the day, get strategic with your running route. Asphalt absorbs heat, making it feel like you're running on a frying pan. Instead, look for running spots that offer shade, or maybe try some trail running to stay under a canopy of shade.
Choose the Right Clothing
Wear light-colored, loose running gear that lets your body breathe and cool itself down naturally. Clothes that are too tight (like a snug sports bra) tend to be restrictive and prevent your body from cooling itself, and dark colors absorb the sun's light and heat.
Avoid wearing cotton; choose synthetic fabrics that wick away moisture and support cooling evaporation. And if you need something to block the sun from your eyes, go for a visor. A hat traps heat and makes your body work harder to stay cool.
Set Expectations
Whether it's a race day or training day, remember that you're human. If the heat affects your run, don't hesitate to make adaptations.
To avoid heat-related illnesses, you might need to adjust your pace, shorten your mileage, or take walking breaks along the way. Whatever the solution, remember that it's just one workout, and you are doing your best to reach your goals by making these adaptations.
Don't Forget Sunscreen & A Hat
The Skin Cancer Foundation2 recommends the daily use of SPF 15 sunscreen to help prevent sunburns and promote skin health. When running, go for a sweat-proof option and reapply as needed.
You can also wear a hat or visor to help protect your skin from the sun's rays. If you want to take it a step further, soak your hat in cold water to help keep your body temp down on a hot day.
Consider Alternatives
And, of course, if all else fails, consider a running alternative. If the heat index is just too high to hit the pavement, hop on the treadmill or go for a cross-training alternative like cycling or swimming. The summer months are an ideal time to find a new training partner when the summer heat drives like-minded runners into the gym.
When Is It Too Hot to Run Outside?
According to the National Weather Service3, you should be cautious when running in temperatures between 80 and 90 degrees Fahrenheit and use extreme caution in temps between 90 and 103 degrees to reduce the potential of heat stroke, heat cramps, or heat exhaustion. Running in temps any higher than that would be considered dangerous and should be avoided.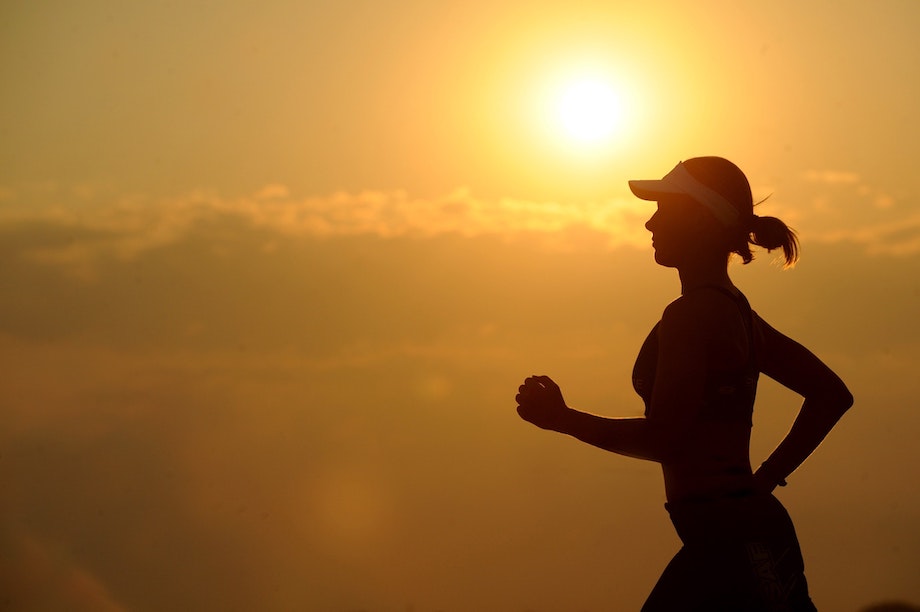 Of course, the temperature isn't the only factor to consider. Depending on your geography, humidity might also dictate when you should run. Humid weather warrants caution since it affects the heat index (or how the body perceives the temperature when accounting for humidity and temperature).
Signs of Overheating
It's essential to listen to your body when going for a run in the sun, and if you notice any signs or symptoms of overheating, stop your workout immediately. Overheating can lead to serious health concerns such as heat stroke, heat exhaustion, and heat cramps if left unaddressed.
Signs of overheating can include:
Dizziness
Muscle cramps
Fatigue
Headache
Nausea
Abnormally high heart rate
No more sweating
If you think you're overheating, stop your workout and turn your focus to cooling down. Hydrate, find some shade, and seek medical help if needed.
Tips for Running in the Heat: Final Thoughts
Hot weather running can present some serious risks, especially when combined with humid conditions. Don't let your training plan outweigh your common sense when keeping safety a priority. Plan your route, know your limits, and be sure to listen to your body.
Use caution when running in 80- to 90-degree Fahrenheit temperatures.
Temperatures higher than 103 degrees Fahrenheit are considered dangerous.
Wear clothing that supports your body's natural cooling mechanisms.
Avoid running when the sun's heat is strongest (between the times of 10 a.m. and 4 p.m.).
Signs of overheating include dizziness, muscle cramps, fatigue, nausea, headache, and abnormally elevated heart rate.
Tips for Running in the Heat: Q&A
What temperature is too hot for running?
The National Weather Service recommends caution when working out in 80 to 90 degrees Fahrenheit. If the temperature rises to between 90 and 103 degrees Fahrenheit, use extreme caution to avoid heat stroke, heat cramps, or heat exhaustion. Running in temps any higher would be considered dangerous.
Is it healthy to run in the heat?
Yes, running in the heat can be as healthy a workout as any other run. However, it's important to be smart about it. Set yourself up for a safe run by staying on top of your hydration, wearing the right clothes, and adjusting your pace as needed. And, of course, listen to your body. If you experience symptoms of overheating, stop running, drink water, and cool down.
Why is it so much harder to run in the heat?
As your core body temperature rises, your heart rate also increases while your body tries to cool itself down. This leads to an increase in both your perceived effort and actual effort needed to maintain your running pace.
Do you burn more calories running in the heat?
Running in the heat does burn more calories, but probably not as many as you'd think. In general, you only burn more calories until your body adapts to the high temperatures4. Also, if the high temps cause you to cut your workout short, your calorie output could be affected.
RELATED: Post-Run Stretches
References