If you're not a runner, but you know and love one, you know it can be tough to get them a great gift, whatever the occasion. I'm a runner, and I'm well aware we can be quite quirky in our likes and dislikes, and very specific about our gear.
That's why I'm here with this guide to the best gifts for runners, whether you're looking to help your favorite pavement-pounder with hydration, post-run soreness or chafing, or provide them with some comfy new shoes.
Putting in Miles Since 2010
As a former competitive cross-country runner and current recreational half-marathoner and triathlete, I've used my fair share of running gear. There are 13 gift ideas on this list, and I've used almost every single one—or a model/generation of it—at some point in my running career. Not only that, but this list has been vetted by other members of our product testing team to ensure it's the most comprehensive gift guide for the runner friend in your life.
Best Gifts for Runners
Best Running Belt: SPIBelt
Good for: Runners who carry minimal personal items and want a way to safely store those items
It took me years—years!—to find the perfect running belt. Although I prefer to run with a vest now (my favorite pick below), I still appreciate the SPIBelt for its lack of bounciness, which is really tough to find. "SPI" stands for "small personal item" and it's the perfect name for this soft, bounce-free belt that can safely store your smartphone, credit cards, car keys, and even a snack.
Constructed of an elastic blend, both the belt itself and the pouch are stretchy enough to fit most waist sizes and most combos of small items people take running. The belt fits waist sizes from 25 inches up to 47 inches, but there's also a belt extender available (for a separate cost) if you need more room than that.
The zipper held up just fine on mine for the two years I ran with it before switching to a running vest. I also didn't have any issues with the fabric thinning or pilling. Truly, my only complaint is that my SPIBelt got pretty stinky after a while and I couldn't get the smell out, but what's a runner to do?
Best Running Vest: Osprey Duro 1.5 Running Vest
Good for: Runners who need to store multiple small items, snacks, and water in a bounce-free vest
I cannot overstate how much I love this Osprey hydration pack. Every time I slip it on and head out for a long run, I'm amazed at how much water and how many items this minimalist pack can hold. I use this vest for short and long runs alike, and I'm confident all distance runners will love the carrying capacity it offers.
With it, I can tote a tube of face sunscreen, my car keys, cell phone, snacks, up to 1.5 liters of water, doggy bags, and more if I wanted to. I also love that I can clip my pup's leash to various places on the vest so I can be completely hands-free.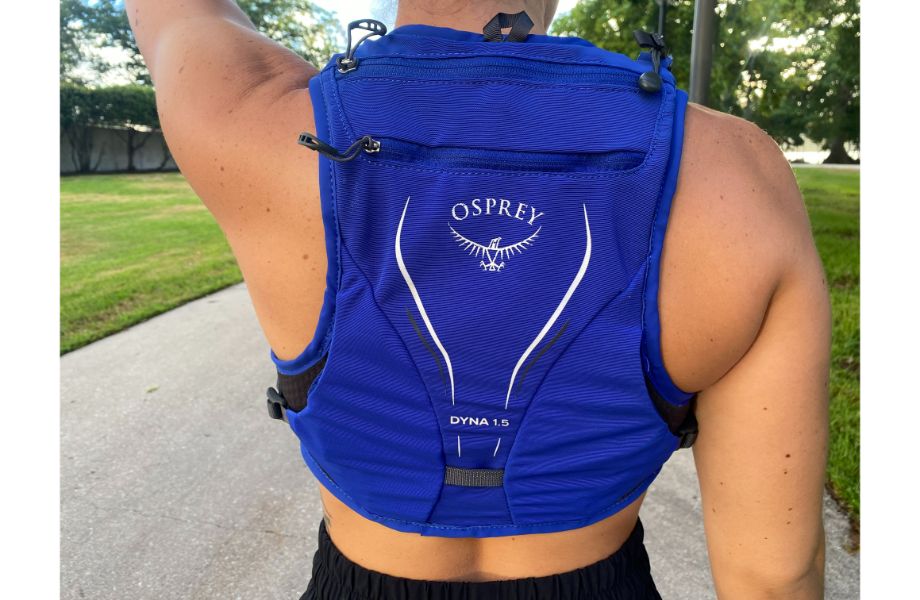 Even in the blistering Florida heat, the breathable fabric keeps me cool enough to keep going. Pair the vest with a moisture-wicking sports bra or tank (or long-sleeve if you're running in cold weather), and you'll be good to go.
I will say, I had no concerns about durability—until I accidentally tossed the vest into the dryer. When it came out, the vest was missing one of the closure straps and the mesh beneath the armpits on both sides was fraying. It's still usable (I reattached the chest strap), but word to the wise: Air-dry your vest.
Best Running Headphones: Shokz OpenRun Waterproof Bone Conduction Headphones
Good for: Runners who want to safely listen to music, audiobooks, or podcasts while being able to hear vehicles, wildlife, and other pedestrians
When running outdoors, it's extremely important to remain aware of your surroundings, whether your usual route crosses busy city streets or involves trekking through remote wilderness areas. Drowning out the noise to focus on your most motivational playlist may sound nice, but it's dangerous.
Enter: Shokz headphones, previously known as Aftershokz.
Shokz are not true earbuds or headphones—they don't insert into your ear or cover your ear, and that's exactly why I love them. Thanks to bone-conduction technology, Shokz allow runners to listen to their favorite tunes or podcasts and still hear people, cars, cyclists, and wildlife.
The Shokz OpenRun Waterproof Bone Conduction Headphones sit in front of your ears, just behind your cheekbones, and transmit sound waves through the bones in your skull. It sounds wild (and it kinda is), but it's the safest way for runners to get high-quality sound without drowning out environmental noise.
The OpenRun headphones are Bluetooth-enabled, rechargeable with an 8-hour battery life, waterproof up to 1 meter for up to 30 minutes (but not intended for swimming), and extremely lightweight.
Available in two sizes (regular and mini, which features a shorter headband), these are the perfect gift for runners who are adamant about hitting the pavement with music, but want to stay safe.
Best Running Socks: Darn Tough Micro Crew Running Socks
Good for: Runners who want all-season socks that help prevent blisters and hold up for long-distance runs
I first bought Darn Tough socks for hiking and backpacking, knowing that Merino wool was the perfect all-season fabric for outdoor adventures. One day, all of my regular running socks were dirty, so I slipped on my singular pair of Darn Tough socks for a run.
And I knew afterward that I never wanted to run in anything else!
These socks fit like a glove. There is no bunching, no slipping, no twisting—so there is no blistering. They also wick sweat like magic but keep your feet warm in the winter months. Merino wool is one of the most versatile fabrics out there.
I particularly love the Micro Crew height, but Darn Tough socks are also available in full crew, no-show, no-show tab, and quarter-crew. If you need a simple, relatively affordable running gift, these socks are a no-brainer.
I must say that these socks are expensive at $21 for one pair, and I wish they came in packs of three or four pairs for a slight bulk discount. But, they are "Unconditionally Guaranteed for Life," meaning you can return them for another pair for free if they don't hold up (but they will).
Best Running Shoes: Brooks Ghost 14
Good for: Runner who prefer a middle-of-the-road amount of cushioning and want laces that stay put
I got my first pair of Brooks Ghost running shoes when I started training for my first half-marathon in 2016. I think I've owned three or four more pairs of the same shoes since then.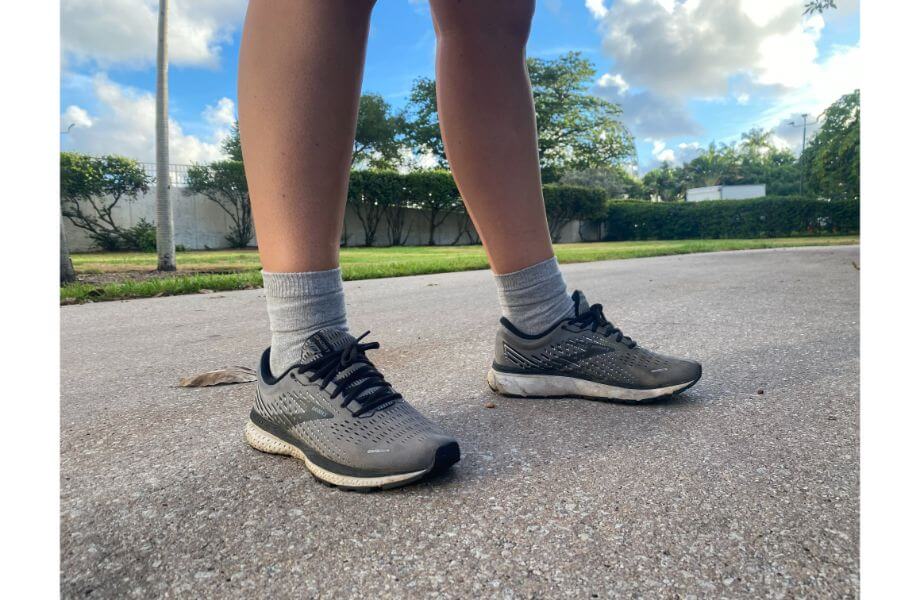 I love the wide and reinforced toe box, traction on the rubber outsole, and moderate cushioning. I'm also the type of person who doesn't want any pair of shoes I can't slip on and off without unlacing each time—and the Brooks Ghosts fit the bill.
These are phenomenal for road running even in wet conditions, but due to the low cut around the ankle and lack of water resistance, I don't recommend them for trail running, unless the trail is relatively flat and packed.
Best Energy Gels: GU Energy Chews
Good for: Distance runners who need a quick, dense source of calories that doesn't taste like complete garbage
"Run fast, eat slow" is a popular mantra among runners. But a nice, relaxed meal isn't an option on race day or during a long, grueling session. Want to run fast for a long time? You'll need a dense source of calories and quick-digesting carbs and electrolytes that's portable and easy to eat. That's hard to come by.
My favorite way to delay and prevent bonking (read: hitting a wall) during a long run is to keep a pack of GU Energy Chews in my running pack. Available in four flavors, one of which is caffeinated (strawberry), these are the best-tasting source of quick fuel I've come across. And I've tried many.
These chews are the only thing I can force down during a long run or race without wanting to vomit it back up, honestly. And they really work—if you time your chews correctly, you'll never experience the severe dip in energy that often occurs during long training sessions.
Related: Best Pre-workout
Best Fitness Tracker for Runners: Garmin Forerunner 55
Good for: Runners who want a GPS watch that can track heart rate, pace, and distance
You can track literally anything you can think of with the Garmin Forerunner 55. Although most Garmin watches can be used to track running-specific metrics, this specific fitness tracker takes run stats to a whole new level.
With this water-resistant, anti-glare smartwatch, you can select from five different running profiles to best match the type of workout you're doing and track things like time, distance, pace, cadence, and recovery time.
The Garmin Forerunner 55 also collects data for a ton of wellness and health metrics, including various heart rate measurements (resting, active, sleeping, abnormally high and abnormally low); breathing rate, sleep stats, calories, steps, VO2 max, and stress.
With this running watch, you can gather a complete picture of your health and fitness, and understand how your daily habits affect your running performance.
Best Running Sunglasses: Goodr The OGs Running Sunglasses
Good for: Runners who want an inexpensive but durable and comfortable pair of sunnies to wear for outdoor runs
As with most running accessories, bounce is a primary concern. If you weren't aware, running with sunglasses becomes extremely problematic and annoying if said glasses bounce around all over your face while running. Who wants the bridge of their nose repeatedly smacked for 30 minutes to an hour?
These classic Wayfarer-type sunglasses sit snugly on the face without being too tight. They don't bounce, but they don't squeeze the sides of your head either. Additionally, they feature a grippy silicone material all around the frame so they won't slip even during the sweatiest runs.
Finally, the lenses are fully polarized to enhance your vision during runs. They're also anti-glare, scratch-resistant, shatter-proof, and UV-protective. Doesn't get better than that for a pair of sunnies under $40!
Best Running Water Bottle: Nathan SpeedDraw Plus Handheld Water Bottle
Good for: Runners who only need to carry a small amount of water and don't mind a handheld bottle
For runners who don't need a 1.5-liter hydration vest and just need to keep their palate wet on shorter runs, the Nathan SpeedDraw Plus handheld bottle is a great option. This 18-ounce water bottle features an adjustable strap and thumb loop so the bottle is strapped to your palm, meaning you don't have to actively hold onto it. This is a huge plus as squeezing your hand around an object is a huge waste of energy during runs.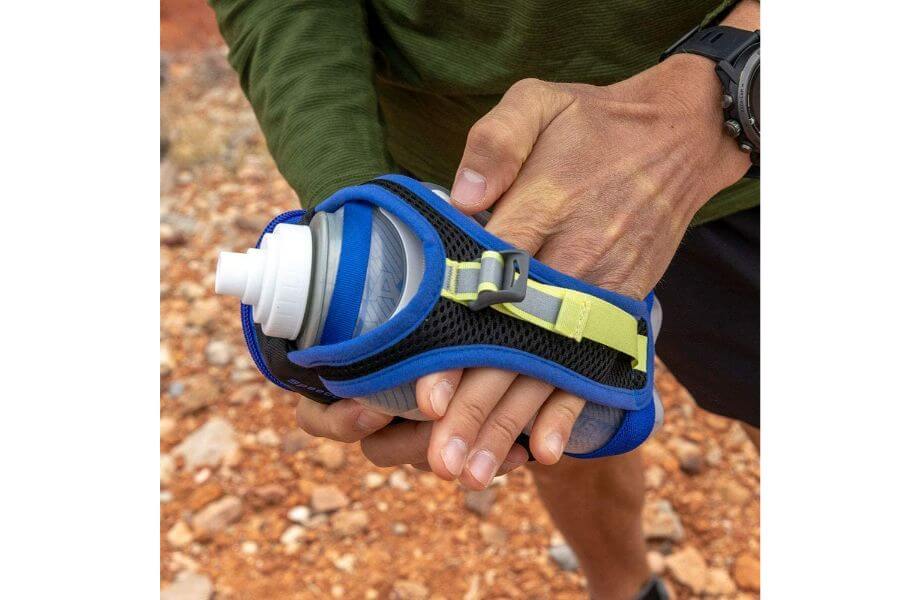 The bottle features a pop-top squeeze lid that allows runners to quickly take a swig while on-the-go, mid-stride even. I used a version of this water bottle for a couple of years before switching to a hydration vest when I started running longer distances.
My only complaint is that the cloth pouch is tough to get off of the bottle when it's time to clean the bottle. Also, some customer reviews report that the pouch isn't big enough to hold all smartphones, but I never had an issue with my iPhone 10 or 11.
Best Running Shorts for Women: Athleta High-Rise Mesh Racer 3" Short
Good for: Runners who prefer high-waisted shorts with a wide leg opening
Finding high-waisted running shorts has been a years-long battle for me. I can't understand why it's so hard to find loose shorts with a wide leg opening that are also high-rise. Why do biker shorts get all of the high-rise love?!
Anyway, I found these high-rise run shorts from Athleta and I am hooked. I only have one pair, but as I write this, I'm considering buying a couple more. Constructed of a recycled polyester and Spandex blend, the Mesh Racer shorts provide the perfect blend of stretch and contour.
I admit that the 3-inch inseam is a bit short for my liking, but they do have a soft liner to prevent any cheeks from showing. Plus, the fact that the waistband hits above my belly button and the leg opening is wide enough to where the fabric barely rubs my thighs is *chef's kiss*.
Best Running Shorts for Men: Ten Thousand Session Short
Good for: Runners who want a pair of super lightweight, anti-chafe shorts with secure zippered pockets
I can't personally vouch for a pair of men's shorts, but two members of our team—Logan, our director of revenue operations and Coop himself—recommended these shorts as the best running shorts for men.
Based on the specs, I can see why: These pared-down, ultra-lightweight shorts are constructed of a breathable blend of polyester and Spandex; they feature bonded hems to reduce bulk; include an optional anti-chafe boxer brief liner; and have a zippered pocket to keep personal items secure.
Available in a 5-inch or 7-inch inseam and in a variety of colors, the Ten Thousand Session Shorts are a go-to pick for runners who prioritize lightweight, high-performance technical clothing.
Best Running Leggings for Women: Lululemon Fast and Free Leggings
Good for: Runners who like to train in tights and want a high-performance pair
I'm not a huge fan of running in leggings, so I asked our other product testers which pair they recommend for running specifically. Kate Meier, GGR Head of Content, was quick to chime in with the Lululemon Fast and Free leggings.
"The material is fantastic," says Kate, self-proclaimed obsessee (is that a word?) of the Fast and Frees (don't care, it rhymes). "They're not the soft cotton-spandex that you overheat in," Kate clarifies, and "They don't have a seam at the bottom along the calf, so they don't squeeze your legs unnecessarily when you do any plyo or running."
And, importantly, she exclaims, they have a pocket for your phone and/or keys!
Kate's one complaint: "They have one of those single-loop, continuous drawstrings. One, I don't think with pants like these most people need a drawstring, and two, it's more annoying to try to tie a knot in these kinds of drawstrings and then undo it"
These high-rise tights are available in a few different lengths to suit various heights and preferences: Get them in a crop, 25-inch inseam, or full-length 28-inch inseam. There's even a reflective option for runners who prefer to train at dawn, dusk, or (couldn't be me) nighttime.
Best Foam Roller for Runners: Chirp Wheel 4-Pack
Good for: Runners who need a unique recovery tool to dig into the tough spots
Recovering from a run is just as important as the run itself. If you want to help your favorite runner soothe their sore muscles after tough training sessions and races, consider gifting them a Chirp Wheel, a modern take on the classic foam roller which, in my opinion, has a tremendous advantage over the typical type.
Better yet, gift them the entire Chirp Wheel 4-Pack, which includes a 4-inch, 6-inch, 10-inch, and 12-inch wheel. It may seem like overkill, but as the proud owner of a full Chirp Wheel set, I can tell you that all of the different sizes have their own set of benefits.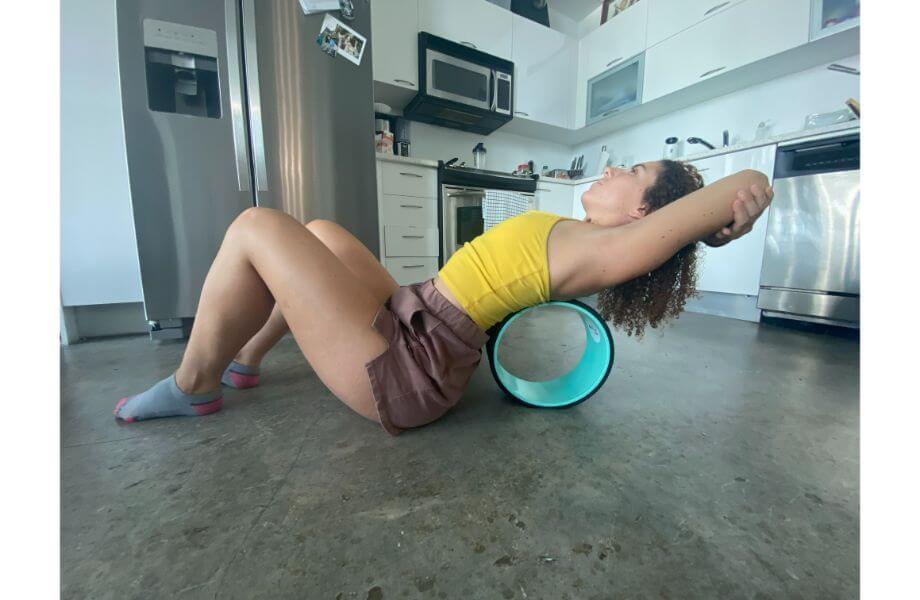 The 12-inch wheel, for example, provides an amazing stretch for your entire back and, for me, provides the sweet relief of a good back-cracking each time I use it. The 10-inch wheel allows you to dig a bit deeper into your back muscles; the 6-incher is great for use on the glutes, hamstrings, and quads; and the 4-inch wheel works wonders on the calves and neck.
Chirp wheels are made of PVC-free plastic and sweat-resistant, high-density foam. They can support up to 500 pounds of weight.
Other Running Gear We've Used and Researched (and Other Gift Ideas)
None of the above gadgets and gifts feel right for your runner? Here are some other products our team of testers has tried and researched.
TriggerPoint foam roller: If a Chirp Wheel isn't the right choice, a regular foam roller could do the trick. Swipe this classic TriggerPoint one for an easy, inexpensive gift.
HOKA running shoes: If you've ever run in a race, you've seen a sea of HOKA shoes. This popular brand makes great options for runners who need exceptional cushioning and a lot of support.
Headlamp: For runners who like to run outdoors in the early morning or late evening hours, a headlamp is essential for safety. I use a PETZL headlamp and haven't had any complaints.
Blister care kit: Although my recommendations for Darn Tough socks and Brooks running shoes should help prevent blisters, they can still occur. A blister care kit is a great, inexpensive gift option.
Anti-chafe balm: Chafing sucks. Help your runner prevent chafing with a tube of Body Glide or Chamois Butt'r from Amazon.
If all else fails, a gift card to their local REI, Nike, or other sporting goods store won't disappoint.
How I Chose the Best Gifts for Runners
Almost every product in this guide to the best gifts for runners has been personally handled and used by me—and what I haven't used was recommended by our other product testers. Many of the products on this list are in my rotation of running tools still today. I've taken the gear on this list through many runs, from sprint interval sessions to tempo runs to long training runs and race days.
Buying Guide (What to Look for in Gifts for Runners)
Every runner is different, so it's hard to say that there are any universally great gifts. A few factors can help you make the right purchase, though.
What distance does your runner run? Someone who runs shorter distances probably doesn't need a 1.5-liter hydration pack, but would probably appreciate a small running belt or handheld bottle.
What climate does your runner live in? Choose apparel, socks, and accessories based on their typical weather patterns. For instance, a runner in Washington State would probably love a headlamp since, in the winter, darkness persists into the morning and creeps back up in the early afternoon.
What kind of terrain do they run on? Is your runner a trail runner or a road runner? They'll have different preferences for shoes, apparel, and accessories.
FAQs About Gifts for Runners