Our jobs here at Garage Gym Reviews are amusing. Sometimes, we're frustrated at the fact that we've had to drill 27 holes into our living room walls to test smart home gym equipment, or that we've been tripping over packages of resistance bands for two weeks.
But other times, we get the immense pleasure of receiving a bunch of new workout clothes to thoroughly test and judge. This guide stems from one of those fun times—I present: A full-fledged guide to the very best workout shorts for women.
32 Pairs of Shorts Tested
For this guide, the ladies on our product testing team took nearly three dozen pairs of shorts through various types of workouts, from CrossFit WODs to long runs to Olympic weightlifting sessions. Additionally, we considered our previous experiences with the bazillion pairs of shorts we've worn throughout our training years.
The Best Workout Shorts for Women (2023)
Best Workout Shorts for Women Overall: FLEO Signature Shorts True High Contour
Good for: Everything. Literally everything
When I first slipped my new pair of FLEO True High Contour shorts on, I immediately sent a Slack to the other testers on our team and said: "I tried these on and audibly gasped." Seriously! Here's a screenshot.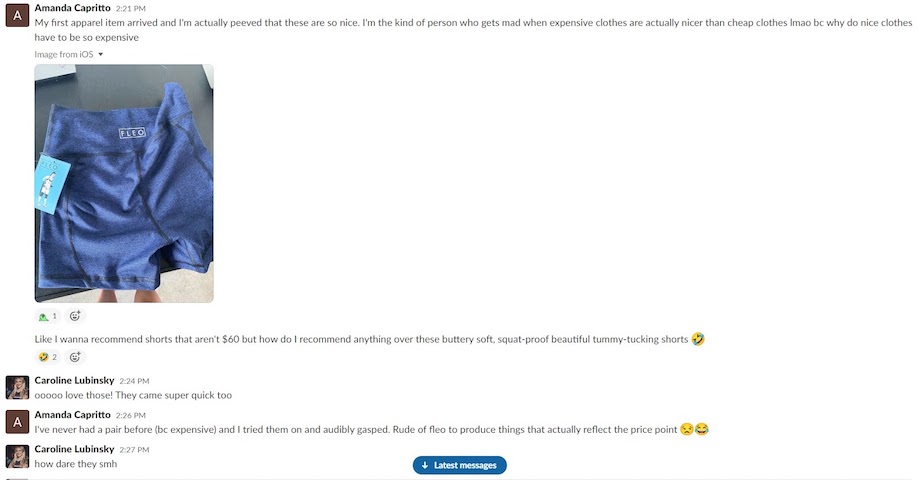 You'll notice I complain about the price in the above conversation. It's true that I'm a cheap-O. Some wouldn't consider $40 to $50 expensive for a pair of shorts, but I wear Target workout shorts and shop at TJ Maxx for the nicer stuff. However, after wearing these FLEOs for dozens of workouts (swear, I prematurely do laundry just so I can wear them again), I can say they are absolutely worth the price.
FLEO's "Bounce" fabric is ultra-soft and stretchy, and the high-rise waist and 4-inch inseam provide full coverage with more-than-adequate range of motion.
FLEO Signature Short True High Contour Specifications
Best Women's Workout Shorts for CrossFit: Senita Athletics Rio Adventure Shorts
Good for: Exercisers looking for a new take on the traditional CrossFit booty short with squat-proofness and sweat-wicking properties
HEAR ME OUT. Yes, I chose shorts from a non-CrossFit brand as the best shorts for CrossFit. I know CrossFitters can be picky (*ahem* judgy) about clothes. I am allowed to say this because I am a CrossFitter and also picky about clothes.
All my CrossFittin' ladies with thicker thighs need to hop on the Senita Athletics train. This affordable brand creates all sorts of great designs, but the Rio Shorts in particular are great for CrossFit. Intentionally designed with a wider leg opening, these soft, stretchy shorts can accommodate all of the squatting your legs have been doing.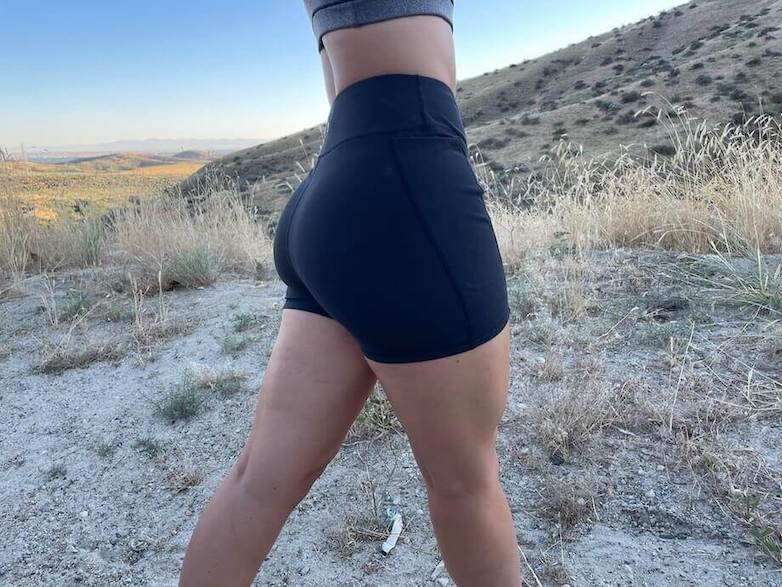 Plus, with a high waist and 3.75-inch inseam, they offer more coverage than other CrossFit shorty shorts, yet without any limitations in range of motion. I've had a pair of Rios for two years and they have held up great so far. I plan to get them in more colors!
Senita Athletics Rio Shorts Specifications
Best Booty Shorts: Savage Barbell Classic Booty Shorts
Good for: Exercisers who want durable fabric with minimal coverage and maximum range of motion
These are your "typical" CrossFit-style booty shorts, says Kate Meier, GGR Head of Content and the team member who tested this product. Actually, Kate's had some pairs of Savage Barbell Classic Booty Shorts for five years that she can still wear, although the logo has peeled off in some places.
"I'm not sure they're even meant to last for five years, though?" Kate ponders. Either way, it's a sign of durability!
With a low-rise waistband and very short 2.5-inch inseam, for many women, these shorts will lack coverage—they're really intended specifically for those who want less coverage to prioritize range of motion while still covering all of the important bits.
The fabric is on the thinner side, but the oval crotch gusset helps with comfort and confidence. I love that these are available in so many colorways and fun patterns.
Savage Barbell Classic Booty Shorts Specifications
Best Mid-Rise Workout Shorts for Women: NOBULL Mid-Rise Plush Short 4"
Good for: Anyone who wants a mid-rise short available in several inseam options
I tested the NOBULL High-Rise Ribbed Shorts, and Caroline Lubinsky, GGR staff writer, tested the NOBULL Mid-Rise Plush Shorts. Ultimately, we decided the Plush version deserved a place on this list.
In Caroline's words, these shorts are "Comfortable, squat proof, and soft. I forgot I had them on during my workout, which is always a good sign. They do show sweat a little bit but they're neon blue, soooo… it comes with the territory. They're not showing horrible sweat stains, so I'm impressed." (If you opt for a non-neon color, you may not have this issue.)
"They're more expensive for shorts, but I would purchase them again for sure," Caroline says. "They stay put during workouts and come in fun colors."
NOBULL Mid-Rise Plush Short Specifications
Best Running Shorts for Women: Alphalete Stride Short
Good for: People who want a high-waisted short with a loose leg opening
Nicole Davis, GGR editor and our tester for this product, really enjoys them: "I like these. They're super comfortable and not too short (3-inch inseam), which I appreciate. The spandex underneath does ride up if you're sitting down and then stand up, and while running, but I think that's to be expected with this style," she says.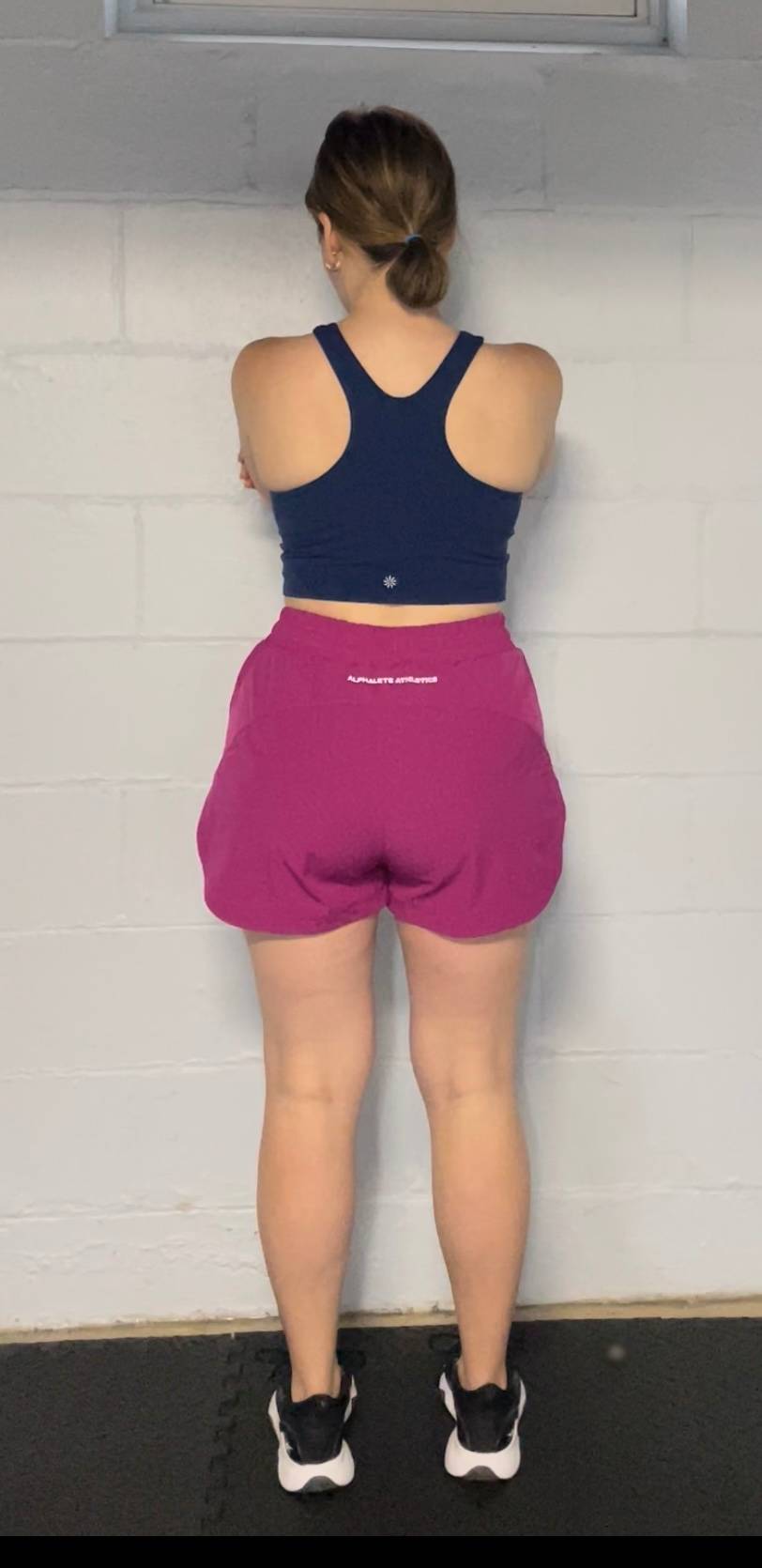 "The woven short outside is cut a bit wider at the hips—on the site it says it's for increased mobility—which is noticeable, but it's fine, I think. Just something to be aware of if you're particular about the look of your workout shorts. They come up to about belly-button height on me, so high-rise but not in a bad way."
Additionally, between the zippered pockets on each side (yay!) and soft, stretchy woven fabric, Nicole says these performed great during all kinds of workouts, including runs.
Alphalete Stride Short Specifications
Best Lined Workout Shorts for Women: Lululemon Hotty Hot Short
Good for: Exercisers who want a wide-leg short with a liner that stays put
These are excellent for working out, Caroline says, and they are her go-to shorts when her laundry is all clean.
These shorts are not compression-based, and instead are more loose-fitting in the leg, Caroline says. "This is generally my personal preference when it comes to working out, because I feel like my legs can breathe."
"There is a drawstring inside the waist, which I have cut and tied myself (versus just pulling on it to make it together)," she continues. "I don't have any issues with a waist gap since there is a drawstring. I do wish there was slightly more leg room, but it is enough to make my legs feel fine."
The Hotty Hots are weird in that they come in mostly low-waist ("Ew," Caroline quips) but occasionally, high-rise and mid-rise options pop up online. She has a pair of mid-rise Hotty Hots, which hit decently below the belly button for her, and high-rise, which land right under her belly button. Caroline is 5 feet, 9 inches tall, for reference.
Bonus points for durability: "These don't show any signs of wear, and I've had both pairs for probably two years now," Caroline says. "I actually throw these in the dryer and have never had any issues with them shrinking or pilling. They are excellent durability-wise."
Lululemon Hotty Hot Short Specifications
Best Bike Shorts: Athleta Transcend 7" Bike Short
Good for: Those looking for a longer pair of shorts with no top seam and ultra-smooth fabric
I love a classic biker short. However, it's often hard to find a nice pair that doesn't dig into my thighs where the bottom seam lies. The Athleta Transcend Bike Shorts surprised me with a flattering fit: The waistband sits flat on my waist with no gapping, and the bottom seam doesn't cut off blood supply to my lower leg (some shorts seriously feel that way).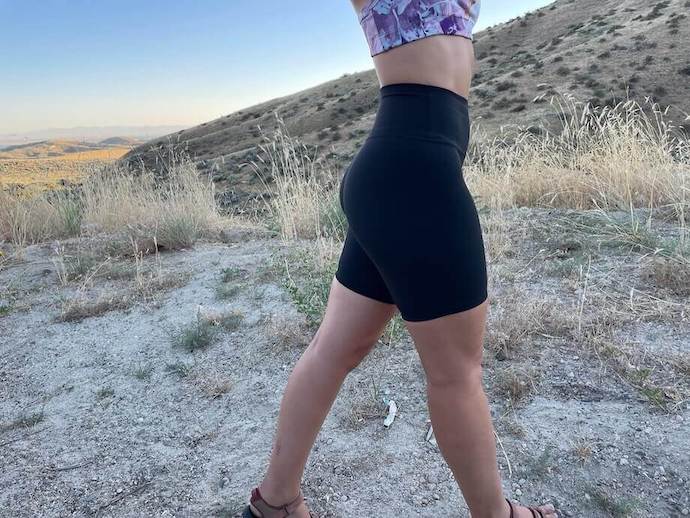 Plus, the fabric is buttery smooth and stretches in whatever way my workout needs it to. I've worn these for hiking, biking, yoga, running, walking, and lifting weights—and they've performed well through it all.
My only complaint with these shorts is that the fabric collects pet hair by the boatload. I find myself using a lint-roller multiple times per day when I wear these. I do love that I can throw these in both the washer and dryer and not have to worry about pilling or loss of elasticity. Hooray for lazy girl fabrics!
RELATED: Biking vs Walking
Athleta Transcend 7" Bike Short Specifications
Best Yoga Shorts for Women: Lululemon Align HR 8" Short
Good for: People who enjoy doing yoga in longer shorts
Kate Meier, GGR Head of Content and product tester, swears by lululemon Aligns. "These are my favorite," she says. "They're buttery soft, and they don't squeeze your leg and give you that biscuit-out-of-a-can look. I love that they come in three length options—I tested the 8-inch and bought myself two pairs of the 4-inch inseam afterward."
"There are more patterns and colors and style combinations than I can count," she continues, "but most importantly: high rise. A beautiful high rise."
The Aligns fit true-to-size in both inseam lengths that Kate has, and Lululemon offers sizes from 0 to 20.
These shorts are not super compressive, as they're meant for yoga and not high-intensity training. Kate can explain: "I have done CrossFit in the 8-inch pair. They don't move much, but as I know with my Align leggings, this fabric won't hold up to a barbell's knurling. Which is fine, because they aren't really meant to. So I would just be selective about when I would wear them."
Lululemon Align HR 8" Short Specifications
Best High-Waisted Workout Shorts for Women: Born Primitive New Heights Booty Shorts
Good for: Exercisers who want shorty shorts with a high waistline
We have quite a few high-waisted picks on this list, but we thought the Born Primitive New Heights Booty Shorts deserved their own shoutout for their durability and high waistline. I tested these and was pleased overall, despite my general disliking of booty shorts. I may be in my 20s, but I'm an old lady at heart and I prefer more coverage most of the time.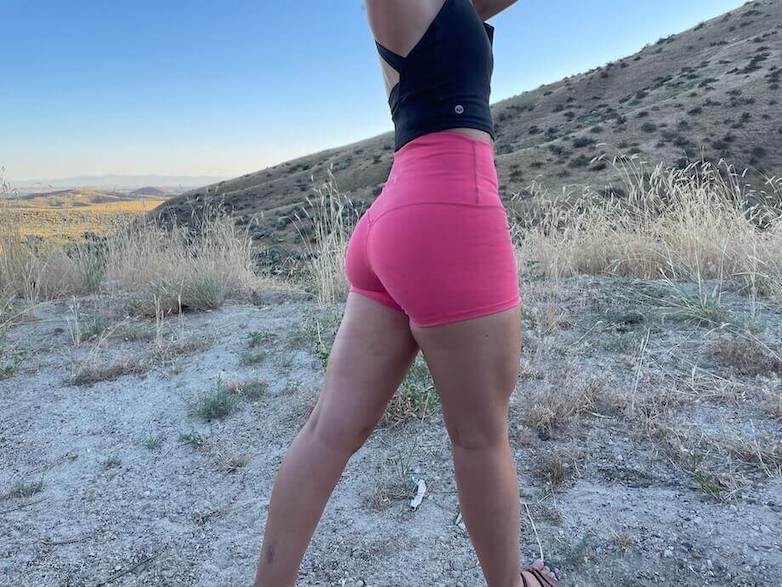 Anyway, the New Heights Booty Shorts are pretty compressive in the waist, which I like. The fabric is thicker than that of most other shorts I've worn, and they feel durable, like I'll still be wearing these in several years' time. I feel like these can handle a good amount of abrasion and stretch.
The fabric also seems to wick sweat better than most, although I did get some sweat spots in the bright pink color I tried.
I must admit, the bottom seam kept rolling up (to an almost-annoying level) during a CrossFit workout with power cleans, rowing, and seated dumbbell press. However, the seam never dug into my thighs, which is a huge bonus for me.
Born Primitive New Heights Booty Short Specifications
Best Form-Fitting Workout Shorts for Women: Alphalete Amplify Short
Good for: Anyone who wants their butt to look phenomenal
Full stop: These are THE shorts for a bangin' booty. I tested the Alphalete Amplify Leggings and Kate tested the Amplify Shorts, and we are in full agreement that whatever Alphalete is doing is magical.
"I've never seen my butt look so amazing," Kate says. "These are like those Tik Tok pants. We could do a Tik Tok on these shorts."
"They have that ruching along the buttcrack that is like MagicEye for butts," she continues enthusiastically. YOUR BUTT WILL COME ALIVE. It's insane."
The material is compressive and sweat-wicking, and you can machine-wash it. However, these shorts seem to run quite a bit small, likely due to the compressive fabric. Kate and I both recommend sizing up, especially if you tend to be in between sizes.
"Because these run small, they aren't the most comfortable for dynamic workouts," Kate says, "but someone with a slimmer build might feel differently. I did several weight training sessions as well as several metcons in them. They don't bunch up, and they withstand squats well."
Alphalete Amplify Short Specifications
Best Workout Shorts for Women With Pockets: Athleta Salutation Stash Short 5"
Good for: A moderate rise, moderate inseam, and pockets that actually hold onto your shiz
The Salutation Stash shorts are the very first pair of shorts I've worn that I actually feel comfortable stashing my phone in. Most workout shorts with pockets can hold my car key and a credit card, max, without items starting to peek out during a walk or run.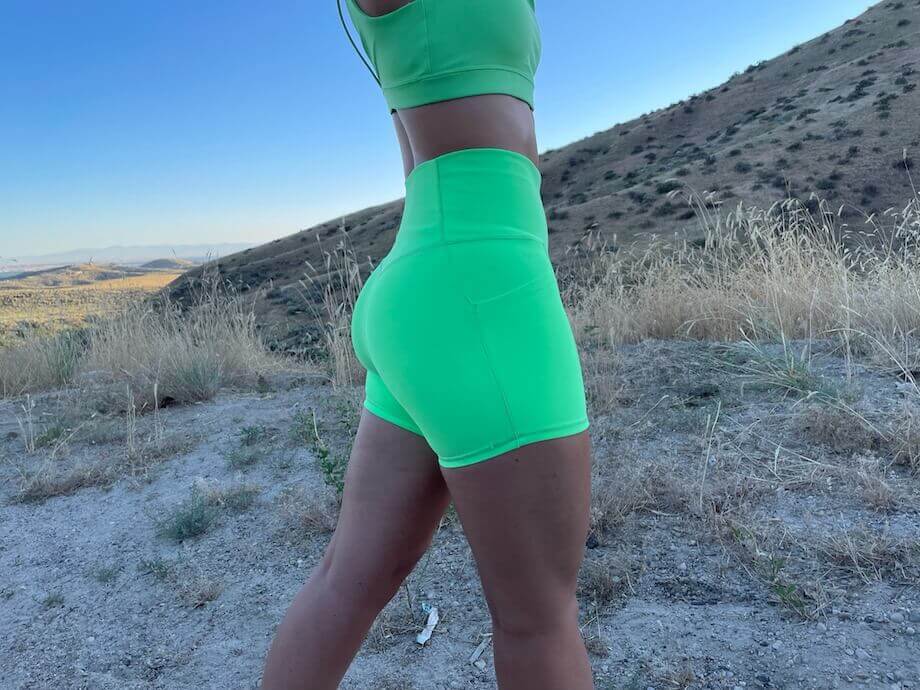 With these, I can walk my pup sans fanny pack because my stuff stays put. I've run up to 3 miles in these with my phone in one pocket and my key, ID, and a doggy bag in the other, with no issues.
Athleta's Powervita fabric is soft, smooth, and the right amount of compressive. My only real complaints with these is that the middle seam can be unflattering and the bottom seam is a bit too tight for my legs, but that obviously won't be the case for everyone.
Athleta Salutation Stash Short Specifications
Best Shorts for Outdoor Workouts: Senita Athletics Baseline 5" Short
Good for: Affordable, quality workout shorts that you can also use as swim shorts and hiking shorts
You can run in 'em. You can swim in 'em. You can hike in 'em. These are perhaps the most versatile pair of workout shorts I've ever owned. I have two pairs, and they are a go-to for every type of workout and outdoor activity.
These are a best-seller for Senita and it's clear to see why. Senita's Lux fabric, which is a blend of polyester and nylon, is extremely breathable and quick-drying. The seamed, wide waistband stays put through everything and I have snagged these during tons of bushwhacking hikes and haven't had any issues—no dethreading of seams or holes or pilling. I've also swam in these and the color is holding fast.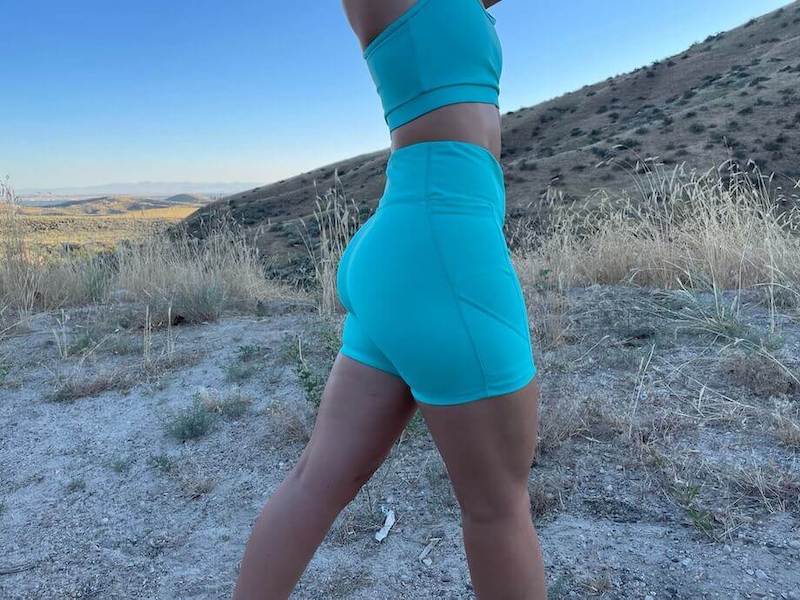 The fabric is insanely wicking; it feels almost like a swimsuit. The only callout I have is that they are a little short for biking and I chafe a bit around mid-to-upper thigh. People with shorter legs may not run into this issue.
Senita Athletics Baseline Shorts Specifications
Best Budget Workout Shorts for Women: Target All In Motion Sculpt 7" Short
Good for: People who want decent workout shorts for a very low price
For an affordable pair of cycling shorts, I recommend checking out Target's All-In-Motion line, specifically the Sculpt 7" shorts. Ringing in at just $20, these compete with other trending activewear brands for a fraction of the price.
A few years ago, I bought four pairs of these in different colors, and I still have all but one pair, which I left in a hotel room (still very sad about that.) I kid you not, they have held up just as well, if not better, than some more expensive pairs I have. I look forward to wearing them each time.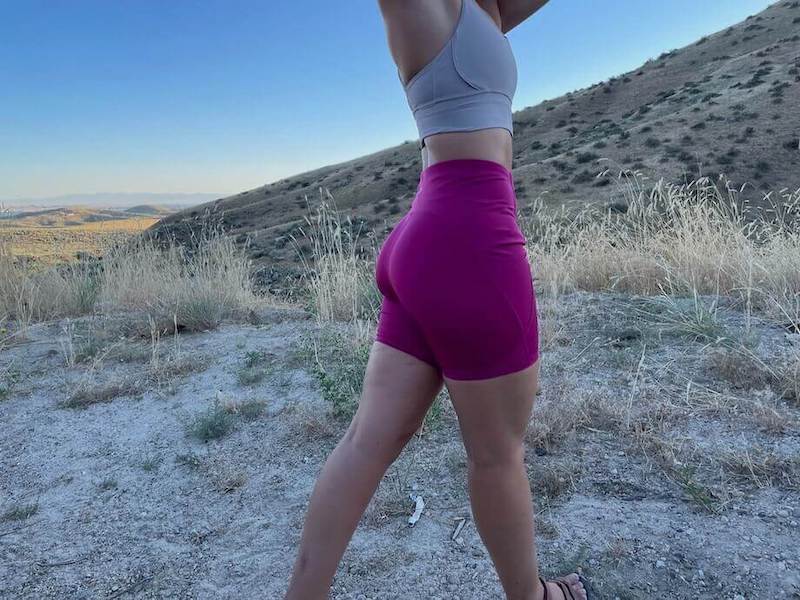 Notably, these are some of the only longer shorts I own that don't squeeze my thighs at the bottom seam. The wick sweat well and stay in place while working out. For $20, they're worth a try for everyone, in my opinion.
Target All-In-Motion Sculpt Shorts Specifications
Best Plus-Size Workout Shorts for Women: Girlfriend Collective FLOAT Ultralight Run Short
Good for: People who need more sizing options in high-quality workout shorts
Girlfriend Collective was one of the first activewear brands to make comfy clothes in a truly inclusive size range. Constructed from fabric made of recycled water bottles, Girlfriend Collective athletic shorts are also environmentally friendly.
I have these shorts in my regular size and can confirm they are as comfortable as "ultralight FLOAT" sounds. These shorts feel like nothing—I repeat, nothing. It's almost alarming how naked I feel when wearing these. (The downside to this is that the fabric needs near-constant lint-rolling.)
WIth a high-rise waistline and 4.75-inch inseam, these shorts offer great coverage while retaining full range of motion. I prefer to wear these for yoga and mobility work over anything, since they're so stretchy and light, and not as compressive as other pairs I own.
Girlfriend Collective FLOAT Ultralight Run Short Specifications
Other Workout Shorts We Tried
Despite there being more than a dozen top picks on our list (it's so hard to choose!), there are even more shorts we want to call out, for good or for bad. Here's a comprehensive list of other shorts we bought and tried specifically to create this guide, with a quick blurb on how we feel about them.
How We Chose the Best Workout Shorts
In a few words: We wore them. Duh. To get more granular, here's exactly how we judged these shorts during the various workouts we wore them for:
Purchasing and delivery
Appearance (colors, patterns)
Fit, rise, and compression
Workout performance
Pockets
Fabric and durability
Customer reviews
Return and exchange policy
Customer service
Value
During our testing, we took detailed notes to answer the following questions:
How is the waist-to-thigh seam ratio? (Is there a gap in the back?)
Is the rise accurate to what's stated?
Does the bottom seam squeeze the thighs?
Does the fabric lay smooth overall? Does it have four-way stretch?
Are there pockets? Where on the shorts are they (front, side, or back pockets)? Do they have zippers? Can they actually hold your things?
Do they ride up during any movements? If so, which ones?
Do you chafe while wearing them for walking, running, or other workouts?
Do you have to constantly pull the thigh seams down or waist up?
Are they sweat-proof or do you look like you peed yourself after 10 minutes?
Does the fabric collect pet hair or lint?
How did they hold up in the wash? Can you even throw them in the wash or do you have to hand-wash and hang-dry them?
Have you noticed any pilling after a few wears?
Do they stink after a few wears?
The Importance of Good Workout Shorts
I mean, I'm not even sure I have to explain the importance of good workout shorts, but here we go nonetheless.
Have you ever quit mid-workout because you're so damn tired of pulling your shorts down or picking a wedgie? Admittedly, I have. So avoiding those two problems is reason enough to be picky about workout shorts. You can't get the most out of your workouts if you're constantly worried about flashing the gym, getting swamp ass, or peeling seams away from your skin where it's too tight.
But thinking long-term, choosing good workout shorts is important so you don't have to buy new ones every year. A good pair of shorts will last much longer than that and save you money in the long run, even if they feel expensive up front. Trust this, as it's coming from someone who only begrudgingly buys the pricey stuff but is always happy when I do.
How to Choose the Best Workout Shorts for You
Everyone has different fit and style preferences, which is why there's an absolutely outrageous number (14 pairs) of shorts in this guide. Here are a few factors to consider when shopping.
Material
You'll want to hit three key categories here: moisture-wicking, stretchy, and soft. Most workout shorts are made of some blend of nylon, polyester, and elastic materials like Lycra, Spandex, and Elastane. Avoid shorts that are more than 20% cotton unless you want a soggy butt post-workout.
Sizing
Many brands are expanding their size lineup to be more inclusive. Of the brands that are part of our top picks, the majority offer more than five sizes, in total ranging from XXS to 4XL. Make sure to check size charts, since there is no standardized sizing (unless you're shopping a brand that uses actual inches for sizing).
Length
Common inseam lengths are 2, 3, 4, 6, 7, and 9 inches. I would say anything between 2 and 4 inches can be considered "booty shorts"; 4 to 6 inches is a moderate length; and anything above 6 inches can be considered a biker short.
Pockets
What do we want? POCKETS! When do we want them? Like 17 years ago!
It's great that so many brands include pockets in women's shorts now. However, not all do, so make sure to double-check if lack of pockets is a dealbreaker for you.
Pay attention to where the pockets are on a given pair of shorts, too. Waistband pockets are generally only large enough to hold important small personal items, such as a car key or ID. Side pockets are often big enough to hold a phone or even a small snack.
Fit and Comfort
This will be completely subjective, but three main components play a role here: rise, inseam length, and seams. Mostly I want to call out middle seams, which can cause terrible front-wedgies, if you will. Some women are more prone to the horrors of middle seams, and if you feel like you fall into that group, I highly recommend filtering reviews for the keyword "cameltoe" to know if you should just completely skip a pair.
FAQs About Workout Shorts for Women