We test and review fitness products based on an independent, multi-point methodology. If you use our links to purchase something, we may earn a commission. Read our disclosures.
Why You Should Trust Us
I've had my hands on more gym equipment than most people have ever even thought about, including smart home gym equipment and smart workout mirrors. I and my team of fitness experts and product reviewers have hands-on tested each and every piece of smart fitness equipment on this list to bring you the most comprehensive guide to creating a totally intelligent home gym.
Top Rated Smart Home Gym Equipment
Best Smart Home Mirror Gym: Tonal
Tonal Smart Home Gym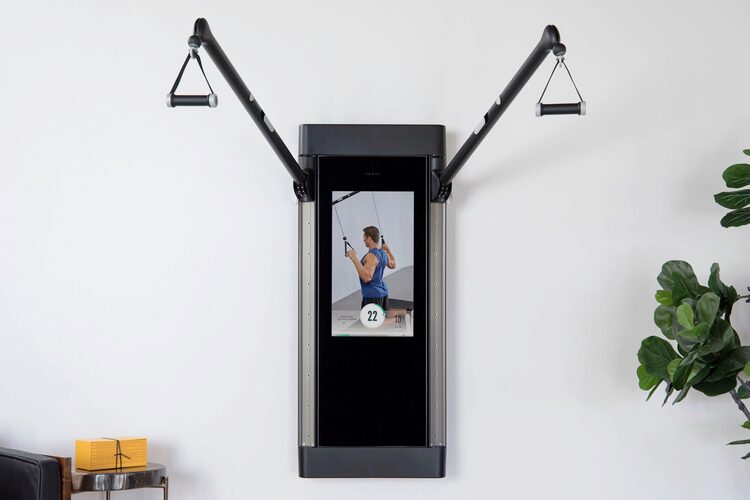 Tonal Smart Home Gym
Looking for a complete home gym that fits in a compact space? The Tonal smart home gym offers 200 pounds of resistance, more than 170 moves, and a range of full-body exercises. Plus, the AI gets to know you as a lifter the more you use it, so the workouts will be customized to your needs.Tonal may be effective, but it's not budget-friendly. The machine sells for $3,495 (which does include professional installation), but you still have to pay a $50 monthly subscription fee on top of that.
Good for: People who want to lift heavy weights without buying a ton of equipment.
Pros:
Lift up to 200 pounds
Takes up very little space and is wall-mounted
Smart AI automatically adjusts weights and makes workout recommendations
Cons:
Expensive: about $3,500 before accessories, taxes, or fees
Not nearly as versatile if you don't buy the smart accessories package
Does a number on your walls for installation and isn't portable at all
Okay, so, contrary to popular belief: Tonal isn't actually a mirror-like the MIRROR or Echelon Reflect. But it has enough similarities and we love it enough that it took the "best fitness mirror" space in this smart home gym roundup.
RELATED: Best Workout Mirrors
You can lift up to 200 pounds of resistance with Tonal, which is impressive considering it's entirely virtual weight. I'm no techie, so I can't say I'm exactly sure how the pulley system on the inside of the hardware works. What I do know is that Tonal is a totally badass piece of workout equipment that is great for all fitness levels.
The downside? Tonal is not cheap. It costs about $3,500 for the machine alone, but could probably catch it for less during holiday sales, like Black Friday or with a Tonal Coupon. The accessories bundle costs $495 extra and comes with a yoga mat, foam roller, smart handles, smart bar, rope, and a nice workout bench. Luckily, Tonal has partnered with Affirm to allow customers to pay over time.
Tonal offers white-glove delivery, so all you have to do is order and then sit back while the professional installers mount Tonal on the wall of your choosing.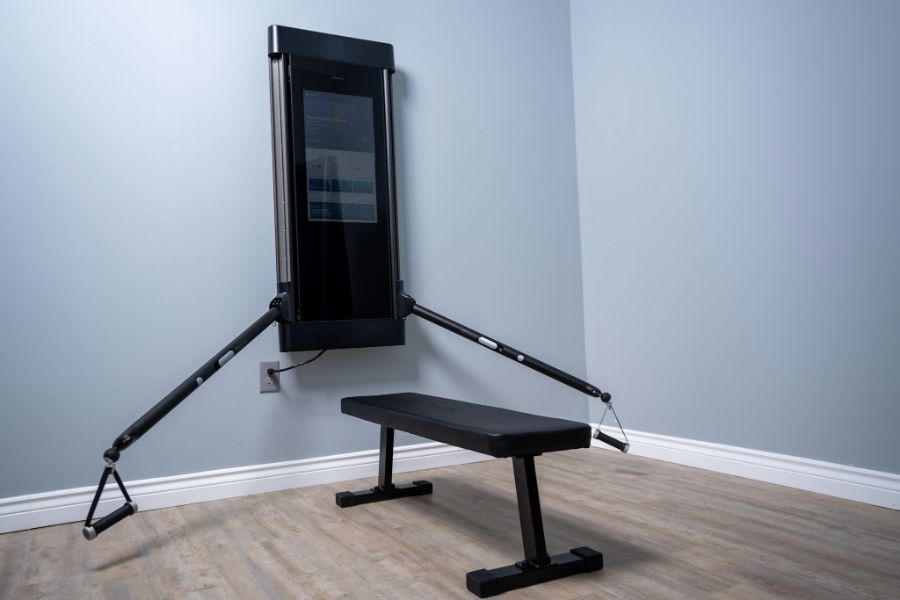 Amanda, one of our Garage Gym Reviews writers, also tested the Tonal, and her favorite thing about it is the initial strength assessment. Not only does this quick assessment give you an opportunity to fumble around and learn how to use the bilateral resistance arms, but it sets Tonal up to automatically adjust the weight for different exercises and rep schemes. The more you use Tonal, the smarter it gets and the better your recommendations become.
This is part of what makes it our pick for best smart home gym with personal trainer, as well.
Like just about every product in this guide, Tonal requires a monthly subscription to work. For $49/month on top of the purchase price (youch), you get access to the smart AI features and library of workouts and programs.
I truly believe that this one fitness machine can fully replace your fitness studio or gym membership forever—as long as your preferred method of fitness is weight lifting.
Read my full Tonal review and our full in-depth Tonal vs. Tempo comparison!
Best Smart Rower: Hydrow
Hydrow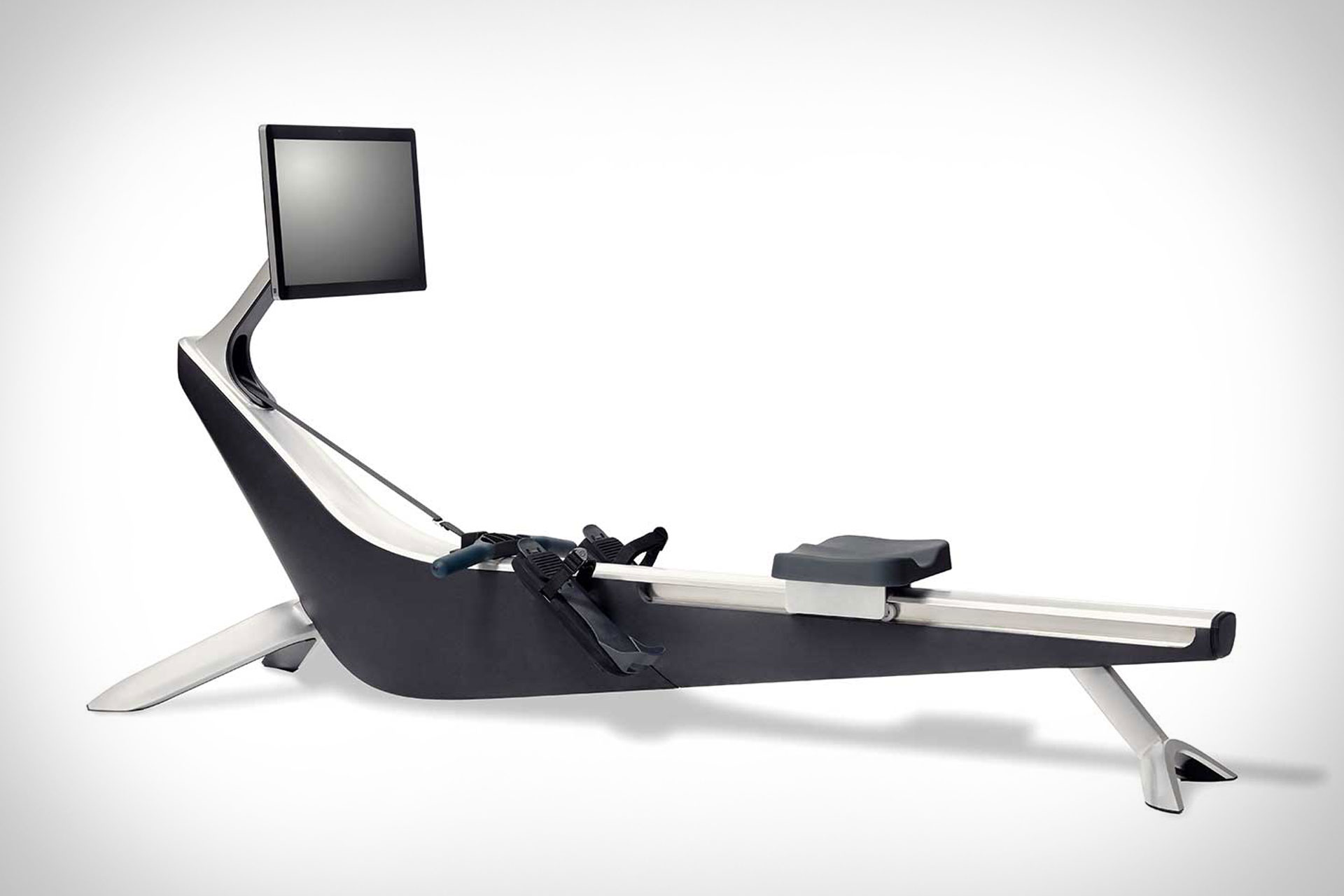 Hydrow Connected Rower
We completely re-engineered the rowing machine with patented technology, making each stroke feel like you're out on the water. Then, we built an immersive experience around it. The Hydrow was designed from the ground up. While the design team wanted to create a unique machine that was elegant and sophisticated for the home, it was just as important to engineer a machine that was unmatched in performance and built to last. Hydrow's brilliant 22" touchscreen display and impressive front-facing speakers bring the river to your living room, captivating you from the moment you sit in its seat. The Hydrow's patented drag mechanism is electromagnetic and computer-controlled. The distinctive components make it the closest thing to being on the water.Garage Gym Reviews Exclusive: Use code ROWGGR to receive $150 off any purchase that includes a rower
Good for: Anyone who wants a luxurious rowing experience and a highly connected machine.
Pros:
Massive 22-inch screen creates a vibrant workout experience
Membership community and professional instructors spark motivation
Near-silent electromagnetic flywheel is great for apartment dwellers
Cons:
Unlocking all workouts in the app costs extra
It has wheels, but it's still heavy at 145 pounds
Awkward to move around, especially on carpet
Hydrow is the modern rower, and it's one of the best rowing machines out there. It combines all the best elements of a classic indoor rowing machine with the tech specs that fitness enthusiasts expect from new-age machines. We're talking an HD touchscreen, Bluetooth 5.0 connectivity, monitor angle adjustment, best-in-class speakers, and much more.
Plus, Hydrow utilizes electromagnetic resistance, making it a phenomenal choice for people who need to keep their workouts quiet.
Aside from the tech features, what really sets Hydrow apart from other rowing machines is its immersive experience and dedicated community. When you buy a Hydrow rower, you get access to Hydrow's Live Outdoor Reality™ workouts, during which you row in tandem with real athletes who are really on the water. You can also choose on-demand workouts, all of which were filmed on the water in places like Venice, Italy.
The app experience is just as good as the rower experience: It has great filtering functionality, so you can narrow down workouts by duration, location, instructor, intensity, endurance, interval training, and more. Hydrow has recently started releasing more than just rowing workouts, which is a great incentive for anyone thinking about Hydrow but put off by the lack of versatility.
This is definitely a luxury piece of equipment and it would look great in your living room or anywhere in your home.
The cons? There aren't many, except for the price tag ($2,495 for the rower alone; more for accessories) and the fact that Hydrow weighs 145 pounds unboxed. If you're looking for a Hydrow discount code, we could help! Even on wheels, the Hydrow rower will be difficult to transport and store for some people. The big screen on the front can make it a bit awkward to roll around, however, the wheels are sized pretty well and are helpful for moving it. The footprint is similar to a normal rower, but Hydrow houses the resistance piece underneath the feet instead of on the front.
You can store the Hydrow vertically to save space, but you have to buy a separate "vertical storage kit" to do so.
Any drawbacks will be well worth it for fitness enthusiasts who value luxury equipment and a tech-infused workout experience.
Read my full Hydrow Rower review.
Best Smart Bike: NordicTrack Commercial S22i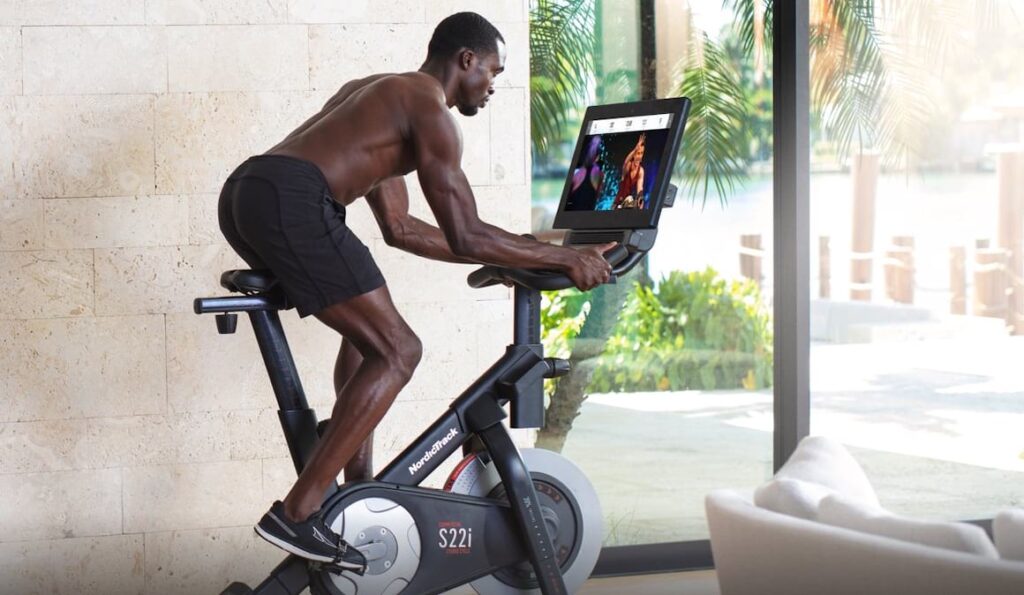 NordicTrack Commercial S22i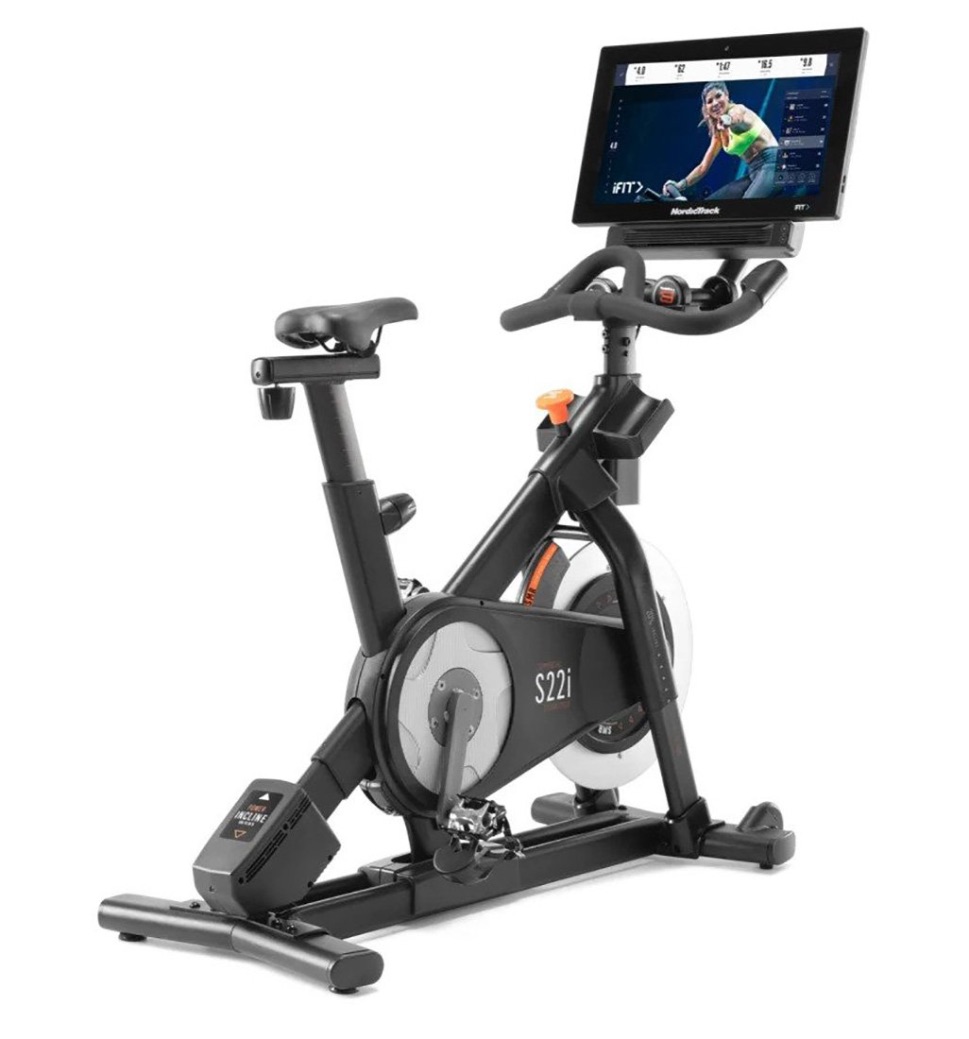 NordicTrack S22i Studio Bike
Join high energy studio classes, mountain bike rides in Moab, or ride a Tour de France stage all from the comfort of your home. Access on-demand classes with the world's best personal trainers for beginners or the hard-core cyclist. Interactive Personal Training comes to life as your personal trainer controls the incline, decline and resistance of your ride, a truly Interactive Experience.
Good for: People who want a Peloton-like bike.
Pros:
22-inch HD touchscreen that swivels so you can do other workouts off the bike using the screen
Bike actually inclines and declines in addition to resistance—super rare to find
Comes with 1 year free iFit membership
Cons:
It's heavy and there is no handle to make it convenient to move
No white-glove assembly option
Do not store this in your garage – the brand will void your warranty if you do.
It's not such an impressive product without iFit; the programming is what makes it
I know you probably expected to see the Peloton bike on this list, but the NordicTrack S22i smart exercise bike gets you basically everything the original Peloton bike in a more durable package.
iFit is what makes indoor cycling fun with the S22i. With the monthly subscription, this bike is 5 out of 5 stars every time. Without an iFit subscription, you essentially just have the bike in manual mode, which is also fine, but not nearly as immersive or engaging. The iFit workouts are really special because that's where you find all of the smart features: During live classes, your instructor can remotely adjust your incline and resistance levels so all you have to do is focus on the ride.
One of my favorite things about this bike is the incline/decline feature. It's rare to find a stationary bike that trains in decline mode, and it actually feels like you're biking downhill. The incline/decline feature combined with the huge HD screen makes it feel like you're biking anywhere but your living room.
In addition to live-streamed and on-demand cycling classes, iFit also has tons of other types of fitness classes—and because the screen on the S22i swivels, you can use your bike's screen to display those workouts. The app has full-body workouts, cardio, high-intensity interval training, yoga, pilates, and more.
As far as conveniences go, the S22i has two water bottle holders, though they are smaller in size and would not fit larger bottles. It also has a shelf where a smartphone fits well, space for two small dumbbells (cute but will be ineffective if you need bigger weights), and an adjustable cooling fan. It would have been nice for a spot for a tablet or even to put your phone upright so if you wanted to watch a show, you can.
Between the HD graphics performance, live trainer-led controls, immersive workout experience, native WiFi network, Google Maps integration, and stat tracking capabilities, I think this is one of the best exercise bike you can find.
Read my full NordicTrack Commercial S22i review.
Best All-in-One Smart Home Gym: Tempo Studio
Tempo Studio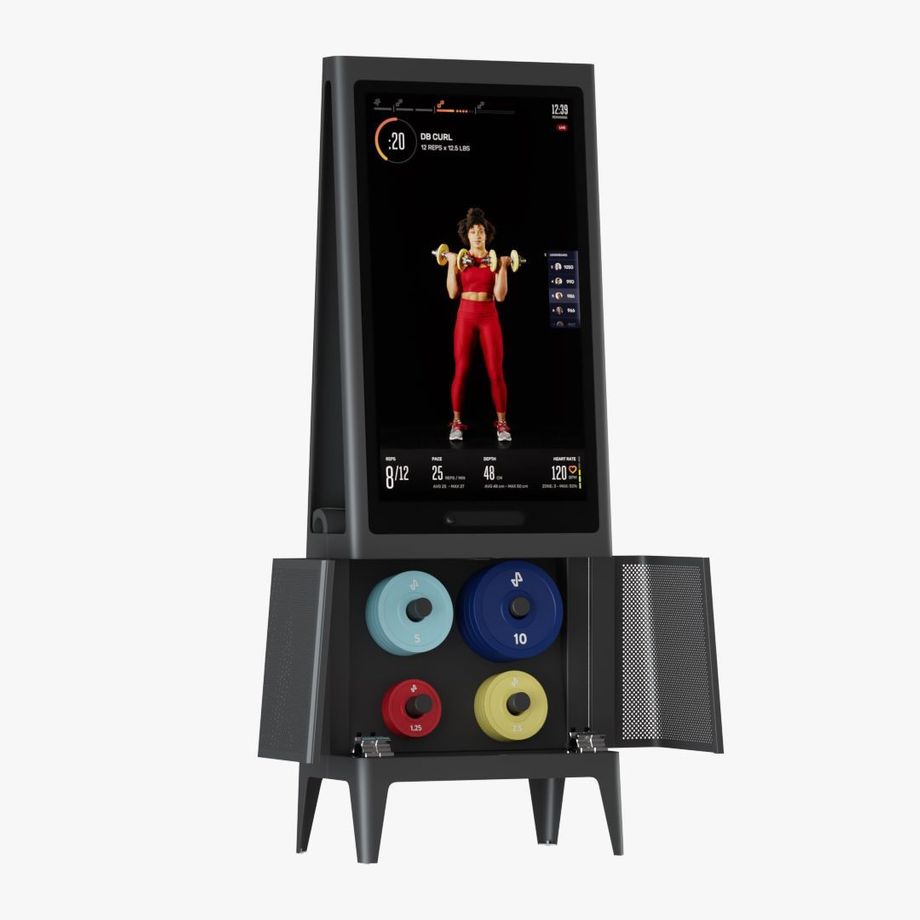 Tempo Studio
Tempo Studio is the all-in-one smart home gym. Its sturdy A-frame aluminum design holds weight plates, loadable dumbbell handles, a barbell, foam roller, workout mat, and barbell collars. Tempo Studio has AI technology that uses 3D Time-of-Flight sensors to capture your movement patterns and provide form corrections, rep counting, weight recommendations, and stat tracking. When you're working out, the Tempo Studio acts as a virtual personal trainer to help you improve your exercise technique and reduce your risk of injury from exercise.
Good for: People who love different types of training and want quality equipment and programming all in one place.
Pros:
Uses free weights for resistance
3D sensors track movement for automatic rep counting and technique feedback
Massive touch screen with great production quality
Cons:
Touchscreen can be buggy; sometimes lags
Comes with a 25-pound barbell; none of the equipment matches Olympic specs
App does not contain all of the workouts on the actual Tempo unit
Tempo is the way to go if you want good quality exercise equipment, virtual personal training, interactive on-demand home workouts, and live classes in one purchase.
Tempo Studio comes with a small selection of equipment if you buy the basic package: a barbell, loadable dumbbells, barbell collars, a workout mat, and change plates (4x 1.25 pounds, 2.5 pounds, 5 pounds, and 10 pounds). If you're willing to fork over some more cash, you can buy advanced packages that come with more weights and accessories, such as an attachment that allows you to convert the dumbbell handles into kettlebells.
RELATED: Dumbbells vs Kettlebells
It all comes packed neatly into a free-standing, A-frame powder-coated aluminum stand that looks great in any room. It has a 1080px HD touchscreen, which is nice, but it would be better if it was in 4K.
The equipment is of fairly good quality (actually surprisingly good for the price), and the high-tensile aluminum frame seems to be sturdy. The change plates and barbell remind me of basic imported gym equipment; I think they should last a reasonably long time even in a garage. While it's not the best, we do think it's worthy of being called the best smart home gym with free weights.
Tempo's real selling point is its AI-powered personal trainer, which utilizes 3D movement sensors to capture your exercise technique.
It's important to note that Tempo does not use cameras. Tempo cannot see what you or your home looks like—the motion-capture technology actually builds a 3D rendering of your body to track your reps and movement patterns. This is how Tempo provides real-time exercise technique feedback and provides cues to help you improve your form.
Some cues Tempo might give include:
Squats: Keep your heels on the floor, keep your chest up
Shoulder press: Extend your arms fully, keep your back straight/core tight
Push-ups: Descend lower, elbows back
The cues you're given depend on the movement flaws Tempo picks up while you're working out. If Tempo reminded me of one thing, it's that there's always room for improvement. Even Amanda, as a long-time fitness enthusiast with lots of lifting experience, says she found the cues helpful.
"When you don't work out in front of a mirror or a trainer, it's easy to adopt technique flaws or, as someone more experienced, slip back into old habits," she says. "Tempo's form feedback feature is beneficial for beginners and fitness veterans alike."
As far as value goes, Tempo is $1,000 less than Tonal for the basic package. This makes it a pretty good value at the outset, however, after you factor in the amount of weight you have to have in order to achieve the resistance Tonal has built-in, it's hard to say Tempo is a better value for strength training alone.
However, Tempo has more options for cardio, HIIT, and bodyweight workouts, which is why it's such a great all-in-one piece. (Pssst: Get the best Tempo discount codes.)
Honestly, I'd love to see a Tonal/Tempo hybrid so you could use both free weights and cables. Maybe someday…
Read my full Tempo Studio review.
Best Smart Treadmill: ProForm Pro 9000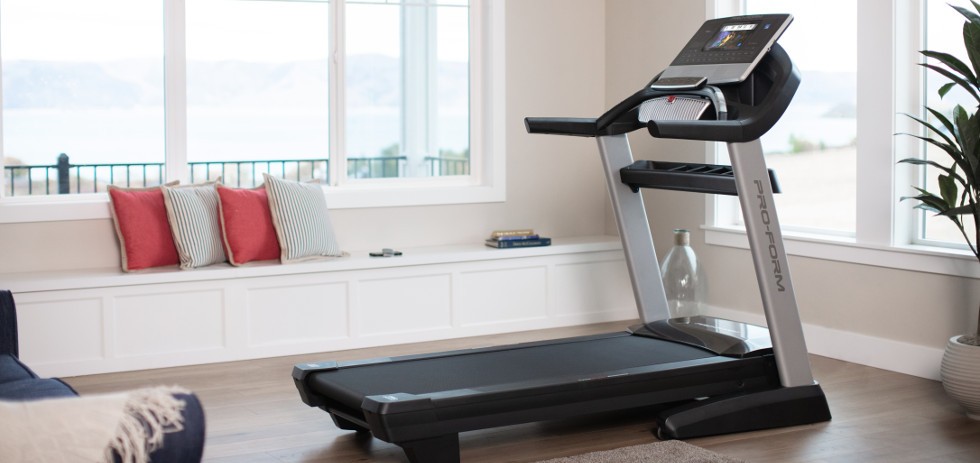 Proform Pro 9000 Treadmill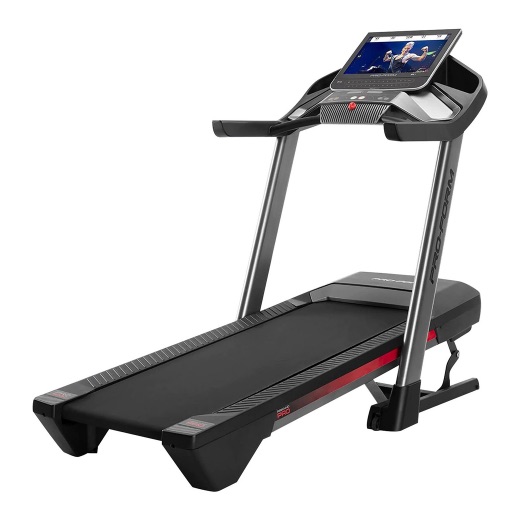 ProForm Pro 9000
Take your training to the next level with an iFit Family membership on the Pro 9000 treadmill. Engage in a whole new workout experience as streamed live and on-demand personal trainers lead you in studio classes and take you all around the world, automatically controlling your treadmill's speed, incline, and decline to give you a unique, hands-free workout.
Good for: Home gym owners who want a smart treadmill with an immersive display and engaging workouts.
Pros:
Foldable for easy storage
Works with iFit membership for immersive workouts
22-inch HD display and quality graphics
Cons:
Takes up a good bit of floor space
I've run into some technical issues
This (like any NordicTrack product) cannot be stored in your garage unless you don't mind your warranty voided
At least two people needed for assembly; no professional assembly option
The ProForm Pro 9000 smart treadmill is similar to the Peloton Tread, which has sort of becoming the epitome of smart treadmills. On the ProForm, there is a large 22-inch HD touchscreen with high-quality graphics; the workout experience is powered by iFit, an app with live and on-demand workouts; a 0 to 12 MPH speed range and -3% to 12% incline range; and a roomy 20-inch by 60-inch running belt.
RELATED: Peloton Alternatives
However, the Pro 9000 costs $1,799 compared to the Tread's $3,495 list price. That's honestly a steal for the quality you're getting with the Pro 9000. This treadmill is also available on Amazon, unlike many other smart treadmills, but the price and availability fluctuate so much I recommend just purchasing directly from ProForm.
RELATED: Best treadmills
As of this writing, ProForm does not offer white-glove delivery, but you can pay extra to have the boxed product wheeled into the room of your choice. If you have a buddy who can help you move it, I say save the cash and opt for normal front door delivery.
Most ProForm and NordicTrack products, like the ProForm Hybrid Trainer, come with a free temporary membership to iFit, and the Pro 9000 treadmill is no exception. When you buy the treadmill, you'll get to enjoy a family membership for 30 days, at which point the account will renew automatically for $39/month.
The workout experience is truly something on the ProForm Pro 9000. Thanks to the massive display, you feel totally immersed in whatever class you're taking. You don't even need to connect your phone to the treadmill because you can log into iFit directly from the unit's display. However, the Pro 9000 does support Bluetooth connectivity if you want to connect headphones or other devices.
As we mentioned with the NordicTrack S22i bike, iFit has more than just running workouts. You can stream a variety of fitness classes on your treadmill screen and perform the workouts off of the tread. The screen on the Pro 900 doesn't swivel, but it's big enough to where you can see the instructor from most angles.
Read my full ProForm Pro 9000 treadmill review.
Best Virtual Personal Training Program: Future
Future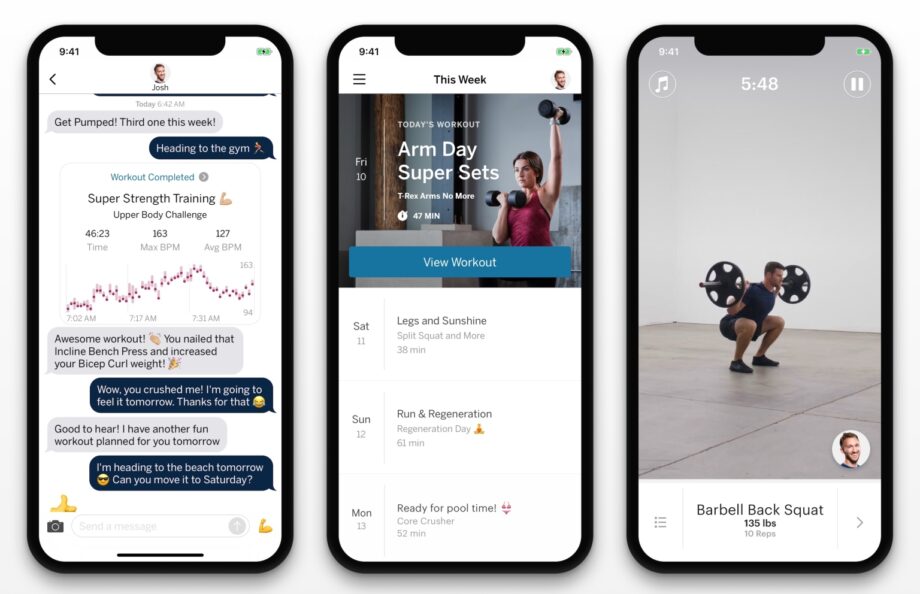 Future
Future is the futuristic workout app. Future matches you with a certified trainer who creates personalized workout programs based on your goals, equipment, and current fitness level. You can chat with your personal trainer in the app, and your trainer modifies your workouts based on your progress and other factors.CLICK OUR LINK AND RECEIVE A FREE 30-DAY TRIAL!
Good for: People who want accountability from a trainer and an app that integrates with Apple products.
Pros:
Incredible user interface; very well designed and intuitive
They send you an Apple Watch if you don't have one
Choose your own coach based on your personal preferences and goals
Cons:
App works best if you have an Apple Watch; no Android version of the app yet
No real-time coaching from your trainer
$150 per month membership cost
There are a gazillion fitness apps and online workout programs out there. From the most basic apps that spit out some exercise names and call it a day, to the most advanced and comprehensive apps that give you face-to-face time with a certified trainer, there are options for everyone.
Future is a fan-favorite among the Garage Gym Reviews team, and it falls somewhere in the middle as far as accountability goes: You get matched with a trainer who writes your workouts based on your fitness level, goals, equipment, and other factors. You can message your trainer at any time, but there are no live face-to-face video sessions (other than the initial FaceTime call to discuss goals and strategy).
Future works exclusively with an Apple Watch, and if you don't have one, they'll send you one for a $199 deposit that you get refunded for when you're done with the program. If you want to keep the watch, you pay the difference between the deposit and the cost Future paid to buy the watch. This also means the app only works with iPhones, so unfortunately Future isn't available for Android operating systems for now.
Because of the integration with Apple Watch and iPhone, the tracking feels seamless and intuitive. The user interface is simple, navigable, and enjoyable to use. It feels like a high-end experience.
Future is expensive at $150 for a month membership. Although it is certainly cheaper than hiring a live personal trainer, it is way more expensive than, say, a Peloton monthly membership of $14 per month or even the beloved iFit membership of $39 per month. You have to decide if the extra accountability of a live person is worth the extra cash.
However, Future does recognize that fitness is personal and offers a 30-day risk-free trial period. If you decide Future isn't for you, you can easily cancel with no fees or penalties. You can also always switch coaches if you need a different style of coaching to succeed.
Read my full Future review.
Best Fitness Tracker: Apple Watch Series 6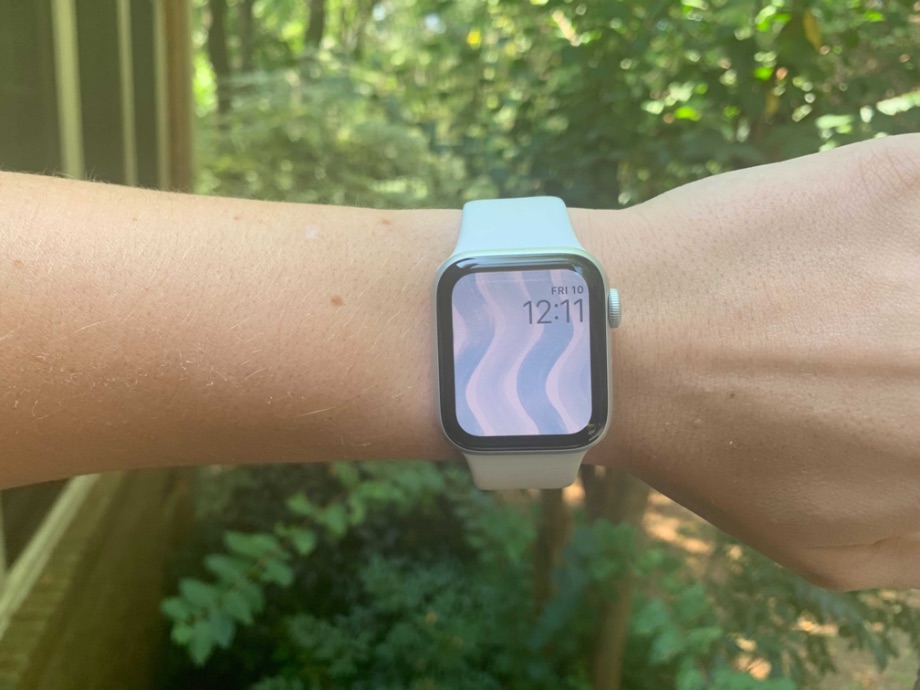 Apple Watch Series 6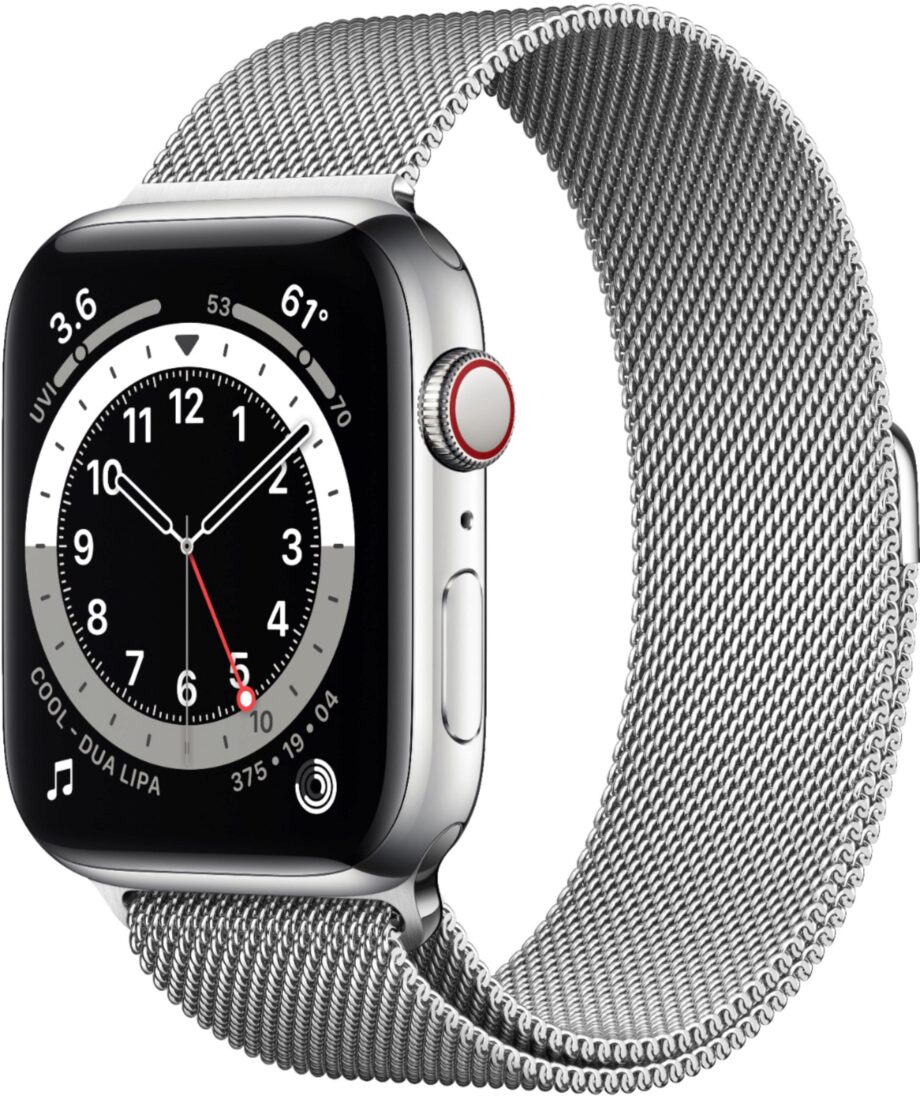 Apple Watch Series 6
Measure your blood oxygen level with a revolutionary sensor and app. Take an ECG anytime, anywhere. See your fitness metrics at a glance with the enhanced Always-On Retina display. With Apple Watch Series 6 on your wrist, a healthier, more active, more connected life is within reach.Want to know more? Check out our full Apple Watch Series 6 review.
Good for: Apple product lovers who want intense and comprehensive fitness tracking capabilities.
Pros:
Track nearly 100 types of workouts on your watch
Basically a tiny smartphone on your wrist
Water resistant up to 50 meters
Cons:
Pricey, especially if you want a cellular data connection
Does not work with Android operating systems
Battery doesn't last very long; you'll need to charge it nightly
Apple really did a number with the Apple Watch during the pandemic. For a while, I didn't necessarily think there was anything overly special about the Apple Watch, except for how well it (obviously) integrates with the iPhone. But now, the Apple Watch is a behemoth of a fitness tracker and I consider it as one of the best fitness trackers on the market. When Apple released the Series 6 in 2020, I was blown away by all of the deeply insightful features.
A few favorites: SpO2 (blood oxygen saturation sensor); VO2 max estimate; ECG (heart rhythm tracking that can send potentially life-saving alerts); barometric altimeter; water resistance up to 50 meters; fall detection; cellular data; and the Always-On Retina display.
On top of all that, the fitness tracking features are top-notch. Apple Watch has always been known for activity rings, but with the Series 6, there's so much more than that. The watch tracks more than 80 types of activities and workouts, and it shows a number of detailed stats for all of them. Depending on the type of workout you log, you'll see stats such as time elapsed, distance traveled, pace, heart rate, calories burned, elevation, repetitions, laps, or mile splits.
With Apple Fitness+, the newly launched native workout app for Apple Watch, you can stream trainer-led workouts on your iPhone, iPad, or Apple TV and watch the stats appear on your wrist.
I will say that the sleep tracking capabilities are still lacking, which is super disappointing for something coming from a company like Apple. I just think the Apple Watch should be able to tell you more about your sleep than just the number of hours you snooze. I'd like to see stats like time spent in individual sleep stages and breathing rate.
Everything your watch tracks will sync to the Apple Health app, so you can view all of your data in those nice, neat, colorful little tables it provides.
Read my full Apple Watch Series 6 review.
Best Smart Elliptical: NordicTrack Commercial 14.9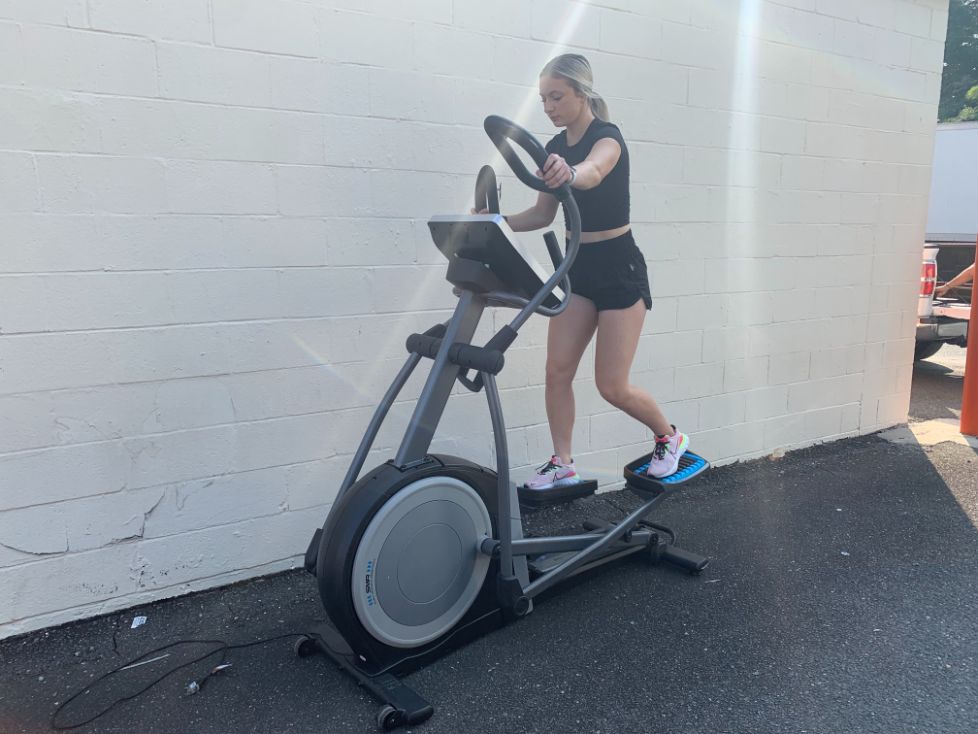 NordicTrack Commercial 14.9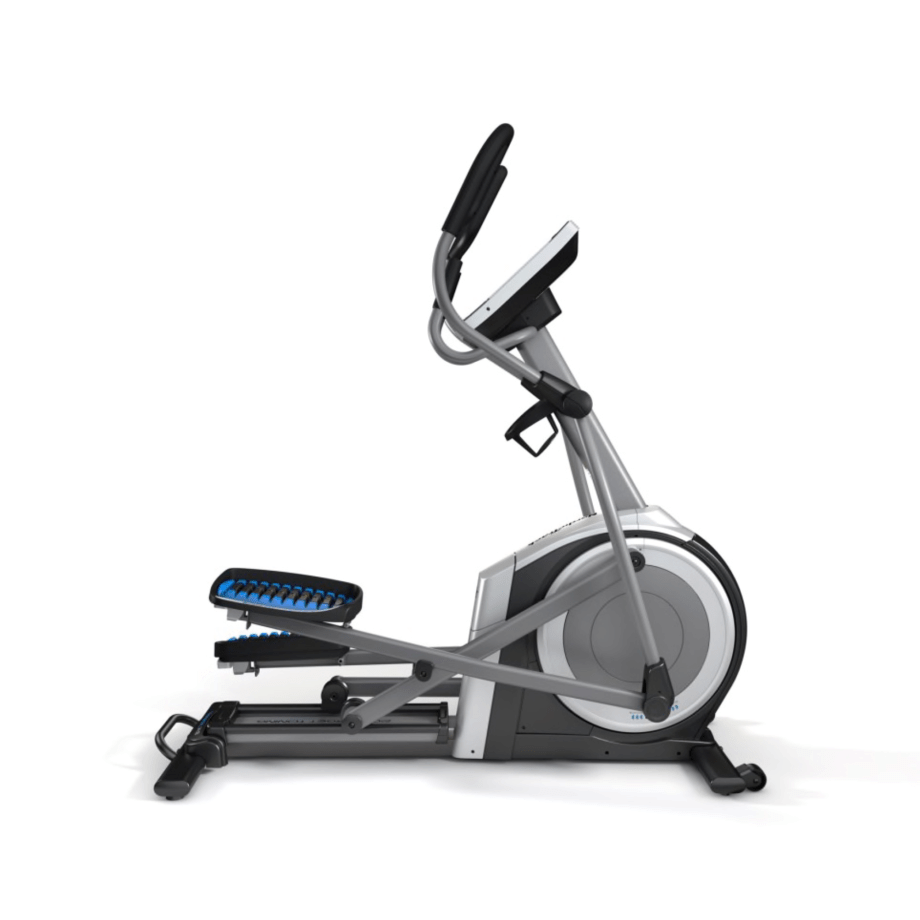 Nordictrack Commercial 14.9
The NordicTrack Commercial 14.9 will give you a highly customizable workout with adjustable pedals, stride, resistance, and incline. The 14.9 also features a heavy 32-pound flywheel to challenge even the most experienced cardio athlete.The NordicTrack Commercial 14.9 features a 14-inch, built-in, HD touchscreen enabled with iFIT technology. iFIT will bring shake up your cardio routine with a growing library of on-demand workouts featuring world-class trainers. The iFIT auto-adjust technology will change your elliptical's incline and resistance with the cadence your trainer's cues, so you won't have to lift a finger to kick your workout up a notch.
Good for: Home gym owners who want a commercial-grade elliptical with great connectivity.
Pros:
Solid construction with a lot of steel components
Integrated Google Maps function is a fun touch
Free year of iFit included with purchase
My Callouts:
Assembly is tough and should be done with more than one person
$1,800 price point is pretty expensive for an elliptical machine
Minimal storage and large footprint
Keep this in your home somewhere – NordicTrack will not honor your warranty if you keep it in your garage
Another iFit-powered piece of smart home gym equipment, the NordicTrack Commercial 14.9 elliptical is a solidly built and heavy-duty elliptical. I personally love this elliptical because it feels like the quality and solidity of an elliptical you'd find in a commercial gym (hence the name, I suppose), but it's meant for home use. And you know how I'm all about finding the most durable, long-lasting equipment for home gyms!
RELATED: Best elliptical machine
I think that's exactly what NordicTrack achieved here, and the integration of tech features makes it that much more special. First and foremost, the 14-inch HD display streams iFit workouts, and iFit is one of our favorite dynamic fitness programming apps. On this elliptical specifically, you can enable live trainer-led controls, so when you're taking a workout class, your trainer can remotely adjust the incline and resistance as you're moving.
Then there are the tech specs: real-time workout stat tracking, heart rate monitoring with a compatible device, Google Maps integration so you can run anywhere, Bluetooth connectivity, digitally amplified speakers, and silent magnetic resistance. Stats like cadence, heart rate, calories burned, time, and distance appear on the smart HD touchscreen.
Comfort-wise, You can customize the angle of the pedals to put less strain on the knees and legs, as well as adjust stride length. You can adjust resistance, incline, and decline, too.
The iFit subscription adds a lot of value to this machine in terms of class variety, community, and tech capabilities. Eventually, you will have to pay for iFit, although it's not that expensive (only $180 for a year membership). The machine itself is definitely a good product, but the iFit membership is what takes it to the next level.
Read my full NordicTrack Commercial 14.9 review.
How We Chose the Best Smart Home Gym Equipment
After all of our Garage Gym Reviews product testers spent some hands-on time with various smart home gym equipment, we compiled a shortlist of contenders for this guide. We chose one product that we believe is the best in each category—rowers, treadmills, exercise bikes, ellipticals, programming, fitness trackers, workout mirrors, and all-in-one home gyms—based on a number of criteria, including:
Price
Many of these machines, because of the technology included with them, can be quite pricey. We tried to find the best smart home gym equipment that wasn't outrageously expensive.
Monthly subscriptions
With very few exceptions, smart home gym equipment is going to require a monthly subscription for you to take full advantage of the product. We wanted to find ones that were reasonable and were either equal to or less than what you'd pay for a monthly gym membership.
Financing options
As always, we wanted to find gym equipment that could be financed to make the asking price a little more bearable.
Workout experience
We wanted the workout experience on these machines to be fun and engaging, as well as effective for your fitness goals.
Smart features
What type of smart features do these machines have? We looked at artificial intelligence, built-in workouts, automatic tension control, and many other features.
Audio and visual quality
It's cool if a treadmill or exercise bike has a built-in screen, but we didn't want something that looked like it was running on Windows 97.
Connectivity and device compatibility
We looked at whether the machines offered BlueTooth and/or WiFi connectivity.
Space, footprint, and portability
How big were the machines, and could they be moved easily? This is a question we ask of all home gym equipment.
Delivery and setup experience
Is there professional assembly options, and how easy was it to get the smart technology setup so you could start using it?
How to Choose the Best Smart Home Gym Equipment for You
Selecting smart home gym equipment for your gym will have a lot to do with three factors unique to you: your budget, your space, and your training preferences.
Budget
Budget will be top-of-mind for most people looking for smart home gym equipment. This stuff is expensive, and if you want to build out an entire smart home gym, you should be prepared to pay top-dollar.
Luckily, most of our top picks for the best smart home gym equipment, if not all of them, have financing options available. Many fitness companies partner with Affirm, Klarna, Afterpay, and other pay-over-time services that don't affect your credit. Some brands use traditional personal loan servicing to offer to finance. Be sure to read the fine print thoroughly if you finance your smart home gym purchases.
Space
Second to budget, space will largely dictate your smart home gym buys. If you have a ton of space and a ton of money, you can build an entire smart home gym with our top picks from every category. If you only have a small amount of space for a home gym, your best bet is to go with Tonal or Tempo, which both pack a lot of variety and versatility into a relatively small package of compact workout equipment.
Training Style
Your preferred training style and fitness goals should influence your final choice. If you've never rowed before and have little to no interest in rowing, for instance, breeze right on by the Hydrow or CITYROW Go Max Rower and pick something better suited to your wants and needs.
For those who like to do a little bit of everything, I recommend purchasing smart home gym equipment that uses interactive fitness programming not limited to the hardware you buy. For example, iFit powers the workouts on the ProForm Pro 9000 treadmill, but iFit also has strength workouts, yoga flows, high-intensity interval training, and other types of workout classes you can do.
Smart Features
It makes sense that you should look for smart features in something labeled as smart home gym equipment. Some features to look out for include:
Interactive programming
Live and on-demand classes
Real-time feedback on exercise technique
Artificial intelligence programming
WiFi and Bluetooth connectivity
Device compatibility
Don't forget to look for the basics, too:
Display and/or touchscreen
Speakers/audio
Cameras
Related: Take a look at our CLMBR review
Warranty
Check to see what type of coverage the manufacturer offers on all parts of the machine, including the screen if it has one. Unless you're a tech expert, it's going to be hard to fix or replace a lot of the equipment on smart home gym equipment so you'll want to make sure you're covered if anything happens.
Benefits of A Smart Home Gym
Listen, we're fans of the good old-fashioned clang and bang weights we all grew up with and there will always be a place for that type of equipment. But the world is changing, which means fitness should change with it. Smart home gyms can be a great way for many people to achieve their strength training or fitness goals.
Artificial intelligence
Make as many SkyNet jokes as you want, but AI can help people who may not have access to a personal trainer learn how to work with proper form on things like lifting and running.
Convenience
Between the built-in workouts and AI personal trainers, smart home gym equipment offers a great amount of convenience for those who may be tight on time.
Smart Home Gym Equipment FAQs
Answering some commonly asked questions about smart home gym equipment:
What is smart home gym equipment? 
Smart home gym equipment is any type of home fitness equipment with an element of technology or connectivity. There's no hard-and-fast definition, but in general, smart home gym equipment is the type that will connect to your various devices (phone, fitness tracker, etc) and has artificial intelligence features such as coaching, form feedback, rep counting, or intensity adjustment.
Is smart home gym equipment better than regular equipment? 
This totally depends on who you ask. I think smart home gym equipment is growing in popularity for a reason: People like their stuff to be connected, and the versatility these products bring to small spaces is unbeatable. I also think every home gym in the future will have some sort of smart equipment. Some people will never want smart gym equipment and will always prefer to use traditional weights and machines. 
Can you get a good workout with a smart home gym? 
For sure. If anything, you can get a better workout with a smart home gym because it can tell you if you need to lift more or less weight, speed up or slow down, or increase or decrease the intensity. Some smart home gyms even correct your technique in real-time, which is the best way to improve your workouts. 
Which smart home gym is the best? 
I don't think there's necessarily one smart home gym that's the best for most people. Instead, I like to look at what equipment is the best in each category: treadmills, bikes, ellipticals, rowers, and resistance training devices.