We test and review fitness products based on an independent, multi-point methodology. If you use our links to purchase something, we may earn a commission. Read our disclosures.
Looking for a Tonal deal? We have ways to help you save on one of our favorite virtual trainers: Tonal.
Tonal is one of the best smart home gym products out there—but it's also one of the most expensive. While there isn't a verified discount code, we do have all the insight you need when looking for a Tonal coupon.
How To Get Tonal Coupons and Discounts
Trial Period: You can try Tonal for a 30-day free trial. If you don't love it, you can return it for a full refund of the Tonal price.
Holiday Sales: If it's near a holiday, Tonal nearly always has some kind of sale happening (more details on that below).
Financing: While it isn't a discount, financing your Tonal purchase allows you to split your payment into more manageable monthly installments. The brand uses Affirm to offer terms like 0% interest over 48 months.
Military, First Responder, And Teacher Tonal Coupons — Heroes Save $250: If you are a teacher (pre-k through college professor), medical professional (doctors, nurses, and other medical staff), military (active duty, veterans, and dependents), or a first responder (fire, police, and EMT), you can score up to $250 off Tonal.
Tonal Smart Home Gym Video Review
How to Apply Tonal Coupon Codes
The only coupon codes Tonal offers are related to the first responder or teacher discounts. In order to secure something like a Tonal military discount, follow these steps:
Step One: Head over to Tonal.com using the link below to get to the discount page.
Step Two: Select which discount you qualify for (this will open a VerifyPass window).
Step Three: Enter the requested information; this might include a military ID, pay stub, badge or other proof of your profession/military status.
Step Three: The company will then send you a Tonal code to use at the checkout page.
When Does Tonal Go on Sale?
This is a high-priced workout mirror, so looking for the best discount on Tonal is understandable. We have found that the brand offers its biggest sales around the holidays, which can save up to $250 sitewide on the price:
What We Love About the Tonal Smart Home Gym
Tonal Smart Home Gym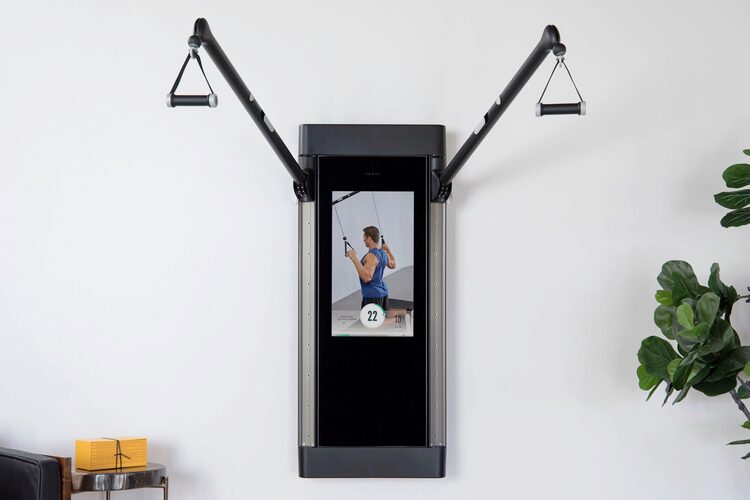 GGR Score: 4.6
Community Score: 3
Product Highlights
AI gets to know you and makes weight adjustments for you
Up to 200 pounds in digital resistance
All-in-one gym that takes up minimal space
Access to on-demand and live classes
30-day trial period
Pros & Cons
Pros
AI gets to know you and makes weight adjustments for you
Lift up to 200 pounds in digital resistance (much different from free weights)
All-in-one gym that takes up minimal space
AI assesses your form and gives real-time cuing
Access to on-demand and live classes
30-day trial period
Cons
High initial price tag
Accessories cost extra and are pretty crucial to your workouts
12-month initial subscription required (and an additional cost)
200 pounds in resistance might not be enough for heavy lifters
Bottom Line
A complete smart home gym that offers versatility in a compact piece of equipment, but at a high price.
Several members on our team have used Tonal, either to test it for our reviews, or simply because they really like this machine.
Some key things we like about Tonal:
30-day trial period
Live and on-demand classes
Smart accessories like a bar, handles and rope
Space-saving, all-in-one gym
Up to 200 pounds in digital resistance
Uses artificial intelligence to assess your form and adjust the weights
Takes up minimal space
Offers strength training and other classes
For more details, check out our full Tonal review.
Why Buy From Tonal?
When comparing Tonal to other smart home gym retailers, it's important to note that a few things stand out about this brand:
Financing available so you can pay later
Discounts for military members, teachers and first responders
30-day trial
One-year warranty
Related: Read our full in-depth Tonal vs. Tempo comparison!
FAQs About Tonal Promo Codes
Does Tonal have coupons?
There isn't a year-round promotional code for Tonal. However, there are a few ways you can save. For example, if you are a first responder, military member or otherwise qualify, you can secure special discounts at any time. 
Also, we have found great Tonal Black Friday deals. You might get up to $250 off, free delivery or more around the holidays.
When Does Tonal go on Sale?
Yes, we have found that there are Black Friday sales but also other limited-time Tonal deals from time to time. For example, the brand might offer a 90-day trial period during which you can try Tonal's programming for about three months and return it if you don't like it.
Does Tonal have a first responder discount?
There is a Tonal teacher discount, as well as discounts on Tonal products for first responders, military members and medical professionals. 
Is Tonal worth it without membership?
In our opinion, it's not worth getting Tonal without the membership. Without one you can only do "Basic Lift" but you won't get dynamic modes, stat tracking, and customized weight suggestions, which is a big reason to purchase a Tonal machine in the first place.