We test and review fitness products based on an independent, multi-point methodology. If you use our links to purchase something, we may earn a commission. Read our disclosures.
If you're ready to chase those runner's high endorphins, you need the right running gear. Well, you really just need a pair of really great running shoes to get started, and we can help with that.
Over the past several months, the Garage Gym Reviews team tested 20 pairs of running shoes, from rugged trail runners to lightweight shoes built for speed. We took each pair through different types of terrain and weather conditions (yes, we ran in the rain for you) to come up with this list of the six best running shoes.
We've Run a LOT of Miles
The Garage Gym Reviews team includes certified personal trainers, CrossFit Level 1 Trainers, and nutrition coaches who have run a lot of miles, and gone through plenty of running shoes. Many of us incorporate running into our regular routines, and we know how a shoe is supposed to feel and perform. While running is a part of everyday life for some of us, we did specific tests for the 20 pairs that made it into our testing pool. We also tested multiple pairs in a given time frame so we could compare performance and features in a more thoughtful way.
Best Running Shoes in 2023
Best Running Shoes Overall: Brooks Glycerin 20
Good for: Anyone, regardless of gait and experience level
Brooks has taken a lot of heat for being a "dad shoe," but they're top-notch for running (and the designs have come a long way, too). The Brooks Glycerin 20 (an upgraded iteration of the Glycerin 19s) were tested by Caroline Lubinsky, a CrossFit Level 1 Trainer, former D1 soccer player, and GGR fitness writer. Ultimately they came out on top in terms of performance, stability, and value, among other things.
Not only are they comfortable and true to size, they also feel extremely durable and like they won't wear out prematurely. They're one of the softest shoes in Brooks' lineup, with heavy DNA Loft cushioning and a wide midsole and outsole that make for smooth transitions. They also have neutral support so they let your feet flex more naturally.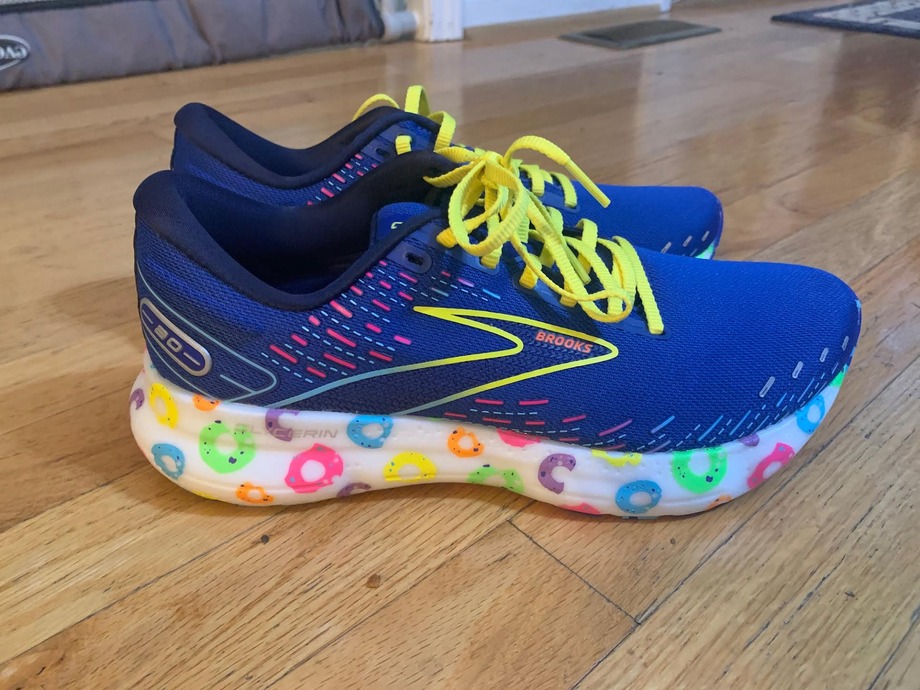 Caroline says they're super grippy, too: "They were ideal for road running and were not slippery, even when running through puddles outside."
They also scored points for being available in three widths—medium (or standard), wide, and narrow—and a dozen colors from basic white and khaki to funky colors like bright green, blue, and pink, which Caroline calls the "Fruitloop edition."
Overall, they're worth the $160 price tag and will support your feet well.
| | |
| --- | --- |
| Weight per Shoe | 9.1 oz (W); 10.1 oz (M) |
| Drop | 10 mm |
| Sizes | 5 to 12 (W); 7-15 (M) |
| Available Widths | Medium (standard), wide, narrow |
Best Cross-Training Running Shoes: Nike Winflo 8 Shield
Good for: People who like to switch up their workouts and need a shoe that can keep up
The Nike Winflo Shields were tested by Anthony O'Reilly, certified personal trainer, GGR writer, and self-proclaimed "unapologetic Nike stan." He says they're extremely comfortable and stable, and feel like they'll last awhile, although time will tell (we'll update you if anything changes).
These are "weatherized" sneakers, which is really Nike's way of saying they work well in all weather conditions and all terrains—and Anthony agrees.
They have tire-inspired soles on the underfoot that combine heavy treads and various textures akin to all-weather tires, which makes them a good pick if you like to switch it up from road to trail. The rubberized soles are also built for traction, so they work well on rainy days. They also have taped seams and bonded eyestays (the holes where the laces go in) to form a water-tight seal.
There are air units in the heel and forefoot to provide extra cushioning, but Anthony called that out as his only complaint.
"I wish they were a little less cushioned so I could use them for heavy lifting, but alas, they get the job done on most days," he says.
They're also decently priced. At $100, they're not the cheapest shoes out there, but Anthony says he would easily pay more than that despite being "quite frugal."
Related: Tips for Running in the Heat
| | |
| --- | --- |
| Weight per Shoe | Not specified |
| Drop | Not specified |
| Sizes | 6-15 (M); |
| Available Widths | Medium (standard) |
Best Neutral Running Shoes: Brooks Ghost 14
Good for: Runners looking for moderate cushioning and support—nothing heavy but not minimalist
A list of the best running shoes wouldn't be complete without the Brooks Ghost shoes, says GGR editor Amanda Capritto. These neutral shoes have supported her feet through countless runs over many years—since high school cross-country running, in fact.
"I return to the Ghosts over and over," Amanda says. "I've tried many other running shoes—and have liked plenty well enough—but the Brooks Ghosts show me time and time again that they are the best for a neutral foot strike, stride, and moderate use."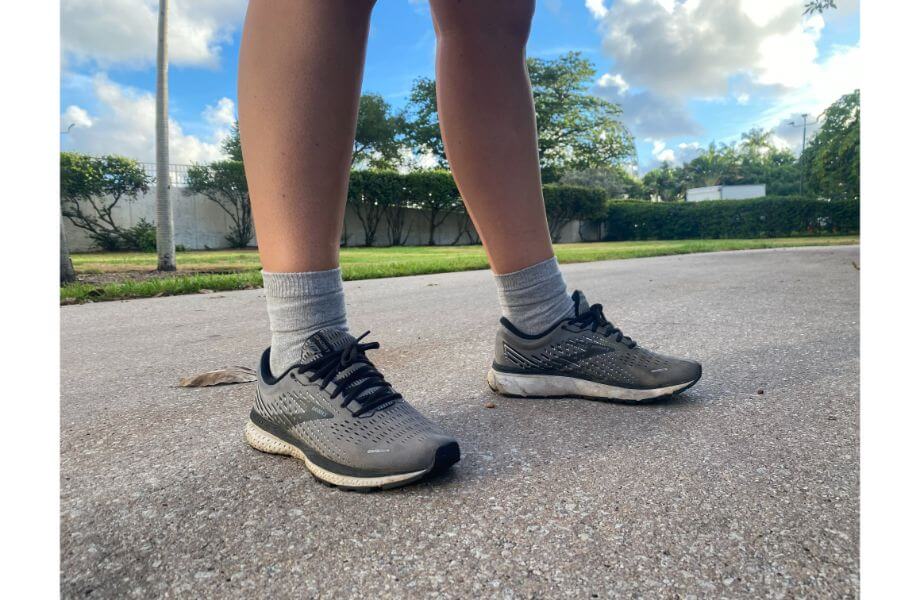 The Brooks Ghost 14s feature the same DNA Loft cushioning in the Glycerin 20s, but they're not quite as soft and squishy, if you will. The moderate heel-to-toe drop will support your natural foot roll during each stride while minimizing heel-striking.
The downside to the Ghosts is that the upper seems to wear out more quickly than on other shoes Amanda has tried, but that's pretty typical of this type of soft, breathable mesh fabric.
| | |
| --- | --- |
| Weight per Shoe | 9 oz (W), 9.9 oz (M) |
| Drop | 12 mm |
| Sizes | 7-15 (M); 5-13 (W) |
| Available Widths | Narrow, medium, wide, extra-wide |
Best Trail Running Shoes: Altra Lone Peak
Good for: Running and walking on uneven terrain
If you prefer to run on trails or other types of tough terrain, the Altra Lone Peaks are the running shoes for you. In Amanda's opinion, Altra is a winner in shoe design.
"The wide toe box, the flat sole—everything about these shoes—is anatomical in relation to the foot, which means a lot of people who are used to traditional shoes won't like them. But they are phenomenal for running and walking on uneven terrain due to the thick outsole lugs and reinforced toe box," she says.
RELATED: Post-Run Stretches
There's a grippy outsole that's designed for all types of terrain (and Amanda says the traction is wildly good), plus strategically placed tread that adds traction where you need it most. While not fully waterproof, they're very water-resistant and Amanda had no problems running in the rain or walking a mile through puddles and wet grass.
They have a zero-drop midsole and balanced cushioning inside that puts your heel and forefoot at equal distance from the ground—the stack height is 25 millimeters. This, combined with the specialized shape of the shoe, positions your foot more naturally and encourages better alignment on the trail. She says an added benefit to them being water-resistant versus fully waterproof is that they remain lightweight.
"Wearing these around the city feels a little silly because of the intense traction on the bottom, but wearing them on trails (even Florida ones) makes me feel like I look cool and rugged as heck," Amanda says.
| | |
| --- | --- |
| Weight per Shoe | 10.6 oz (M); 8.7 oz (W) |
| Drop | 0 mm |
| Sizes | 7 to 16 (M); 5.5-12 (W) |
| Available Widths | Standard, wide |
Best Running Shoes for Wide Feet: HOKA Speedgoat 5
Good for: Anyone that likes a wide running shoe with some serious cushion
If you have wide feet, you need a running shoe with some extra room. Otherwise, you're setting yourself up for toe cramps, blisters, and just an overall miserable experience. The HOKA Speedgoat 5s come in regular and wide width, and they're available all the way up to size 15.
Anthony says they fit his size-15 foot just fine and he had no problems when running. He was surprised at how much cushioning they had, calling them "bouncy, chunky shoes," but says they feel durable and comfortable overall, although the spring does take some getting used to.
These running shoes are really built for trails—they have a specialized traction lug that enhances grip—and a late-stage Meta Rocker design. This proprietary technology, which was developed by HOKA One One, combines a low heel-to-toe drop with a rounded sole rocker. The "late-stage" part means the rocker is near the front of the shoe to prioritize stability in the forefoot.
If you're taking them off the trails, you might find them a little slippery—Anthony says he almost went down when he hit a patch of leaves—but they're hard to beat for nature runs since you "Don't feel anything (rocks, sticks, etc.)."
If you're a strict pavement or treadmill runner, these may not be the best fit for you, but if you run outside on uneven terrain, they're an excellent value.
| | |
| --- | --- |
| Weight per Shoe | 10.3 oz (M); 8.5 oz (W) |
| Drop | 4 mm |
| Sizes | 7-15 (M); 5-12 (W) |
| Available Widths | Standard, wide |
Best Running Shoes for Speed Training: On Running Cloud X
Good for: Advanced runners training for race day
With their uber-lightweight construction, low heel-top drop, and foam outsole, the On Cloud Xs are truly made for speed. They have molded cushion pads in the heel that help reduce fatigue and a flexible mesh upper that lets your foot move naturally. Kate Meier, certified personal trainer and GGR Head of Content, says they have some serious spring to them and feel pretty stable.
"I don't really ever feel like running shoes are 'stable'—they are so cushioned—but these aren't like walking on pillows, so that's good," she says.
Kate also gave the On Cloud Xs some points for the way they look, saying they're super cute and "athletic AF." They come in eight to nine colors, depending on if you get the men's or women's version.
One complaint is that they have rough edges that can cut into your ankles if you aren't wearing high socks. If you're a low-sock fan like Kate, you might find some issue with this.
The TL;DR? "I do think it's an excellent shoe, especially if you are doing speed training because you truly feel like you are bouncing off the ground," she says.
While the $140 price isn't cheap, we think they're worth it.
| | |
| --- | --- |
| Weight per Shoe | 8.47 oz (M); 7.05 oz (W) |
| Drop | 6 mm |
| Sizes | 7-14 (M); 5-11 (W) |
| Available Widths | Standard |
Best Cushioned Running Shoe: HOKA Clifton 8
Good for: Anyone looking for a cushioned shoe that's still made for speed
If you like a more cushioned shoe, the HOKA Clifton 8s are the pair for you. Not only are they extremely comfortable, they also have a springy midsole foam that helps boost energy return.
The Cliftons are some of HOKA's most cushioned shoes, and though they might not be the right choice for everyone (no shoe is), the "almost-orthopedic" (tester Caroline's words) shoes certainly can't be topped in terms of midsole cushioning.
They have a mesh knit upper, high-abrasion rubber outsole, and balanced cushioning throughout the foot. And, despite the almost-comical amount of cushioning, HOKA considers them neutral stability running shoes.
The downside, according to Caroline, is that they're so lightweight they almost make her question the durability—and she's had friends who wear these often tell her that the Cliftons break down more easily than other running shoes, particularly that the midsole starts to compress.
Still, if you're in need of serious support and unparalleled shock absorption, we encourage you to consider these lofty shoes.
| | |
| --- | --- |
| Weight per Shoe | 8.9 oz (M) ; 7.2 oz (W) |
| Drop | 5 mm |
| Sizes | 7-16 (M); 5-12 (W) |
| Available Widths | Standard, wide |
Other Running Shoes We Tested
Several pairs of running shoes that we tested didn't make our list. We liked some of them, but just didn't think there was anything particularly special about them. Others were a hard no. Here's a quick look at everything we tested.
Altra Vanish Tempo: We think these shoes could work for the right person—for example, they have plenty of room for those with wide feet—but they weren't a favorite. According to our tester, they work well on asphalt and running tracks and treadmills, but don't do so well in nature.
ASICS Gel-Nimbus: ASICS are a go-to running shoe brand for many people, but we thought this pair had way too much cushion and ultimately forced the foot into an unnatural stride. We also weren't a fan of the style or the super thick sole.
Nike Air Zoom Pegasus 39: As we mentioned earlier, Anthony is a Nike super fan, but these were just average in his opinion. "If you want something that will feel supportive, keep your feet cool and comfortable, and look good, this is it. If you're looking for the crème de la crème, look elsewhere," he says.
ASICS Metaspeed Sky+: These running shoes are super lightweight and have a lot of grip on the bottom. This makes them ideal for trail or road running, but not trail running. Caroline says they almost have too much bounce and weren't very comfortable, so we're hesitant to recommend them, especially with the $250 price tag.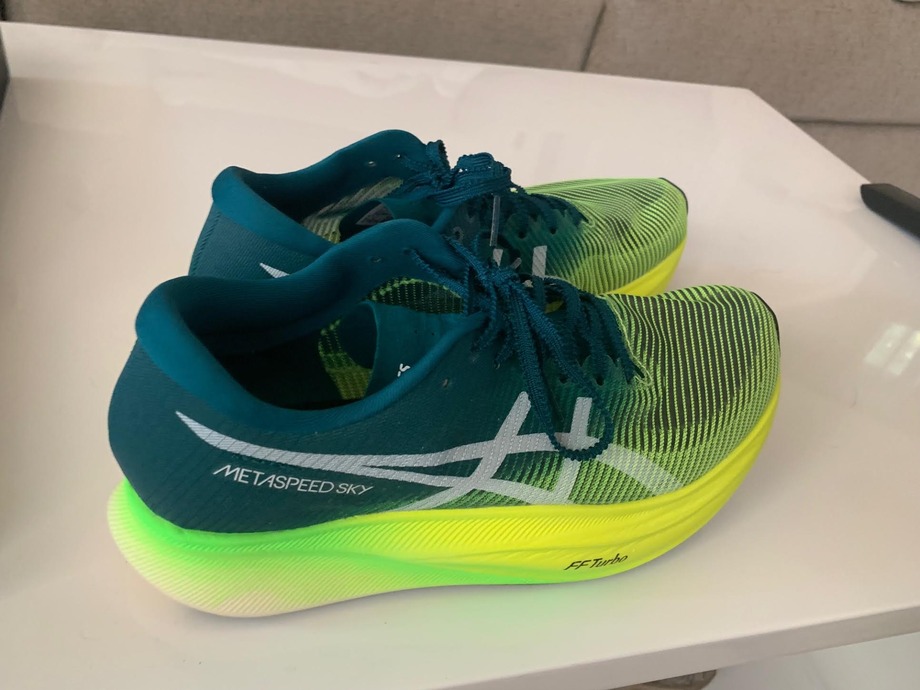 NOBULL Ripstop Runner: The NOBULL Ripstop Runners are lightweight and stable, with a dynamic lug pattern that makes them suitable for both indoor and outdoor training of all kinds. There's nothing really wrong with them, but they're better for a narrow to average foot and probably wouldn't work well for a wider foot.
Nike Free Metcon 4: Nike Metcons are a go-to CrossFit shoe, but this pair is intended to be more of a runner, yet has a narrow toe box (and runs small), so Kate wasn't impressed with how they felt. However, if you order a shoe size up and like foot hugs, you may love this shoe.
Saucony Kinvara 13: These shoes are very lightweight and have a 4-millimeter heel-to-toe drop, which makes them a good fit for explosive movements. While they're not super cushion-y, they feel good when on and have plenty of support. Ultimately, they didn't make the list because they gave GGR Nicole a huge blister and just didn't edge the others out.
NOBULL Runner+: The NOBULL Runner+ sneakers have a very thick midsole, which can be a good or bad thing depending on what you're looking for. Our tester felt unstable running in these compared to her Brooks, but says they would probably make a great everyday shoe for those that are on their feet all day.
On Cloudventure Waterproof Running Shoes: Overall, our testers liked these shoes, but they just didn't really compare to the Cloud Xs. They are more waterproof, though, so if that's your main need, you might love them. We do recommend ordering at least a half-size up though.
Nike Zoomx Vaporfly NEXT%: Amanda tested these running shoes and said that she was disappointed because she had very high expectations. On her first run in them, she found herself with achy shins within a mile—and actually felt as if she had to adjust her natural stride to fit the shoes, not the other way around. They have a basic, thin rubber outsole that isn't super grippy, but they're supposed to increase your stride and propel you forward. Ultimately, we don't think they're worth the near-$300 price tag for most people.
Lululemon Chargefeel: Caroline was pleasantly surprised by these running shoes, but there was nothing that really made them stand out against the others. They do look good though, and come in mid and low options so you have some choices.
New Balance Fresh Foam 880: Like Brooks, New Balance is another quintessential "dad shoe." They don't look great, but they're comfortable and feel durable. They do have a lot of cushion so if you prefer a more minimalist running shoe you probably won't like them. If you're looking for a decent shoe that does the trick, you'll be happy with these.

Adidas Ultraboost 22: Caroline says these have a lot of foam on the bottom — Adidas calls this LEP (linear energy push) — and it's meant to increase forefoot bending stiffness to give you a more responsive stride. While comfortable, we think they're a bit overpriced for what they are (around $200).
How We Picked and Tested
We tested a lot of running shoes over a period of several months. When deciding which running shoes to test, we considered user reviews, popularity, brand recognition, and any proprietary or standout features. If a brand claimed that their shoes had something majorly special about them, we wanted to test them to find out if it was true.
Among the shoes we considered were popular models, like Brooks Ghost 14s, Brooks Adrenaline GTS, Asics Gel-Kayano 28s, and Nike Air Zoom Pegasus 38s, but ultimately we thought the 20 pairs we chose to test made the most sense.
We landed on well-known brands like Brooks, Nike, HOKA, and ASICS, as well as less mainstream pairs from NOBULL and On Running, and tested multiple pairs from many brands.
To test the shoes, we took them through a series of running workouts, from treadmill sprints to long-distance trail runs. We ran in a variety of different weather conditions, sloshing through puddles and powering through rugged terrain. We kept this up for several weeks, taking notes on construction, durability, stability, breathability, ergonomics, and appearance.
Benefits of Running Shoes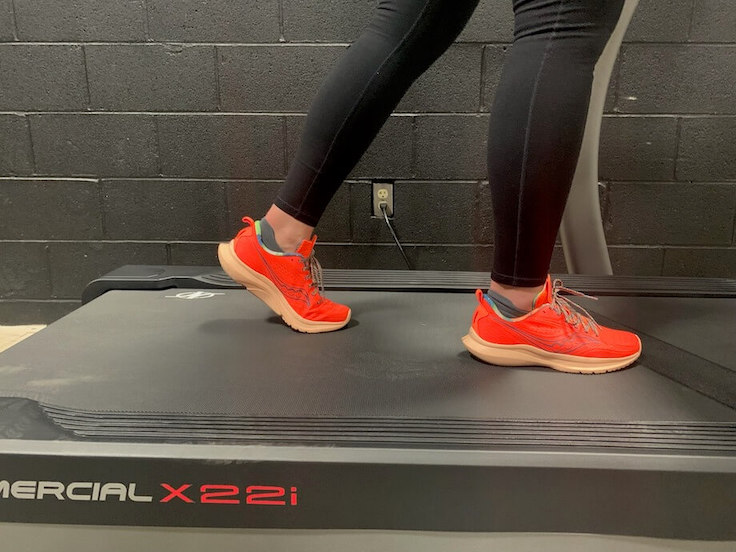 A good pair of shoes can make all the difference in your comfort and performance. There's been a lot of research around this, but a March 2020 review in the Journal of Sports Science & Medicine1 succinctly put it all together, with these four major points:
Choosing the right stiffness can improve performance.
Softer midsoles can reduce impact and loading rates.
Thicker midsoles can absorb shock and provide better cushioning.
Minimalist shoes can improve running economy (the relation between your running speed and oxygen consumption).
What to Look for in a Running Shoe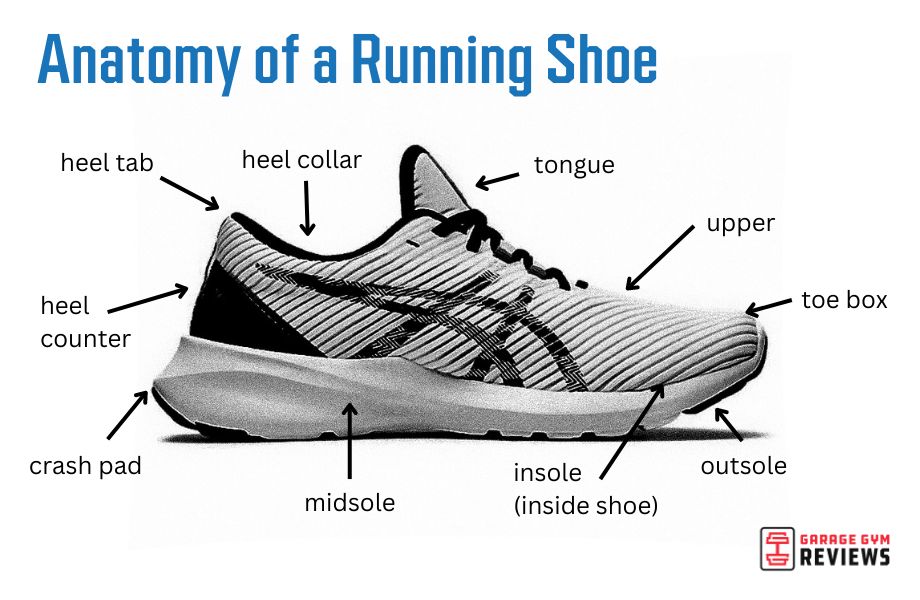 When choosing a running shoe, consider these factors:
Terrain
The first thing to think about is where you want to run. Do you typically stick to the road and/or a treadmill? Or will you be hitting trails with rugged terrain? If the former, you can get a running shoe with a flatter, smoother bottom. If you're running in unpaved areas or on uneven terrain, you want trail runners with bigger lugs to help improve your traction.
Cushion
Soft cushioning helps absorb impact from your footstrike and may feel more comfortable, but it can affect the stability of the shoe. If you want to feel like you're running on a cloud and don't mind giving up some of that stability, you can go for extra cushion. However, if your main goal is speed, you want racing shoes with less cushion.
Heel-Toe Drop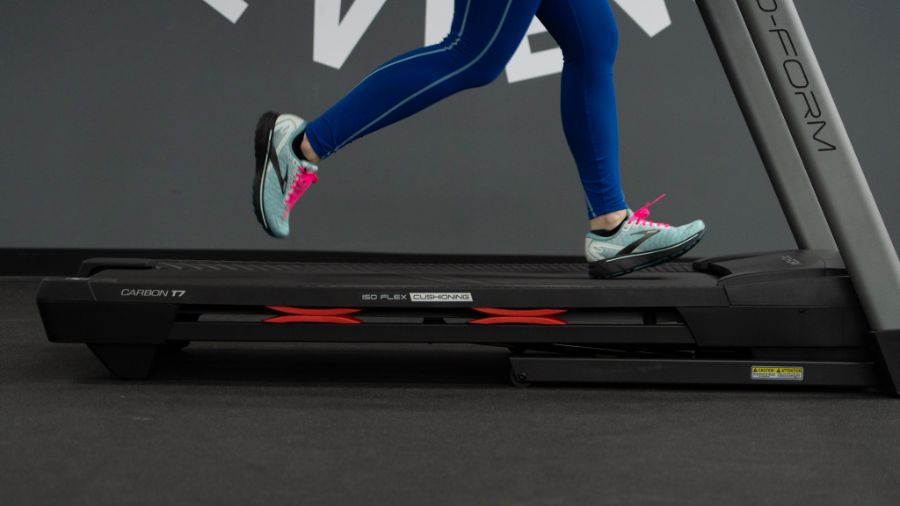 Heel-toe drop is the height difference between your heel and the ball of your foot when you're wearing your running shoes. It really describes the difference in cushioning between the front and back of the shoe. There's not one ideal heel-toe drop—it comes down to what works for you.
"A higher heel-toe drop (over 7 millimeters) is easier on the lower leg," Amanda says. "This is best for runners who have Achilles tendon issues or who typically land heel first."
On the other hand, a lower heel-toe drop (under 7 millimeters) is best for runners who land on the front or midfoot.
Gait
You'll also want to think about your gait. Do you overpronate (roll your foot inward as you run) or under-pronate (put more weight on the outer edge of your foot)? This can change the type of running shoe you need.
You don't really need specialized shoes for moderate gait alterations, but the best shoe for overpronation has extra arch support, while neutral shoes, or those with a broad base to help balance gait, are ideal for supination (or under-pronation).
If you're not sure of your gait or want more guidance on how to choose the right shoes for you, you can work with a running coach or visit an athletic store that specializes in sneaker fittings.
RELATED: Best Running Shoes for High Arches
Style
Of course, style is a consideration, too. What kind of running shoes do you feel good in? Do you like rocker-style shoes with a lot of cushion, like HOKAs? Or would you rather a more traditional-looking running shoe, like the ASICS Gel-Nimbus 24s? There is a functional aspect to how running shoes are made that affects the style, but it's partly a cosmetic choice, too.
FAQs About the Best Running Shoes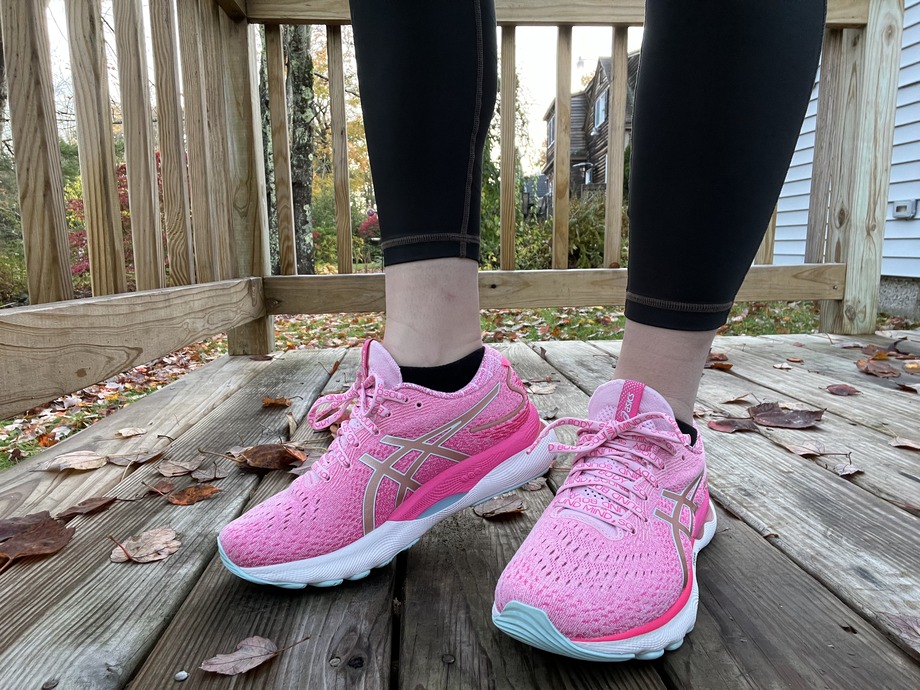 Here are some answers to commonly asked questions about running shoes.
Which brand of running shoes are the best?
The answer to this question really depends on who you ask. We have die-hard Nike fans on our team and others that are team Brooks. After our testing, Brooks came out on top because it's a really versatile shoe that can work for many people, but if you have specific needs, you may want a different brand. For example, HOKA may be best for wide feet or those who need extra shock absorption.
What are the three types of running shoes?
There are three main types of running shoes: road-running, trail-running, and cross-training. 
Road running shoes are designed for pavement or a smooth surface like a treadmill. Because of this, they have flatter soles and a more lightweight design.
Trail-running shoes are made for more rugged terrain. They usually have stiffer midsoles and more heavy-duty lugs (the treads on the bottom of the shoe) to help grip uneven terrain.
Cross-training shoes are built for versatility. They typically have a lower heel-toe drop and are less flexible to allow for movement in different directions. 
You may also see shoes classified as men's running shoes and women's running shoes, but for the most part, the only differences lie in the sizing and colorways.
RELATED: Cross-Training for Runners
How long do running shoes last?
The general recommendation is to change your running shoe every 500 miles. As your running shoe wears out, it can lose its shock absorption, which can increase pressure in the foot and cause pain, according to an August 2011 report in BMC Research Notes2.
References
1. Sun X, Lam WK, Zhang X, Wang J, Fu W. Systematic review of the role of footwear constructions in running biomechanics: implications for running-related injury and performance. J Sports Sci Med. 2020;19(1):20-37. Published 2020 Feb 24.
2. Rethnam U, Makwana N. Are old running shoes detrimental to your feet? A pedobarographic study. BMC Res Notes. 2011;4:307. Published 2011 Aug 24. doi:10.1186/1756-0500-4-307