We test and review fitness products based on an independent, multi-point methodology. If you use our links to purchase something, we may earn a commission. Read our disclosures.
Anyone who runs on a treadmill knows it can get really old, really fast. (They did get their humble start as prison torture devices, after all.) 
You can make your treadmill workouts a bit more bearable by making yourself as comfortable as possible. A big part of comfort on a treadmill is the treadmill itself (features like deck cushioning and stride accommodation make a huge difference), but another important component is having the best running shoes for treadmill. 
The right shoes can propel you to new speeds, while the wrong ones can cause blisters; eff up your foot strike; and even contribute to the development of plantar fasciitis or joint pain. Luckily, our expert product testers have slipped more than a dozen pairs of sneakers onto their feet to find the best treadmill running shoes.
Enduring the "Dreadmill" So You Don't Have To
We've collectively spent more hours on a treadmill than you probably even want to think about. Among five product testers, our team put more than a dozen outsoles to tread belts to find the best treadmill shoes—so you can ditch the testing process and hit the ground (er, deck) running.
Best Treadmill Running Shoes in 2023
Best Treadmill Running Shoes Overall: Brooks Ghost 14
Good for: Runners who want a durable daily trainer that will take them from sprint sessions to long-distance runs with no problem
Best Treadmill Running Shoes
Brooks Ghost 14
The Brooks Ghost 14 is the most recent model of the popular road running shoe, which Brooks claims is now smoother and softer than ever. The Ghost shoe is designed for people that need neutral support and want a moderately cushioned feel. The Ghost is available in sizes 5.0 to 13.0 with half sizes and three widths: wide, medium and narrow.The Ghost 14 is Brooks' first carbon neutral shoe, which Brooks achieved via recycled materials, decreasing manufacturing waste, and purchasing carbon offsets.Brooks states that the Ghost 14 has softer cushioning, smoother transitions, and an improved fit. A big change from the previous Ghost model is the midsole cushioning. Now the entire midsole uses DNA LOFT technology, rather than a combination of DNA Loft and BioMogo DNA foam.This creates an even softer run because DNA LOFT, a combination of EVA foam, rubber, and air, is Brooks' softest midsole technology. Smoother transitions are achieved with the softer midsole and a segmented crash pad. The segmented crash pad is a series of shock absorbers shaped like a caterpillar to help heel-to-toe transitions regardless of your foot landing. The improved fit is achieved via 3D-printed upper, which helps add structure to the upper while maintaining flexibility.The Ghost 14 has mixed reviews. Many reviewers loved that the Ghost is available in three widths. Additionally, they loved the soft, cushioned feel. However, long-time Ghost users disliked the 14. Many even say this is the worst Ghost ever in their reviews. They complained that the toe box felt too narrow and they experienced joint pain after going for a run in the 14s.
Pros:
Neutral running shoe
Good for outdoor running and treadmill running
Not overly springy but provides good energy feedback
Breathable knit upper
Reinforced toe
Strong EVA foam midsole (DNA LOFT)
Cons:
Probably not enough midfoot support for people with high arches
Rubber outsole may wear down faster than what is ideal (300-500 miles)
Reviews indicate these are squishier than previous versions of the Ghost
Although I've tested nearly a dozen pairs of running shoes in the last two years—and many more before that—I always end up back in a pair of Brooks Ghost shoes. These have been my go-tos since high school cross country, and I've probably worn my way through at least six pairs of them.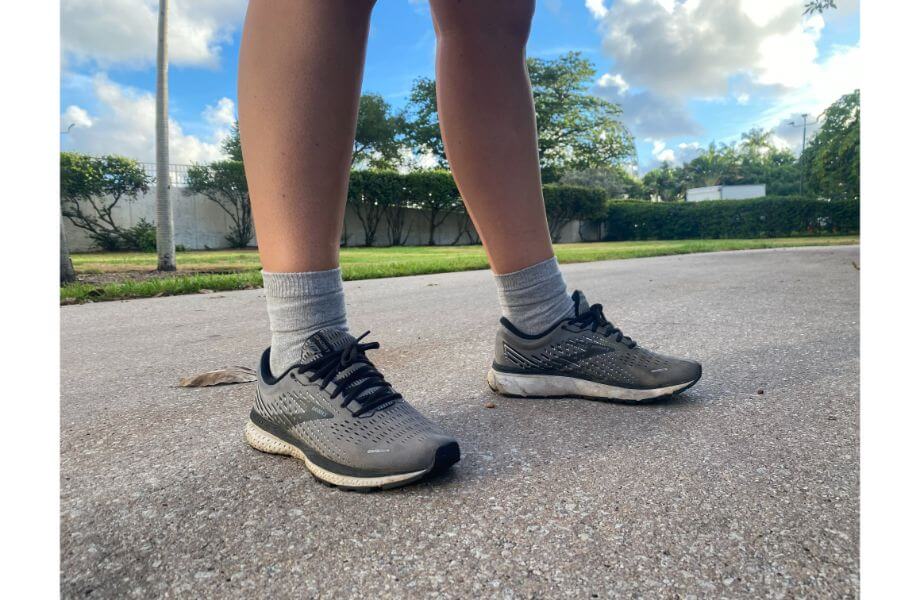 I love the Ghosts because they feature neutral cushioning—not too much, not too little—and enough arch support for light assistance with pronation. They aren't overly bouncy, but they still provide great feedback and energy return thanks to the 100% DNA LOFT (Brooks' proprietary foam) midsole.
I do think the outsole could be slightly thicker to accommodate more mileage, but for treadmill running, that shouldn't be a problem. Wherever you wear these, you'll appreciate the breathable knit upper and reinforced toe box.
| | |
| --- | --- |
| Upper | Knit mesh upper |
| Midsole | DNA LOFT cushioning |
| Outsole | Rubber tread |
| Heel-to-Toe Drop | 12 mm |
Best Cushioned Treadmill Running Shoes: HOKA Clifton 8
Good for: Runners who desire extra cushioning to provide extreme shock absorption and soft landings
Best Cushioned Treadmill Shoes
Hoka Clifton 8
The Hoka Clifton 8 is a neutral road running shoe from the popular shoe brand. According to Hoka, the Clifton 8 has a lighter and more responsive midsole than previous iterations, resulting in the perfect combination of soft and light. Hoka recommends the Clifton 8 for everyday runs and walks.All Hoka shoes utilize three technologies: Meta-Rocker, cushion, and Active Foot Frame. The Clifton 8 has an early stage Meta-Rocker, which is designed for speed. It is a curved sole to prevent flat landings and help create smooth transitions from foot landing to toe-off. The Clifton 8 has Hoka's balanced cushioning, which provides protective cushioning while maintaining responsiveness. The Active Foot Frame secures your foot in place while running. Hoka claims it makes your foot feel like it is a part of the shoe rather than on top of it.The Hoka Clifton 8 has mixed reviews. Many runners love the Clifton 8s, sharing that they are extremely comfortable and didn't require a break-in period. Many customers even used these shoes for working all day on their feet.There are some unpopular changes from the Clifton 7. Customers complained about a narrower fit, inner ankle collar now rubbing and a thicker and hotter tongue. Some customers did find the shoe uncomfortable and had foot pain after wearing the Clifton 8s. Hoka does have a "Fly for 30" guarantee so you can try the shoes for 30 days and return or exchange if you aren't satisfied with your purchase.
Pros:
Thick midsole cushioning provides extra support
Available in regular and wide sizes
Many colorways to choose from
Good everyday trainer
Forefoot design promotes smooth transitions
Cons:
Motion control isn't great due to extra cushion
Very high heel tab
Some reviewers think they are overly bouncy
HOKA One One is known for their ultra-cushioned running shoes, and the Clifton 8 fits that bill. Caroline Lubinsky, GGR staff writer and cardio queen, tested the HOKA Clifton 8 for this guide.
Here's what she had to say about them: "TikTok girlies go wild about these, and for good reason. If you need more cushioning, you'll probably really enjoy these. If you're a part of the club that believes your foot should be as close to the ground as possible and should have very little support, you'll absolutely hate these."
However, she continues, "If you want a less painful way to walk or run because of arch issues or an injury, the Hoka Clifton 8 will probably serve you well."
As for the aesthetics…They aren't really there. "I think they look slightly dorky, but plenty of people disagree with me on that," Caroline says. "It's totally personal preference. The bottom of the shoes are so thick; I feel like I'm wearing orthopedic shoes."
But, we're not rating running shoes purely on looks. Function first!
| | |
| --- | --- |
| Upper | Mesh |
| Midsole | EVA foam |
| Outsole | Rubber |
| Heel-to-Toe Drop | 5 mm |
Best Treadmill Running Shoes for Wide Feet: New Balance Fresh Foam X 880v12
Good for: Runners with wide feet who struggle to find a good pair of shoes with ample room in the toe box, midfoot, and heel
Best Treadmill Shoes for Wide Feet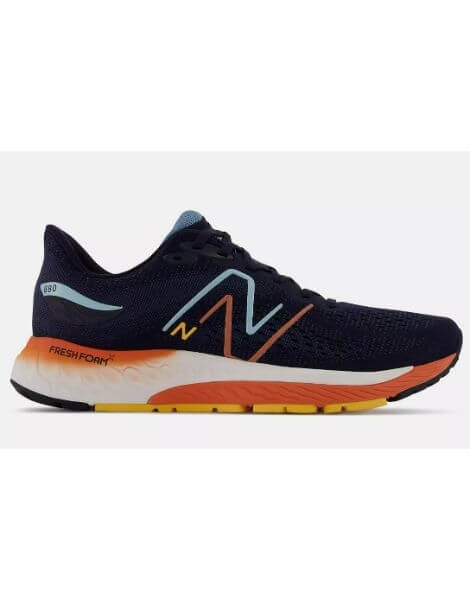 New Balance Fresh Foam X 880v12
The New Balance Fresh Foam X 880v12 is a neutral road running shoe. New Balance recommends the 880v12 for comfortable everyday running.The Fresh Foam achieves a comfortable ride with a dual-layered midsole. The bottom layer is Fresh Foam X with a top layer of foam cushioning. The Fresh Foam X is a foam developed in New Balance's Sport Performance lab that is ultra-cushioned and lightweight. The 880v12 also has a double layer, knit mesh upper with extra support added in strategic, high-wear positions.The 880v12 has been reviewed to be a comfortable shoe with no break-in period. People love wearing them for their walks, runs, and as an everyday shoe. Even positive reviews noted that the shoes run small. Many reviewers shared that they had to exchange their shoes for one size larger than they usually wear. Reviewers also found this edition of the Fresh Foam 880 to be softer but less durable than previous editions.
Pros:
Fantastic size range (7–16 for men; 5–13 for women)
Available in 4 widths: narrow, standard, wide, extra-wide
Good road running shoes and speed training shoes
Reinforced eyelets
Secure fit
Cons:
Feel a bit chunky according to tester
Not the most aesthetically pleasing running shoes
Runs small
It's tough finding good shoes for wide feet, regardless of the specific style you're looking for. We love that New Balance offers their Fresh Foam X 880v12 in four (yes, four!) different width options: narrow, standard, wide, and extra-wide.
These are definitely a more traditional running shoe, says tester Caroline Lubinsky. "They feel well-cushioned but are a little chunky, although I must say these feel the most durable out of the shoes I tested. It likely has to do with how thick and substantial these feel."
"There are a bunch of cool colorways," she continues, "and I think these are well-cushioned shoes. However, there isn't anything particularly special about them. If you're into the more minimalist running shoes, you won't like these. If you need more support and a more comfy run, these are excellent."
Customer reviews indicate that the New Balance Fresh Foam shoes may run small, but Caroline says they're true-to-size.
| | |
| --- | --- |
| Upper | Jacquard mesh |
| Midsole | Dual-layer EVA foam |
| Outsole | Rubber |
| Heel-to-Toe Drop | Not disclosed |
Best Minimalist Treadmill Running Shoes: Lululemon Chargefeel Mid
Good for: Runners who want minimal cushioning and soft ankle support
Best Minimalist Treadmill Shoes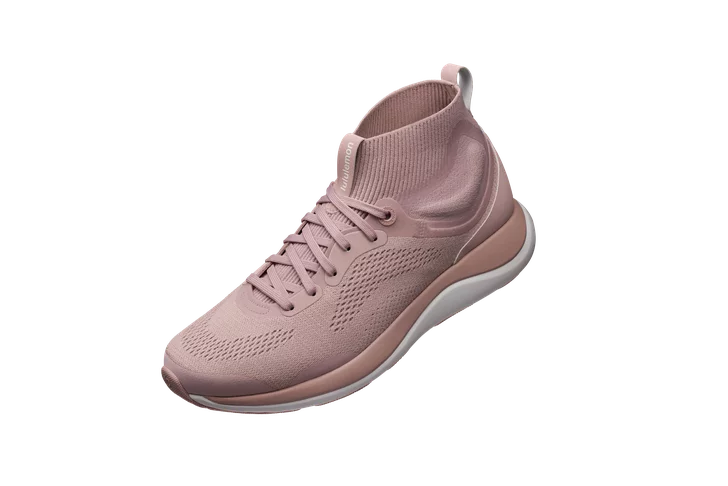 Lululemon Chargefeel Women's Workout Shoe
Lululemon created two different styles of the Chargefeel Women's Shoe––the Chargefeel Mid and the Chargefeel Low. The Chargefeel Mid Shoes have a sock-like top that allows for extra support around the ankle. If you prefer a more traditional running or training shoe look, you'll likely prefer the Chargefeel Low.Both are similar in price, clocking in at $148 and $138 respectively. They are both lightweight (although the Chargefeel Mid Shoes are slightly lighter for some reason) and flexible to allow for quick movements. However, they are not designed for Powerlifting or the Olympic lifts––save the Chargefeel shoes for your next sweaty HIIT sesh.
Pros:
Designed for running and cross-training
Could be your treadmill, road, and trail running shoes
Sock-like ankle support feels soft and comfy
Clean aesthetics
Moderate cushioning
Cons:
Not great for people who need a lot of support
Only a few colorways available
No wide sizes available
Thin outsoles
The Chargefeels are activewear giant Lululemon's first foray into footwear. Honestly, we didn't have high expectations, but our product tester who wore these was pleasantly surprised.
"I ended up loving these a lot more than I thought I would," Caroline says. "I picked up the Mids, but there is also a low option. The Mids hug my ankle like my soccer cleats did, which gives them a little extra support. They're super easy to slip on and off and look good with a lot of things.
They seem to have a propensity for blistering due to the high ankle fabric: "I would recommend wearing taller socks (not no-shows) so you don't get a wicked blister," Caroline deadpans.
We dubbed these "best minimalist" since the cushioning is much more moderate than other shoes on this list. With a modest 9-millimeter heel-to-toe drop and the added ankle support, the Chargefeel Mids can take you from treadmill to trail without screwing up your stride.
| | |
| --- | --- |
| Upper | Knit |
| Midsole | Dual-density foam |
| Outsole | Rubber |
| Heel-to-Toe Drop | 9 mm |
Best Treadmill Running Shoes for Flat Feet: Brooks Adrenaline GTS 22
Good for: Runners who need targeted cushioning to prevent overpronation and collapsing of the arch
Best Treadmill Shoes for Flat Feet
Brooks Adrenaline GTS 22
The Brooks Adrenaline GTS 22 is a road-running shoe with support from the popular sneaker brand. Brooks designed the Adrenaline GTS to combine support and softness. The Adrenaline is offered in half-sizes 7.0 to 15.0 and four widths.Brooks recommends the Adrenaline GTS for runners looking for added support and soft landings during everyday runs. The Adrenaline GTS uses a combination of DNA LOFT midsole and GuideRails technology to create a soft stable shoe.DNA LOFT is Brooks' softest midsole cushioning and is a combination of EVA foam, rubber, and air. GuideRail technology places supports on either side of the heel to decrease excess shin and heel rotation to keep natural knee motion in a safe range. Brooks claims this increases comfort and decreases pain. The shoe also has a segmented crash pad, which is a series of shock absorbers, to help create smooth heel-to-toe transitions.The Adrenaline GTS has mixed reviews. Many reviewers wear the shoe for running or walking and love the supportive comfy feel. They share that the shoe works great for their foot and knee problems leaving them with less pain after walks and runs. However, even positive reviews have noted that the shoe is not durable. Numerous reviews have complained that the sole is separating from the rest of the shoe or peeling away after weeks of use. Additionally, they've experienced holes in the collar fabric after a short time.Negative reviews state that the fit of the Adrenaline GTS 22 is different from previous models. They've had to exchange their shoes for a different size after years of wearing Brooks shoes. They also shared that this version of the shoe felt narrower than previous shoes. They also complained of discomfort and even blisters around the heel of the shoe.
Pros:
Fantastic arch support
Breathable upper
Reinforced toe box
Many colorways to choose from
4 widths available
Enough wiggle room for an insole if additional support is needed
Cons:
Cushioning is excessive for those who don't need it
Heavy shoe (10.2 oz each)
Low heel tab
Since I'm a Brooks gal for life, I opted to test the Adrenaline GTS 22 for this guide to see if I'd like them better than my trusty Ghosts. The Adrenalines didn't quite usurp my favorite pair of shoes, but I did really enjoy running and walking in them.
These have a bit too much cushioning in the midfoot for my liking, and I suspect that's probably going to be the case for most runners who don't have overpronation issues. However, if you do struggle with collapsing arches, I recommend the Adrenaline GTS 22.
Equipped with a 100% DNA LOFT foam midsole, knit mesh upper, and 12-millimeter heel-to-toe-drop, these shoes help promote a natural striking and transition pattern to keep joints aligned. They also have a reinforced toe box and heel cup, as well as guide rails in the midfoot for additional support.
| | |
| --- | --- |
| Upper | Knit mesh |
| Midsole | DNA LOFT |
| Outsole | Rubber |
| Heel-to-Toe Drop | 12 mm |
Most Versatile Treadmill Running Shoes: On Cloud X
Good for: People who want a good running shoe they can also use for other activities
Most Versatile Treadmill Shoes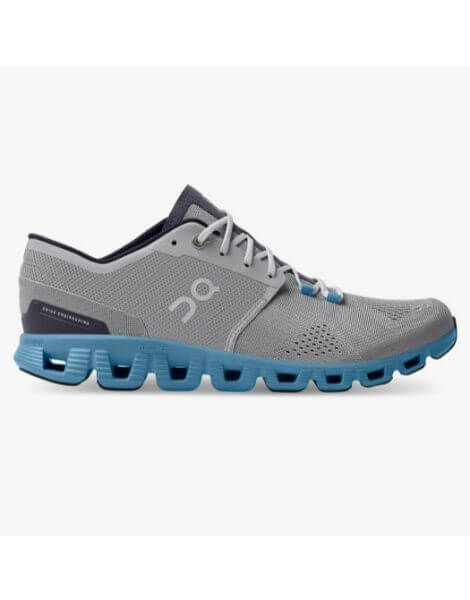 On Cloud X
The On Cloud X shoe is designed to perform well with you across a variety of workouts such as HIIT, mixed-sport, and short runs. On designs all their shoes to adapt to everyone's running style, and they state they are compatible for people with a variety of support needs.On shoes are easy to spot because of their unique CloudTec sole; a series of U-shaped Helion superfoam clouds. On claims this CloudTec sole decreases muscle fatigue and heart rate while exercising. The superfoam clouds compress horizontally and vertically to create soft landing and explosive take-offs. The Helion superfoam is a combination of rigid and flexible foam designed to be both durable, lightweight, and perform regardless of temperature.The Cloud Xs have a lot of positive reviews. Users love to use them in HIIT classes, CrossFit, and for standing all day at work. Users did note the shoes were not great for heavy barbell work or longer runs. Most users found them to be lightweight and comfortable; however, some users wished there was more cushioning. Customers also loved how supportive the shoes felt.Even people who loved the shoes complained that there were not enough color options and that the shoes were not durable. They noted that the tread wore out quicker than they expected. Multiple customers experienced issues with the lacing system. Noting that the laces were too short, completely broke or ripped through the eyelets. Users also complained of a persistent squeaking noise.
Pros:
Flex grooves ensure efficient toe-off with each step
Very aesthetically pleasing; athletic look
Ultra-grippy outsole
Moderate cushioning
Cons:
Low-cut ankle and heel tab
Squeaky when wet
Limited colorways to choose from
As the company says, "The Cloud X is for those who refuse to define themselves by one activity." I'm much obliged to agree, as is Kate Meier, GGR Head of Content and the runner who tested these shoes.
Importantly, they "have a super springy outsole that's cute AF."
Kate says they're ideal for anyone doing speed training, since they have some serious bounce to them. But that also makes them great for everyday activities and plyometrics. Kate has taken them from the treadmill to the coaching floor near-daily since receiving them, mainly because she loves the extra pep in her step and clean athletic look of the shoes.
"They're really comfortable without being overly cushioned," Kate says. "They still give you some stability in case you want to use them for cross-training."
RELATED: Treadmill Buying Guide
Unfortunately, the low-cut heel and ankle rub against the skin and kind of requires you to wear high socks, which Kate isn't fond of. Also, they developed a squeak—"only when I heel-strike, which is annoying but I suppose a good reminder to land with a neutral foot."
| | |
| --- | --- |
| Upper | Mesh |
| Midsole | Cloudtec foam |
| Outsole | Rubber |
| Heel-to-Toe Drop | 6 mm |
Best Neutral Treadmill Running Shoes: Saucony Kinvara 13
Good for: Runners who want something lightweight, stable, and dependable
Best Neutral Treadmill Shoes
Saucony Kinvara 13
The Saucony Kinvara 13 is a neutral road running shoe built for speed.The Kinvara 13 is the lightest Kinvara yet, and Saucony recommends them for anyone who is looking to pick up the pace on their runs.The Kinvara 13 uses Saucony's PWRRUN cushioning. According to Saucony, this foam is 28% lighter than previous foams, absorbs 5% more impact, is 2x more flexible and 3x more durable. Saucony states that this results in softer landings, quicker energy return, a more powerful take-off and fluid transitions.The Kinvara 13 has a new single-layer mesh upper that Saucony shares is more breathable than previous iterations, and customers agree. The Kinvara 13 has an XT-900 carbon rubber outsole, which Saucony states provides the best durability of their outsole materials.The Kinvara 13 has largely positive reviews. The more breathable upper material was popular among reviewers. Additionally, they enjoy the light and supportive feel of the shoe.Longtime Kinvara wearers have mixed opinions on the Kinvara 13. Some of them think the 13 is the best Kinvara yet and love that the shoe keeps improving and getting lighter. Other reviewers thought that the 13 was less supportive and less cushioned than the 12. Multiple reviewers noted that the Kinvara runs a little small and recommended purchasing a half size higher than your normal shoe size.
Pros:
Neutral cushioning
Minimal midsole drop (4 mm)
Single-layer mesh upper is breathable
Contoured midsole promotes natural stride and striking
Only 7.2 oz per shoe
Cons:
Not for the runner who needs extra support
May require a break-in period (our tester blistered)
Probably not the best choice for most distance runners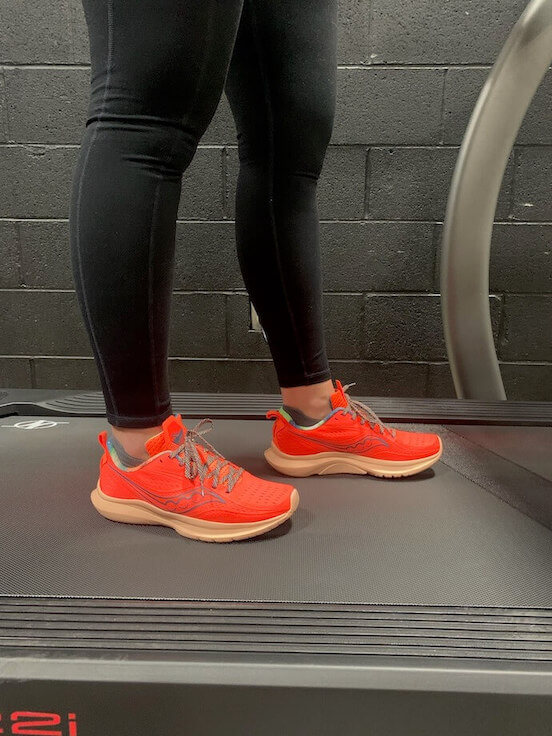 Nicole, GGR editor and product tester, tried the Saucony Kinvara 13.
"I love the look of these and they're super light," she says. "The first time I wore them, I got a HUGE blister on the back of my ankle, which was a bummer. They're not uber cushion-y, but I think that comes down to personal preference."
"I wanted to give these a 5 out of 5 because they're so light yet feel so supportive," Nicole continues, "but I can't get over the huge blister I got. It still rubs when I wear them, but it's fine now that I've broken them in. I hate that I had to break in a $120 pair of shoes, though…"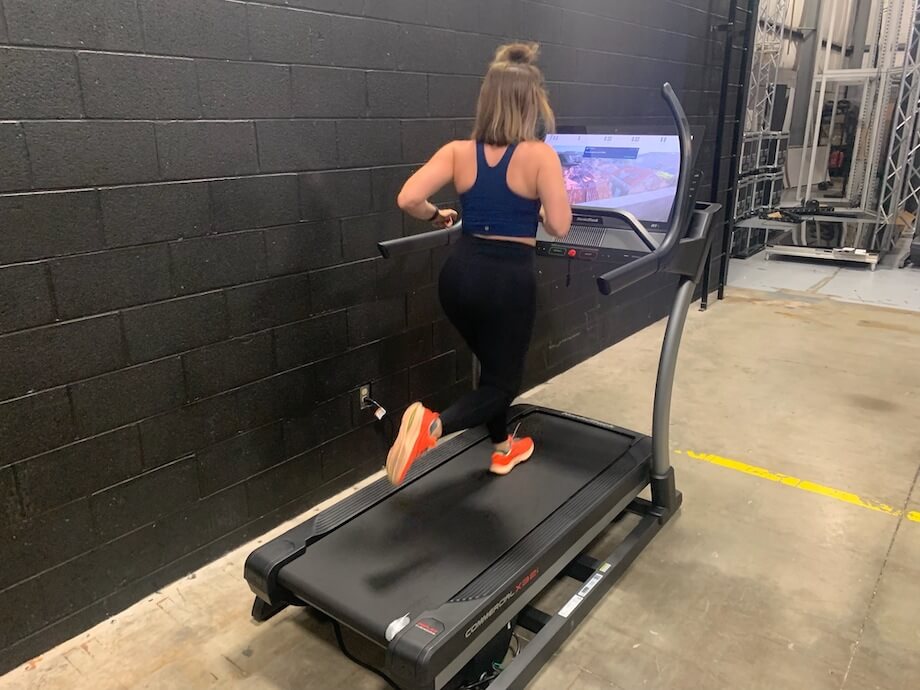 We're aware that everyone's foot anatomy is different, so we can't say that everyone will get blisters wearing these. We're looking past it to focus on the phenomenal neutral cushioning and breathable knit upper, as well as the unusually small 4-millimeter heel-to-toe drop.
The Saucony Kinvara 13s are definitely designed for runners who don't need too much support in one way or another, and people who feel confident in their typical gait. And, despite the blister, Nicole loved the sheer subtlety of these shoes: They're an impressive blend of durable, supportive, and lightweight.
| | |
| --- | --- |
| Upper | Knit |
| Midsole | PWRRUN cushioning |
| Outsole | Rubber |
| Heel-to-Toe Drop | 4 mm |
Best Cross-Training Shoes for Treadmill Running: Nike Air Zoom Pegasus 39
Good for: Runners who want a twofer of a running shoe and training shoe
Best Cross-Training Shoes for Runners
Nike Air Zoom Pegasus
The Nike Air Zoom Pegasus 39 is the latest version of the brand's neutral road running shoe. Nike recommends the Pegasus 39 for people that want an everyday runner with a springy feel.The Air Zoom Pegasus 39 utilizes Nike's Zoom Air units, Flywire and React foam. In the Pegasus 39, Nike has added one more air unit to the Pegasus, now there is one in the forefoot and the heel. Nike claims these Zoom Air units create an energized feel. The Flywire technology is utilized throughout the midfoot to support your feet and keep them in place.Finally, the midsole now uses Nike's newer React foam, a combination of thermoplastic elastomers (TPE) and ethylene vinyl acetate (EVA). Nike shares that React foam is 11% softer and provides 13% more energy return than other Nike foams. They also claim that React foam is both lighter and more durable than their other foams.Nike has added extra padding around the collar and tongue to increase comfort. This change has been very popular with customers. The upper has been updated to use engineered mesh, which Nike states, is stronger and more flexible than traditional mesh.Reviewers have really enjoyed the new Pegasus 39, with multiple people stating that it is the best Pegasus yet. They found the additional padding at the tongue and collar very comfortable. They also thought that the upper was more breathable than previous models. Customers said the shoe had better energy return than the 38.There were conflicting opinions on the level of cushioning. Some thought the 39 was softer and had more cushioning than the 38. Other reviewers wished the 39 had more cushioning and that it had less cushioning than 38.
Pros:
Good for running, great for HIIT
Extra padding at tongue and collar
60-day return policy
Many colorways
Reflective elements
Extended heel crash pad is great for plyometrics
Cons:
High heel tab may cause blisters
Tongue is separated from upper and may shift
Relatively thin outsole
Nike is known for much more than its shoes nowadays, but we'd be remiss not to include the Air Zoom Pegasus on our list. This versatile shoe is great for treadmill running and HIIT treadmill workouts alike.
It has a waffle-like outsole (not quite what you see on Vans, but Vans adjacent), and they performed well on just about every surface, including the treadmill, road, grass, and gravel.
The upper is an engineered mesh that gives extra breathability, flexibility, and durability. "I haven't had problems on hotter days so I'd say it's doing its job," Anthony quips.
"After about two weeks they still feel and look new," Anthony says. "The heel tab allows me to take them on and off pretty easily (even when I don't unlace them; don't yell at me)."
The footing feels pretty secure, even during longer runs, he says, and they boast a lot of features that supposedly help with heel-to-toe transition—but Anthony didn't feel a drastic difference compared to other shoes.
His bottom line? "I really like this shoe, but if I'm being honest there's just nothing spectacular about it. If you want something that will feel supportive, keep your feet cool and comfortable, and looks good, this is it. If you're looking for the crème de la crème, look elsewhere."
| | |
| --- | --- |
| Upper | Mesh |
| Midsole | Nike React Foam, Zoom Air units |
| Outsole | Rubber |
| Heel-to-Toe Drop | Not disclosed |
Other Treadmill Running Shoes We Researched
Though the above running shoes are our top picks, we have tested many other pairs that we think are worth calling out in case they're right for you.
NOBULL Mesh Runner: Our testers generally like these as an everyday lifestyle shoe, but the upper is not very durable.
NOBULL Runner+: I was not impressed with the Runner+ and felt unstable during runs, as if the shoe lurched me too far forward. However, I love them for walking and casual wear.
ASICS Gel-Kayano: I've tried a few pairs of ASICS and generally find the gel cushioning to have too much give. For people who want less feedback and energy return, I think they're a good fit.
ASICS Gel-Nimbus: Ditto. The gel midsole is right for specific types of runners.
ASICS GT 2000 10: These feature ASICS' FLYTEFOAM, which is different from their gel midsole material, and is much more responsive.
Nike Free Runs: GGR Head of Content loves her Nike Free Runs and recommends them to people looking for a lightweight, minimalist running shoe.
Lululemon Blissfeel: I tested these and wasn't impressed with them for running. For walking, they're great, but I don't see them holding up for very long if you're a daily runner.
Adidas Ultraboost: These are some of the most expensive shoes we tested at almost $200 a pop. We think there are better options at and below that price point.
How We Picked and Tested the Best Treadmill Running Shoes
After sifting through dozens of product listings on Amazon, and manufacturer and other retail sites, we created a shortlist of running shoes we thought could be top picks for treadmill running. From there, we sent pairs out to five product testers on our team (hello, Caroline, Anthony, Nicole, and Kate!) and spent several weeks wearing them for treadmill workouts and other goings-on.
During testing, we judged the shoes against a variety of criteria, including:
Purchasing process and delivery
Aesthetics/appearance
Sizing availability
Construction, materials, and durability
Midsole contour
Stability and support
Energy return, responsiveness, and feedback
Outsole traction
Customer reviews
Return and exchange policies
Value
Our testers took detailed notes on all of these factors and together, we decided on the best treadmill running shoes above.
Benefits of Treadmill Running Shoes
Among fitness novices, it's common to think that any shoe will do for any activity. Allow us to spare your joints from this mistake.
Buying a pair of shoes specifically designed for a particular activity is a top way to maximize performance and limit discomfort (aside from the general discomfort that occurs when exercising, which is unavoidable if you're pushing yourself).
Running shoes are designed the way they are in order to promote optimal foot striking, heel-to-toe transitions, joint alignment throughout the stride, and reduced joint impact.
Conversely, weightlifting shoes are designed to maximize ground contact, promote stability through the midfoot, and enhance barbell receiving positions. So, you certainly wouldn't wear this type of shoe on a run—and you wouldn't wear a running shoe to max out your clean-and-jerk, either.
A good pair of running shoes, whether your primary terrain is road, trail, or treadmill, will allow you to run farther and faster for longer distances.
Buying Guide: What to Look for in Treadmill Running Shoes
Not quite ready to buy? No problem. Here's some more information to help you decide on the best treadmill running shoes for you.
Fit, Sizing, and Comfort
Available sizes: Obviously, you need a pair of shoes that is available in your size. Some brands, typically the larger ones, like Nike, New Balance, and Adidas, have larger size ranges.
Width options: Some shoes are only available in standard width, while other brands offer shoes in narrow, standard, wide, and extra-wide sizes.
Toe box: Pay particular attention to the shape of the toe box. A narrow forefoot won't allow your toes to naturally splay, which can cause discomfort and, over time, chronic pain in the feet.
Materials and Durability
Upper: Most running shoes feature a knit mesh upper for optimal breathability. If you like a pair that has something other than a knit or mesh fabric, investigate the material to see if it provides enough breathability for your liking.
Midsole: The middle layer of the shoe is where the support lies. Many shoes use some type of EVA foam, but many brands have also developed proprietary foams with particular features. For example, Nike's React foam is known for its great energy response and feedback, while Brooks' DNA LOFT is known for its softness and shock-absorbing properties.
Outsole: I've never known a running shoe that didn't feature a rubber outsole. The differences, you'll find, lie in the lug pattern and thickness of the outsole. For treadmill running, you don't need a super thick outsole like you might for trail running.
Heel-to-Toe Drop
This is one of the most important factors in running shoes. Generally, the bigger the heel-to-toe drop, the more cushioning a shoe has. A large heel-to-toe drop will lurch you forward, unlike a smaller drop, which provides minimal-to-moderate support.
Cushioning and Arch Support
Overpronation: Overpronation is when your arch collapses during your stride. This is also known as flat foot syndrome. Shoes with a lot of arch support will help prevent overpronation.
Underpronation: Under pronation is when your foot overly rolls outward, so the majority of the pressure lies on the outer ridge of your foot from your pinky toe to your heel. Neutral and minimalist shoes are best for combatting underpronation. Too much arch support can exacerbate the problem.
Best Treadmill Running Shoes FAQs
Are Nike running shoes any good? 
Nike is known for making great shoes. One of our top picks for the best treadmill running shoes is the Nike Air Zoom Pegasus 39, which features Nike's React foam for great responsiveness and feedback. 
What brand makes the best running shoes? 
In our opinion, the best treadmill running shoes come from a variety of brands, including: Nike, Saucony, Brooks, Lululemon, New Balance, and On. We also like running shoes from ASICS, Adidas, Altra, and more. 
Which is better; Brooks or ASICS? 

Brooks and ASICS both make great running shoes. Our top picks include two pairs of shoes from Brooks—the Ghost 14 and Adrenaline GTS 22—and we tried a few pairs from ASICS that are nice, but didn't make our top list for one reason or another. 
Are running shoes the same as walking shoes? 
Most people can wear the same pair of shoes for running and walking. However, walking shoes generally needn't be as cushioned or as durable as running shoes, since they don't endure as much impact.