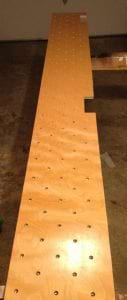 1. Using the power drill, drill holes in a diagonal pattern. For this project, holes were drilled with 2" between rows and 4" between columns and then offset to create the diagonal pattern.
For a larger sheet of plywood, just duplicate over the larger area. This amount of holes may seem excessive, but it does allow you to use just about any combination of climbing holds you could ever want.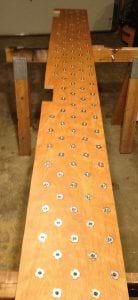 2. Screw in T-Nuts. The T-Nuts allow the climbing holds to screw into the wall.
You want to make sure you put T-Nuts in every hole you plan on using so the layout of the holds can be changed whenever you'd like.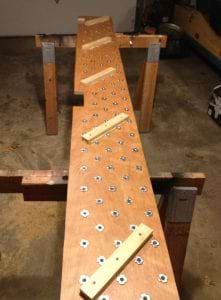 3. Glue plywood spacers to the back of the climbing board. using the wood screws, screw from the back of the spacer to create holes for you to use when screwing the board into the wall studs.
You may want to add more spacers based upon how far apart the studs on your home are separated. The spacers allow the bolts of the holds to stick out without digging into the wall.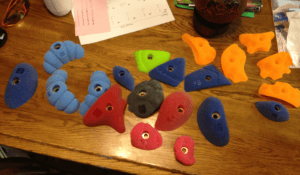 4. Pick out your holds. Amazon actually has a lot of holds to choose from including packaged deals to individual holds.

5. Attach holds to board in whatever combination you desire.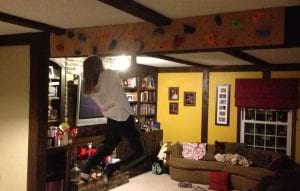 6. Climb until your forearms come off.