First off these instructions are for one 4'-5' long Peg Board, if you'd like longer, or would like to make another (say one vertical, one horizontal) like I did you just double the instructions.
Step One: Cut the board to length.
The length of the board obviously varies depending on where you will be using your pegboard as well as how tall you want it to be. For a garage with standard ceilings, a 4 to 5-foot board would be best.
I cut my 8'-10', 2"x 8" board in half using the Miter or Circular Saw. It ended up being about 4 1/2 feet in length.
For a taller pegboard like those used in commercial gym settings, you can either keep your board long or combine multiple short boards at different angles for an extra challenge like seen here: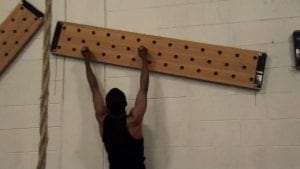 Step Two: Measure out your hole pattern.
There's a seemingly endless amount of ways you could cut your holes. I've seen many people who have used this guide use random placement to exact science.
For mine, I simply drew three vertical lines with each being 2" apart. Then, I took my ruler and made a mark every 6" to be used for my pilot holes.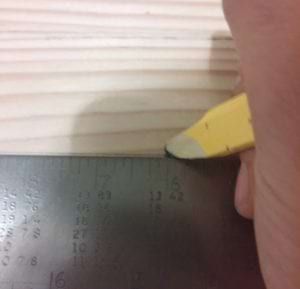 Step Three: Drill holes.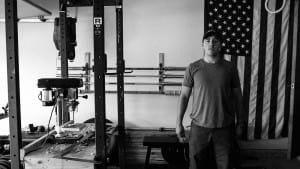 Find the locations where you marked for your holes to be and begin drilling. 1 1/4" Spade Bit where you made your marks
I used a Drill Press combined with a 1 1/4" Forstner Bit, but you could easily get by with a Spade Bit and a handheld drill.
If you plan to use a handheld drill, try to keep it as vertical as possible to prevent any wonky holes and make sure you have your batteries charged as this takes some time.
For a more challenging grip workout, simply make your holes larger and use larger dowels. The thicker the handle, the harder it is to use. Or you could also throw a pair of Fat Gripz (see my review here) onto the dowels like I've done many times, although it takes a while to build up to.
Step Four: Cut out the backing.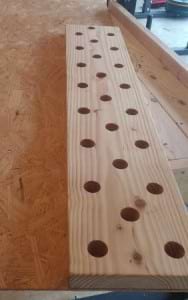 In order the keep the Pegboards from sliding all the way through and you getting your hand pinched, a backing is pretty necessary.
In reality, you could use a thin piece of chipboard like I did all the way up to a nice seven-ply piece of plywood. If you have scraps, I would opt for those.
Simply place your pegboard on the backing material you've chosen, trace it out, and cut away.
I used a jigsaw to cut the backing, however, if you don't have the power tools, a simple handsaw will do just fine.
Step Five: Attach Backing to Pegboard
This part is simple. Grab your handy-dandy wood glue and lather it on. Although unnecessary, I suggest spreading the glue evenly to make sure it's attached evenly.
After the glue is spread, attach the backing and clamp to dry (you could also put some weight plates on top.)
Step Six: Cut out support boards.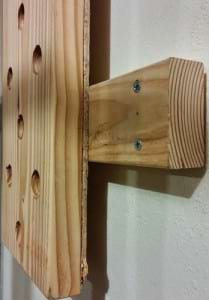 To anchor the pegboard to the wall, you'll want to use some wood stringers that are long enough to reach the wall studs on either side of the pegboard.
I used two 2"x4" boards I had laying around.
First find the studs in the wall, then measure and cut your boards accordingly. Once cut, place them on the back of the board, one near the top, and one near the bottom of the board.
Using screws, screw the boards into the back of the pegboard. I suggest not skimping on the screws here either as this will your entire bodyweight.
Step Seven: Attach the Pegboard to the wall.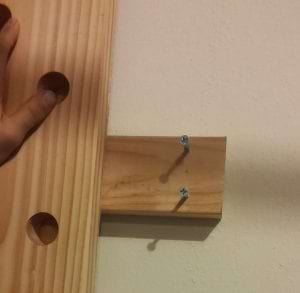 Using 3" long wood screws, attach the pegboard to the wall lined up with the wall studs.
(Optional: Sand and stain for fresh-looking gainz.)
Step Eight: Cut the dowels.

Cut the 1 1/4" dowels based upon your hand plus 2".
I suggest a hardwood maple for the dowels as they will have a lot of pressure.
Step Nine: Climb that wall!