We test and review fitness products based on an independent, multi-point methodology. If you use our links to purchase something, we may earn a commission. Read our disclosures.
Fat Gripz are barbell attachments that increase the grip diameter, essentially turning any solid bar into an axle bar. They're incredibly tough, useful, and surprisingly cheap. We highly recommend them.
Fat Gripz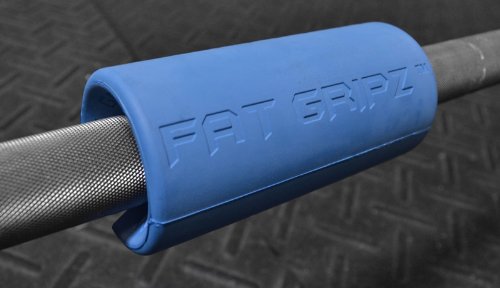 Fat Gripz
Made from a military-grade, high-density compound, Fat Gripz can instantly transform any standard barbell into an axle bar (thick bar). They also fit most dumbbells, pull-up bars, and cable attachments, – doubling the thickness for a greater test of arm and grip strength. Once attached, Fat Gripz hold to the bar firmly like a clamp, and won't compress – even you're deadlifting extreme loads.Thick bar training has become increasingly popular with athletes and military personnel around the world, and lightweight, portable Fat Gripz enable them to get the benefits of an axle bar wherever they are. From U.S. Special Forces to NFL teams, top MMA fighters, the Grace Barra, and your own local box, you can find dedicated users of the product.Specifications:Sold as a Pair Instantly turn standard barbells and pull-up bars into axle bars (thick bars) Thick bar training with Fat Gripz immediately targets your body's weak links – increasing muscle activation and giving you more strength and mass Fat Gripz fit virtually all barbells, dumbbells, chin-up bars and cable attachments in seconds – making the bar more than twice as thick Made from a military-grade high-density compound, grip bar firmly and won't compress under any stress Axle bars are part of so many WODs now that you can't afford not to master them Applications: Olympic lifts, farmers walk, pull-ups, anything you can grab will be improved with greater hand and arm strength Unlike an entire axle bar, Fat Gripz fit nicely in your gym bag for when you travel
Axle bar training is one of my favorite ways to train.
The reason I like axle bar training so much is because for one, it's freaking manly. Secondly, it makes everything more difficult and relies heavily on a strong grip, something I'm constantly trying to improve.
The problem with an axle bar is you can only use that diameter of a grip on that one bar. AND, buying a revolving axle bar is expensive and very hard to find.
To fix this problem, a product has come about in the past fewyears that allows you turn any barbell or dumbbell into the thickness of an axle bar.
There are many knock offs, but the original are called Fat Gripz and they are as useful as one would think.
Fat Gripz Review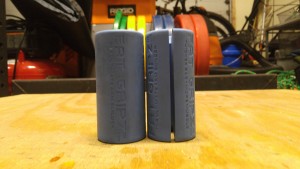 The Fat Gripz are big round cylinders that look very spongy. This however is false as I will speak on in the construction section of the review.
The Fat Gripz come in two different sizes and are color coordinated as such. The smaller pair are blue and are the ones I received and the larger ones are red.
The Fat Gripz logo is indented on the grips and doesn't affect the functionality in any way.
The Fat Gripz are firm. Much firmer than I expected and I'm very happy to find that out.
I was worried that they would be as spongy as they appear and rather than the feel of a firm surface like a barbell, they would feel like a wet pool noodle. Thankfully this is not the case. In fact, these provide a nice grip, but if anything they're harder to grip then a barbell because they don't take chalk as well.
To me, this is a good thing. The point of these are to make it more difficult for you to grip the barbell or dumbbells, thus increasing your grip. They do just that.
The hard rubber that is used has not chipped and I don't see that happening anytime soon.
They are wide enough to fit a large hand and even fit inside my beloved Powerblock Adjustable Dumbbells. As you can see here:
The Fat Gripz are concave on their edges for I would assume a reduction in weight. And while we're speaking on weight, do not think these things are light.
I was as deceived as you will be when I first received them. They are a solid piece of rubber that are going to be around for a long time to come.
The inside diameter is about 1″ and the outside diameter is about 2.25″.
As far as construction and looks go, there really isn't much to review. They're thick and firm and are constructed very well.
I've been using them on a whole host of movements.
First off, anytime I do anything with dumbbells, whether it's a dumbbell snatch or a curl, I throw the Fat Gripz on.
The Fat Gripz make everything more difficult and I have seen not only my grip strength increase, but also the size of my forearms. And let's be honest the lady (my wife) loves some ham-hocks.
One thing I've noticed that the Fat Gripz force you to do is actively squeeze. You can't just laxadaisically hold the dumbbells. If you do, you better be wearing steel toe shoes because your foot is about to be smashed, especially if you have small hands like I do.
Related: Fat Gripz made our Best Fitness Gifts list!
Final Thoughts
If you aren't training with fatter bars than you need to start. An axle bar is great, but for many, it's simplynot practical, especially for those who don't have a gym right outside their garage door.
The Fat Gripz are a great alternative to axle bars that can also be used on all sorts of implements like dumbbells, farmers handles, pullup bars, and anything else that you can think of.
Get a pair and you'll see what I mean.
Full Rating
Fat Gripz
Fat Gripz are barbell attachments that increase the grip diameter, essentially turning any solid bar into an axle bar. They're incredibly tough, useful, and surprisingly cheap. We highly recommend them.
Product Brand: Rogue Fitness
Product Currency: USD
Product Price: 29.95
Product In-Stock: InStock
Fat Gripz FAQs
Does Fat Gripz really work?
Fat Gripz are barbell attachments that enhance the grip diameter of any solid bar, thereby converting it into an axle bar. They're exceedingly durable, functional, and surprisingly affordable. They come highly recommended by us.
Do Fat Gripz build bigger biceps?
The use of thick-grip instruments trains more motor units (muscle fibers) in the elbow flexors (biceps and brachialis), according to study.
How often should you use Fat Gripz?
You should only use Fat Gripz for 2–3 workouts per week if you want to improve your grip strength or upper arm muscle activation. If you use Fat Gripz too often and on too many exercises, you'll restrict how much weight you can lift and maybe stunt your muscular growth.
Where to Purchase
Fat Gripz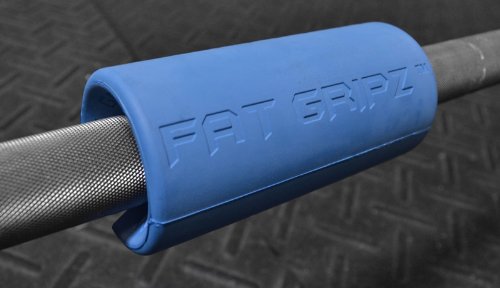 Fat Gripz
Made from a military-grade, high-density compound, Fat Gripz can instantly transform any standard barbell into an axle bar (thick bar). They also fit most dumbbells, pull-up bars, and cable attachments, – doubling the thickness for a greater test of arm and grip strength. Once attached, Fat Gripz hold to the bar firmly like a clamp, and won't compress – even you're deadlifting extreme loads.Thick bar training has become increasingly popular with athletes and military personnel around the world, and lightweight, portable Fat Gripz enable them to get the benefits of an axle bar wherever they are. From U.S. Special Forces to NFL teams, top MMA fighters, the Grace Barra, and your own local box, you can find dedicated users of the product.Specifications:Sold as a Pair Instantly turn standard barbells and pull-up bars into axle bars (thick bars) Thick bar training with Fat Gripz immediately targets your body's weak links – increasing muscle activation and giving you more strength and mass Fat Gripz fit virtually all barbells, dumbbells, chin-up bars and cable attachments in seconds – making the bar more than twice as thick Made from a military-grade high-density compound, grip bar firmly and won't compress under any stress Axle bars are part of so many WODs now that you can't afford not to master them Applications: Olympic lifts, farmers walk, pull-ups, anything you can grab will be improved with greater hand and arm strength Unlike an entire axle bar, Fat Gripz fit nicely in your gym bag for when you travel