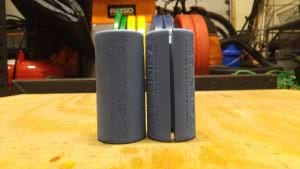 The Fat Gripz are big round cylinders that look very spongy. This however is false as I will speak on in the construction section of the review.
The Fat Gripz come in two different sizes and are color coordinated as such. The smaller pair are blue and are the ones I received and the larger ones are red.
The Fat Gripz logo is indented on the grips and doesn't affect the functionality in any way.
The Fat Gripz are firm. Much firmer than I expected and I'm very happy to find that out.
I was worried that they would be as spongy as they appear and rather than the feel of a firm surface like a barbell, they would feel like a wet pool noodle. Thankfully this is not the case. In fact, these provide a nice grip, but if anything they're harder to grip then a barbell because they don't take chalk as well.
To me, this is a good thing. The point of these are to make it more difficult for you to grip the barbell or dumbbells, thus increasing your grip. They do just that.
The hard rubber that is used has not chipped and I don't see that happening anytime soon.
They are wide enough to fit a large hand and even fit inside my beloved Powerblock Adjustable Dumbbells. As you can see here: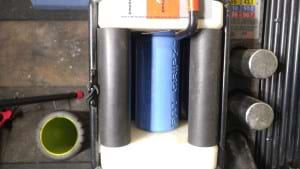 The Fat Gripz are concave on their edges for I would assume a reduction in weight. And while we're speaking on weight, do not think these things are light.
I was as deceived as you will be when I first received them. They are a solid piece of rubber that are going to be around for a long time to come.
The inside diameter is about 1" and the outside diameter is about 2.25".
As far as construction and looks go, there really isn't much to review. They're thick and firm and are constructed very well.
I've been using them on a whole host of movements.
First off, anytime I do anything with dumbbells, whether it's a dumbbell snatch or a curl, I throw the Fat Gripz on.
The Fat Gripz make everything more difficult and I have seen not only my grip strength increase, but also the size of my forearms. And let's be honest the lady (my wife) loves some ham-hocks.
One thing I've noticed that the Fat Gripz force you to do is actively squeeze. You can't just laxadaisically hold the dumbbells. If you do, you better be wearing steel toe shoes because your foot is about to be smashed, especially if you have small hands like I do.