We test and review fitness products based on an independent, multi-point methodology. If you use our links to purchase something, we may earn a commission. Read our disclosures.
The Fray Fitness Functional Trainer is one of the best home gym cable machines available from a value perspective. Although it states it is "commercial-quality," we disagree, but that does not mean it's not a good machine. It is one of the cheapest functional trainers you can get with 200-pound weight stacks.
If you have a home gym and want to add a cable machine on a budget, this is a good option. We'll break down exactly why in our Fray Fitness Functional Trainer review.
Why You Should Trust Us
Call me Coop the Cable Guy, because I've tested out my fair share of functional trainers from the Tonal smart home gym to the interactive NordicTrack Fusion CST, and the portable MaxPRO SmartConnect Cable Machine.
While free weights, like barbells and dumbbells, will always reign supreme in the home gym world, there's a place for cable movements, especially if you're someone who wants to focus on accessory movements, or maybe you want a lower-impact workout that still tones muscles and burns calories.
That's why I test out every type of fitness equipment––so I can give recommendations to everyone, regardless of their fitness level or goals.
Cheap Functional Trainer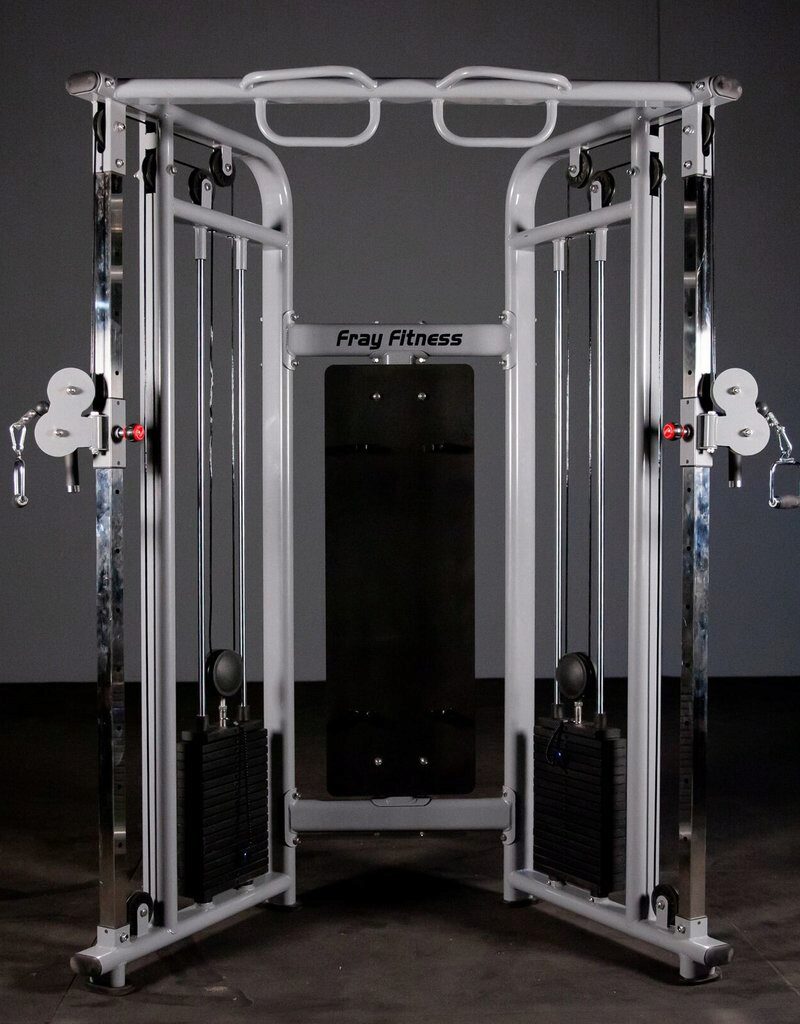 Fray Functional Trainer Commercial Line
The functional trainer is by far the most versatile and widely used piece of equipment in the industry. It is used in home gyms across the globe as well as commercial gyms and everything in between. The Fray Fitness model is a commercial-grade unit consisting of 198-pound dual weight stacks. This functional trainer is solidly constructed with industrial-grade strength 11 gauge steel throughout. The pulley system provides an extremely smooth glide up and down. It is a quick-adjust pulley system with 19 different adjustment slots. You are also able to perform pull-ups and chin-ups with the pull-up bar. Also comes with a pair of D-grip handles. Does not come with any other attachments pictured.Every inch of this is fully commercial. There were no shortcuts taken:Pulleys are strong and thick and we stand by that statement by offering a full 5-year warranty on them. That is by far an industry-leading warranty on pulleys Cables are extra strong and the thickest on the market Guide rods are full metal all the way through and not hollow in the middle like othersShips partially assembled. Easy assembly. Approximately 90 minutes. We have techs available daily to help with assembly questions when needed as well.
A Quick Look at the Fray Fitness Functional Trainer
The Fray Fitness Commercial-Grade Functional Trainer is one of the best value functional trainers on the market for those trying to build a budget home gym. Now, I want to make this clear from the start, although they call it "commercial-grade," to be completely honest, I disagree. Now, that does not mean that it's not good.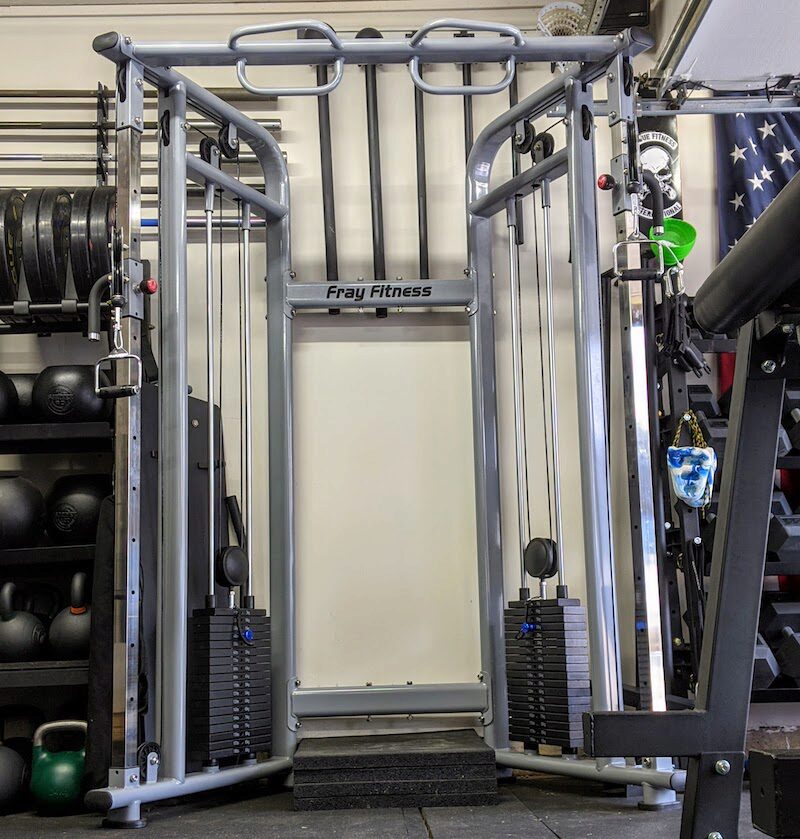 However, "commercial grade" brings up connotations that this is designed for extremely heavy use, uses the highest quality and most-expensive componentry, and has the heaviest stacks you can buy. I don't think it meets that standard, although I do still recommend it. I think this is a good home gym friendly functional trainer at a tremendous value.
Coop's Tips
Make sure to do regular maintenance on this trainer (oil it every few months or so)
Invest in different handles that are a good fit for your hands
This is not good for lat pulldowns (many people think functional trainers are; they're not)
My Favorite Things:
An amazing price and great value for a functional trainer
The guide rods are the same as what you'd find on a high-end functional trainer
The 200-lb. weight stack is great for a trainer in this price range
My Callouts:
The cables are not made from the best materials and may wear over time
This is a good machine, but it's not "commercial-grade" as the company claims
The pull-up bars are on the thinner side and are lacking grip
Video Review
Is the Fray Fitness Functional Trainer Worth It?
The reason I recommend the Fray Fitness Functional Trainer is largely based on its price ($1,945) to features ratio. This is what I like to call a "great value," and it should be the type of equipment that most people strive to fill their garage gym with.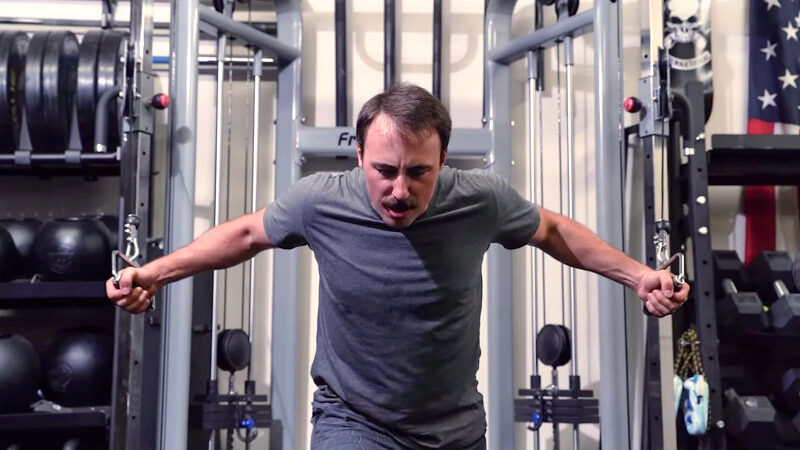 First off, the weight stacks on the Fray Functional Trainer are relatively heavy at 200 pounds. This isn't the heaviest stack that's out there (there are some that are upwards of 350 pounds per side.) But, for most people, and for the type of isolation movements that are going to be done with this, the weight is more than enough.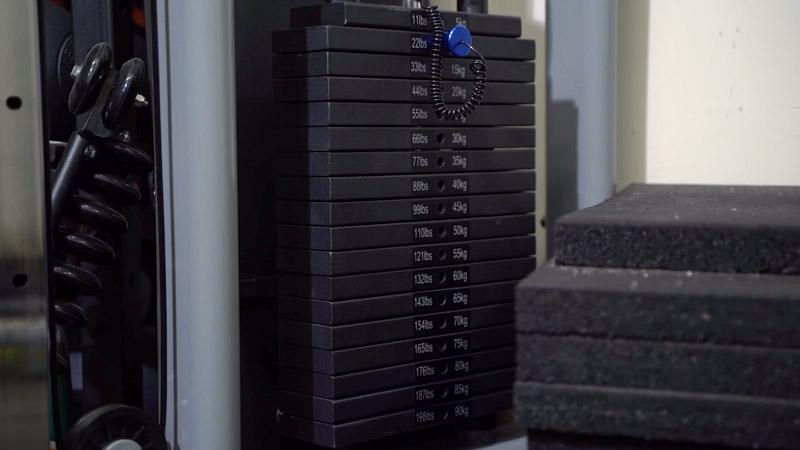 Most functional trainers cost many thousands of dollars. For instance, I have a FreeMotion Genesis Dual Cable Cross in my training studio, and it retails for about $6,000, not including shipping. It's a very nice unit, much better than the Fray Fitness Functional Trainer, but it also costs about five times as much as this functional trainer and is definitely not a piece of equipment I'd recommend most people put in their home gym.
All in all, the Fray Fitness Functional Trainer is a great option for anyone wanting a compact functional trainer in their home gym at a budget price. It's not the best, but I don't think most people will find some of the corners that were cut a big deal. We do recommend this piece.
Great for:
People looking for the best value functional trainer at a great price
The average home gym athlete who needs to work on isolation exercises
Anyone looking for a compact functional trainer
Not recommended for:
Very strong home gym athletes who need high-grade weight stacks
Anyone who wants a truly "commercial-grade" functional trainer
Anyone who needs heavy-duty handles
Fray Fitness Functional Trainer Specs
| | |
| --- | --- |
| Footprint | 90" H x 66" W x 36" D |
| Weight | 910 lbs. |
| Weight stacks | 200 lbs. |
| Resistance ratio | 2:1 |
| Colors | Black, red, blue, silver |
| Warranty | Lifetime |
| | |
| | |
| | |
| | |
| | |
Using the Fray Fitness Functional Trainer at Home
I've had the Fray Fitness Functional Trainer for a little under a year and a half, and I've been able to put some time into training with it for various movements like cable crossovers, cable curls, face pulls, and I think I've got a good idea on it.
The Fray Functional Trainer is designed with 200-pound stacks on each side. It has a 2:1 ratio, so it's not quite 200 pounds when you're pulling on it, but for the purposes of a cable machine, it does what you need it to do.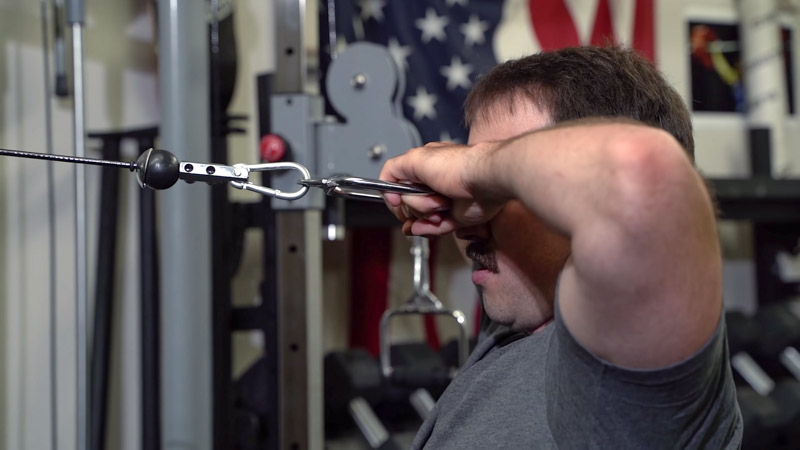 Functional trainers aren't as popular in home gyms, compared to dumbbells and kettlebells at least, because they take up so much space – if you've ever been in a commercial gym you know what I'm talking about. But they're great because you're able to do all sorts of "functional" cable exercises.
Now, exactly how "functional" a functional trainer is, is certainly up for debate. However, there are many movements allowed by a functional trainer that simply cannot be replicated safely with something like a kettlebell.
I do think these sorts of accessory movements are becoming more popular in home gyms because bodybuilding is becoming popular again (fitness runs in cycles), and also because the price point on functional trainers is much lower than what they used to be.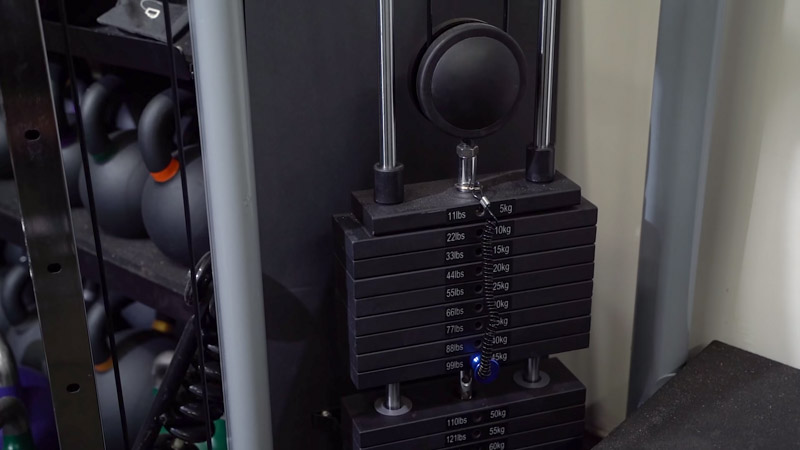 I often see people try to replace their lat pulldown machine with a functional trainer. A functional trainer is typically not a good replacement for a lat pulldown machine. They're not designed with pull-down seats in mind, and the pulleys often don't extend very far from the uprights.
Pulley System
Although there is a lot to like for the price on the Fray Fitness Functional Trainer, there are certainly some things that could be improved. The biggest issue on this functional trainer is the pulleys. The pulleys are definitely the weak link in the system and although they shouldn't prove to have too many issues in a home gym, if something is going to wear, this is it.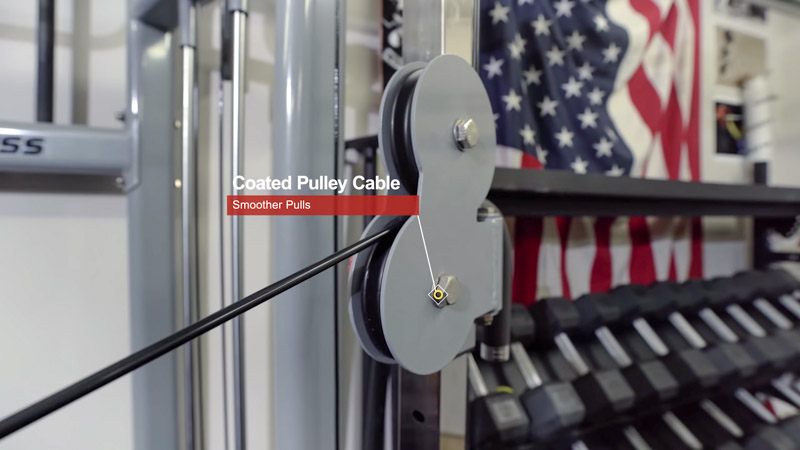 Although Fray's website says the cables are the strongest in the industry, this does not seem to be true. They're not bad cables, but I've definitely used cable systems with thicker gauge cables like the Rogue Rhino Belt Squat.
Adjustments
The Fray Fitness Functional Trainer does have quite a few different adjustment options. Rather than actuating arms like you see on the higher-end functional trainers (that are more expensive, but a better design), the pulleys slide up and down on two uprights and lock in place with a pop pin. All of the pulleys swivel, making it easy to do a variety of movements.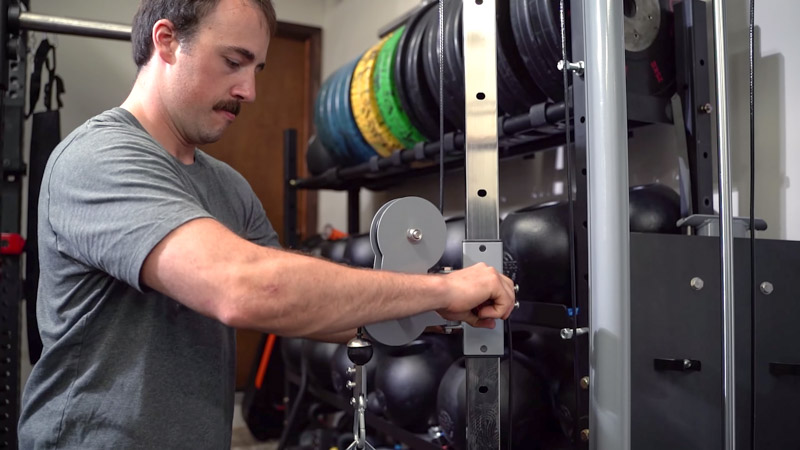 Pull-up Bar
The top of the Fray Functional Trainer has a multi-grip pull-up and chin-up bar, which helps make this machine a little more versatile. The pull-up bar uses thin bars and a slick powder coat, but it's nice that they are available. The powder coat on the pull-up bar is the same as what's on the rest of the machine.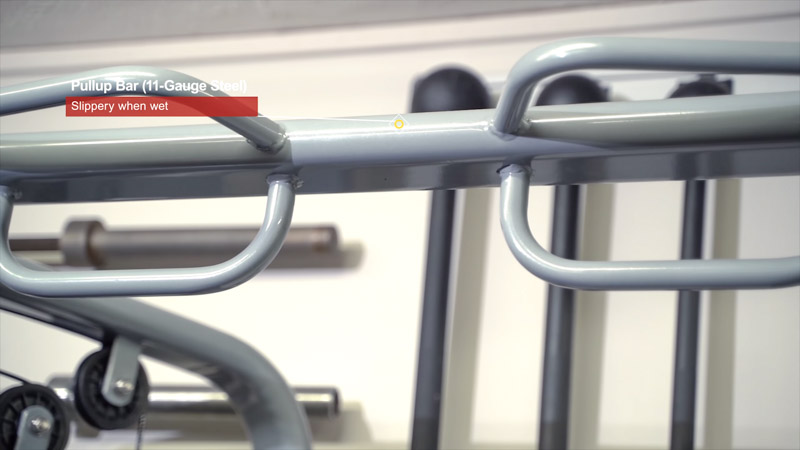 Guide Rods
The dual weight stacks go up and down on chrome-plated guide rods. These are the same solid rods found on just about every high-end functional trainer. They work well, feel smooth, and if oiled properly should last a long time.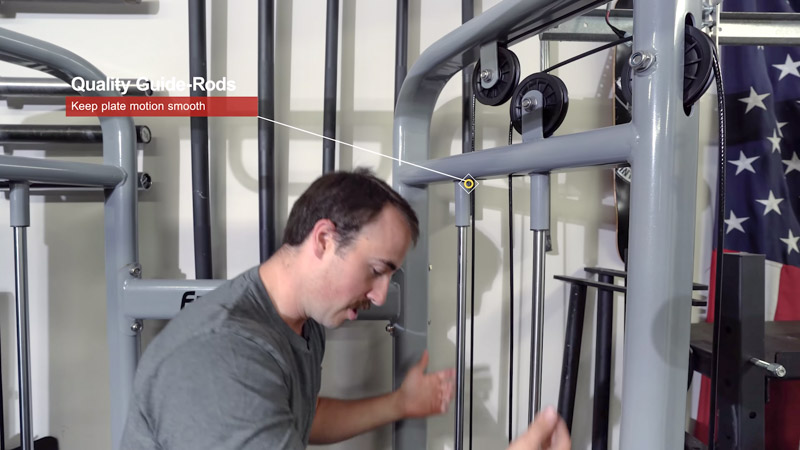 Construction and Footprint
Prior to the Fray Fitness Functional Trainer, I would not have recommended any functional trainer at this price point simply because you got what you paid for (and that was a low-quality trainer). Fray Fitness, though, has built a quality, budget-friendly machine made of 11-gauge steel that's sturdy and should last a while.
The pulley system works, and again is smooth for the price point, but I'd recommend oiling it up every so often just to ensure you get smooth pulls for the lifetime of this trainer.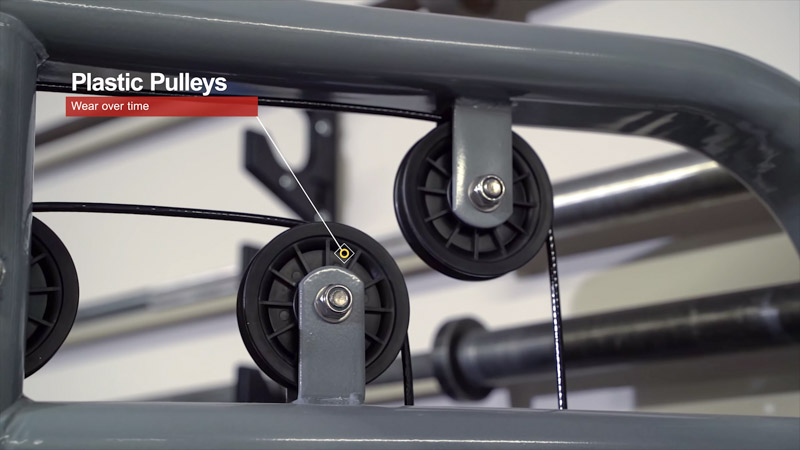 The powder coat is slick, but should provide good corrosion resistance over time. The model I received to review is silver, although they now have other colors like black (my favorite), blue, and red.
Here are the dimensions of the Fray Fitness Functional Trainer:
90-in height
66-in width
36-in depth
Handles and Accessories
The Fray Fitness Functional Trainer comes with two D-grip handles that get the job done alright (they're not the best, but they're also not the worst). If you need a heavy-duty set of handles, I'd recommend investing in a pair you like.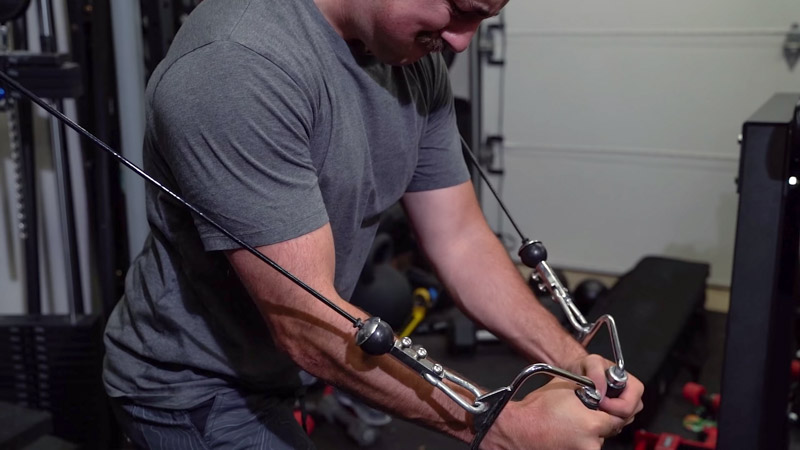 You can also purchase a tricep rope cable attachment, straight bar cable attachment, V-grip press down cable attachment, and more. They also sell pulldown attachments, but again I don't recommend functional trainers for lat pulldowns.
It's not a necessity, but they also do sell adjustable benches so you can workout your muscles from different angles.
Customer Experience
Fray Fitness can be contacted via email, phone, or through their social media channels. They also have a YouTube channel with videos answering some of their most frequently asked questions, such as how to assemble certain pieces of equipment.
Returns: Fray Fitness offers a 30-day window from the date of purchase to return or exchange your product, but it must be in new or unused condition. It also must be shipped in the original packaging.
Warranty: The Fray Fitness Functional Trainer comes with a lifetime warranty on the frame and pulleys, and six months for the cables. Improper assembly, using the functional trainer outdoors, and damage caused by improper maintenance will void the warranty.
Ordering and Assembling the Fray Fitness Functional Trainer
It can seem intimidating to put something like the Fray Fitness Functional Trainer together, but it's actually relatively simple. Not only do they provide easy-to-follow instructions but there's a comprehensive video on the website that you can follow along to ensure everything is assembled correctly.
Ordering it online is as easy as clicking a button, and all four colors are readily available. It's delivered via a freight service, and you must be at your house when it arrives to sign for it.
Customer Reviews
There's only three Fray Fitness Functional Trainer reviews on the company's website, and all three are 5 stars. All three say the machine is high-quality, easy to assemble, and noted it changed their at-home fitness regimen.
Final Verdict of Our Fray Fitness Functional Trainer Review
It wasn't that long ago I'd look at a $2,000 functional trainer and be hesitant to try it, nevermind recommend it to most home gym owners. Yet, here I am. The Fray Fitness Functional Trainer is a high-value machine, meaning for the price you're paying it's easy to overlook the few small hiccups this piece of equipment has.
My takeaways:
Great value
Thin pull-up bars
Heavy weight stacks for the price point
It says it's commercial-grade, but it's not
Full Rating
Fray Fitness Functional Trainer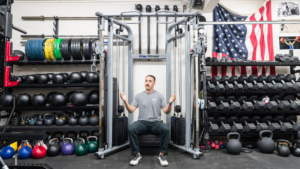 The Fray Fitness Functional Trainer is one of the best home gym cable machines available. It is one of the cheapest functional trainers you can get with 200 LB weight stacks. If you have a home gym and want to add a cable machine on a budget, this is a good option.
Product Brand: Fray Fitness
Product Currency: USD
Product Price: 1945
Product In-Stock: InStock
Who Is Fray Fitness?
Fray Fitness is a company that's been on the block for a relatively short period of time. I met the owner, Jeremy Dugger, who actually came down and brought the Fray Fitness Functional Trainer with him (so, thank you for letting us review it). His company has a unique model. His idea is basically to import equipment and provide the best prices that's available on gym equipment.
So, if somebody is providing a better price, his goal is to basically beat everybody on price. He's like, "I don't mind running thin margins. I just want to beat people on price. I want to offer a similar level of equipment to what Titan Fitness, REP Fitness, and Get RX'd offer, but even cheaper."
Fray Fitness is based out of Memphis, Tennessee (very close to Titan Fitness), and is importing most, if not all, of its equipment.
Fray Fitness Functional Trainer FAQs
Here are some of the most frequently asked questions about the Fray Fitness Functional Trainer:
Is Fray Fitness good? 

The Fray Fitness Functional Trainer is one of the best home gym cable machines available. Although it states it is "commercial-quality," we disagree, but that does not mean it's not a good machine. It is one of the cheapest functional trainers you can get with 200-pound weight stacks. 
RELATED: Best Home Weight Machine
Is a functional trainer worth it? 
As always, it depends on what your training looks like. Are you a bodybuilder who needs to focus on isolation exercises to develop certain muscles? Then sure, a functional trainer would be a great investment. Are you looking for a low-impact workout? Then yes. Are you training for the CrossFit Games or a powerlifting contest? Spend your money elsewhere. 
Does Fray Fitness charge for shipping? 
Fray Fitness charges for shipping and ships to the 48 lower states (so excluding Hawaii and Alaska). The cost of shipping and handling will depend on where you live. 
What is a functional trainer machine? 
A functional trainer machine is a versatile piece of equipment that usually uses a cable pulley resistance system to allow the user to perform movements in any direction. It's used for isolation exercises, or a move that focuses on a single muscle group.