We test and review fitness products based on an independent, multi-point methodology. If you use our links to purchase something, we may earn a commission. Read our disclosures.
I'm someone with a multitude of large, bulky machines packed tightly into my garage gym. Space-saving options have always intrigued me, but there are few genuinely good alternatives to the traditional cable machine or home gym. This brings us to the MAXPRO SmartConnect that I've been testing over the past 5 months. It's a portable cable machine that weighs under 10 pounds, can produce resistance up to 300 LB, and can go wherever I do.
In this MAXPRO SmartConnect home gym review, I'll let you know why I think this could be a solid buy for you if you're tight on space or travel frequently. I know the number of options out there can be dizzying, and I'm here to give you my honest opinion and all the facts you need to know before making a big purchase.
Why You Should Trust Us
I've tested tons of different home gyms including smart home gyms like the Tonal, training racks like the Prime Fitness Prodigy, and total body gyms like the Bowflex HVT. I know the things that most home gym users are looking for and the industry standards on different aspects like durability, warranty, and overall user-friendliness.
Portable Home Gym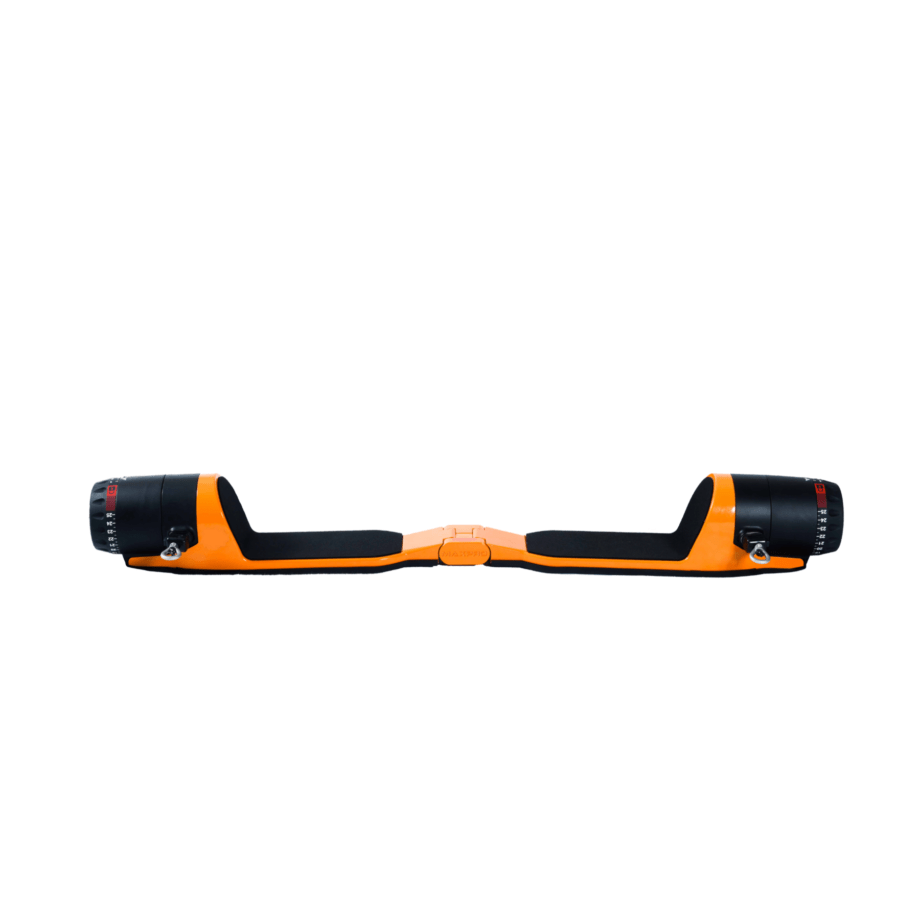 Community Score: 5
Product Highlights
All-in-one machine that works different muscle groups
Lightweight at 9 lbs
Small footprint at 16" L x 10" W x 4" H
Produces resistance up to 300 lbs
Pros & Cons
Pros
Lightweight
Small footprint
Produces resistance up to 300 lbs
Cons
Pricey for a small piece of equipment
Sub-par accessories
Compatible app is not streamlined
Bottom Line
The MaxPRO SmartConnect Portable Cable Machine is a lightweight and portable full body machine, which offers up to 300 pounds of resistance. This makes it an extremely versatile piece of portable equipment with a small footprint.
A Quick Look at the MAXPRO SmartConnect
The MAXPRO brand hasn't been around long at all. In fact, they were only recently founded in 2019. I originally heard about them because Shaquille O'Neal became an investor and gave the company a bit of a boost in terms of publicity. I was excited to try this brand and the only machine they actually make – the MAXPRO SmartConnect.
Coop's Tips
Purchase the wall-track up front. You can do way more exercises with this addition to your MAXPRO.
Know going into using the MAXPRO that the cables have a break-in period and won't right away be as smooth as they can be. Put some work in and they'll start moving like butter.
Don't stress about putting it together – the MAXPRO is already pre-assembled.
My Favorite Things:
Small footprint at 10″L x 16″H x 4″W
9 pounds and very portable
Variety of resistance settings
All-in-one machine can work different muscle groups
My Callouts:
Clunky compatible app
Sub-par accessories
Pricey for a small piece of equipment
Is the MAXPRO SmartConnect Worth It?
Great for:
People constantly on the go and need a portable gym
People tight on space in their home gym
People looking for versatility on one piece of equipment
Not recommended for:
People on a budget
People looking to do both eccentric and concentric work on one machine
People who prefer a traditional functional trainer
Putting the "Fun" in Functional Trainer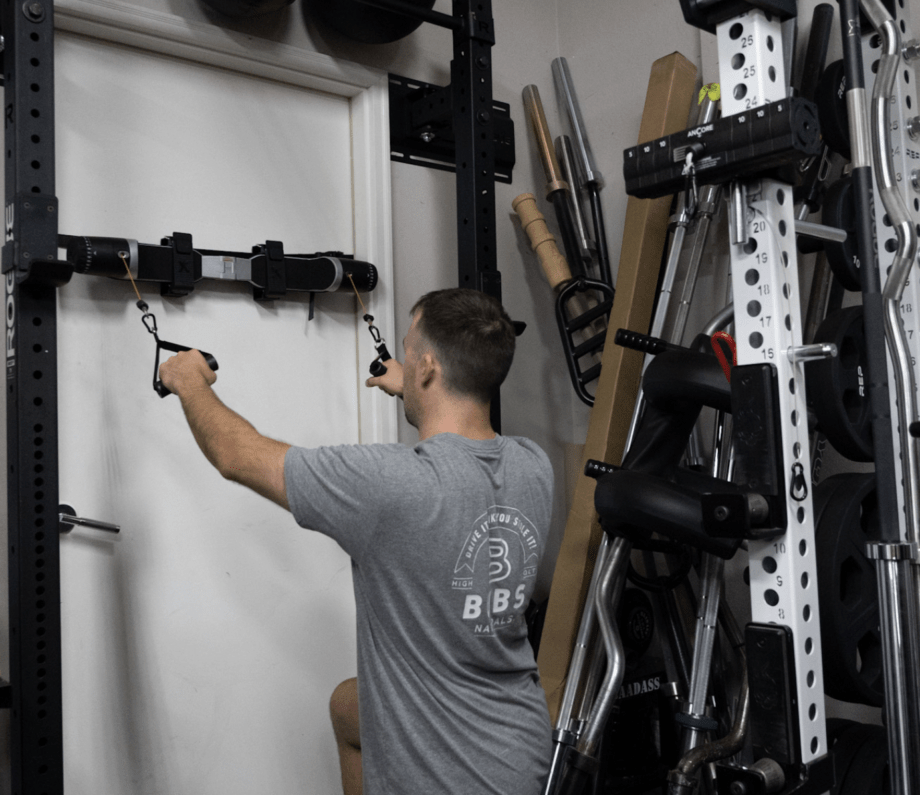 I have a confession to make. I use the SmartConnect way more than I expected to. Going into ordering this machine, I knew it didn't have eccentric abilities. Although I still wish it did have both concentric and eccentric capabilities, I still enjoy using this cable machine.It was super easy to set up and get started with. Since I purchased the Elite Bundle, I had the option to bolt the mount track to the wall or simply stand on the SmartConnect and get started.
I'm not crazy about having to mount something to the wall, but it does add more variety to the exercises you're able to do. You can also utilize the door mount brackets that come with the basic SmartConnect. Again, you'll have to actually mount the fitness machine to something which isn't my favorite.If the portability aspect is why you purchased the Smart Connect, you'll probably end up only doing movements where you pull from the ground. Essentially, you stand on a small platform with both feet to keep the machine in place while you use the cables.
On the side of the machine, there is a dial where you can adjust the resistance levels to your own preferences. I like that there is such a wide range (between 5 to 300 pounds of resistance) because it can be customized to fit different strength levels.
At first, the cables weren't quite as smooth as I would have liked, but they simply needed a break-in period. With the machine underneath my feet, I did exercises like rows, curls, overhead presses, and upright rows. I also tried out putting the machine underneath the foldable bench (sold separately, although it would take some serious MacGyver'ing to do it without.) I thought it was pretty solid for bench press, and single-arm rows, although the cable angle isn't completely vertical when laying down.
I don't think that I would use this bench on its own with dumbbells or free weights but it works with the SmartConnect. It isn't the highest quality bench with stiff foam and thin vinyl, but it gets the job done and folds up out of the way when not in use.
You can genuinely take this machine anywhere. For instance, when I went to the beach for a family vacation, I took the MAXPRO and a pair of Powerblock Dumbbells to train with. That's it. I actually like the backpack that came with the Elite Bundle because it fits all the pieces perfectly. Of course, you don't need the backpack to transport this as it's only 9 pounds, but it is convenient to have.
I can see this being an ideal solution for someone who travels frequently. Easy to take with you to the beach, hotel room, or a nearby park. I do think you're definitely paying for the convenience and portability aspect of this machine, but it still is a solid option.
Related: Read my TUT Trainer Tower review to see how this other compact functional trainer compares to the MAXPRO.
Ordering and Assembling the MAXPRO SmartConnect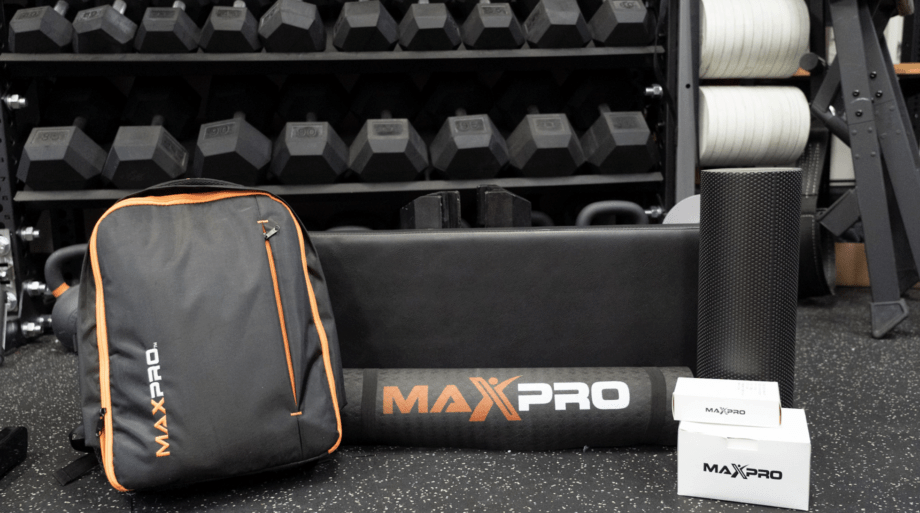 There are two options to choose from when purchasing the SmartConnect – the standard machine or the elite bundle. For the standard machine, you'll pay just under $900. With that, you'll receive the MAXPRO SmartConnect, Quick Connect long bar, workout handles, set of ankle and wrist straps, door mount system, and USB charger.
Personally, I decided to buy the elite bundle to try out all the accessories. The elite bundle is under $1,600 and includes additional things like a foldable bench, wall track, jump trainer belt, suspension handles, foam roller, exercise mat, and the MAXPRO Backpack. You can get the SmartConnect in one of two colorways – Sport Orange, or Raw Metal. The SmartConnect ships free (yay!) and there are financing options available through affirm.
You can choose to pay the SmartConnect off in 3, 6, or 12 months with 0% APR starting at just $117 per month. I absolutely loved that the SmartConnect came fully assembled. I didn't have to spend a few hours squinting at directions and trying to figure out what parts go where. The equipment came very tightly packed with zero damage from shipping. I was impressed.
Durability and Footprint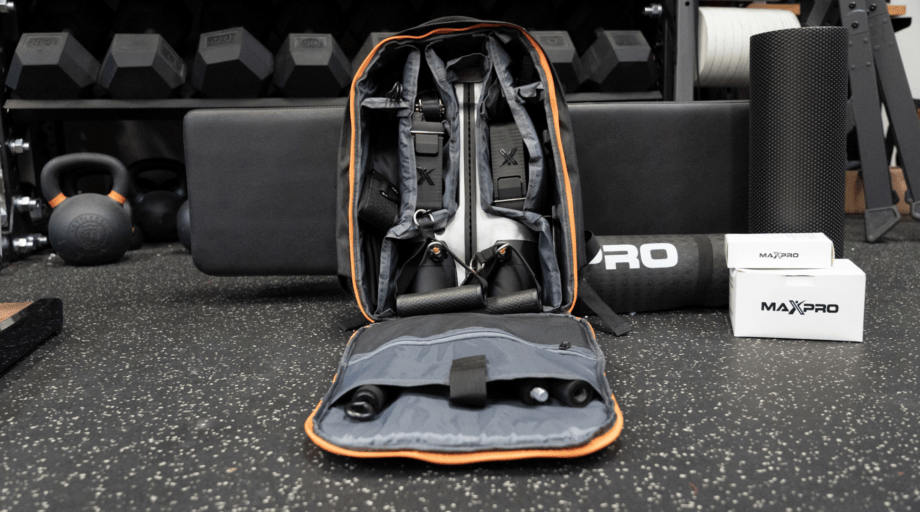 Overall, thus far the durability has been as expected. The base of the SmartConnect is made of Aerospace Grade Aluminum Chasse, so it feels sturdy.
The footprint is one of the biggest draws for this product – 19.1 x 15.8 x 5.8 inches are the dimensions. This makes it easy to travel with or move around from room to room within your home.
MAXPRO App
The MAXPRO has inklings of trying to be like Peloton or NordicTrack in terms of programming and overall fitness technology, but they haven't quite gotten it down yet. When you purchase the SmartConnect, you'll get access to the coaching app which is Bluetooth connected to the machine.
Essentially, MAXPRO has different personal trainers that focus on different modalities like HIIT, cardio, strength training, pilates, yoga, and flexibility exercises.
The idea is good, but the execution isn't really there for me personally. I found myself not using the smart features because they were more clunky than helpful. The Bluetooth didn't always connect properly to the machine and the workouts weren't really my jam.
I don't see a way to filter workouts by the type of equipment you have. Since there are two options when purchasing the MAXPRO, not everyone will have the wall mounted track or the bench. I think it would be more user-friendly if you were able to filter your options by equipment used.
How to Get Started with the MAXPRO App
Although I didn't love the app, I still think it is usable and can be enjoyable for others. Here is how to get started:
Download the MAXPRO Fitness app on Google Play or the App Store.
Make sure your SmartConnect is properly charged
Turn 'Location' and 'Bluetooth' settings on your phone.
Click the 'Connect MAXPRO' button within the home screen of the app.
Enter your personal information and fitness goals.
Get personalized workout routines based on your goals and fitness level.
MAXPRO SmartConnect Specs
| | |
| --- | --- |
| Footprint | 10″L x 16″H x 4″W |
| Weight | 9 lbs |
| Warranty | 2 year limited |
| Resistance | 50 settings from 5-300 lbs |
| Charge Time | 2.5 Hours For Full Charge |
| Battery Life | 3 Months Of Standby, Or 1 Month Of Daily Use |
| Compatible App | MaxProFitnessLLC For iOS (Requires iOS 11.0 or Later); MAXPRO Fitness Of Android Requires (For Android 5.0 & Up) |
| Price | Under $1600 |
Customer Experience
There are multiple ways to contact customer service if you have questions. The most obvious way is clicking the orange 'Help' button in the bottom left hand of the screen. You'll be able to send a question and up to five photos to the MAXPRO team.
You can also contact customer service by phone at (+1 773-466-2946) between 9 a.m.- 9 p.m. Monday through Friday or 9 a.m.- 5 p.m. on Saturday. There is also an option to email at info@maxprofitness.com with any questions.
If you're unsure about ordering the SmartConnect, MAXPRO offers a 30-day risk-free trial period to make sure you love the product. I like that this is offered because you can make sure you're genuinely satisfied with your purchase before fully committing to it.
If you want to return the SmartConnect, you must first obtain a Return Merchandise Authorization from MAXPRO by emailing info@maxprofitness.com. They will not accept a return without the proper authorization number. You will also have to pay your own shipping to return the product. Since the SmartConnect is under 10 pounds, it won't be expensive like returning a heavy treadmill or elliptical machine.
With your purchase of the SmartConnect, you get a two-year limited warranty. This is an okay warranty, but not the best by any means. In the fine print, the two-year warranty does not cover the actual cables. You are expected to need to replace them annually yourself, which will cost
Customer Reviews
With just over 40 reviews and 4.5 stars on the MAXPRO website, I found that customers seemed to generally really enjoy the SmartConnect home gym. Some of the positive feedback included comments about the portability, compactness, variety of weight resistances, and ability to attach your own cable tools to it.
Other customers weren't thrilled that you only get concentric movement through this machine and others thought you needed to purchase the wall track system to get the most out of the MAXPRO.
Verdict of Our MAXPRO SmartConnect Review
The MAXPRO SmartConnect is essentially a gym membership in a backpack. I'd definitely recommend it for those who travel frequently or are tight on space.
Full Rating
MAXPRO SmartConnect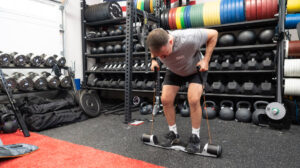 I'm someone with a multitude of large, bulky machines packed tightly into my garage gym. Space saving options have always intrigued me, but there are few genuinely good alternatives to the traditional cable machine or home gym. This brings us to the MAXPRO SmartConnect that I've been testing over the past 5 months. It's a portable cable machine that weighs under 10 pounds, can produce resistance up to 300 LB and can go wherever I do.
Product Brand: MAXPRO Fitness
Product Currency: $
Product Price: 979
Product In-Stock: InStock
MAXPRO Smart Connect FAQs
Can you build muscle with the MAXPRO?
Absolutely yes. The MAXPRO offers resistance, which is exactly what you need to build muscle.
Does MAXPRO require a subscription?
No, you don't need to purchase a subscription to use the MAXPRO Smart Connect or its app.
Does MAXPRO app cost money?
The MAXPRO app is free, though there is an option to pay $19.99 per month for more advanced features as well as exclusive workouts.
How long does MAXPRO last?
The MAXPRO can last up to a month on a single charge if used daily, or three months if left on standby mode.