We test and review fitness products based on an independent, multi-point methodology. If you use our links to purchase something, we may earn a commission. Read our disclosures.
Have you always wanted a cable machine or full-out functional trainer in your home gym? Maybe you don't have the space for it (shout out to all of our people working out in small spaces) or you can't muster up the will to dump so much money into one piece of equipment (there are so many goodies to get!).
Whatever the reason, if you're yearning for a versatile piece of home fitness equipment that you can do a variety of exercises with—without spending in the quadruple digits—you've got to hear about the TUT Trainer Tower.
This interesting functional trainer-slash-cable machine took me by surprise: I thought it to be a bit gimmicky based on online info and photos. But in my TUT Trainer Tower review, I'll explain why this unique product might warrant a spot in your home gym.
Why You Should Trust Us
I personally assembled and installed the TUT Trainer Tower in my backyard gym and have been using it for several months. I went through the same process you would: The product arrived at my door, I put it together (it's easy!), and fumbled around with it a bit until I figured out how to do exercises on it correctly. It's a unique piece of home gym equipment and I'm excited to share my thoughts on it and how it compares to other functional trainers.
TUT Trainer Tower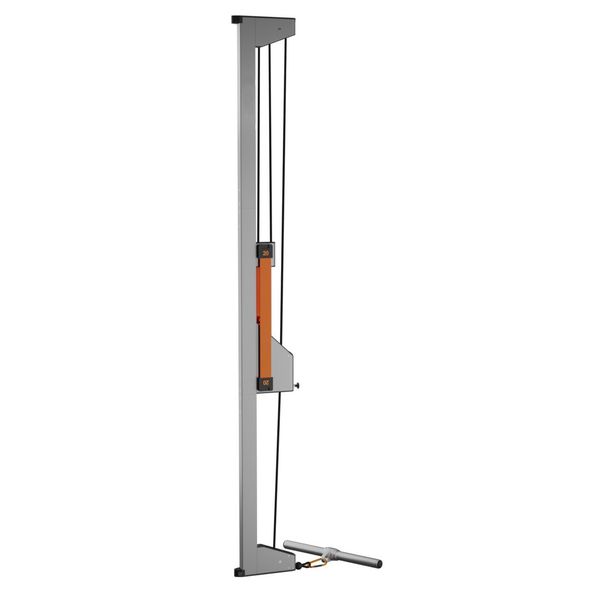 TUT Trainer Tower
The TUT Trainer Tower is a unique functional trainer that you can mount to studs in your wall or to a door frame (or to an outdoor patio post like our product tester did). This tall, slim piece of equipment is like a minimal all-in-one home gym. It's similar to a cable machine, but much smaller and more portable, especially if you don't use the wall-mount option. With the TUT Trainer Tower, you can do just about any exercises you might do with a cable machine, including triceps push-downs, lat pull-downs, low rows, hip abduction and adduction, chest press, biceps curls, and more. For certain exercises, such as the low row, you'll need additional equipment, like a stability ball or bench. The TUT Trainer Tower package comes with the tower itself, a stud mounting package, 150 pounds of TUT Plates (custom resistance bands that work with the Tower), ankle straps, an aluminum straight bar, two single handles, a carabiner, and a rope clip/cable lock. The Garage Gym Reviews team loves that the TUT Trainer Tower is so functional yet comes in such a small package: It only extends 6 inches from your wall or door frame and it weighs less than 12 pounds.
A Quick Look at the TUT Trainer Tower
The TUT Trainer Tower is a strength training device from TUT Fitness Group. TUT stands for "time under tension," a fitness concept that refers to the amount of time a muscle or muscle group is held under strain during an exercise. More time under tension is generally a good thing (hello, tempo training) and is thought to elicit increased muscle growth compared to faster sets.
TUT calls its suite of products a "high-performance micro-gym," which is a little misleading because while it is small, I wouldn't call it a training tool for high-performing athletes. It strikes me more as a beginner-friendly home gym that can support intermediate to advanced exercisers for certain movements.
This doesn't mean the TUT Trainer Tower is a bad buy for more experienced fitness enthusiasts. It just means you should know what you're buying. I, for example, am far from an elite athlete, but I can lift decently heavy weights and have several years of CrossFit experience.
I didn't use the TUT tower much for the "big lifts" (squat, deadlift, bench press, overhead press) because I have a barbell and weight plates. But I loved using the TUT setup for accessory and isolation exercises.
My Tips:
You can mount the TUT Trainer Tower to a wall with studs, or you can buy separate parts for mounting it to a door frame. I 100% recommend the door frame option, as it makes the tower portable and doesn't require drilling.
Spend some time playing around with the tower and its different parts and accessories before you try an actual workout with it. It's similar to a cable machine, but not identical, so it will take some getting used to.
My Favorite Things:
It has a slim profile that doesn't take up much space
You can do dozens of different exercises on it
TUT Plates provide a good amount of resistance without being heavy themselves
Weighs less than 12 pounds and extends only 6 inches from the mounting place
My Callouts:
TUT Fitness app with instructional videos costs extra
Many accessories cost extra, but definitely make the machine more versatile
Very strong trainees will probably need to buy more TUT plates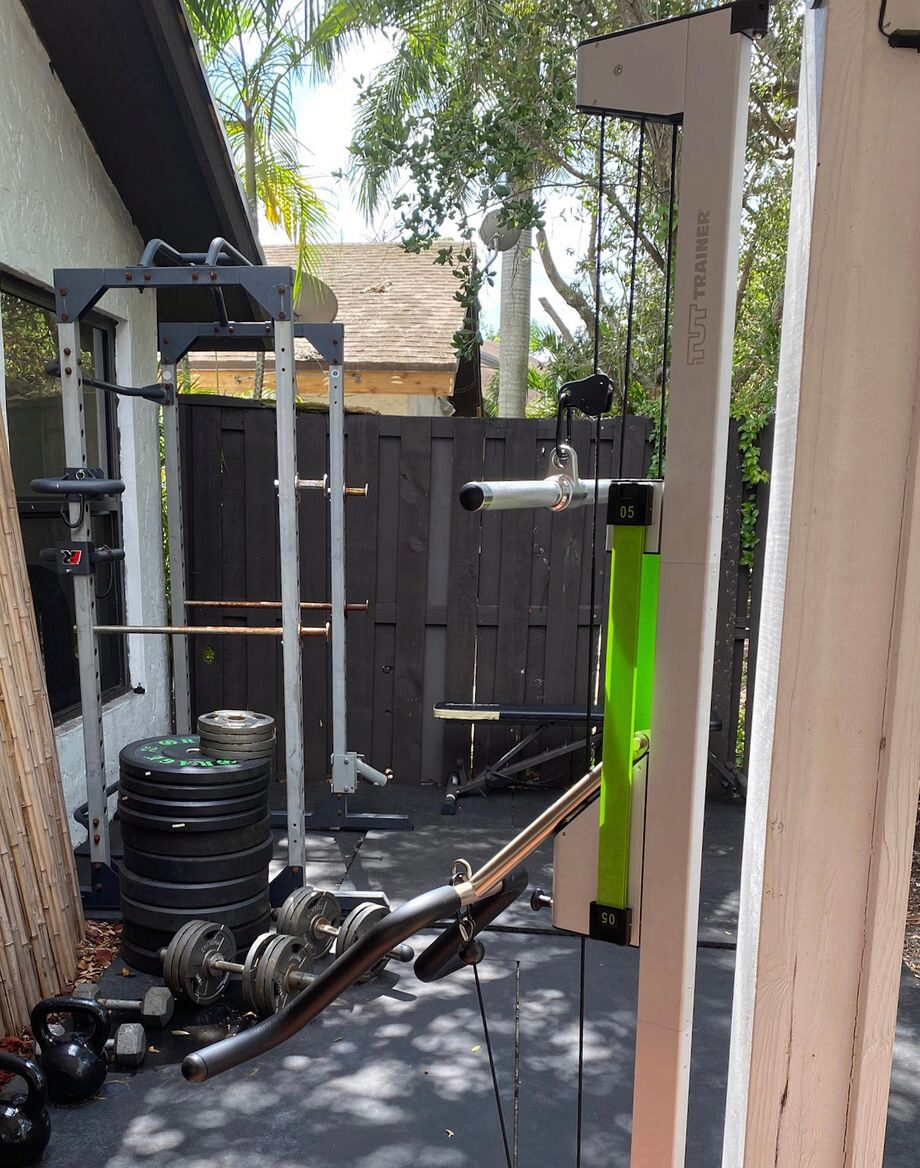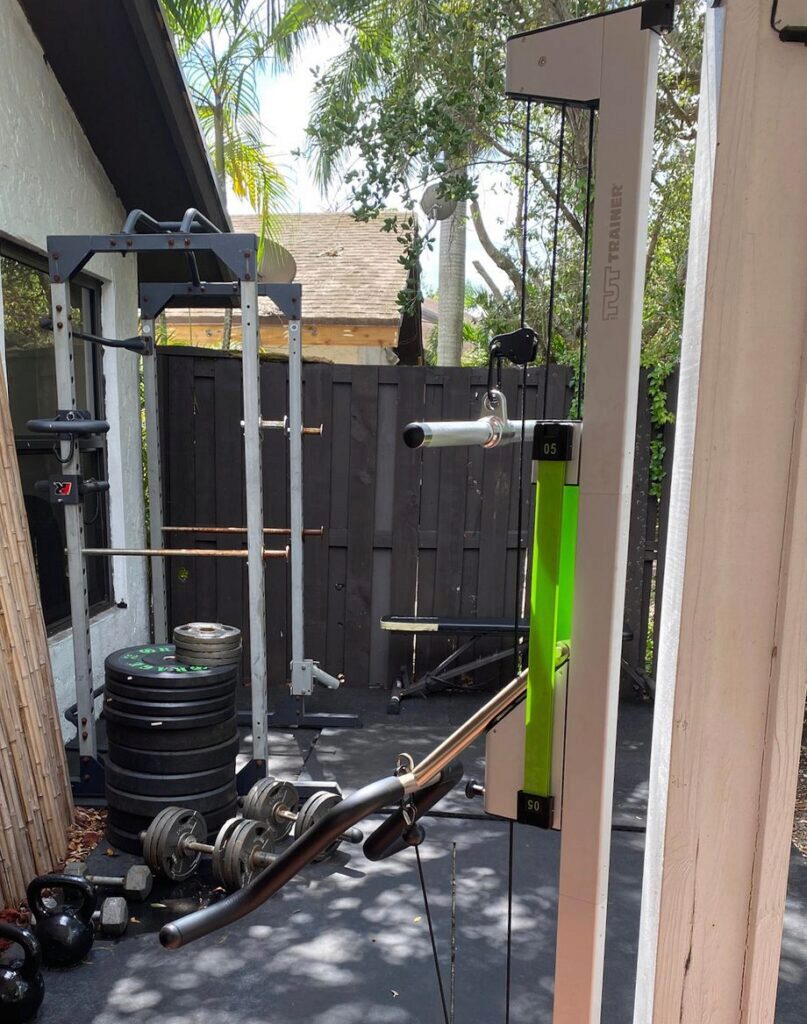 Is the TUT Trainer Tower Worth It?
The TUT Trainer Tower is a very niche piece of gym equipment, therefore it'll only be worth it for certain people. I think this product fills a gap in the equipment market and meets needs that a true functional trainer or cable machine can't fulfill.
At a price point of nearly $800, it first seems expensive for what you get. But, if your intention is to buy one piece of equipment you can do most compound and isolation exercises on, it's a steal—with the caveat being the weight doesn't go high enough for most experienced lifters to overload on compound lifts.
Still, the TUT Trainer Tower is worth looking into. Here's who I think the TUT tower is good for and who should look for something else:
Great for:
Home gym owners who don't have the space for a traditional cable machine or functional trainer
People who are looking for a budget-friendly functional trainer
Trainees who move around a lot and are looking for something that's easy to disassemble and move to a new location
Anyone rehabbing an injury and in need of low-impact exercises
Not recommended for:
People who lift heavy weights
Athletes who are more interested in training with free weights
Anyone who actually has the space and money for a true cable machine or functional trainer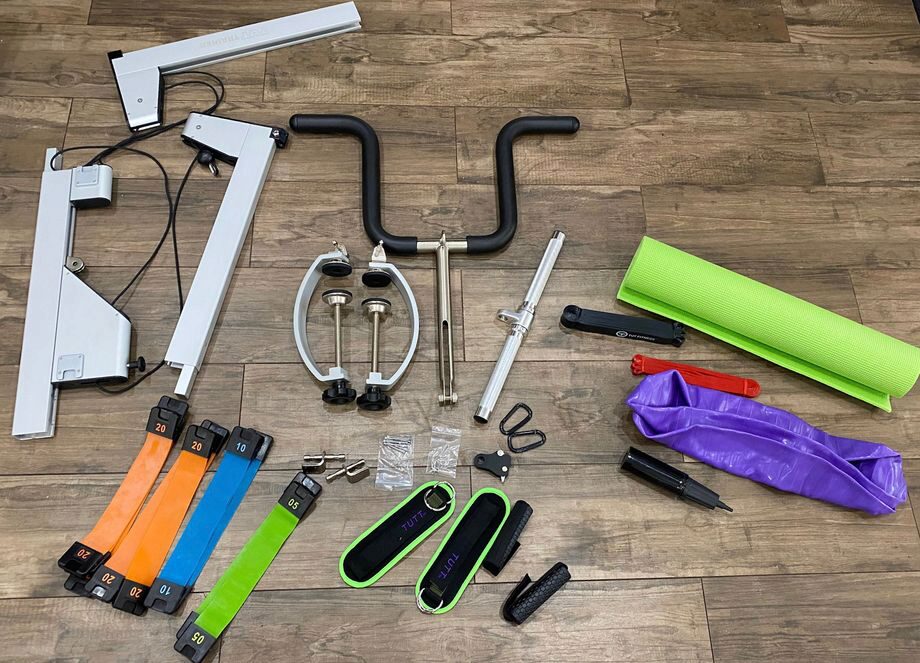 TUT Trainer Tower Specs
| | |
| --- | --- |
| Weight | 11.6 lbs |
| Installation | Wall (studs) or door frame |
| Accessories | Curl bar, ankle straps, carabiner, wall mount plates, single handles, rope clip |
| Resistance | 2 x 5 LB, 2 x 10 LB, 6 x 20 LB |
| Color | Silver |
| Made in USA | No |
How the TUT Trainer Tower Works
I'll be honest: The TUT Trainer Gym tripped me up a little at first. It looks kind of like a cable machine, but it isn't, and it kind of works like one, but not quite. So maybe that's step one to succeeding with the TUT Trainer: Don't think of it as a cable machine. Once I got the hang of all of the moving parts, I was on a roll and really enjoyed my experience with the TUT Trainer Gym.
The TUT tower works with TUT Trainer Plates, which are small resistance bands with plastic clips on the ends. The clips attach to the sides of the trainer and to each other, and you can add virtually unlimited resistance to the machine this way. Just keep clipping TUT Plates onto each other.
These patented resistance bands are probably the most unique resistance training tool I've ever seen or used. Few other machines allow you to use hundreds of pounds of resistance without taking up a ton of square footage. I have yet to hear about a piece of equipment that supports up to 200 pounds of weight without high-tech components (a la Tonal).  
RELATED: Best Resistance Bands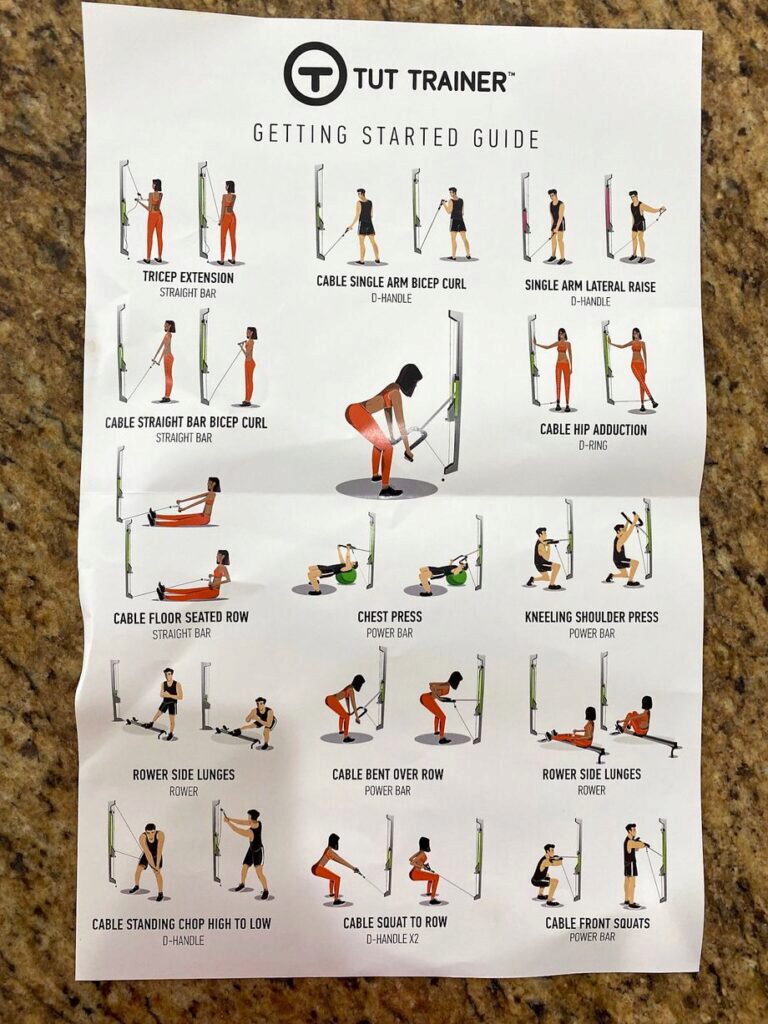 Space and Setup
One of my favorite things about the TUT Trainer Tower is its slim profile and minimalistic design. The tower weighs less than 12 pounds (11.6 to be exact) and only extends 6 inches from the door frame or wall where you mount it, consuming virtually no precious real estate in your home gym space. It swivels 180 degrees so you can push it out of the way to pass by if you need to.
TUT claims you can assemble and disassemble the Trainer Tower in minutes, which I agree with, but only if you use the door clamps. I don't know about you, but I don't exactly want to drill holes into walls in various locations. I recommend only using the stud mount option if you don't intend on moving the TUT Trainer Gym. Of course, it's not the end of the world if you do, but I wouldn't deal with the hassle given that the door clamps come with your purchase of the TUT gym anyway.
I actually installed the TUT Trainer Tower on a patio post in my backyard because that's where the rest of my home gym is. I can't say my smartest decision was building an outdoor home gym considering I live somewhere where it rains nine months out of the year, but I don't have any other space in my home.
Anyway, it works for me, but let me clarify: The TUT Trainer Tower is not intended for outdoor use. It's meant to be installed in an indoor, climate-controlled space. I've noticed a tiny bit of rust on the door clamp bolts, but that hasn't at all affected the functionality of the equipment. If you want to install your TUT gym outdoors, just know that water exposure voids the one-year warranty.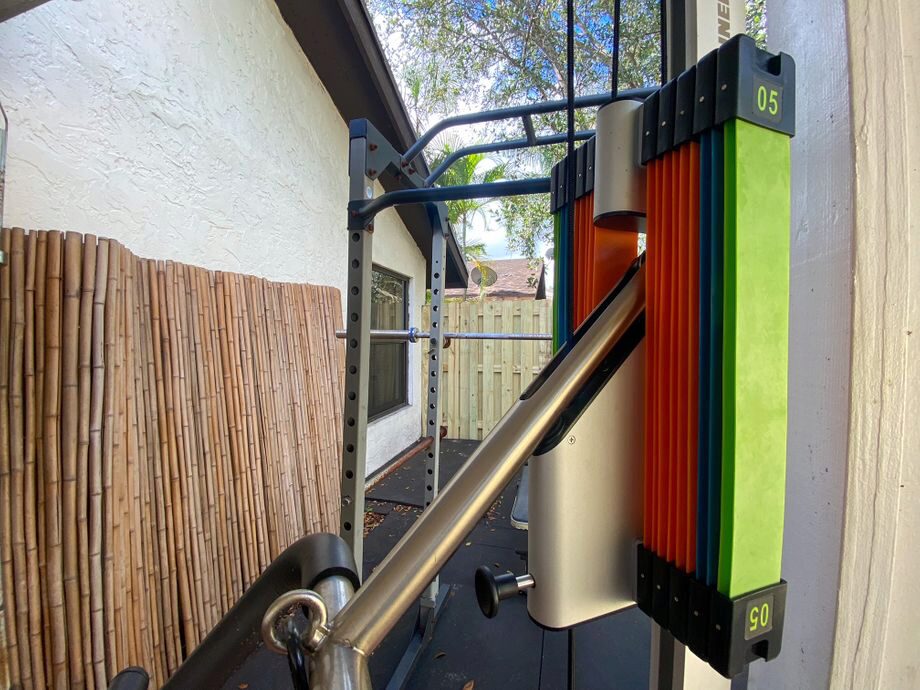 Included Accessories
The TUT Trainer Tower comes with a limited number of accessories, although I would call these necessities for the machine's function. Included with the $795 TUT tower are:
Two ankle straps
Two single handles
A straight aluminum curl bar
150 pounds of TUT Plates (six 20-pound bands; two 10-pound bands, and two 5-pound bands)
Carabiner
Rope lock
Wall mount plates
Door clamps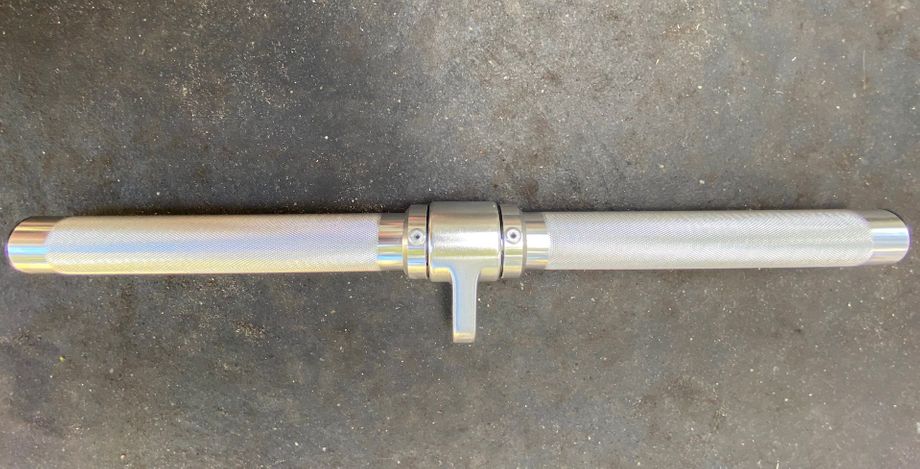 If you have a bit more cash to spend, here's what else you can get to make your TUT Trainer gym even more versatile:
TUT rower, which allows for low-row exercises and cardio training (you can buy the tower and rower as a combo)
Power bar kit for deadlifts, squats, and chest presses
Exercise mat
Exercise ball with a hand pump
VertiJump (vertical jump) belt for sprint training and plyometrics
Resistance bands
Tote bag to carry all of your TUT gear
Extra carabiners
The Workouts
You can do all sorts of strength training moves with the TUT Trainer Tower. I enjoyed the versatility of the machine once I got a good grip on everything and understood what all of the different parts did. I ended up using the TUT for mainly accessory movements and isolation exercises, but you can do a number of compound exercises on it, too.
| | | | |
| --- | --- | --- | --- |
| With the straight bar | With the single handles | With the power bar | With the ankle straps |
| Biceps curls | Lat pull-downs | Bench press | Hip abduction |
| Triceps extensions | Face pulls | Deadlift variations | Hip adduction |
| Low rows | Single-arm curls | Squat variations | Glute kickback |
| Straight-arm lat pull-downs | Single-arm triceps extensions | Shoulder press | Lying hamstring curl |
| Preacher curls | Wood chops | Bent-over rows | Cable lateral lunges |
If you get the rower combo, you can do even more, including conditioning. The TUT rower has a sliding seat just like a rowing machine, so you can load the TUT tower with light weight and row your little heart out.
Durability and Construction
The TUT Trainer Tower is not a tank—but it's not meant to be. TUT Fitness Group intends for its products to be easily assembled, disassembled, and moved, and the TUT Trainer Tower is all of those things. It's made of lightweight aluminum and takes up minimal space, but despite this, it feels sturdy in use. I never felt like the TUT tower was shaky, unstable, or like it would come detached from its mounts while working out with it.
Tech Specs
Although smart home gyms and fitness mirrors are all the rage these days, I love the simplicity of the TUT Trainer Gym. This, of course, is coming from someone who likes to throw down with a barbell under the sun rather than attend an Orangetheory class. So take that with a grain of salt.
That said, the TUT Trainer Gym doesn't have any so-called "smart features" like Bluetooth connectivity, rep tracking, or technique feedback like Tempo Studio. However, the design is smart in and of itself, and I think that deserves a nod.
TUT Trainer Tower vs. MAXPRO SmartConnect Home Gym
The MAXPRO SmartConnect Home Gym is similar in nature to the TUT Trainer Tower: It's a portable functional trainer that mimics the mechanisms of full-size cable machines. However, there are a few key differences to note. First, the MAXPRO is much more portable than the TUT.
It's small enough to pack in a bag and check for a flight, weighing only 9 pounds. Second, the MAXPRO doesn't have any eccentric capabilities, whereas the TUT Trainer Tower's main focus is time under tension and produces a lot of eccentric resistance. The MAXPRO is slightly more expensive at $900 for the basic package.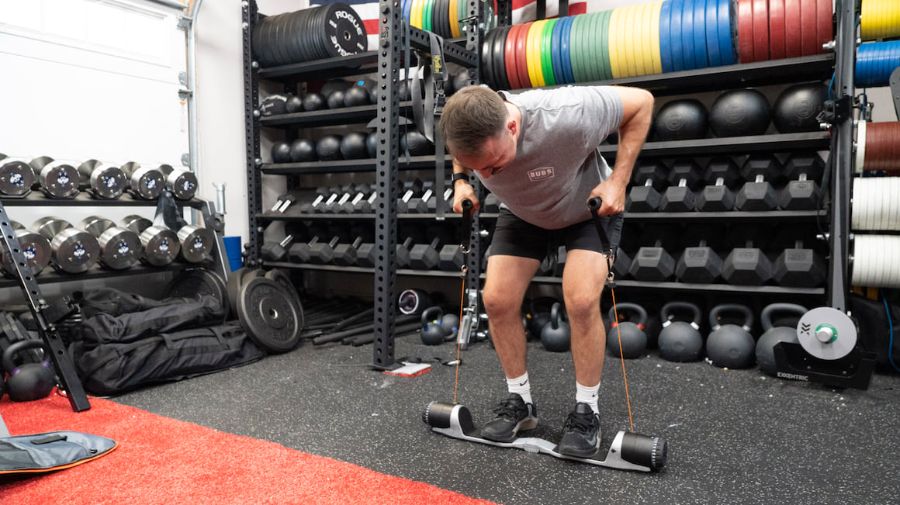 Customer Experience
There are many ways to get information about the TUT Trainer Gym and help if you need it. You can look through TUT's warranty, return and refund policy, and terms and conditions on the website. You can also browse FAQs there. You can get in touch with the TUT Fitness team by visiting tutfitnessgroup.com. There's a customer support email address, a phone number, and a website contact form.
The TUT Trainer Gym is warrantied against manufacturer defects and workmanship for one year. If you need to submit a warranty claim, you can do so on the website. TUT accepts returns in original packaging with proof of purchase within 30 days of your purchase. (Just remember, using any TUT equipment outdoors will probably void your warranty since it's vulnerable to water and humidity).
Customer Reviews
There are not many TUT Trainer Tower reviews online. In fact, I only came across two published full-length reviews in my research and I have yet to see a customer review. I don't think this discredits or invalidates the product—I stand by my experience with it—but I understand it can be off-putting to potential buyers. The TUT Trainer Tower is a relatively new product, so the lack of reviews is understandable.
We'll definitely keep our eyes peeled for new reviews and update this article when applicable. The reviews I did see pretty much came to the same conclusion I did: This is a nifty piece of equipment that's great for small spaces and beginner-to-intermediate exercisers who want an all-in-one home gym.
Final Verdict of Our TUT Trainer Tower Review
The TUT Trainer Tower and other TUT Fitness accessories are unique, for sure. This small functional trainer fills a unique market gap, and it's a good buy for home gym owners who want a quasi-cable machine for a good price.
The TUT Trainer Tower is great for beginners and anyone looking to improve their general fitness and wellness.
I wouldn't recommend it to people who lift heavy weights or generally prefer free weight workouts.
Full Rating
TUT Trainer Tower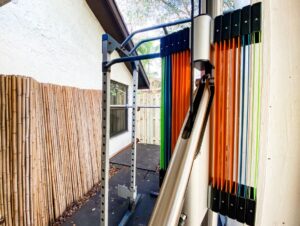 The TUT Trainer Tower is an all-in-one functional trainer that uses custom resistance bands called TUT Plates to mimic a cable machine. It's a unique option for a home gym that's great for beginners, trainees with small spaces, and anyone who likes using a cable machine but wants something less expensive and bulky.
Product Brand: TUT Fitness
Product Currency: $
Product Price: 795
Product In-Stock: InStock
TUT Trainer Tower FAQs
Here are answers to some commonly asked questions about TUT Fitness Group and the TUT Trainer Tower.
Who makes TUT Trainer Tower?
TUT Fitness Group makes the TUT Trainer Tower.
What is time under tension?
Time under tension refers to how long a muscle or muscle group is under strain during a set of exercises.
How does the TUT Trainer work?
The TUT Trainer uses patented miniature resistance bands to create resistance on a cable machine that you can do many strength training exercises with.