We test and review fitness products based on an independent, multi-point methodology. If you use our links to purchase something, we may earn a commission. Read our disclosures.
The Sorinex OFF GRID Rack is the least expensive and also least feature-filled squat rack they've likely ever made. It's a novel idea made as a "wartime" solution for those low on funds and space to get back to training. Although I do think there are better options available, I love the cause behind the rack which gives 100% of profits to Coaches vs. COVID-19 Fund and thinks it's a cool piece of equipment for those that want a minimalist option.
Budget-Friendly Sorinex Rack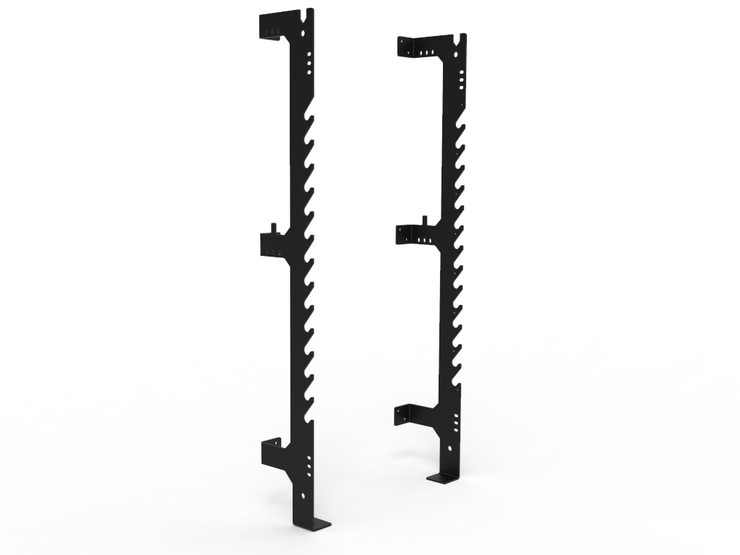 Sorinex Off Grid Rack
Why are we doing this whole thing? I mean our phones have been blowing up. There are a lot of people afraid. The whole country is afraid. The economy is crashing. People staying home, out of their workout routine, unable to relieve stress and unable to stay healthy. We have been receiving calls from everyone in the industry asking who can keep stuff in stock. This is not a normal Sorinex high end custom build rack. But we have a calling to stay in our lane and push the industry forward with a solution. People need a rack quickly.With a reduced Sorinex labor force... how do we create something expeditiously with minimal hands-on, get it through the shop as fast as possible, get it shipped out, and get people training. Get them back to a normalcy of their life.Biggest thing, it has to be inexpensive. People are stressed and need to keep cash in their pockets. This is a wartime solution. This is a wartime rack. Is it the best rack we have ever made? No. But it is a solution that will allow people to keep training.Next step, we need to figure out a way to price it extremely fair. Then, take all the profits and put it back into our economy and our system. We want to make sure we are helping and donating that money to help covid research and fight covid. We want to help flatten the curve as a country and keep the world strong. We have always been about living strong, this is what we can do. A lot of companies are doing amazing things. We want to do our part the best way we know how. By that, it kind of made it a Sorinex thing.
We've reviewed the Sorinex BaseCamp Squat Rack which is their absolute top of the line, the Sorinex XL Rack which is yet another swiss army knife and have a Sorinex Dark Horse Squat Rack Review in the works. In other words, I've used, tested, and critiqued all of their squat racks (except for the Apex, but maybe that will come soon…).
The OFF GRID Rack is unlike any of the aforementioned. It's simple, lacks any adjustability, or really any attachments. However, like their other racks, it is a well-thought-out design from people who actually use the equipment they make for people who use the equipment they buy.
Video Review
What is the Sorinex OFF GRID Rack?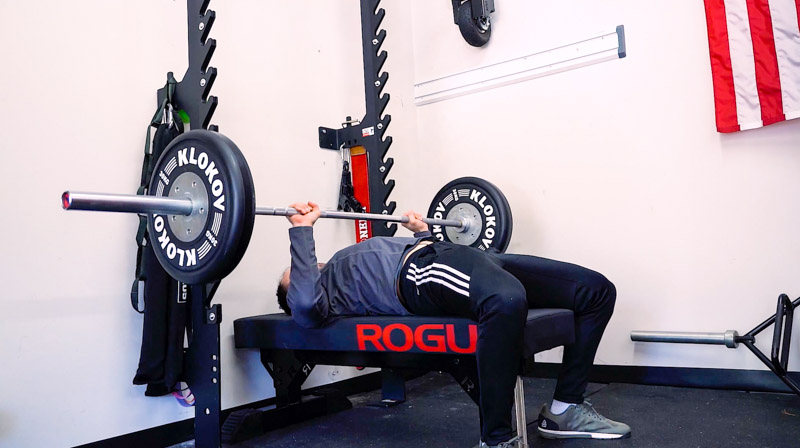 The Sorinex OFF GRID Rack, although the most budget-friendly and minimalist style of rack Sorinex has ever created, is also likely their most unique in comparison to the rest of their line. Designed as a "wartime solution" as penned by the owner Bert Sorin to help those stuck at home to continue chasing strength.
Not only has Bert shared that this is a "wartime solution," he's also expressly stated that the OFF GRID Rack is not the best rack they've ever made.
But, the goal behind the rack is not to outdo what else they've done. It's to create a solution that is relatively cheap, easy to make, and can ship quickly. If these are their goals, they've certainly done it. Requiring some cuts on a laser cutter and four bends on a press brake, this rack is extremely easy to make and functions for squatting, benching, overhead pressing, and pull-ups. Check out the best weight benches here.
What We Like About the Sorinex OFF GRID Rack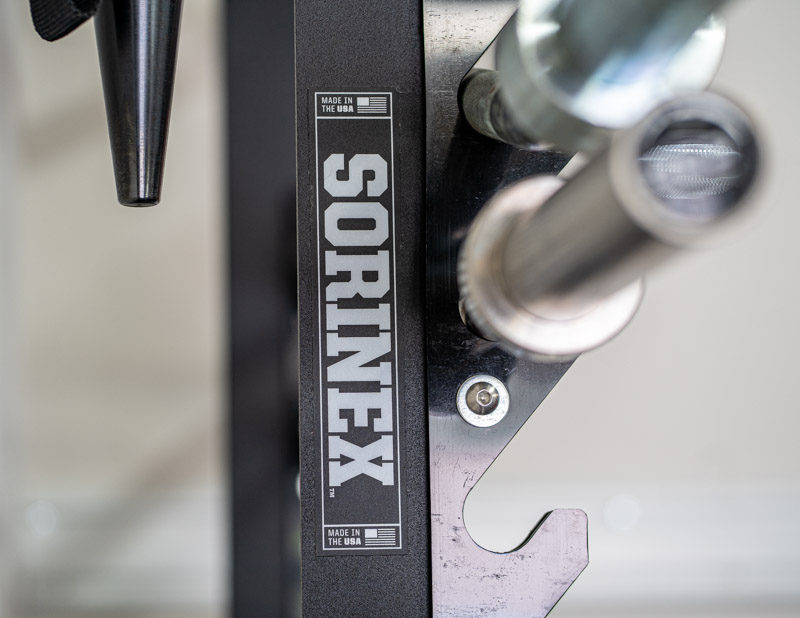 As a product reviewer, I try not to get too political. It can be difficult sometimes as I naturally see things as black and white, but I don't think that's the value I currently provide to the Home Gym Community. So, as a note, although I will talk about the cause it supports, this is ultimately a product review and I plan to do that portion of this justice.
To get the purpose of the rack out of the way, I do like the cause it supports. Sorinex has stepped up and offered to give 100% of the profits of the OFF GRID Rack to Coaches vs. Covid-19 which is designed as a fund to support those in the service industry and their families impacted by COVID-19. It's awesome the solution that the team at Sorinex has come up with and brought to market and all within nearly a week's time period. Very impressive and I applaud the cause.
Now to the rack.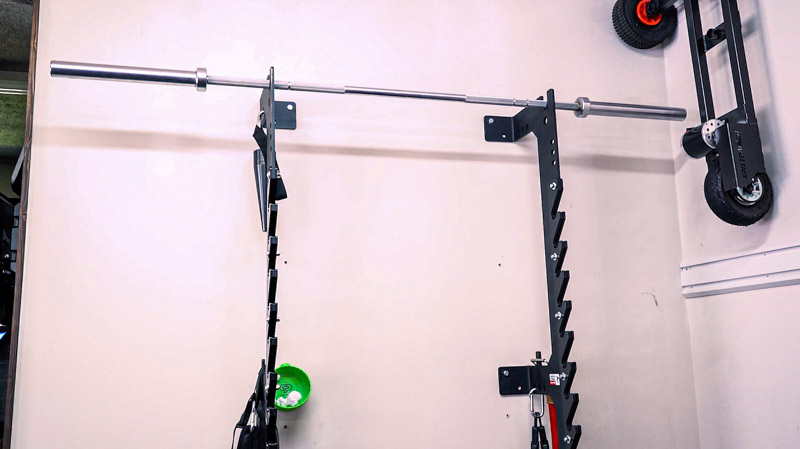 The first thing I noticed when bolting the rack up is how sturdy it was. Sorinex suggests using three 2"x6" pine boards as stringers to secure the rack to the wall, but I'm trying to go to the hardware store as little as possible lately due to the quarantine and I also don't feel it's needed for my use case (eventually I will use this as barbell storage after the review.)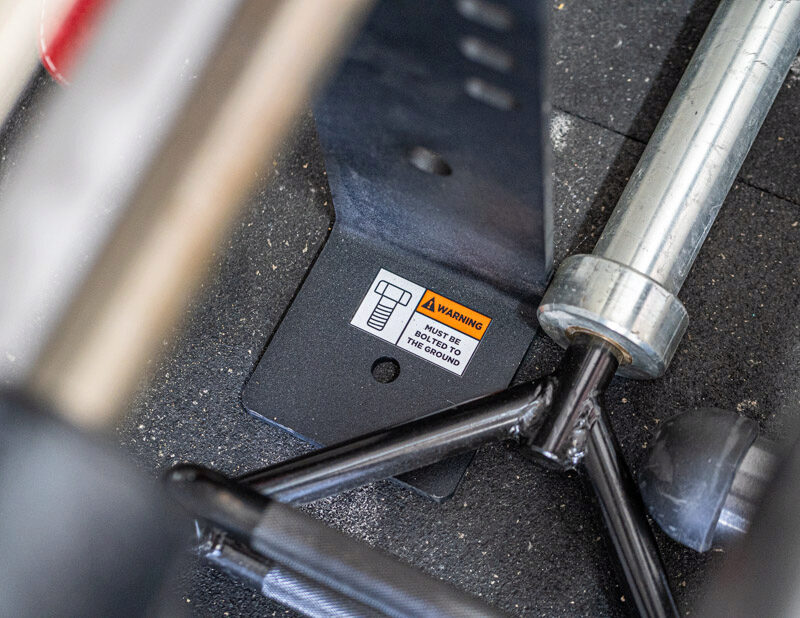 It makes sense that the rack would be as sturdy as it is largely due to the fact that it's leaning on the sturdiness of your wall studs for most of the stability that's provided. Still, when you lift up a piece of 89" long, â…œ" thick piece of steel and you see it bow like a plastic broomstick under load, you question things. Once bolted to the wall, it becomes clear very quickly that stability won't be an issue–and I only utilized half of the suggested bolting locations.
If you've never installed a wall-mounted rack, it can take a bit to get it just right as you have to make sure not only the uprights are level, but so are bar holder locations in relation to each other. Thankfully, I already had a gun rack installed in the location the OFF GRID Rack was destined for, so throwing it on the wall took me around 30 minutes.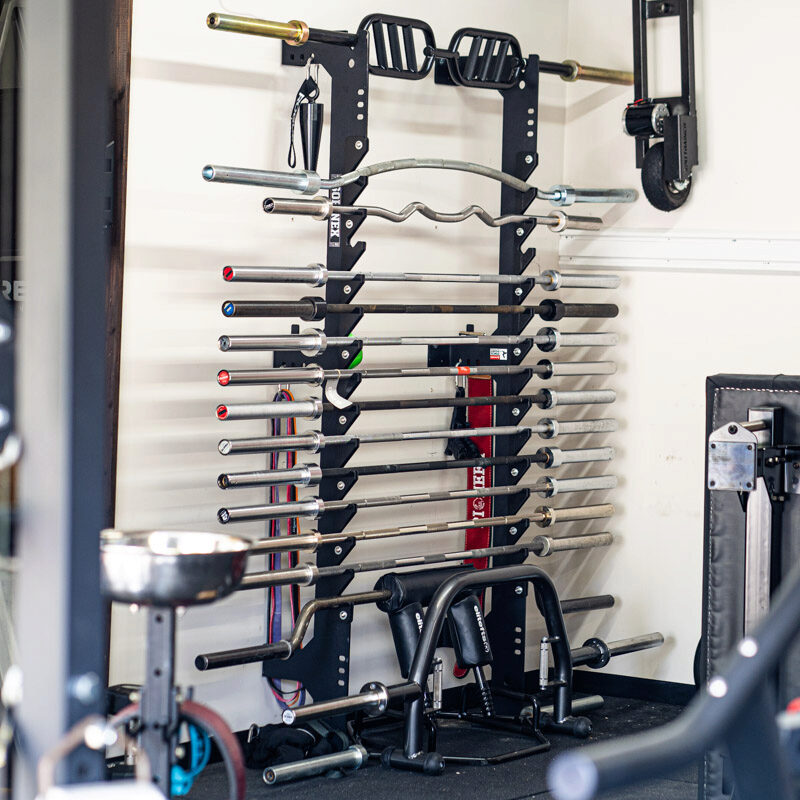 There are 14 barbell hooks on the rack giving the trainee a myriad of height options for squatting and pressing out of. They're also cut shallow enough that it shouldn't get too annoying for most people to find themselves in-between heights. 1" Westside Hole Spacing is obviously the most accommodating for rack adjustments, but not having to adjust j-cups is also something that many would probably enjoy.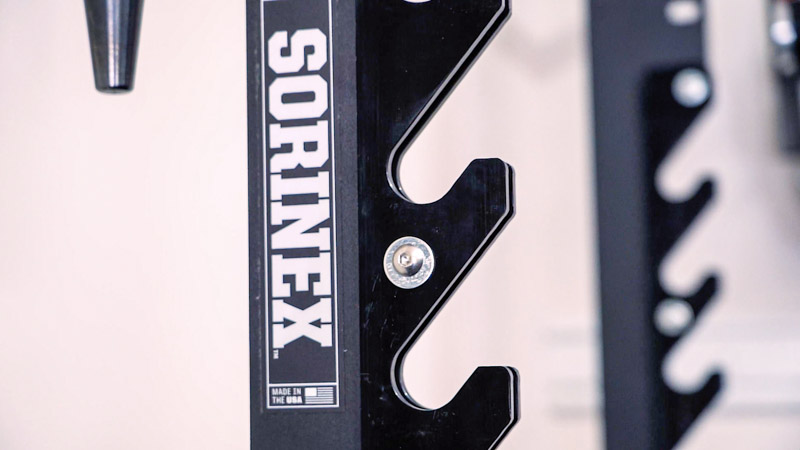 Although the base price of $349 doesn't come with UHMW plastic to protect the barbell when on 'The Ridge' barbell hook section, they are available for an additional $100 along with stainless steel hardware to affix them to the uprights. If you have a nice barbell that you want to protect the knurling on, I would always suggest UHMW plastic protected bar holders. However, this rack is a down and dirty, budget-friendly, get er' done (is that enough descriptors yet?) kind of equipment, so that may not be something you want to spend your money on with this option.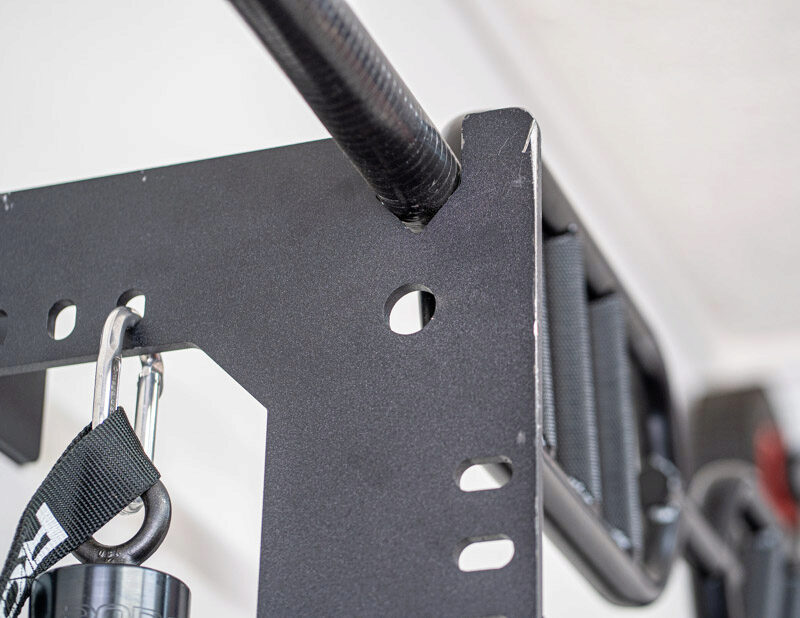 One feature that was quite ingenious in my opinion was the addition of 'The Peak' which is essentially a 'V' cut-out at the top of the uprights that allows a barbell to be placed for pull-ups. This eliminates the need to include a pull-up bar, which therefore lowers the cost of materials and manufacturing as well as the shipping. Westside Barbell to this day has a barbell taped to the top of their original white, rusted to hell squat rack that the Rogue R-3 was based on.
Honestly, I think all pull-up bars that aren't used for kipping should be knurled. We knurl barbells for additional security in gripping. Why not do the same for pull-ups? I digress.
When attached to the 'The Peak' a barbell is secure, doesn't move or spin and feels stable. This, although a simple addition, is yet another showing that Sorinex just gets it. Wondering what it is? Then you don't yet get it 🙂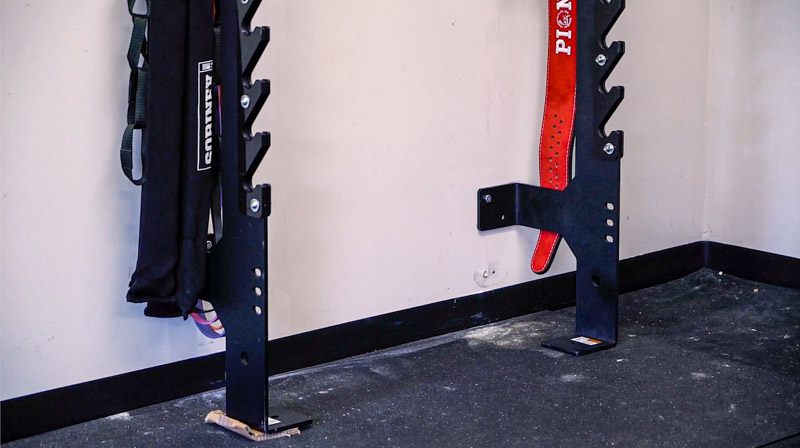 Throughout the uprights are cutouts for carabiner attachments (24 in total,) and a few 1" holes that can have a Sorinex Stall Bar attached as a permanent pull-up bar or a landmine for the base of the rack. This could have easily been overlooked for the short period of time that this rack came about, but it was included and for that, I'm thankful.
Although a basic wall-mounted squat stand, the Sorinex OFF GRID Rack has a lot to like. If you want something basic and want it now, I wouldn't fault you for choosing the OFF GRID. However, that does not mean I think it's the best option from a pure product perspective.
Flaws, but Not Dealbreakers
As illustrated, there's a lot I like about the OFF GRID Rack, but, there are also things I dislike.
First off, the biggest dislike is that although this rack is the most budget-friendly rack Sorinex has produced to date, that doesn't mean it's the best option for those in this price range. This isn't likely something that Sorinex can currently help as they're set up more for University Installs rather than the volume that home gyms can cause, but it's still worth mentioning.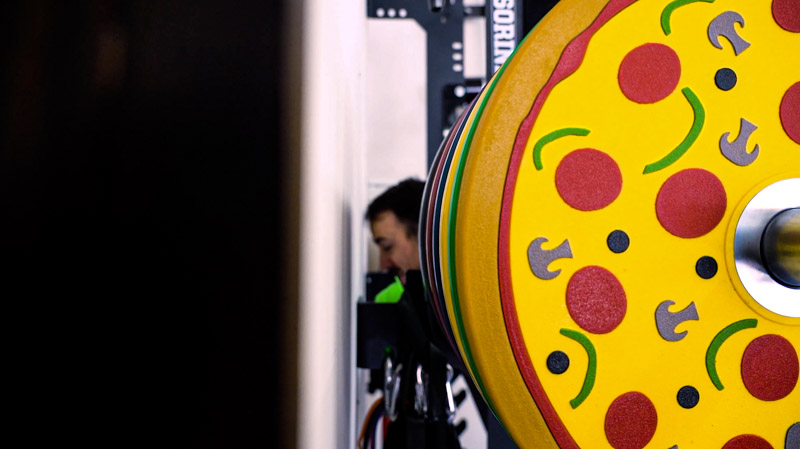 Next, the rack is quite close to the wall. Personally, I don't mind too much, but I'm also not claustrophobic. I foresee many being too close for comfort when getting under the bar for a squat. You also have to butt a flat bench all the way to the wall to use
When the rack showed up, it came with no installation hardware. This means that despite the quarantine and the rack being designed to get people training, there were no lag bolts included, so if you want to install it, you'd have to run to the hardware store. While you're there, you'll also have to pick up concrete anchors as they highly recommend the rack to be bolted to the floor (I would assume for legal reasons.) In addition, you'll want to pick up three 2"x6" stringers for the wall as they suggest.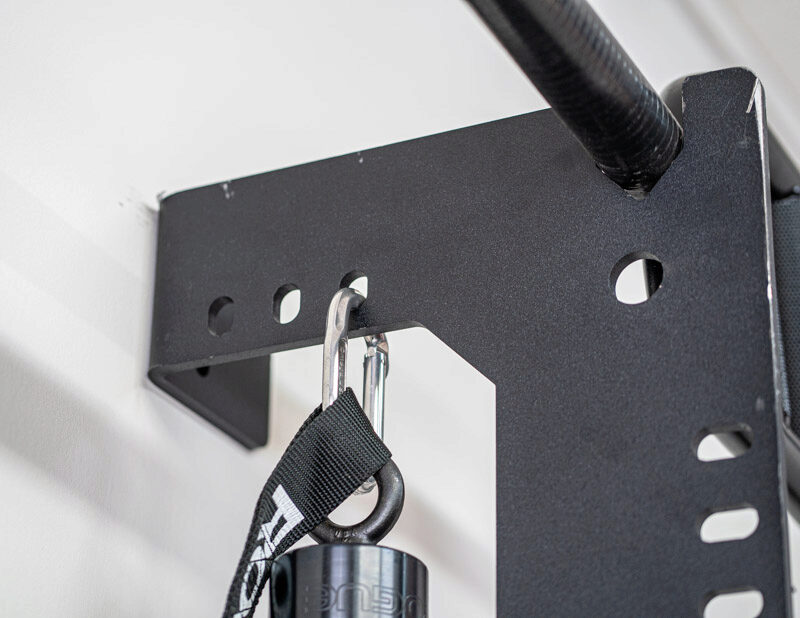 The rack we received to test came with UHMW plastic, however, there is no option to add UHMW plastic to 'The Peak' which is where the bar sits for pull-ups. This will eventually wear down the knurling of your bar at that spot, so we suggest using a beater bar.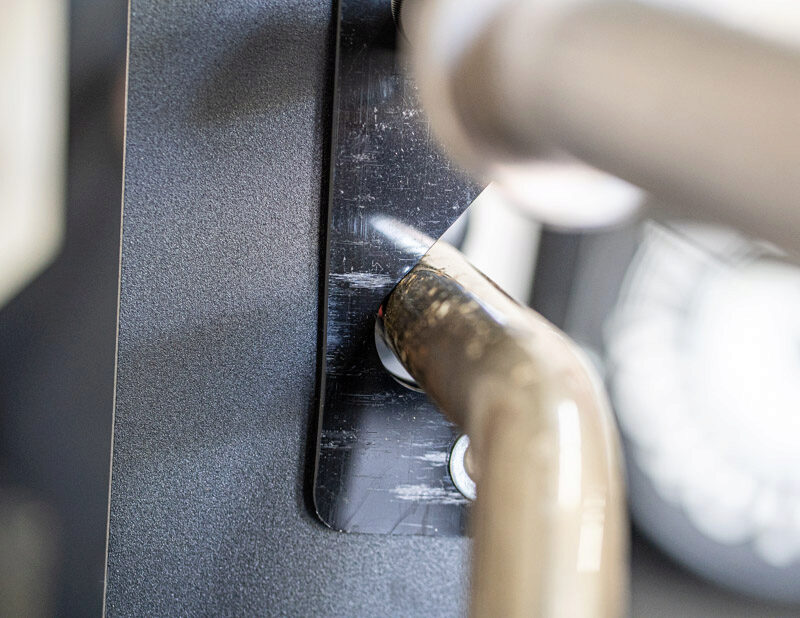 Although the OFF GRID Rack is great for Olympic Barbells, it typically doesn't fit specialty bars. We tried it with an EliteFTS SS Yoke Safety Squat Bar and it only fits if we jammed it in. Your mileage may vary.
Sorinex OFF GRID Rack vs. Rogue RML-90SLIM Rack
Once Sorinex announced the OFF GRID Rack, Rogue Fitness quickly came to market with its competitor the Rogue RML-90SLIM Rack (these guys are competitive with each other.)
Rogue's OFF GRID Competitor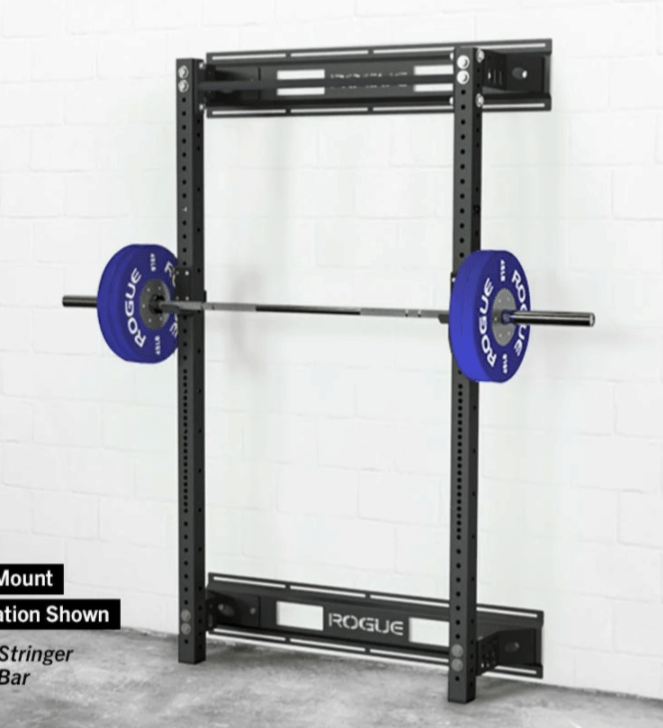 Rogue RML-90SLIM Rack
The Rogue 90" Slim Rack combines a simple, efficient set-up with the reliable stability of two wall-mounted Monster Lite uprights (3x3" 11-gauge steel).All versions of this rack are manufactured in the USA and include Westside hole spacing (1" through bench and clean pull zone, 2" spacing above and below), a texture black finish, a pair of Monster Lite J-cups, and UHMW plastic feet to protect your flooring. Customers can also custom-select several key components of the unit's set-up, including the type of mount (bracket vs. crossmember) and whether to include Rogue Stringers and/or a 43" Single Pull-Up Bar.Well suited to most garage gyms / home gyms, the compact Slim Rack is 90.375" tall and creates a minimal footprint, with the front face of the uprights extending just 15" from the wall in the crossmember mount option.Specifications:Made in the USA Wall-Mounted Rack (2) 90" Uprights: 3x3" 11-gauge steel Westside Hole Spacing - ⅝" holes Finish: Texture Black (2) UHMW Protective Plastic Feet (2) Monster Lite J-Cups
Although I've been told Sorinex' main goal with the rack is the mission of Coaches vs. COVID-19, which I think is awesome, there is still a product being sold that consumers will use and therefore it should be compared to others, in my opinion.
We haven't used the RML-90SLIM Rack yet, but I have used every component that makes up the SLIM Rack (including the braces on a set of Stall Bars I made with them) and the big advantages of this rack is it's slightly lower price point and use of 3"x3" uprights that allow accessories to be used.
These racks, although they have a similar footprint, are very different. The OFF GRID Rack has no adjustability or upgradeability, but it's a very 'cool' looking design that functions well, is easy to install and ships quickly. I really like it and will keep it in my garage gym.
But, in my opinion, for most people, the Rogue RML-90SLIM Rack is a better option long-term. However, Rogue isn't giving 100% of their profits to a great cause for the rack like Sorinex, although they are making a ton (literally) of masks and face shields for those on the front lines.
Full Rating
Sorinex OFF GRID Squat Rack
The Sorinex OFF GRID Rack is the least expensive and also least feature-filled squat rack they've likely ever made. It's a novel idea made as a "wartime" solution for those low on funds and space to get back to training. Although I do think there are better options available, I love the cause behind the rack which gives 100% of profits to Coaches vs. COVID-19 Fund and thinks it's a cool piece of equipment for those that want a minimalist option.
Product Brand: Sorinex
Product Currency: USD
Product Price: 499
Product In-Stock: InStock
Sorinex OFF GRID Squat Rack FAQs
What is theSorinex OFF GRID Squat Rack?
The Sorinex OFF GRID Rack is undoubtedly Sorinex's most distinctive in relation to the rest of their collection, while being the most cost-effective and simplest form of rack Sorinex has ever designed. Designed as a "wartime remedy" by owner Bert Sorin to assist individuals confined at home in their pursuit of strength.
How sturdy is theSorinex OFF GRID Squat Rack?
When I was putting the rack together, the first thing I noticed was how strong it was. Sorinex recommends using three 2″x6″ pine boards as stringers to hold the rack to the wall, but owing to the quarantine, I've been avoiding going to the hardware shop as much as possible, and I don't think it's necessary for my use case.