We test and review fitness products based on an independent, multi-point methodology. If you use our links to purchase something, we may earn a commission. Read our disclosures.
Sorinex is making some of the best home gym equipment available and the Sorinex XL Rack is no exception. Although pricey, it's one of the best racks available and competes directly with Rogue Fitness' premiere Monster Line. After using a Sorinex XL Rack over the past 6 months, we can confidently give a high recommendation to anyone wanting a great squat rack with all the bells and whistles and aren't too concerned with price.
Sorinex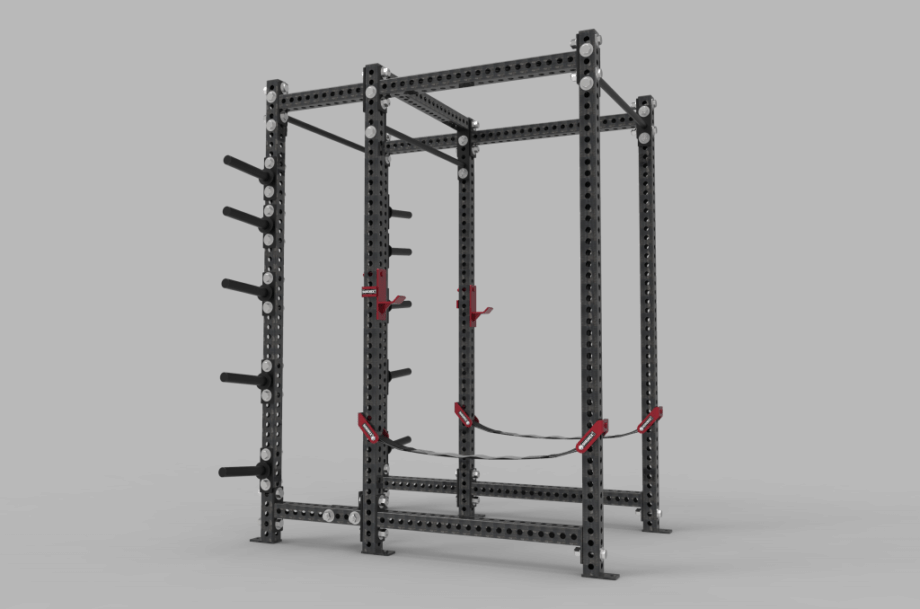 Sorinex XL Rack
The Sorinex XL Rack & Rig Series was designed out of necessity. An evolution from the first Basefit rig, which was the GENESIS of the modern CF "Rig" with modular pieces that are customizable to fit any space and application. All copies and other companies' RIGS are based on this design. First modular, easily shippable, the designed rack that could be customized and fit almost any room or application. This changed the game, linking lifting with gymnastics movements, PT, and accessory lifts. This allowed large groups to more easily run barbell circuits, pull-ups etc. Prior to this, CF'ers had a custom welded pull up rig, which did not have holes in the uprights for barbells movements (and the uprights were placed too far apart, 8 ft). Massive wastes of space and money, that was often unmovable if they wanted to adjust the room or move to a different space. People would wall mount chin bars, and use squat stands piled in the corner. Bumpers were stacked against the wall. Dip stands were separate. Basefit changed all of that.For the BaseFit Rig (2″ x 2″) – it gave the CF'er the option to start small in their garage, and grow/reuse their equipment into a business, larger business etc with no loss of hard resources. Military use was also a part of the design, to offer a deployable rack solution that the soldiers downrange did not have to leave once they left, and they could customize however they wanted, break it apart, add to it etc and get strong anywhere in the world. Both designs were at Sorinex HQ at Summerstrong 1 (2008) and the Basefit Rig was first shown in mass to the public at the 2008 CF Games (2) in Aromis, California at Dave Castro's family ranch. We actually had that first Basefit Rig powder coated black texture, tan and heat resistant OD green on that first order. Years later, the XL Series was born.Rest assured, with your purchase of an XL Series Rack or Rig, you are investing in your future. You are investing with the innovators and developers of fitness/strength training with racks and rigs as we know it.Features First 4-Way Hole Design Unlimited Bolt Design 3″ x 3″ Rack Sides 11 Gauge Steel 1″ Bolt Fasteners Custom Logo Options
Unboxing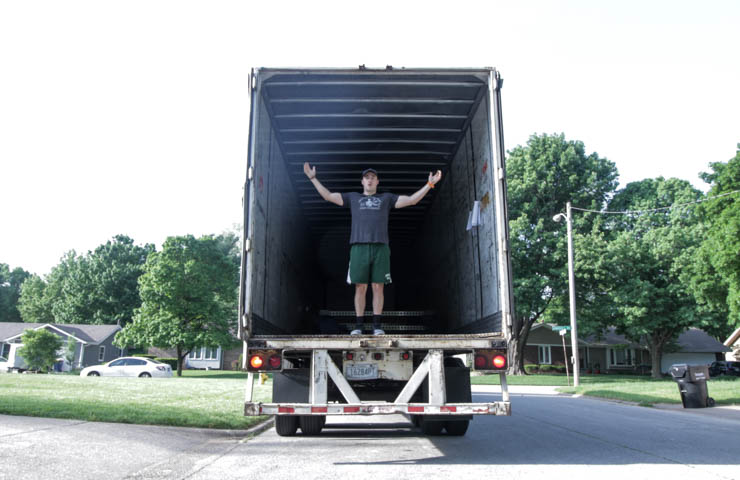 I actually received the Sorinex XL Rack at the same time as the Sorinex Base Camp Rack (check out our Sorinex XL Rack review here.) Meaning, it showed up on an 18-Wheeler with nothing but my new gear.
If you're going to buy from Sorinex, it makes sense to buy a lot at once, otherwise you're going to be paying an unnecessarily high amount in shipping cost.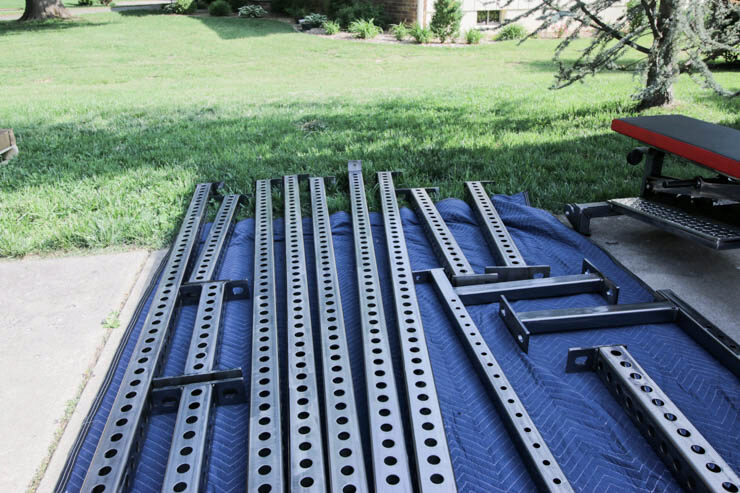 The Sorinex XL Rack showed up in all of its clear grind glory individually wrapped in movers blankets to protect all of the powdercoat. This included the uprights, crossmembers, and accessories.
You'll be thankful it comes in this manner because otherwise you'd experience some chipping that no one wants. Thankfully, after inspecting every piece (yes, I'm a bit OCD) I noticed pretty much every piece was in an "off the assembly line" condition. I was happy.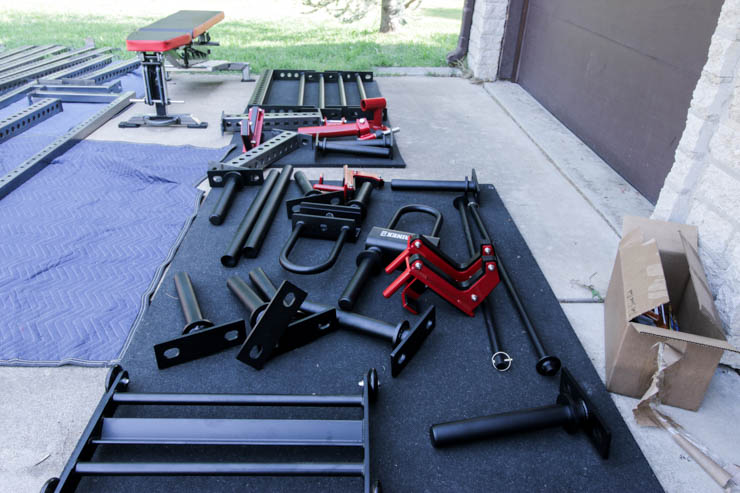 Next, we assembled the bad boy next to the Base Camp and immediately received the status of most bad to bone garage gym in the world (if not that, then definitely on my street.)
Sorinex XL Rack Review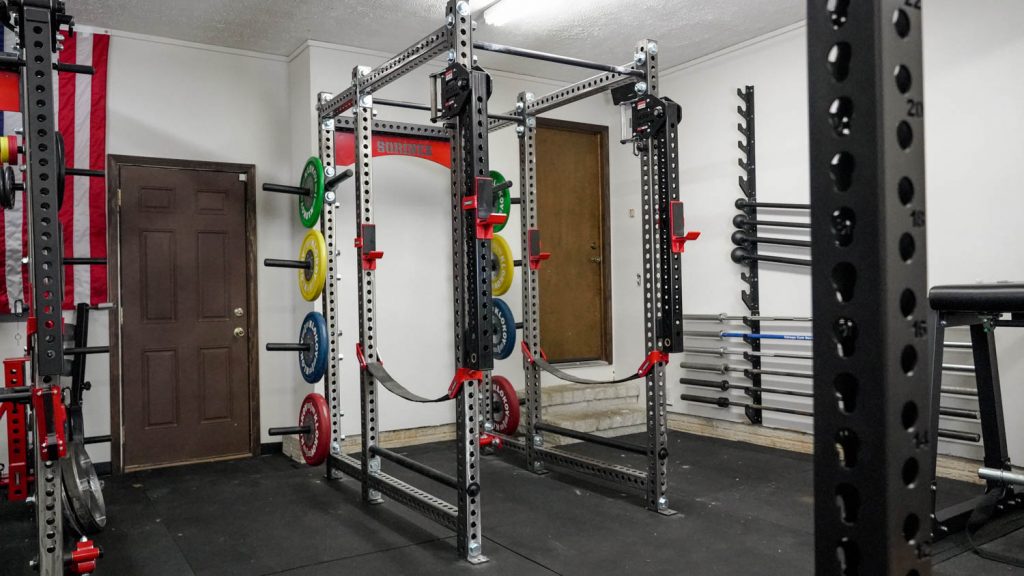 Sorinex is undoubtedly making some of the best gym equipment in the world. They've supplied equipment for the US Navy Seals, Denver Broncos, University of Oregon, Los Angeles Lakers, and many other organizations that perform at the top of their respective jobs.
As you'd imagine, with such high-quality and elite clientele, their products aren't cheap. But, before I go any further into detailing the Sorinex XL Rack, I want to say this. If you're looking at a Sorinex XL or Base Camp Rack, price should not be a major consideration. Worrying about the price of premiere Sorinex Racks would be like going to a Ferrari dealership and trying to haggle the price on a 488 Spider.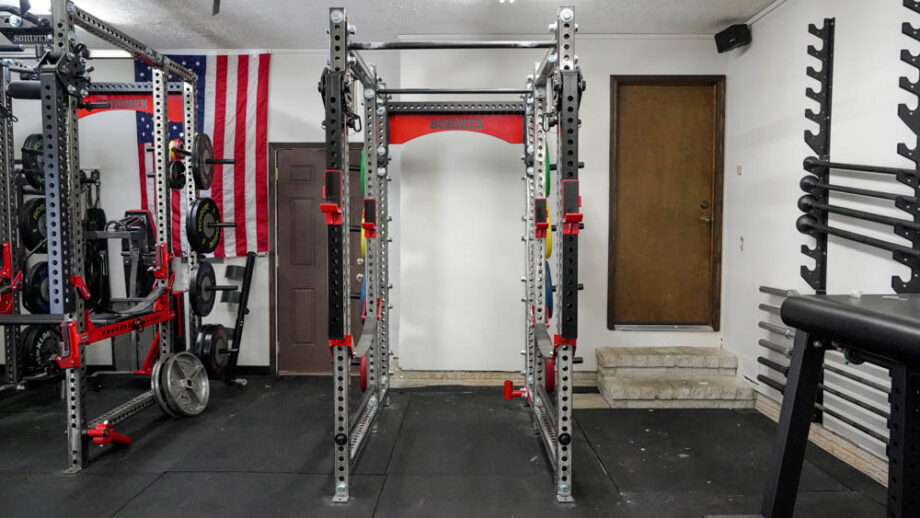 When you go to a Ferrari dealership you know you're paying for the history, name, and quality. The same can be said for a Sorinex Rack. However, what you'll find is that the pricing between a top of the line Sorinex Rack and equivalent competitor rack is pretty much the same. In fact, as of this writing, a Sorinex XL Rack has a base price of $1,999. A Rogue RM-6 Monster Rack with an equivalent accessory package is $2,000. Don't you love competition in the marketplace?
Now that is out-of-the-way, let's talk about all of the nice details of the Sorinex XL Rack.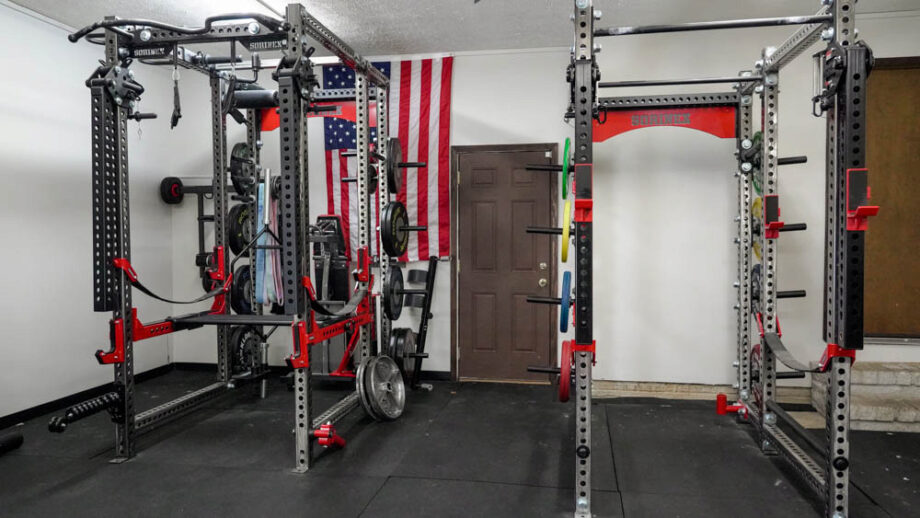 The Sorinex XL Rack is really the rack I'd suggest from their line-up for most garage gym owners. Standing at 95.4″ tall, 47″ wide (this is an important distinction against competitors, more in a moment) and 71″ long, in comparison to the big brother Base Camp, the XL Rack will fit in most garage gyms and not have unnecessarily expensive features like welded panels and a 108″ height.
It must be said that the dimensions I just gave are all customizable. In fact, if you have the money, everything on the rack is customizable, which can be said for most American-Made Strength Equipment Companies.
However, the standard dimensions are ones I really like. The length allows enough room for plate storage and a big open area for rack work, the height is tall enough for most to have room to press within the rack, and the width, being 47″, provides enough room to rerack the bar without worrying about hitting the uprights.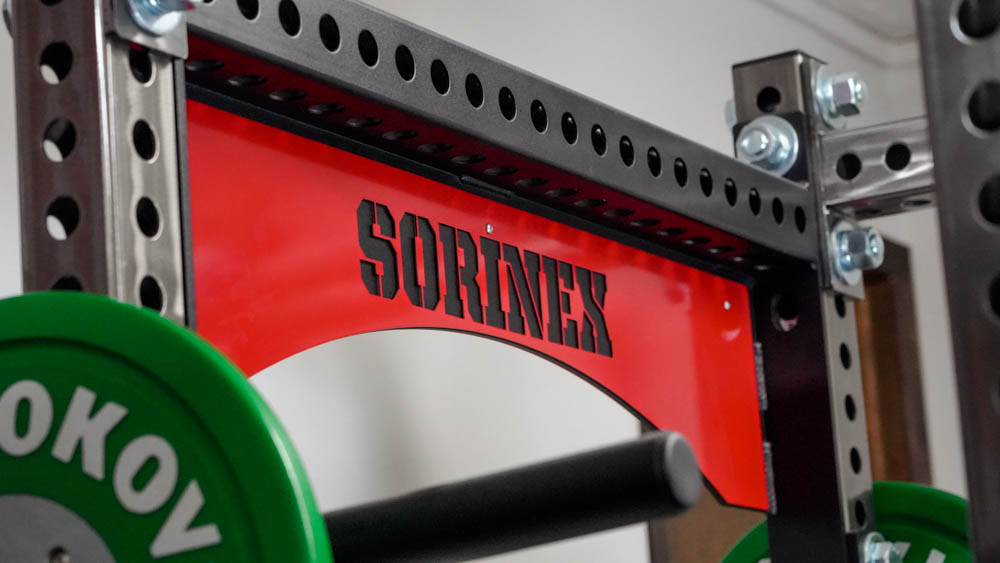 The 47″ width is actually an important part of the rack. The biggest competitors to the Sorinex XL Rack are the Rogue Monster and Monster Lite racks. They have an outside width of 49″. This may seem like a small difference, however, considering many shafts are around 51″ in between the sleeve collars, a 49″ rack width doesn't leave a lot of room for reracking the bar cleanly.
I definitely prefer the 47″ width, and anyone that's coming from a 2″x3″ rack probably would as well.
The uprights and crossmembers of the XL Rack are 3″x3″, 11-gauge steel. This has pretty much become the industry standard for racks of this kind, although there are a few 7-gauge racks which is "stronger" but I don't see much a need in most cases.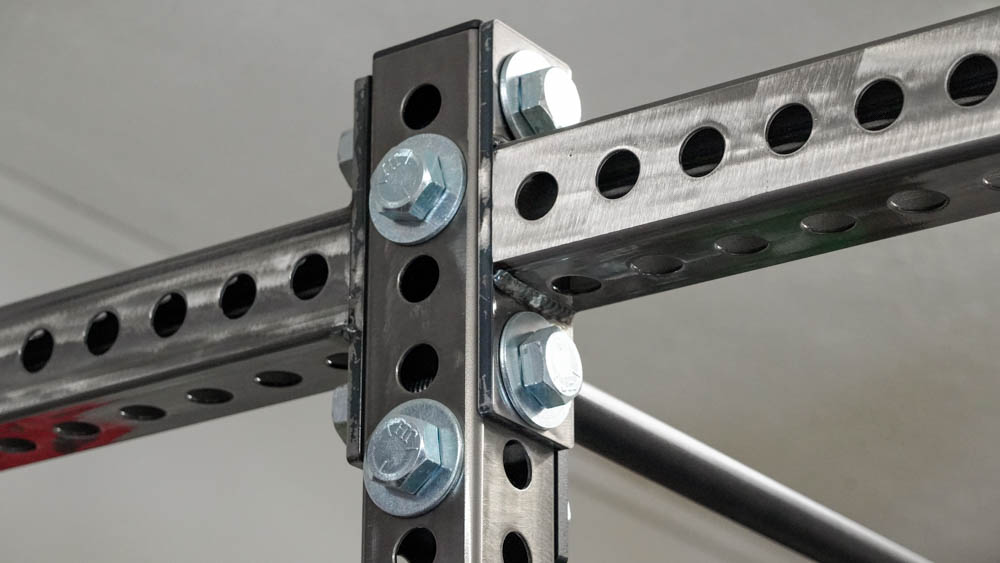 One of the biggest differences between the Sorinex Base Camp and XL Racks is that the Base Camp features welded panels while the XL Rack features bolted panels. According to some of the people I've spoken with at Sorinex, the welded panels allow racks to bridge to one another easier, and welds are stronger than bolts. This said, I've had other companies say the complete opposite, so I'm just going to say this, a garage gym is going to get along just fine with bolted instead of welded panels.
The color of the XL Rack I decided to go with is Sorinex most requested option and that is the clear grind. Sorinex takes a grinder to the rack before spraying clear powdercoat over the top. I really like this option because it's unique, matches any accessory color, and hides scarring really well. I'm not surprised so many people choose this option; there's just so much character to it.
Every part of the uprights and crossmembers feature laser-cut holes ready to be filled with 1″ bolts or accessory items. Although my XL Rack doesn't feature laser-cut numbering, it is available and something I would highly recommend. If you're going to spend this much on a rack, you might as well go all out, and trust me, with so many holes on the rack, you will be thankful for hole numbering.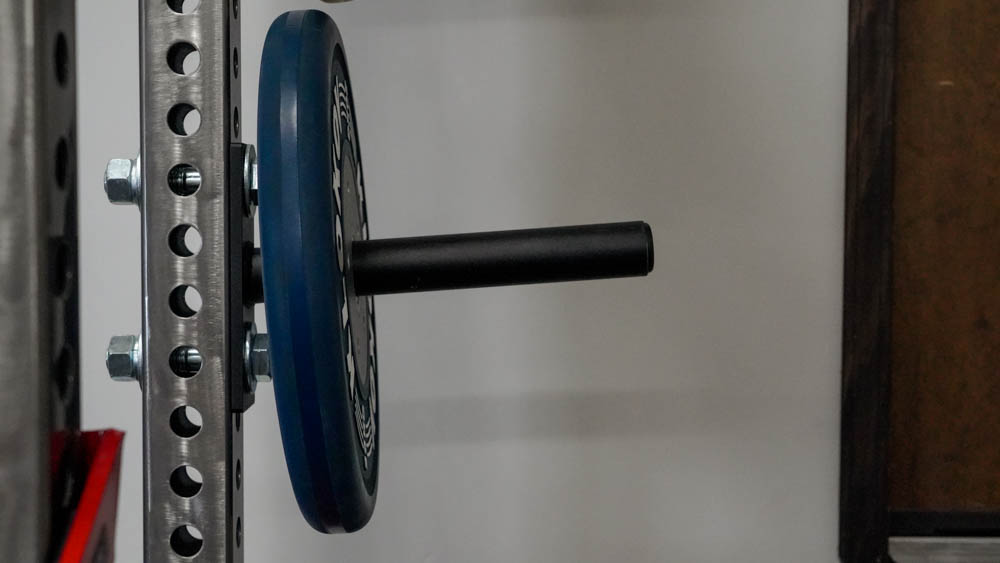 The back side of the rack comes with 5 plate posts standard that are bolted on and tilted slightly upward to prevent plates from falling off. To be honest, these seem a bit archaic after using the urethane-coated pin posts that come with the Base Camp Rack. The urethane-coated pin posts can be removed and used for pullups, dips, and other movements, while still being able to hold plates. Due to this, I'd suggest forgoing the standard plate posts and upgrading to the removable ones, you'll thank me or wish you had listened to me.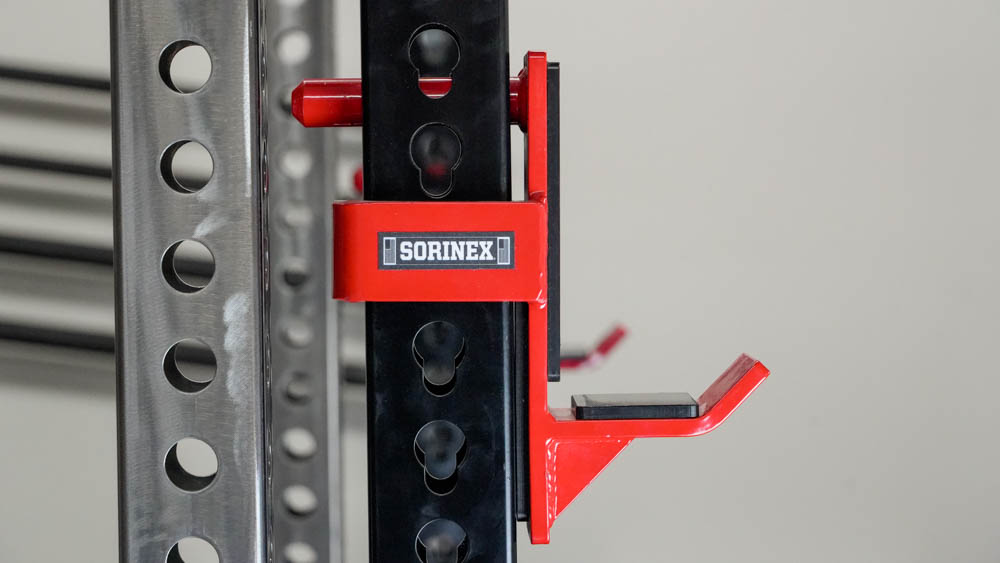 The base XL Rack, the one we're reviewing, uses standard j-cups. They work really well and feature an extra brace on the bottom of the cup that I've noticed other companies copying. Although I prefer the look and performance of sandwich j-cups and would suggest you to upgrade to those, the standard j-cups work great and also look good with the various colors available.
With weight on the rack, there's no need to bolt it to the ground although that is an available option.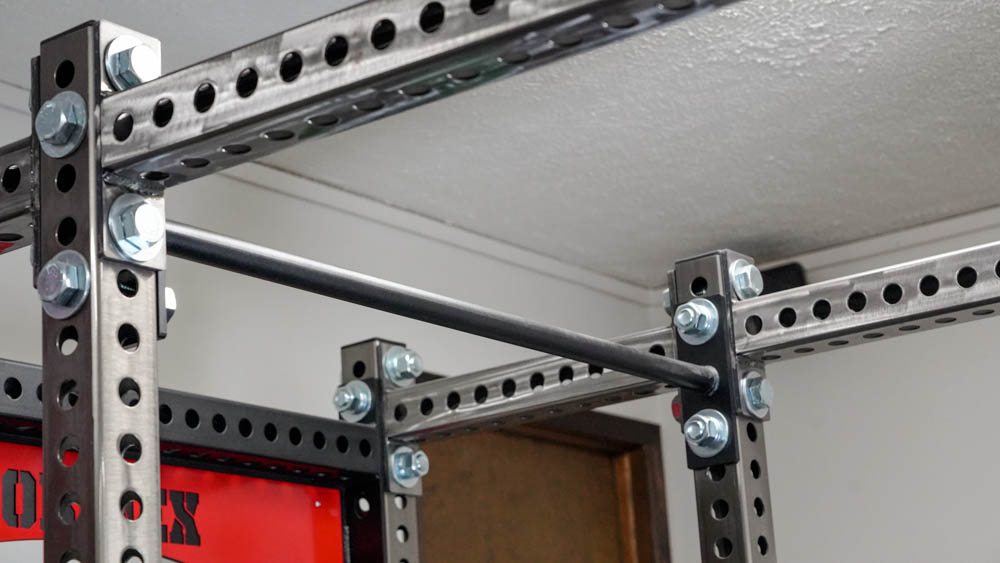 The pull-up options that comes standard with the rack are two straight pull-up bars. Sorinex has a ton of available options and we've reviewed. I would definitely suggest upgrading to at least the Indexing Chin Bar option and if you want others like the Batwing Chin-Up Bar option, fine, but I think the Indexing Chin Bar is pretty much essential.
RELATED: Sorinex Base Camp Squat Rack review
The safeties that come with the rack are the Strap Safeties and I don't see a reason to upgrade from those unless you'd like the additional functionality of having Full Safety Bars, and even in that case, I'd get both which comes on the Uber Package standard.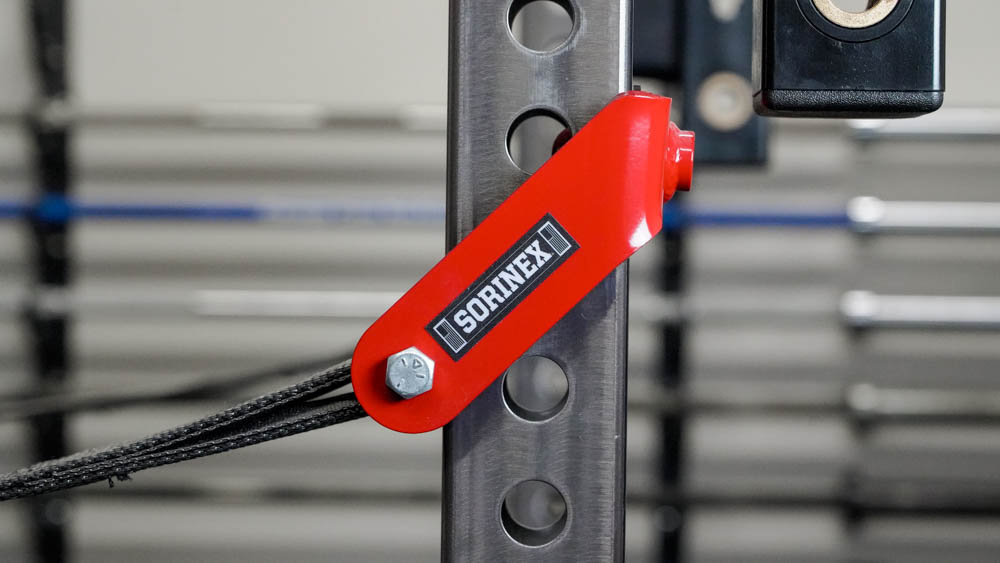 So, what's the verdict? Should you purchase the Sorinex XL Rack? I'll say this. The Sorinex XL Rack is one of the best squat racks available and is one of the top racks we'd suggest to garage gym owners who want the best. It's infinitely customizable, will last you the rest of your life, and has many accessory options.
Overall, Sorinex is innovating in incredible ways that is pushing the industry forward. The XL Rack with its 4-way hole design, modular accessories, and stout build is an absolute beast of a rack.
Sorinex XL Rack vs Sorinex Base Camp Rack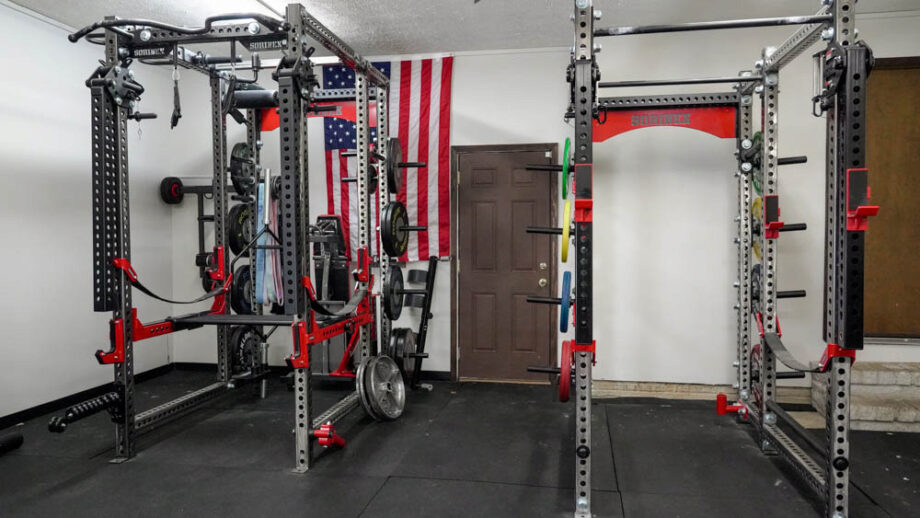 For most commercial or university facilities, I would suggest the Base Camp. Its size will accommodate a wider range of athletes and the welded panels should, in theory, allow more options for connecting racks together with bridges (definitely something you're going to want to do.)
However, if you're a garage gym owner, then definitely go with the XL Rack. You can get it as tall as you'd like, the bolts shouldn't get in your way, and it can do just about anything the Base Camp can for less. Unless you're like me and just like saying you have a Base Camp, then I don't blame you.
Sorinex XL Rack vs Rogue RM-6 Monster Rack
I've been asked for this comparison for some time. I am waiting on Rogue to drop their new Monster Rack line to give a definitive recommendation. In reality though, there's only so much you can do with a 3″x3″ 11-gauge steel upright and they are VERY similar racks.
Here are some things you should consider though.
Sorinex Exercise Equipment is a MUCH smaller company than Rogue. This means you're going to have more attention, however, it also means shipping is going to be more costly and you're going to wait longer for your rack. They're also slightly more expensive overall.
Rogue Fitness is a behemoth. This has its benefits and drawbacks. You're going to get your equipment extremely quick, and if there's any issue they're going to take care of it quickly. I'd expect much more customization options since Rogue purchased Reflex Fitness, but that's going to be further down the line.
Both companies are known for being good at taking care of warranty issues and both have lots of accessories with the ability to use accessories from other companies.
The Rogue Monster line features keyholes on the sides of its rack which when utilized, are a really nice feature.
The Sorinex XL Line has a 47″ width that most, including myself prefer.
The choice between the Sorinex XL Rack and Rogue RM-6 Monster Rack honestly comes down to preference and price. They're extremely similar racks with similar accessories or the ability to use either companies accessories.
This said, Rogue seems hellbent on having the best in the industry with Bill Henniger's use of the hashtag "#pinkslipforpinkslip" so I expect whatever they offer next for the Monster Line to be special. Until then, we wait.
What to Look Forward to
To be honest, the rack that most appeals to me for garage gym owners right now is the Sorinex Apex Rack.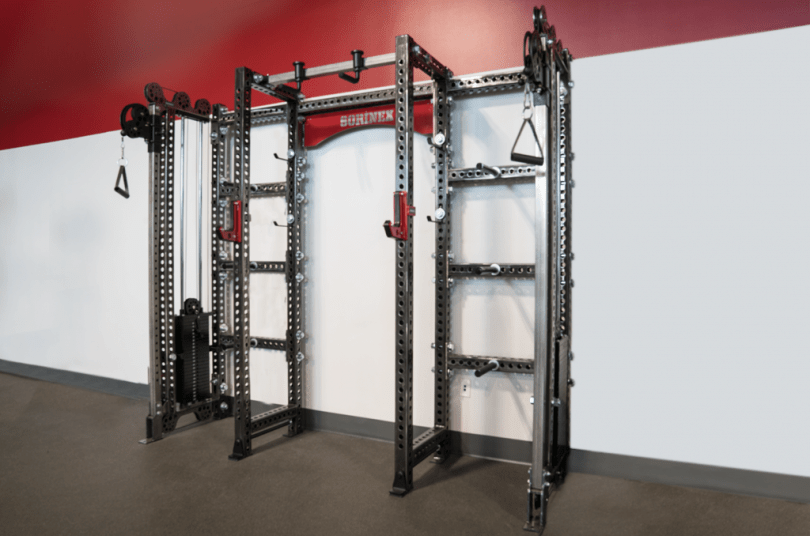 The amount of versatility that's available with this rack is incredible and shouldn't be overlooked in the search for the perfect home gym rack. I'd love to review an option with plate-loadable stacks and foresee this becoming a popular option among garage gym owners with not a lot of space.
Full Rating
Sorinex XL Rack
Sorinex is making some of the best home gym equipment available and the Sorinex XL Rack is no exception. Although pricey, it's one of the best racks available and competes directly with Rogue Fitness' premiere Monster Line. After using a Sorinex XL Rack over the past 6 months, we can confidently give a high recommendation to anyone wanting a great squat rack with all the bells and whistles and aren't too concerned with price.
Product Brand: Sorinex
Product Currency: USD
Product Price: 2849
Product In-Stock: InStock
Sorinex XL Rack FAQs
Is Sorinex worth the money?
The Sorinex XL Rack is one of the greatest squat racks on the market, and one of the top racks we would recommend to garage gym owners looking for the best. It's infinitely adjustable, will last you a lifetime, and comes with a plethora of accessories.
Is Sorinex better than rogue?
The Rogue pricing excludes custom lasered J-cups, a utility seat storage system, and adjustable urethane pins, while Sorinex's customized arches are superior. The Sorinex XL Power Rack and the Rogue RM-6 are both fantastic racks in the end.
Is Rogue compatible with Sorinex?
Sorinex power racks are incompatible with Rogue power rack accessories. As a result, Sorinex and Rogue are in direct competition and have little in common.
Where to Purchase
Sorinex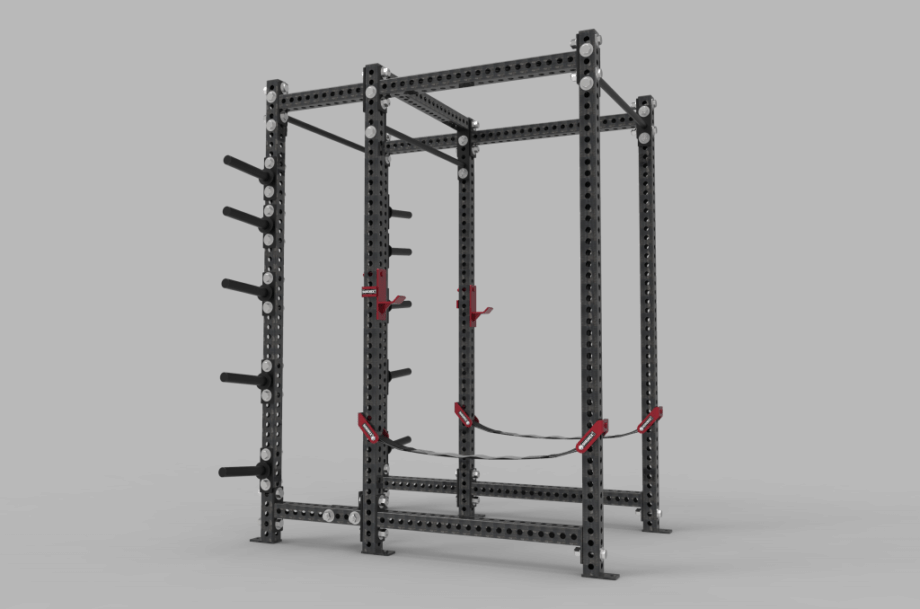 Sorinex XL Rack
The Sorinex XL Rack & Rig Series was designed out of necessity. An evolution from the first Basefit rig, which was the GENESIS of the modern CF "Rig" with modular pieces that are customizable to fit any space and application. All copies and other companies' RIGS are based on this design. First modular, easily shippable, the designed rack that could be customized and fit almost any room or application. This changed the game, linking lifting with gymnastics movements, PT, and accessory lifts. This allowed large groups to more easily run barbell circuits, pull-ups etc. Prior to this, CF'ers had a custom welded pull up rig, which did not have holes in the uprights for barbells movements (and the uprights were placed too far apart, 8 ft). Massive wastes of space and money, that was often unmovable if they wanted to adjust the room or move to a different space. People would wall mount chin bars, and use squat stands piled in the corner. Bumpers were stacked against the wall. Dip stands were separate. Basefit changed all of that.For the BaseFit Rig (2″ x 2″) – it gave the CF'er the option to start small in their garage, and grow/reuse their equipment into a business, larger business etc with no loss of hard resources. Military use was also a part of the design, to offer a deployable rack solution that the soldiers downrange did not have to leave once they left, and they could customize however they wanted, break it apart, add to it etc and get strong anywhere in the world. Both designs were at Sorinex HQ at Summerstrong 1 (2008) and the Basefit Rig was first shown in mass to the public at the 2008 CF Games (2) in Aromis, California at Dave Castro's family ranch. We actually had that first Basefit Rig powder coated black texture, tan and heat resistant OD green on that first order. Years later, the XL Series was born.Rest assured, with your purchase of an XL Series Rack or Rig, you are investing in your future. You are investing with the innovators and developers of fitness/strength training with racks and rigs as we know it.Features First 4-Way Hole Design Unlimited Bolt Design 3″ x 3″ Rack Sides 11 Gauge Steel 1″ Bolt Fasteners Custom Logo Options