We test and review fitness products based on an independent, multi-point methodology. If you use our links to purchase something, we may earn a commission. Read our disclosures.
Biohacking refers to self-experimentation with nutrition, exercise, sleep, and other lifestyle variables. Often, biohackers use various supplements, tools, gadgets, and devices to optimize their health, fitness, and mind. Much of biohacking is about defying aging or getting the most benefits in as little time with as little effort as possible, but just as often, it's simply about feeling better and becoming the best person one can be.
In this guide to the best biohacking products, I share eight ideas for hacking your biology, from the best fitness trackers to supplements to metabolism monitors. All of the products we recommend in this guide have been hands-on tested by one or more of the members of our GGR product testing team, and each was rated according to a unique testing methodology created for its product category.
Best Biohacking Products
Other Biohacking Products
Air and Water Purifiers
Nerve Stimulation Devices
PEMF Therapy Devices
EEG Devices
Sunrise Alarm Clocks
Blue Light Blocker Glasses
Best Wearable for Biohacking: Oura Ring
Good for: Accurate sleep tracking and illness monitoring
Biohacking begins with tracking: It's tough to make improvements upon your life when you don't know where to start. That's where wearables like the Oura Ring come in. The Oura Ring is a bite-sized health, fitness, and sleep tracker with an impressively long battery life for its size. Lasting up to seven days on a single charge, this small-but-mighty gadget tracks more metrics than your average fitness tracker.
While most stop at hours of sleep, steps, heart rate, and calorie burn, Oura Ring gives you insights into:
Skin temperature
Calories burned
Sleep (total hours, time in different sleep stages, and time awake)
Blood oxygen saturation
Heart rate variability (HRV)
Respiratory rate
Steps and daily movement
Cooper Mitchell, GGR founder, wore an Oura ring for several weeks to see how the smart wearable impacted his sleep, health, training, and life. "The ring portion feels like the main separator," he says. "It's surprisingly lightweight and most of the time, I forget it's on."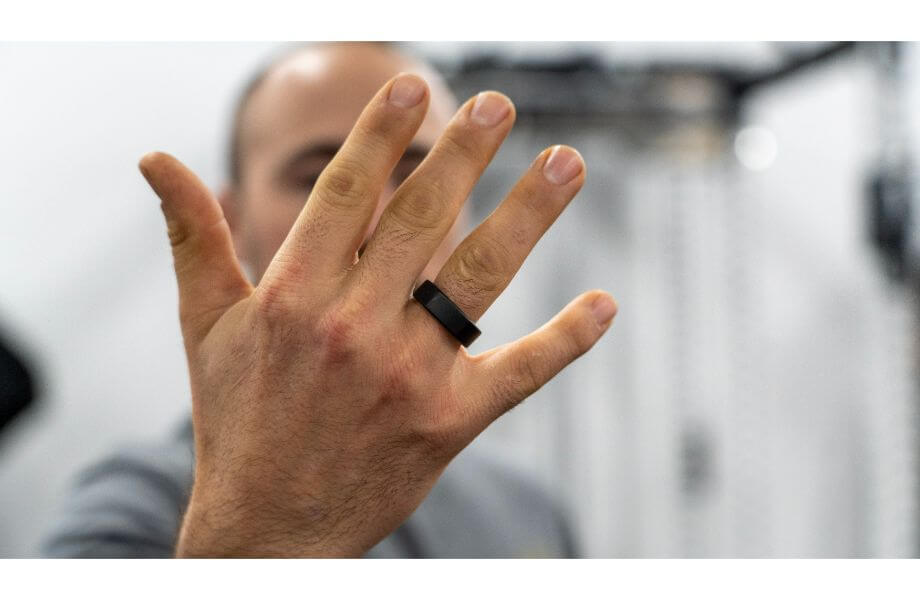 In our Oura Ring review, Coop says he loves the long battery life and ease of viewing metrics. The ring collects data and sends it to the Oura app on your phone. You can sync everything up with Apple Health, too, if you prefer that. Coop says that even for beginners, it's easy to understand the data that Oura provides.
Oura Ring's standout feature is sleep tracking. According to one 2020 study1, the Oura Ring's sleep-tracking capabilities rival that of medical-grade equipment.
This is likely because, in addition to tracking time spent sleeping, the ring also tracks breathing rate, skin temperature, REM and deep sleep, sleep latency (how long it takes to fall asleep), and disturbances like sudden high heart rate. All of this gives Oura more in-depth, complex information about your sleep quality—not just sleep quantity.
Because of these great sleep-tracking capabilities, we'd recommend the Oura Ring to any biohackers who have an interest in optimizing their sleep and energy, as well as anyone interested in learning more about their health in general.
Price
$299 to $499, plus $5.99/month
Metrics tracked
Body temperature, calories burned, sleep, blood oxygen,
resting heart rate and heart rate variability (HRV),
breathing rate, respiratory rate, steps and daily movement
Battery life
Up to 7 days
Waterproof/dustproof rating
water-resistant up to 100 meters (~330 feet)
Best Fitness Tracker for Biohacking: Whoop Strap 4.0
Good for: Tracking blood oxygen, respiratory rate, heart rate variability, and other metrics to optimize your wellness
While the Oura Ring is more of a health tracker, the Whoop Strap is more of a fitness tracker. It tracks many of the same metrics as the Oura Ring, but the focus is largely on recovery from exercise and managing your work-to-rest ratio. The Whoop Strap is extremely popular among CrossFit athletes for that reason.
Whoop is known for its Day Strain metric, a proprietary metric unique to Whoop that measures cardiovascular load and muscular load, summarizing them into a single score.
According to Whoop, "Day Strain provides you with a full picture of the Strain you are putting on your body each day. Day Strain is useful in determining what non-exercise activities are contributing the most to your accumulated Strain. This can help you optimize planning your days leading up to a competition or help you identify daily activities that may be contributing to elevated Strain."
The Whoop Strap also tracks skin temperature, heart rate variability, blood oxygen saturation, calories burned, and various sleep metrics. During sleep, Whoop uses all of those metrics to formulate your Recovery score, which is a measure of how ready your body is to perform.
You get daily scores for metrics like Strain and Recovery, but more importantly, Whoop allows you to see trends over time, so you can begin to understand how your body responds to things like periods of high stress, illness, inactivity, and more.
In our Whoop 4.0 review, GGR founder Cooper Mitchell shares that he found the Recovery metric to be inaccurate at times, and that's a good reminder that it's always wise to understand your body's signs and signals without a piece of technology.
| | |
| --- | --- |
| Price | $30/month, $239/year, or $399/two years |
| Metrics tracked | Sleep, heart rate variability, blood oxygen, skin temperature, calories burned |
| Battery life | 4 to 5 days |
| Waterproof/dustproof rating | IP68 |
Best Telehealth Service for Biohacking: Life Force
Good for: Determining nutrient or hormone deficiencies and fixing them
Life Force is a telehealth startup co-founded by Tony Robbins, a well-known life coach who can be considered a biohacker in his own right. With Life Force, you take a blood test at a lab (or at home with a traveling phlebotomist) and you're then matched with a medical professional to discuss your results.
The Life Force diagnostic kit tests for more than 40 biomarkers, including several hormones, nutrients, lipoproteins, triglycerides, and more. When your results are in, you'll meet with your clinician to understand any deficiencies or areas for improvement. Your clinician will create a plan for you, which may include hormone replacement therapy, supplement recommendations, and lifestyle advice.
GGR general manager Tyler Moyer tried Life Force and rated it highly on almost all fronts. One thing that makes Life Force stand out amongst its competitors is how proactive the clinicians are.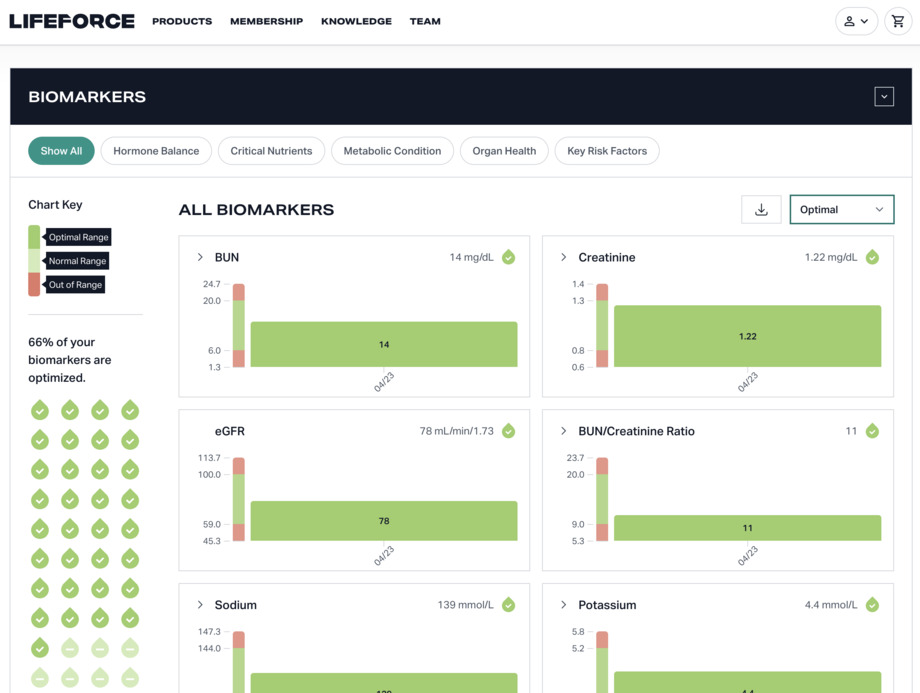 "Life Force has their dashboard that displays results in an easy to view way, where you're given bar graphs and typical ranges," Tyler says. "I've worked with another company that just gives you the lab results, which technically has the same information, but it's harder to consume and analyze," he continues. "And then I've worked with yet another company that didn't give me any of the results at all. They spoke to them in the telehealth call, but I had to request they send them."
After you complete your Life Force diagnostic test and go over the results with your provider, you can sign up for a monthly membership. Memberships cost $129 per month and cover the cost of quarterly re-testing to ensure your health is tracking how it should. Being a Life Force member also means you get access to the dashboard where all of your information and results are stored, and access to certified health coaches.
A Life Force membership is a worthy option for anyone who is looking to optimize their health from the inside out based on real lab data. Learn more about the service and Tyler's experience in our Life Force review.
| | |
| --- | --- |
| Startup fees | $549 for non-members, $349 for members |
| Membership fees | $129/month |
| Membership options | Cancel anytime |
| Labs | At-home phlebotomist option, or taken at a local clinic |
| Number of biomarkers measured | More than 40 |
Best Infrared Tool for Biohacking: Higher Dose Infrared Sauna Blanket
Good for: Experiencing the potential benefits of infrared light therapy
Infrared light has been used for many applications in health, fitness, and medicine. In an infrared sauna, infrared lamps directly heat your body using electromagnetic radiation, as opposed to a regular dry sauna that heats the air around you via a stove or electric heater.
The Higher Dose Infrared Sauna Blanket is a portable infrared sauna that you lie down in, like a sleeping bag. The sauna blanket is "super easy to use," says product tester and GGR Everything video reviewer Lindsay Scheele. "It comes with a dial that lets you control what temperature you want the blanket to be. It heats up in less than 10 minutes and each session is 30 to 45 minutes."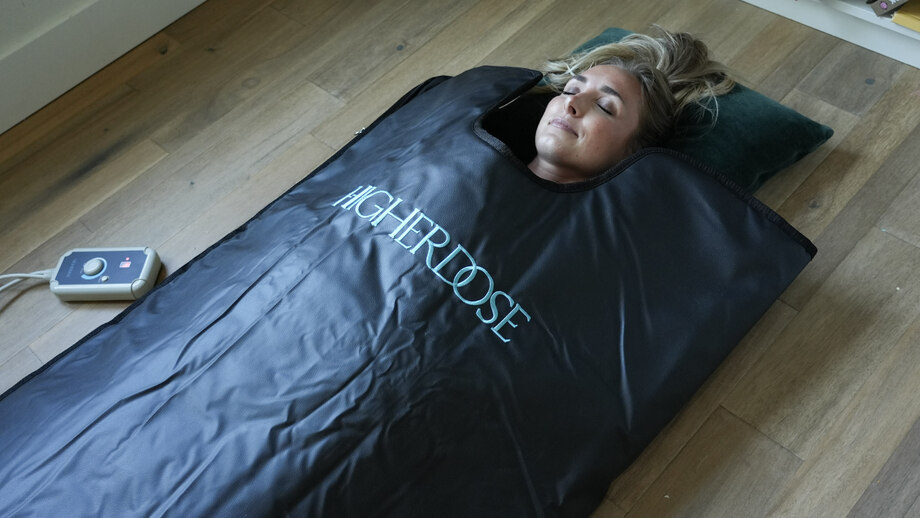 Infrared sauna therapy, which uses far-infrared light, is associated with benefits such as improved blood circulation and muscle recovery. A 2023 study2 in the journal Biology of Sport found that post-exercise infrared sauna therapy reduces post-workout muscle soreness and "may enhance mood, readiness, and physical performance of an athlete."
Other infrared sauna benefits include potential improvements in chronic fatigue, heart health, and blood pressure.
Lindsay says she prefers sitting in a real sauna, but she notes, "If you just love sauna sessions and need a more portable option, I think this is great. I felt relaxed and really enjoyed using it." Ultimately, Lindsay rated the Higher Dose Infrared Sauna Blanket with 4.6 out of 5 stars due to its easy setup, sturdy construction, and performance.
For more sauna recommendations, see our guide to the best home saunas.
| | |
| --- | --- |
| Price | $699 |
| Time to heat | 10 minutes |
| Heating zones | 1 |
| Heat levels | 8 |
Best Supplements for Biohacking: Rootine Personalized Vitamins
Good for: Making sure you're taking the right vitamins for your body
If you're like most people, you're blindly choosing and taking supplements based on…well, nothing. But you're looking for biohacking products, so you're probably not like most people in this regard.
Enter Rootine, a personalized vitamin service that creates individualized multivitamin formulas based on lab results from DNA, vitamin, and mineral tests. With Rootine, you can choose any or all of those three testing options to inform your vitamin mix.
However, we recommend saving some money and opting for just the vitamin and mineral tests. According to registered dietitian Sydney Lappe, "While DNA testing can reveal mutated genes that might predispose individuals to nutrient deficiencies, it cannot specifically identify vitamin deficiencies."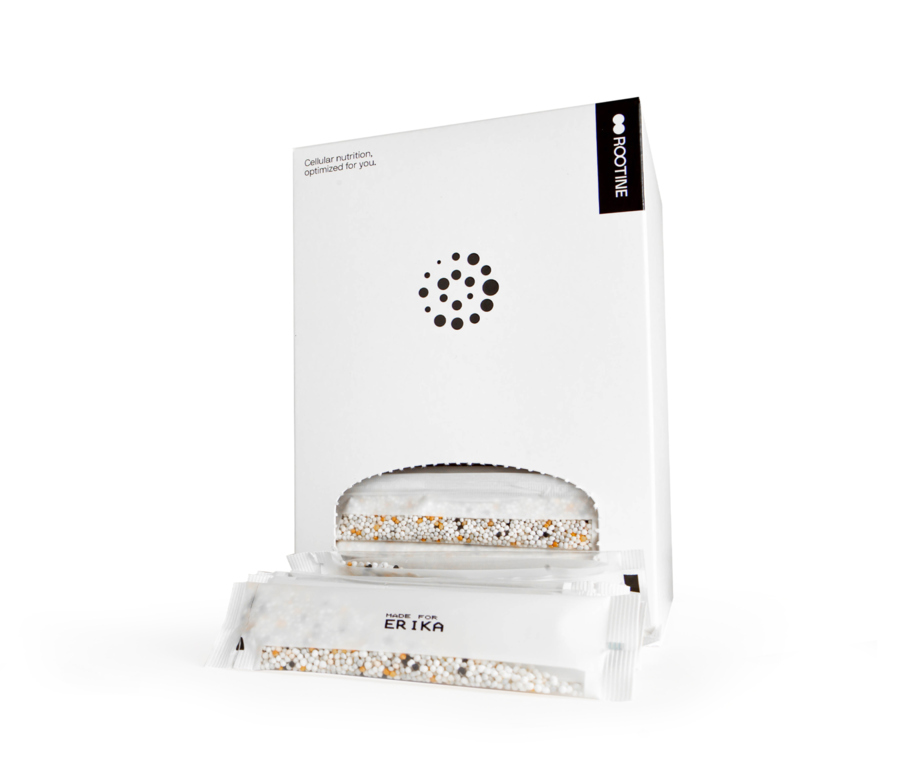 If you happen to already have test results from a DNA testing service such as AncestryDNA or 23andMe, you can upload those results to your Rootine profile instead of taking the Rootine DNA test, too.
Aside from being personalized to your lab results, Rootine vitamins are not like other multivitamins on the market. They come in the form of microbeads that Rootine says slowly release the nutrients over a period of six hours, though I have not found any research supporting slow-release multivitamin supplements over regular ones.
Finally, Rootine says that all "fully-finished consumer formulas are batch tested for microbiology, heavy metals, and banned substances" with both in-house and third-party lab tests.
Rootine vitamins are available on a subscription basis that starts at $94 per month for three months. This is inarguably expensive, but it might be worth the investment for people who want to take a lab-informed supplement.
RELATED: Best Multivitamins for Men and Best Multivitamins for Women
| | |
| --- | --- |
| Lab test options | Blood mineral test, blood vitamin test, DNA test, hormone panel |
| Price | Starts at $94/month |
| Third-party tested | Yes |
| Supplement type | Personalized microbead, slow-release multivitamins |
Best Metabolism Tracker for Biohacking: Lumen
Good for: Understanding how your body uses different food sources for fuel and optimizing your diet
Lumen measures carbon dioxide (CO2) in your breath to determine if your body is primarily utilizing carbohydrates or fats for fuel. Reminiscent of a breathalyzer—that's essentially what it is—Lumen can tell you how efficiently your body can switch between fuel types, a process known as metabolic flexibility.
How does it work? You simply breathe into the Lumen device a few times throughout the day as directed by the Lumen app, and you receive a CO2 score. After two weeks of consistently using the device, you will receive a metabolic flexibility score. Lumen scores metabolic flexibility as follows:
0-6 (Metabolic flexibility is low)
7-14 (Metabolic flexibility is average/medium)
15-21 (Metabolic flexibility is high)
High metabolic flexibility means your body can more easily switch between carbs and fats as a fuel source.
"CO2 measurements will determine the percentage and grams of both fat and carbohydrates your body is burning," says Crystal Hochman, certified functional diagnostic nutrition practitioner, in our Lumen review. "With this information, you can dial in your macronutrients according to your goals and eliminate the guesswork."
Lumen claims that it can help you lose weight, stop snacking, boost your energy, and improve focus. The thing is, though, that Lumen only works if you do. Lumen collects, analyzes, and presents data—it's up to you to do something with that data.
The Lumen app does provide nutrition guidance and insight based on the data it collects, but the app isn't going to make you follow it. All in all, Lumen is a novelty device that can provide some really cool insights for biohackers looking to optimize their diet and overall health and performance.
| | |
| --- | --- |
| Price | Starts at $249 |
| Subscription required | Yes |
| Battery life | Up to 14 days |
| Compatibility | Apple iPhone 6 and later; Android |
Best Cold Plunge Tub for Biohacking: The Cold Plunge
Good for: Promoting muscle recovery and mental clarity
Cryotherapy, or exposing your body to ultra-cold temperatures (sometimes below freezing), is one of the earliest biohacking techniques—except back when cryotherapy was just athletes jumping into farm feeding troughs full of ice, it wasn't called biohacking.
That doesn't negate the potential benefits of it, though. While research findings on the benefits of cold plunging are mixed, there is some promising evidence out there. For example, cold exposure in combination with breathwork and meditation might bolster the immune system, according to 2014 research in Proceedings of the National Academy of Sciences of the United States of America3.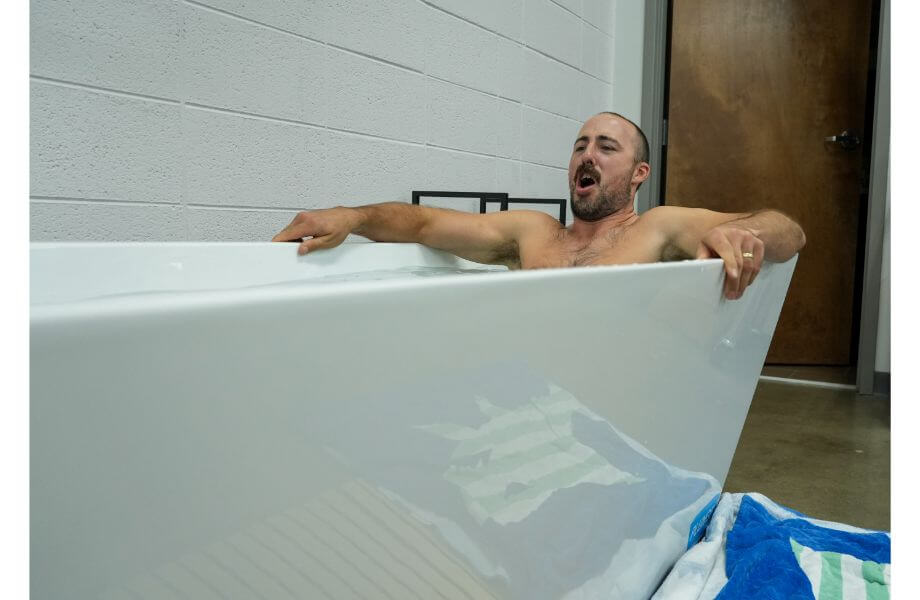 Dr. Mike Masi, physical therapist and GGR expert panelist, says in our guide to the best cold plunge tubs, "Cold water immersion can help with muscle recovery because it reduces the inflammation from working out and provides less perceived soreness."
The Cold Plunge, aptly named, is our top pick for the best cryotherapy tool for biohacking. As explained in our Cold Plunge review, this product is well worth the cost for people who intend to use it almost daily. This tub chills down to a frigid 39 degrees and features a number of accessories for comfort.
Additionally, product tester and GGR founder Cooper Mitchell loves that The Cold Plunge doesn't require any plumbing: It's self-contained and can be filled with a garden hose or any other source of water. It stays cold and clean thanks to an insulated cover, circular filtration, and a 20-micron filter.
| | |
| --- | --- |
| Price | $4,990 |
| Dimensions | 67" L x 43" W x 24" H |
| Water capacity | About 100 gallons (850 lbs) |
| Cools to | 39 degrees Fahrenheit |
Best Muscle Recovery Device for Biohacking: Theragun Prime
Good for: Helping muscles recover after exercise
Looking for a way to speed up muscle recovery after a tough workout? Percussive therapy devices are worth looking into. Percussive therapy, popularized in the form of handheld massage guns, delivers repetitive sucker punches to your muscles in order to force more blood, thus more oxygen and nutrients, to your targeted muscles.
Most research today shows that percussive therapy devices such as the Theragun Prime can deliver acute beneficial effects, meaning they might make you feel better while using them and for the short term after using them. More research is needed to confirm long-term effects.
Handheld percussive devices have been shown to acutely increase range of motion, muscle strength, explosiveness, flexibility, and decrease pain perception, according to a 2023 systematic review in the International Journal of Sports Physical Therapy4.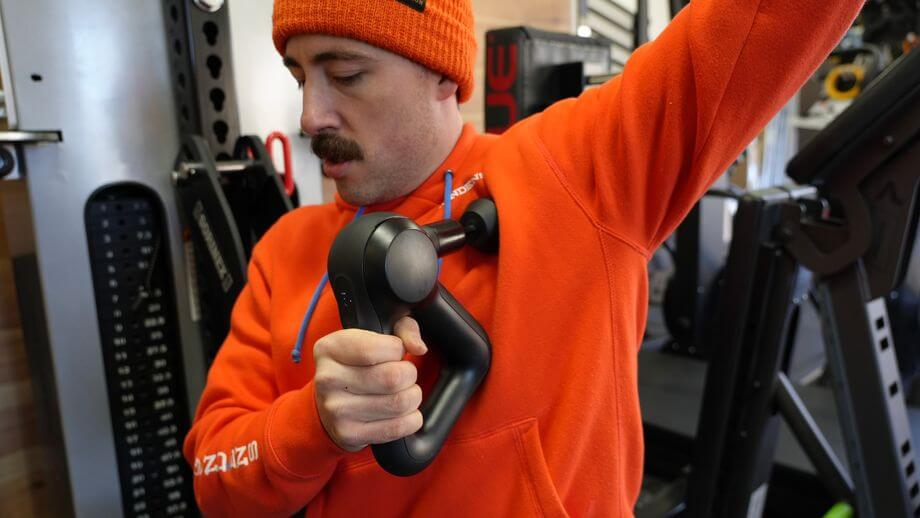 If you decide to buy a massage gun, we think you should go with the Theragun Prime. This is our overall top pick for the best massage gun because its value is unbeatable. I first tested the Theragun Prime several years ago, and to date, I have not found a better massage gun for a better price.
The Prime delivers a deep-tissue massage, reaching 16 millimeters into the soft tissue and providing up to 30 pounds of force. It comes with several massage head attachments so you can target the exact muscles that need relief. For example, the cone attachment is great for the arches of your feet after a long run.
You can learn more about the Theragun Prime in our Theragun review, which also looks at the Pro, Elite, and Mini models.
| | |
| --- | --- |
| Price | $300 |
| Recovery method | Percussive therapy |
| Speed range | 1,750 to 2,400 percussions per minute |
| Battery life | 2 hours |
Other Biohacking Products
The above products are our product testers' top picks for the best biohacking products, but there is an abundance of other products that can help you optimize your life.
Continuous Glucose Monitors
Continuous glucose monitors (CGMs) are small devices that monitor your blood sugar as long as you wear them. Initially developed for individuals with diabetes, CGMs have become popular among wellness enthusiasts and biohackers because they help people understand how their bodies respond to certain foods.
When you wear a CGM—usually via a small disposable sensor that inserts beneath your skin and is held in place with a sticky patch—it collects data and sends information with a wireless transmitter to an app on your phone.
Using a CGM may clue you in to foods that spike your blood sugar or cause it to remain elevated for long periods of time. After collecting and interpreting the data, you can make changes to your diet.
Air and Water Purifiers
Environmental purifiers are a simple, relatively inexpensive, and completely noninvasive way to biohack.
Air purifiers remove allergens such as pet dander and pollen, mold, smoke, dust mites, and other microparticles from the air. If you're unknowingly breathing in something like mold, removing it could have a big positive impact on your health. However, research findings on the efficacy of air purifiers are mixed, according to the Environmental Protection Agency, and it depends a lot on the specifications of the machine you buy.
Same with water purifiers—none are 100% effective, according to the CDC. That doesn't mean they're not worth using, just that it's important to study the specifications and make sure the type of filters you buy match the type of micron you're trying to eliminate.
Vagus Nerve Stimulation Devices
Vagus nerve stimulation devices are popular in the biohacking community for their purported effects on mental health, such as reducing stress and anxiety. Truvaga is one of the most well-known options. The brand claims that the Truvaga device, a handheld vagus nerve stimulator, can produce a relaxing sensation in just 2 minutes of use.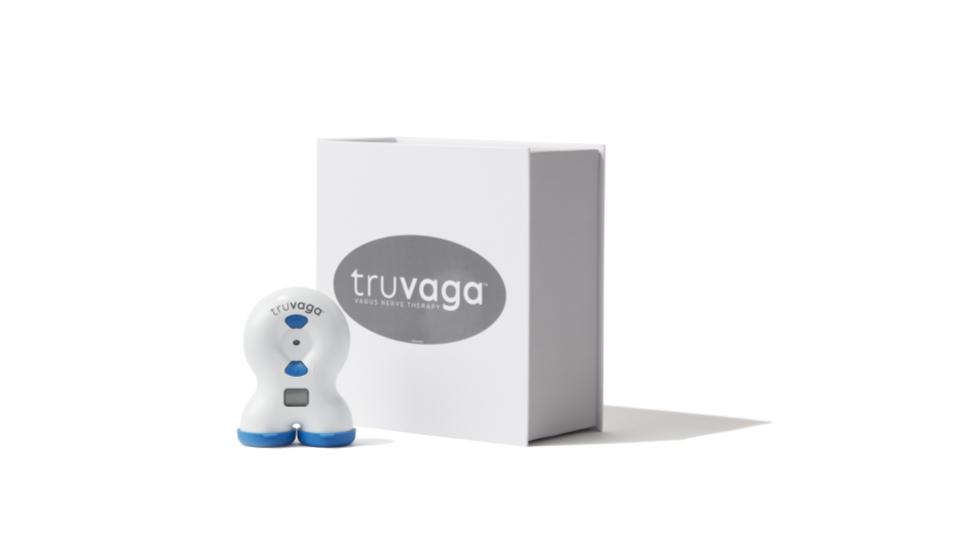 According to an author manuscript in Current Behavioral Neuroscience Reports5, vagus nerve stimulation has been used as a treatment for epilepsy and treatment-resistant depression. The vagus nerve is responsible for modulating the body's parasympathetic nervous system and the gut-brain axis, according to research in Frontiers in Psychology6.
Some research shows a positive effect of vagus nerve stimulation on stress, such as this 2020 study in the Journal of Personalized Medicine7. A 2017 trial8 that investigated the effects of Truvaga found more than 80% of participants to show favorable effects. This study was funded by electroCore, the parent company that owns Truvaga.
EMF Blocker Devices
Electromagnetic field (EMF) and radiation blockers intend to shield your body from radiation given off by cell phones and other electronics.
In 2011, the International Agency for Research on Cancer (IARC), part of the World Health Organization, classified radiofrequency electromagnetic fields as "possibly carcinogenic to humans." (Radiofrequency is the zone in which small electronics like cell phones emit radiation.)
The buzz around cell phones and cancer comes and goes, but to date, there's a lack of scientific research that actually, definitively concludes that there is a causation effect, according to the CDC, FDA, and National Cancer Institute.
Still, many individuals have taken it upon themselves to proactively protect their bodies and brains from radiofrequency radiation. If you're interested in this, there are EMF blockers you can use to limit the amount of exposure you receive.
WaveBlock makes EMF-blocking stickers you can place on your cell phone, tablet, and even earbuds. DefenderShield is another company making EMF-blocking devices, from phone cases to duffle bags.
EEG Devices
EEG stands for electroencephalogram. Traditionally used in clinical settings, EEG technology scans your brainwaves and detects abnormalities. This technology is now available at the consumer level, and some biohackers swear by it for brain function and cognitive performance.
One example is the Muse device, an EEG headband that you wear while meditating. Apparently, Muse reads your brainwaves and plays specific sounds based on that information. Muse claims to be able to reduce stress and anxiety, enhance mental performance, and help you sleep.
Sunrise Alarm Clocks
Sunrise alarm clocks are based on a simple principle: Humans have removed themselves too far from nature and should be waking up with the sun. A sunrise alarm clock mimics a real sunrise, gently waking you up with gradually increasing light and, if you want, nature sounds or gentle vibrations.
I use the Lumie Bodyclock Shine 300. Mine is set to wake me with a 30-minute sunrise that slowly changes from deep red light to bright white light, along with the sound of birds chirping. You can also set this clock to mimic a sunset when you're ready for bed.
I'll be honest: I think a lot of biohacking products are a bit woo-woo, but one thing I swear by is a sunrise alarm clock. It makes waking up so much easier and nicer, especially when it's still dark outside.
Blue Light Blocking Glasses
If you're looking to get in touch with your circadian rhythm, you might want to try blue light blocking glasses. A 2022 review of evidence in the journal Heliyon9 reports that artificial blue light—the kind emitted by our phones, computers, and TV screens—negatively affects sleep quality, and in turn cognitive function and overall health.
Blue light blocking glasses were introduced as a solution to this growing problem, although the science is still out on whether they're actually helpful, according to research in Frontiers in Neuroscience10. I have a pair that I wear on and off, and I can't say I notice a huge difference in how tired my eyes feel at the end of the workday. But, since I don't wear them all the time, I'm probably not the best spokesperson.
How We Picked and Tested the Best Biohacking Products
The biohacking products featured on our list of top picks have been tested thoroughly by members of the GGR product testing team. For transparency, there is one product on this guide that we have not yet tested ourselves: Rootine vitamins.
Rootine vitamins were rated against our supplement testing methodology, which looks at price per serving, third-party testing, clinically proven dosing, transparency, and form (pill, powder, capsule, etc.). However, we omitted subjective scores of taste and texture from the final score because we have not tested it. We also consulted a registered dietitian about Rootine vitamins to understand the benefits and drawbacks.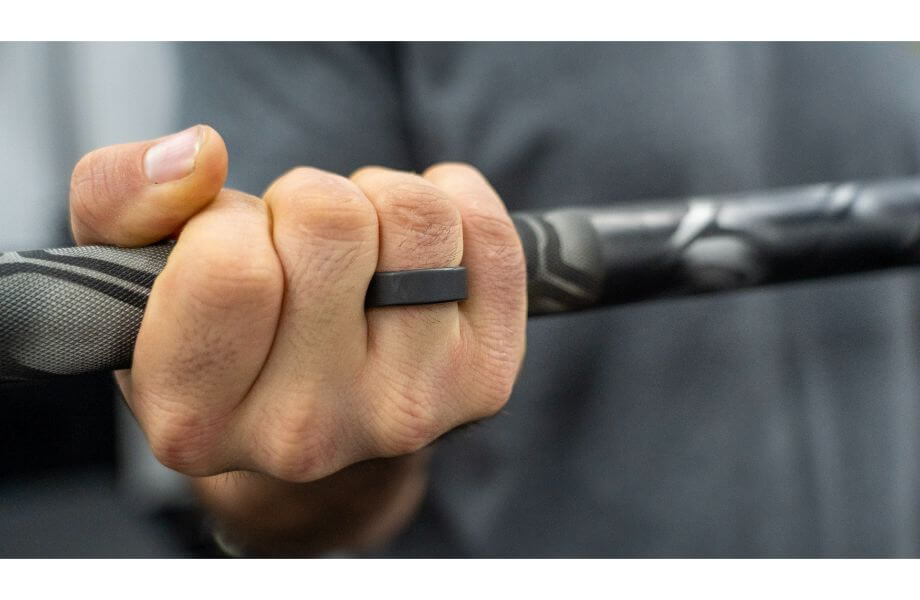 Each product was rated according to the testing methodology for the category it falls into. For instance, the Whoop Strap and Oura Ring were both rated against our methodology for fitness trackers, which accounts for battery life, metrics tracks, accuracy, integrations and syncing, comfort, and more.
The Cold Plunge Tub was rated against a specific methodology that considers footprint and portability, delivery and setup, price and value, durability and construction, ergonomics, conveniences, draining and cleaning, financing, and more.
The Higher Dose Infrared Sauna Blanket, Life Force, Lumen, and Compex EMS device also went up against relevant testing methodologies to earn their GGR scores.
Benefits of Biohacking Products
The ultimate goal of biohacking is to achieve some sort of health benefit. Here's a look at some of the most common reasons people pursue biohacking.
Better Sleep and More Energy
Humans can't function without sleep. And most of us don't get enough of it—or at least not enough good quality sleep. Many biohacking gadgets and wearable devices are aimed at helping you monitor your sleep and establish better sleep hygiene so you can have more energy throughout the day. There are many supplements with this objective, too.
Fitness and Weight Loss
Some common biohacking practices are really just lifestyle changes that people try to support goals related to fitness, health, and body weight. For instance, intermittent fasting is a common practice among biohackers, as is the keto diet. Some products, such as protein powder and fiber, can serve as helpful weight loss supplements in some cases.
Improved Muscle Recovery
For people who are after athletic performance, muscle recovery is an important part of the equation. Biohacking tactics like red light therapy, cold plunging, and electrical muscle stimulation are thought to quicken the muscle recovery process and help athletes bounce back from tough training sessions.
Enhanced Mental Acuity and Focus
Brain health is another big reason people start biohacking. If you feel like you're constantly unable to focus or your attention span isn't what it used to be, you're not alone: Experts have proposed that easy and constant access to information—specifically social media—impedes our ability to concentrate.
This information overload also impacts productivity12 and overall mental health, with plenty of emerging research13 telling us that social media is making us depressed, anxious, and irritable.
Many biohackers engage in self-experimentation to figure out how to regain their ability to focus and concentrate, increase productivity, and ultimately spend less time working—the goal being to do more, better work in less time.
Anti-Aging Benefits
Finally, many biohackers are hopeful that their efforts will result in anti-aging benefits. People try to achieve this in many ways, from taking supplements to meditating to purported detoxification techniques such as sauna bathing.
Best Biohacking Products: FAQs
What supplements do biohackers take?
Biohackers take a wide range of supplements, from simple multivitamins to nootropics and anti-aging supplements. Sleep supplements, such as magnesium and melatonin, are also popular, as are probiotics, amino acids, and antioxidants.  
What are biohacking devices?
Biohacking devices include technological devices that allow individuals to monitor what happens inside their bodies and optimize their health based on that information. Examples include metabolism trackers like Lumen, wearables like the Whoop Strap, and continuous glucose monitors, which measure blood sugar responses to food. 
Who is the godfather of biohacking?
Dave Asprey is often considered the father of biohacking. Asprey is the founder of Bulletproof and Upgrade Labs; the former is a supplement company known for its high-fat coffee recipes and the latter is coined a "human upgrade center" stacked with devices Asprey claims can speed up results from exercise. 
References