We test and review fitness products based on an independent, multi-point methodology. If you use our links to purchase something, we may earn a commission. Read our disclosures.
What if you could have the same healthcare team as the greats? I'm talking about people like Cristiano Ronaldo, worldwide soccer superstar and Jack Nicklaus, the greatest professional golfer of all time.
Athletes like Ronaldo and Nicklaus have been receiving acutely personalized health and fitness insights for decades, but now, they're not the only ones who can access this type of individualization.
In recent years, digital health startups have exploded onto the healthcare scene, disrupting the traditional model of western medicine.
These companies are removing the need for personal health insurance, guaranteeing more time with your providers, and offering deeply customized looks into your health with a heavy emphasis on optimizing performance—not just preventing disease.
One such company is Life Force, co-founded by Tony Robbins, a well-known motivational speaker and life coach with business acumen. Tyler Moyer, general manager of Garage Gym Reviews, tried Life Force to see what all the hype is about (and there is a lot of hype).
Tyler is a self-proclaimed biohacking aficionado, and I'm a skeptic, so buckle up for our Life Force review.  
RELATED: Best Biohacking Products
Tested By a Biohacking King
Tyler, GGR general manager and self-improvement cognoscente, has tried several services that are similar in nature to Life Force, including Transcend, Prime Body, and Everlywell.
Tyler says this type of personalized healthcare "just makes sense" to him because everyone is different, and traditional healthcare is largely focused on disease treatment instead of proactive health optimization. He went down this road because he is interested in "personalized health and lifestyle choices, optimizing athletic performance, and generally just feeling better," he says.
I, on the other hand, am a vehement proponent of fine-tuning the basics of health and fitness, because, as a certified personal trainer, health coach, and nutrition coach, I know that the majority of people are starting from zero. So, I look at "optimization healthcare" through that lens, analyzing the components of the service to tease out who this is really good for and who could benefit from a less cost-prohibitive approach, at least at the start.
Editor's Note and Medical Disclaimer: This article is intended for educational and informational purposes only. It is not intended as a substitute for medical advice. For health advice, contact a licensed healthcare provider.
Life Force Lab Test Kit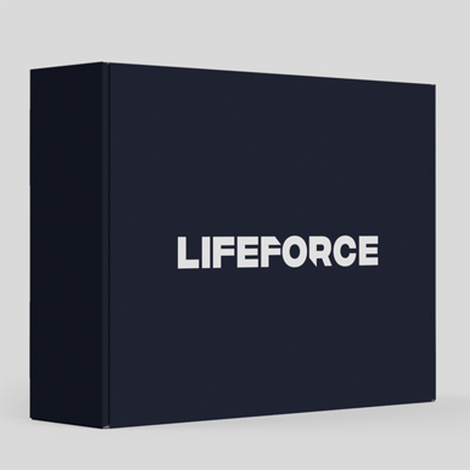 GGR Score: 4.1
Product Highlights
Telehealth service based on blood markers
Tests more than 40 biomarkers
Matches you with a clinician and health coach
Clinician helps you understand your results
Treatment plan created for members
$129 per month for membership
$549 diagnostic kit ($349 for members)
Quarterly diagnostics included in membership fee
Pros & Cons
Pros
Discounted diagnostic kit for members
Professional interpretation of lab results
Focus on health optimization
Unlimited access to your clinician and health coach
Discounts on Life Force supplements
Quarterly testing included in membership cost
Nice, easy-to-use member dashboard
Cancel anytime
Cons
Monthly fee required
Supplements are expensive
Cannot make any changes to orders after they are placed
Bottom Line
Life Force is a diagnostic testing service that checks more than 40 biomarkers from hormones to micronutrients to platelet counts. It's a patient-centered telehealth service with an emphasis on optimizing your health, wellness, and fitness rather than just preventing disease. Members get access to a clinician and health coach for help with lifestyle, habits, and understanding lab results.
A Quick Look at Life Force
Life Force was co-founded by Tony Robbins, Dr. Peter H. Diamandis, Joel Jackson, and Dugal Bain-Kim. The company is largely centered around the book written by Robbins, Diamandis, and Dr. Robert Hariri, Life Force: How New Breakthroughs in Precision Medicine Can Transform the Quality of Your Life & Those You Love.
It all starts with a lab kit and a blood test to analyze more than 40 biomarkers in your body, from hormones to micronutrients to hemoglobin and platelets.
RELATED: Macros For Weight Loss: Advice From A Dietitian
The idea, according to the book, is to "extend your health span" and improve your quality of life by checking your levels of these biomarkers, matching you with a clinician, and prescribing various medications, nutraceuticals (supplements), and therapies such as peptide and hormone replacement.
This is all possible due to advancements in medicine, the Life Force website says, and a membership model that circumvents the need for health insurance.
Before You Subscribe
If you're not interested in professional interpretation of your lab results, you can buy the test kit for $549 without signing up for a membership. The cost of the test kit is $349 if you sign up.
The monthly membership costs about as much as a fancy gym membership or CrossFit membership: The fee is $129, and you can cancel anytime.
Pharmaceuticals are available by prescription only, but anyone—even non-members—can purchase Life Force nutraceuticals (supplements).
Is Life Force Worth It?
Life Force costs $129 per month, plus the startup fee of $349 that covers your diagnostic testing, which is required to get started. There are extra costs associated with supplements and prescription medications.
"Generally speaking, their membership price is on par, or maybe even a touch less, compared to others in the market," Tyler says. "But if you went through the diagnostic and the only guidance was to take vitamin D/K, then no…probably not worth it."
However, he continues, "If you go through and you need hormone replacement and are prescribed some peptides, then the membership is much more justified because of the ongoing support and the retesting every few months to ensure you're on the right track and seeing improvements."
Great for:
People who have already fine-tuned their lifestyle and are looking for an extra edge
Individuals who are doing "all the right things" in terms of exercise and nutrition, but still feel sluggish, tired, or feel like they lack mental acuity
People who are frustrated with their current healthcare options and are looking for something new, particularly more time with a clinician to discuss their concerns
Not recommended for:
People who are just beginning their health and fitness journey
Individuals who are currently undergoing successful treatment for medical conditions with their healthcare team
People on a budget
Life Force Specs
| | |
| --- | --- |
| Trial available? | Free 15-min discovery call available |
| Startup fees | $549 for non-members, $349 for members |
| Membership fees | $129/month |
| Membership options | Cancel anytime |
| Labs | At-home phlebotomist option, or taken at a local clinic |
| Number of biomarkers measured | More than 40 |
| Areas of speciality | Hormone optimization |
Getting Started with Life Force
To get started, you'll need to add the Life Force Diagnostic kit to your shopping cart on the Life Force website. If you choose the membership option, it'll cost $349 and you'll also see a line for the monthly membership at $0. It says billing starts in one month at $129.
Once you check out, you'll have access to a member dashboard. The whole process starts with a questionnaire around goals, habits, medical issues, and lifestyle choices, Tyler says.
RELATED: Best Online Workout Programs from Beginner to Advanced
Then, you're required to do your lab tests, which typically involves going to your local LabCorp, Quest Diagnostics, or similar. You'll see your local options in your member portal.
Life Force also offers an at-home test, where you can schedule time for a traveling phlebotomist to meet you at a location of your choice. "That's a nice touch, which I took advantage of," Tyler said. "It was easy to schedule, the phlebotomist was professional, and she was in and out in less than 10 minutes."
The test just involves a standard blood draw. Because this process was so simple and easy, Tyler scored it with 5 out of 5 points for this category.
Experience with Life Force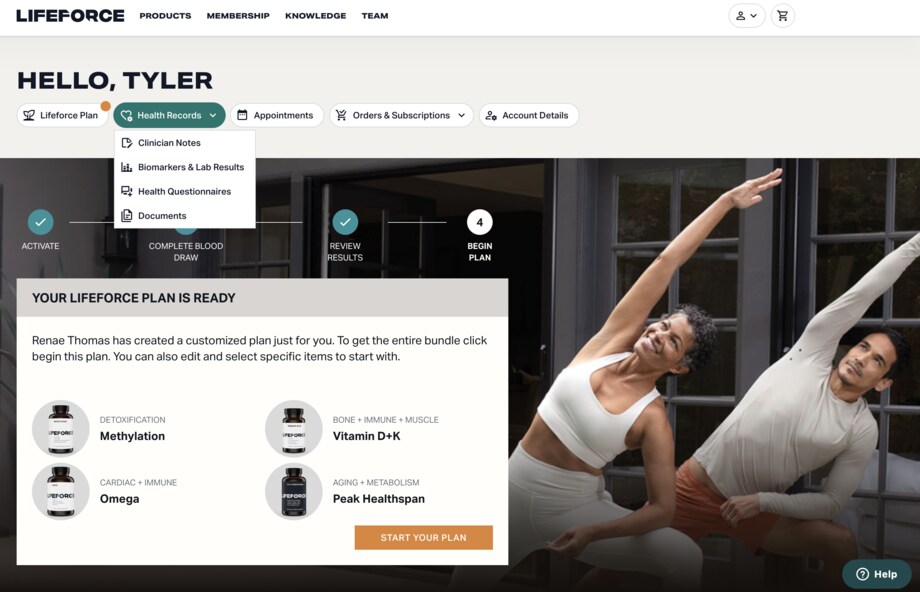 Several days after the blood draw, Tyler received a notification that the blood work had been processed and he could schedule a consultation with the doctor. He says he was pleased that the process was relatively quick and proactive.
RELATED: Best Weight Loss Programs
Access to Results and Data
"Life Force has their dashboard that displays results in an easy to view way, where you're given bar graphs and typical ranges," Tyler says, rating this category with 5 out of 5 points because the dashboard makes the information easy to digest and understand compared to other companies he's worked with.
And you always have access to your dashboard as long as you're a member, so your results are always there if you need to reference them.
"I've worked with another company that just gives you the lab results, which technically has the same information, but it's harder to consume and analyze," Tyler says. "And then I've worked with yet another company that didn't give me any of the results at all! They spoke to them in the telehealth call, but I had to request they send them."
Of course, you can request your test results directly from the lab you went to, but "you'd think a good service would be very upfront with these," Tyler says.
Meeting with a Clinician
Tyler was matched with a family, preventative, and lifestyle medical doctor. They met via Zoom for a consultation, which was scheduled for 30 minutes, but Tyler says they ultimately chatted for nearly an hour.
"During that session, my doctor walked me through my lab results using the Life Force portal," he says. "This was a differentiating feature compared to other experiences. In some cases, the doctors or nurse practitioner would not even proactively send lab results.
He gave Life Force 5 out of 5 points for explanation of test results because the process was easy yet comprehensive and he left with a full understanding of what his results meant.
Treatment Plan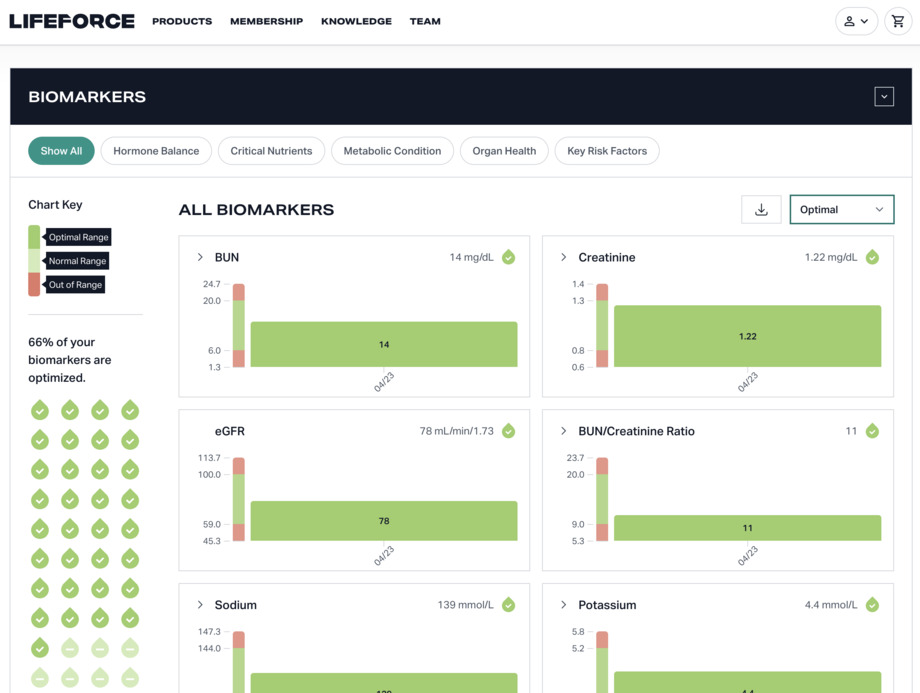 At the end of the assessment, you have the option to move forward with their treatment plan, which requires a membership if you want continued support. Everyone's treatment plan will differ. The experience is highly personal, after all, and entirely based on blood results.
Tyler explains that the membership essentially gets you access to your healthcare provider and a health coach, quarterly labs, access to the prescriptions (if applicable), and a discount on any supplements that may be part of the plan.
That Life Force has their own line of supplements "is nice because you get a discount, but I also had some trepidations about them just trying to push all their own stuff," Tyler says. "They did try to push their own line, when applicable, but if there was a need for another supplement not in their lineup, they didn't shy away from recommending something else. So that made me feel better."
If you choose to move forward with the membership, the expectation is that three months from the start of the treatment plan, you would redo your labs and then go through the same assessment to determine if you're making the desired progress or if there needs to be any changes to the treatment plan.
That process continues until you cancel your membership.
Lifestyle Coaching
While Life Force members do have unlimited access to health coaches, it's important to know that this is not really a coaching service.
"There was guidance on some lifestyle changes and encouragement to have regular exercise as part of the routine," Tyler says, and "There were quite a few nutritional and diet suggestions, but all of these were through a biological lens and related to specific lab bio markers."
What you get is pretty high-level, hyper-specific advice, Tyler says—but that's the whole point.
"I do think it's important to highlight that they are not coaching," he says. "I don't know who all they have on their staff and they may have a network of folks they can refer you to, but they're not a coaching service for fitness or diet, at least not in a way that is going to create a plan for you."
RELATED: Best Personal Training Apps
This is by all intents and purposes a doctor's office, Tyler emphasizes, so you shouldn't expect to get fitness advice with Life Force, just like you wouldn't expect that from your current general practitioner.
Pricing and Subscription Options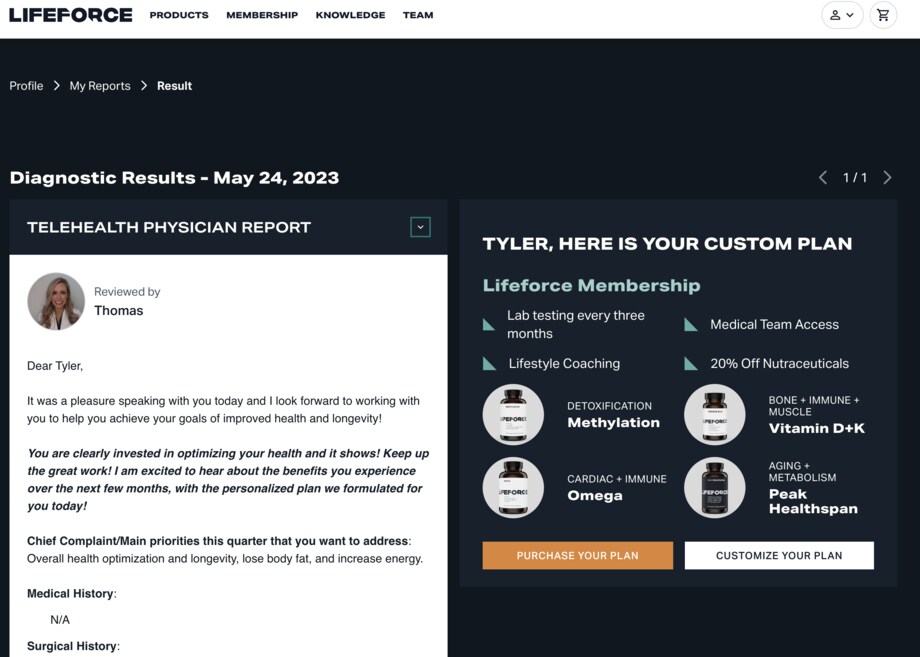 Life Force scored 3 out of 5 points for member pricing because it falls in line with what we consider average for this type of service. Here's how we look at pricing for such services.
For startups fees:
To get a 1, $500+
To get a 2, $400–500
To get a 3, $300–$400
To get a 4, $200–300
To get a 5, less than $200
For membership fees:
To get a 1, more than $300/month
To get a 2, $200-300/month
To get a 3, $100-200/month
To get a 4, $50-100/month
To get a 5, less than $50/month
Startup Fees
To get started with Life Force, you have to complete the diagnostic testing, which costs $349. You don't have to become a member, but then the same test costs $549 and you won't have access to a personal clinician and health coach.
It would be worth it to sign up for at least one month of membership in order to save on the test kit and get the benefit of professional interpretation of your results. You can cancel your membership at any time; you aren't locked in.
Membership
A Life Force membership is $129 per month, cut and dry. Access to your healthcare team and your member dashboard is unlimited, and the cost of redoing your labs every three months is included in the membership fee.
Price of Supplements
Life Force supplements are not cheap, and they're available on a subscription basis. Based on what's available on the online store, they range from about $60 to more than $100 per product. You can save 20% by signing up for a monthly subscription, and you can save 20% as a Life Force member.
And yes, the discounts are stackable for members, which nudged Life Force's score in this category up slightly.
Even with a 20% discount, Life Force supplements are expensive. Take their magnesium capsules, for example. They are available for $60 per container ($48 with the discount), which includes 10 servings (one serving is three capsules). With the discounted price, you're looking at $4 per serving of magnesium.
Transparent Labs magnesium bisglycinate capsules, on the other hand, cost $16.99 for a container with 10 servings, so you're looking at a price per serving of $1.60.
Because Life Force supplements are so expensive compared to similar supplements from top brands, the company only earned 2.5 out of 5 points in this category.
Customer Service
I really like that Life Force offers a free 15-minute health consultation or discovery call, so you can quickly chat with someone on their team about whether the service is right for you. This offering ultimately increased Life Force's score in this category, which ended up at 4 out of 5 points.
If you have questions or concerns, you can read through the FAQ section on the website, which honestly answered most of my initial questions about the service. You can also contact the team through the support email address, which Life Force says connects you to a real person.
Additionally, Life Force allows members to cancel their membership at any time. You aren't locked into any extended time frame at all.
Customer Reviews
There isn't an average rating on the Life Force website from customer reviews, and the company isn't on TrustPilot yet. There are some member spotlights, which are obviously curated, but positive.
One profile reads:
"I've lost weight. My mind is a lot more focused. I can process a lot more information quickly. I definitely feel like I have more power in my workouts. I have an energy level that is back to who I have been my whole life."
Another says, "My energy has improved. I was the oldest in my bike group and the group didn't anticipate that I was 69 and thought I was in my early 50s based on my performance."
Final Verdict of Our LifeForce Review
"At the end of the day, after doing a few of these tests with different companies, the process is very similar but the experience can differ," Tyler says. "Generally, I think LifeForce stands out as the best experience."
That is reflected in our ratings for Life Force, which scored above average in every category except three: startup fees and membership fees, where it ranked average, and pricing of products, where it ranked below average.
After thoroughly testing and analyzing the service, we recommend Life Force to anyone who feels like they are spinning their wheels with fitness and nutrition or feels like something is missing. Life Force could be a good way to figure out underlying causes of brain fog, fatigue, poor mental acuity, and similar problems.
Additionally, Life Force is worth a try for anyone who feels frustrated with their current healthcare situation and needs answers.
Life Force Full Rating
Life Force Diagnostics
Life Force is a diagnostic testing service that checks more than 40 biomarkers from hormones to micronutrients to platelet counts. It's a patient-centered telehealth service with an emphasis on optimizing your health, wellness, and fitness rather than just preventing disease. Members get access to a clinician and health coach for help with lifestyle, habits, and understanding lab results.
Product Brand: Life Force
Product Currency: $
Product Price: 349
Product In-Stock: InStock
Life Force FAQs
Is Lifeforce worth it?
Life Force is average in terms of price for this type of service, and our tester had a phenomenal experience. We think it's worth it for anyone who already has a strong grasp of fitness, nutrition, and wellness basics and wants to optimize their health. It's also a good option for people who feel they are not getting the answers they need from traditional healthcare.
Is Life Force worth reading?
The Life Force book is worth a read for anyone interested in topics like well-being, regenerative medicine, increasing lifespan, preventing heart disease, strengthening the immune system, pain-free living, and similar. In general, if you're interested in optimizing the human body, you will probably like the Life Force book. You can read book reviews on Amazon.
Who is Tony Robbins?
Tony Robbins is an American motivational speaker, life and business coach, and businessman. He is a proponent of stem cell therapies, gene therapies, and emerging biotech.
Are Life Force supplements FDA-approved?
No supplements are FDA-approved. Supplements do not have to undergo regulatory processes in order to come to market (which is the reason that third-party testing is so important). Life Force's pharmaceuticals are FDA-approved, as all pharmaceuticals must be.