We test and review fitness products based on an independent, multi-point methodology. If you use our links to purchase something, we may earn a commission. Read our disclosures.
The REP Sport Bumper Platesare designed to be a durable black bumper plate that can be used both outdoors and indoors. After using them in my home gym for the past month and comparing them to the many others on the market, we feel they are a solid, but not the best value available option. The design has some unique details and they're marketed as being 'ultra-durable,' however, they're warrantied the same as REP's other plates and they're a bit more expensive than the competition. If you like the design and colors, we recommend them. However, time will tell on their durability.
REP's Durable Bumpers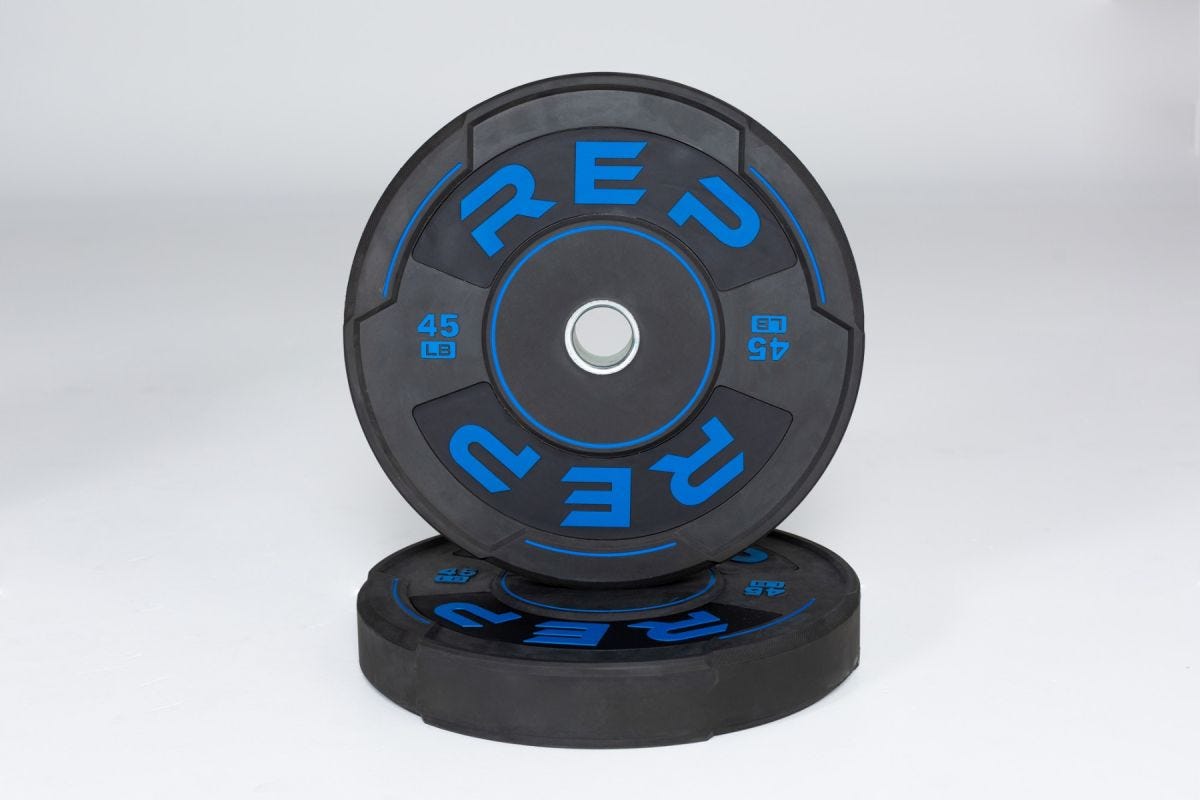 REP Sport Bumper Plates
Looking for premium bumper plates with the rugged reliability of your favorite pair of hiking boots? You've found 'em.REP Sport Plates are among the most durable bumper plates on the market. These plates are designed to withstand whatever you can throw at them – Slam them from overhead in your home gym, driveway, commercial gym, or throw them in the back of your pickup and get some reps in on the side of a mountain, we won't judge (but send us pictures!).Handling these plates is a breeze thanks to their unique, textured exterior and soft, grippy rubber. These plates feature tough but pliable rubber, which means you get all the benefits you expect from high-quality bumper plates, plus a little extra. These plates offer low bounce for easy movement cycling and up to 10% lower decibel output when dropped from overhead. Great for commercial use and perfect for home gyms!
This is an in-depth review of REP Sport Bumper Plates. A popular choice for home gym owners and those who like to training at home both indoors and out. Investing in bumper plates affords the option to workout indoors or enjoy the sun on a clear, bright day (or in the blistering cold) out on your driveway. If you like the sound of lifting on the driveway or creating your own home gym, let's discuss the pros and cons of the REP Sport Bumper Plates and see how they stack up against the competition. You can find out where these rank amongst the best bumper plates here.
What's Special About the REP Sport Plates?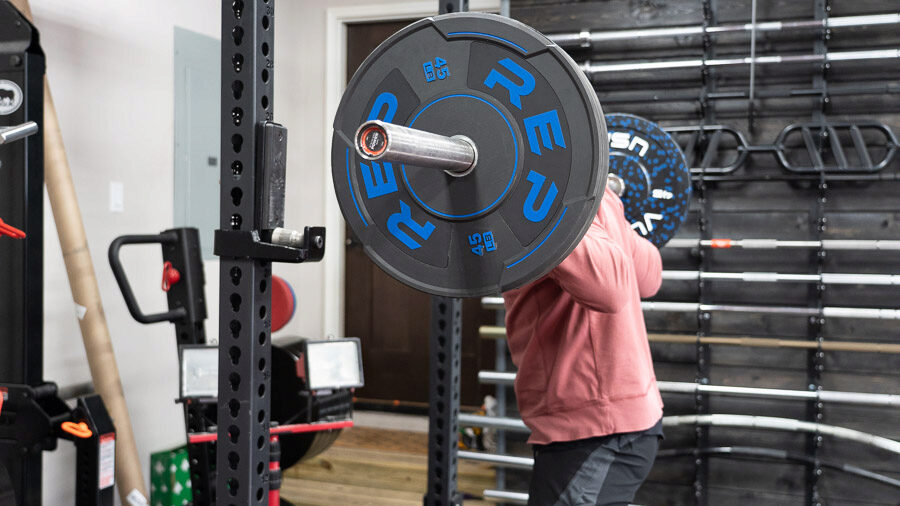 Before we get into the details of the REP Sport Bumper Plates review, it's a good idea to ascertain exactly what the REP Sport Bumper Plates are and talk about who would buy them and what they offer.
REP Sport Bumper Plates are designed around the idea of a bumper plate with increased durability. Whether you're kitting out a home gym, you switch between the indoors and the great outdoors, or you lead a hectic lifestyle and you lift on the go, these bumper plates can work for your situation. From a garage to the side of a mountain, you can pick up these plates and flex to your heart's content.
REP Sport Bumper Plates are marketed as premium plates with a rugged edge. Targeted at the home gym community, like most REP Fitness equipment, the Sport Plates deliver on style and substance. They are built to last, and you don't need to worry about chucking them around, but they also look the part and they have a high-quality finish.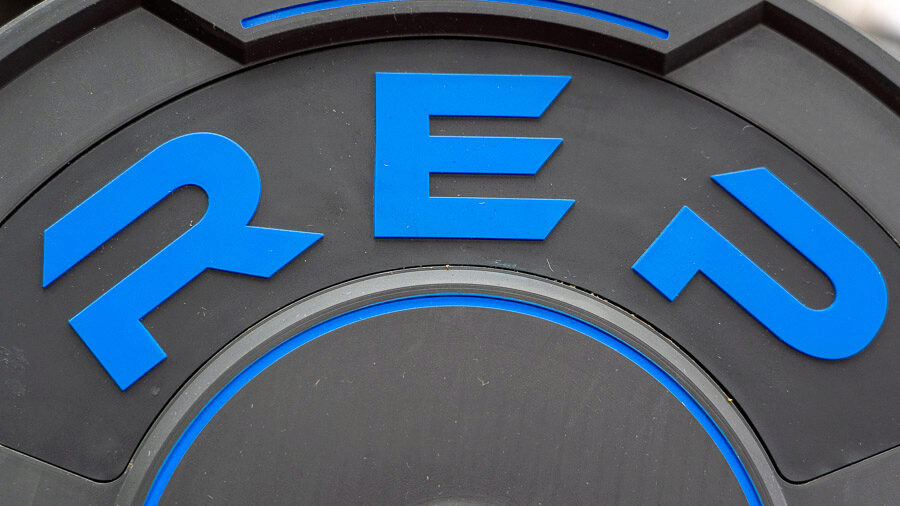 REP Sport Bumper Plates come in the standard range of weight increments from 10lb to 55lb and the color coordination makes life easy when it comes to identifying the weight you want to throw on the barbell.
Bumper plates may appear straightforward on the surface. They are essentially rubber circles with a hollow metal core. It's only when you start lifting, or you analyze different products in detail or compare brands that you come to realize that not all bumper plates are created equal. In this review, we'll highlight both the good and the not so good to help you make the right decision for your garage gym or home gym.
What We Like About the REP Sport Bumper Plates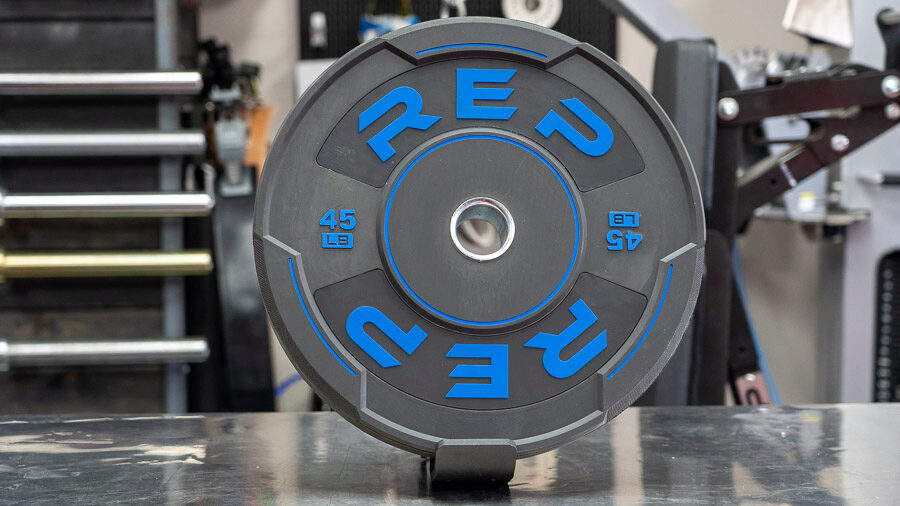 To write a review about bumper plates, it's crucial to get to grips with the product and analyze manufacturer claims and selling points. REP Sport Bumper Plates are marketed as premium bumper plates, which are, and I quote, "tough as old hiking boots and among the most durable products on the market."
REP is based in Colorado, so they often use the mountain imagery to depict products and separate some of their designs. I think it's unique, although I'm not sure old hiking boots is the best comparison.
Regardless, the Sport Plates are a standard black bumper plate, albeit with some unique features.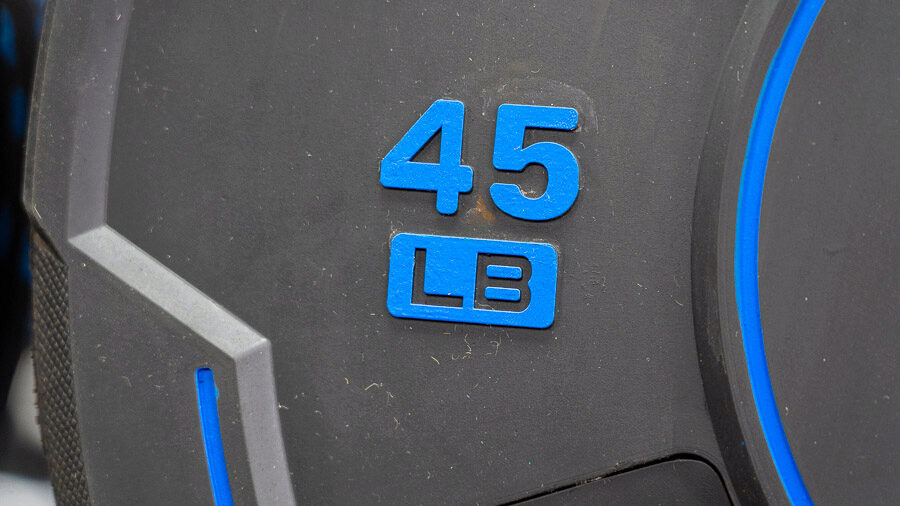 The handling is designed to facilitate easy, safe use, the plates boast low bounce, and noise levels are reduced by 10% when dropped from overhead in comparison to their other products. Now that we can see what the manufacturer says, let's look at the pros and cons in detail based on our own experiences.
There is a lot to like about the REP Sport Bumper Plates and if you're setting up a home gym, or even looking for bumper plates to take on the road with you (we've seen this more and more,) these are a good option.
Our favorite features/selling points include:
Durability
Versatility (indoor and outdoor use)
Low(ish) bounce
Noise levels
Contrasting colors
Unique aesthetics
Easy pick-up
Enhanced grip
To help you get a better understanding of the REP Sport Bumper Plates and determine whether they would work for you, we've expanded these points below: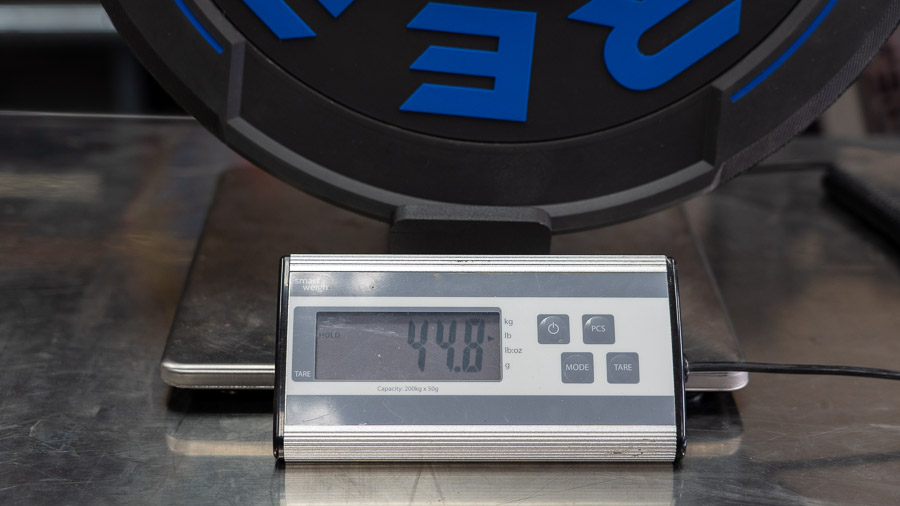 Durability
One of the (potentially) best things about the Sport bumper plates is the durability they offer.
It must be said, these haven't been on the market or in my hands long enough to truly comment on how durable they will be long-term, so we'll be sure to update the review over time as the plates get more abuse.
In talking to a REP representative (see what I did there?), they told me they've had a set in a CrossFit gym for over a year where they've been abused and they still perform like they did on day one.
I don't know the Shore A Durometer rating of the rubber as REP has neither advertised it or wanted to share it as they've stated it's proprietary information and they don't want their competition copying them.
I would have liked to know it, however, just based on the feel of the rubber, it does seem softer than most other bumpers we've reviewed. This isn't necessarily a bad thing, but it can lead to a higher bounce, although maybe a bit quieter.
REP is warrantying the Sport Plates with a 3 year home use warranty, the same as their other plates and less than some competitors plates like the Vulcan Alpha Bumpers we've reviewed.That said, the warranty works for both indoor and outdoor use which is a plus as many companies will void your warranty if you use their plates on the concrete.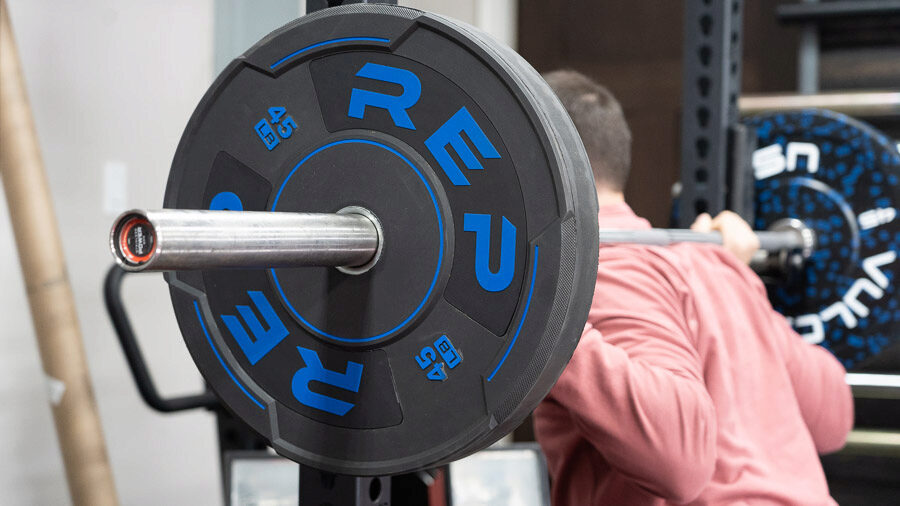 Versatility
We all appreciate a change of scenery from time to time. If you want to lift both indoors and outdoors, you want to buy bumper plates you can carry around, transport and use in different settings and environments without worrying about causing damage.
The REP Sport Bumper Plates make it pretty nice for a garage gym owner as you can use them on the platform/stall mats in your garage or take them out on the driveway without having to worry too much about damage.
We dropped them from overhead on the barbell onto the concrete of my driveway and aside from expected scuffs, they performed as expected.
This said, I've used many bumper plates over the years out on the driveway including Rogue HG 2.0 Bumpers and Hi-Temps. Neither of these have ever had issues, although I can't find much wording on if lifting outdoors breaks the warranty they offer.
It is nice to know a plate is made to be used outside, however, I think most bumpers would do well despite being on matting or concrete.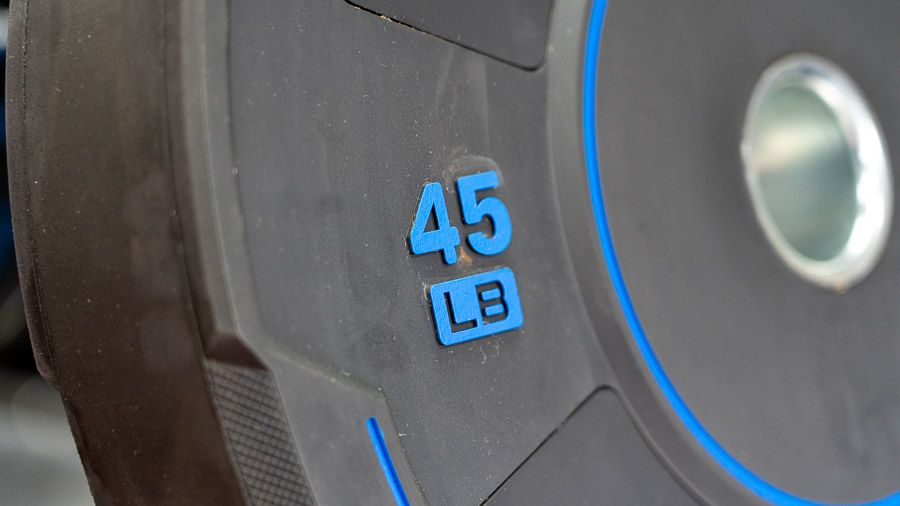 Low(ish) bounce
REP Sport Bumper Plates are made using a softer rubber.
This leads to a slightly higher bounce than many bumpers, but not nearly as high as crumb rubber bumpers like Hi-Temps.
I'd say there's nothing too remarkable about the bounce, but for being made for outdoor use, they bounce lower than expected and lower than some of the competition bumpers like the aforementioned Hi-Temps.
Noise levels
The claims are that these bumpers are quieter (up to 10%) than others when dropped from overhead. There may have been a very subtle difference, but I wouldn't say that this is the main selling point when comparing the REP Sport Bumper Plates to rival products.
Using a decibel meter app on my phone, I wasn't able to tell a difference between the Sport Plates and other plates we have on hand and I especially couldn't with my naked ear.
Are they quieter? Possibly. But, 10% isn't a big difference and I don't think it's a big enough difference to buy them based upon this point. However, for someone lifting in their garage and trying to be as quiet as possible, even 10% can be beneficial.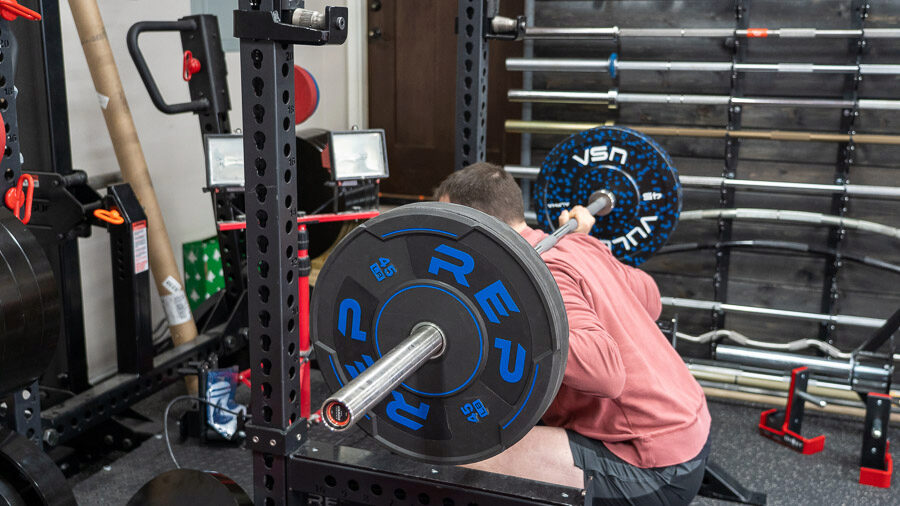 Contrasting Colors
Most black bumper plates of this style are just that, black. They often don't have contrasting colors which isn't a huge deal, but it is nice for both aesthetics and ease in changing weight increments to have bumpers that show the weight in a different color than the plate.
These aren't the cheapest contrasting bumper plate set as they're more expensive than Rogue Echo Bumpers (which also aren't the cheapest) but they're also offering some unique features and design. And to be honest, I really like the look of the Sport Plates.
Easy Pick-Up and Carry
The REP Sport Plates have slits cut out on the edges of the plates making them easier to pick up.
45 LB and 55 LB plates can get annoying to get off the ground when they're laying flat. The Sport Plates tackle this issue by allowing you to place a finger under the plates to lift them up.
In addition, the slits are nippled, or better yet, use a faux knurling pattern similar to what can be seen on barbells to allow your fingers to grip the plate better, both when picking them up and carrying them.
Things We Don't Like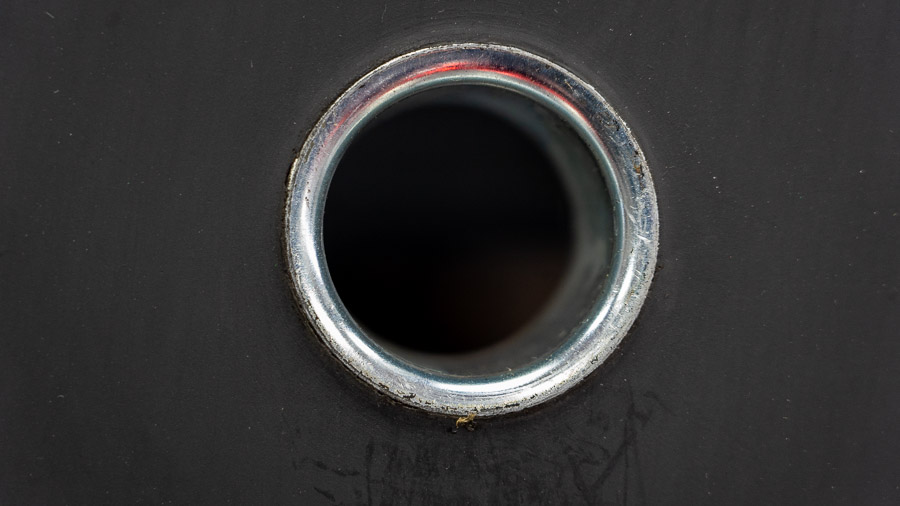 Nothing in life is perfect. Although there are multiple positives and plenty to shout home about, there are a few downsides too. Here are a few things to consider before you decide which bumper plates to buy:
Warranty: The bumper plates claim to be among the most durable on the market, but they only come with a max of a 3-year home-use warranty. This is the same as many other manufacturers, but it's also shorter than some of the main rivals.
The big issue I see on this though is that despite the claim of increased durability over their other plates, they still have the same length of time on their warranty. This is confusing to me– if the durability is truly greater than their other plates, why not increase the warranty?
Color: This is a very minor point, but based upon photos online, the green on the 25lb pair is more of an aqua shade, which makes it different from the standard green that is found on most other bumper plates. There isn't an exact science to the color required and these aren't designed to IWF standards, but if you plan to pair them with other bumpers, just know there may be a contrast.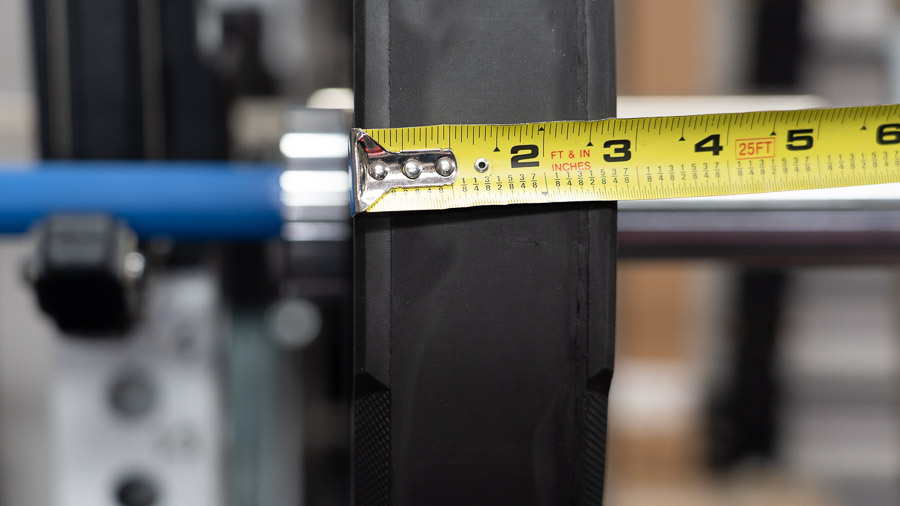 Width: The width on the Sport Plates is wider than many other bumpers. They're not as wide as Hi-Temps, but they're not as thin as other REP bumpers or the Rogue Echo Plates. The extra width can force fewer plates to be loaded on the bar and increase the whip of the bar during squats and bench as the weight is further from the center of the bar. See my suggestions on the best squats racks and best weight benches here.
The 45's measure 2.85" while the standard Black Bumper Plates from Rep are slightly thinner at 2.83". This is a minor difference, but it can be helpful when trying to fit a collar on the bar at heavier weights.
We don't think this is a reason not to buy them because if you lift enough to have to worry about the width of a bumper plate, you should probably be using iron or competition bumpers.
Price: The price on the Sport Plates is quite high for this style of bumper plate. The price is higher than any bumper plates of this style from Rogue Fitness, Vulcan Strength, and Fringe Sport. This means they're more than the Vulcan Alpha Plates, Rogue Fleck Plates and the Rogue HG 2.0 plates.
I think the Sport Plates are good, but I don't think they're worth that much more than the aforementioned plates, unless their durability surprises me over the long run.
They're also slightly more expensive than Hi-Temp Bumper Plates. The original ultra-durable bumper plate. Now, I don't love Hi-Temps as they're extremely wide, but other than the center collar popping out, it's hard to argue against the durability of Hi-Temps.
No Collar Reinforcement: Many modern bumper plates use extra tie-wire that is welded to the collar to allow greater adhesion to the rubber. This prevents the collars from coming out prematurely like is often seen on Hi-Temp Bumper Plates. I don't see this spec mentioned anywhere on the product page so I have to assume it's not included as it is a benefit touted by many competitors.
REP Sport Plates vs. The Competition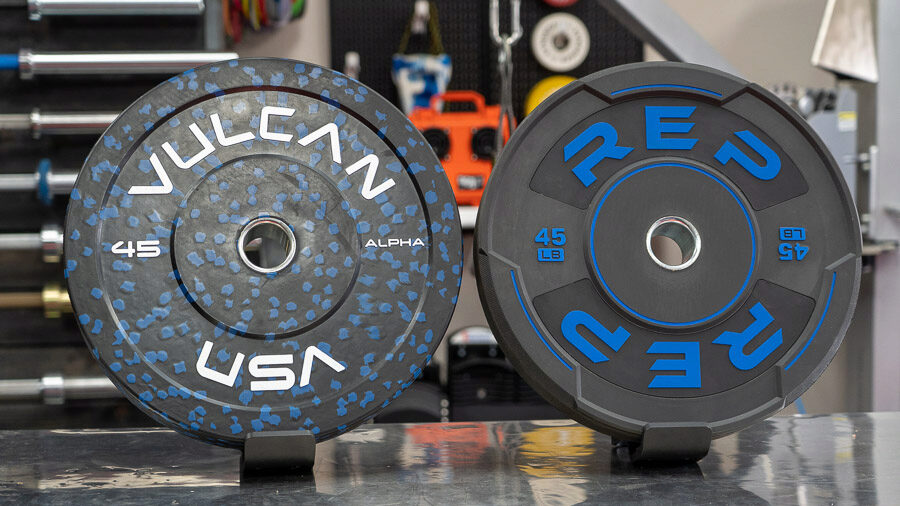 Home gym owners are spoiled for choice when it comes to buying bumper plates. It's great to have a choice, but how do you go about narrowing down the options? To help you, we've compared the REP Sport Bumper Plates with some of the leading sellers on the market, including the Vulcan Alpha Bumper Plates and the Rogue HG 2.0 Plates.
Vulcan Alphas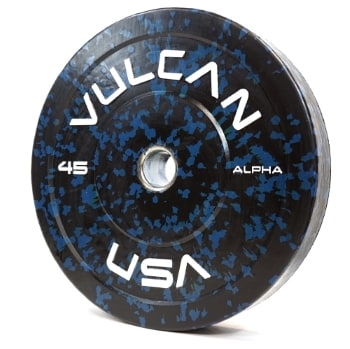 Vulcan Alpha Bumper Plates
This unique rubber compound is not found in any other bumper plate. (Patent Pending). Alpha Bumpers are not made from recycled rubber! Alpha Bumper plates are made for indoor or outdoor use. These weight plates offer a low bounce on any surface, unlike recycled rubber plates that can bounce dangerously high or "skip" away from you. Alpha Bumpers make approximately 30% less noise when dropped from a height of 9 ft, based on testing with decibel meter . Hearing damage & loss have become issues to some weightlifting coaches and trainers due to the level of noise exposure from multiple athletes dropping bumper plates throughout a training session.If your gym is located in an area where the dropping of weights can cause a disturbance to your neighbors, the 30% reduction of noise can be helpful. The Alpha Bumper plates have a much lower odor than crumb rubber bumper plates or recycled rubber bumper plates. Bumper Plates Dimensions, Specifications, and Colors:Lower profile compared to crumb rubber plates or recycled rubber plates and many other brands of bumper plates Dimensions10 lb - 1.17 inches, 15.7" diameter, Grey Fleck 15 lb - 1.38 inches, 17.7" diameter, Orange Fleck 25 lb - 1.81 inches, 17.7" diameter, Green Fleck 35 lb - 2.55 inches, 17.7" diameter, Yellow Fleck 45 lb - 2.95 inches, 17.7" diameter, Blue Fleck 55 lb - 3.34 inches, 17.7" diameter, Red FleckWeight tolerance: +/- 1% 10 lb plates are a slightly smaller diameter to add density to the rubber compound to allow for dropping. 10 lb plates can be dropped alone on the ba Color-coded with large Flecks of rubber for easy identification from a distance and a really unique look Color coding is standard IWF type coloring Color Flecks are part of the rubber compound Fit tighter together than crumb rubber or recycled rubber bumper plates. Less vibration and wobbling. 48-month warranty on 55 lb, 45 lb, 35 lb, 36 months on 25 lb plates, 1 year on 15 lb and 10 lb bumper plates Plates can be used outdoors but should be stored indoors when not in use.
Durability and warranties: all three of these products perform well in the durability stakes. You can use them over and over again without worrying about scratches or dents. The key difference lies in warranties. Vulcan offers a better warranty (from 1-4 years depending on the weight increment) than REP, although Rogues is pretty similar depending on the plate. If you're looking for a long-term investment, it's worth considering this when choosing which items to add to your gym.
Appearance: these bumper plates may be pretty similar in terms of performance, but they look very different. While the REP Sport Bumper Plates are brightly colored according to the weight increment, the black Rogue bumpers are much more understated. Vulcan's Alpha plates nestle somewhere in the middle, with a flecked blue pattern on a black background. This is more of a personal preference, however, I would say that the color contrast on the Sport Plates make them one of the best looking plates, in my opinion.
Rogue HG's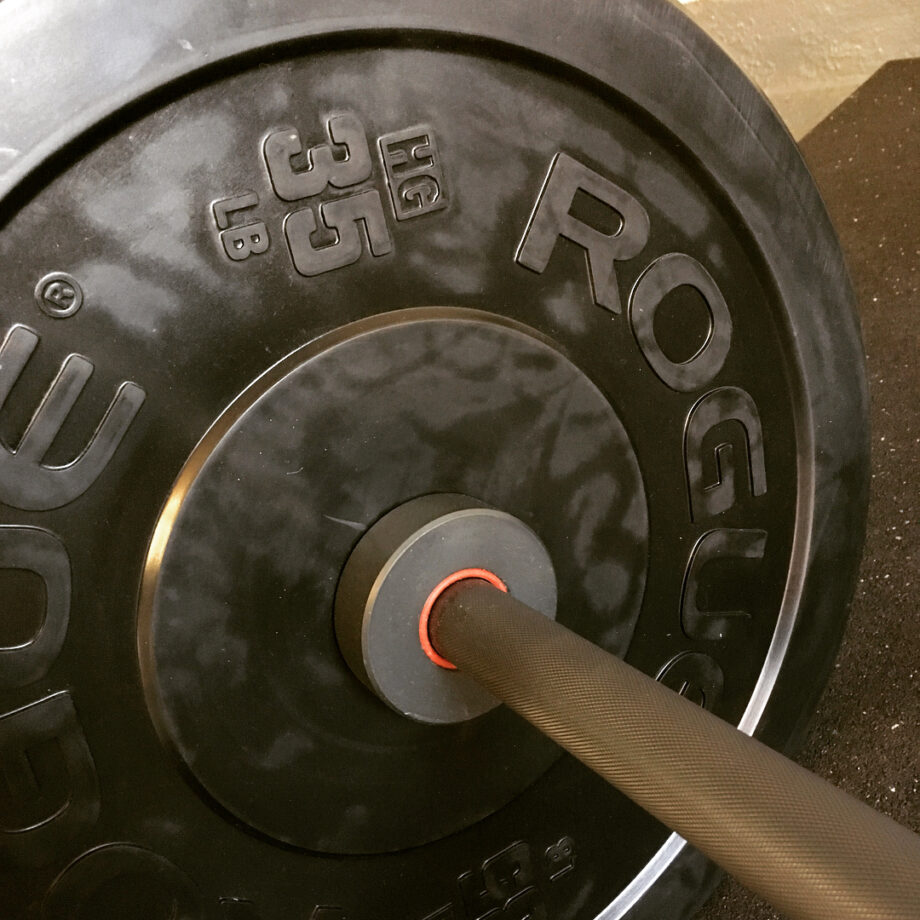 Rogue HG 2.0 Bumper Plates
Same quality plates, revamped design. Rogue HG 2.0 Bumpers feature new artwork (still black, still old school), with the consistent dead bounce, durability, and distinctive smooth finish athletes have come to expect from the HG line. These quality, budget-priced plates are the IWF standard 450mm in diameter, but are cut thinner than a lot of comparable bumpers to allow for more weight to be loaded on the bar. HG 2.0's also score an average of 88 on the Shore A Durometer scale, giving them a dead blow on par with a lot of the pricier comp plates in the industry.Battle-tested at the CrossFit Games and Regionals, HG Bumper Plates are both a high-performance and smart economical choice for any training facility. Check out the wide range of plate sets or simple pairs available to order on the right column, or read the reviews below to see what current HG Bumper owners have to say about the product.Specifications:Diameter: 450MM / 17.72" (IWF Standard) Collar Opening: 50.40MM / 1.98" Stainless Steel Inserts Weight Tolerance: +/- 1% of claimed weight Minimal Bounce Updated artwork with Rogue logo in black on black Imported from China
Value: if you're looking for a set of bumper plates, it's always beneficial to consider value for money, rather than automatically opting for the lowest price. You might want to choose the cheapest product, but if you're keen to get more for your money, it's worth investing in high-quality products that will stand the test of time. All these bumpers have advantages, and they're all excellent in their own way, but out of these comparable bumpers, REP's are the most expensive.
Bounce: all three manufacturers claim to offer low bounce bumper plates. In reality, when you compare these three contenders to others, the bounce is pretty similar between all of these rival products.
Full Rating
REP Fitness Sport Bumper Plates
The REP Sport Bumper Platesare designed to be a durable black bumper plate that can be used both outdoors and indoors. After using them in my home gym for the past month and comparing them to the many others on the market, we feel they are a solid, but not the best value available option. The design has some unique details and they're marketed as being 'ultra-durable,' however, they're warrantied the same as REP's other plates and they're a bit more expensive than the competition. If you like the design and colors, we recommend them. However, time will tell on their durability.
Product Brand: REP Fitness
Product Currency: USD
Product Price: 89.99
Product In-Stock: InStock
REP Fitness Sport Bumper Plates FAQs
Are Rep fitness plates good?
If you're searching for a basic set of bumpers, the REP Black bumper plates are a great option. These plates are accurate, attractive, and long-lasting. REP Fitness bumpers offer a guaranteed weight tolerance of +/- 1%, which is standard for plates of this sort.
Are Rep bumper plates easier to lift?
When compared to iron plates, deadlifting with bumpers is substantially easier. This does not imply that your prized PR has vanished. It simply indicates that you've added another factor to consider when calculating your strength.