We test and review fitness products based on an independent, multi-point methodology. If you use our links to purchase something, we may earn a commission. Read our disclosures.
The Vulcan Strength Alpha Bumper Plates are some of the most durable bumper plates currently made. They feature a unique, speckled design, claim to be quieter and more durable than competitors, and are available at a great price. Although I don't think they're that much quieter than competitors, I do think they're great bumper plates with a fantastic warranty, can be used outside, and look great. We recommend them highly.
Durable Bumpers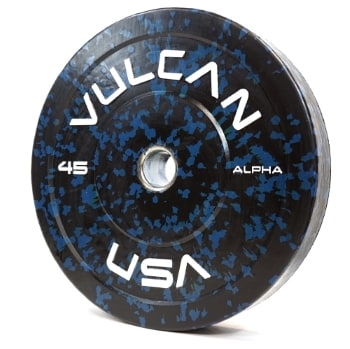 Vulcan Alpha Bumper Plates
This unique rubber compound is not found in any other bumper plate. (Patent Pending). Alpha Bumpers are not made from recycled rubber! Alpha Bumper plates are made for indoor or outdoor use. These weight plates offer a low bounce on any surface, unlike recycled rubber plates that can bounce dangerously high or "skip" away from you. Alpha Bumpers make approximately 30% less noise when dropped from a height of 9 ft, based on testing with decibel meter . Hearing damage & loss have become issues to some weightlifting coaches and trainers due to the level of noise exposure from multiple athletes dropping bumper plates throughout a training session.If your gym is located in an area where the dropping of weights can cause a disturbance to your neighbors, the 30% reduction of noise can be helpful. The Alpha Bumper plates have a much lower odor than crumb rubber bumper plates or recycled rubber bumper plates. Bumper Plates Dimensions, Specifications, and Colors:Lower profile compared to crumb rubber plates or recycled rubber plates and many other brands of bumper plates Dimensions10 lb - 1.17 inches, 15.7" diameter, Grey Fleck 15 lb - 1.38 inches, 17.7" diameter, Orange Fleck 25 lb - 1.81 inches, 17.7" diameter, Green Fleck 35 lb - 2.55 inches, 17.7" diameter, Yellow Fleck 45 lb - 2.95 inches, 17.7" diameter, Blue Fleck 55 lb - 3.34 inches, 17.7" diameter, Red FleckWeight tolerance: +/- 1% 10 lb plates are a slightly smaller diameter to add density to the rubber compound to allow for dropping. 10 lb plates can be dropped alone on the ba Color-coded with large Flecks of rubber for easy identification from a distance and a really unique look Color coding is standard IWF type coloring Color Flecks are part of the rubber compound Fit tighter together than crumb rubber or recycled rubber bumper plates. Less vibration and wobbling. 48-month warranty on 55 lb, 45 lb, 35 lb, 36 months on 25 lb plates, 1 year on 15 lb and 10 lb bumper plates Plates can be used outdoors but should be stored indoors when not in use.
The Vulcan Alpha Bumper Plates are some of the best bumper plates among home gym owners. They're priced competitively, but their real benefit proposition is that they're known for extreme durability and have claims of sound dampening.Having bumper plates that can be used both outside on the driveway when the sun is shining and inside of the garage gym is ideal. Do these hold up to the manufacturer's claims and are they better than new competitors like the Rogue Fleck Bumper Plates? Let's discuss.
Vulcan Bumper Plates Review: Specs Breakdown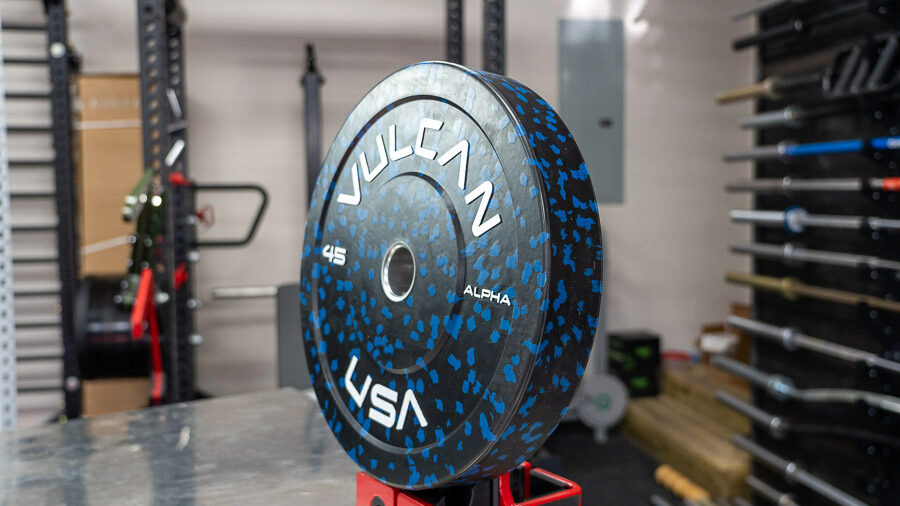 Before we dive into the review let's take a look at theVulcan Alpha Bumper Plates specs.
Vulcan Alpha Bumpers have an outside diameter of 450mm. This is the IWF standard and after measuring, this is an accurate spec (which isn't always the case.
Just like practically all bumper plates, the Alpha's are not made in the US, although Vulcan is based in North Carolina.
The width of the plates varies depending on the weight, however, Vulcan is offering every increment that's typically available for bumpers. Here are the widths:
10lb plate width: 1.17″
15lb plate width: 1.38″
25lb plate width: 1.81″
35lb plate width: 2.55″
45lb plate width: 2.95"
55lb plate width: 3.34"
Vulcan Strength offers a one or four year warranty on the Alpha Bumpers depending on the weight increment. Although not a lifetime warranty like we see with a lot of gym equipment, four years is a tremendous offering as most offer only a one or two year warranty.The Rogue Fleck Plates (the most comparable to the Alphas) are only two years, although that is offered for every weight increment.
What Are the Vulcan Alpha Bumper Plates?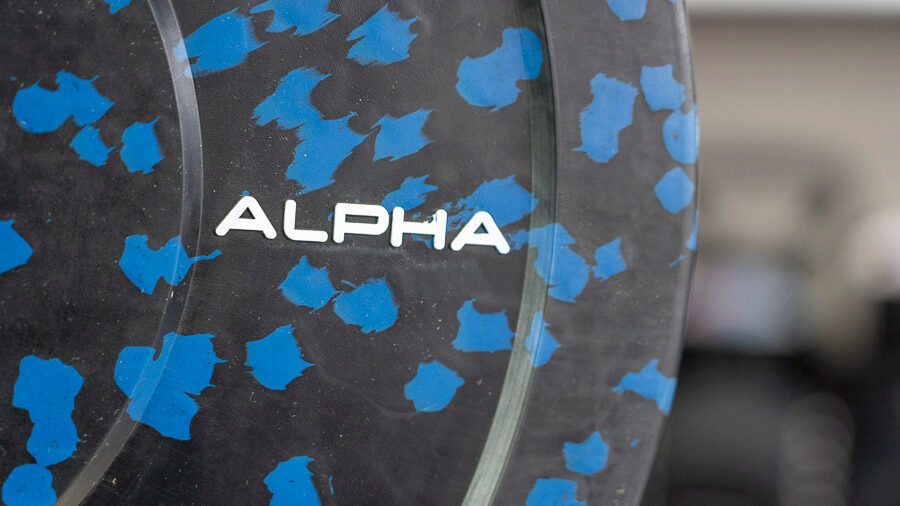 The Vulcan Alpha Bumper Plates are a set of bumper plates by Vulcan Strength that have become quite popular over the last few years among thehome gym community.
The reason is pretty clear: the Alphas are claimed to be one of the most durable and quietest bumper plates on the market and Vulcan backs that up with a four-year warranty.
In addition to the practical, the speckled colors on the plates give them a unique look that makes identifying the weight quick and easy.
The Vulcan Alpha Bumper Plates come in every weight increment a trainee would want and they meet IWF specs for the diameter.
Bumper plates are a pretty simple product at first glance–a rubber circle with a metal hub. However, as you get into the details, you realize not all rubber disks are made the same. For instance, Vulcan uses a special hub system that latches into the rubber during the molding process to prevent it from popping out prematurely.
What We Like About the Alpha Bumper Plates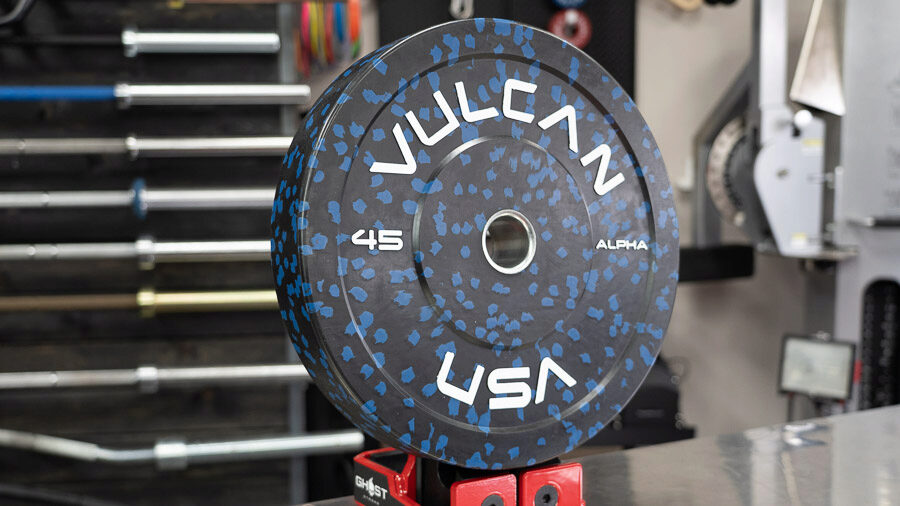 After taking a deeper look at the Vulcan Alpha Bumper Plates and using them in the garage gym, we realize they're pretty close to their claims. They offer a great solution when it comes to durability, accuracy, and the overall package that you look for in bumper plates.
We also really like their appearance, because it makes them a little more unique amongst typical black bumper plates and makes identifying the weights quicker.
Below, we've explained all these points in more detail to help you get a better understanding of whether they are right for you.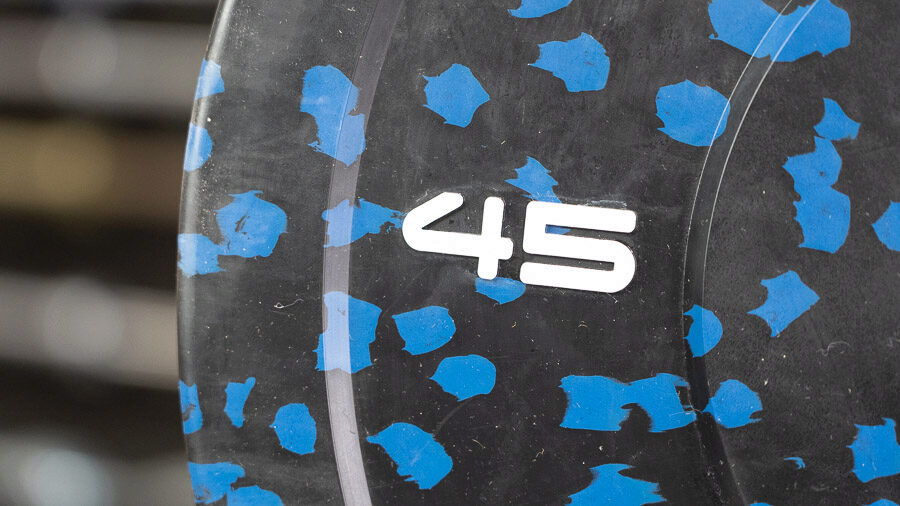 Durability
One of our favorite parts of these bumper plates is how durable they are.
Although I'm not convinced these are that much more durable than some of their competitors, they haven't disappointed in the amount of use I've had with them. I've used them off and on with training partners over the past few years. But, in addition to that, there are a lot of home gym owners who swear by them.
In fact, out of all the bumper plates on the market, the Alpha's are theleastcomplained about bumper plate purchase I've seen. Hardly anyone has made a complaint on the center ring coming out, there being a ton of chips or scratches, or Vulcan not servicing the warranty if it was needed.
This makes them durable enough to not only be used inside but outdoors too. You can drop them from an overhead position, and the plates won't be affected.
Something that we also like to see is the company having confidence in the durability of their product through a warranty. And that's exactly what Vulcan Strength provides.
Here is the warranty you get with the Vulcan Alpha Bumper Plates:
10+ lb plates: 1 year

25lb plates: 3 years

Anything above 25 lb: 4 years
Low Bounce
The other claim, outside of durability is that the Alphas have a claim of an extremely low bounce.
After testing this by dropping them from overhead, the Alphas do have a lower bounce than some of the cheaper bumper options, however, they do bounce higher than the Rogue Fleck Plates, but not by much.
The Alphas do bounce less than many competitors, which is great. That said, I don't think they bounce that much less for you to purchase them on this feature alone.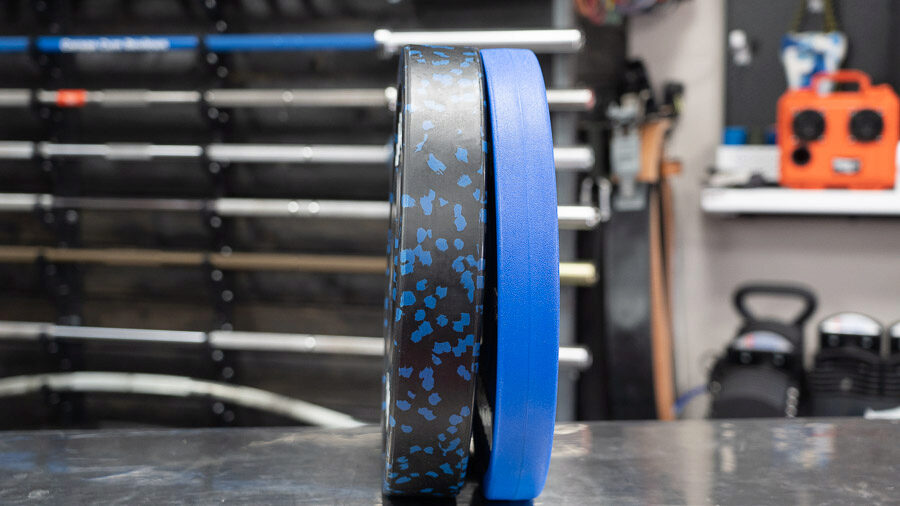 Accuracy
Another very important factor when it comes to bumper plates is accuracy.
If you have ever tested the accuracy of other bumper plates, you may have been disappointed. Quite often, they are off by up to 5 pounds which is not ideal if you are lifting them, thinking they are another weight.
The Vulcan Alpha Bumpers from our and various others around the internet seems to be pretty accurate when it comes to the weight. We weighed them on our scale and found that they were within the suggested range.
Lower Noise Levels
The noise levels on the Vulcan Alpha's when dropped is another feature that is claimed.
Vulcan Strength states, "Alpha Bumper Plates make approximately 25% less noise when dropped from a height of 9 ft."
Although this statement may have been true in 2015, we didn't notice much of a difference when testing ourselves.
We may have been using different bumper plates, but when asking others who own the plates, the sound difference wasn't something that was often remarked.
I don't think the Alphas are louder than other bumpers, but we didn't notice them being significantly quieter either. So, take that claim with a grain of salt.
In case you have ever tried Eleiko XFs, they do have some sound dampening, however, they also have a higher bounce than the Alpha's.
This feature is something that companies have been working on for some time. This said, I have yet to use a set of bumper plates that were significantly quieter than others.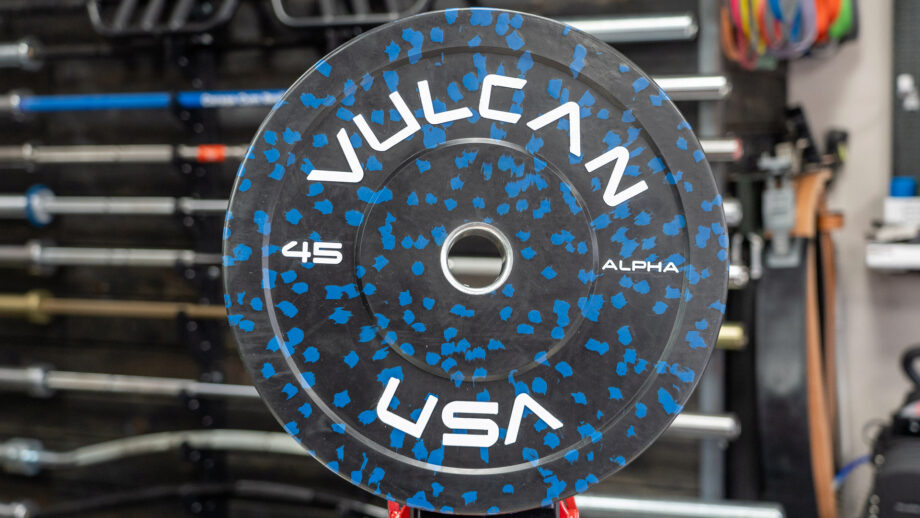 Appearance & Feel
Another thing that we like about the Vulcan Alpha's is their appearance & feel. This is something that we remark on, but many others do as well. In fact, they're so popular that many other companies have copied the look like the Rogue Fleck Plates and the Fringe Sport Savage Bumper Plates (both great options.)
What's different about the Alphas from other bumpers is the rubber compound, and of course the colored specks in the rubber.
Once you pick up a pair of Alpha's, you realize pretty quickly that they're made of a different rubber compound than most bumpers. They feel much more like rubber than plastic, which is how the Rogue Fleck Plates feel.
The Rogue Fleck Plates, in comparison, look very similar, but we're pretty sure they're using a similar compound as what's used on their HG 2.0 and Echo Plates, although slightly harder rubber.
Vulcan doesn't publish the Shore A Durometer rating of the Alpha Bumpers, which does seem suspect, but I would guess Vulcan's have a lower Durometer as they feel a bit softer, which may be why they claim lower noise levels as they compress more.
Value
Last but not least, the price they come at is pretty affordable too. When you compare the prices to some of their competitors, you'll quickly notice that from a value perspective they're pretty hard to beat based on the specs.
While a lot of their competitors start at $400 for a 160lbs set, the alpha bumper plates start at just $318.
The quality of them is extremely high, despite the low price. This is also reflected in the reviews, where they have received an average of 4.9 stars out of 5. Take a look at what some of the reviewers had to say below.
What We Don't Like About The Vulcan Alpha Bumper Plates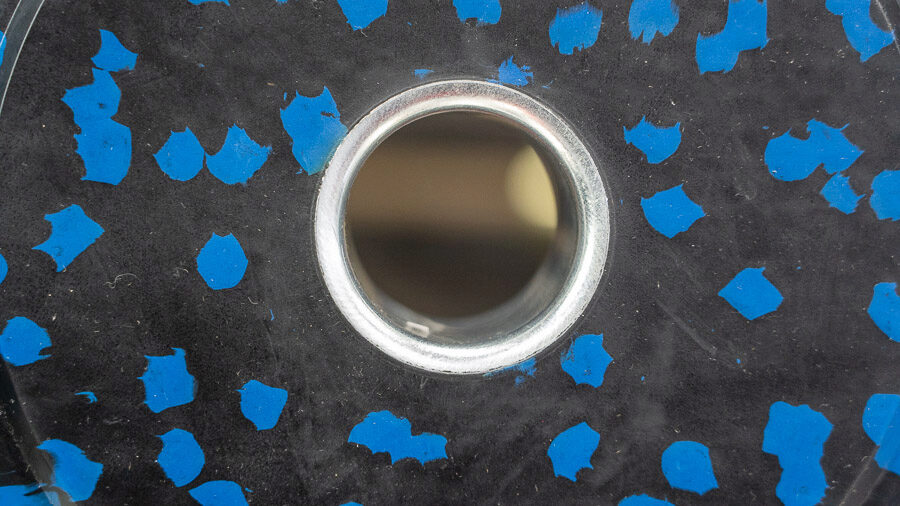 There aren't too many things that we don't like about the Vulcan Alpha Bumper plates.
The only thing about the actual bumper plates is that the center steel insert hub is not stainless steel. This isn't a problem because it still feels extremely high-quality, but we could imagine that could bother some people so we thought we'd warn you just in case.
The only other thing about it that we don't really like is the company Vulcan Strength making lots of claims about the product. For example that it's more durable and less noisy than the competition.
They might well be true, but it would be nicer if they would provide some type of test vs the most popular competition before making these claims.
Apart from these two little points, the Vulcan Alpha Bumper plates are high quality and we do recommend them.
Should You Add The Alphas To Your Home Gym?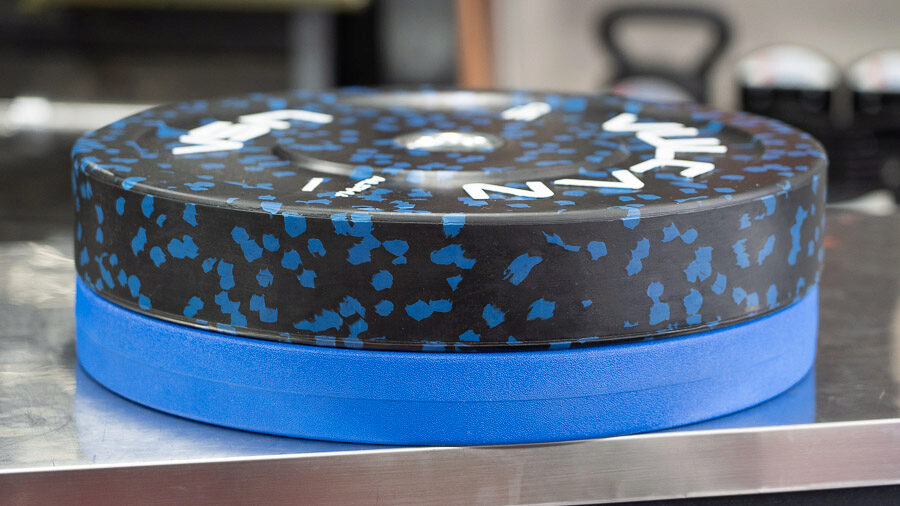 As you have seen throughout this review, we're big fans of the Vulcan Alpha Bumper plates. They're durable, affordable, and have a great feel to them. But, should you add them to your home gym?
Below, we've described why you should (and shouldn't) add them to your home gym.
Add Alpha's To Your Home Gym If:
If you're looking for a high-quality set of bumper plates for both indoors and outdoors that are durable and feel extremely nice, we believe these are the perfect fit.
Unlike a lot of other bumper plates, they are also extremely accurate. Plus, the small width is great too as it gives you more space, and makes them easier to fit into the storage.
Overall, we believe these could make a great addition to any home or commercial gym because they give you some very nice options for your next lifting session. It's also great that you can open up the garage door and train with them outside.
Don't Add Alpha's To Your Home Gym If:
If you already have the plates of a competitor, are happy with them, and don't want to expand your collection, then there probably isn't much point in picking these up.
There are also a lot of other options available. You can see where we rank the Alpha Bumpers in comparison to all the competition. See the best bumper plates here.
Vulcan Alpha Bumpers Vs. The Competition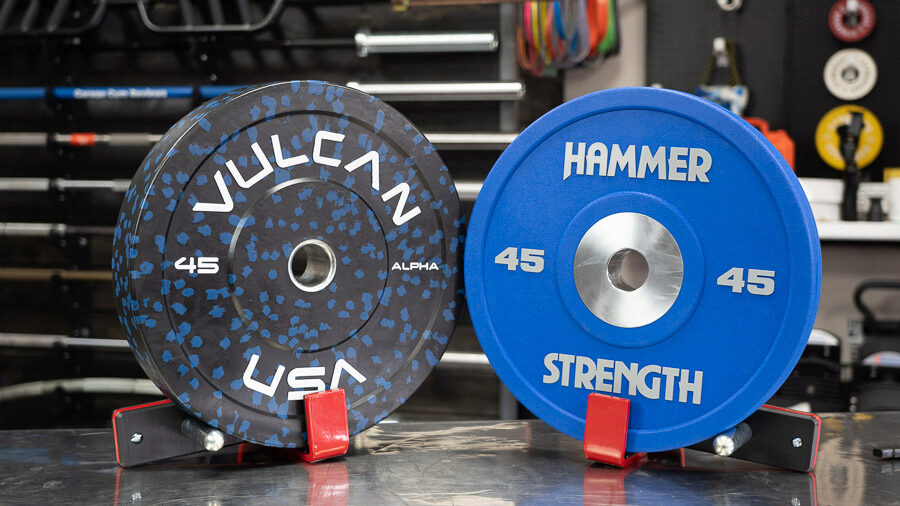 In case you are looking to purchase bumper plates, but don't like the sound of the Vulcan Alpha Bumpers, we have listed 3 alternatives that are somewhat similar in their claims and looks.
Below, you'll find a detailed explanation of what differentiates them compared to the Alphas.
Fringe Sport vs. Vulcan Bumpers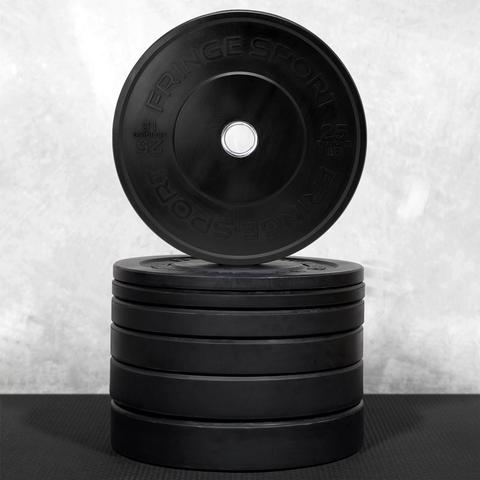 Fringe Sport Black Bumper Plates
You'll love our bumper plates because they're going to make you suffer like you never have before. Fringe Sport bumper plates make Sisyphus blush. Like eternally rolling a boulder uphill, our bumper plates will outlast you, laboring for a lifetime. They're durable, so they'll absorb all the punishment you dish out, thin so you can add bigger loads to the bar and super weight accurate. Better yet, unlearn everything you've ever learned about 10 lb bumpers, and drop these at will. Yes, you read that right. Drop the 10s. They won't crumble. After the boulder rolled downhill, did Sisyphus ever find it broken?Think about epic heroes like Luke Skywalker or the Karate Kid. You too are called to training that will involve pain and suffering. We're here to be your Yoda. We invite you to embark your hero's journey. Accept the challenge, and our bumper plates will be the burden that makes you a champion.Step Up to the PlateHere's why Fringe Sport bumpers will lift you up:Steel Insert- Outperforms most bumpers with a higher threshold for abuse without malformation, while machined to exact tolerances to fit all high-quality Olympic bars. Low Bounce with High Durability- Careful rubber formulation softens bounce making for safe use in tight spaces and prevents chipping and falling apart due to brittleness. Boasts years of use in a garage or affiliate. Stability- 10 and 15 lb bumpers feature expertly designed "hooked" steel insert, that remains firmly seated. Offers high durability, making them more stable than most that suffer from fragility and thinness. Thinner- Virgin rubber and higher density slims the plate so you can load more weight on your bar! Standard diameter- Universal matching diameter so you can mix and match to load your bar.
Vulcan Alpha Bumpers vs. Fringe Sport Savage Bumper Plates
The first alternative to the Vulcan Alpha Bumpers is the Fringe Sport Savage Bumper Plates (by the way, I don't think there's anything savage about using the word 'savage' as a product name.)
These are quite similar in the sense that they also have similar features to enhance their durability.
The main differences between them, however, are that the Vulcan Alphas have a nicer feel, and are also a little more affordable in most cases. They've also been around for longer and offer a longer warranty.
Rogue Vs. Vulcan Bumpers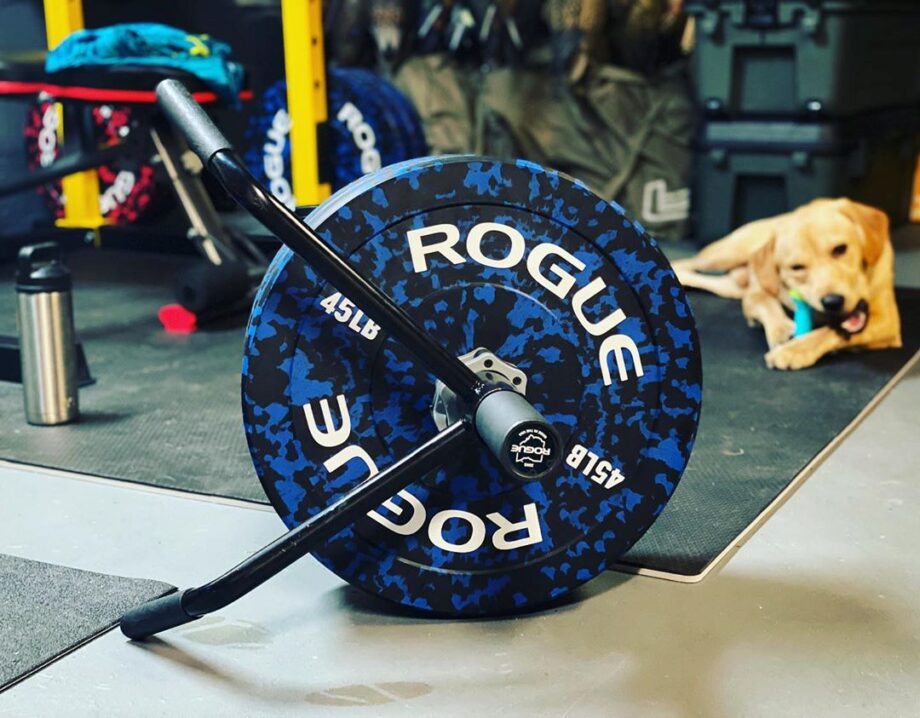 Rogue Fleck Bumper Plates
These eye-catching plates combine black rubber and color and are an interesting change from a traditional plate. The color pattern allows for easy identification. These plates have a 304 stainless steel hub insert and are +/- 1% weight tolerance standard.These plates can be ordered in varying set combinations as well as by pairs. The durable rubber material provides a 90 durometer rating out of 100, meaning less rebound when dropped.All of the Rogue Fleck Plates have the same 17.7-inch diameter to make stacking and removal easier. These plates are highly rated and backed with a two year warranty.Plate categories: Color, weight, thickness:Black and Gray - 10 lbs – 0.85 in.  Black and White - 15 lbs – 1.2 in. Blacl and Green 25 lbs – 1.6 in. Black and Yellow - 35 lbs – 2.08 in. Balck and Blue - 45 lbs – 2.76 in. Black and Red - 55 lbs – 3.02 in. 
Vulcan Alpha Bumper Plates vs. Rogue Fleck Bumper Plates
Another decent alternative is the Rogue Fleck Bumper Plates.
The Rogue Fleck Bumpers look extremely similar to the Vulcan Alphas. They don't have the same claims of durability and lower decibel levels, however, they do have the same look and they're made by Rogue Fitness which has a history of standing behind their product.
I don't think the Fleck Bumpers will prove to be as durable as the Alphas, so if you plan to train outside, I'd go with the Alphas. However, if you just want the look, I think these are a good option.
Eleiko vs. Vulcan Bumpers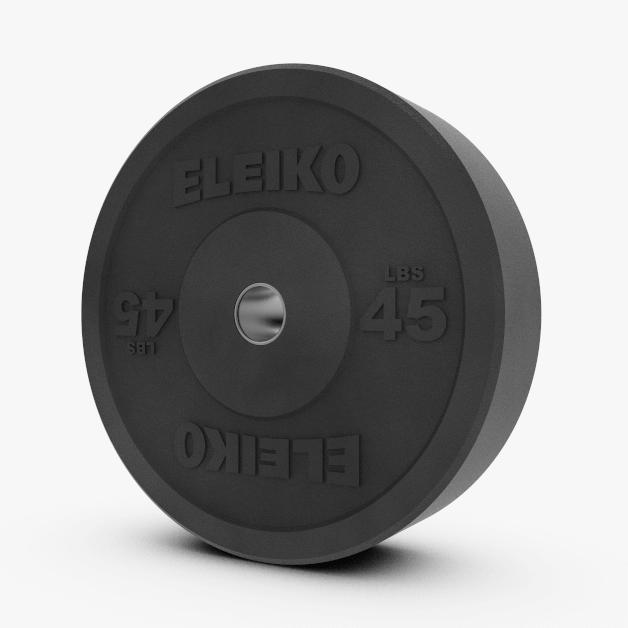 Eleiko XF Bumpers
The Eleiko XF Bumper is incredibly quiet and durable, designed for tough training and rough environments. Eleiko's compressed soft yet durable rubber offers fantastic sound dampening and shock absorption. Pair it with the XF or SVR Platform for even further noise and vibration reduction. Bumpers are only available in pounds and disc sets are paired with the Vulcano change plates.PLEASE NOTE: 10 lb. bumpers are not to be dropped from overhead and are meant for technique purposes only. Damage from dropping the 10 lb. discs is not covered under the 1 year warranty.DISCS SOLD INDIVIDUALLY (1 UNIT)Warranty terms and conditions To be dropped on 30 mm-thick rubber flooring (training platform recommended by Eleiko). Indoor use only. Normal wear and tear does not fall under warranty.Eleiko XF Training Disc Warranty: 1 year
Vulcan Alpha Bumpers vs. Eleiko XF Bumpers
Our final alternative is the Eleiko XF bumpers. These are the ones we have mentioned a couple of times throughout this article.
They are also extremely durable, just like the Vulcan Alphas. The only reason we prefer the Vulcan Alphas is because of the smaller width and quite a bit cheaper.
However, that's just our thoughts on them. From a quality point of view, they are both great.
Vulcan Alpha Bumper Plates: Pros & Cons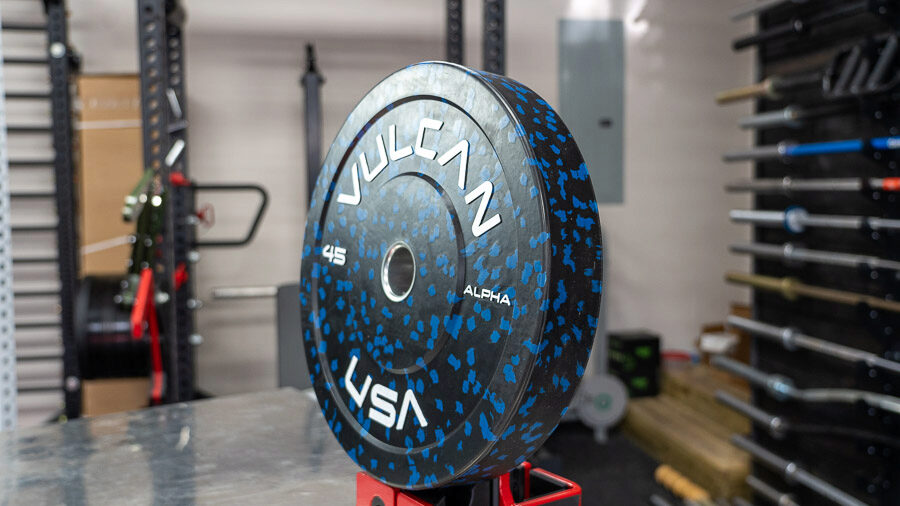 To give you a better overview of the details of the Vulcan Alpha Bumper plates, we've listed all the pros & cons below.
Pros:
Very durable
Very popular & positive reviews
Great Unique color pattern
Long warranty
Low noise
Low bounce
Highly Accurate
As you have seen throughout this review, it has been a very positive one. The Vulcan Alpha Bumper Plates come with pretty much everything that you look for in bumper plates. And the long warranty is just the icing on the cake to a set of plates that are already super durable.
Cons:
Claims from the company are not backed up with video evidence (i.e 25% more durable than most of the market, etc.)
The center insert hub is not stainless steel
One other con about them which again isn't really about the bumper plates themselves is that they are often out of stock. It took so much effort just to get hold of these, and you often have to check the website a couple of times throughout the month to catch them when they are available.
Vulcan Strength Alpha Bumper Plates FAQs
Lastly, we also wanted to cover some frequently asked questions about the Vulcan Alpha Bumper plates. But, if you have any other questions feel free to leave a comment below, and we'll get back to you.
Can You Use Vulcan Alpha Bumper Plates Outside?
Yes, you can. They are extremely durable and don't bounce as high as some of the others on the market. This makes them great for outside use.
However, one of the biggest reasons these are great for using outside is because it doesn't void the warranty to do so. Many other companies who make bumpers will void your warranty if you don't use them on rubber or different platforms. This isn't the case with the Alphas.
What Are The Main Benefits Of Vulcan Alpha Bumper Plates Compared To The Competition?
Compared to most of the competition, they are more durable, affordable, and also have a lower bounce. This makes them the preferred option for many lifters and perfect for the outdoors. This isn't exhaustive, but they do offer many benefits over other companies and have been copied because of this.
Is Vulcan Strength Legit?
Yes, Vulcan Strength is a legit company that is 100% veteran-owned.
Ordering from Vulcan Strength is completely safe. They're importing most of their equipment, but they service their warranties and make things right amongst our readers.
Are Vulcan Alpha Bumper Plates Made In The United States?
No, this particular set of Vulcans is not made in the United States. Most of their equipment isn't, but you should know that most bumper plates are not made in the US. In fact, there are only a couple of sets that are due to the working conditions required to make them.
Full Rating
Vulcan Strength Alpha Bumper Plates
The Vulcan Strength Alpha Bumper Plates are some of the most durable bumper plates currently made. They feature a unique, speckled design, claim to be quieter and more durable than competitors, and are available at a great price. Although I don't think they're that much quieter than competitors, I do think they're great bumper plates with a fantastic warranty, can be used outside, and look great. We recommend them highly.
Product Brand: Vulcan Strength
Product Currency: $
Product Price: 179.99
Product In-Stock: InStock